Honkai Star Rail has several crucial resources that are required for various things in the game. As players progress in the main storyline, they will come to gather various resources as well as a rare currency known as Stellar Jade. Stellar Jade is very limited in the World of Honkai Star Rail and as it is used to unlock special items, players would have to grind more to get enough amount of them.
Uses of Stellar Jade
As there are different currencies for different planets in the Honkai Star World, Stellar Jade is different from all of the primary currencies in the game. Stellar Jade is a Rare Currency in Honkai Star Rail that is used to buy the Star Rail Passes and Star Rail Special Passes which are the consumable items that are used for Warp System in the game. In order to unlock Stellar Warp and Departure Warp, players would have to get a lot of Stellar Jade because each warp will cost about 160 Stellar Jade which can take some time to gather in the early game.
How to Farm Stellar Jade
To farm Stellar Jade currency to get most of Star Rail Passes, players could do the following methods.
Focus on Main Story Missions
In the early game, players will not have much of an option rather than sticking to the main story. Completing the main quests of the storyline would reward players with a bunch of Stellar Jade. Not every reward of completing the quest will give players the Stellar Jade currency but many of them will do and it is enough for players to start buying Star Rail Passes.
World Shop Rewards
There are three main worlds in Honkai Star Rail that players will get to unlock as they progress in the main story. Each of the World has a World Shop in it where players can purchase various resources and items. However, these shops not only give the benefit of buying the things you need but also give rewards upon spending enough primary currency in the world. As each world has its own primary currency, players can spend the currency to obtain rewards from the World Shop which include Stellar Jade.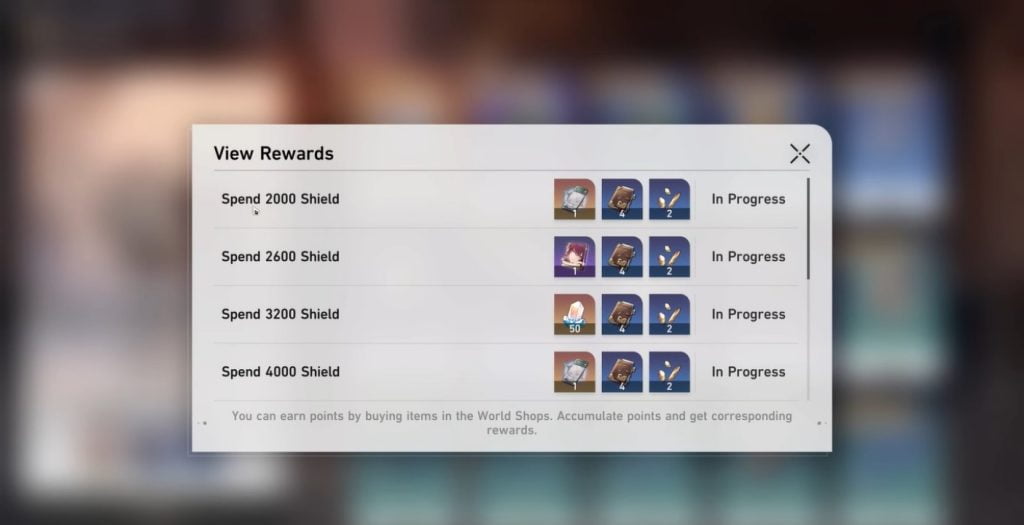 So, make sure to complete the quests of the world to earn primary currency and then spend the currency at the respective World Shop to unlock rewards of the World Shop.
Level Up Trailblazer Rank
Leveling Up Trailblazer Rank is one of the useful methods to earn Stellar Jade. Obtaining Trailblazer EXP and leveling up the Trailblazer character will allow players to get various rewards from Pom-Pom at the Astral Express. Ranking up to most of the levels will reward players with Stellar Jade along with other crucial resources.
Complete Daily Training Tasks
The Daily Training Tasks will also allow players to earn several rewards including Stellar Jade. There are 5 Reward Milestones in Daily Training that players can achieve daily by completing simple daily tasks. Each of the reward Milestones will give 10 – 15 Stellar Jade daily depending upon how many Activity Points players earned. Completing each daily task will give a certain number of Activity Points which can be used to claim the reward Milestone so, make sure to check the Daily Training Activity daily to view the daily tasks as the tasks will reset after every 24 hours.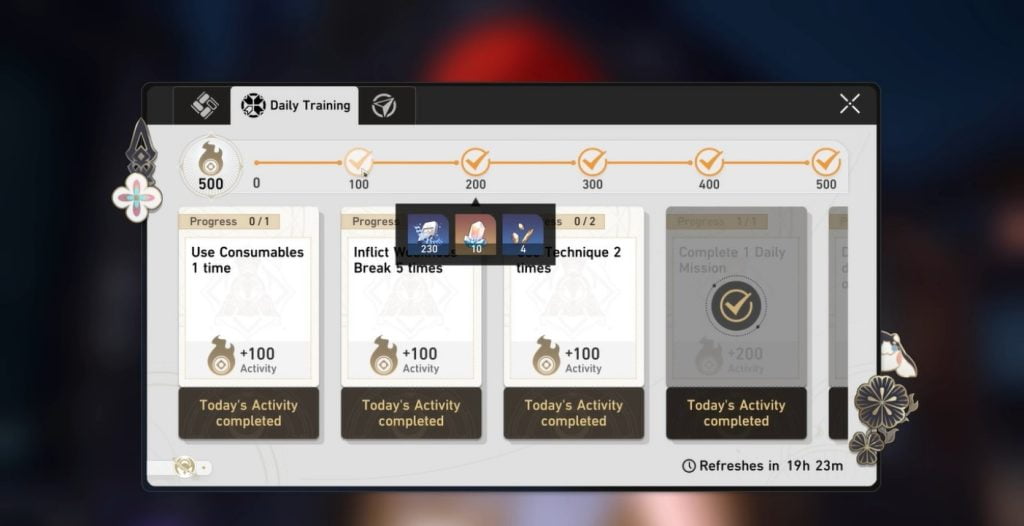 Participate in Events
Honkai Star Rail hosts several events in the game that is open to everybody. Every player can participate in the event to get various rewards including Stellar Jade. However, Events are time-limited and players would have to participate and complete the event in the given time period. Major events last for longer time whereas small events only last a few days. To get notified of an event, it is important to daily login to the game to see whether there is any event happening in the world or not.
Complete Daily Check-In
Daily Check-In is one of the easiest methods to obtain free Stellar Jade without any much effort. In order to complete the Daily Check-In activity, players would have to visit the HoYoLAB website on daily basis. The website will reward players with Stellar Jade at various days throughout the whole month. If you are a new visitor to the website, it will also give you a bonus of 100 free Stellar Jade upon continuous three days check-in.
Complete Simulated Universe Missions
The Simulated Universe is an in-game mode that will allow players to complete missions of various Worlds. There are 6 Worlds in Simulated Universe which will unlock as players complete the world missions. Completing each World mission for the very first time will give players 120 Stellar Jade and these missions can also be replayed if wanted. However, replaying the missions will not give extra Stellar Jade but it does give Points which can be used to earn Stellar Jade.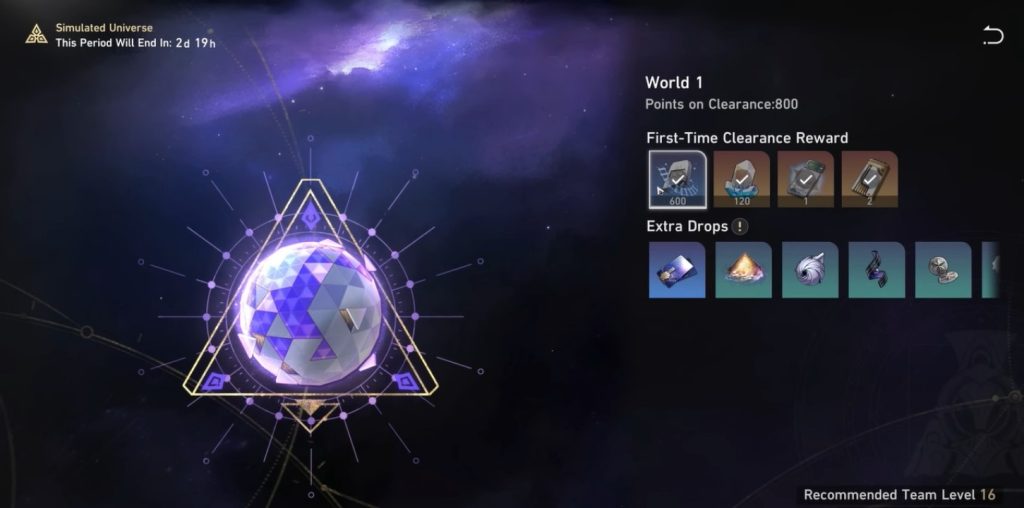 The Simulated Universe has its own Points Reward System which can be seen on the bottom left of the screen. Players will be able to redeem the rewards in exchange of the earned points by completing the Worlds mission. The Rewards are reset every week on Monday which allow players to get more of the Stellar Jade every week.
Complete Stages of Forgotten Hall
The Forgotten Hall is one of the in-game modes that will unlock as players progress through the game. The Forgotten Hall includes a number of stages that get difficult as players clear the stages. Players would have to take out all of the enemies to complete the stage and upon completing each stage, players will be rewarded with EXP along with Stellar Jade from time to time.
Purchase Oneiric Shards
Last but not least, there is also a paid way to get Stellar Jade. Players can also choose to buy Oneiric Shards from the store with Real Money which are mainly used to convert into Stellar Jade. Oneiric Shards are converted into Stellar Jade on a one-to-one ratio. Meaning the more players buy Oneiric Shards, the more Stellar Jade they will get.
Other than these methods, another simple method is to loot chests to find Stellar Jade. As Stellar Jade is a Rare Currency, it has a lower chances of being found in the chests but it still worth looting the chests in all the different planets.