Primo Geovishap is considered one of the most challenging World Bosses, introduced in version 1.4 of Genshin Impact. Challenging this boss without a proper team composition would surely result in failure but worry not, as we have got the perfect guide for you to counter this horrifying Geo monster.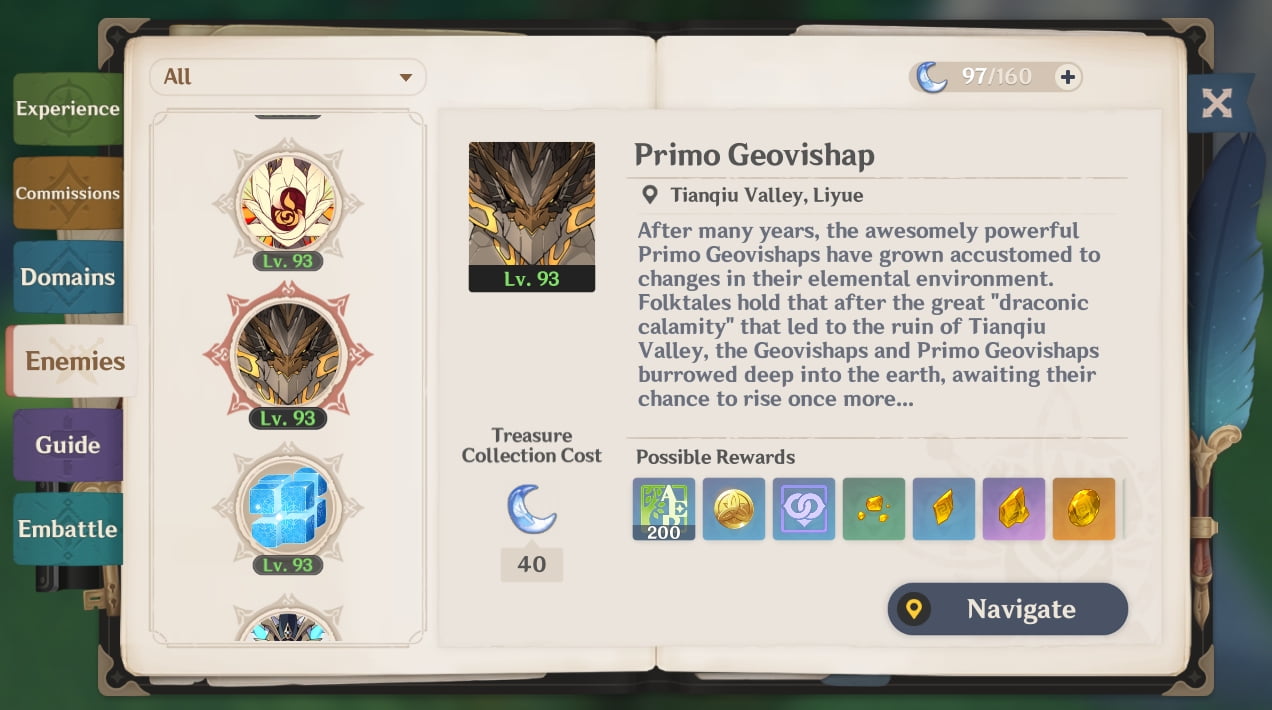 Where to find Primo Geovishap?
The Primo Geovishap is located on the West side of Liyue, Minlin. The shortest path to it is using the Teleport waypoint to its North. It is recommended to bring one portable Teleport Waypoint with you to the boss' location for repeated runs.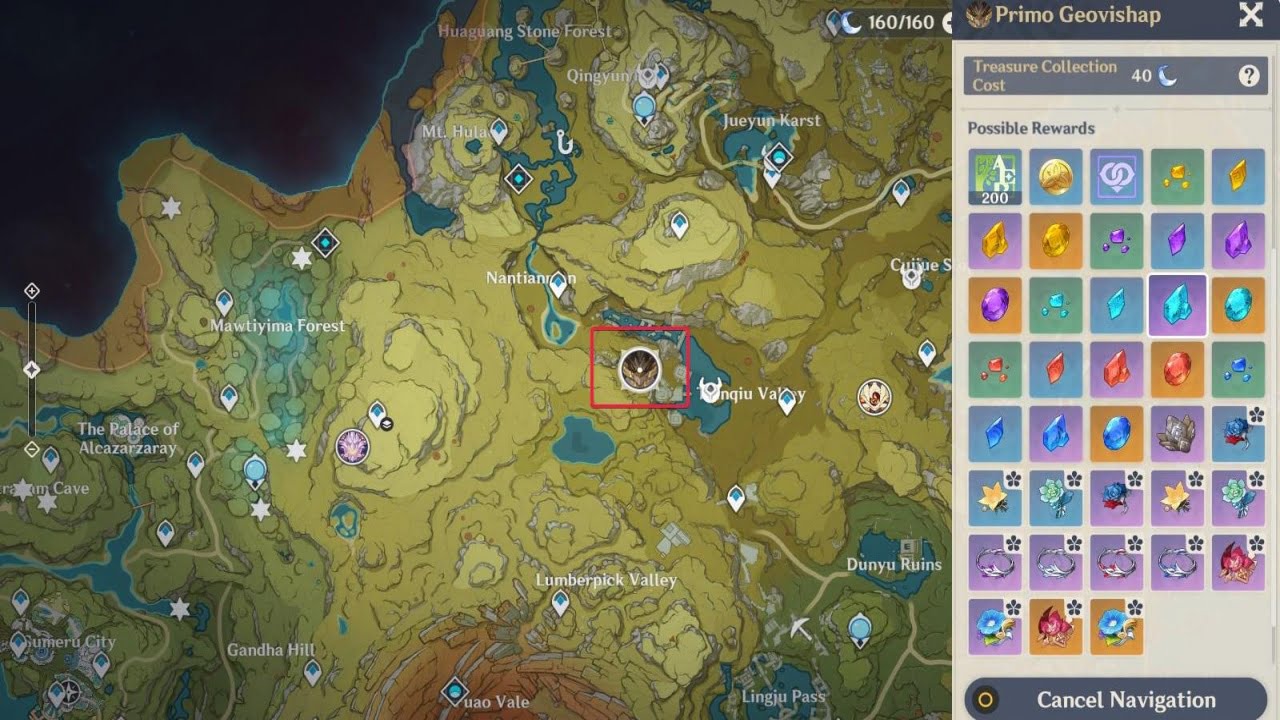 Recommended Team Comp
It is necessary to have a shield as it counters the Geovishap's most potent attacks, so make sure you have someone like Zhongli, Noelle, Diona, or Thoma on your team. Unlike other bosses, it doesn't have any weakness to elements, although it does have a higher resistance to Geo and Physical attacks.
Note: Before starting the battle, always look at what element the Primo Geovishap is at that moment and avoid using a DPS of that element.
Ganyu DPS
Ganyu
Xiangling
Albedo
Zhongli/Diona
Raiden National
Raiden Shogun
Xiangling
Xingqiu
Bennet
Hu Tao DPS
Hu Tao
Xingqiu
Kazuha/Sucrose
Zhongli/Diona/Noelle
Free-to-Play Team
Xiangling
Geo Traveler
Kaeya
Noelle/Barbara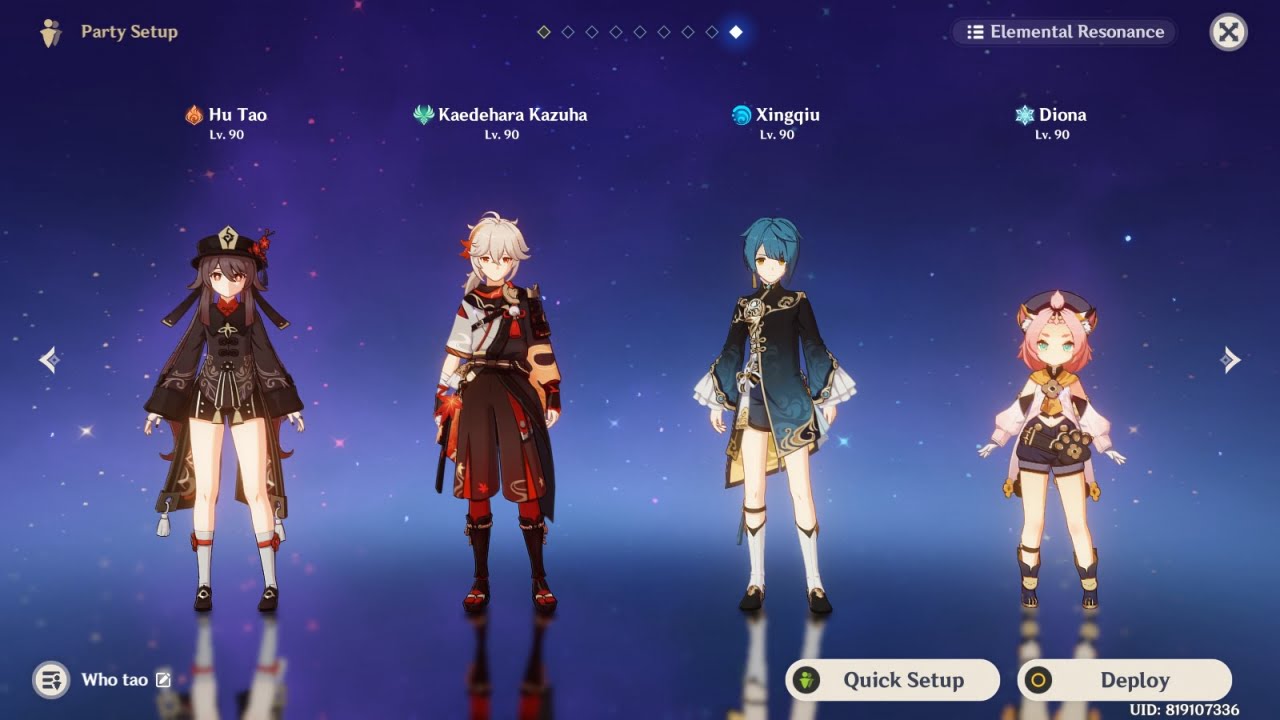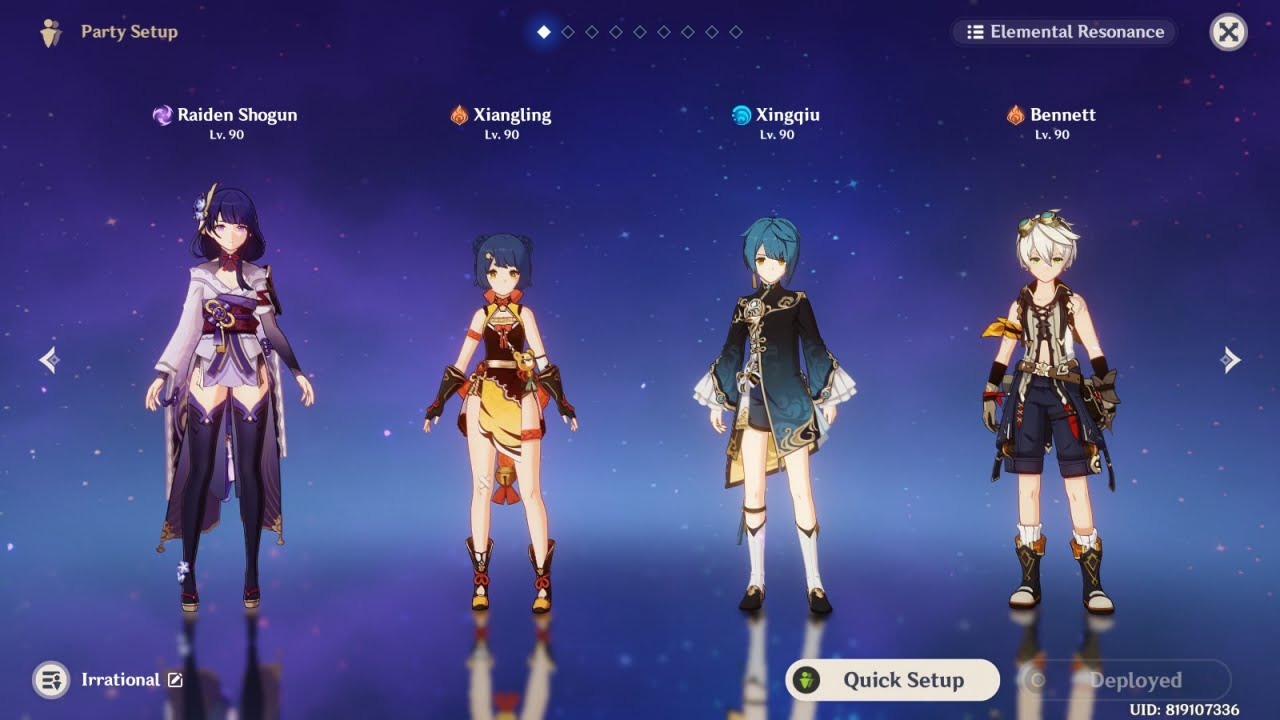 Primo Geovishap Statistics
| Element | Normal Resistance | Resistance when Stunned | Beginning of the Fight (first 5-10 seconds) |
| --- | --- | --- | --- |
| Physical | 30% | -20% | 230% |
| Pyro | 10% | -40% | 210% |
| Electro | 10% | -40% | 210% |
| Hydro | 10% | -40% | 210% |
| Cryo | 10% | -40% | 210% |
| Anemo | 10% | -40% | 210% |
| Dendro | 10% | -40% | 210% |
| Geo | 50% | 0% | 250% |
HP/ATK/DEF
The Primo Geovishap gains 20% more resistance to the element it spawned with. Its HP, ATK, and DEF range from 2,188 to 1,102,954/ 203 to 19,698/ 505 to 1,000, respectively, from boss Level 1 to 100.
Note: The Values above may differ in Co-op mode and other Domains or Events.
How to beat Primo Geovishap Easily?
When you first enter the fight arena, the Primo Geovishap will sleep in any of the four elements: Pyro, Hydro, Cryo, or Electro. The Geovishap will take reduced damage when it's waking up; refrain from attacking at this point. Right when the battle starts, activate your shield from whichever shield character you brought along with you.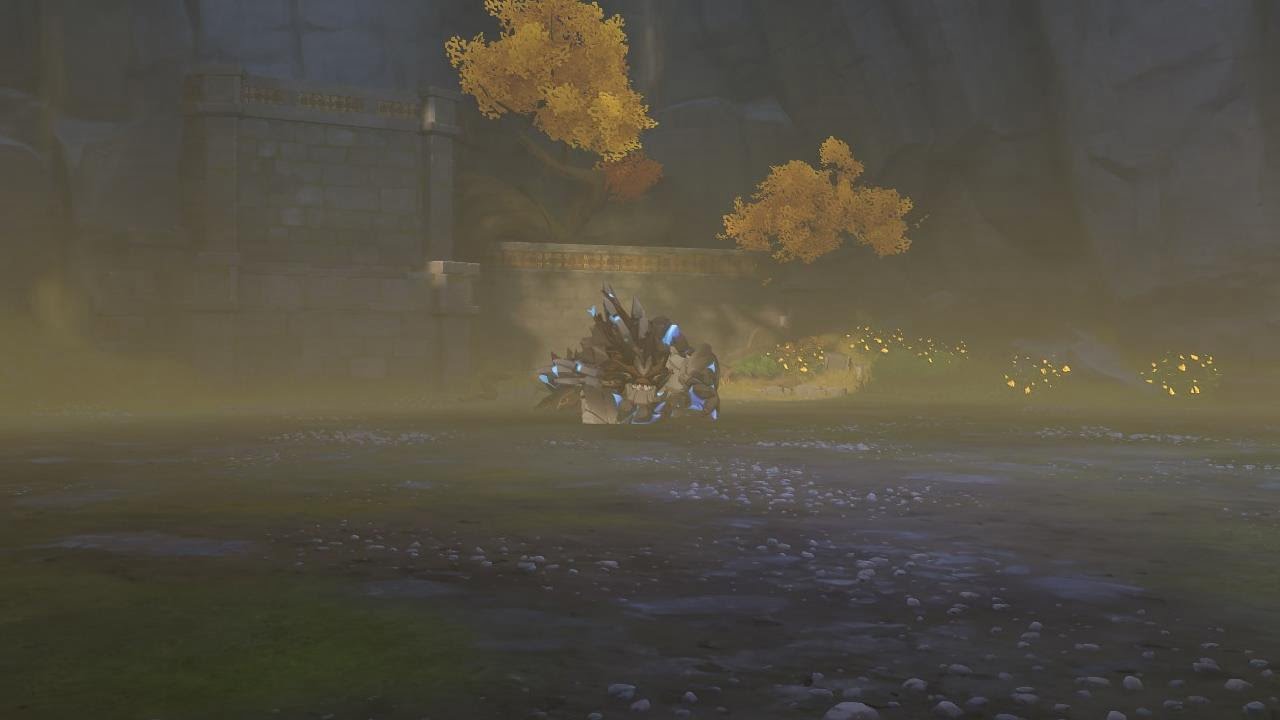 The boss itself has 4 times more health than other world bosses. However, this can be used against it by blocking Primordial Shower Attack with a Geo Shield, dealing damage equivalent to 15% of its Max HP.
What are the Abilities and Attacks of the Primo Geovishap?
Most of the attacks of the Primo Geovishap are close-range melee attacks, so they can be easily dodged by dashing or blocked by using a shield. The small attacks shouldn't be that big of an issue. However, it is advised that you bring some healing food.
Elemental Infused Stones
Some attacks from the Geovishap will produce stones that detonate after a few seconds, dealing massive damage. The boss sometimes raises its tail to release the elemental stones in random directions around the arena, with each element having a different type of detonation.
Pyro: It deals 40% AKT as AoE Pyro DMG, dealing 10% ATK as constant Pyro DMG after the initial detonation.
Hydro: This causes 7 small eruptions near the stone's earlier position, producing 25% ATK as Hydro DMG.
Cryo: This generates rings of spikes that start from the center of the stone and then go outwards. This deals 25% and 37.5% ATK as Cryo DMG.
Electro: These stones explode in a cross-like pattern dealing 25% ATK as Electro DMG.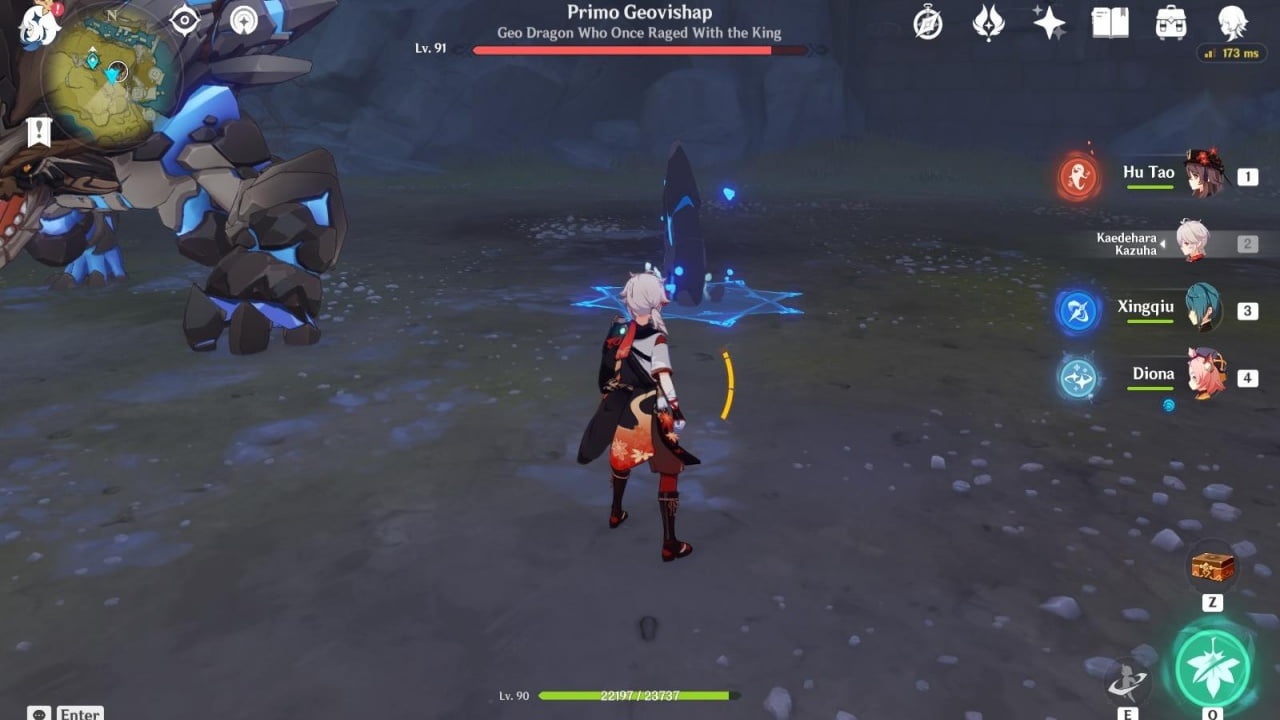 Left Claw
Smashes its left claw toward the player into the ground, dealing 35% ATK as Geo DMG.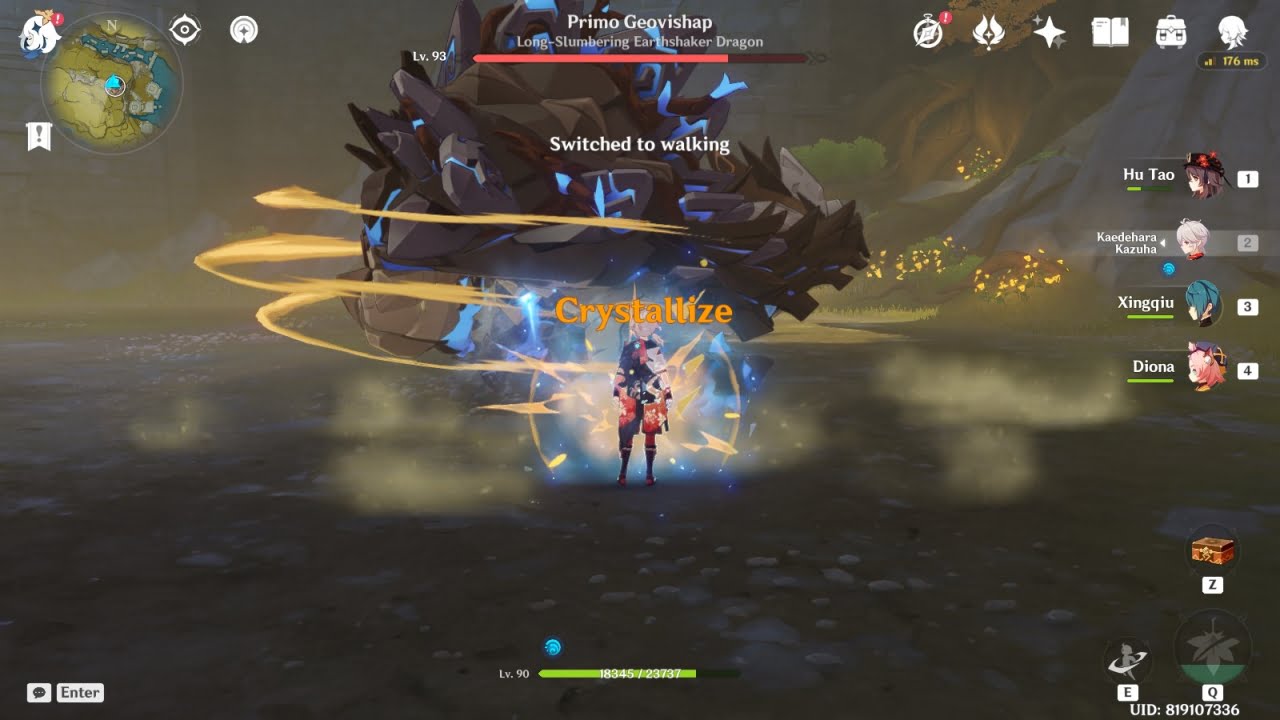 Right Claw
Swipes its right claw toward the player, dealing 40% ATK as Geo DMG.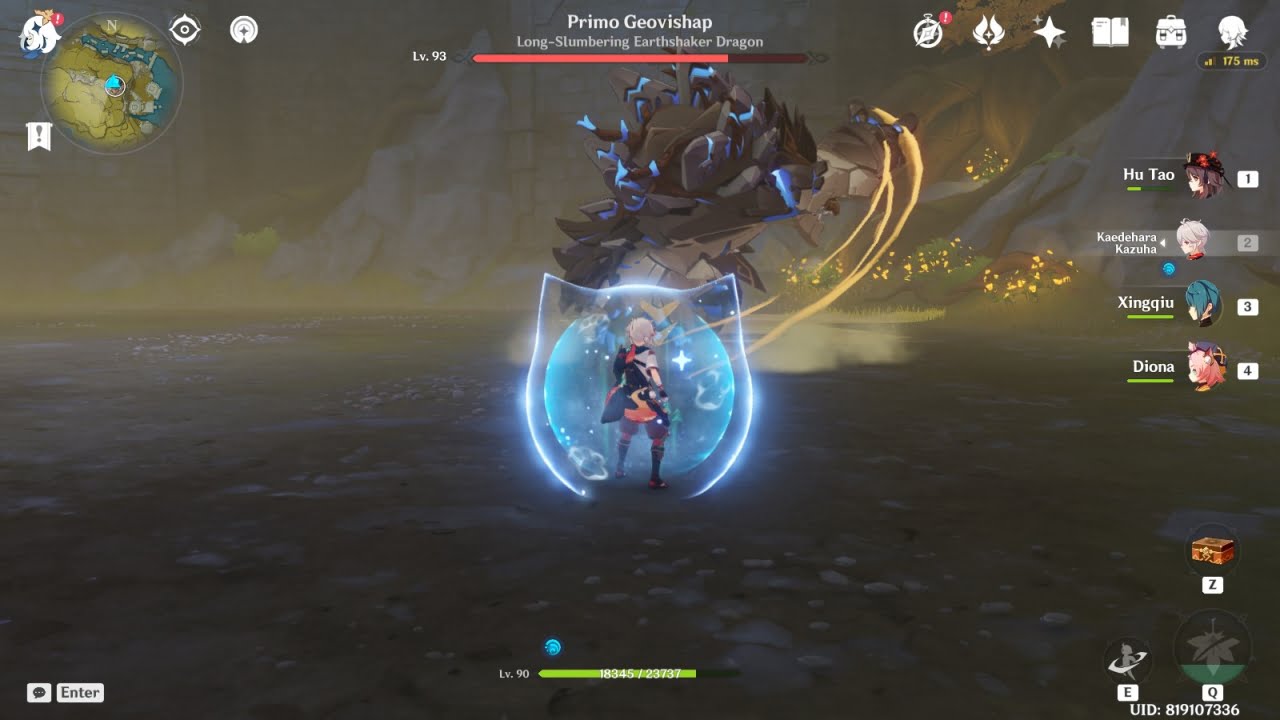 Whirlwind
Looks behind itself instantly and then spins 360 degrees to hit the player with AoE DMG, dealing 50% ATK as Geo DMG.
Note: This attack is only used when the player is behind the Geovishap.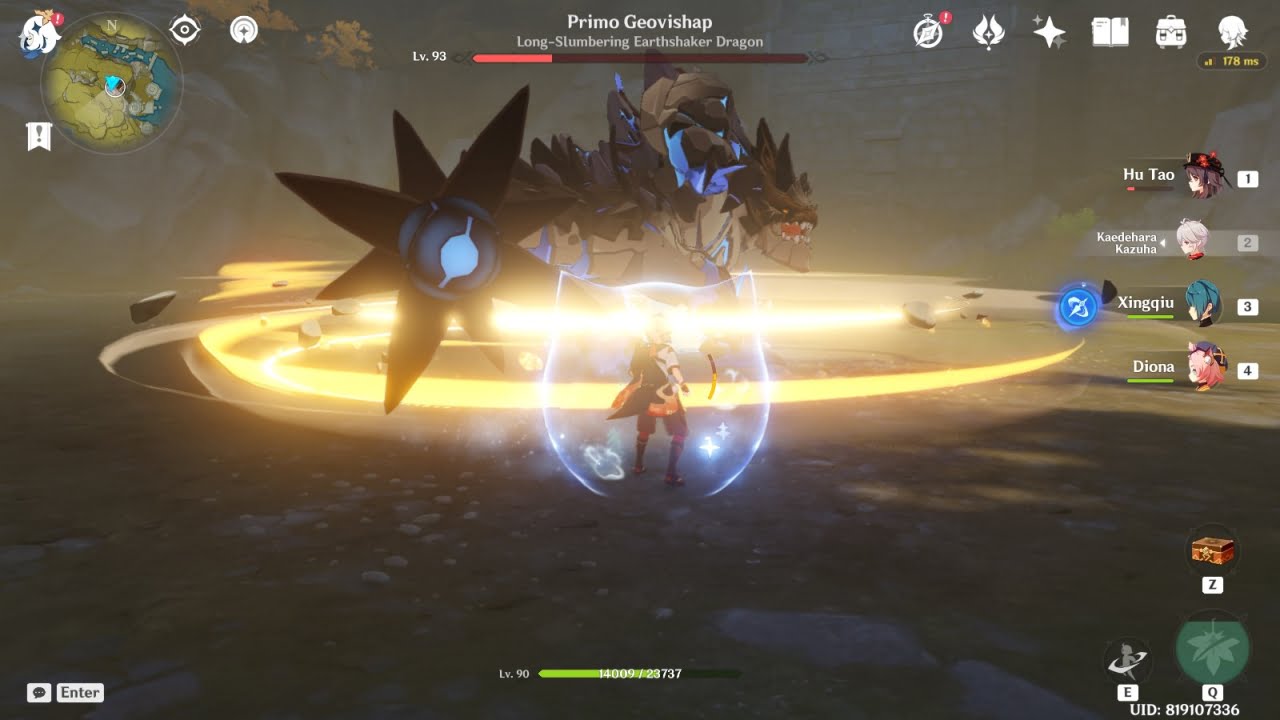 Combo Slash
Moves forward and attacks twice with its claws, slamming toward the player; each attack deals 40% ATK, 50% ATK, and 62.5% ATK as Geo DMG, respectively.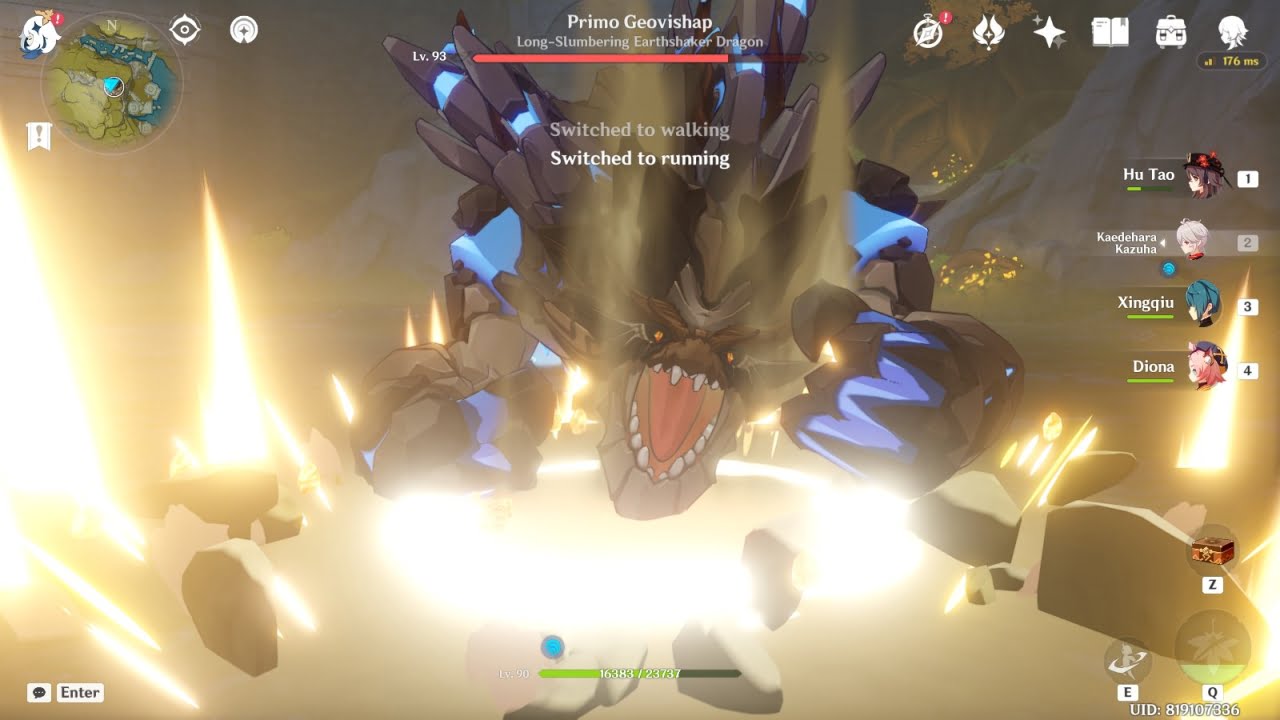 Burrow
When a player is outside the normal attack radius of the boss, it buries itself underground and digs toward the player, creating elemental stones as it digs. If a player is near it when it buries underground, it damages them with 25% ATK as Geo DMG. When it reaches a player after digging, it resurfaces and performs a slam. This deals 75% ATK as Geo DMG.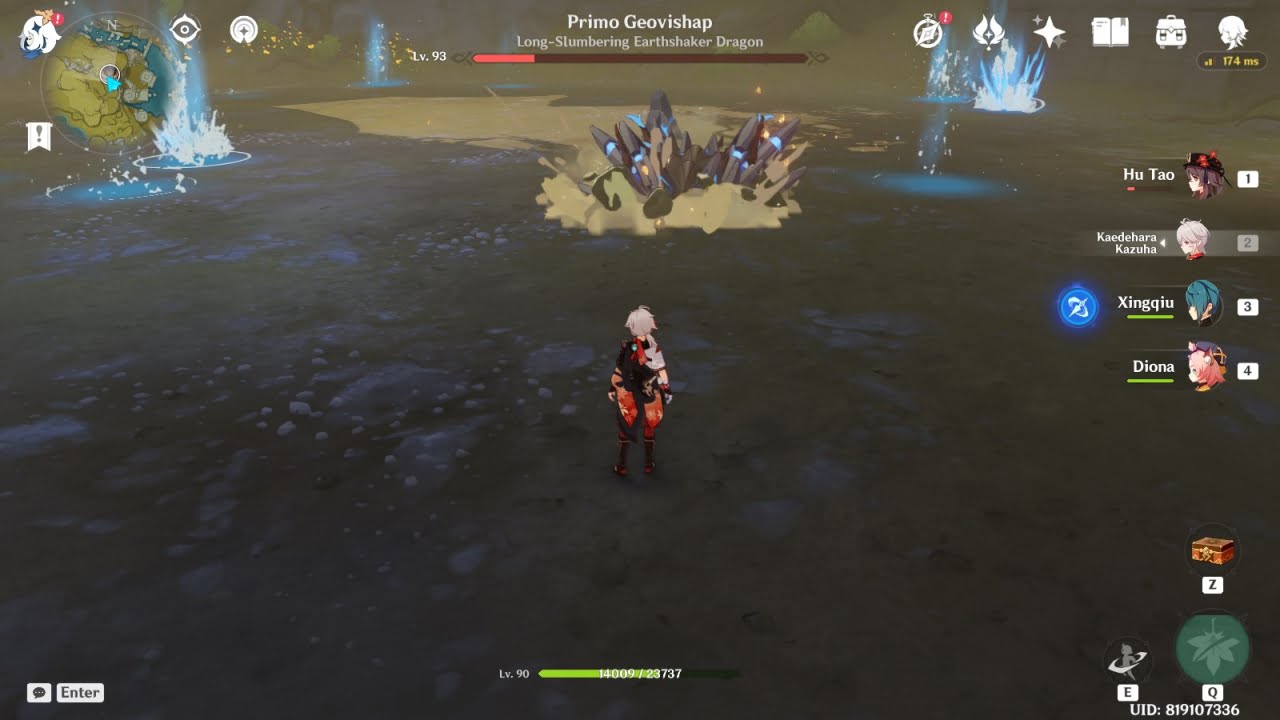 Elemental Breath
Charges up and releases a breath of pure elemental power, unleashing it in a cone-like area. This deals 40%, 20%, or 10% ATK as AoE DMG of the currently infused element.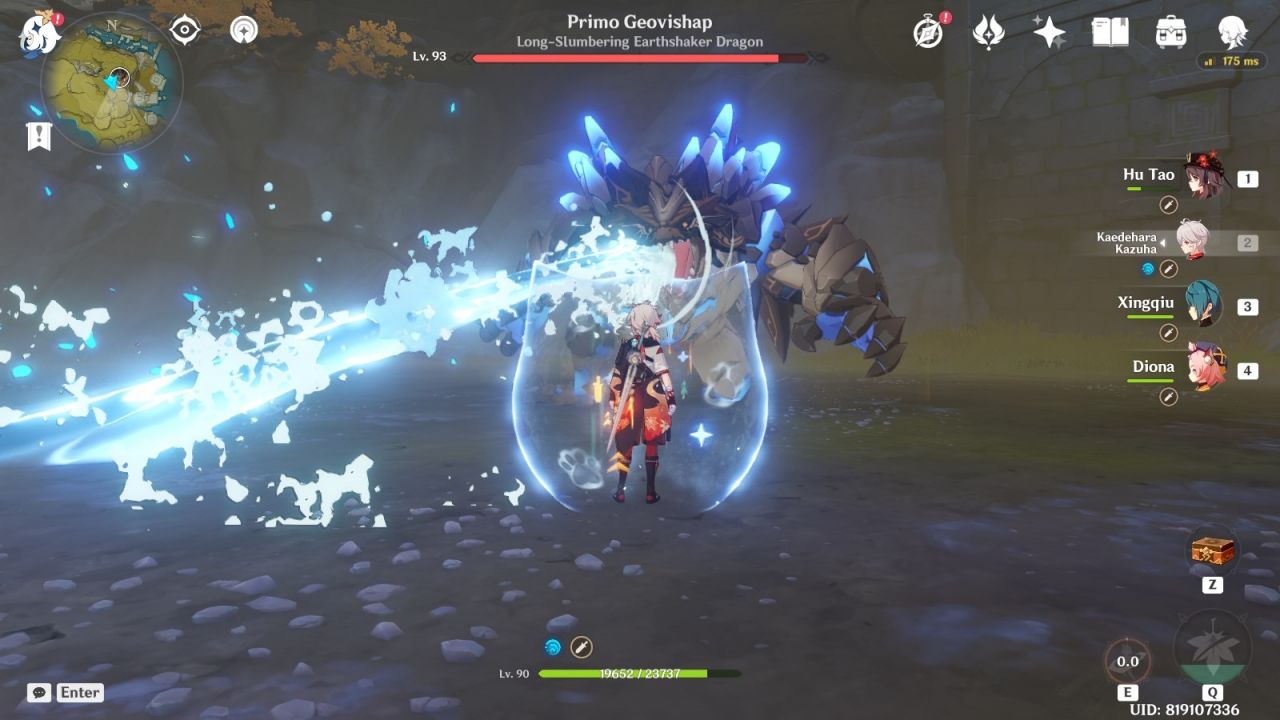 Primeval Spring
Shakes its body and releases Elemental-infused Stones in random directions around it. This attack is only used if the Geovishap reaches 20% HP. The attack itself has no damage, so avoid being near the stones so you are not damaged.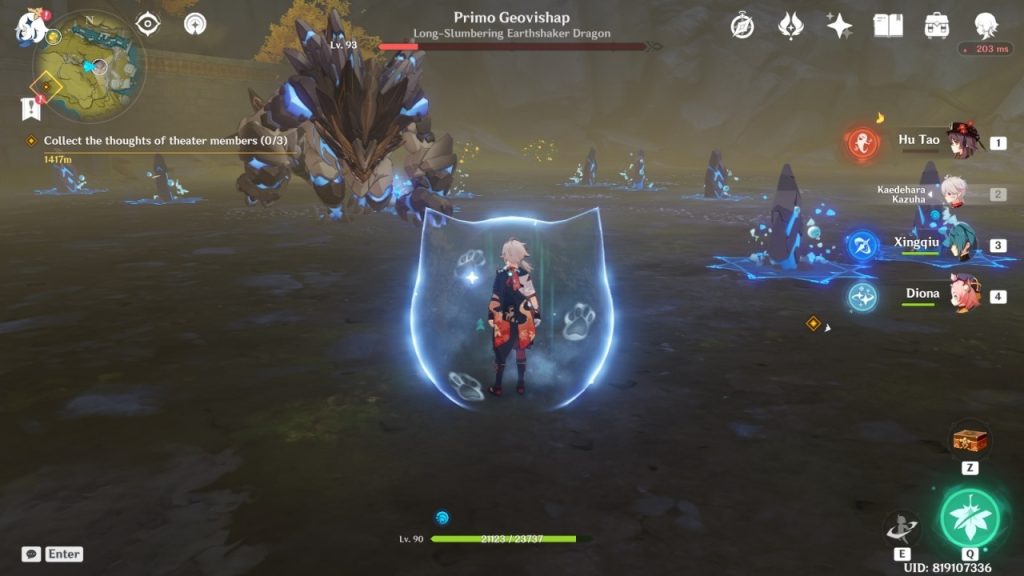 Primordial Shower
Charges up elemental power for a few moments and then releases a burst of elemental power in a huge radius that deals 100% ATK as DMG of the currently infused element. This attack cannot be dodged with dash I-frames; however, burst I-frames still work. When the player uses a shield, this attack's damage is reduced to 25% ATK instead of 100% ATK.
If a shield absorbs all DMG, the attack will rebound, and the boss itself will be damaged.
If the shield's element is Geo or the same as the boss, then it will lose 15% of its Max HP; otherwise, it will lose only 5%.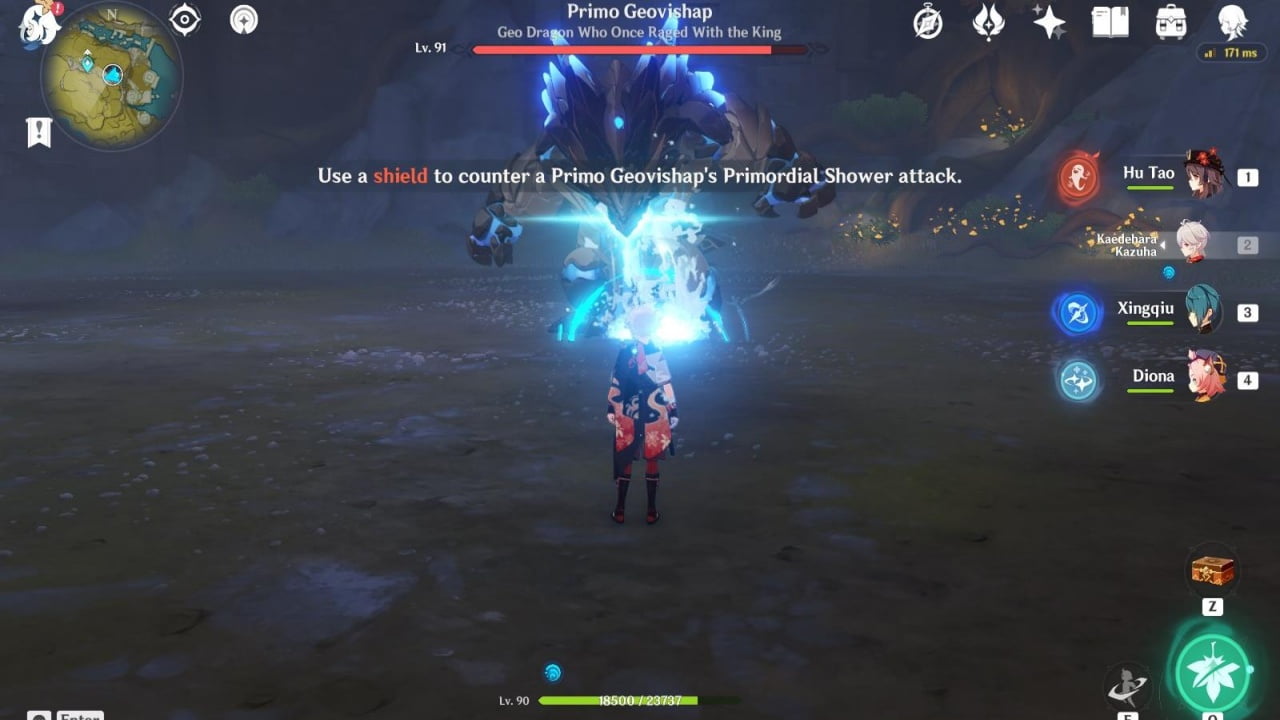 Rewards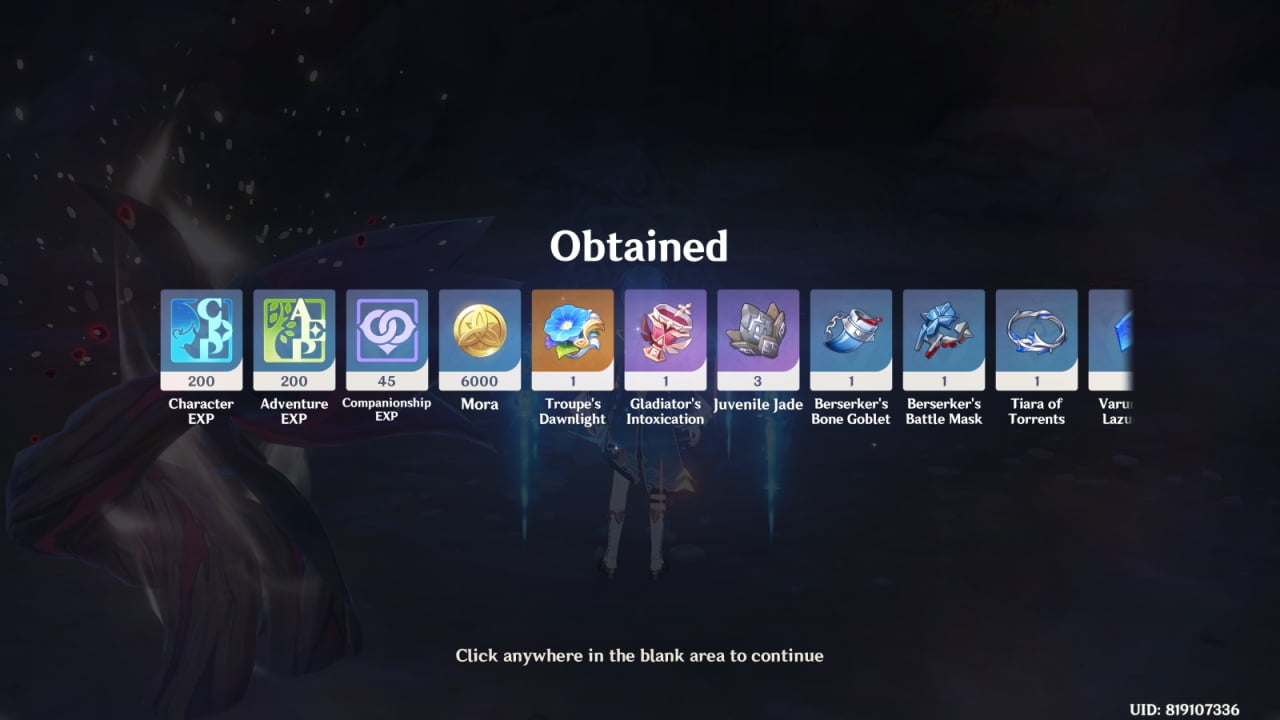 Character Ascension Material
Juvenile Jade (1-3, Depending on your Boss or World Level)
Prithiva Topaz Sliver
Prithiva Topaz Fragment
Prithiva Topaz Chunk
Prithiva Topaz Gemstone
Vajrada Amethyst Sliver
Vajrada Amethyst Fragment
Vajrada Amethyst Chunk
Vajrada Amethyst Gemstone
Shivada Jade Sliver
Shivada Jade Fragment
Shivada Jade Chunk
Shivada Jade Gemstone
Agnidus Agate Sliver
Agnidus Agate Fragment
Agnidus Agate Chunk
Agnidus Agate Gemstone
Varunada Lazurite Sliver
Varunada Lazurite Fragment
Varunada Lazurite Chunk
Varunada Lazurite Gemstone
Artifacts
Berserker (3* – 4*)
Instructor (3* – 4*)
The Exile (3* – 4*)
Prayers for Wisdom (3* – 4*)
Prayers to Springtime (3* – 4*)
Prayers for illumination (3* – 4*)
Prayers for Destiny (3* – 4*)
Gladiator's Finale (4* – 5*)
Wanderer's Troupe (4* – 5*)
Other Drops (Vary according to your Boss or World Level)
200 Adventure EXP
3,450 to 6,000 Mora
138 to 200 Character EXP
30 to 45 Companionship EXP