The Geo Hypostasis (Codename: Gimel) is an elite world boss in Genshin Impact, released in version 1.0. This particular Hypostasis boss is quite challenging to defeat as it releases tough constructs and stones to destroy. It has no weakness and only takes damage once the core is exposed.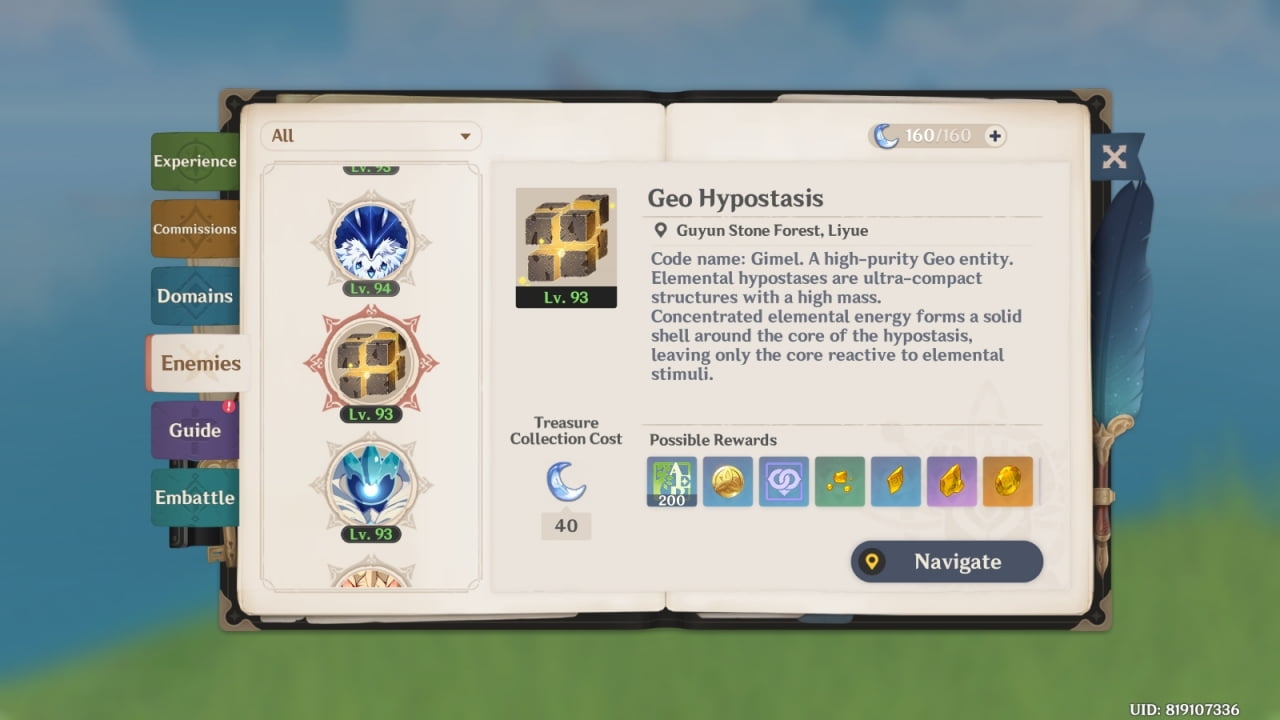 Geo Hypostasis Location
It is located in the Guyun Stone Forest, Sea of Clouds in Liyue. There are two ways of getting to the boss: using the waypoint near it or the domain near it and swimming toward the boss. However, if you have yet to unlock these, you may need to jump and glide from the mainland to the Guyun Stone Forest.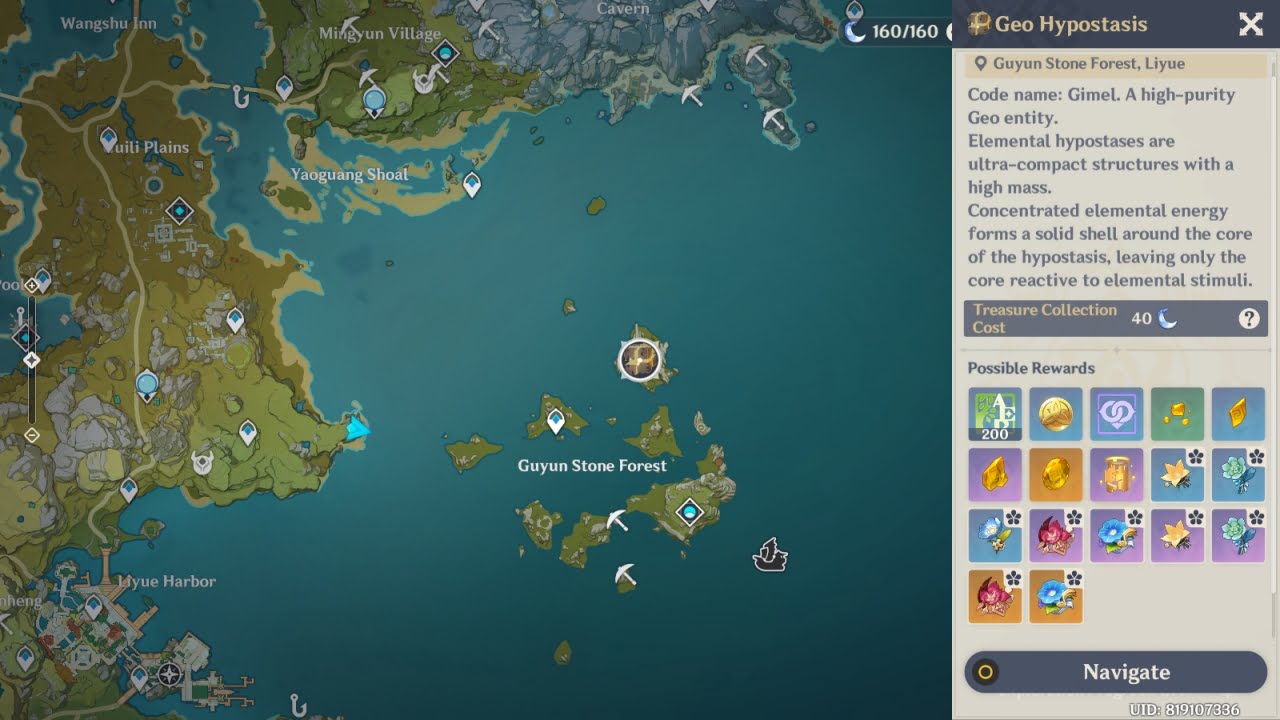 Geo Hypostasis Statistics
The Geo cube's resistance to damage is ordinary and lacks any notable increase in ATK or HP.
| Element | Resistance |
| --- | --- |
| Physical | 10% |
| Pyro | 10% |
| Hydro | 10% |
| Electro | 10% |
| Cryo | 10% |
| Dendro | 10% |
| Anemo | 10% |
| Geo | Immune |
Resistance to DMG
It will take equal damage from all elements except for Geo; because it is made from Geoitself, it will be immune to all Geo DMG.
Health, Attack Power, and Defense
Its HP, ATK, and DEF vary according to the world and boss level (1 – 8)
Its HP ranges from 510 – 257,356 from boss level 1 – 100.
Its ATK ranges from 152 – 14,773 from boss level 1 – 100.
Its DEF ranges from 505 – 1,000 from boss level 1 – 100.
Note: The above stats may differ when in Co-op mode or when in a domain.
Best Tips for Geo Hypostasis Boss Battle
You can bring characters of any element except Geo, as the boss is immune to Geo damage.
Destroy the Three Geo Constructs, which appear when it is at critical HP. It uses these to regenerate its health.
Recommended Party Setups
First Character: Since the Hypostasis continuously summons Geo Constructs even when not at critical HP, you need a Claymore user to destroy them. Therefore, you should have your DPS character be a Claymore user. Dehya, Noelle, Diluc, Razor, and Beidou are recommended characters here.
Second Character: Your sub-DPS has to be someone that suits your first character. If you choose someone Pyro, like Dehya or Diluc, having Xingqiu or Yelan would be perfect. Having Xiangling or Chongyun would work if you picked someone else as DPS.
Third Character: It is best to have some off-field damage support for your third character. Characters suitable for this role are Kazuha, Sucrose, Xingqiu/Xiangling, Nahida, Collei, and Yun Jin.
Fourth Character: Your last character has to be someone to protect your team, any healer/shielder would be suitable. The best choice here is Zhongli as he can also help destroy the Geo Constructs using his ability where he summons a Geo Tower. Other appropriate characters include Diona, Barbara, Kuki Shinobu, Bennet, Kokomi, Layla, and Thoma.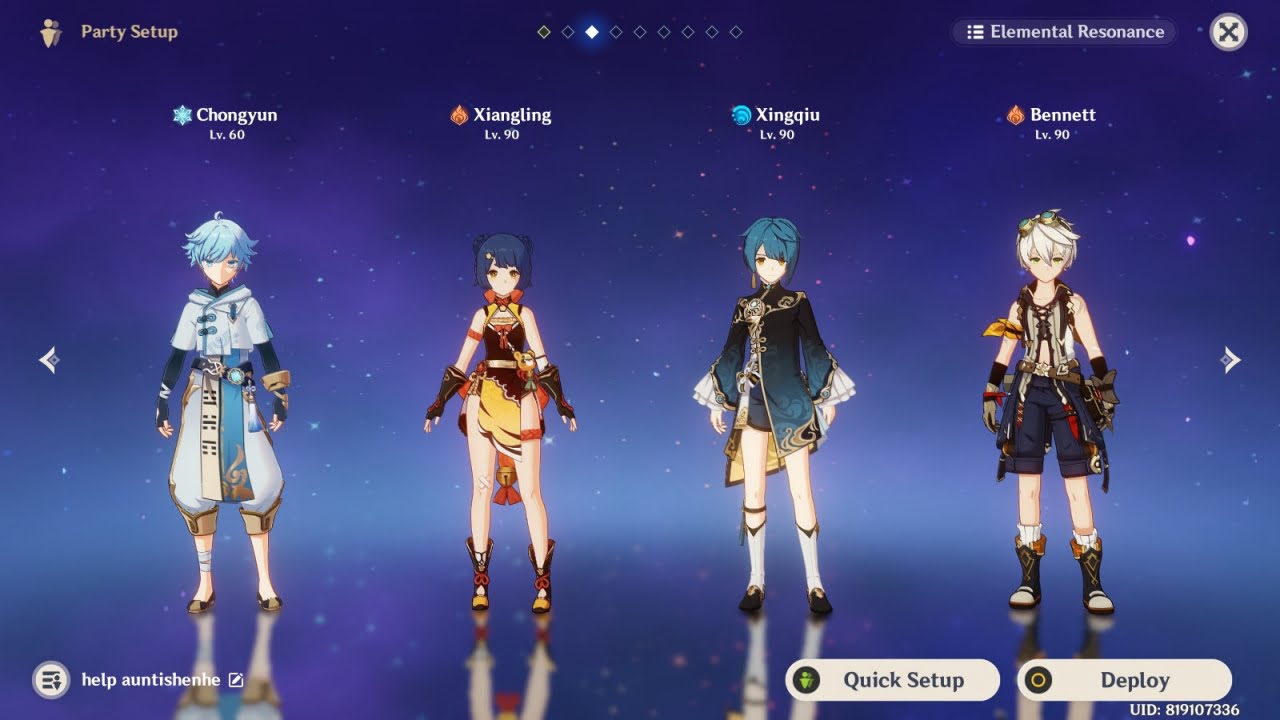 Geo Hypostasis Attacks and Dodges
The Geo Hypostasis has a small variety of abilities and attacks. However, all of these are unique abilities that could make fighting it tricky if not tackled properly. It is also in the air on top of its Geo Pillars (Geo Constructs) for most of the battle.
Geo Constructs
It summons four Geo pillars in a large triangle formation in the arena. It gets on top of one of these pillars and floats there, while it can also teleport between all four pillars. Only direct damage from Claymores/Greatswords can destroy them. Another way to bypass this ability is using a bow to damage Hypostasis.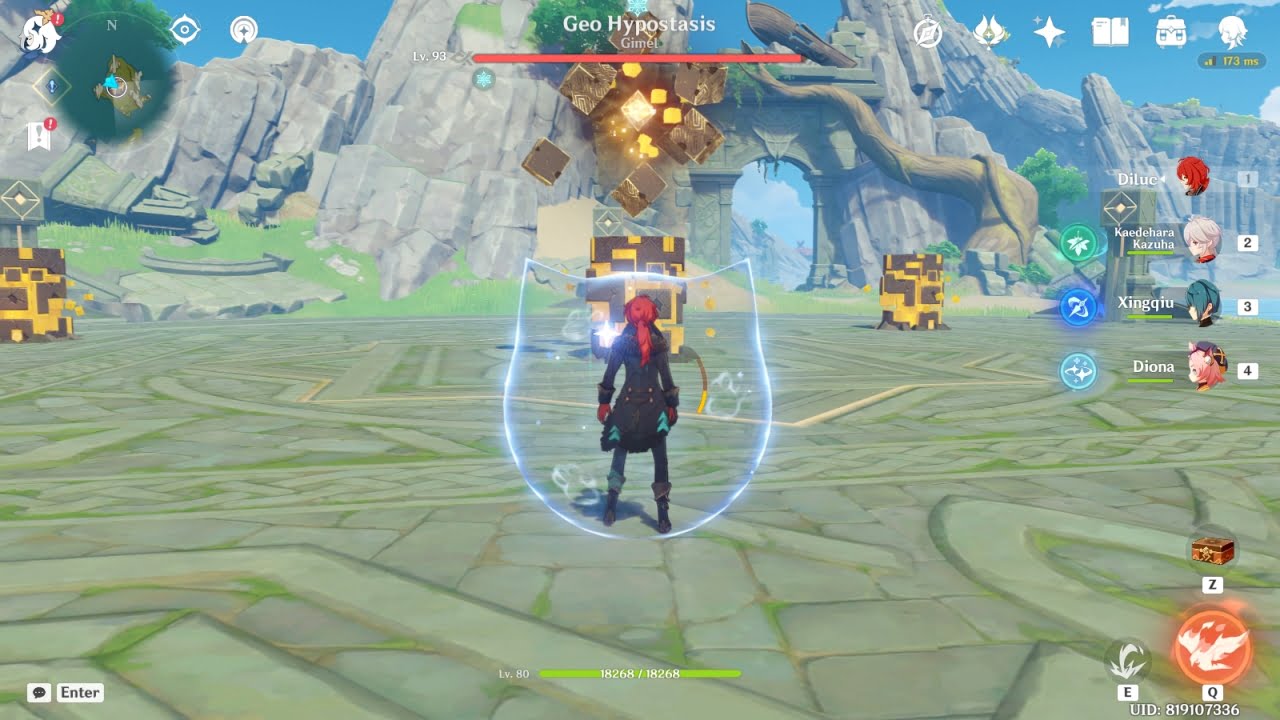 Stone Barrage
It flies up and creates a magic circle in front of it. This circle then fires a barrage of many stone bullets at you. You can hide behind stone pillars to avoid the stone bullets, which will also destroy the pillar by hitting it.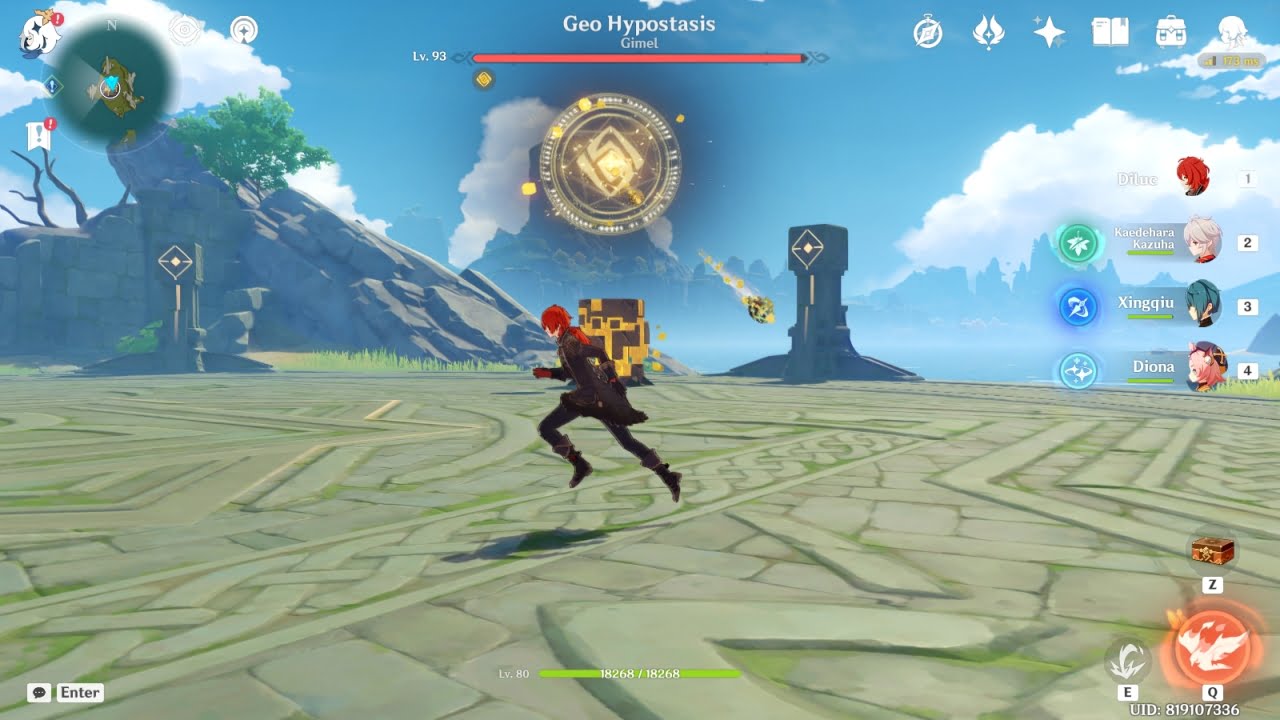 Stone Seal
It channels a Geo seal around you and starts floating. This seal will break, spawning a pillar underneath you dealing 100% ATK as Geo DMG will be summoned. Dash in any direction when you see the geo seal break to avoid being hit by the pillar.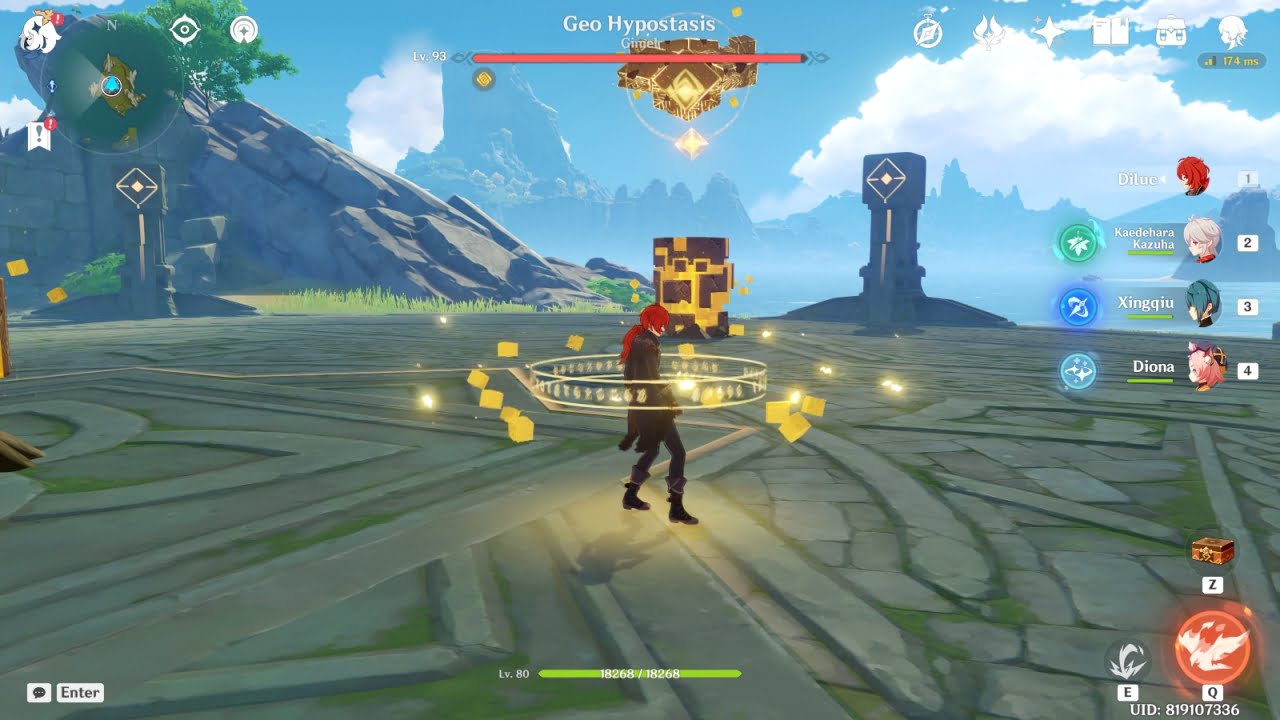 Shockwave
It channels energy onto one of the Geo Constructs while floating high up. This pillar explodes, resulting in a shockwave that deals 100% ATK as Geo DMG. You must run away when the boss starts channeling energy to avoid it.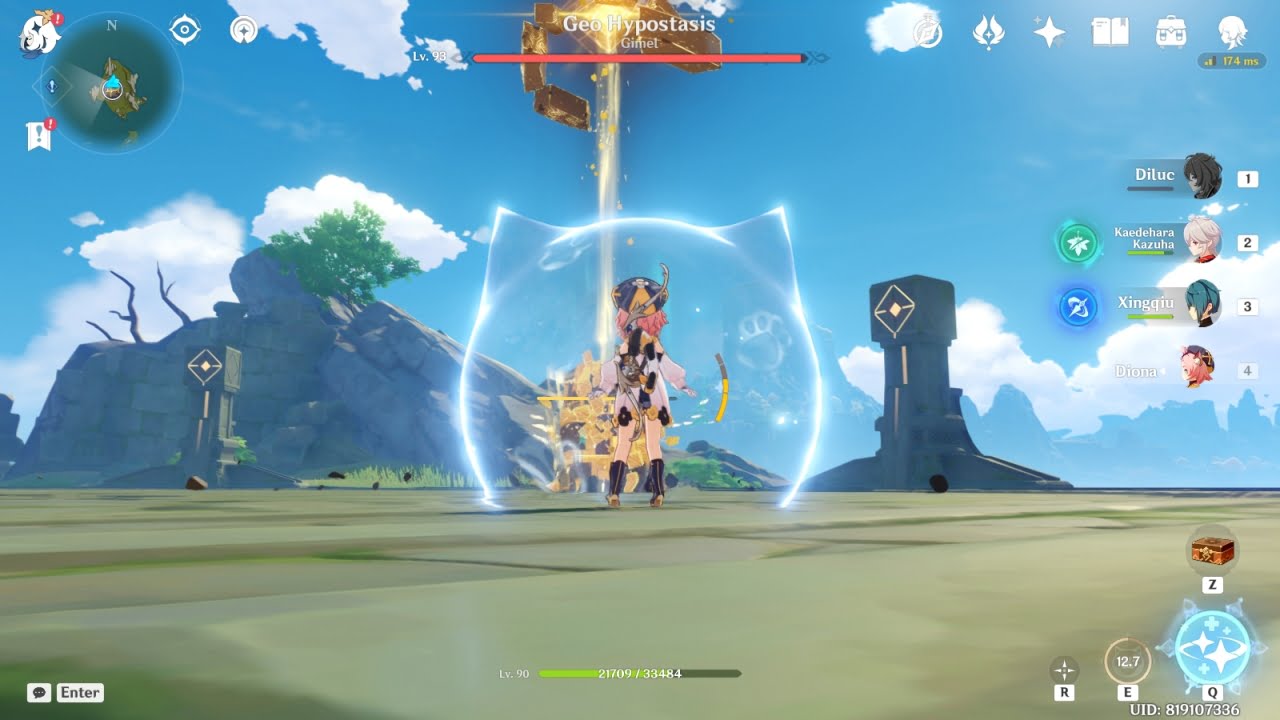 Tremors
All pillars of the arena will emit continuous shockwaves for this attack. Each shockwave will deal 100% ATK as Geo DMG. Some concentrated Geo energy is formed near the Hypostasis, and destroying it will create a forcefield to protect you from tremors. This also allows you to destroy the pillar of the Hypostasis, allowing you to damage it.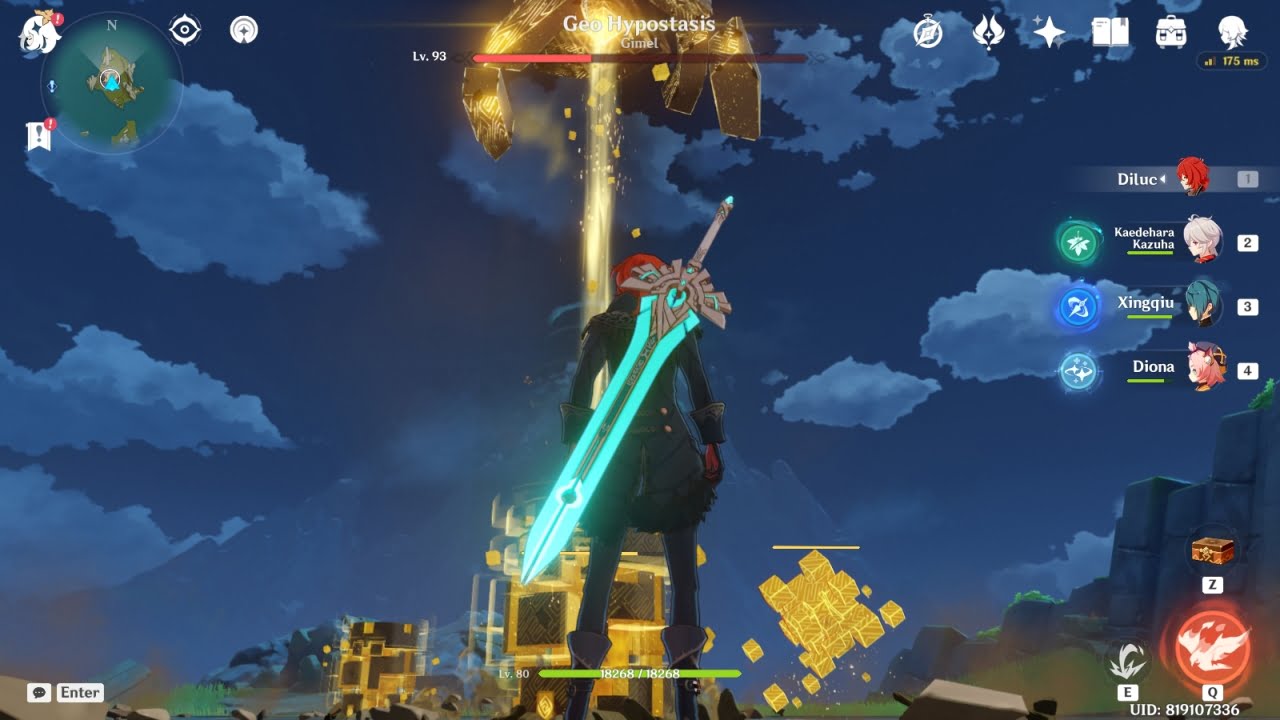 Geo Hammerfall
The Hypostasis transforms into a giant hammer and teleports next to the player while marking a small area on the ground. The hammer will smash into this area on the ground dealing 150% ATK as AoE Geo DMG; in turn, this also sends out three trails of tiny explosions ahead of the hammer, each trail dealing 50% ATK as Geo DMG. You must dash out of the marked area on the ground to avoid being hit.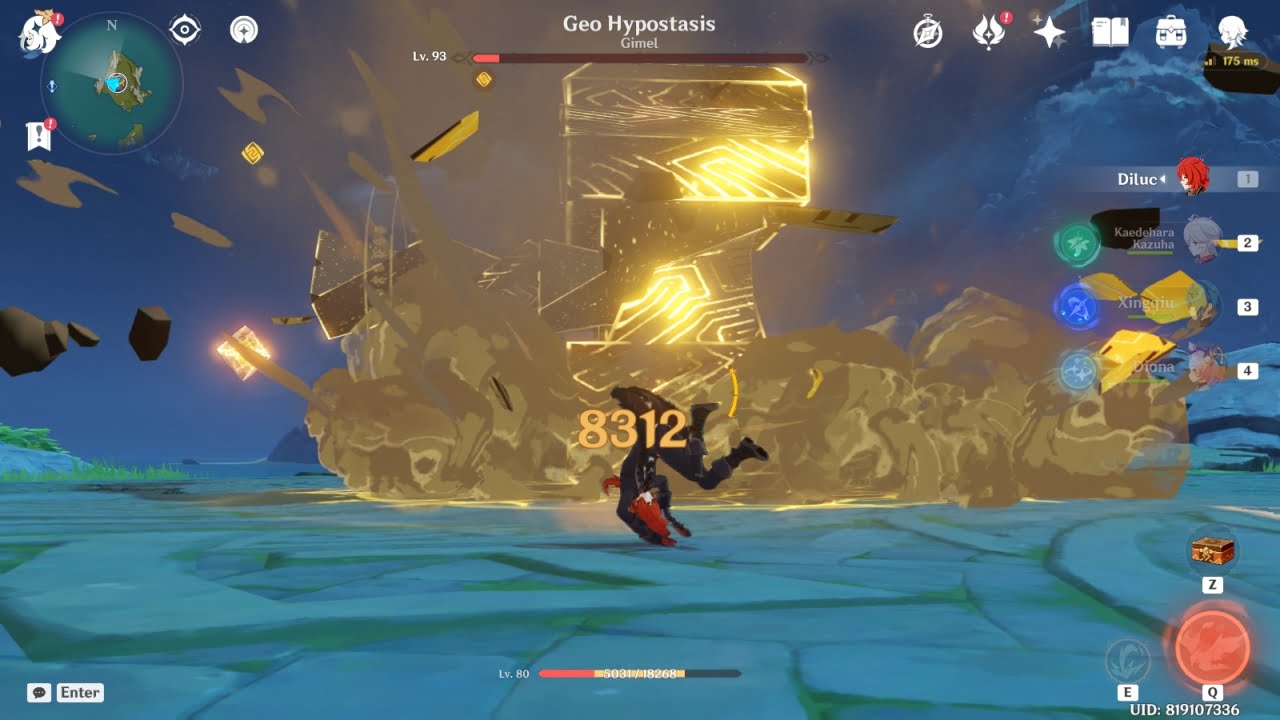 Note: This attack is only used after all the Geo Pillars/Constructs have been destroyed.
Geo Clap
This attack is the same as Anemo Clap from the Anemo Hypostasis. It forms a large wall next to the player and folds to clap it together, causing Geo DMG equal to 100% ATK. Dash away when the wall is formed to dodge the attack.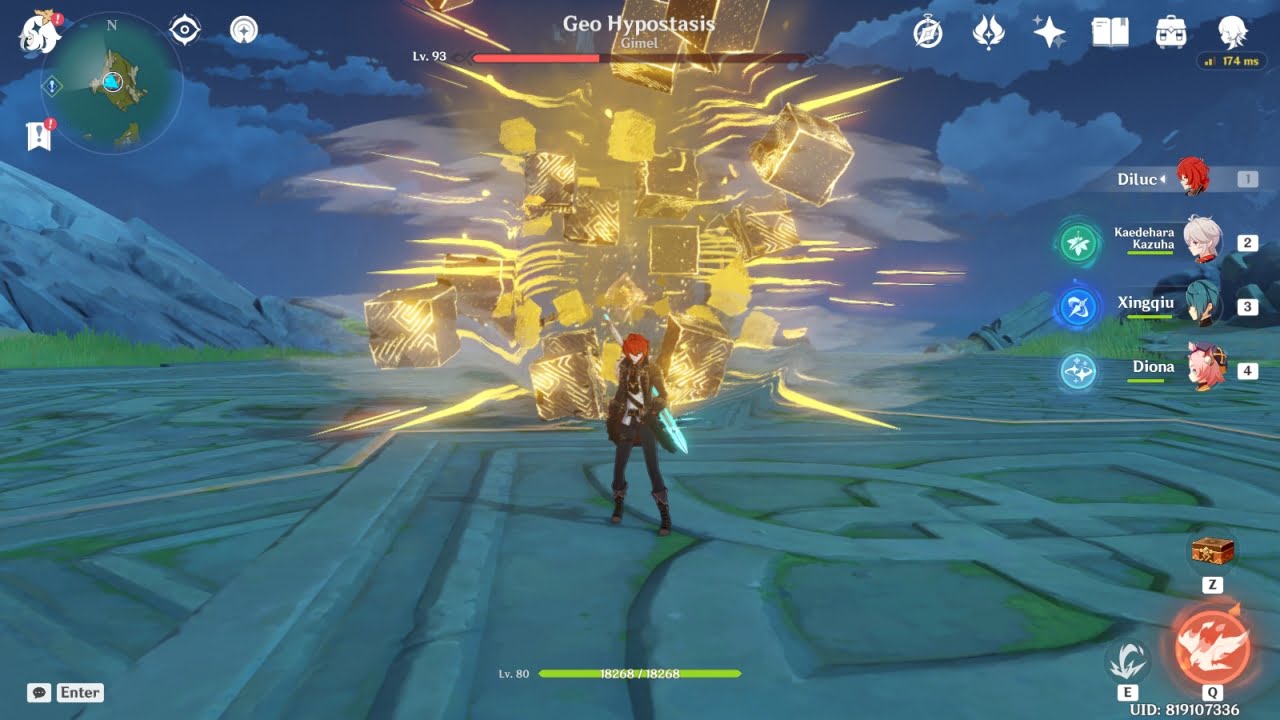 Meteor Rain
It makes tiny pellets of rocks fall onto random areas around the arena, dealing 25% ATK as Geo DMG. Furthermore, it later makes large chunks of rocks fall in the same marked area as the tiny pellets; these larger rocks deal 75% ATK as Geo DMG.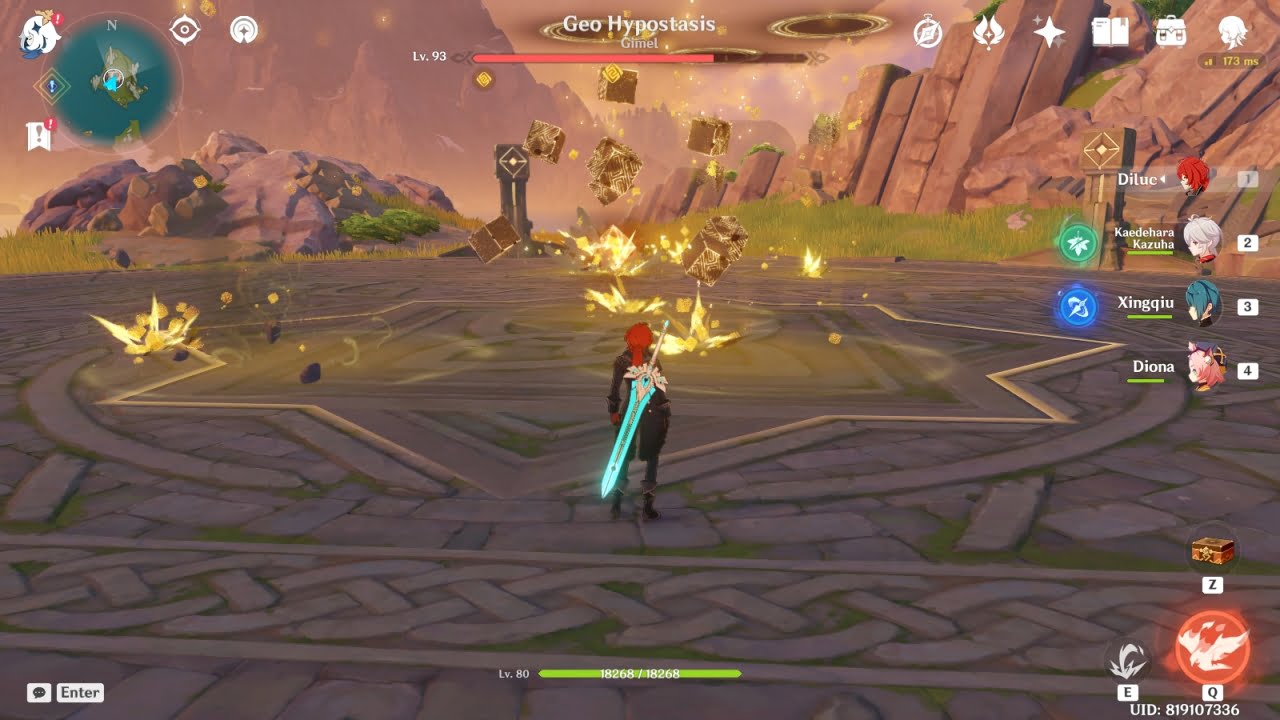 Note: This attack is only used after all the Geo Pillars/Constructs have been destroyed and the Hypostasis is on the ground.
Terra Resurgence
When the boss reaches critical HP, it teleports to the center of the arena and then forms three pillars around it to heal itself. In the next 15 seconds, it absorbs energy from these pillars to heal 15%/35%/50% of its Max HP for 1/2/3 pillars that it absorbs. If all of the pillars are destroyed, the Hypostasis is immediately killed. If a pillar in this phase is destroyed, it never respawns again.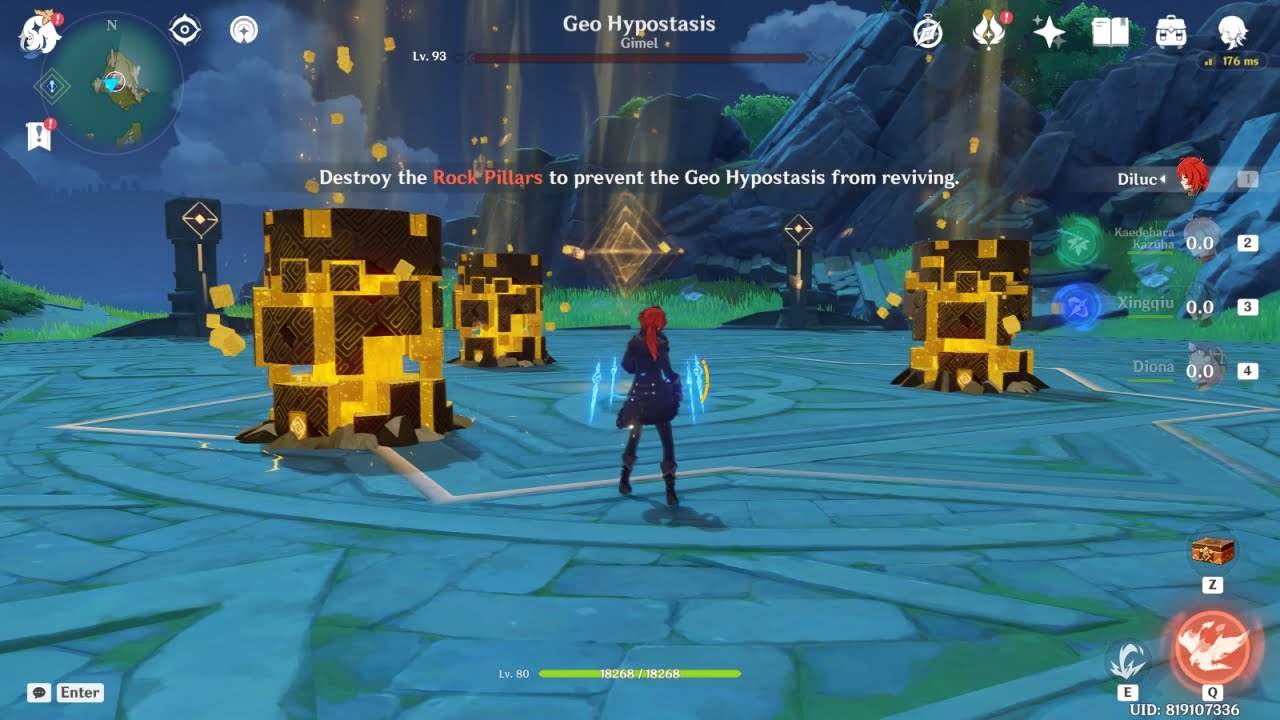 How To Defeat Geo Hypostasis Easily?
When combat is initiated, the Hypostasis immediately uses Geo Constructs to summon four pillars. Any character can damage these pillars, but claymore or plunging attacks are the most efficient way. The main strategy is to destroy these four pillars as fast as possible because the boss will teleport on top of them to be clear of your attacks. If the pillar is destroyed, it immediately comes crashing down, and any attacks being used are canceled. It stays there for the next few seconds, so use this window to damage the boss as much as possible.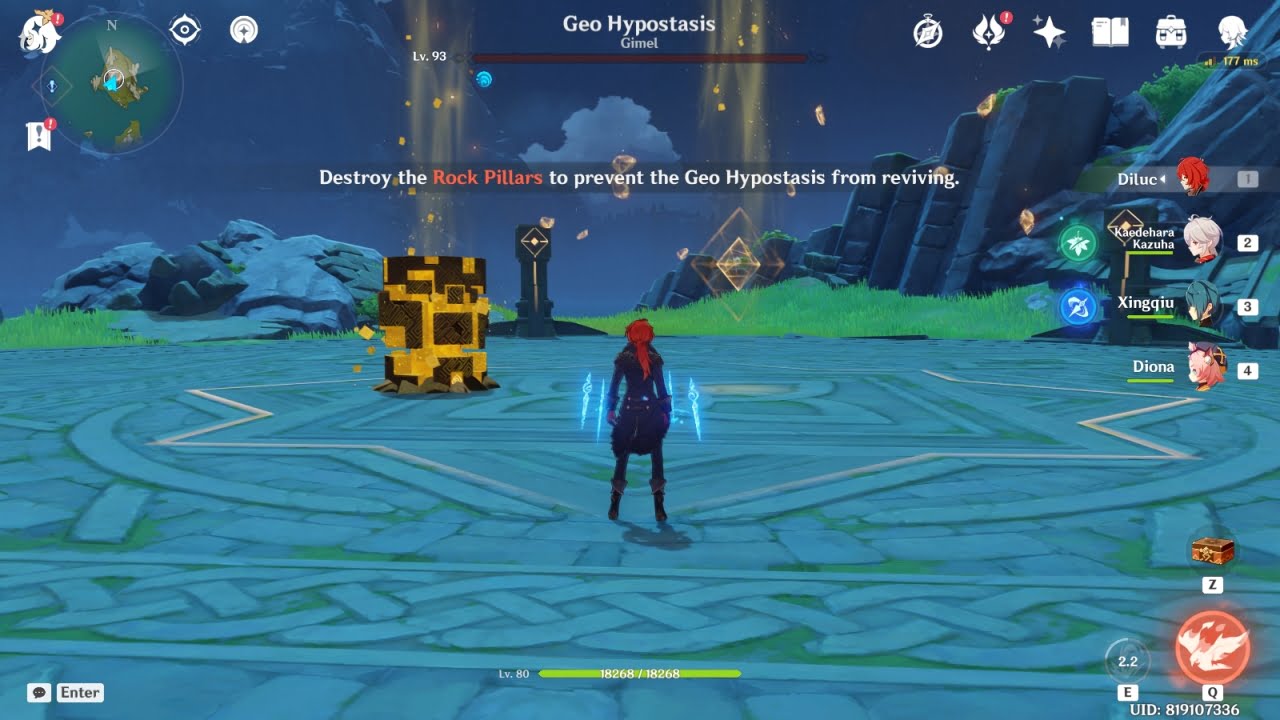 The boss tends to resummon the pillars immediately after they are destroyed, but it sometimes performs other attacks on the ground. The pillars formed at critical HP look just like usual pillars, but remember that they are much weaker and can be destroyed easily with regular hits.
Note: The boss takes equal damage from all elements except Geo and is not weak to any one element; this means all elemental attacks on it are equally effective.
Geo Hypostasis Rewards/Drops
You require 40 Original Resin at the Ley Line Trounce Blossom to claim rewards. It has three categories of rewards:
Character Ascension Material
Basalt Pillar (1–3)
Prithiva Topaz Sliver
Prithiva Topaz Fragment
Prithiva Topaz Chunk
Prithiva Topaz Gemstone
Artifact Sets
Traveling Doctor (1* – 3*)
The Exile (3* – 4*)
Instructor (3* – 4*)
Gladiator's Finale (4* – 5*)
Wanderer's Troupe (4* – 5*)
Other Rewards
200 Adventure EXP
3,450 – 6,000 Mora
138 – 200 Character EXP
30 – 45 Companionship EXP
Achievements
There are only four obtainable achievements from the Geo Hypostasis.
Juggernaut: Destroy all of the Geo Rock Pillars of Revival before it regenerates its health.
A House Ill-Founded: Destroy Geo Constructs, which the boss is on three times to make it fall.
None Stand Secure: Damage the Geo Hypostasis to critical HP into its revival state without destroying Geo Constructs.
You Have to Hit the Pillars: Defeat the Geo Hypostasis in Co-op Mode.