Genshin Impact's initial release, version 1.0, gave players a lot of in-game content and boss fights. One of these is the Anemo Hypostasis, located in the Stormbearer Mountains, Mondstadt. The boss uses cubes to protect itself from all attacks. It was given the Codename: Beth as a pure Anemo Entity. Besides its name and Anemo purity, little information is known about it to the world of Teyva.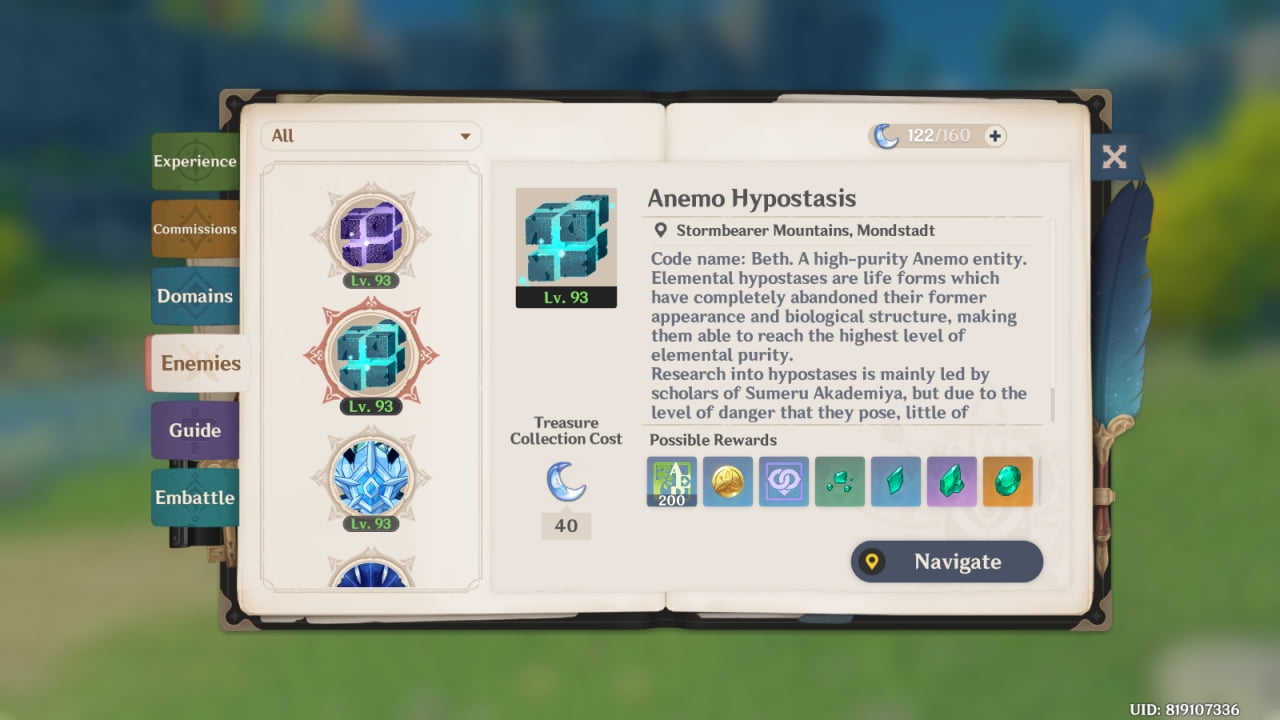 Anemo Hypostasis Location
It can be found within the northern area of the Stormbearer Mountains in Mondstadt, and the fastest way to get to it is using the nearest waypoint on the map and going north until you reach the boss.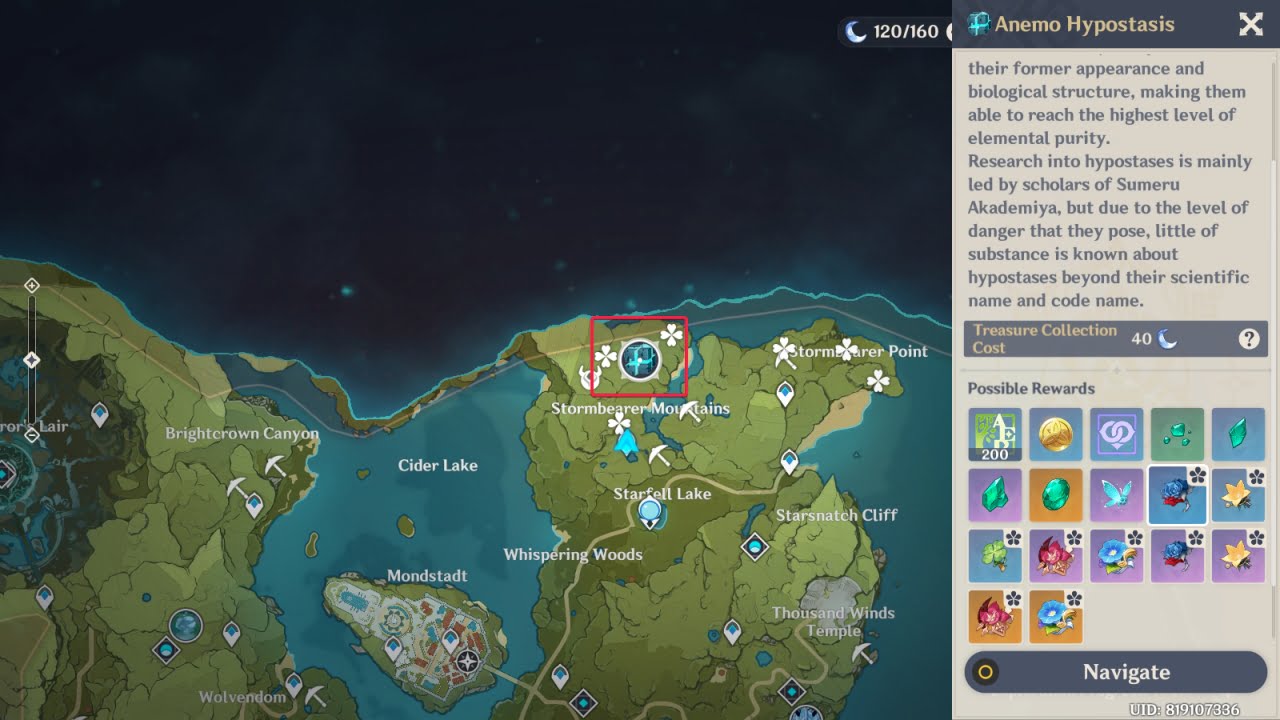 Note: For repeated runs, the boss usually respawns within 5 minutes.
Anemo Hypostasis Statistics
Its ATK and HP are standard; its resistance to damage is also normal. In fact, the boss has significantly lower HP than the other elite enemies.
| Element | Resistance |
| --- | --- |
| Physical | 10% |
| Pyro | 10% |
| Hydro | 10% |
| Electro | 10% |
| Cryo | 10% |
| Dendro | 10% |
| Anemo | Immune |
| Geo | 10% |
Health, Attack Power, and Defense
Its HP ranges from 510 – 257,356 from boss level 1 – 100.
Its ATK ranges from 152 – 14,773 from boss level 1 – 100.
Its DEF ranges from 505 – 1,000 from boss level 1 – 100.
Note: Stats may be variable depending on your world level or if you are in a domain or Co-op mode.
Best Tips for Anemo Hypostasis Boss Battle
The boss is immune to all Anemo attacks, do not bring any Anemo characters.
Collect the Anemo orbs as soon as they appear because the boss uses them to heal itself
Remain patient during the battle and keep your distance since its cubes often protect the hypostasis. Strike at the right time when it is unprotected.
Recommended Party Setups
First Character: Your DPS could be any character that does not use Anemo, for example, Keqing, Ayaka, Ganyu, Hu Tao, Yoimiya, Nilou, Raiden Shogun, or Itto. This is because it has equal resistance to all elements except Anemo.
Second Character: The second character can be a Sub-DPS—a character for extra damage off the field, like Xiangling, Albedo, Yae Miko, Fischl, Beidou, Kaeya, Chongyun, or Lisa. However, this mainly depends on your DPS; thus, make your team accordingly.
Third Character: Your third character here can be a support and be of a different element than your second or first character for elemental reactions. Suitable characters include Xingqiu, Tighnari, Collei, Traveler, Nahida, Yelan, Gorou, and Yunjin.
Fourth Character: Finally, you should be a shielder or healer to keep your other characters alive, including Noelle, Barbara, Diona, Zhongli, and Kokomi.
Anemo Hypostasis Attacks and Counters
A few unique abilities from the Anemo Hypostasis make it problematic if you do not handle it properly, but worry not, as most of its attacks are relatively easy to dodge if you react fast enough.
Crystalfly Wing Gust
It will transform into a giant Crystalfly and flies up near you to shoot two wind blasts. The follow-up blast only occurs if you were damaged by the first blast; it will deal 100% ATK as Anemo DMG. Dash away to avoid the first blast, and it will cancel the attack.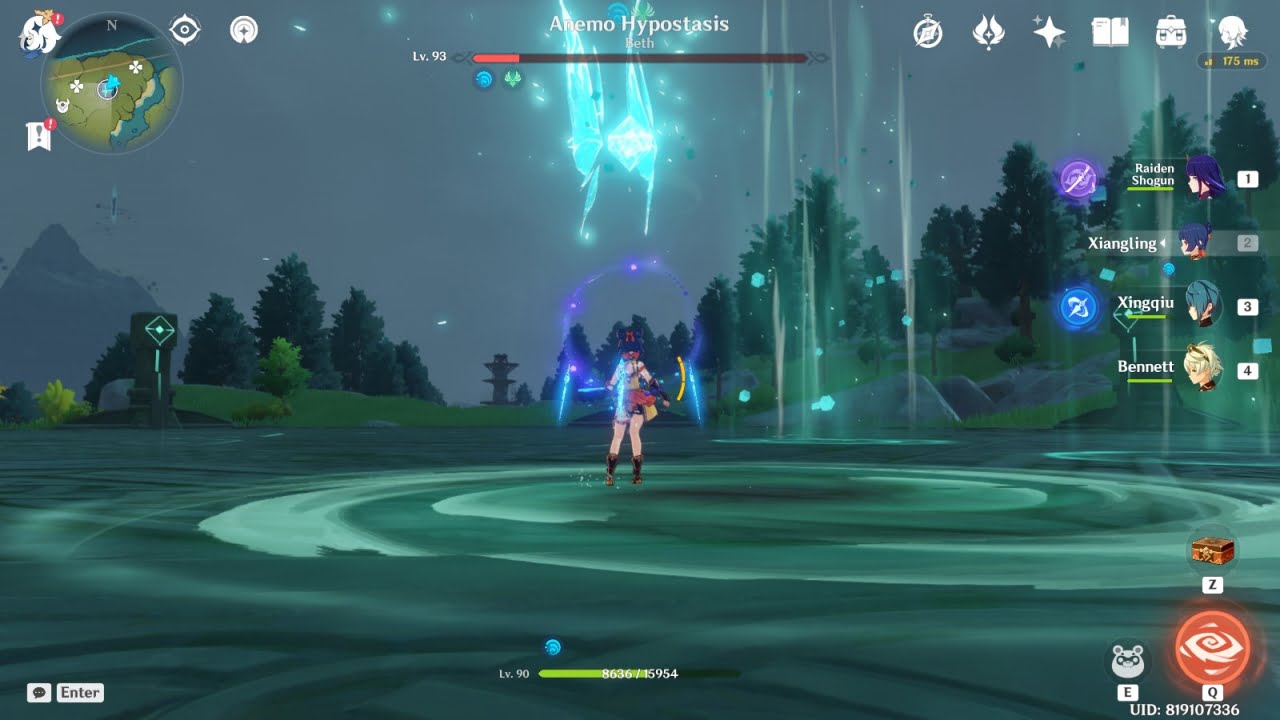 Vacuum
It curls into a cube while flying beside the player, then spreads its cubes in a specific radius. It pulls everything in that radius toward the core, dealing 25% ATK as Anemo DoT. After a certain amount of time, it will explode, dealing 150% ATK as AoE Anemo DMG. The core is exposed while the vacuum is active. Therefore, you could damage the boss with the help of a shield.
Anemo Clap
It moves beside the player and uses its cubes to make a wall. It then folds and claps this wall together to attack the player, dealing 100% ATK as Anemo DMG. When you see the wall form, dash away to dodge it.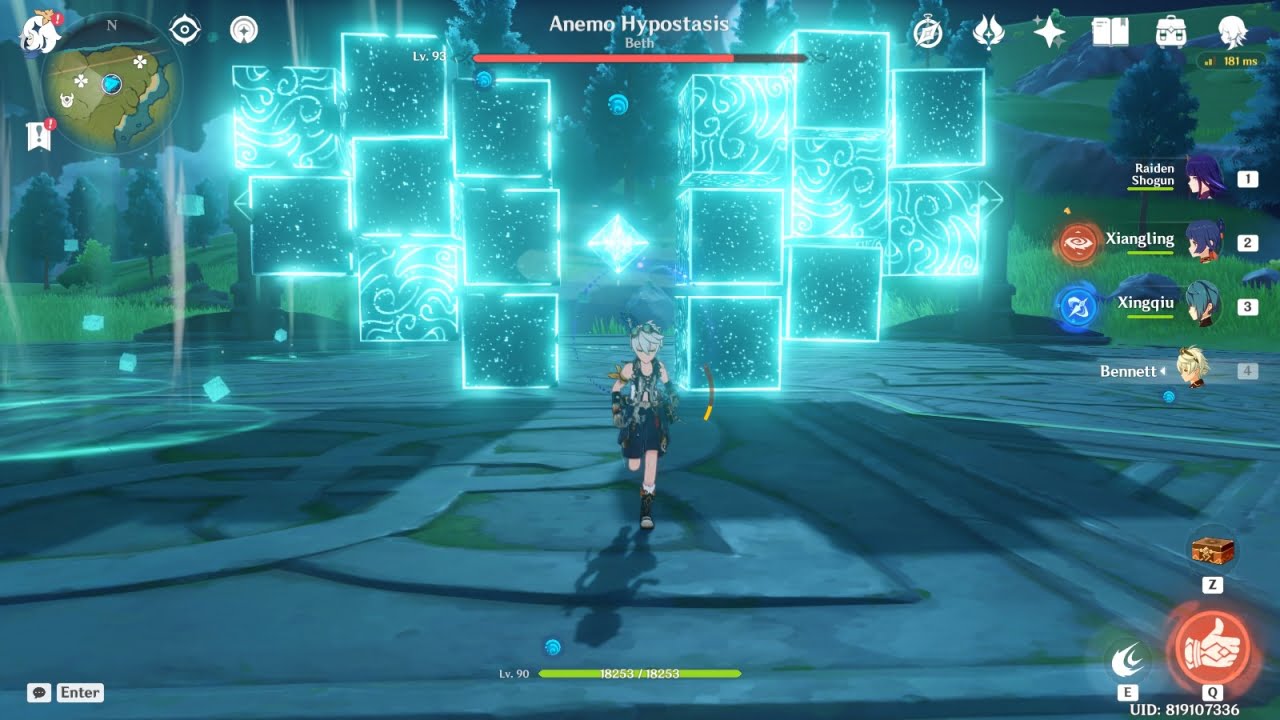 Meteors
It flies away to initiate radiuses that appear randomly on the arena's ground, and an Anemo Meteor falls into each radius dealing 100% ATK as Anemo DMG on impact. Dodge the attack by avoiding the radius.
Wind Missiles
It floats away from you and forms a magic circle with a rhombus pattern in the air. It then fires three orbs from this circle, each dealing 75% ATK as Anemo DMG. These are slow enough to be dodged without dashing.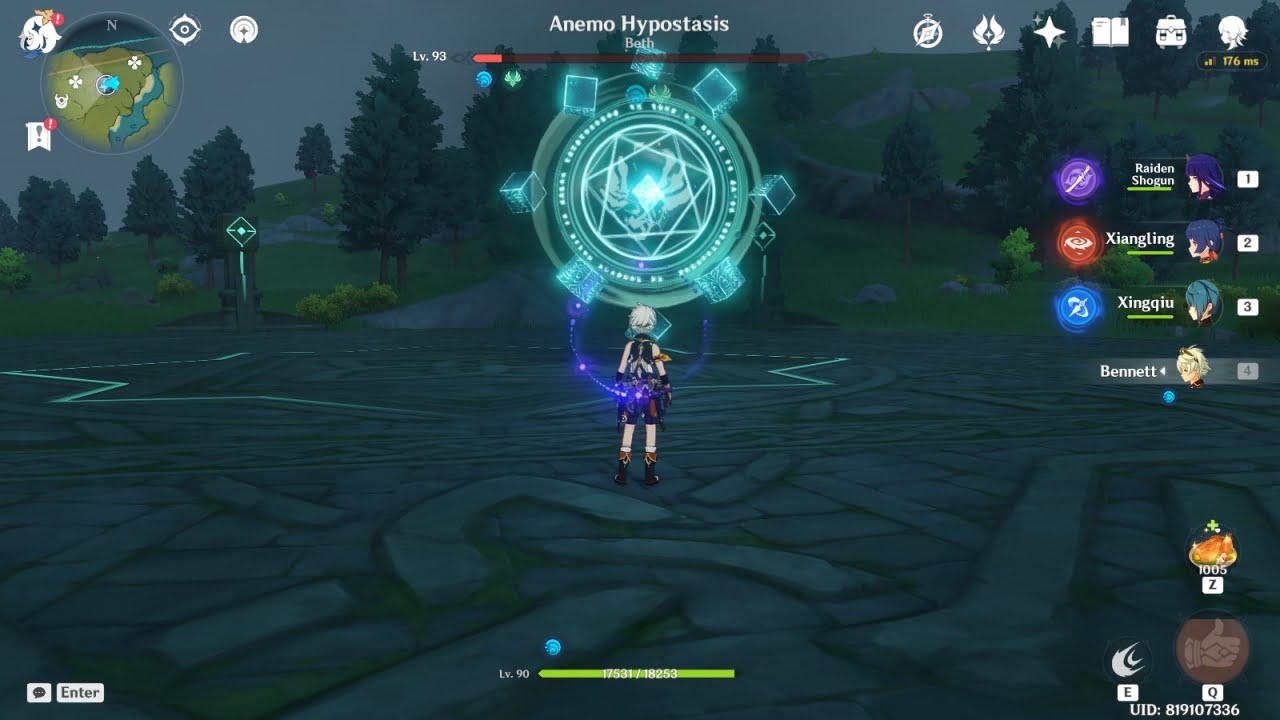 Absorbent Tornadoes
It instantly teleports to the arena's center, after which tornados spawn everywhere. These tornados deal 75% ATK as Anemo DMG upon contact, while the middle tornado deals 25% ATK as Anemo DMG. Each can absorb any element that comes in contact with them except for Geo and Dendro. They leave behind energy orbs of the elements infused into them.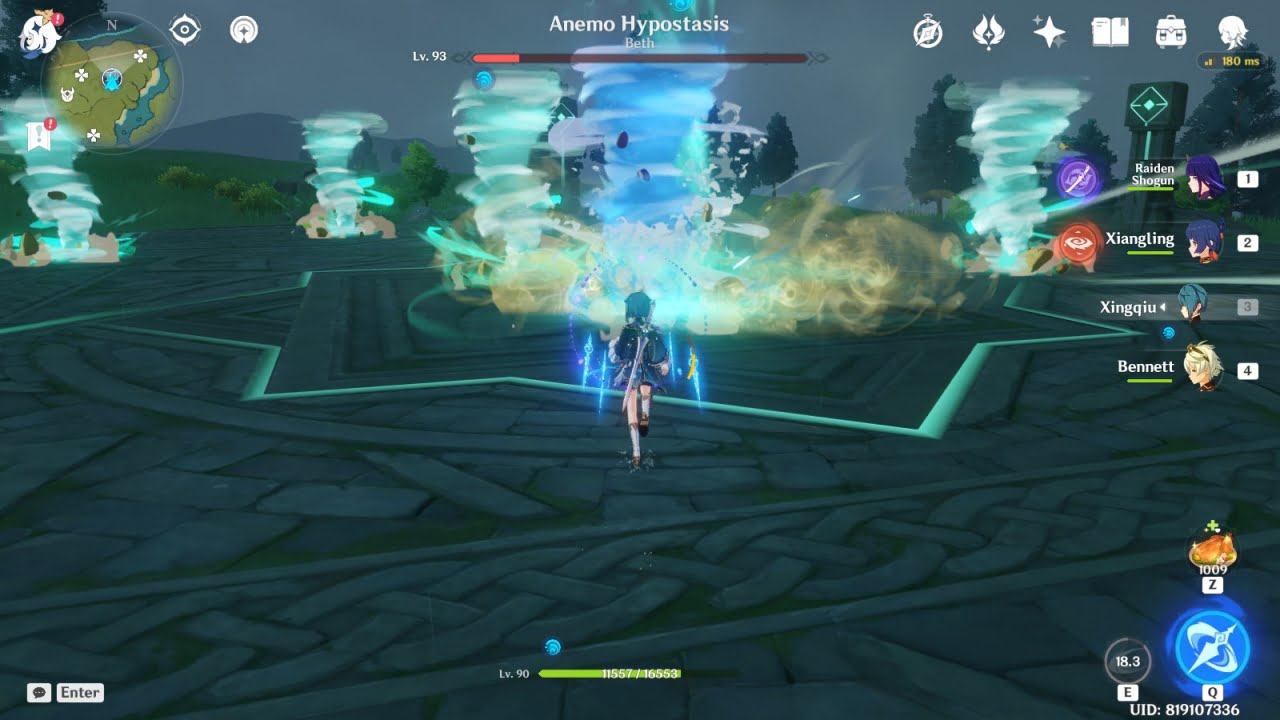 Vacuum Blast
It appears in front of you while spinning and triggers a vacuum absorbing everything near it, including energy orbs. The spin deals 10% ATK as Anemo DMG. A shockwave is then released, which covers the entire arena; this shockwave deals 100% ATK as Anemo DMG by default. The only way to avoid this is by using a shield or running outside the arena.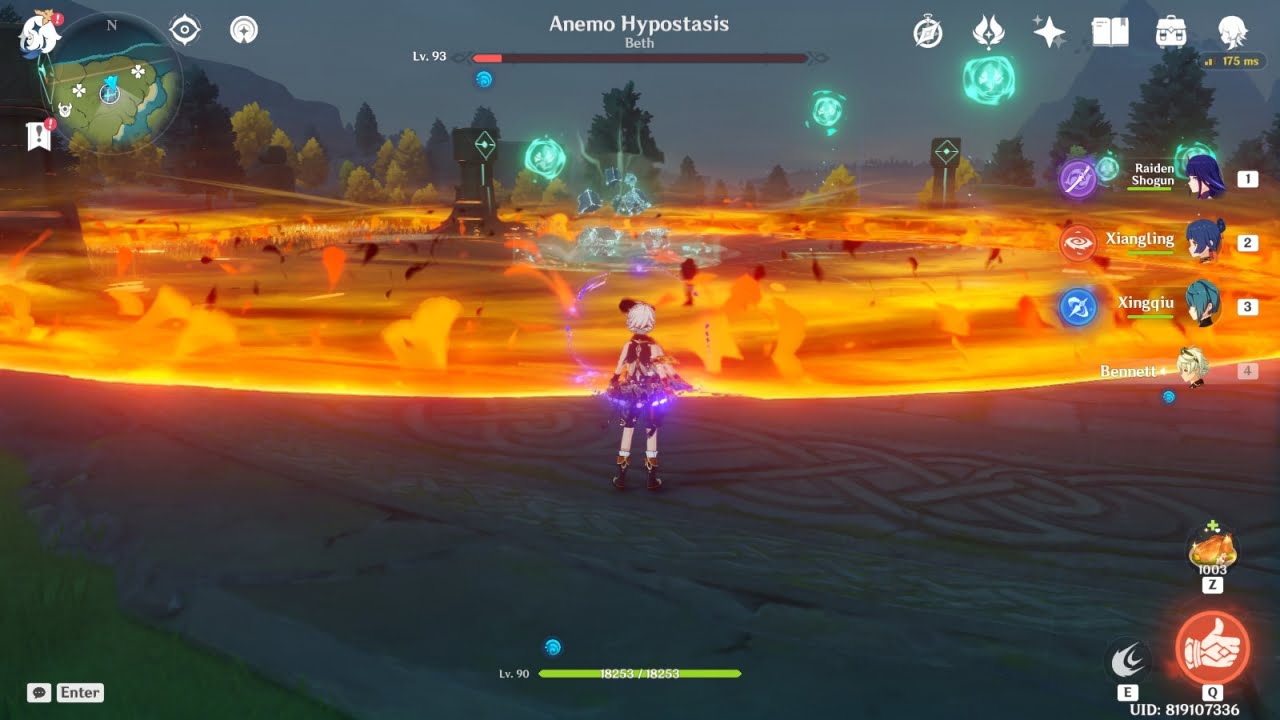 Second Wind
The boss makes itself invulnerable and middle of the platform as soon as its HP is 5% or lower. It then summons four wind orbs and four updrafts near them; it uses these orbs to heal itself, and each orb heals approximately 15% of its HP after 15 seconds. You must glide up using the updrafts to collect the orbs and prevent the boss from fully healing. If all the orbs are absorbed, the boss will heal approximately 20% of its maximum health and will not be able to use this ability again. However, if you cannot collect all the orbs in 15 seconds, the next time it enters this state, the orbs you collected already will not respawn.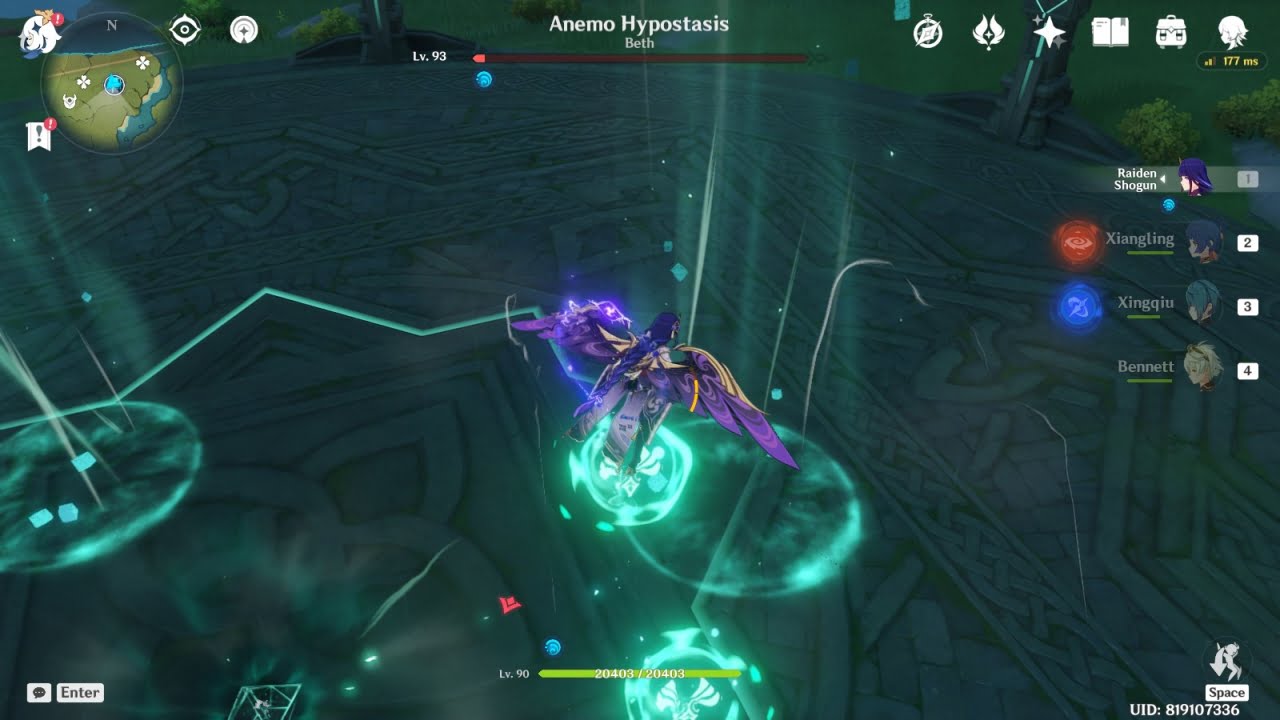 How To Beat Anemo Hypostasis Easily?
Anemo has permanently imbued the Anemo Hypostasis, and no other element can be infused into it. Cryo, Hydro, Pyro, or Electro attacks will trigger a Swirl reaction (no other reactions can be triggered). Like the other Hypostasis bosses, i.e., The Electro Hypostasis and Geo Hypostasis, once it reaches critical health, it will summon a few Anemo orbs in the air and updraft areas for you to glide. The strategy is to collect these orbs as soon as possible. Launch your attacks whenever you see the hypostasis cube unprotected, but do not waste ultimates unless necessary.
Rewards/Drops for Defeating Anemo Hypostasis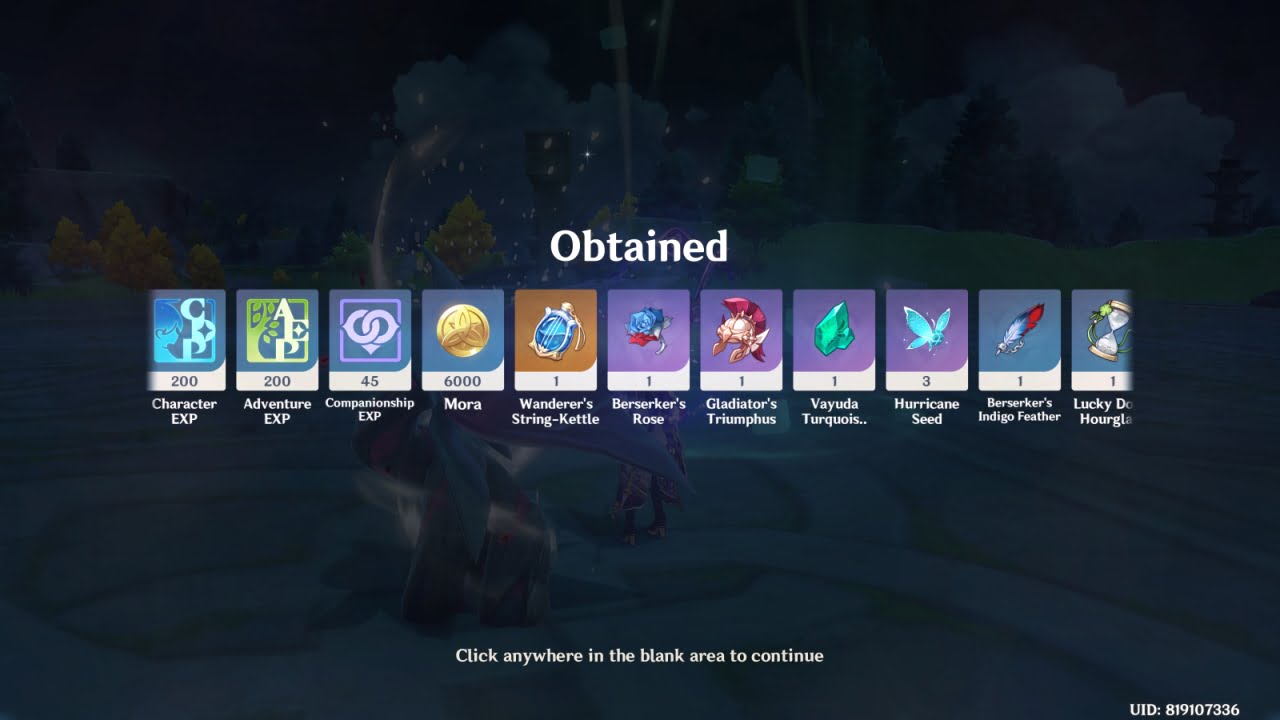 Character Ascension Material
Hurricane Seed (1-3)
Vayuda Turquoise Sliver
Vayuda Turquoise Fragment
Vayuda Turquoise Chunk
Vayuda Turquoise Gemstone
Artifact Sets
Lucky Dog (1* – 3*)
Berserker (3* – 4*)
Instructor (3* – 4*)
Gladiator's Finale (4* – 5*)
Wanderer's Troupe (4* – 5*)
Other Rewards
200 Adventure EXP
3,450 – 6,000 Mora
138 – 200 Character EXP
30 – 45 Companionship EXP
Achievements
"That's one big Crystalfly": Pick up all the orbs before the Anemo Hypostasis can resurrect itself.
"…Not indicative of final product": Make the Anemo Hypostasis absorb four different elements before defeating it.
Back With the Wind: The Anemo Hypostasis produces many orbs. You need to absorb at least 10 of these in a single battle.
That's One Big Crystalfly: Defeat The Anemo Hypostasis while in Co-op mode.