Maguu Kenki is an autonomous humanoid swordsman, a normal World Boss in Genshin Impact. It doesn't have any ability to speak or the desire to; instead communicates by crossing swords. Legends that this machine was made using the memories and a secret technique, "Tengu Sweeper" of the first-generation master of a sword school. However, it malfunctioned, lost control, and was ultimately discarded.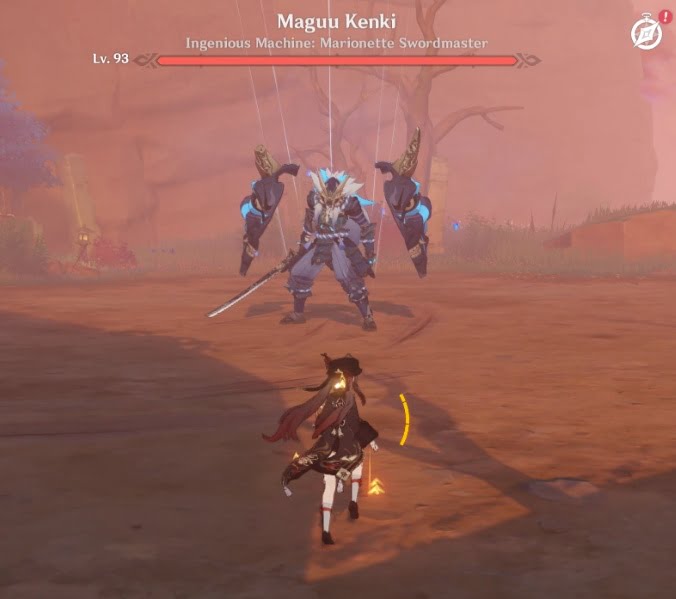 Where is Maguu Kenki Located?
Maguu Kenki is located on the Southern side of Yashiori Island, south of the Serpent's Head. When unlocked, the easiest way to access it is the teleport waypoint near it, from where you have to glide downwards.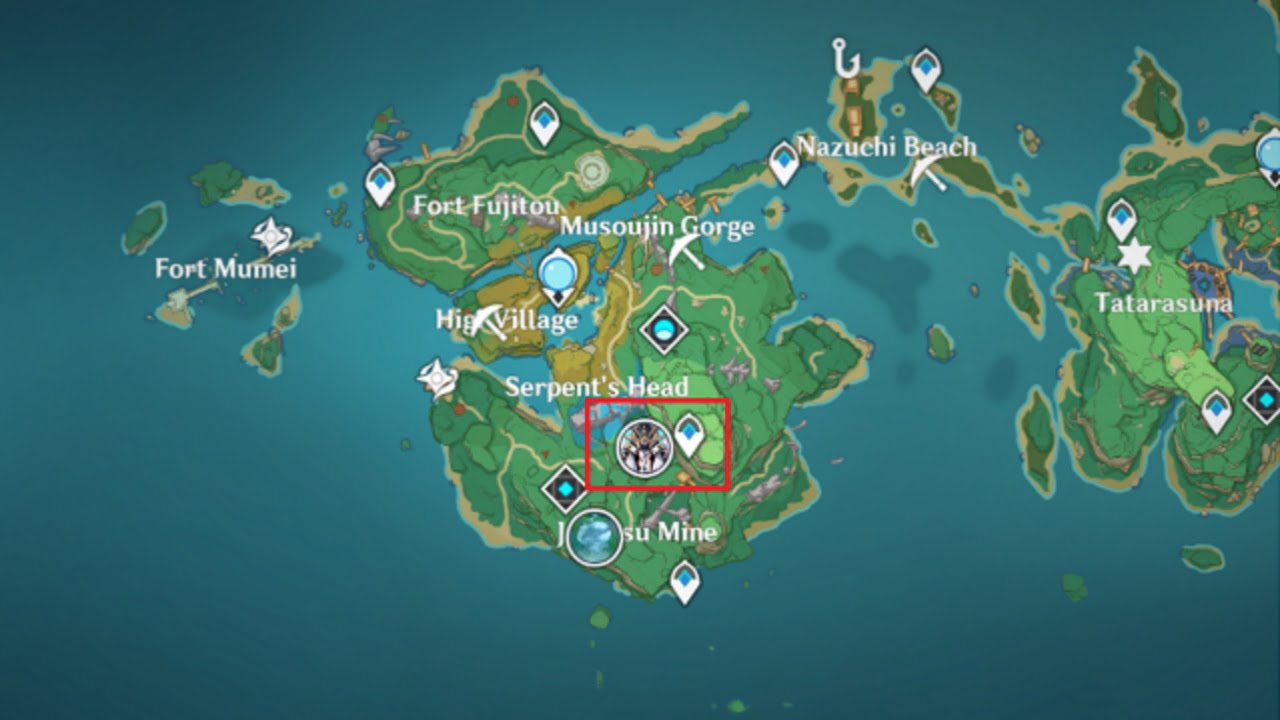 How to Unlock Maguu Kenki Boss Fight?
You will need to play through Stillness, The Sublimation Of Shadow, which is the Archon Quest (Chapter 2, Act 2). This quest allows you to move freely throughout the Inazuma region. Unlock the Statue of the Seven on Yashiori Island and then proceed to the boss's location.
Best Team Comp to Beat Maguu Kenki
The Maguu Kenki uses the power of Anemo and Cryo, but it has no particular resistance to any element nor any weakness. However, it is one of the few bosses who can almost one-shot if you aren't careful with your team composition.
Zhongli: Increases your damage output on enemies with the Jade Shield's debuff. Has the best shield in the game.
Noelle: Has the best free-to-play shield. She can deal with damage while also providing healing.
Hu Tao: One of the best DPS for this boss dealing tons of damage at once.
Beidou: Tidecaller counters can be used for dodging some attacks.
Xiangling: Can be excellent burst support.
Xingqiu: Another superb support character.
Raiden Shogun: Provides excellent electro support and can deal severe damage.
Bennett: Can provide a damage buff and heal. It can provide a lot of energy particles.
Kokomi: Can provide ample healing.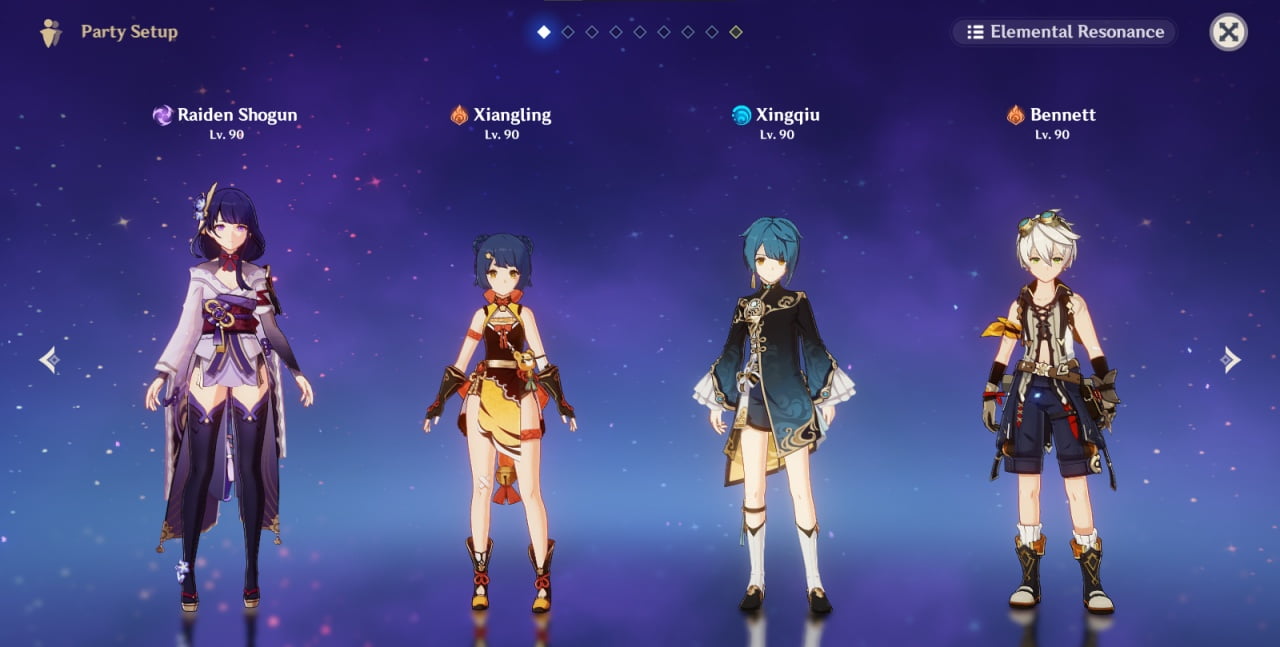 Maguu Kenki Statistics
The boss has two different phases where it changes attacks and stances, but the stats, however, stay the same.
| Element | Resistance |
| --- | --- |
| Physical | 10% |
| Anemo | 10% |
| Hydro | 10% |
| Dendro | 10% |
| Cryo | 10% |
| Pyro | 10% |
| Geo | 10% |
ATK HP and DEF (Varies according to your World Level)
HP ranges from 860 – 649,818 from Level 1 – 100.
ATK ranges from 51 – 4,924 from Level 1 – 100.
DEF ranges from 505 – 1,000 from Level 1 – 100.
Note: Stats in domains, the Spiral abyss, or Co-op mode may differ from those mentioned above.
Strategy to Beat Maguu Kenki
At the start of the fight, while Maguu Kenki is charging up, you cannot deal any damage to it for these few seconds. Then as soon as it has fully charged, it will start its attack patterns while you try to deal damage. Just use a shielder or a healer and then go in to deal as much damage as possible. When the boss reaches 71% HP, it will stop taking any more damage and will charge up its Frost Dive attack. At this point, either reuse your shield or run away from the attack radius.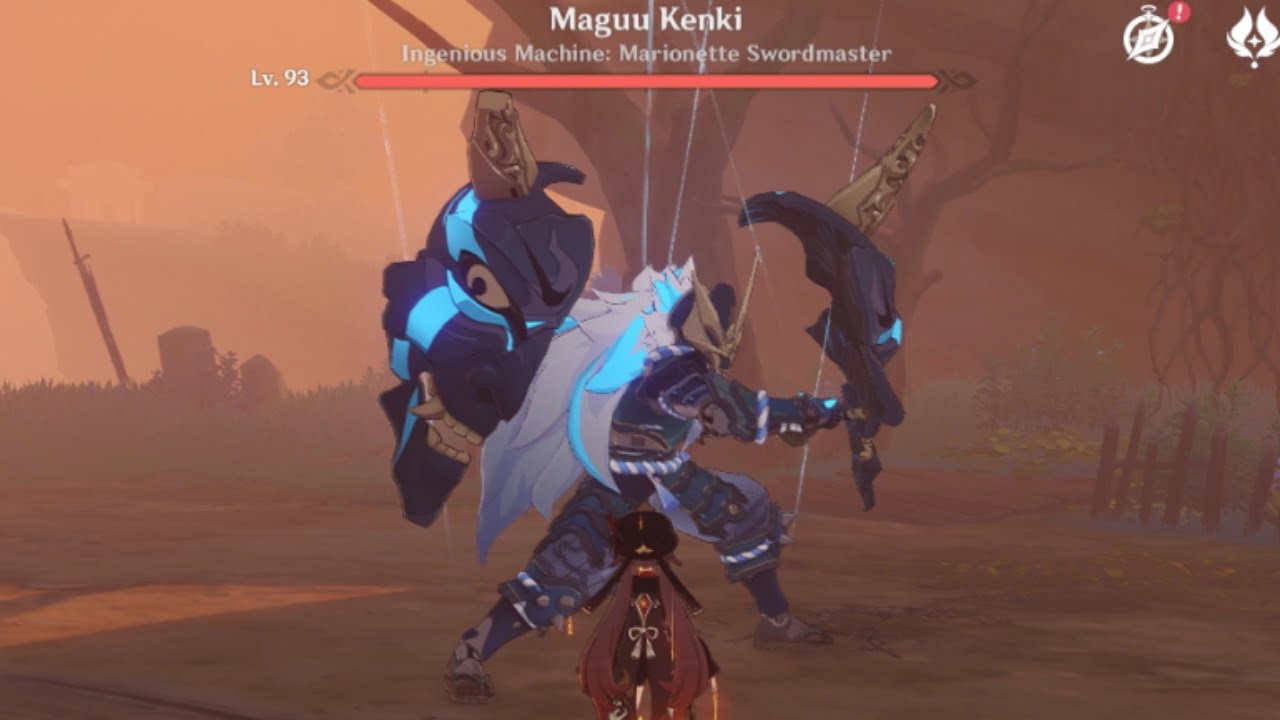 Once it is below 71% HP, it will start using its complex attacks consisting of Cryo and Anemo phantoms. The boss will also start to teleport frequently around the arena away from the player. Triggering the parry requires you to use range-type characters which stand away from it, like Ganyu or Yoimiya.
Note: All Maguu Kenki's attacks can be dodged using dash I-frames.
Maguu Kenki Attack Patterns
It has different attack variations according to its HP; above 71%, it has different attacks, but if it's below 71%, the attacks change with a few exceptions.
Normal Attacks
Oushi no Omote
Summons an oni mask to protect itself from ranged attacks from bow users or catalyst users. This only occurs if it is not already performing any of its other attacks.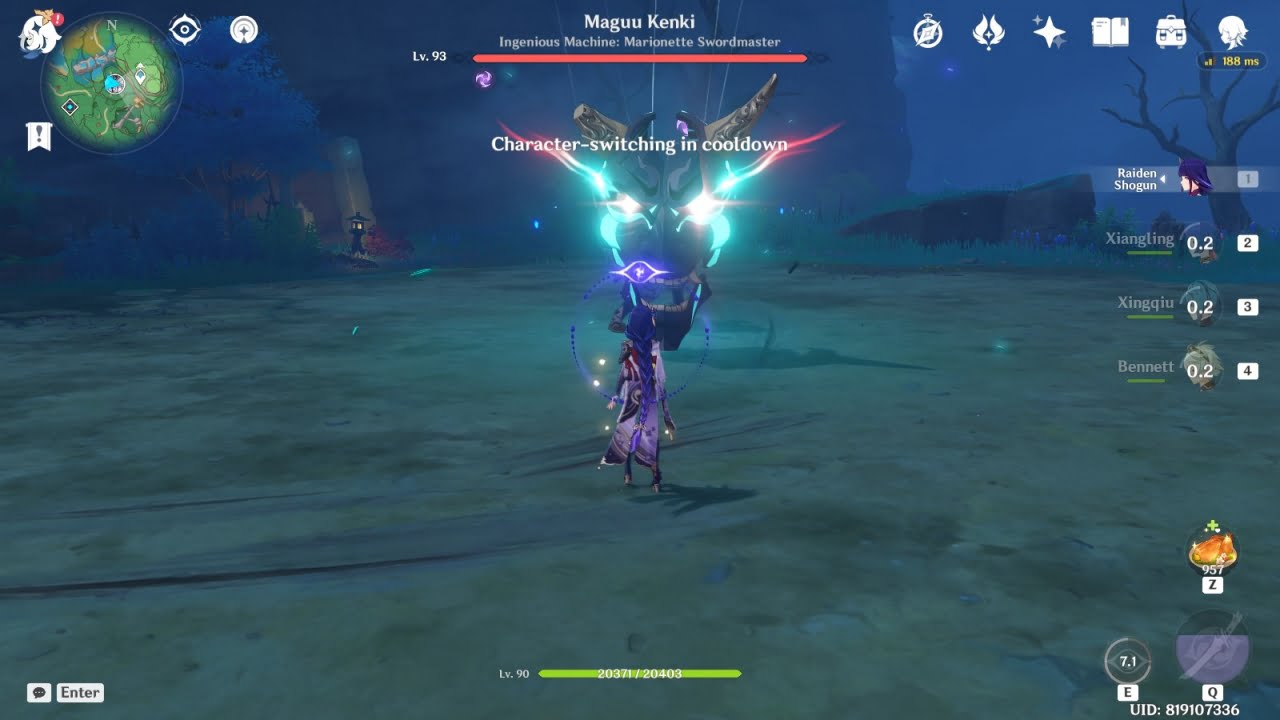 Pushing Mask
Summons an oni mask in front of it and then pushes it forward toward you, the player. This attack deals 100% ATK as Anemo DMG.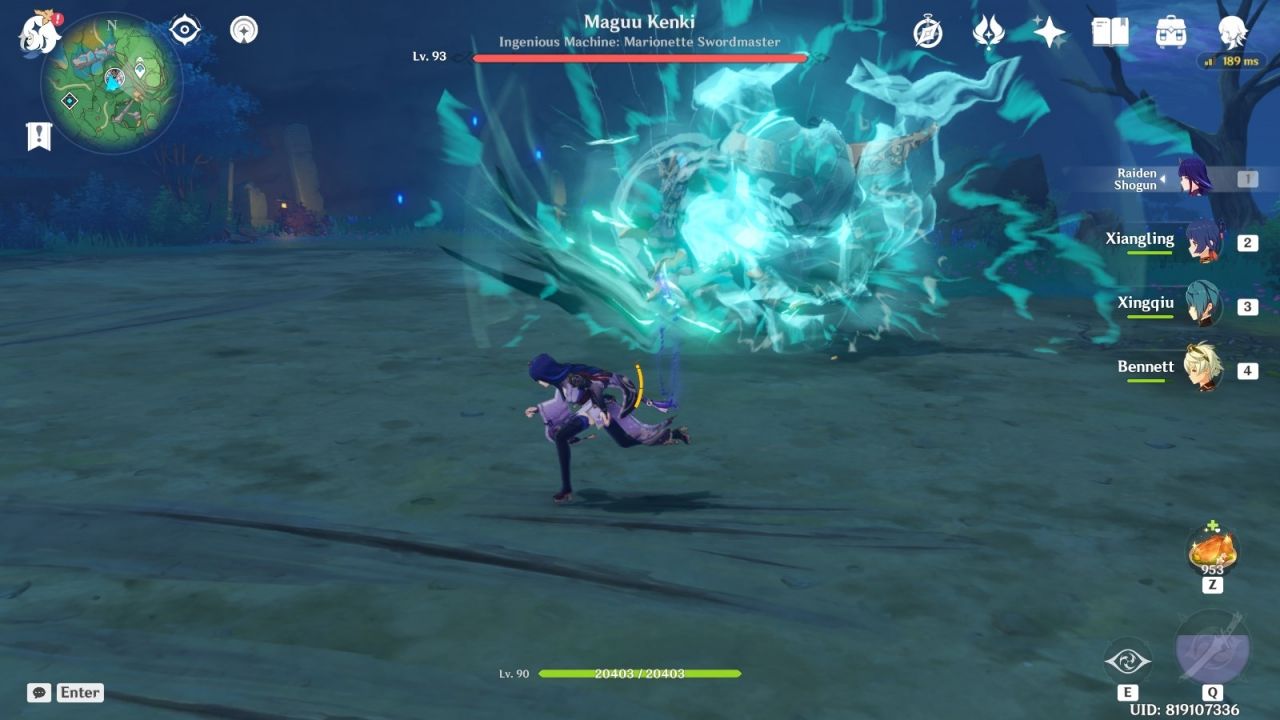 Exploding Masks
Summons two smaller oni masks at the player's position, swirling around uncontrollably and then exploring. This attack deals 100% ATK as Cryo DMG.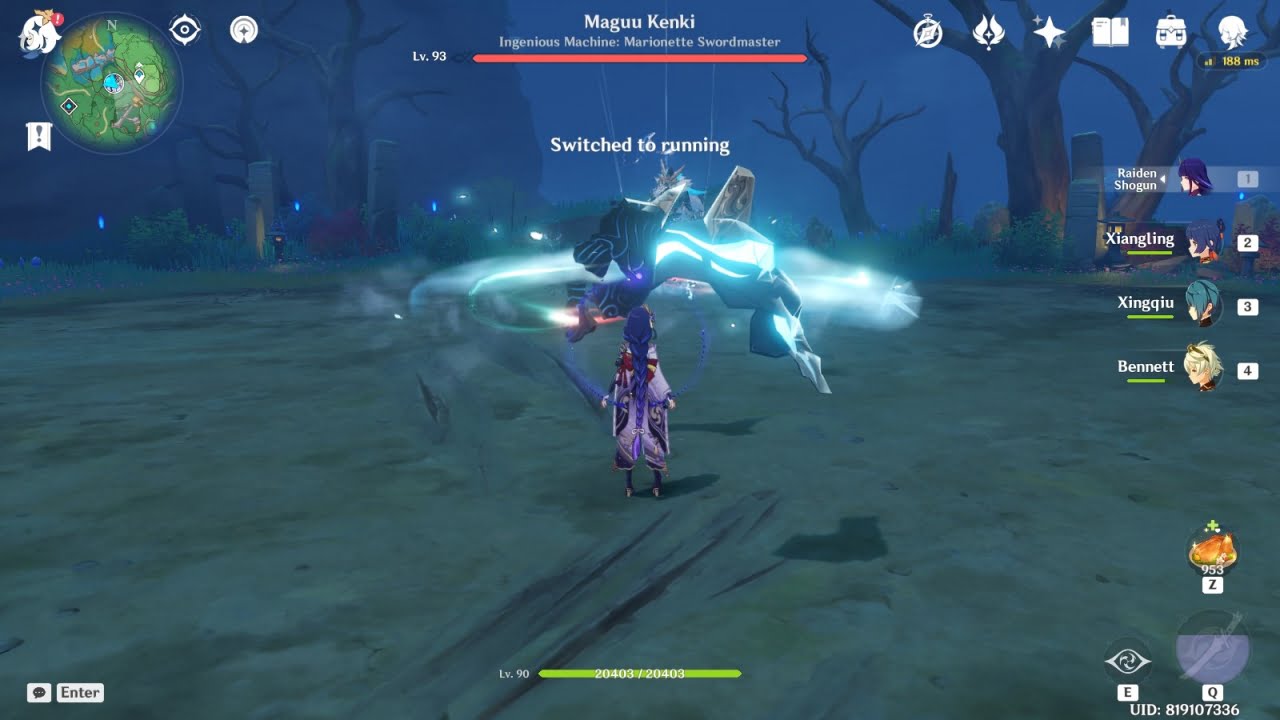 Dash
Performs 5 dashes, creating an afterimage behind it to approach the player.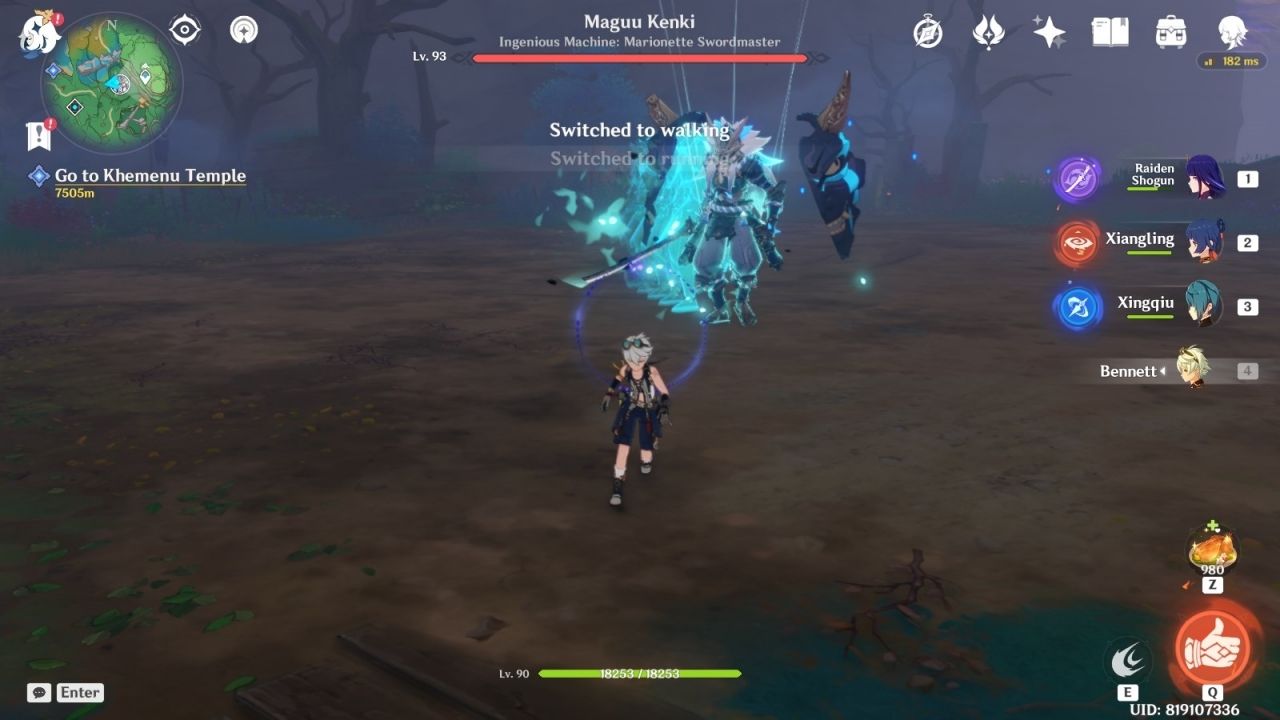 Taunt
Raise and clench its fist into the air to taunt you if you are far away from it after an attack. It is vulnerable to attacks when performing this taunt.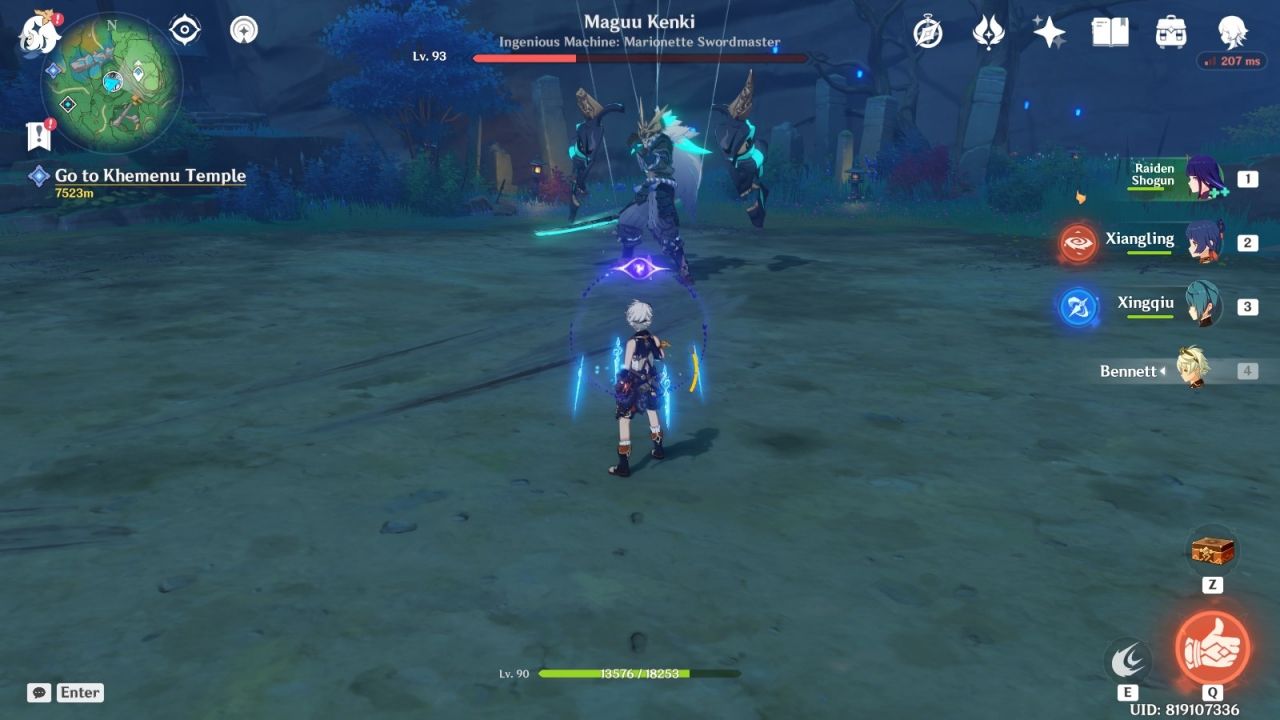 At 71% Health Or Below
Frost Dive
Summons an additional sword to hold in its other hand while charging up before slamming itself onto the ground for a high-range AoE attack. On a hit, this deals 80% of ATK as both AoE Anemo DMG and Cryo DMG.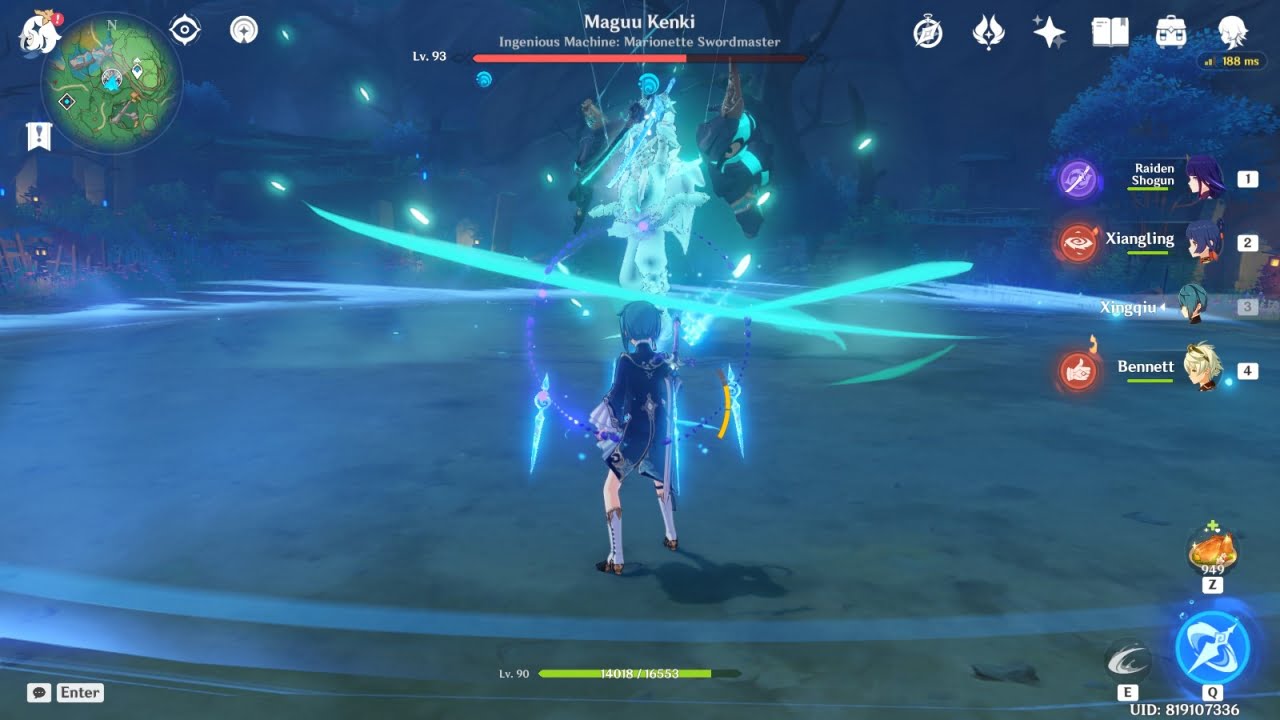 Blustering Blade
A slash is performed, sending a wind blade toward the player dealing 50% ATK as Anemo DMG. There is a version of this attack where only one slash is used; this is done after an enhanced Iai: Shadowrush or Shadowsword: Ichimonji only when certain conditions are met.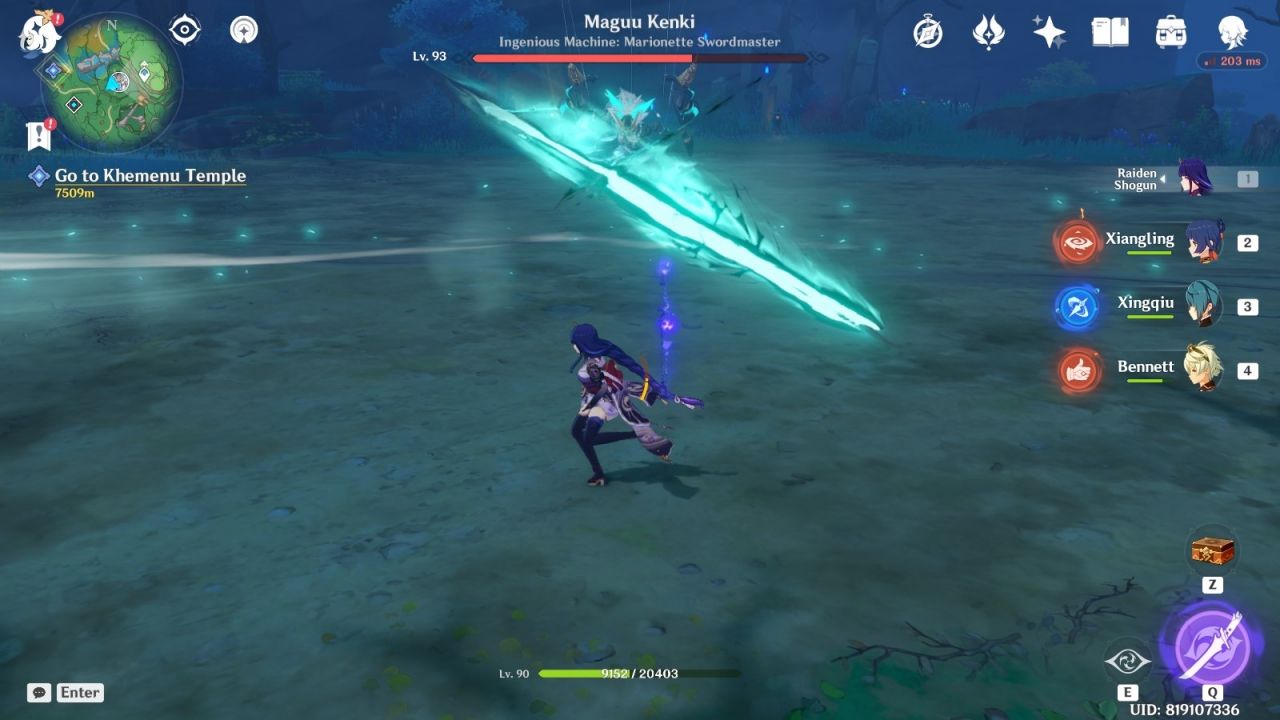 Shadowsword: Blustering Blade
Teleports away, leaving an Anemo Phantom in its prior location, and launches 3 or 4 Blustering Blade slashes at the player, while the phantom launches only one.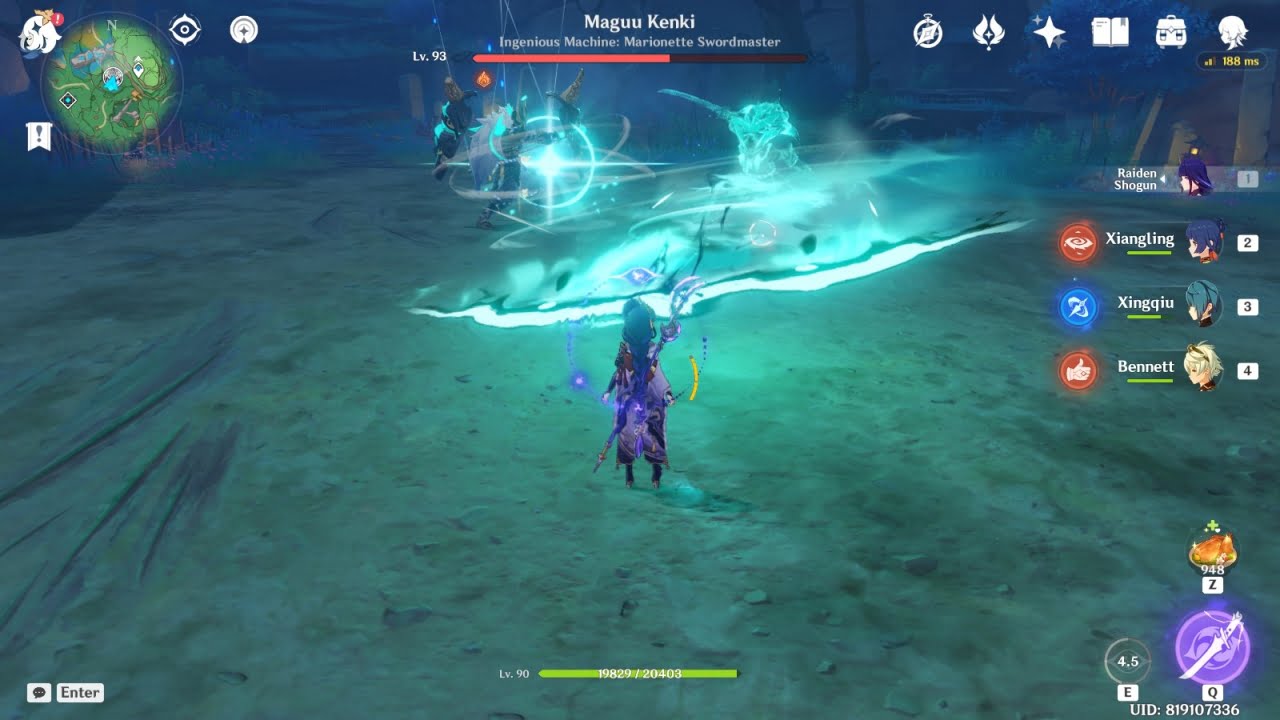 Enhanced Iai: Shadowrush
It enters the Iai stance and runs toward the player with its sword, dealing 60% ATK as Anemo DMG. However, if the player is more than 7 meters away from the boss after the first attack, it follows up with a single slash Blustering Blade. if the player is less than 7 meters away from it after the first attack, it follows up with the Cryo version of Shadowsword: Ichimonji and Pushing Mask.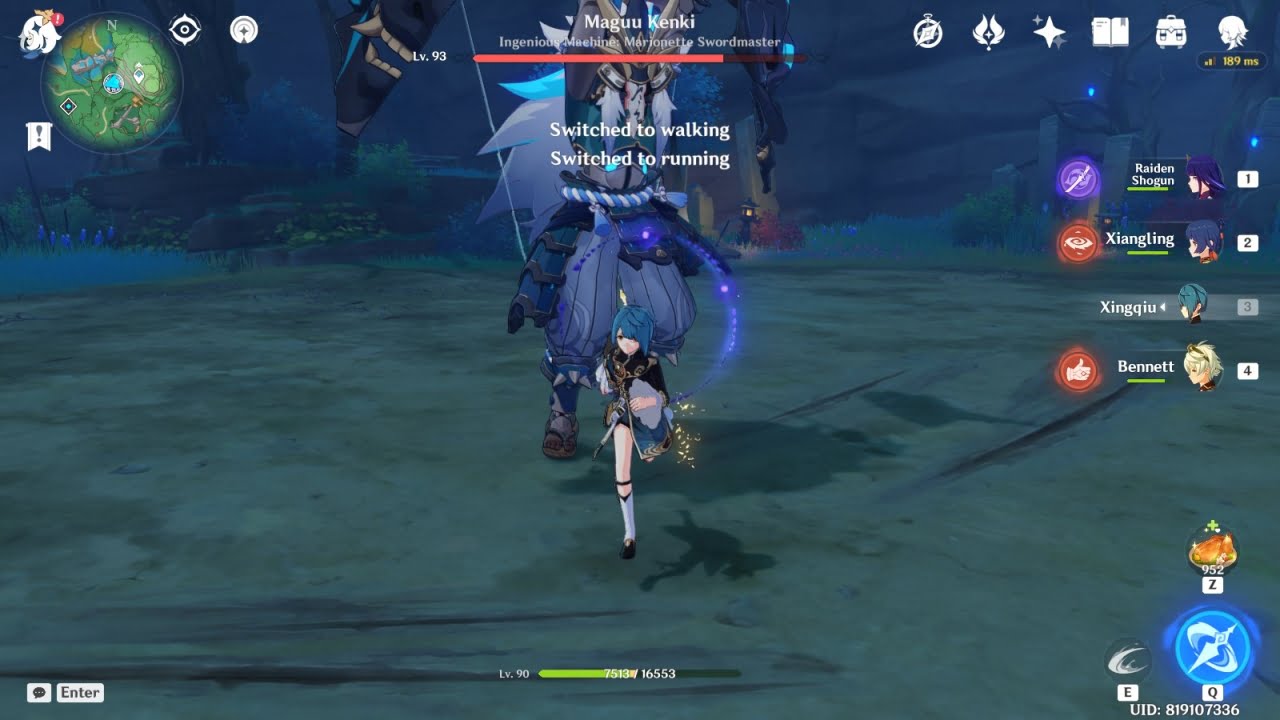 Shadowsword: Ichimonji
Summons a phantom right after a slash toward the player. This phantom, together with the boss, performs up to 3 consecutive sword slashes at the player. The phantom only deals 30% ATK as Cryo or Anemo DMG, while each slash from the Maguu Kenki deals 50% ATK as Anemo DMG.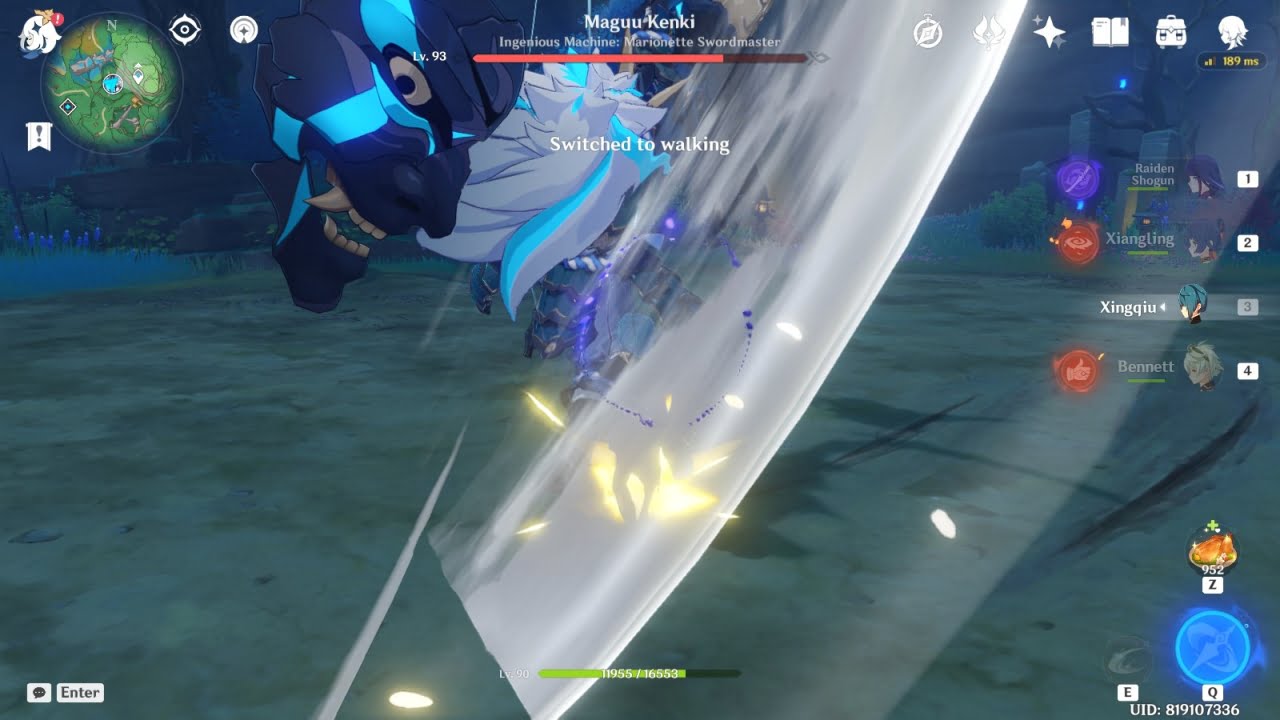 The interesting part about this attack is that the player's movement determines the Element of the phantom. If the player moves to the left of the initial slash, the phantom will be Anemo. But if the player moves right after the first slash, the phantom will be Cryo. If the player moves away from the initial slash and not left or right, then the boss will perform only 2 slashes and not to any other attack or ability.
If the player moves more than 7m away from the Maguu Kenki, it performs only 2 slashes and a follow-up attack.
If the Phantom is Anemo, a Blustering Blade attack may be used
If the Phantom is Cryo, an Iai: Shadowrush attack may be used.
A Pushing Mask will also be used if a Shadowsword: Ichimonji attack is used after the Iai: Shadowrush.
Shadowsword: Pseudo Tengu Sweeper
This attack has 2 Variants. In the first variant, it creates a vortex around itself, pulling the player towards itself before quickly releasing a slash around itself. This deals 100% of ATK as AoE Anemo DMG. Right after this, a Phantom Appears on the same spot as the boss and deals another slash dealing 100% of ATK as AoE Cryo DMG.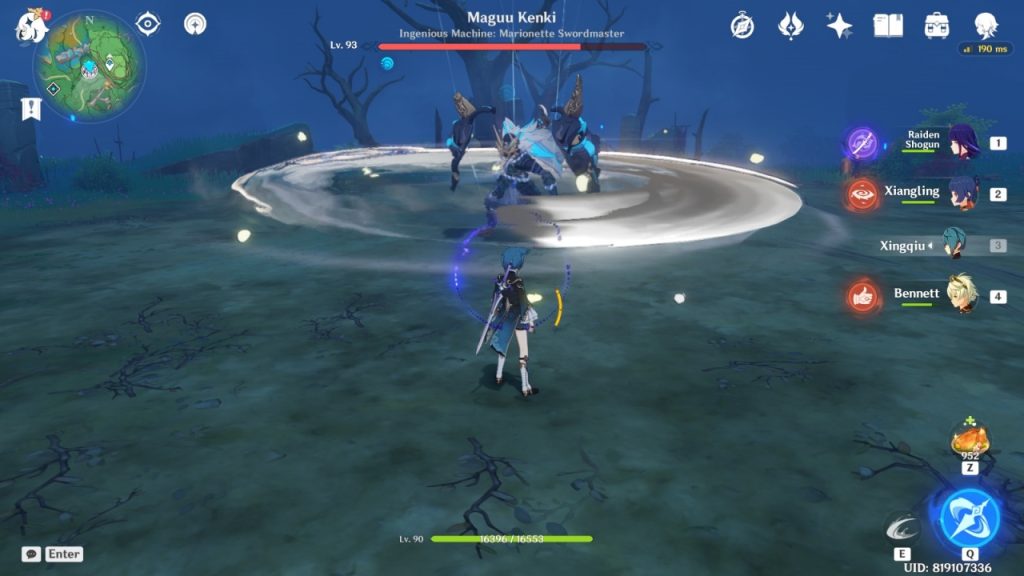 The second variant teleports away and leaves a cryo phantom in its prior location; the boss and the Phantom charge simultaneously before quickly slashing around themselves. It deals 100% of ATK as AoE Anemo DMG, while the Phantom deals 60% of ATK as AoE Cryo DMG over a larger area.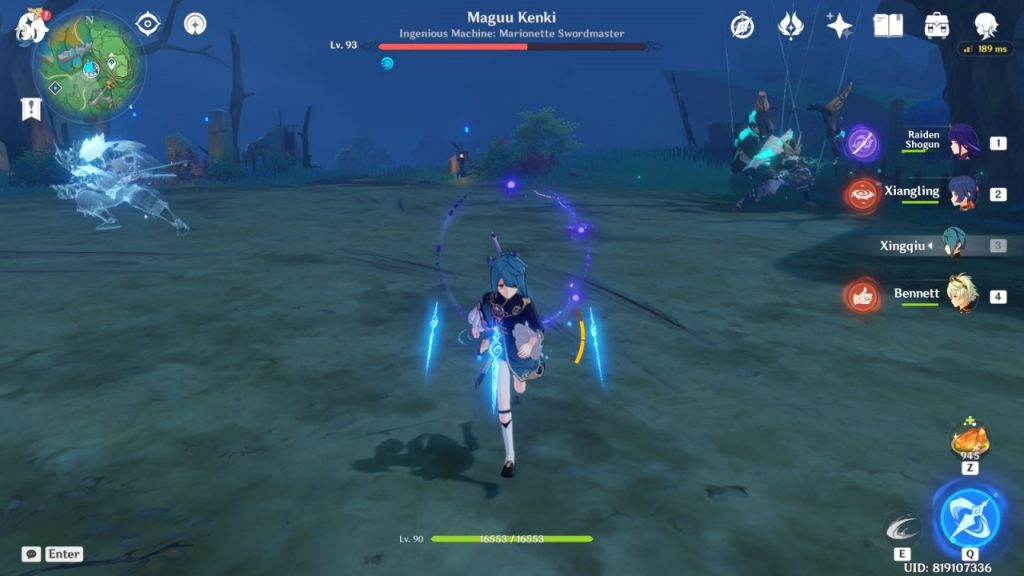 Rewards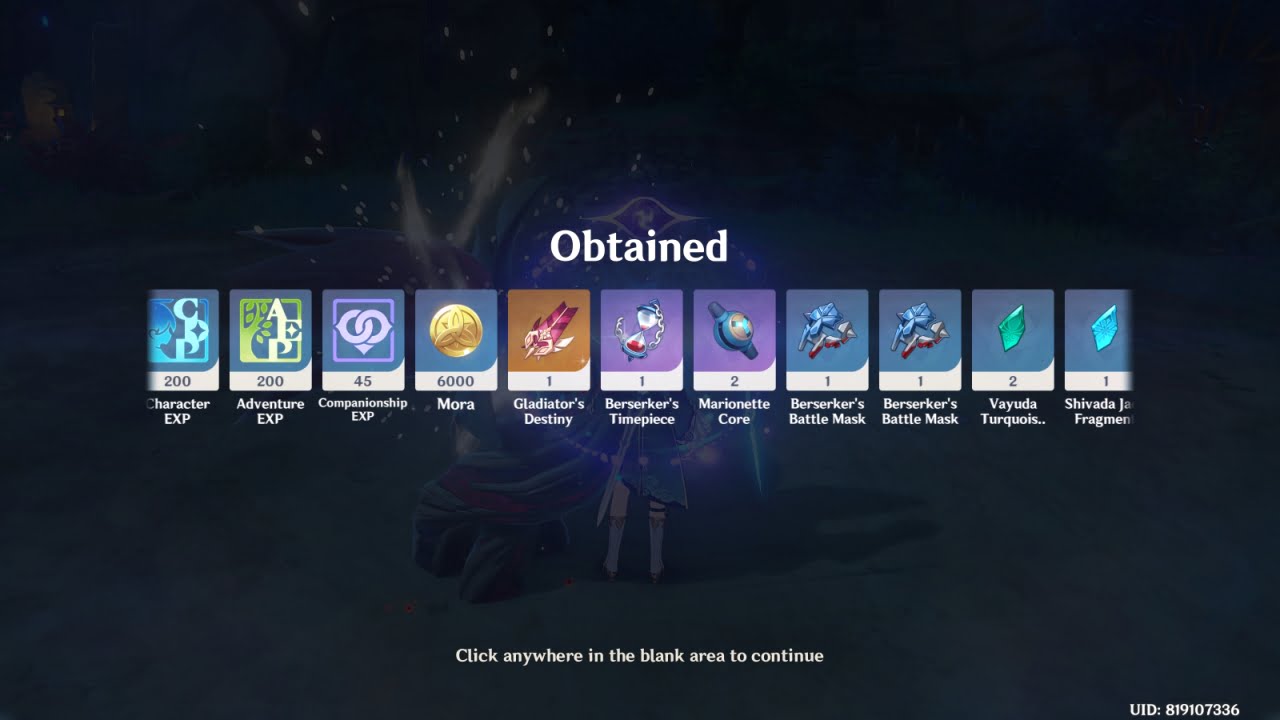 Character Ascension Materials
Marionette Core (1-3, Depending on your World Level)
Vayuda Turquoise Sliver
Vayuda Turquoise Fragment
Vayuda Turquoise Chunk
Vayuda Turquoise Gemstone
Shivada Jade Sliver
Shivada Jade Fragment
Shivada Jade Chunk
Shivada Jade Gemstone
Artifacts
Lucky Dog (2* – 3*)
Instructor (3* – 4*)
Berserker (3* – 4*)
Gladiator's Finale (4* – 5*)
Wanderer's Troupe (4* – 5*)
Other Rewards (Vary according to your World Level)
200 Adventure EXP
3,450 – 6,000 Mora
138 – 200 Character EXP
30 – 45 Companionship EXP
Achievements
There are 4 possible achievements, and each of these gives you 5 Primogems as a reward.
Puppet Show-off: Defeat the Maguu Kenki while he is using the Taunt Ability,
If I Run Fast Enough: Defeat the Maguu Kenki without being hit by any of his phantom attacks.
In This Solemn Matter Let No One Interfere!: Defeat the Maguu Kenki without triggering its Oushi no Omote Parry.
No Strings Attached, Anymore: Defeat the Maguu Kenki in Co-op Mode.