The Ruin Serpent is a normal boss in Genshin Impact, which was added in version 2.6, and with it came a few new quests and a whole new area: The Chasm: Underground Mines. To unlock it, you must progress with the Archon Quest and complete the Surreptitious Seven-Star Seal Sundering World Quest. This quest is initiated by talking to an NPC named "Muning" at the entrance of The Chasm; its progression is very straightforward.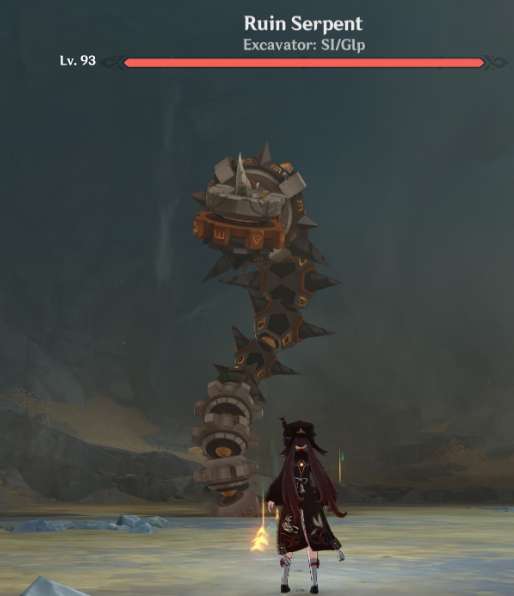 Ruin Serpent Location
The Ruin Serpent is located on the North-West side of The Chasm: Underground Mines. It resides in its area called The Serpent's Cave. To get to it after it's unlocked, use the teleport waypoint near it.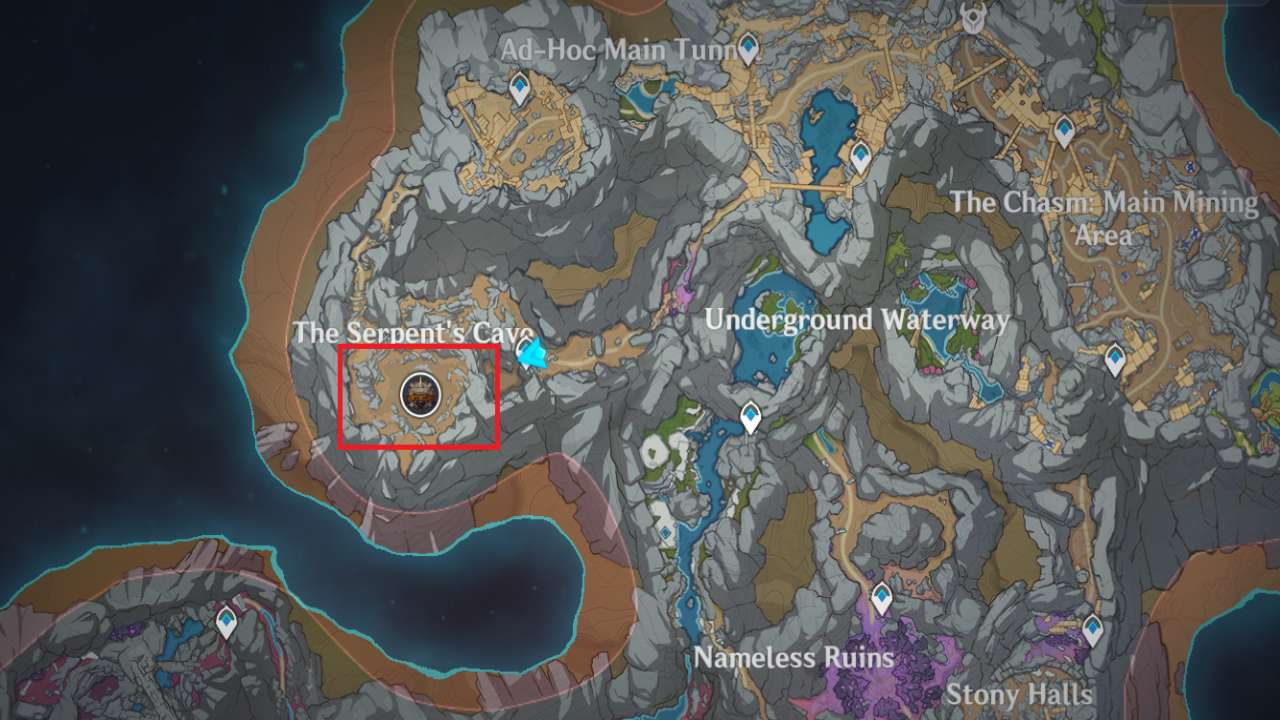 Statistics and Weaknesses
Damage Resistance in Normal Phase:
Physical: 70%
Pyro: 10%
Hydro: 10%
Cryo: 10%
Electro: 10%
Anemo: 10%
Geo: 10%
Dendro: 10%
Damage Resistance in the "Charging" Phase:
Physical: 370%
Pyro: 310%
Hydro: 310%
Cryo: 310%
Electro: 310%
Anemo: 310%
Geo: 310%
Dendro: 310%
Note: the boss' HP and ATK values vary depending on the number of people in the world, i.e., Co-op mode, or if it is in a Domain.
The Ruin Serpent is strong against physical attacks, so using a Physical DPS like Eula is not recommended. However, any other element can be used as they are all equally effective.
Fight Preparation Tips and Recommended Characters
First, The Ruin Serpent spits out 4 puddles of ooze, and at some point in the battle, it will start absorbing energy using this ooze. You must ensure that your Lumenstone Adjuvant is equipped before starting the boss fight. This makes the fight easier. The higher your Lumenstone level, the easier the battle becomes.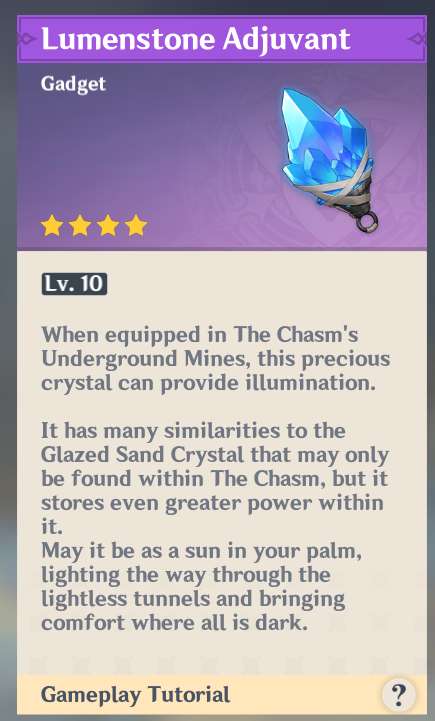 The Ruin Serpent moves around very frequently, making it hard to attack using a close-range DPS character like Keqing or Ayaka. So you'll need to utilize characters that can effectively deal with the evasive style of the Serpent. This means that Bow users like Ganyu and Yoimiya really shine against the Ruin Serpent. Other characters with fast and powerful Elemental Skills or Bursts are the most effective for dealing damage to the Serpent in its paralyzed state; then, there is no need to dodge or anything.
Here is a list of the Recommended Characters:
Ganyu
Yoimiya
Ayato
Hu Tao
Yae Miko
Raiden Shogun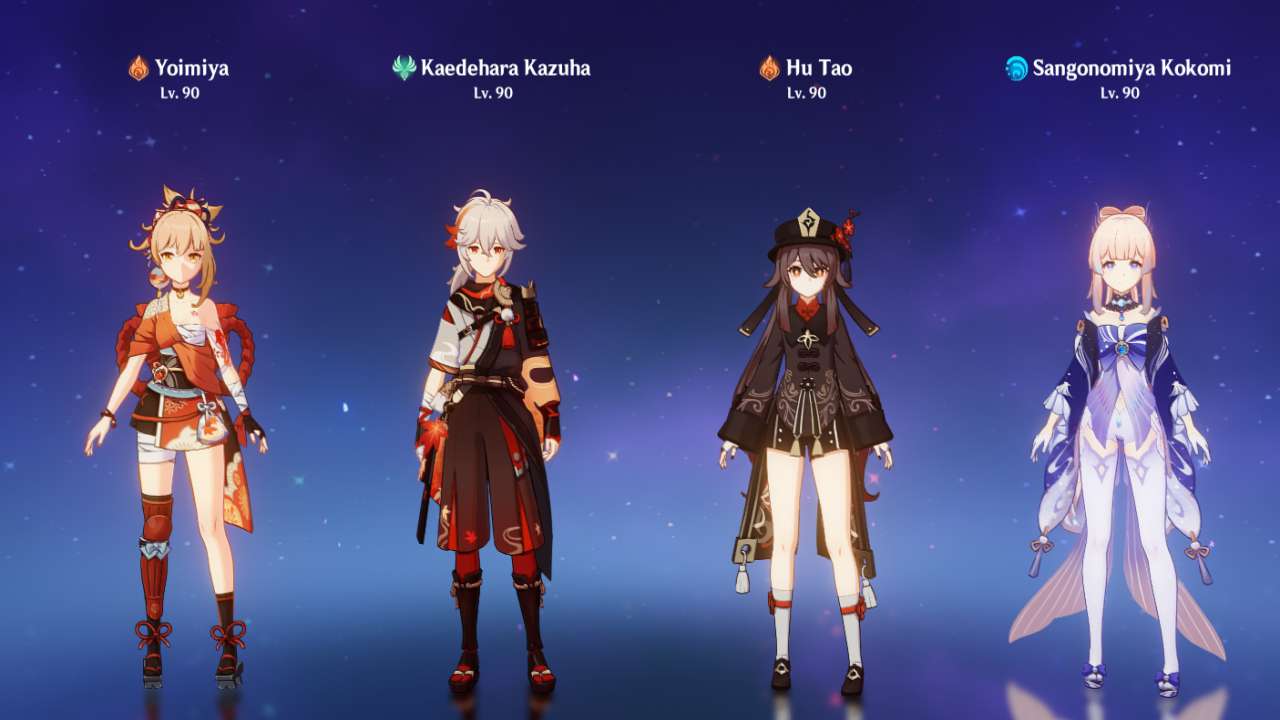 These 4 Characters above are one of the best to use for this boss fight.
Note: you will need an effective healer like Diona or Kokomi to make your fight even easier. Moreover, Geo characters will allow you to break the geo ores more easily to recharge your lumenstone faster.
Ruin Serpent Attack Patterns
As discussed earlier, the Serpent moves around very quickly, and most of its attack patterns are based on this movement.
Here is a list of the attacks with their description:
Steamroll
The Serpent rolls its body on the ground rotating in an arc. This deals 40% of its ATK as Physical DMG.
Note: this attack cannot be dodged using dash i-frames, you either have to run out of its range or use an ultimate i-frame.
Charge and Drill
It charges toward the player and then burrows underground for a few seconds before resurfacing. This attack deals 30% of its ATK as Physical DMG on first contact. Right after it comes back up, It shapes its head into a drill and plants itself into the ground. This deals 70% of its ATK as AoE Physical DMG. This attack cannot be evaded with dash i-frames.
Bomb Barrage
It charges up using energy from the ooze puddles around it and then shoots a barrage of projectiles at the player. These projectiles deal 40% of ATK as Physical DMG if two ooze sources are absorbed and 30% of ATK as Physical DMG if only one ooze source is absorbed. Simply run away to dodge the projectiles.
Sand Tomb
It goes underground and then resurfaces, creating a Vacuum field, sucking in all the players in range. This, in turn, deals 10% of ATK as Physical DoT. If the Serpent comes in contact with the player while going underground or resurfacing, it then deals 70% of its ATK as Physical DMG.
Shockwave
It charges up, absorbing energy from the ooze puddles, and then releases a huge blast downwards. If two ooze sources were absorbed, it deals 200% of ATK as Physical AoE. If one ooze source was absorbed, it deals 100% of ATK as Physical AoE.
Note: when the Serpent charges, its resistance to all attacks increases significantly. The exact percentage is mentioned above.
Ruin Serpent Strategy
At the start of the battle, If you have equipped the Lumenstone Adjuvant Gadget, its stored energy will be reduced to only 2.
The Serpent spits up four puddles of ooze. At some point, it starts to absorb energy from the ooze. Pay close attention to when this happens and which puddle the boss is absorbing it from. Use your Lumenstone Adjuvant to purify the ooze puddle that the Ruin Serpent is attempting to absorb; this paralyzes the Serpent for a few seconds. Use this time to deal as much damage as possible. These few small seconds can allow you to do significant damage using a DPS character up close.
If your Lumenstone Adjuvant is not charged, there is no need to worry as long as you have a Greatsword user or a Geo character. Periodically, geo stones will pop up during the boss fight, which will be Yellow/Golden in color. Break them to recharge your Lumenstone.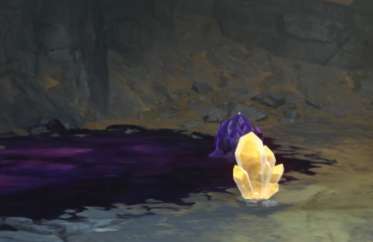 Achievements
There are three achievements that this boss can give you.
Overflowing light: Destroy 2 oozing puddles with only 1 use of the Lumenstone Adjuvant.
Ouroboros: Paralyze the Ruin Serpent while it is absorbing energy.
Surpassing the Ancients' Wisdom: Simply defeat the Serpent in Co-op Mode.
Rewards
Character Ascension Materials
Runic Fang (1 – 3, Depending on your World Level)
Prithiva Topaz Sliver
Prithiva Topaz Fragment
Prithiva Topaz Chunk
Prithiva Topaz Gemstone
Artifacts
Traveling Doctor (2* – 3*)
Instructor (3* – 4*)
The Exile (3* – 4*)
Gladiator's Finale (4* – 5*)
Wanderer's Troupe (4* – 5*)
Other Rewards (Depending on your World Level)
200 Adventure EXP
3,450 – 6,000 Mora
138 – 200 Character EXP
30 – 45 Companionship EXP