The Perpetual Mechanical Array is an Automaton World Boss in Genshin Impact. It is said that he was a war machine left behind by a nation that was already destroyed. It is composed of several cubic parts that can adapt to its surroundings.
Where is the Perpetual Mechanical Array Located?
It is located north of Narukami Island, Inazuma, in an Underwater cave. Assuming you haven't unlocked the teleport waypoint near it, the easiest way to access it is by teleporting to Jinren Island and then using an electrogranum to access a portal that teleports you straight to the boss.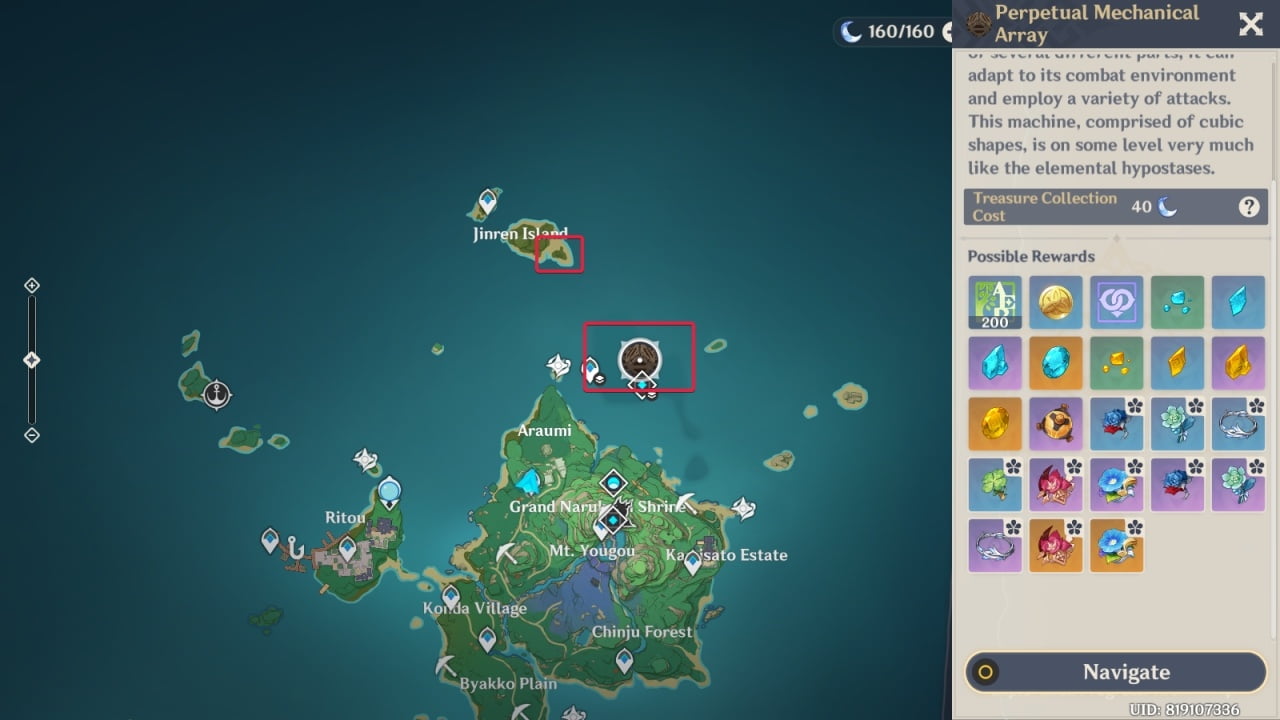 The second way is through underground ruins in Araumi. You need to complete the puzzles in ruins to make the water level go down; this allows you to gain access to the Teleport Waypoint near the Ruin Machine, which is the Perpetual Mechanical Array.
How to Gain Quick Access to The Perpetual Mechanical Array?
As said earlier, the Perpetual Mechanical Array challenge can be accessed through a portal on Jinren Island or an underground teleport waypoint. However, to unlock this teleport waypoint, the player must complete only the first part of the world quest, Sacred Sakura Cleansing Ritual. This quest will unlock the Araumi underground ruins, which can be used to access the teleport waypoint.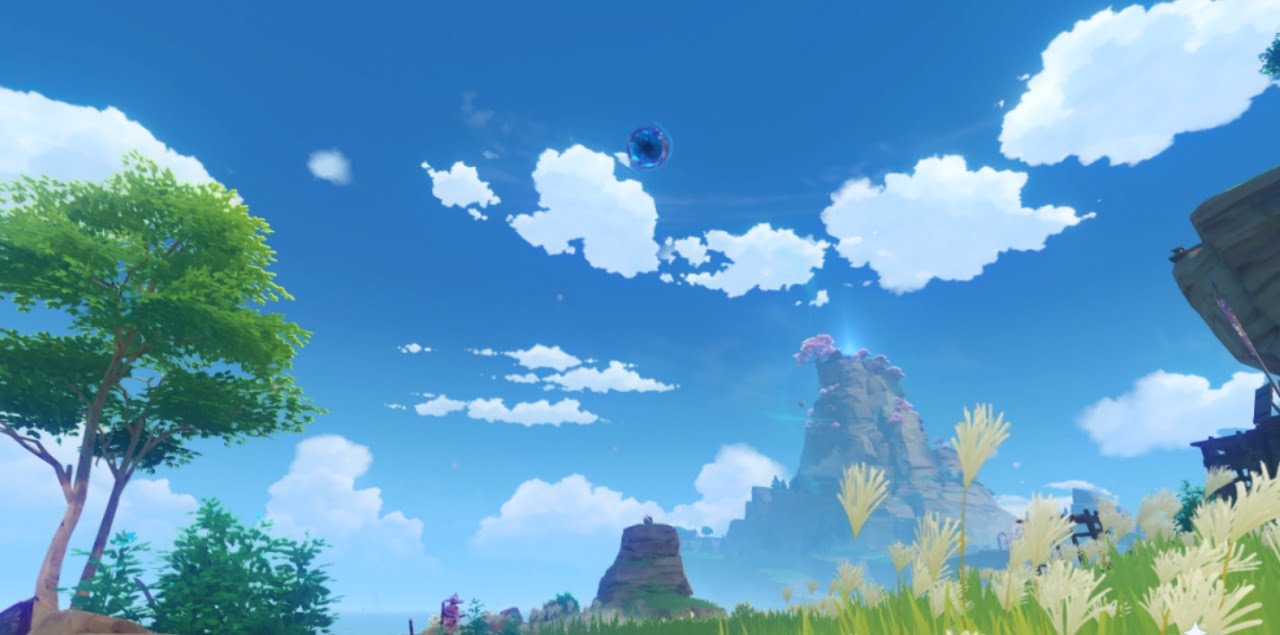 Note: If you need to know how to get out of the arena of the Perpetual Mechanical Array quickly, there should be an opening in a wall of the arena with stairs on the other side, or you could simply teleport away using your map.
Perpetual Mechanical Array Statistics
The Perpetual Mechanical Array has no unique statistics except its large health pool and higher resistance to physical attacks.
| Element | Base Resistance | Paralyzed Resistance |
| --- | --- | --- |
| Physical | 70% | 20% |
| Pyro | 10% | -40% |
| Hydro | 10% | -40% |
| Electro | 10% | -40% |
| Cryo | 10% | -40% |
| Dendro | 10% | -40% |
| Anemo | 10% | -40% |
| Geo | 10% | -40% |
Health, Attack Power, and Defence
HP ranges from 1,175 – 887,360 from Level 1 – 100.
ATK ranges from 183 – 17,728 from Level 1 – 100.
DEF ranges from 505 – 1,000 From Level 1 – 100.
Note: Stats may differ when in Co-op mode or a domain.
Recommended Character Teams
You should use a good healer like Kokomi or Barbara and a good shielder like Zhongli or Noelle. Hence, the following teams:
Freeze Ayaka
Kamisato Ayaka
Sucrose/Kazuha
Mona/Kokomi
Rosaria/Diona
Melt Ganyu
Ganyu
Xiangling
Kazuha/Sucrose/Venti
Bennet
Vaporize Childe
Tartaglia
Xiangling
Kazuha/Sucrose/Venti
Bennet
Itto
Arataki Itto
Gorou
Zhongli/Noelle
Albedo/Bennet
Free-to-Play Team
Chongyun
Xiangling
Xingqiu
Bennet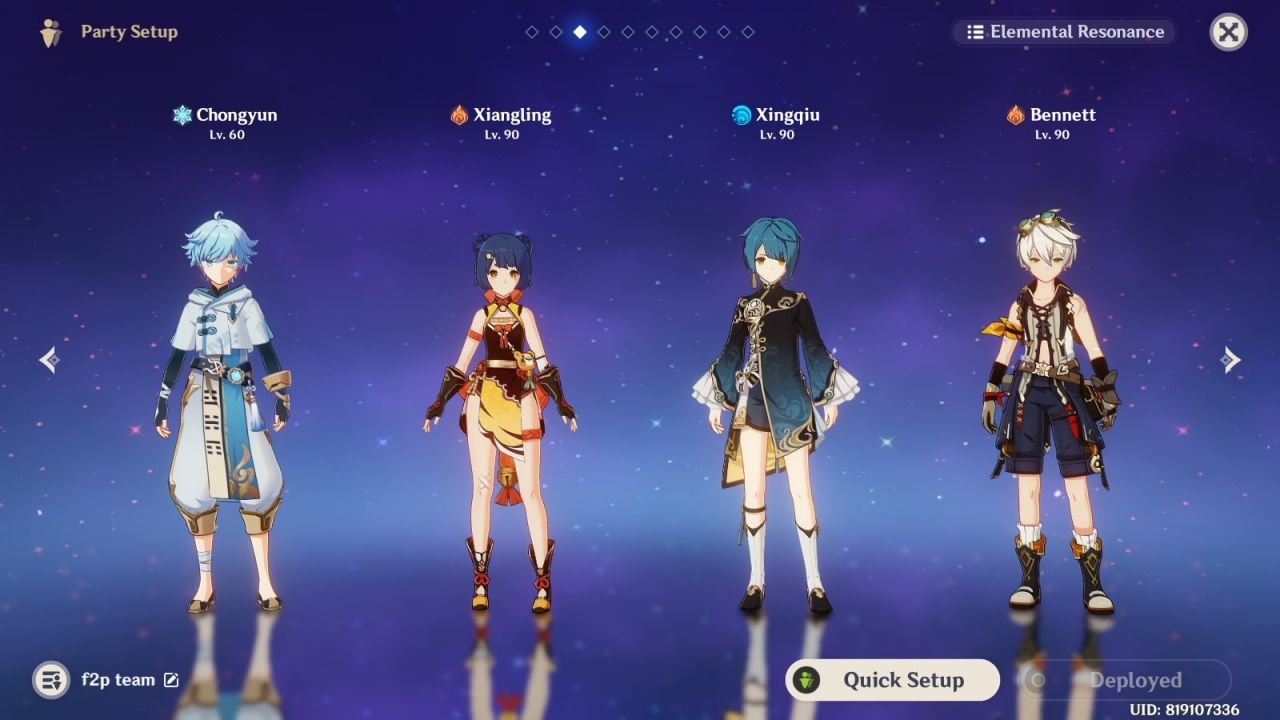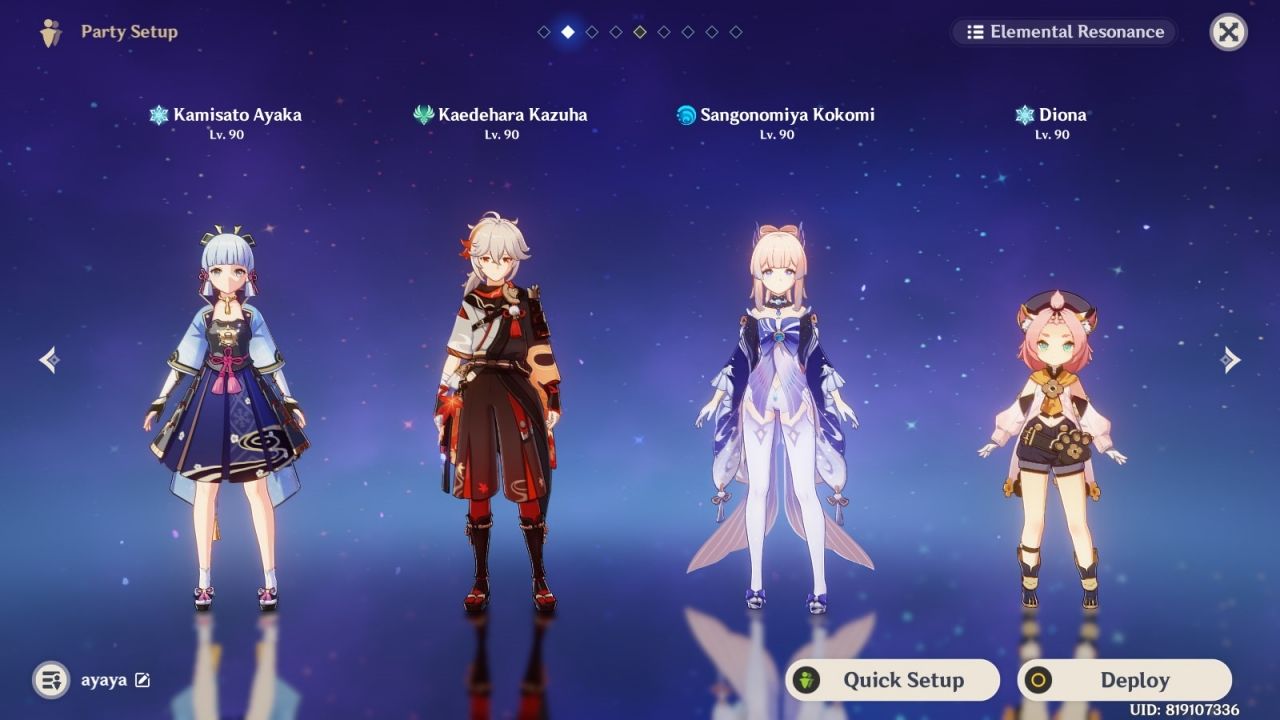 If you're still struggling even after using characters that form a good team, remember that there is always Co-op mode, and you can ask your friends to join you to help you.
Tips to Fight Perpetual Mechanical Array
Do not use Physical damage characters like Eula. The boss has very high resistance to Physical attacks in both states.
Take with you a consistent healer or a good shielder.
The attacks of the Mechanical Array are much faster than usual bosses, so conserve your stamina to dodge quickly.
Bring characters with greater elemental damage and utilize reactions like Melt, Vaporize, and Aggravate.
Save your strongest attack or ultimate for when the Perpetual Mechanical Array is paralyzed, do not use it hastily.
Perpetual Mechanical Array Attacks and Counters
The Perpetual Mechanical Array has little variety in terms of attacks and abilities. However, its attacks are faster than most other bosses and deal much more significant damage.
Note: Most of the Ability names below are unofficial.
Rocket Dive
Transforms into a mini rocket and flies upwards. Then an attack radius appears on the ground, onto which the rocket dives down, attacking the player. This attack deals with 91.6% ATK damage. To dodge this, dash away from the attack radius as soon as it appears on the ground.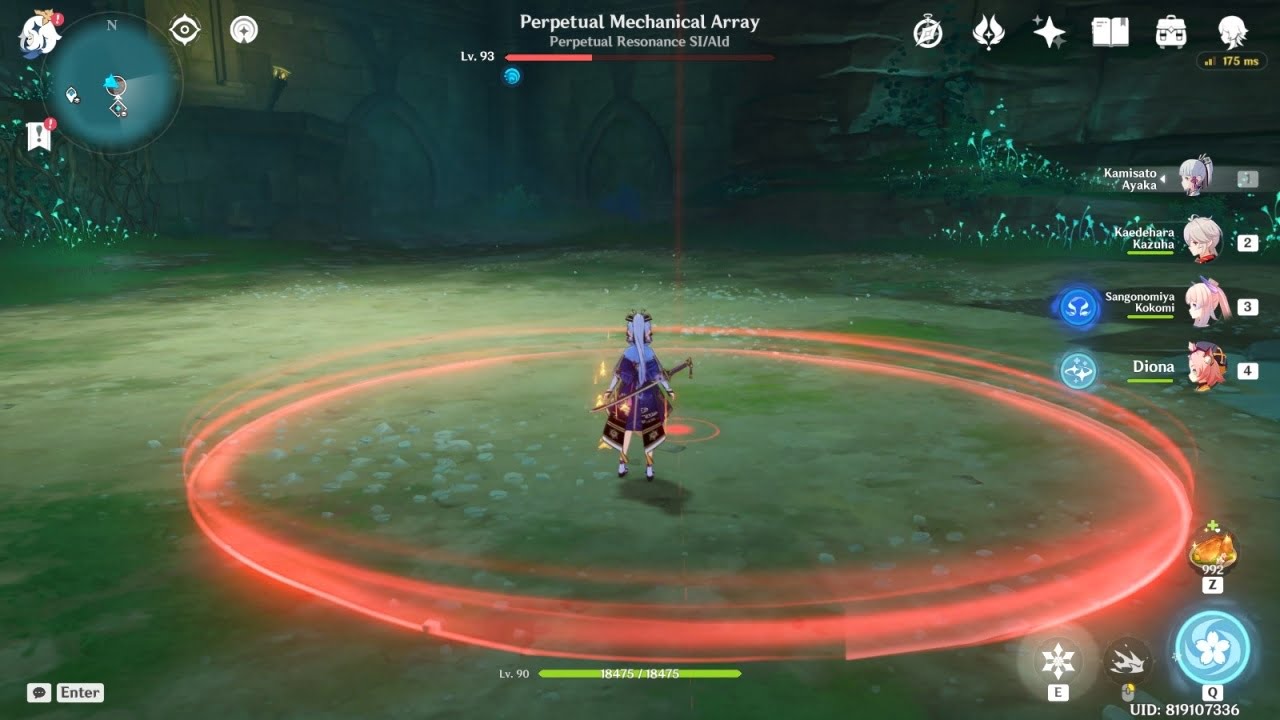 Cubic Roll
Turns into a cube with a barrier around it. It quickly rolls toward the player, and when it catches up, it emerges from the cube form and releases a shockwave. This shockwave deals 75% ATK as Physical DMG. It only uses this move at long ranges. The only way to avoid this attack is by using a dash I-frame at the time of the shockwave or a shield.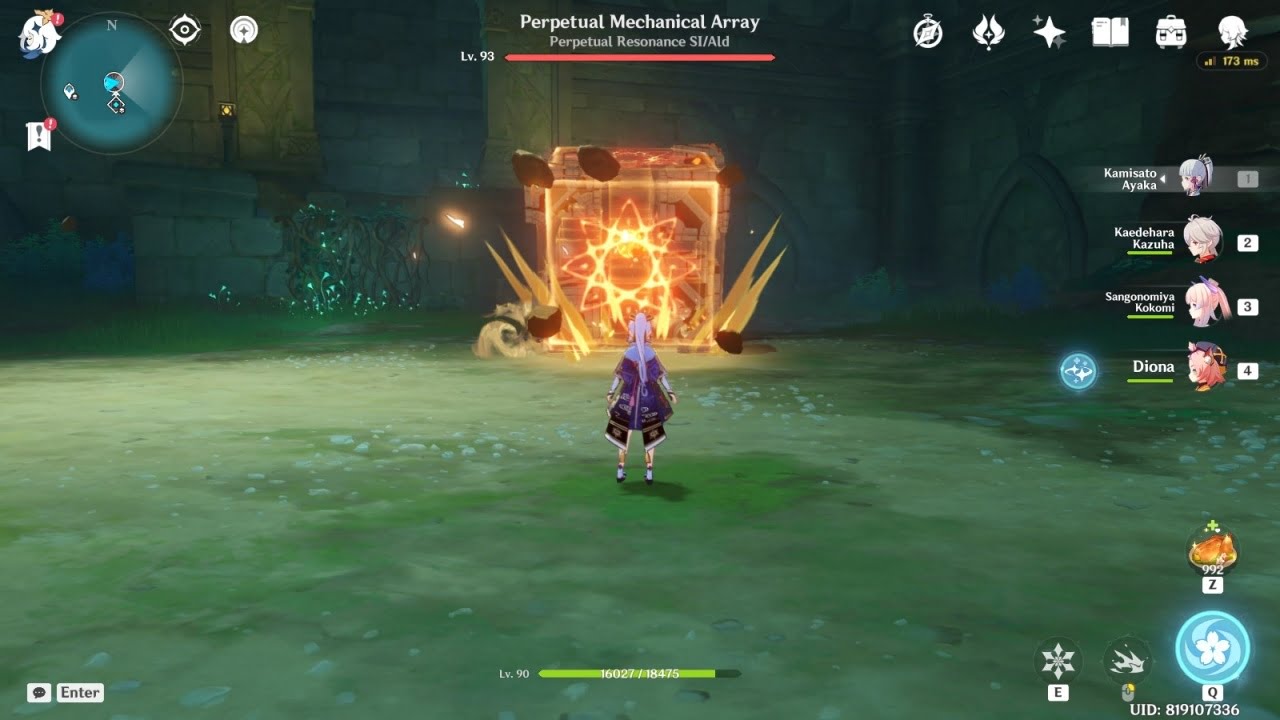 Orbital Strike
The boss charges up with one of its cube parts at the top shaped like a cone, after which an attack radius appears on the player's position. It launches a huge beam that comes down at the player's position. This attack deals 100% ATK as Physical DMG on hit. To dodge this, dash away from the attack radius as soon as it appears.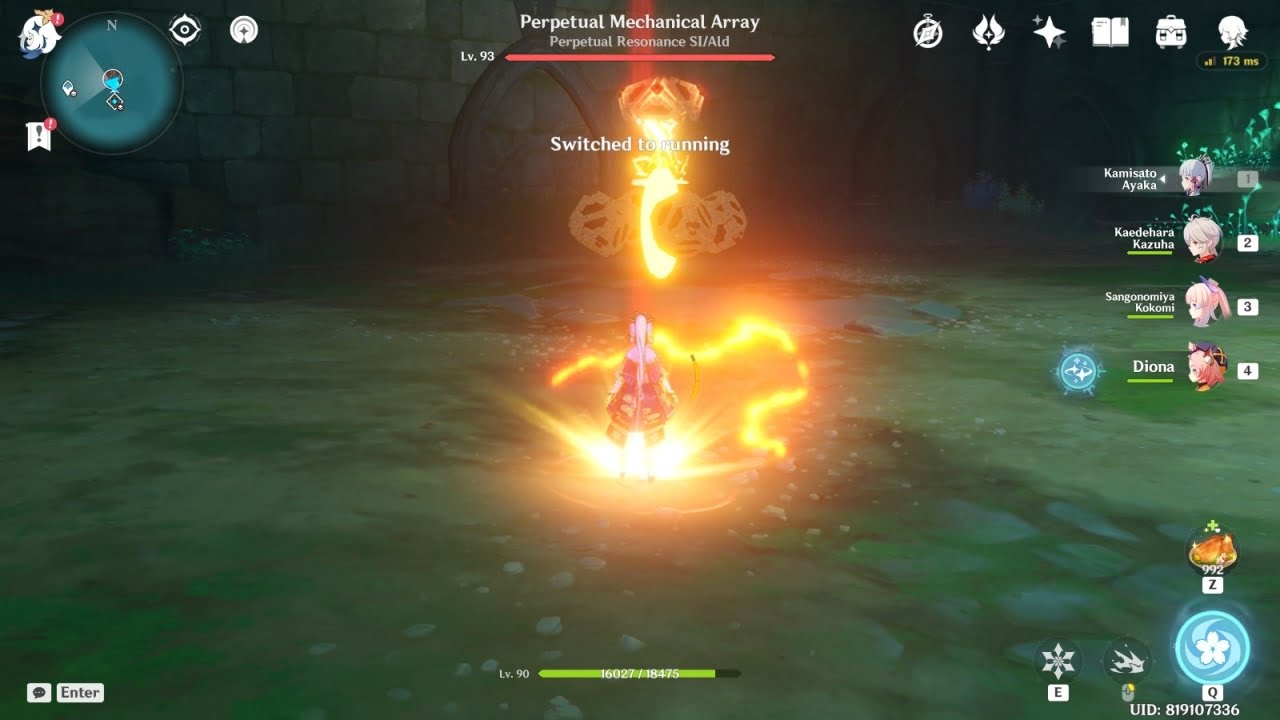 Mechanical Sword Slash
Transforms into a giant sword. It slashes from right to left, dealing 75% ATK as Physical DMG. It only uses this move at melee ranges. To avoid this attack, dash towards the right side when the sword is about to slash.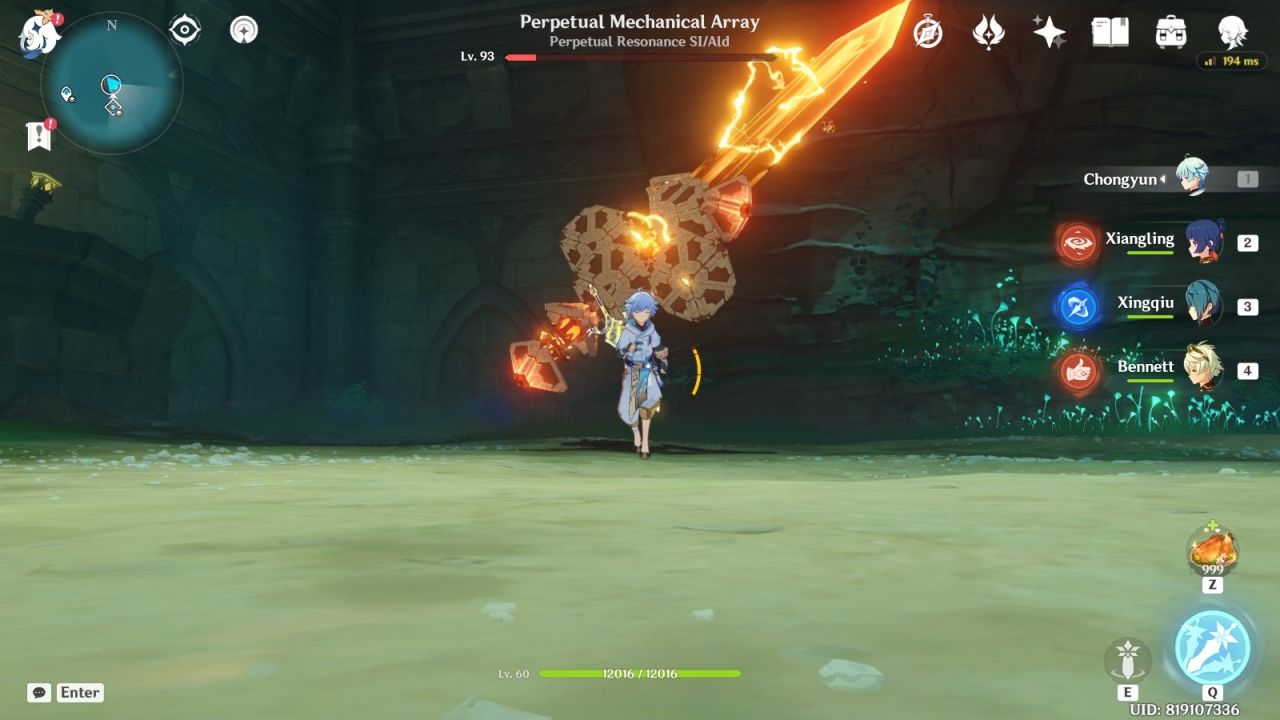 Spinning Blade
The boss transforms into a giant spinning blade that attacks in a zig-zag pattern, going left and right once. This attack deals 58.3% ATK as Physical DMG. To avoid this, dash to the ride side when the boss is about to attack.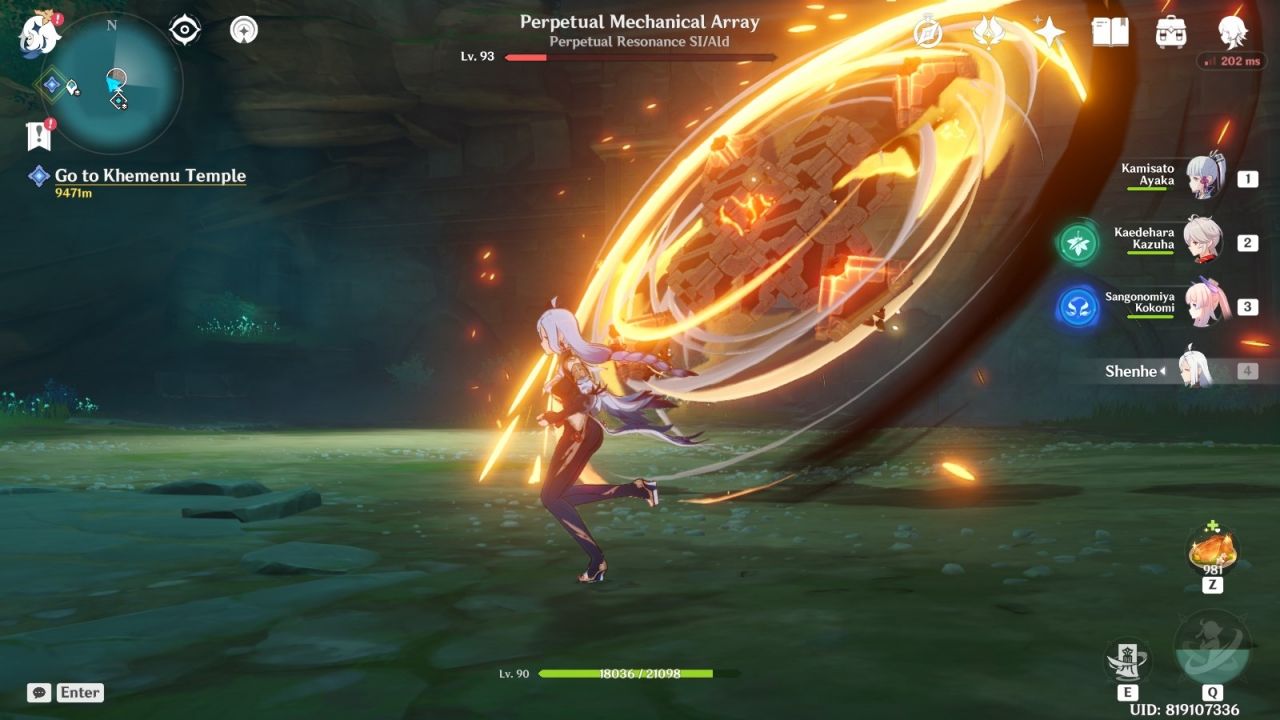 Energy Cannon
It charges up and then fires a beam that follows the player while dealing 33.3% ATK as constant Physical DMG as long as it touches the player. To avoid this, simply keep running away until the attack stops. One way to cancel this attack is to run behind the boss.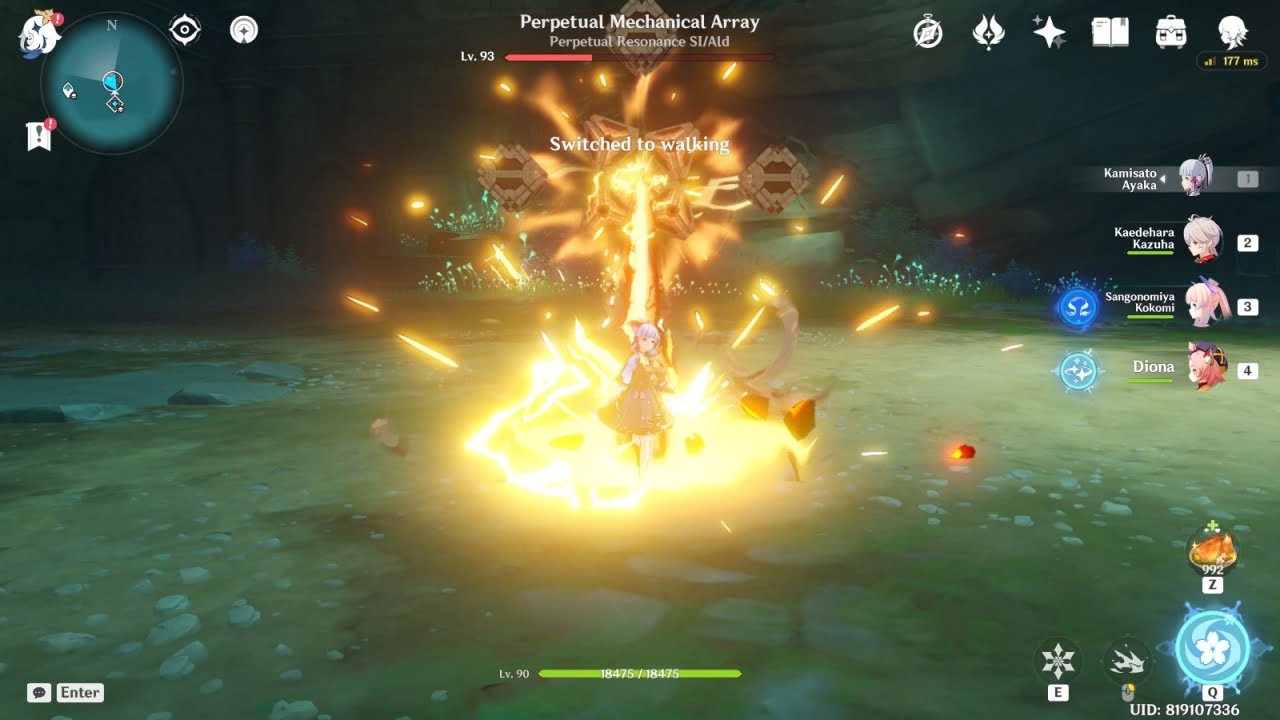 Defensive Stance
Launches out four cubes around it and shields itself. It is now immune to all damage. The four launched cubes transform into Ruin Machines, one of which will be highlighted by a yellow/golden aura. Attack the highlighted Ruin Machine and defeat it to paralyze the Perpetual Mechanical Array. Once paralyzed, all of its resistance is significantly reduced. This Defensive Stance is only triggered when the boss is 35% HP or lower. It can only be damaged to 30% HP.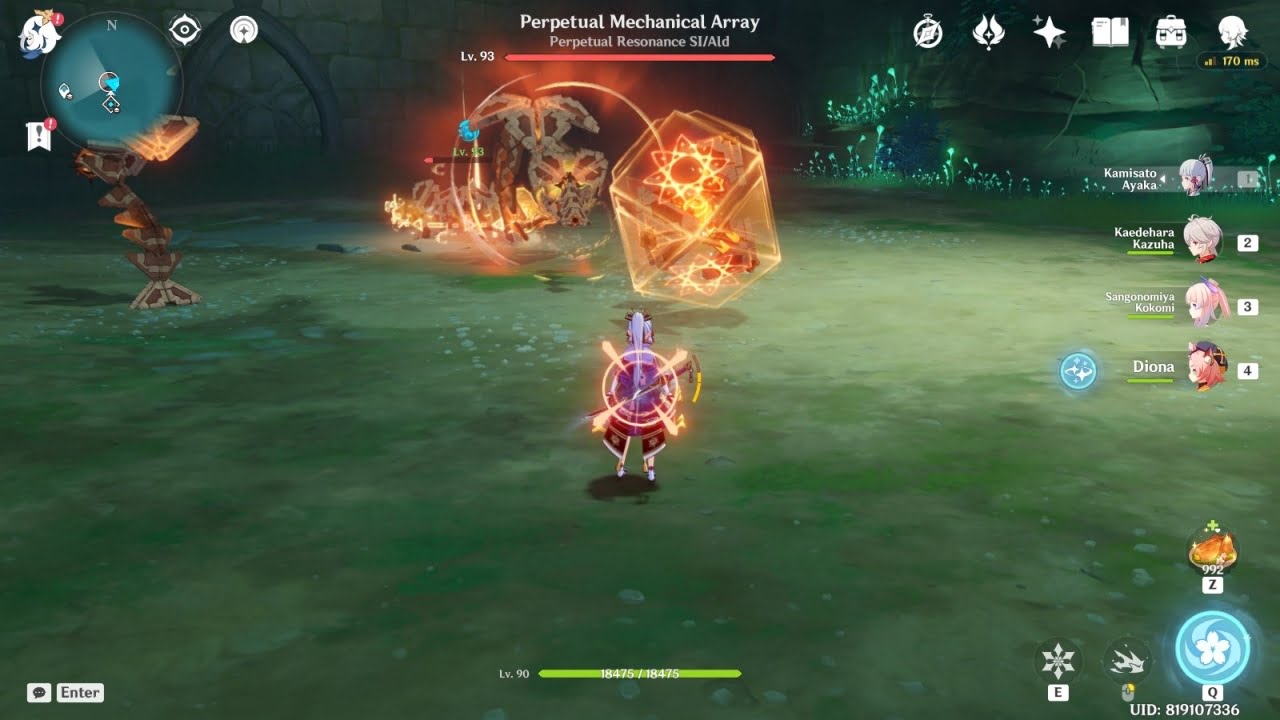 Strategy To Defeat Perpetual Mechanical Array Easily
Most of the attacks from the boss are easy to dodge. Remember to keep using Elemental Attacks and not Physical Attacks; this means refraining from using physical melee attacks when near the boss, as it will not be helpful. When the boss is performing its Energy Cannon attack, which is hard to dodge, running behind the boss could be beneficial as it will cancel the attack.
When the boss reaches 35% HP or 30% HP, it will go into its defensive mode, where the Perpetual Mechanical Array will have a barrier and summons four Ruin Machines. Defeat the highlighted machine to paralyze the boss and reduce its damage resistance by 50%. Use this opportunity to finish its remaining HP and end the fight; dump in everything you have during this time. Remember to save your best ultimate for the paralyzed state or charge it while fighting the Ruin Machines. The Ruin Machines share the same level as the boss. If the boss is not defeated and wakes up from the paralyzed state, it absorbs all the Ruin Machines it released and continues its attack patterns like at the beginning of the fight.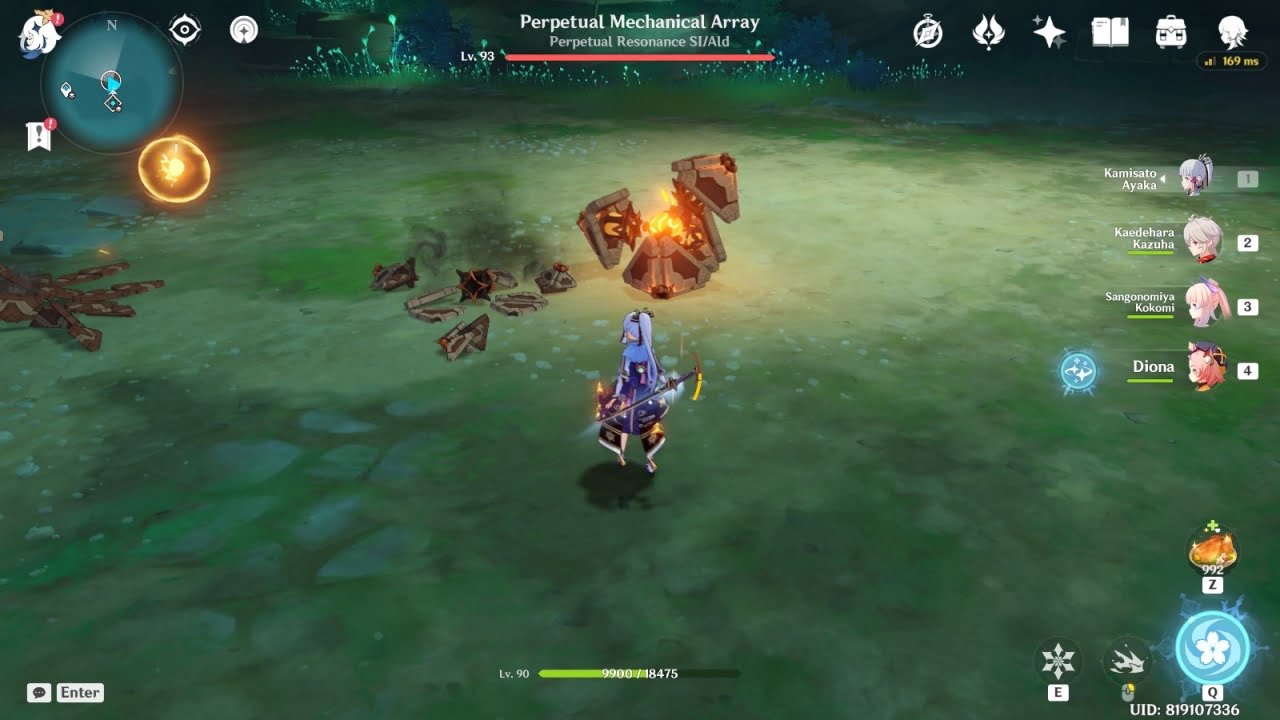 Possible Rewards for Defeating Perpetual Mechanical Array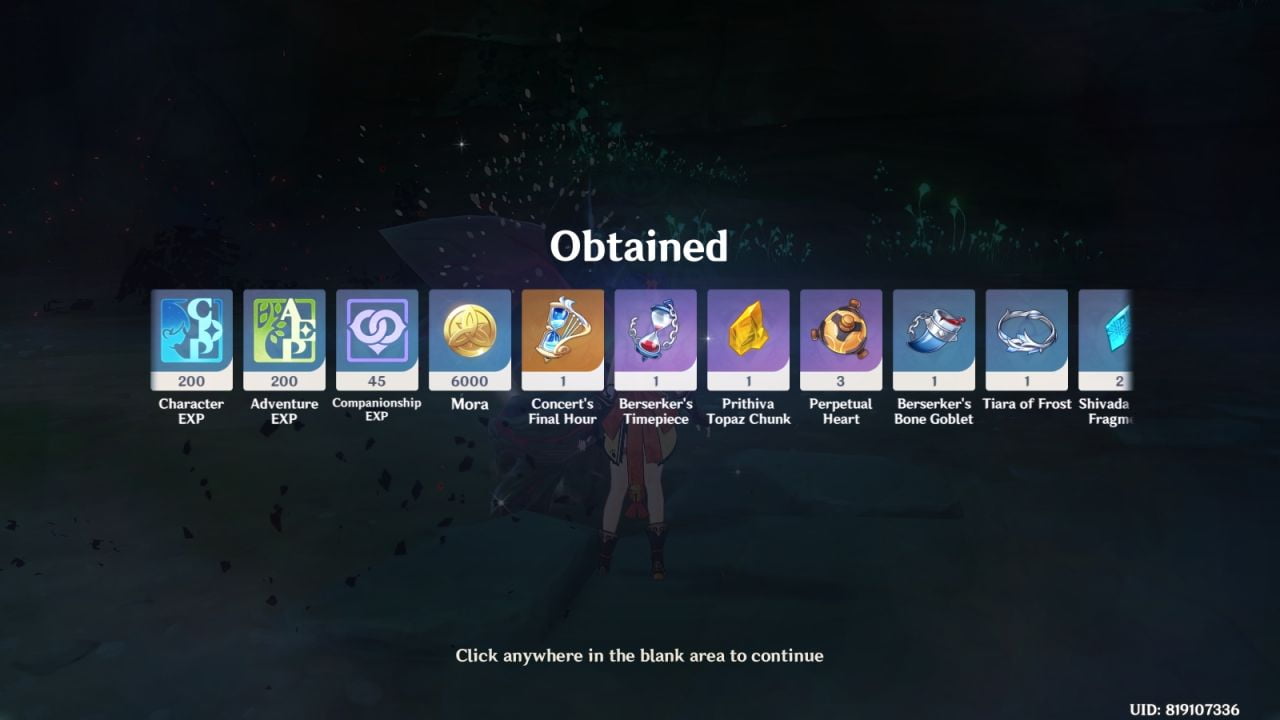 All the drops below will vary according to the boss and the world level. The unique character ascension material here is the "Perpetual Heart," which is used for leveling up Ayaka.
Character Ascension Material
Perpetual Heart
Prithiva Topaz Sliver
Prithiva Topaz Fragment
Prithiva Topaz Chunk
Prithiva Topaz Gemstone
Shivada Jade Sliver
Shivada Jade Fragment
Shivada Jade Chunk
Shivada Jade Gemstone
Artifact Sets
Lucky Dog (2* – 3*)
Berserker (3* – 4*)
The Exile (3* – 4*)
Prayers to Springtime (3* – 4*)
Gladiator's Finale (4* – 5*)
Wanderer's Troupe (4* – 5*)
Other Rewards
200 Adventure EXP
3,450 – 6,000 Mora
138 – 200 Character EXP
30 – 45 Companionship EXP
Achievements
There are four achievements you can obtain through the Perpetual Mechanical Array.
The Battle of Narukami Island: Defeat the Perpetual Mechanical Array in its weakened state.
Core Breakthrough: Defeat a Perpetual Mechanical Array after paralyzing all four types of its Ruin Sentinels.
Could All Uninvolved Machinery Please Leave Immediately?: Defeat the Perpetual Mechanical Array without defeating any of its Ruin Sentinels.
The Not-So-Perpetual Mechanical Array: Defeat the Perpetual Mechanical Array in CO-OP Mode.