Bathysmal Vishap Herd, also called Coral Defenders, are normal bosses in the game in the world of Enkanomiya. Their names are Rimebiter (Cryo) and Bolteater (Electro). The two powerful Bathysmal Vishaps were explicitly bred and selected by the people of Enkanomiya. The strongest Bathmysals could use elemental powers, which could be a show of hatred. To fight with this Enkanomiya boss, players will need to unlock it. The Bathysmal Vishap Herd was released in the game with the Sleet and Storm Genshin Event.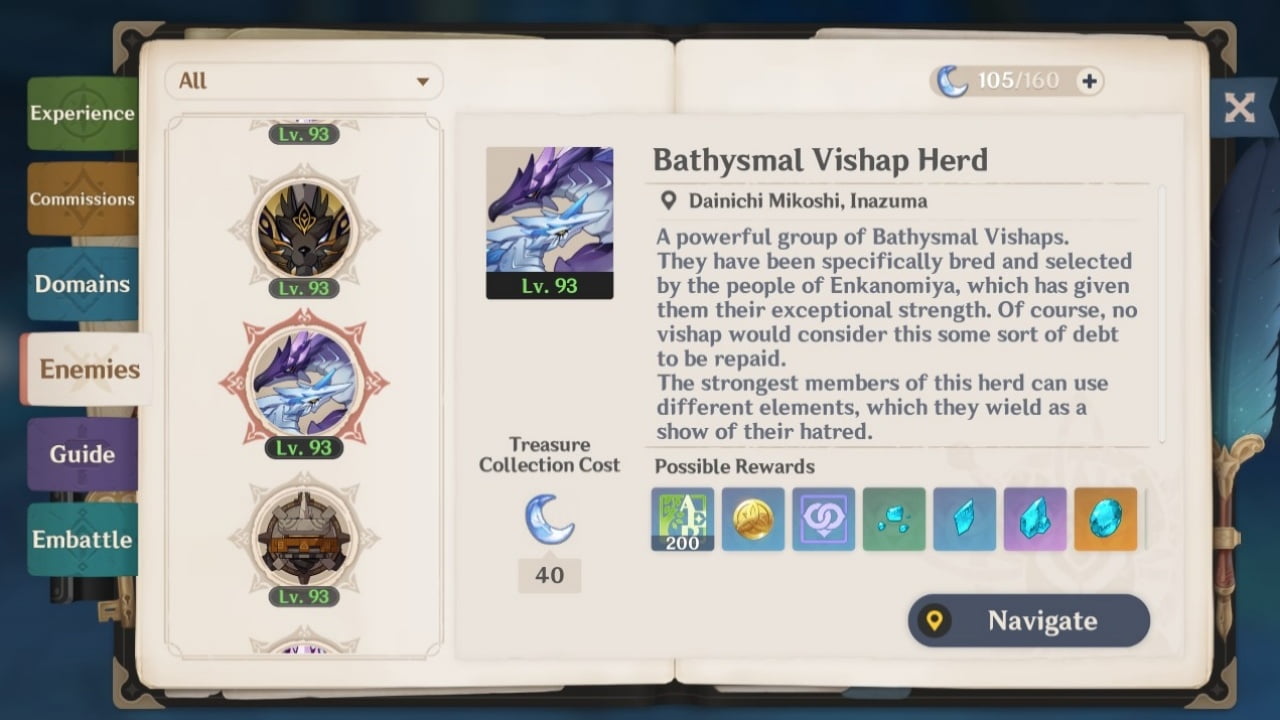 Other Bathysmal Vishap Variants are:
Bolteater Bathysmal Vishap Hatchling
Primordial Bathysmal Vishap Hatchling
Rimebiter Bathysmal Vishap Hatchling
Primordial Bathysmal Vishap
How to Unlock Bathysmal Vishap Herd
To unlock the Bathysmal Vishap Herd, players must first unlock Enkanomiya, the underwater city. This is done by completing the Archon Quest Chapter 2: Act 3 – Omnipresence Over Mortals. After which, players must complete the world quest, The Moon-bathed Deep, which includes another world quest, The Still Water's Flow. In addition to all of these, players must be at least Adventure Rank 30. Then the player must complete the quest, From Dusk to Dawn in Byakuyakoku.
Another quest, The Subterranean Trials of Drake and Serpent, in which they will fight the boss once in the story of the quest, must be done as well. Once done, the boss icon will appear on the player's map in Dainichi Mikoshi.
Bathysmal Vishap Herd Location
They are found in the center of Enkanomiya, in Dainichi Mikoshi, only after they have been unlocked through the abovementioned quests. Once defeated, the Vishaps respawn timer can be checked through your "Adventurer Handbook Guide" in the enemies section. You must teleport away, and respawning should take only a few minutes.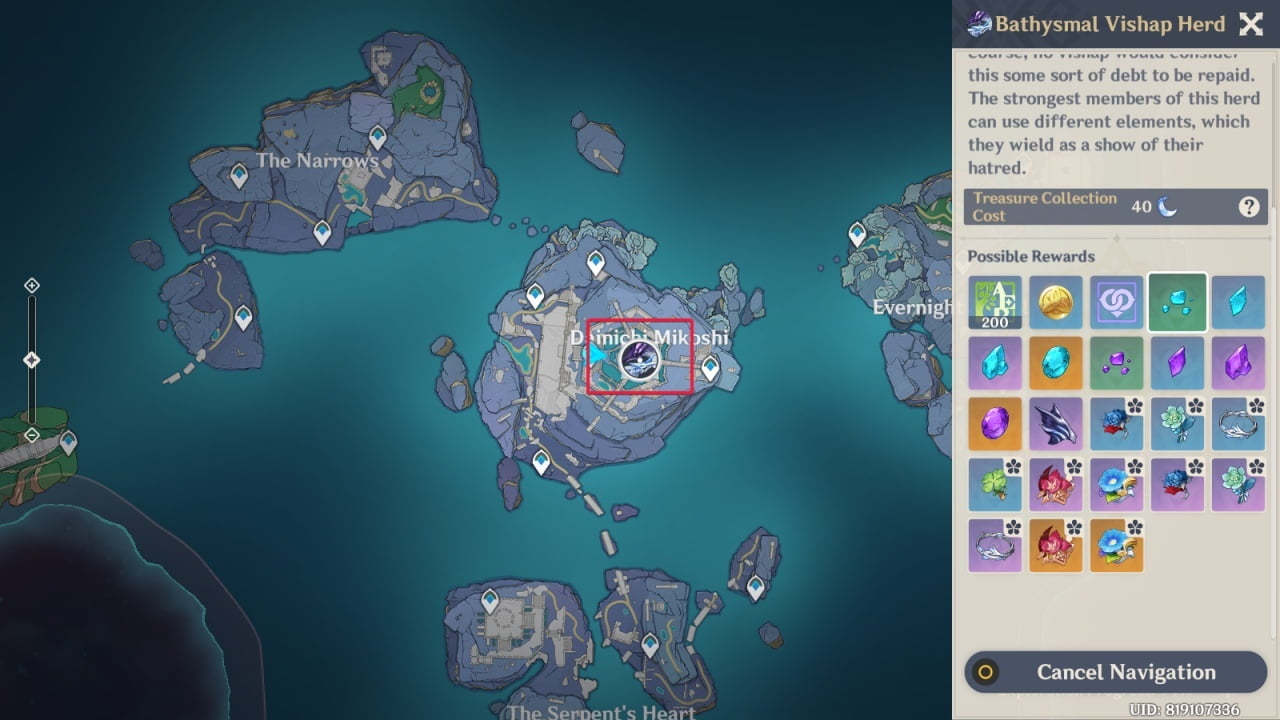 Bathysmal Vishap Herd Statistics
The coral defenders themselves use two different elements. One of them uses Electro, while the other uses Cryo. This means they can use combination attacks of the two.
Resistances of Rimebiter (Cryo)
Physical: 30%
Pyro: 10%
Hydro: 10%
Electro: 10%
Cryo: 30%
Dendro: 10%
Anemo: 10%
Geo: 10%
Resistances of Bolteater (Electro)
Physical: 30%
Pyro: 10%
Hydro: 10%
Electro: 30%
Cryo: 10%
Dendro: 10%
Anemo: 10%
Geo: 10%
Health, Attack Power, and Defence
The Vishaps have the same Health, Attack power, and Defence. Their values range from level 1 – 100, which are as follows: HP/ ATK/ DEF is 881 – 665,520/ 127 – 12,311/ 505 – 1000.
Note: You can fight the Bathysmal Vishaps in Co-op mode or a domain, so their stats may differ. A constant scale factor usually calculates the difference in stats.
Tips
While fighting the two vishaps, there will be a time when you will need to break a stone wall to immobilize the Bolteater.
Use Claymore to destroy the wall used by the Bolteater Vishap.
Remember to keep attacking their heads, as it is their weak point.
Characters like Diluc or Itto are very favorable here.
Characters that provide many energy particles or have a higher energy recharge are preferred, as the vishaps can steal your characters' energy.
Always dodge the Cleansing Orbs attack as it ignores shields.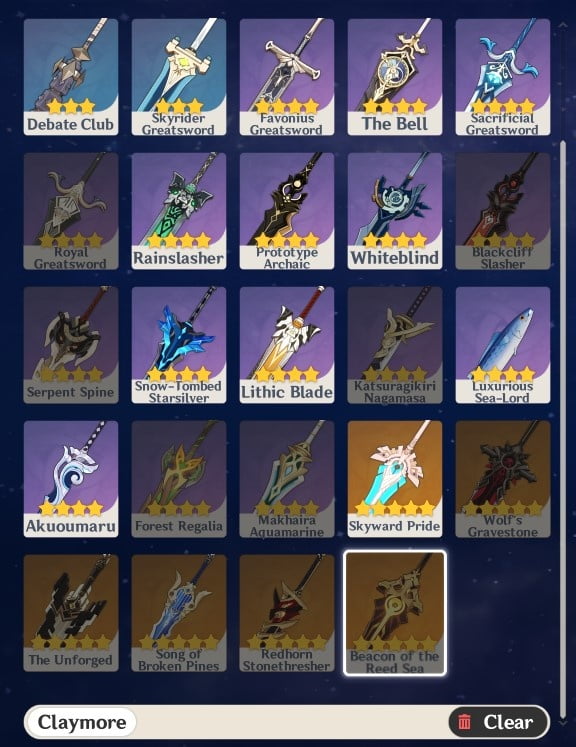 Recommended Character Parties
Raiden National
Raiden Shogun
Xiangling
Xingqiu/Kazuha/Yelan
Bennet
Diluc or Yoimiya
Diluc/Yoimiya
Xingqiu/Yelan
Kazuha/Sucrose/Venti
Bennet
Itto
Arataki Itto
Gorou
Zhongli/Diona
Bennet
Free-to-Play Team
Razor
Xiangling
Fischl
Diona/Barbara/Noelle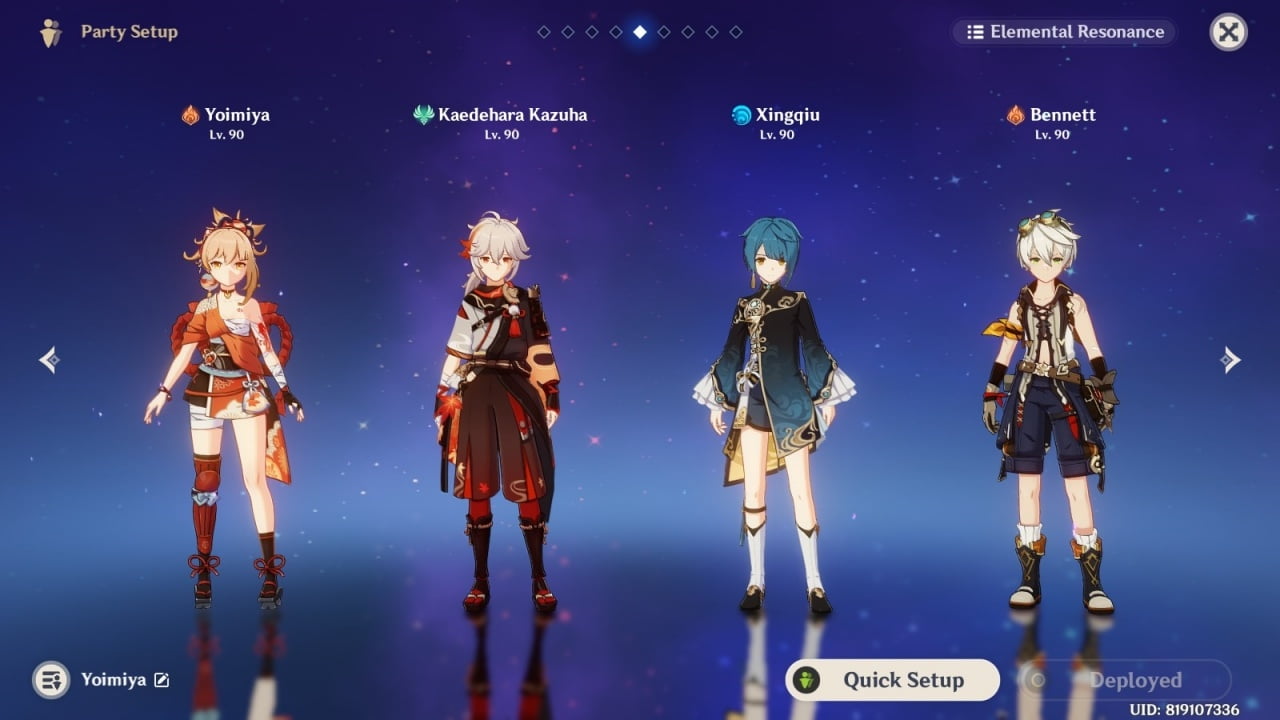 Attacks and Abilities
Note: Most of the attack names below are unofficial.
Individual Attacks
These are the attacks of Bathysmal Vishaps, which are used individually:
Cleansing Orb
An orb, formed within their mouth, is launched at the player. Depending on which vishap threw this orb, it deals 5% ATK as Electro DMG or Cryo DMG and drains 30 energy from the equipped character. If the equipped character has less than 30 energy, the energy drain is converted into HP loss. Simply run to a side different from the Orb to dodge this attack.
Note: HP Loss = (17% x Character's Max HP + 600) x (1 – Remaining Energy/30)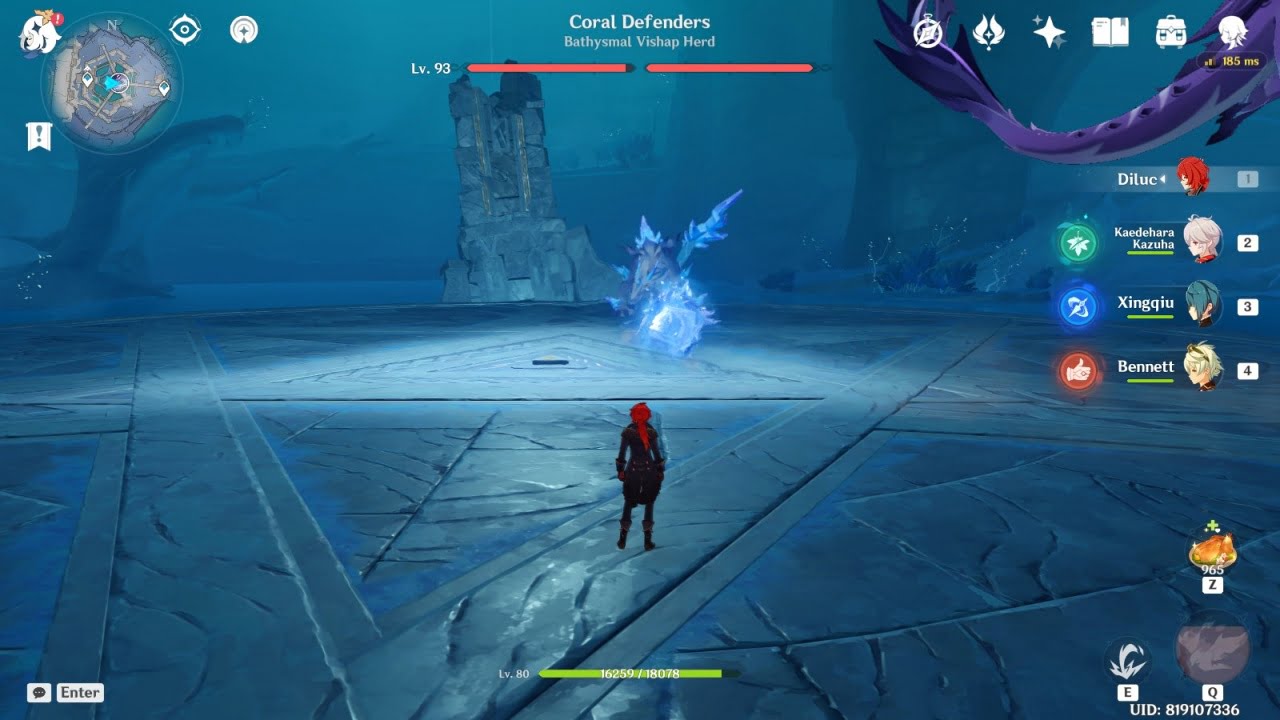 Spiking Field
A large field of the corresponding element is created after one of the Vishaps seals its tail into the ground. Spikes or shards of Electro energy or Ice come from the ground randomly in this field. Each spike deals 60% ATK as Cryo or Electro DMG.
Note: If a player is within the generated field, a spike generates at their exact location once every two seconds; this can occur up to three times.
Only the Rimebiter vishap (Cryo) will use this attack if both are alive on the field. When the Rimebiter reaches Critical HP, the Bolteater vishap (Electro) will also start using this attack. Stay out of the generated field to avoid being hit by this attack.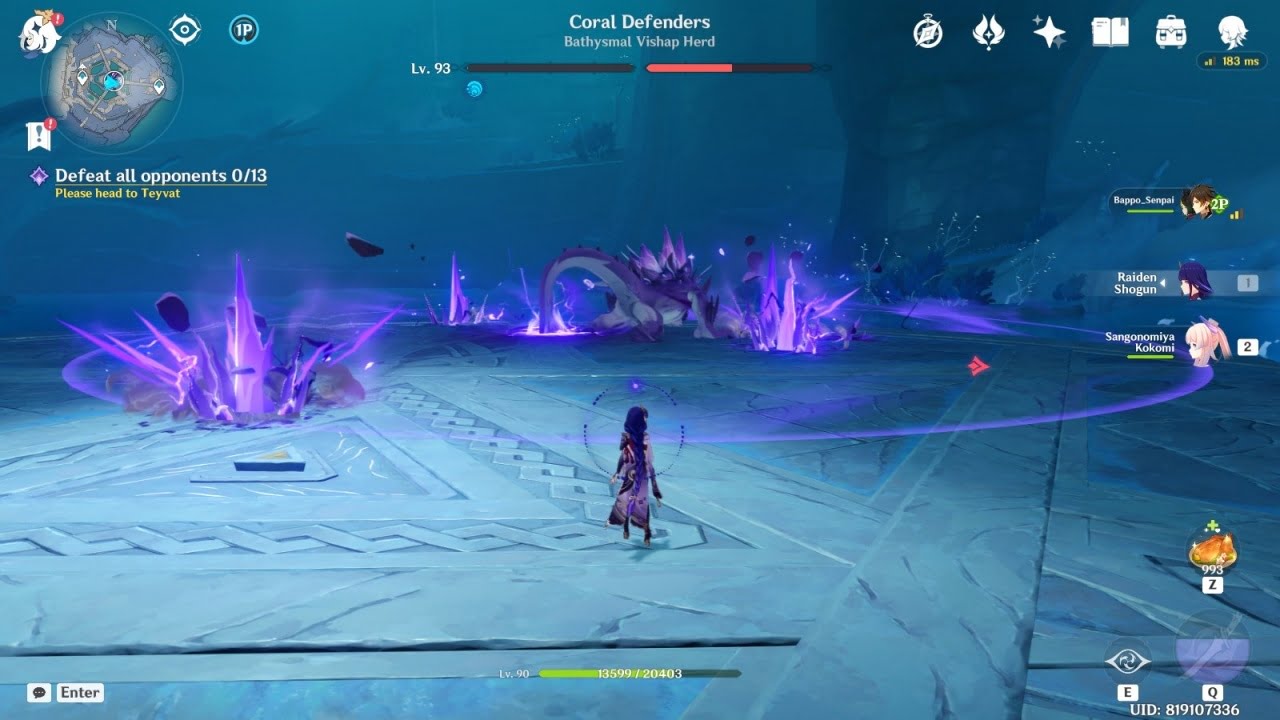 Spinning Tail Sweep
The Vishap curls up and quickly spins, using its tail to attack; this deals 30% ATK *2 as Cryo DMG or Electro DMG. This attack is indicated by the Vishap curling up. It can be dodged using a dash I-frame or simply dashing away when the Vishap curls up.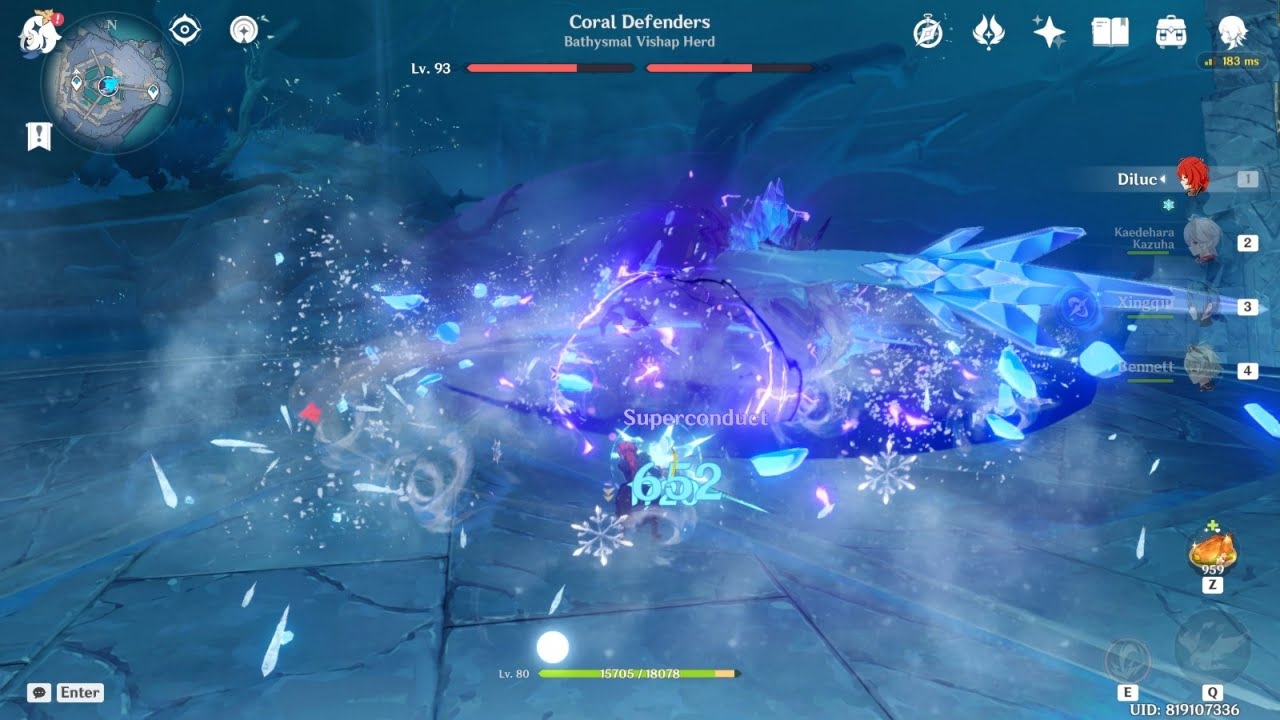 Homing Elemental Shards
The Vishaps shoot three shards from their tails—these home toward the player at high speeds. The shards deal 30%, 15%, and 7.5% ATK as Cryo or Electro DMG, respectively. Use a dash I-frame to avoid this attack as the shards will home toward you.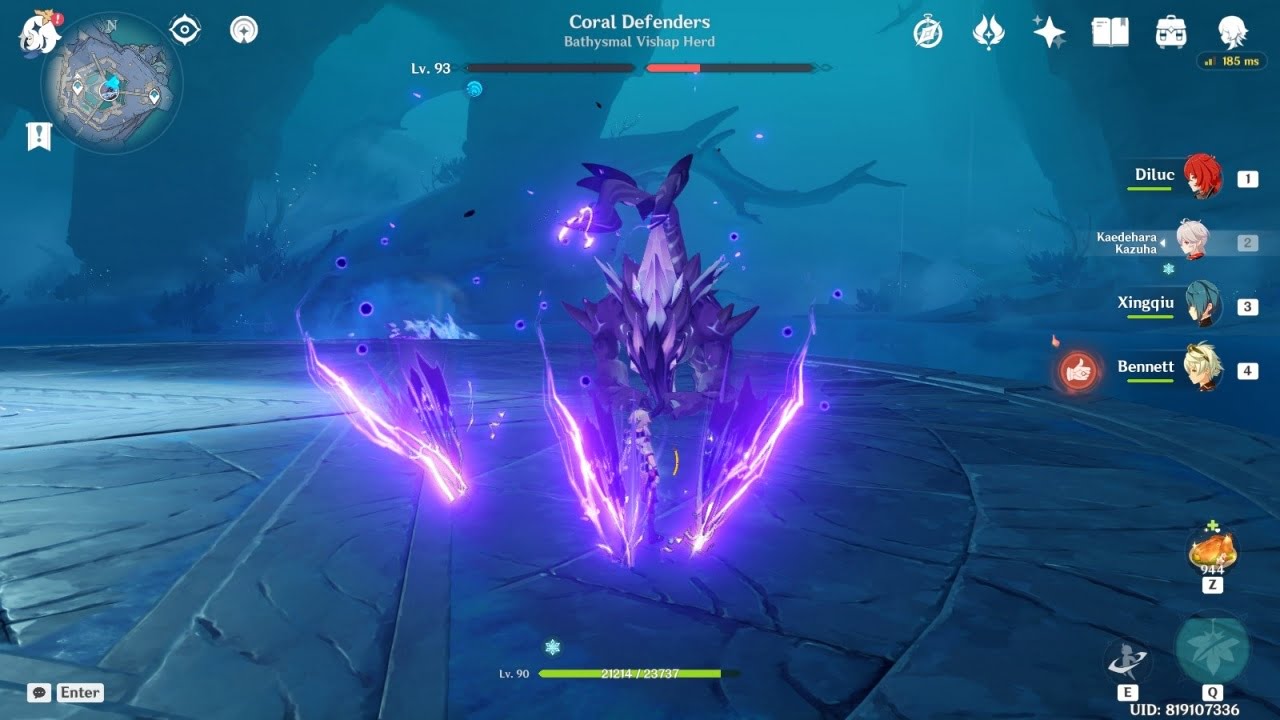 Swimming Assist
When one of the vishaps reaches critical health, they swim in the nearby water. When in the water, they can provide support by launching attacks. The vishap swimming in the water launches three Homng Elemental Shards at the player.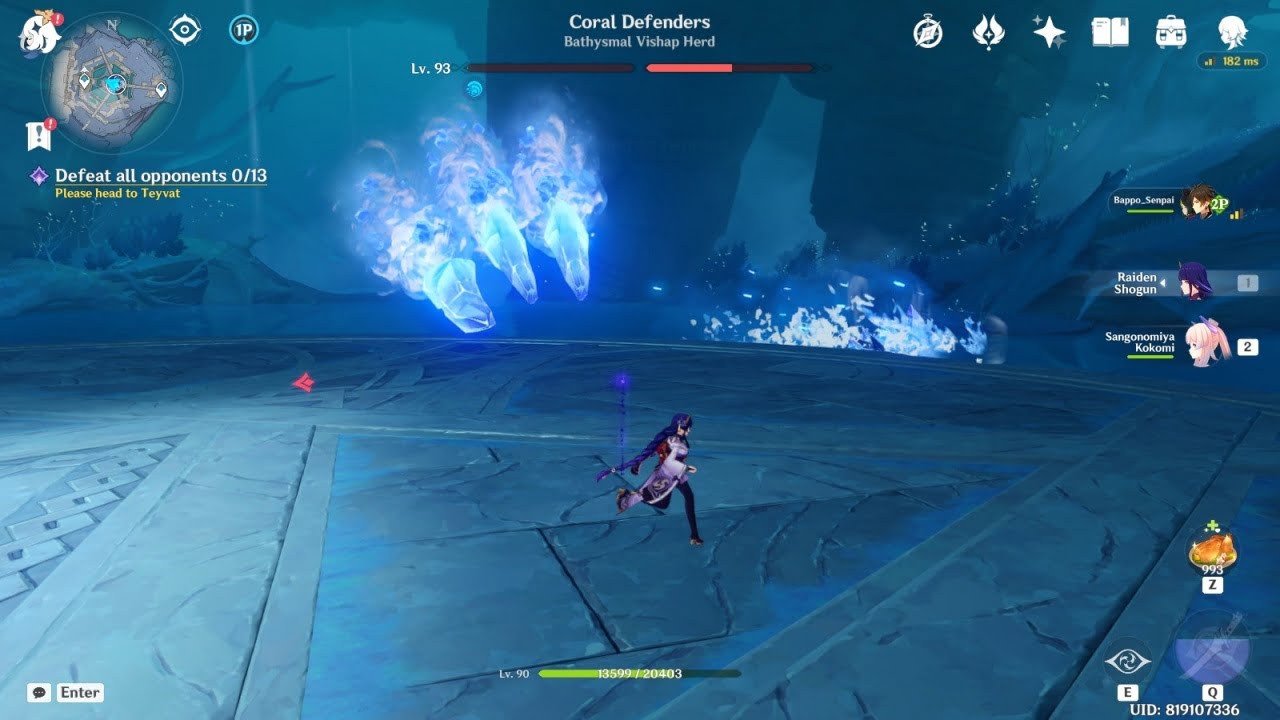 Combo Attacks
These attacks are only used together by the Coral Defenders:
Rapid-Fire Shards
Both Vishaps roar loudly and then connect their tails, firing out shards of Electro and Cryo, alternating rapidly at the player. Each shard deals 20% ATK as Cryo DMG and 10% as Electro DMG. To dodge these rapid-fire shards, keep moving and dashing right and left while also moving toward the vishaps.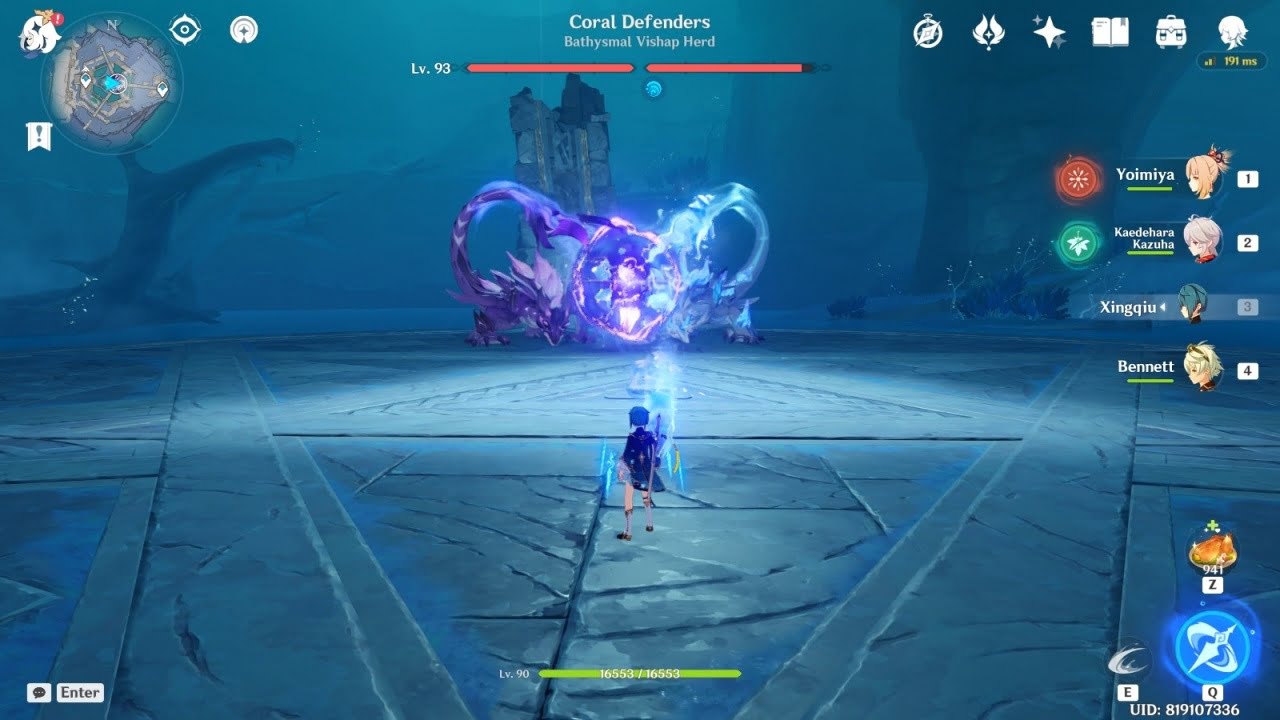 Duo Elemental Beams
As soon as one of the vishaps reaches critical health, they swiftly move to the center of the arena, creating a small field around them that rapidly deals 100%, 50%, 25%, and 10% ATK as constant Cryo or Electro DMG. While creating this small field, they combine their tails, shoot out an Electro and a Cryo Beam from their mouths, and rotate rapidly. These beams also deal 100%, 50%, 25%, and 10% ATK as Cryo or Electro DMG. The beams can be dodged using dash I-frames.
If you have enough stamina, you can run in the opposite direction of the beams, or you could use a dash I-frame to run through the beam. It is advised to run near the center as your stamina will be saved.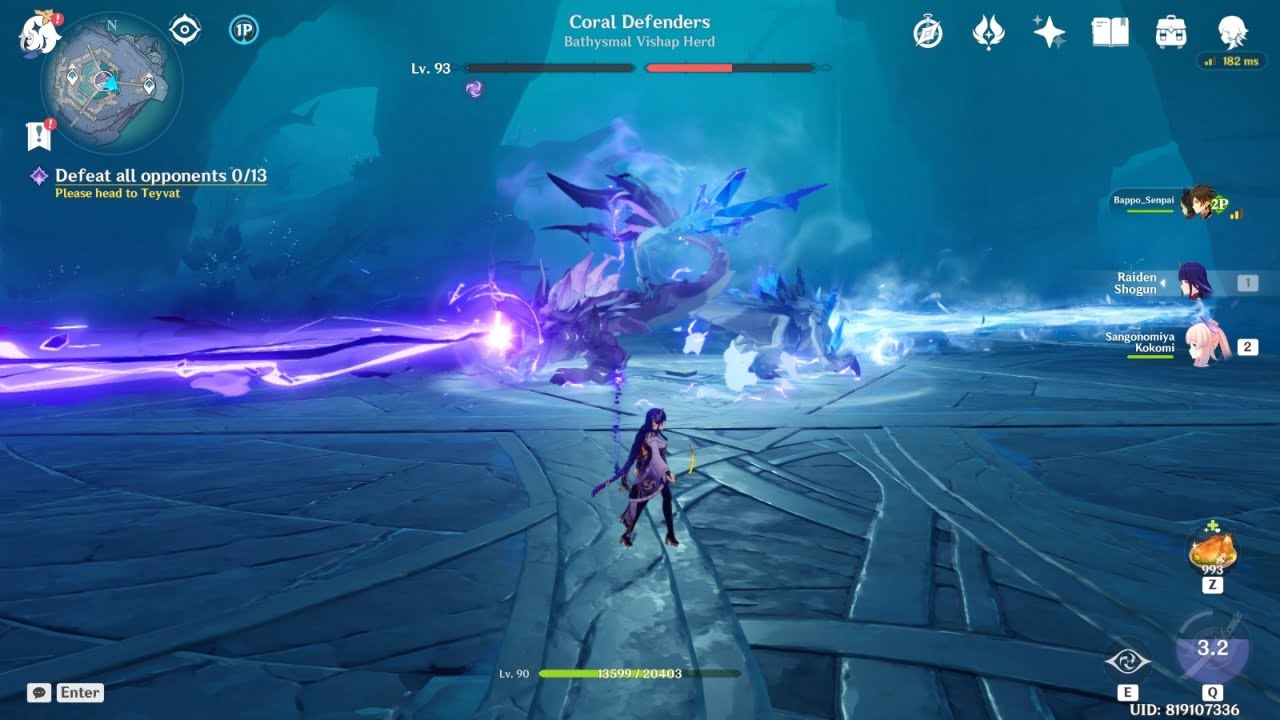 Melee Slash Combo (Rimebiter Only)
This attack is only triggered if a player is in melee range. The Rimebiter performs two horizontal slashes with his paws, followed by a smash into the ground. These attacks deal 30% ATK, 50% ATK, and 80% ATK as Physical DMG, respectively. To dodge the melee slash combo of the Rimebiter, simply dash away when it performs a horizontal slash with its paw.
Wall Assist (Bolteater Only)
The Bolteater Vishap climbs a wall if it is still intact; it repeatedly releases Cleansing Orbs until the wall is broken. When the wall breaks, the Bolteater will be immobilized for a few moments, allowing the player to attack. To avoid this, you could either quickly break the wall using attacks from a greatsword, or you could keep running around (very inefficient).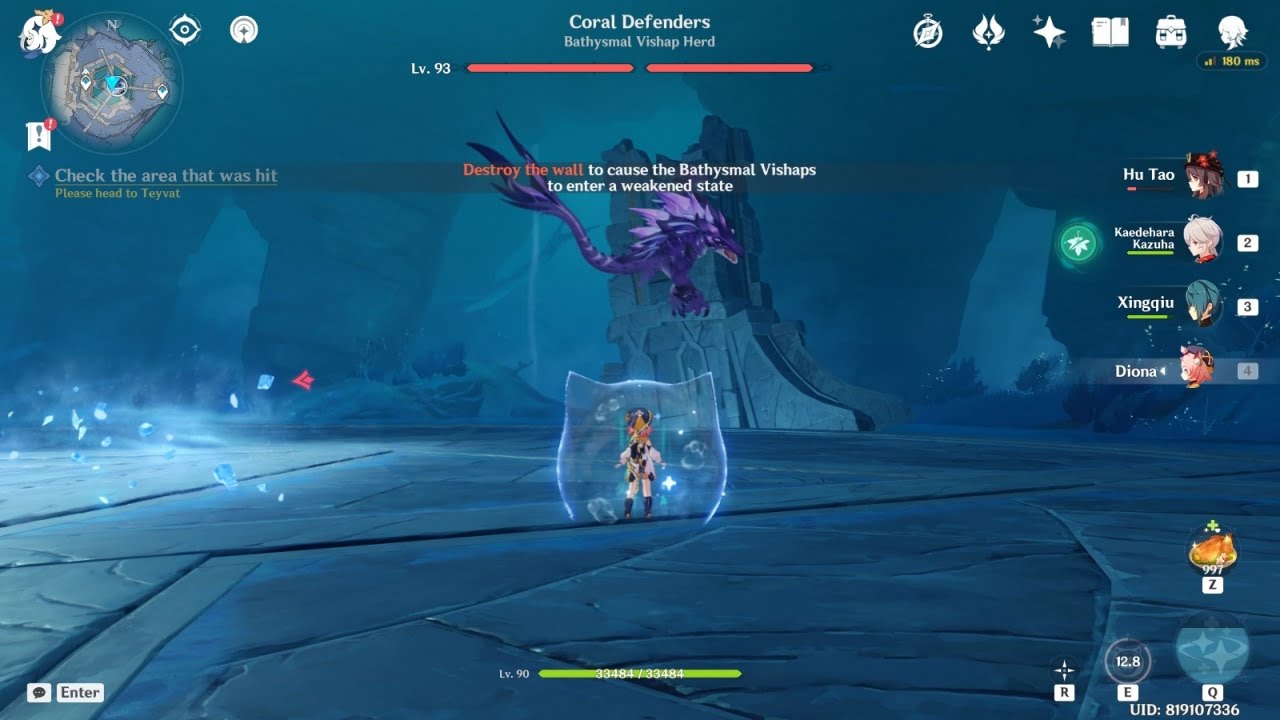 Strategy to Easily Beat Bathysmal Vishap Herd
The fastest way to defeat them is dodging their initial attacks until the Bolteater climbs a wall. Destroy this wall and then attack it. Once the Bolteater reaches critical health, the Coral Defenders will perform Duo Elemental Beams. When the Bolteater comes to critical health, the Vishap will swim in the water and provide support. The player can then use this chance to attack the Rimebiter alone in the arena.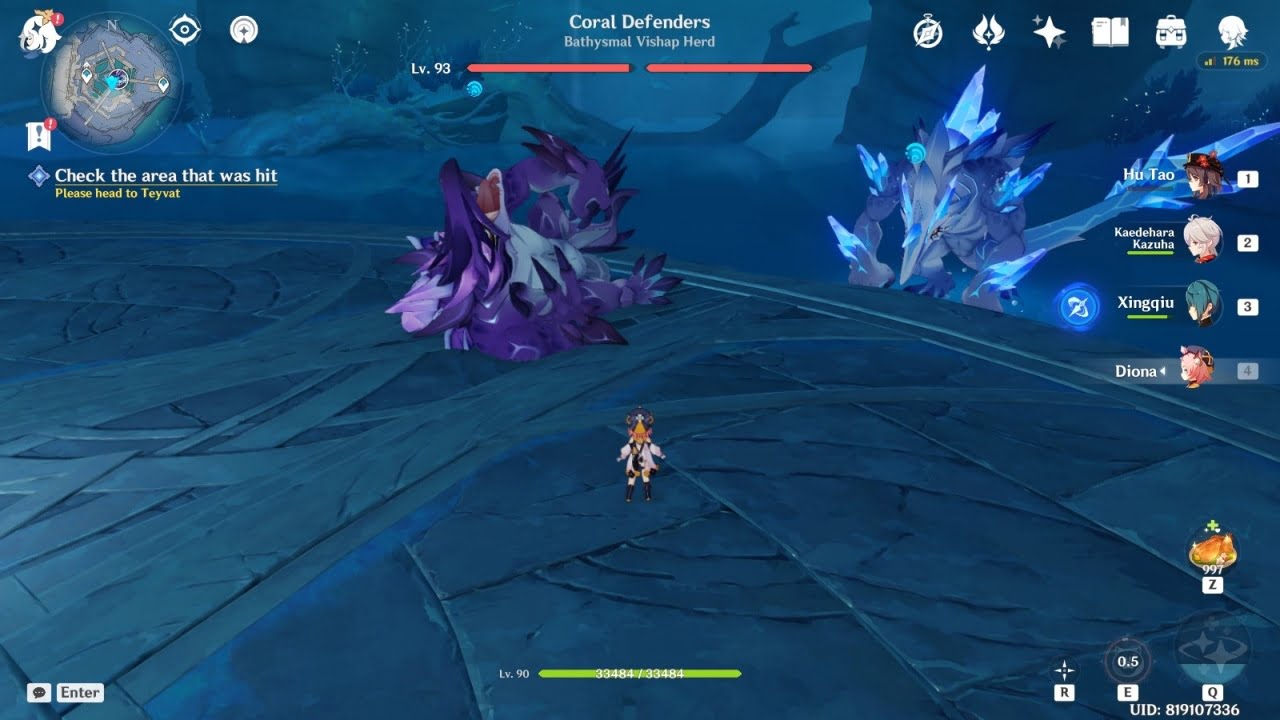 Characters that provide a lot of energy or have higher energy recharge counter the Cleansing Orbs attack, which drains your energy. Use a greatsword to attack the walls of the arena. Once these walls are destroyed, the Bolteater cannot perform its signature attack, the Wall Assist. The Cleansing Orbs can be avoided easily as they are slow. They ignore shields when doing damage or when draining energy.
Rewards and Other Drops
The rewards vary according to the world and boss level. 40 Original Resin is always required to claim the rewards.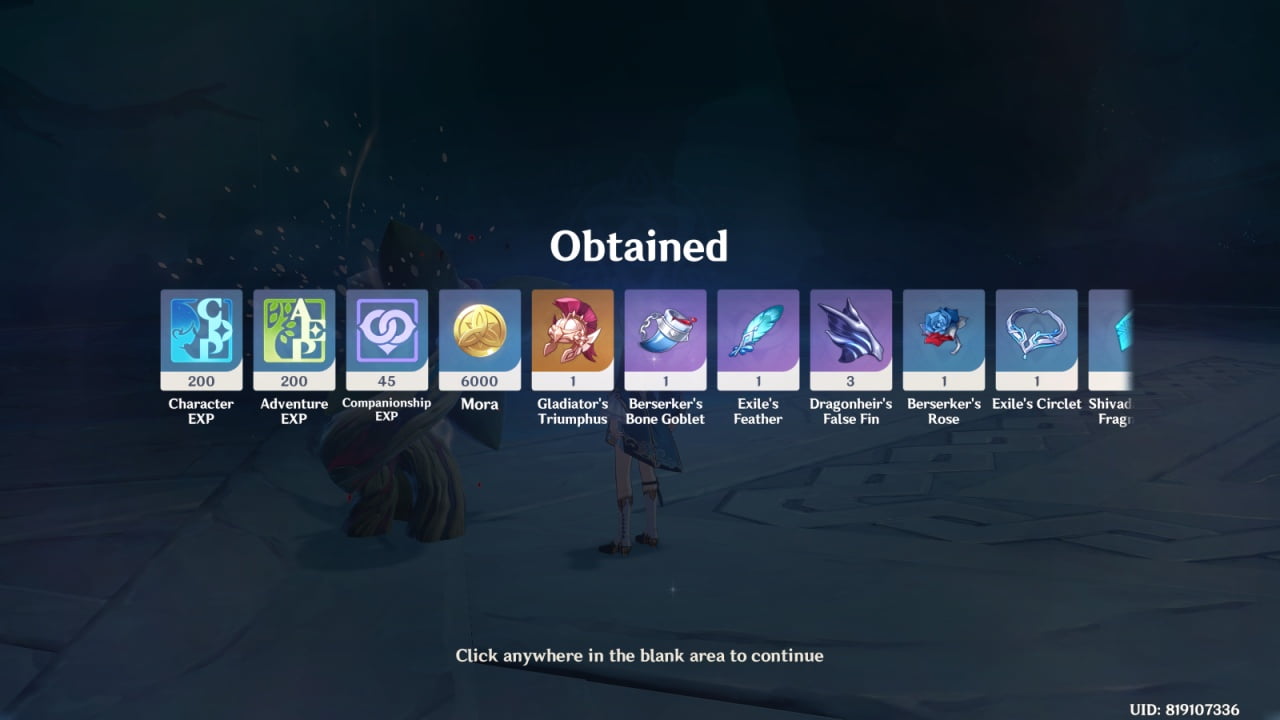 Character Ascension Material
Among the drops below, The Dragonheir's False Fin is unique, and the characters who use it as ascension material are:
Here is a list of the ascension material:
Dragonheir's False Fin (1-3)
Shivada Jade Sliver
Shivada Jade Fragment
Shivada Jade Chunk
Shivada Jade Gemstone
Vajrada Amethyst Sliver
Vajrada Amethyst Fragment
Vajrada Amethyst Chunk
Vajrada Amethyst Gemstone
Artifact Sets
Lucky Dog (2* – 3*)
The Exile (3* – 4*)
Berserker (3* – 4*)
Prayers to Springtime (3* – 4*)
Gladiator's Finale (4* – 5*)
Wanderer's Troupe (4* – 5*)
Other Drops
200 Adventure EXP
3,450 – 6,000 Mora
138 – 200 Character EXP
30 – 45 Companionship EXP
Achievements
There are two possible achievements obtainable from the Bathysmal Vishap Herd.
Swimming Prohibited
Defeat the Bathysmal Vishap Herd without allowing them to dive into the water.
Hard Landing
Bring a climbing Bathysmal Vishap down by breaking the wall it climbs on.