The Electro Regisvine is one of the new Sumeru world bosses in Genshin Impact, released in version 3.0. The only two other regisvines are the Pyro Regisvine and Cryo Regisvine, so this third one is a welcomed addition to the game. It is, however, a little tougher than the previous ones, but you won't have to change too much to defeat it.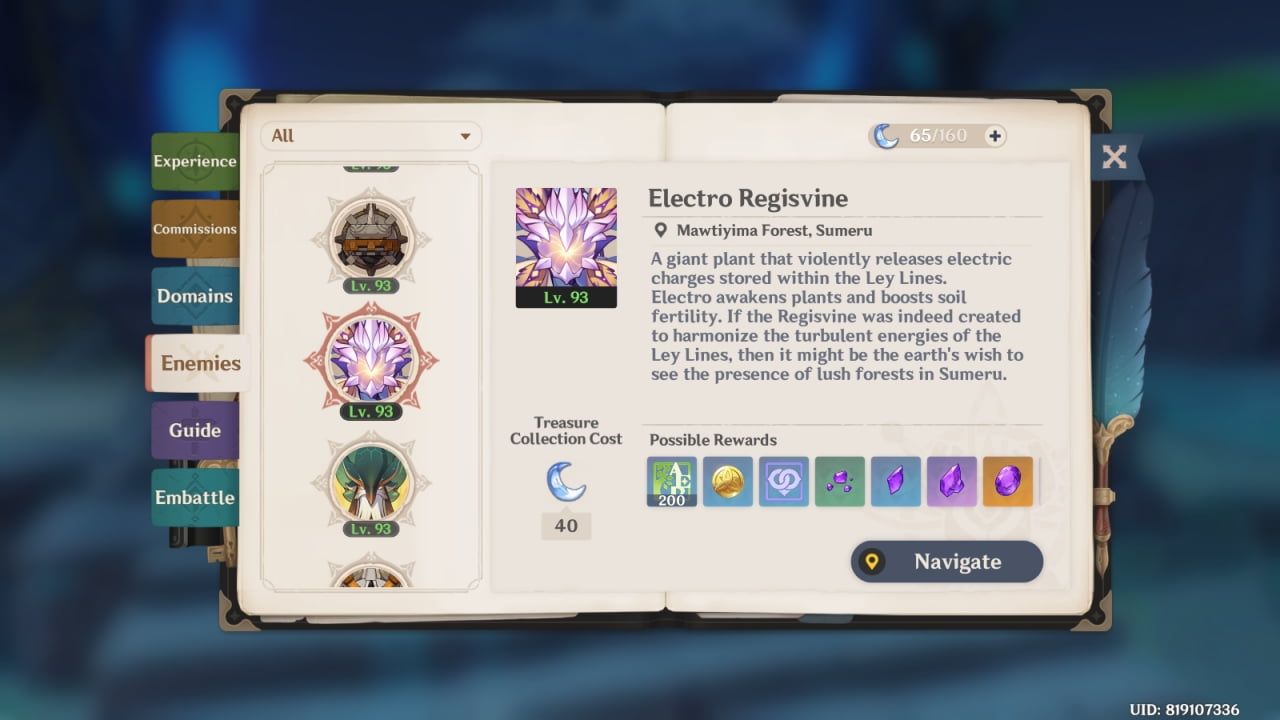 Where is the Electro Regisvine Located?
You can find it inside a cave in the North-East region of Sumeru in Mawtiyima Forest, Lokapala Jungle. Nevertheless, the entrance to this cave is located in a slightly different location than the boss icon on the map. You can unlock the waypoint right next to it when you enter this cave and advance deeper inside to discover the boss.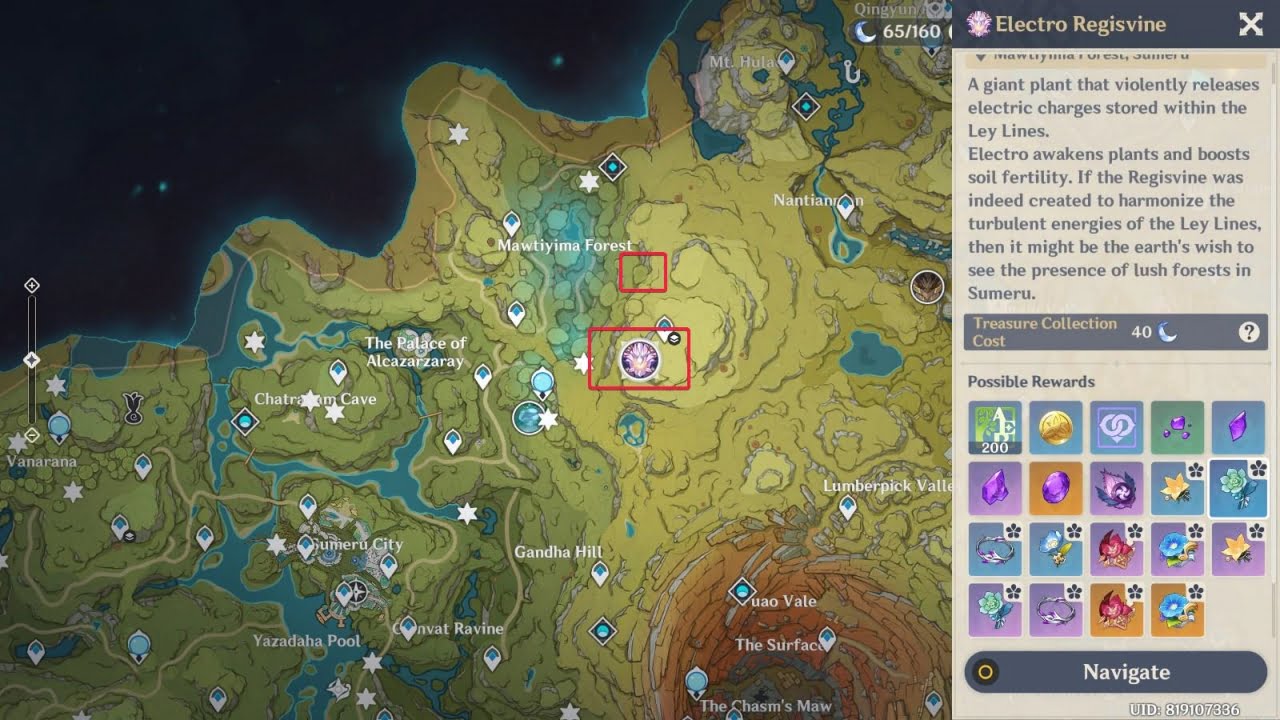 Note: Prepare to encounter Whirling Electro Fungus as you progress further in the cave.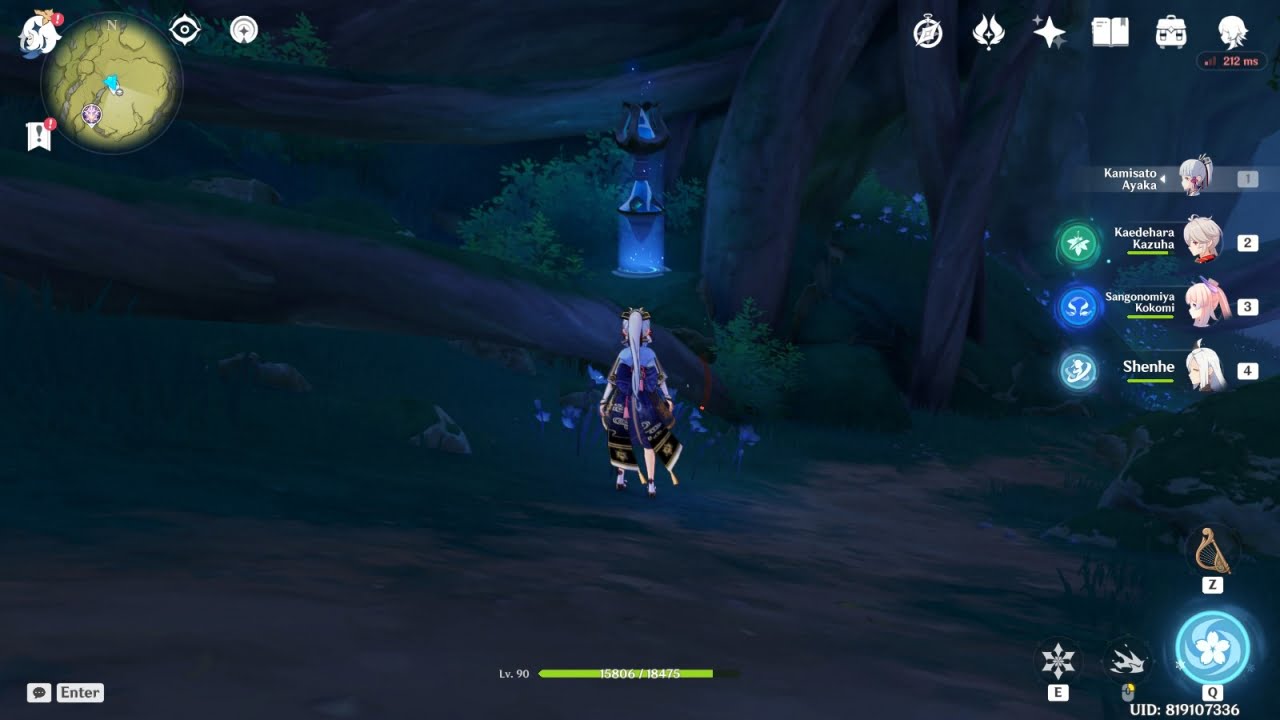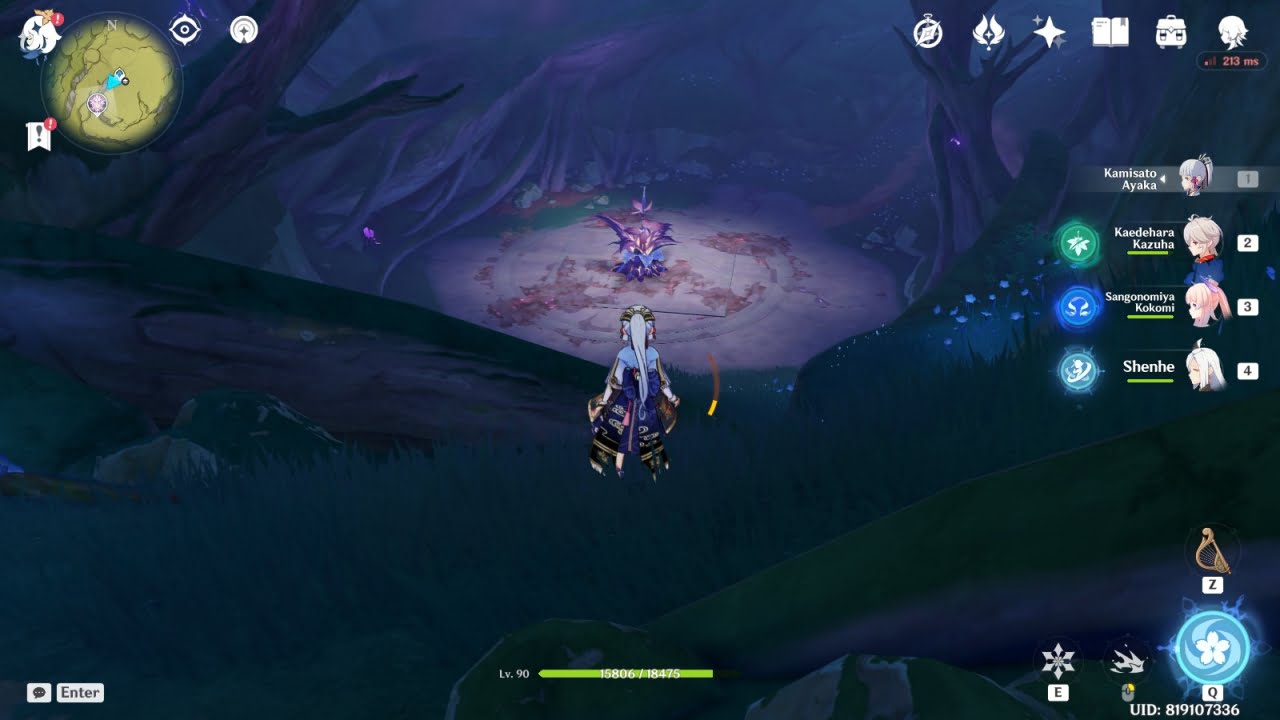 Electro Regisvine Statistics
The boss' stats don't differ much from the other two Regisvines regarding HP, ATK, and DEF, yet, its resistance varies significantly.
Resistances
| Element | Shielded Resistance | Stunned Resistance |
| --- | --- | --- |
| Physical | 330% | 30% |
| Pyro | 310% | 10% |
| Hydro | 310% | 10% |
| Electro | 370% | 70% |
| Cryo | 310% | 10% |
| Dendro | 310% | 10% |
| Anemo | 310% | 10% |
| Geo | 310% | 10% |
Health, Attack Power, and Defense
Its HP ranges from 510 – 257,356 from boss Level 1 – 100.
Its ATK ranges from 127 – 12,311 from boss Level 1 – 100.
Its DEF ranges from 505 – 1,000 from boss Level 1 – 100.
For reference, at level 60, it has 58,669 HP and 4,435 ATK.
Note: The above stats may differ in a domain, quest, or Spiral Abyss. Depending on the number of players, they will be multiplied by a scale factor when you are in Co-op mode.
Best Tips for Electro Regisvine Boss Battle
You must bring at least one Cryo character, preferably a Cryo Bow user, as the shield/weak point of this regisvine forms on its Corolla, which melee characters cannot reach. (Other elements like Pyro and Dendro work well together too)
Remember to destroy anything the regisvine releases (outer cores) in the arena, as they will deal significant damage and annoy you later.
Trying to damage it in its shielded state will be pointless, so prioritize destroying the shield as fast as possible.
Use your adventurer hand guide for repeated runs to see when it respawns.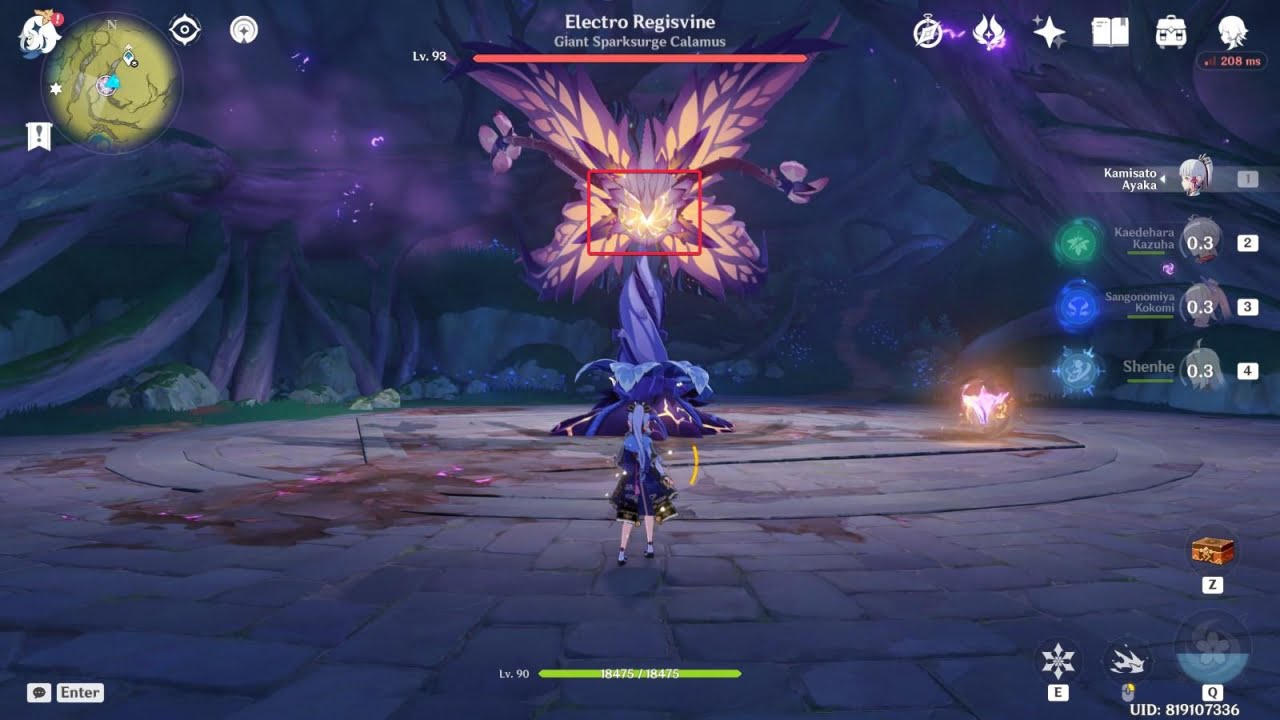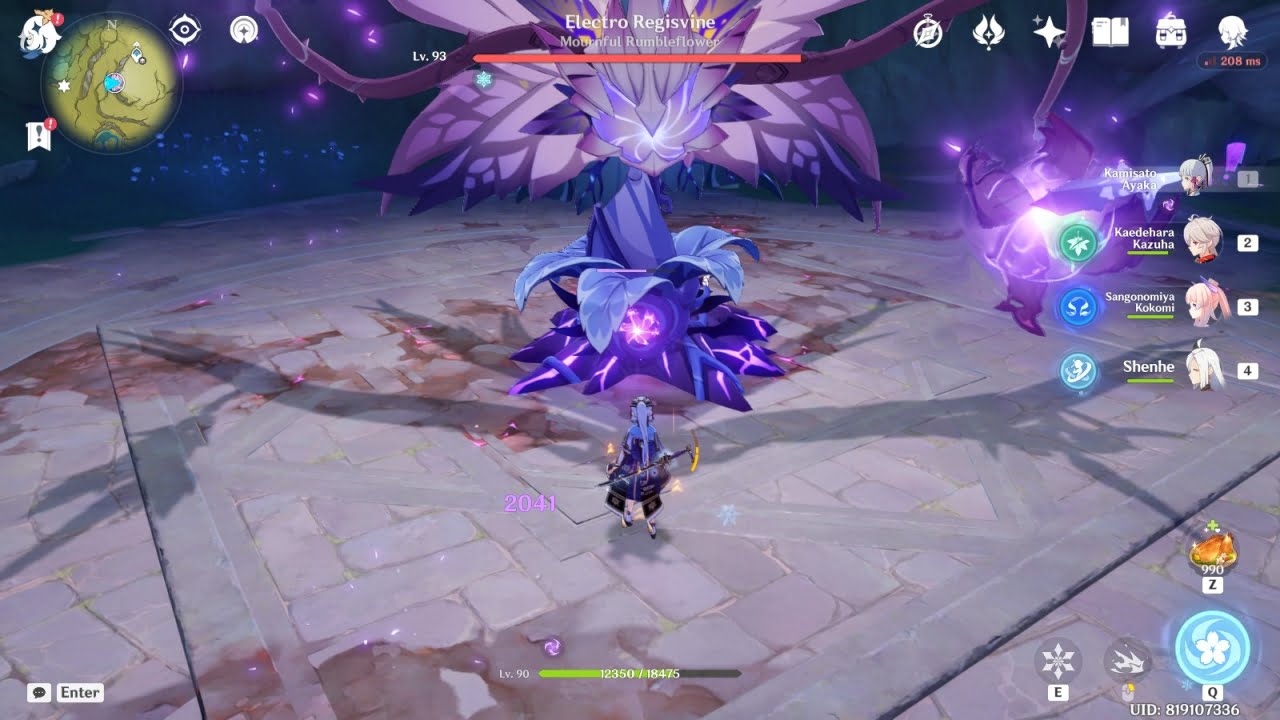 Recommended Party Setups
First Character: Your first pick here is crucial as it also decides the rest of your team. Choose a Cryo DPS/Sub-DPS, Ayaka, Ganyu, Chongyun, or Shenhe, or a Dendro character like Aether/Lumine, Tighnari, Collei, Nahida.
Second Character: Your second pick is determined by your first one. If you chose a Cryo DPS, pick their team accordingly. But if you picked a Dendro character, your second pick should be a Pyro support, like Xiangling or Bennet.
Third Character: Your third choice should support your other characters; this could be Kazuha, Venti, Sucrose, or Mona. Or you could get the Pyro resonance buff by using another Pyro character like Xiangling, Bennet, or Thoma.
Fourth Character: Your fourth choice has to be a healer or shielder. You could use the standard Zhongli, Kokomi, Barbara, or Noelle. But Thoma, Layla, Diona, and Xinyan fit as well.
Electro Regisvine Attacks and Dodges
The attacks and abilities are similar to other regisvines, but since this boss is electro, signifying electricity, its attacks may be faster when compared. However, this one has a unique ability to change the location of its shield. It also does different damage depending on where its shield is.
State Shift
A shield is formed on the Corolla of the boss whenever you start the battle, which periodically shifts back and forth between the Corolla and the Roots. Every time this shift occurs, it releases an outer core, and depending on the type of core that is released, it deals either 40% ATK as Electro DMG or 100% ATK as Electro DMG.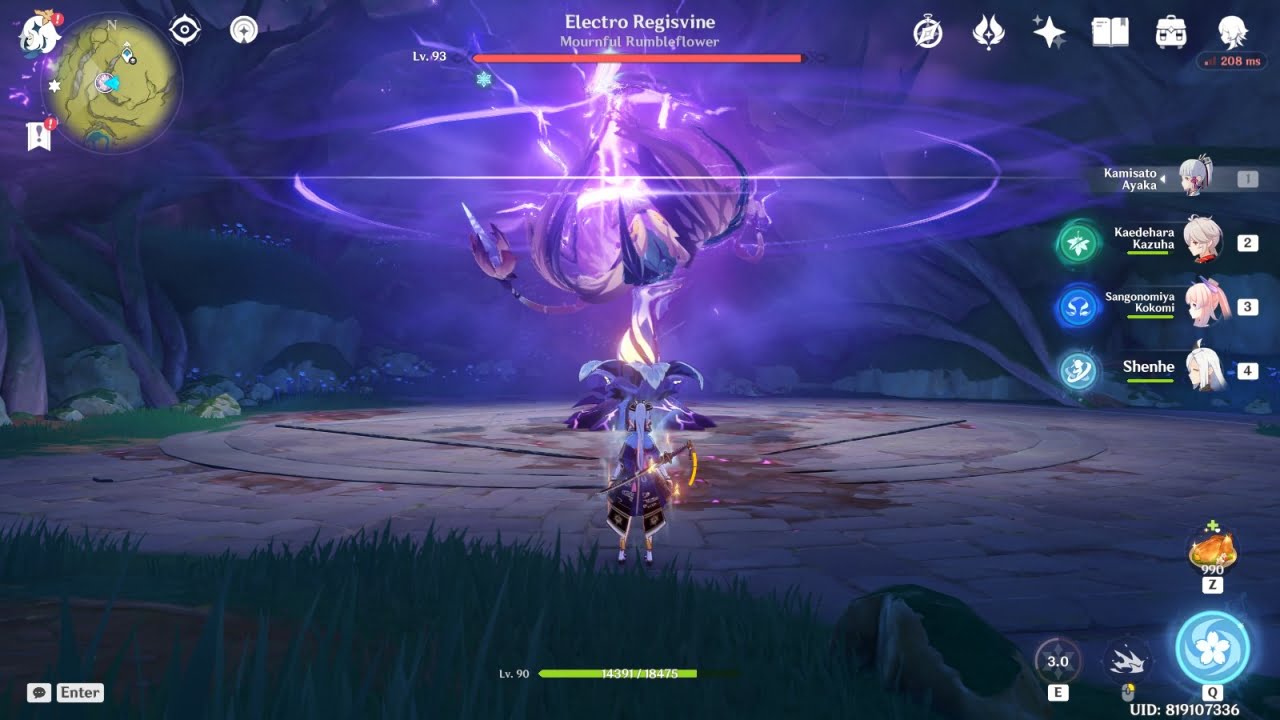 If two cores are present simultaneously, they will join together and cause an explosion in the whole arena, which deals 300% ATK as Electro DMG. To avoid being hit by this explosion, you must dash out of the arena or, to completely prevent it from happening, always destroy the outer cores using Cryo, Dendro, or Pyro whenever they appear.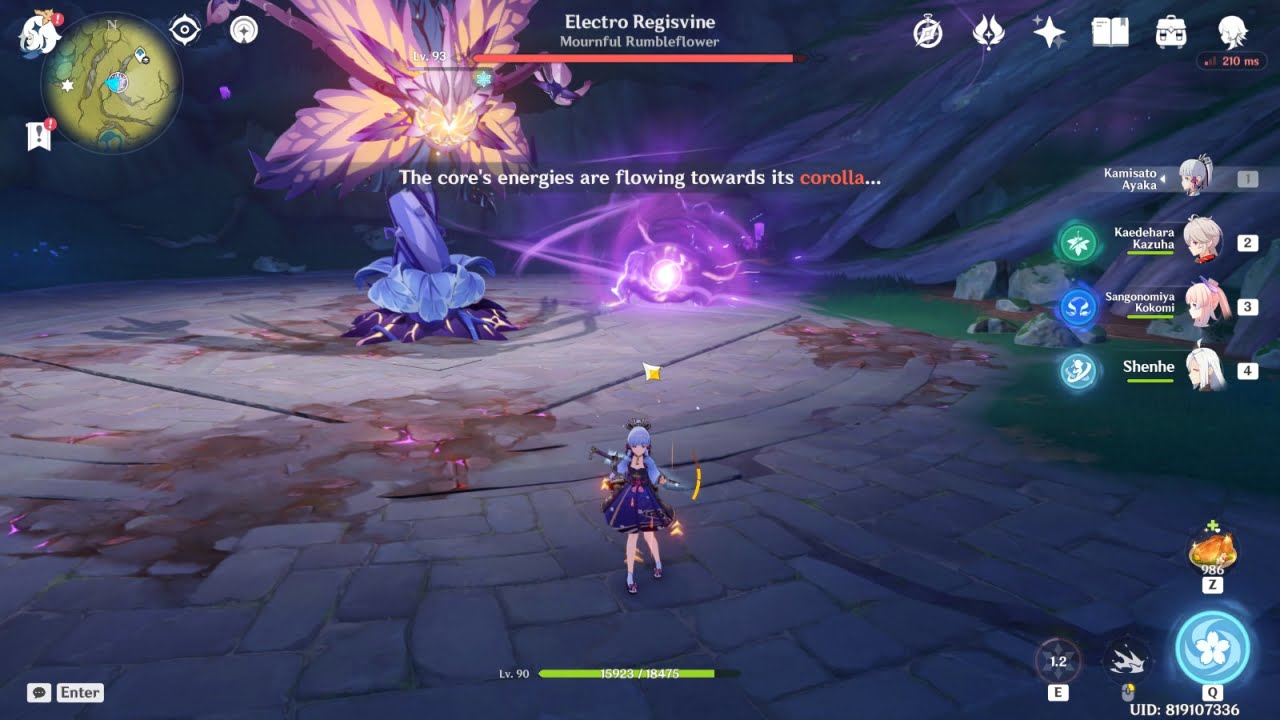 Faceplant
Shakes and slams its face into the ground, sending a shockwave into the ground with electro spikes. The slam deals 100% ATK (Corolla Phase) or 75% ATK (Roots Phase) as Electro DMG. Each electro spike deals 50% ATK. Dash to the side when the boss shakes its face to dodge the attack.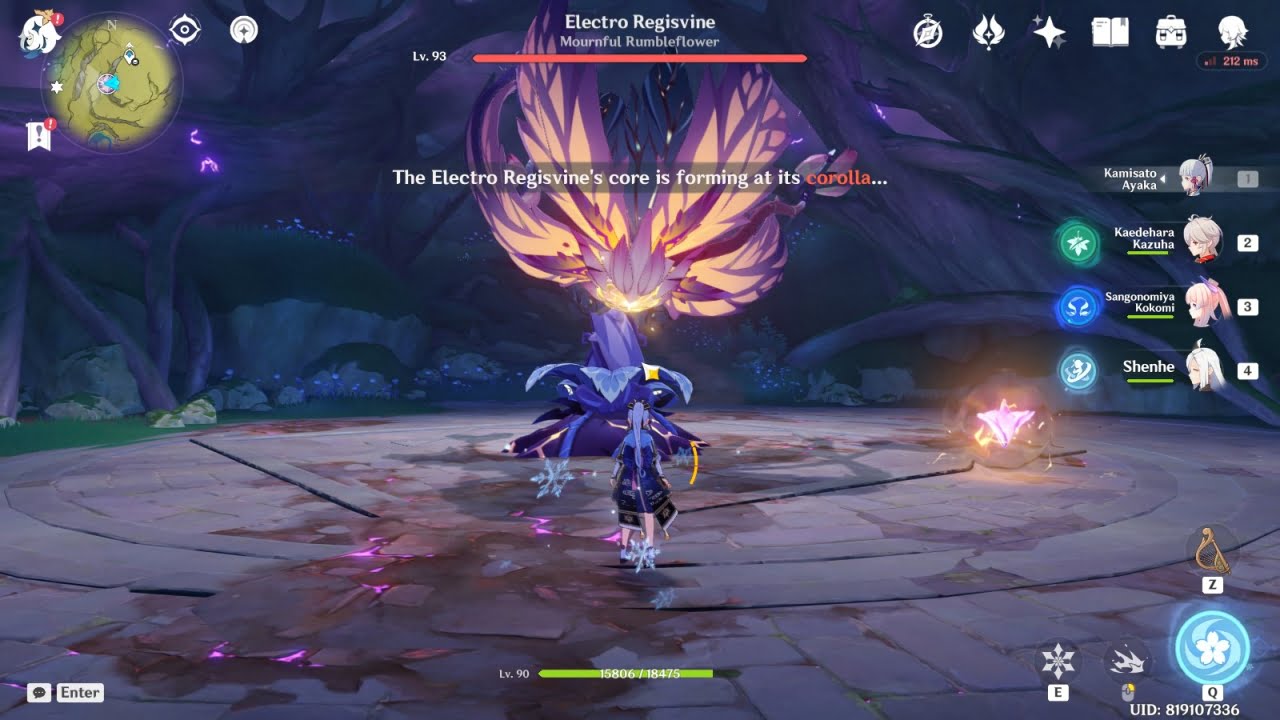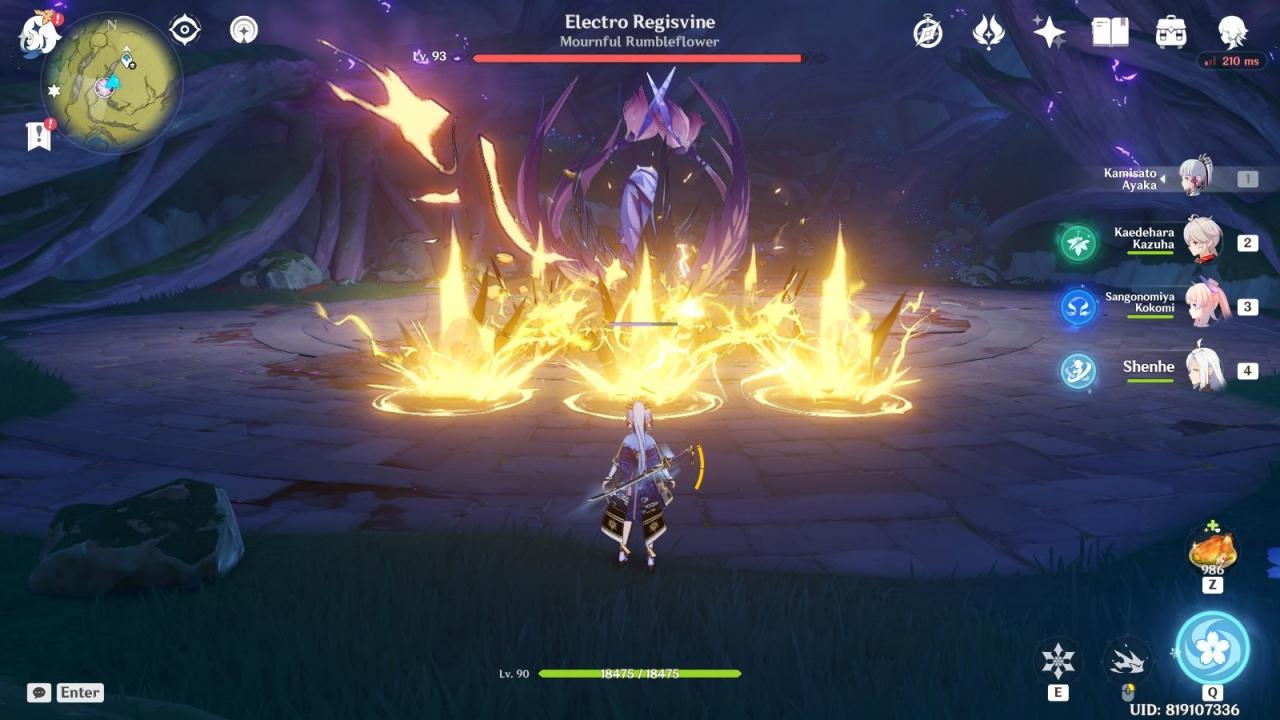 Half Flail
It will use its head to spin 180 degrees around its roots on the floor, which deals 75% ATK as Electro DMG. There is a chance for this attack to be used in a combo attack with Faceplant only when the boss' shield is at its Corolla.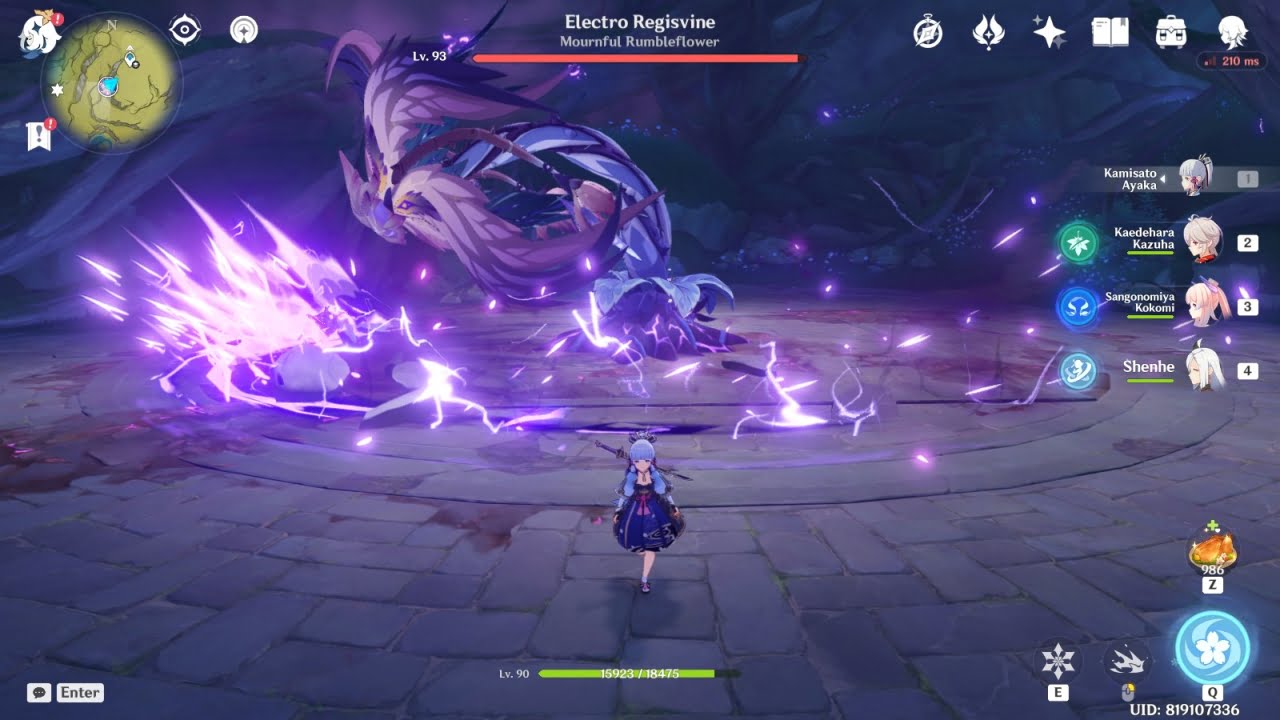 Flail
This attack is only used immediately after it recovers from being stunned. It uses its head to spin 360 degrees around its roots on the floor. This spin deals 75% ATK as Electro DMG.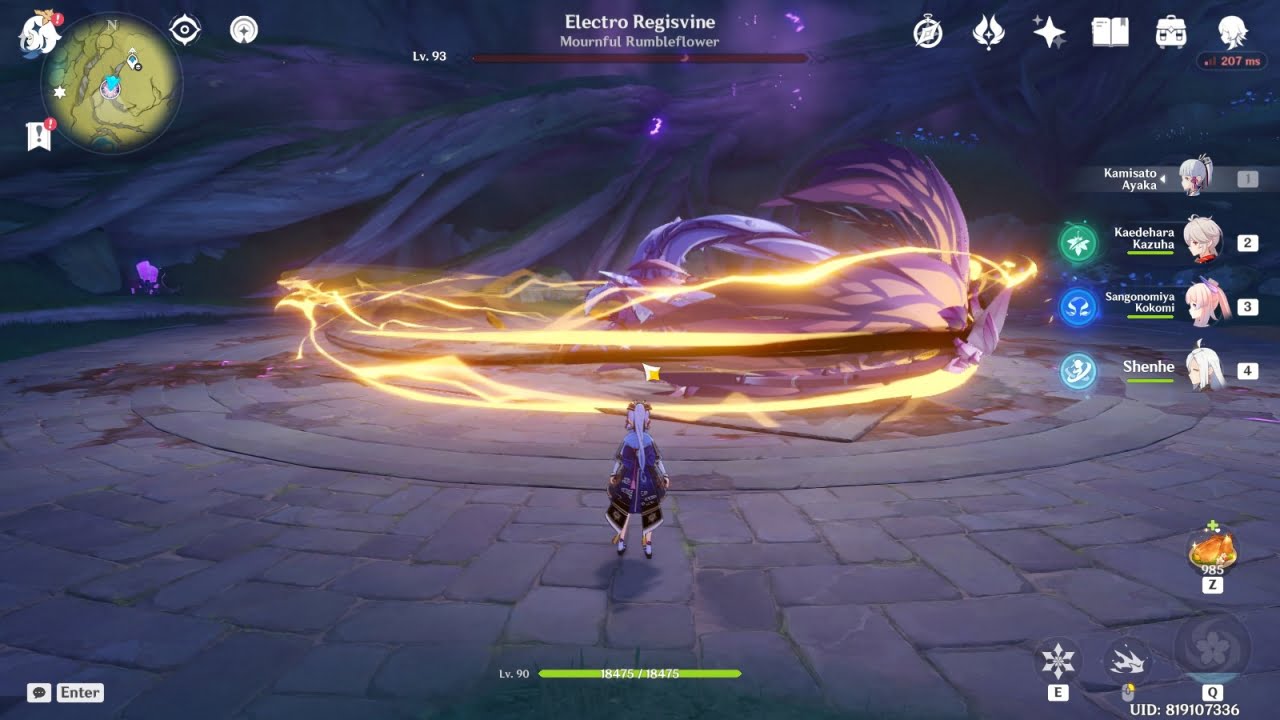 Laser Sweep
Fires two lasers to sweep in front of it, first left and then right, after which it releases one giant electro laser that will follow you. The sweeps each deal 75% ATK as Electro DMG, while the giant laser deals 25% ATK as Electro DMG to you if you are caught in it.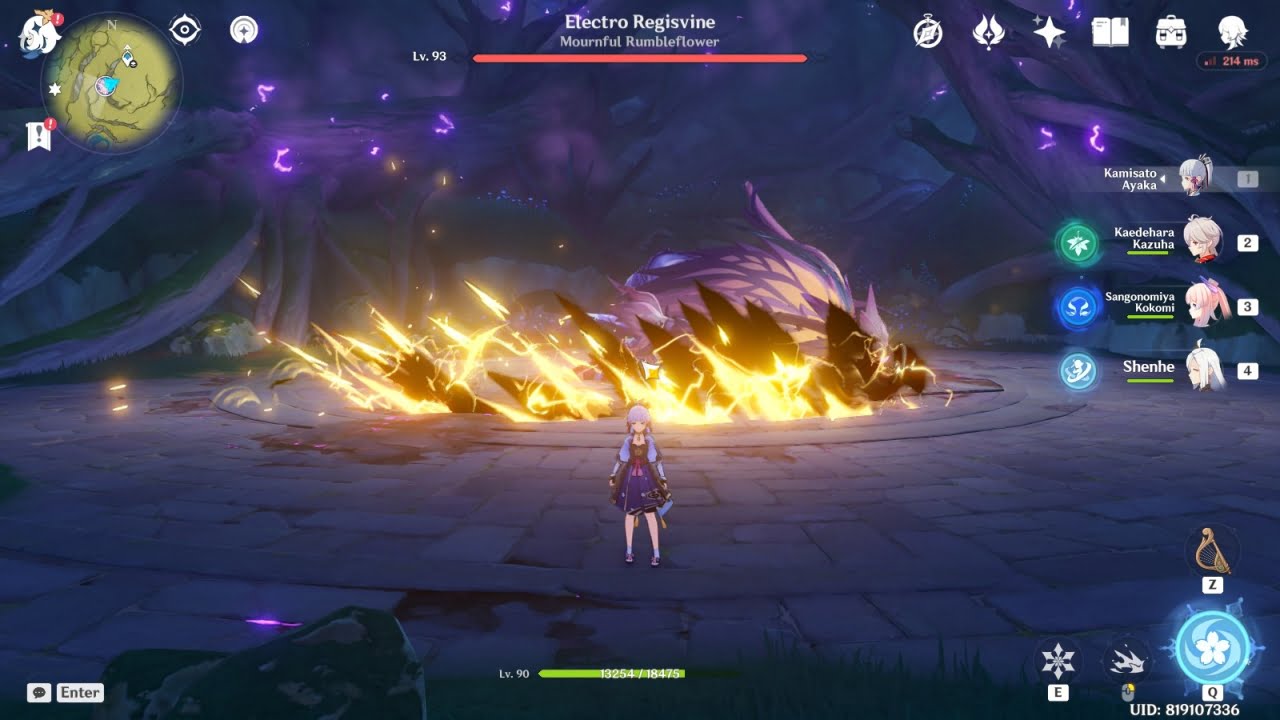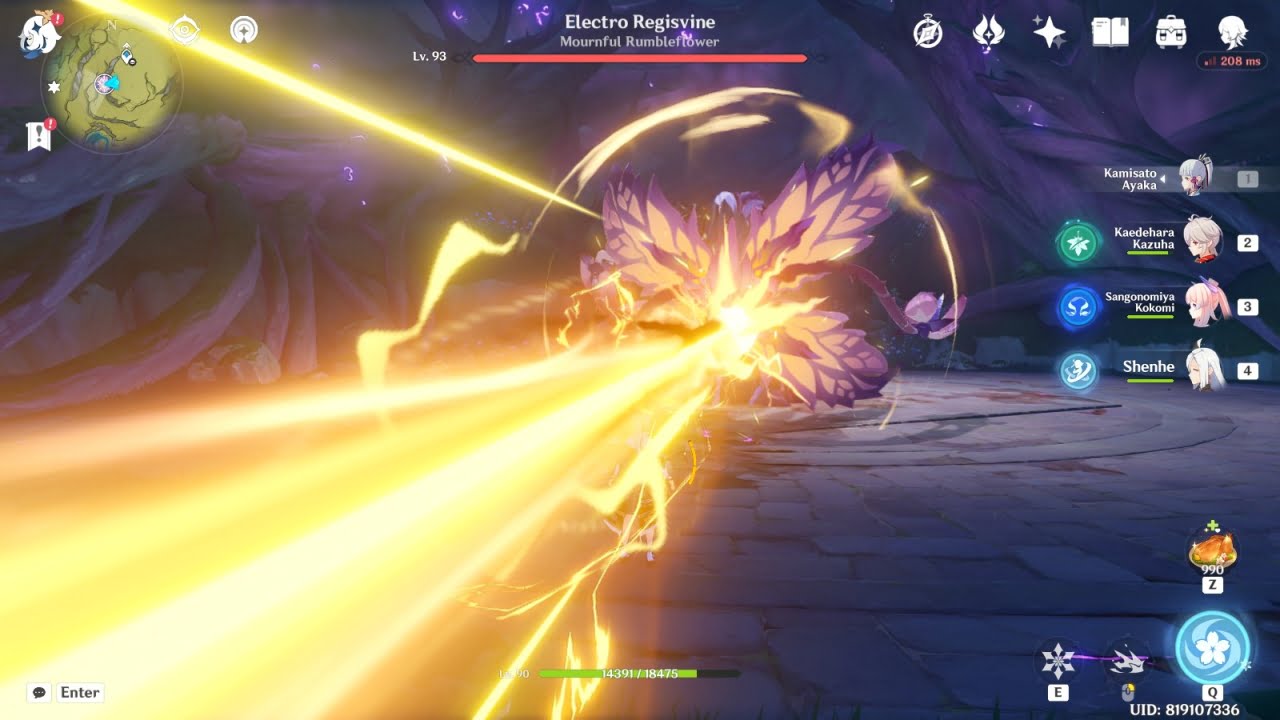 Rapid Fire
Raises its buds and quickly fires small electro bullets at you from both of them, each bullet dealing 40% ATK as Electro DMG.
Thunderbolt Rain
This attack is only used in the Roots Phase. Small attack radiuses will appear on the ground randomly near the player, and lightning strikes will immediately follow, each strike dealing 40% ATK as Electro DMG.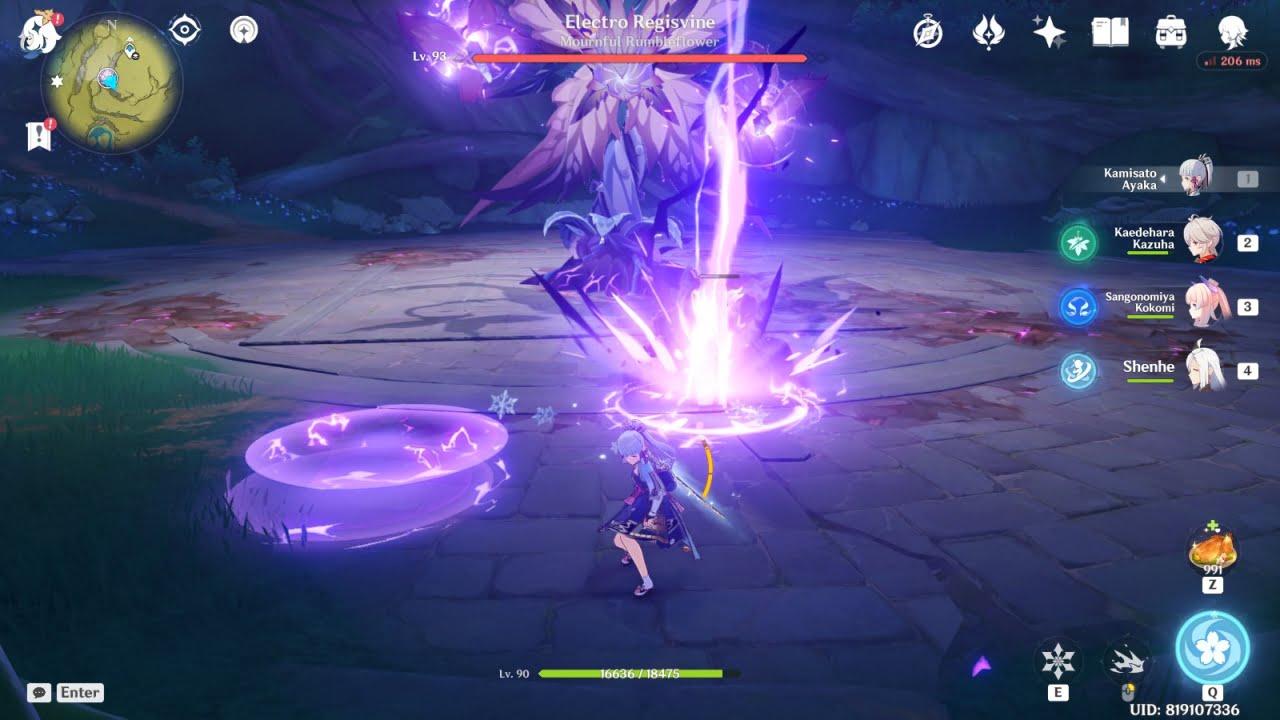 How to Defeat the Electro Regisvine Easily?
Get on to breaking the shield of the regisvine immediately after the battle starts, as it is the most efficient way. The shield takes greater damage to Cryo and burn reactions from Dendro and Pyro. Once broken, the boss's resistance will reduce significantly as it is stunned; this is when you should use your DPS to attack. Once it wakes up from its stunned state, it will immediately launch different attacks.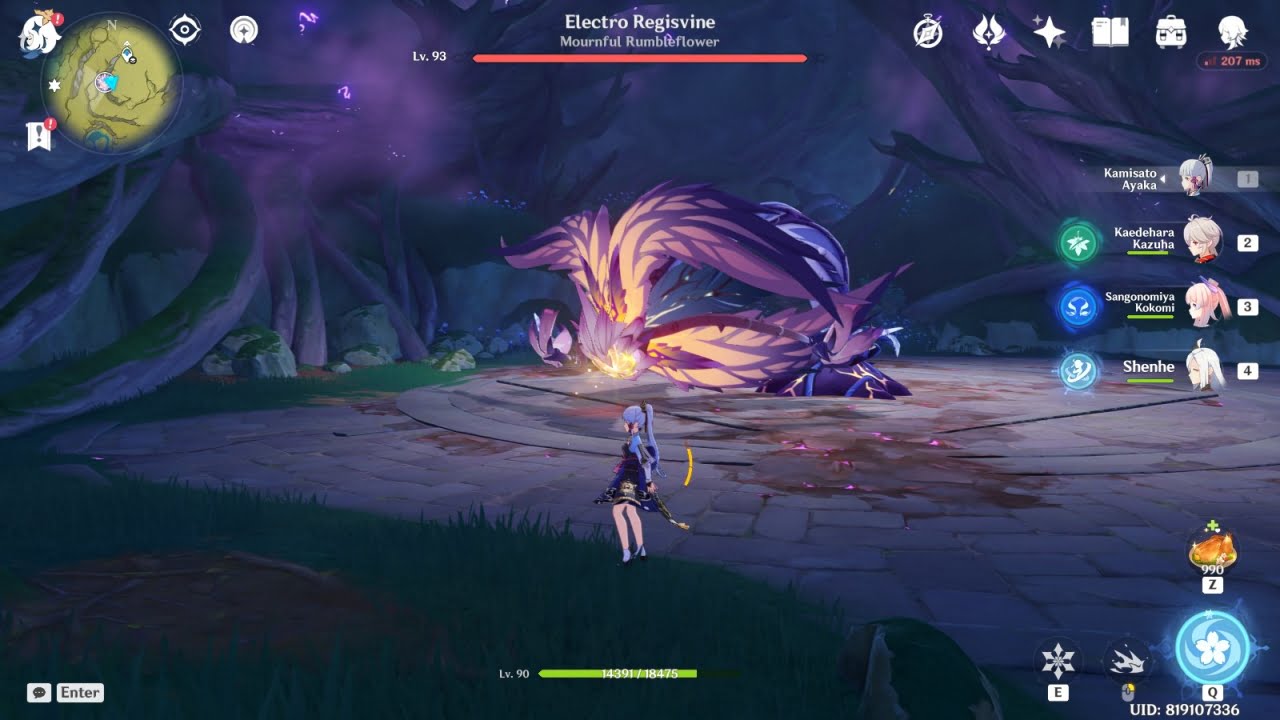 If the boss uses State Shift, it will summon an outer core. You must destroy this core immediately before doing anything else. If not eliminated in time, and a second core is summoned, the explosion they cause will down one of your characters if not dodged.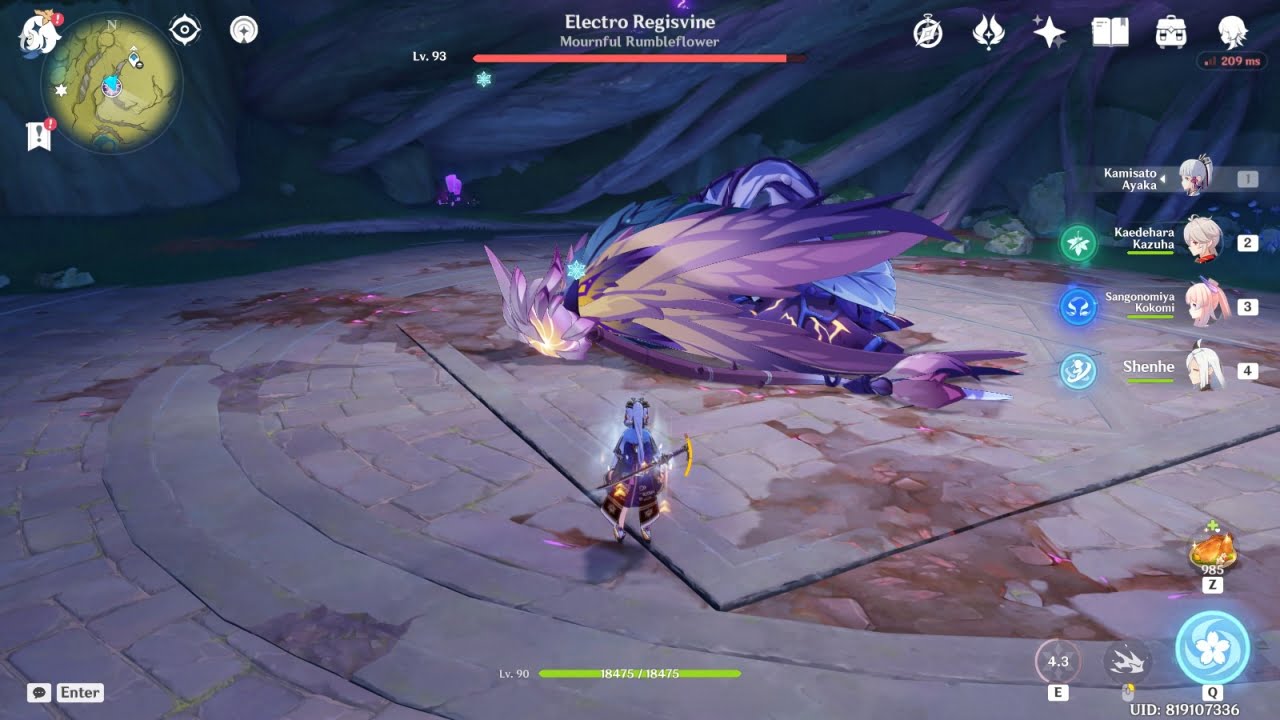 Note: The boss is more dangerous when in the Corolla Phase. A way to check which state it is currently in is the color of the attacks. If the lightning from the boss has a golden/yellow color, it is in the Corolla Phase, and if this color is purple, it is in the Roots Phase.
Rewards/Drops for Defeating Electro Regisvine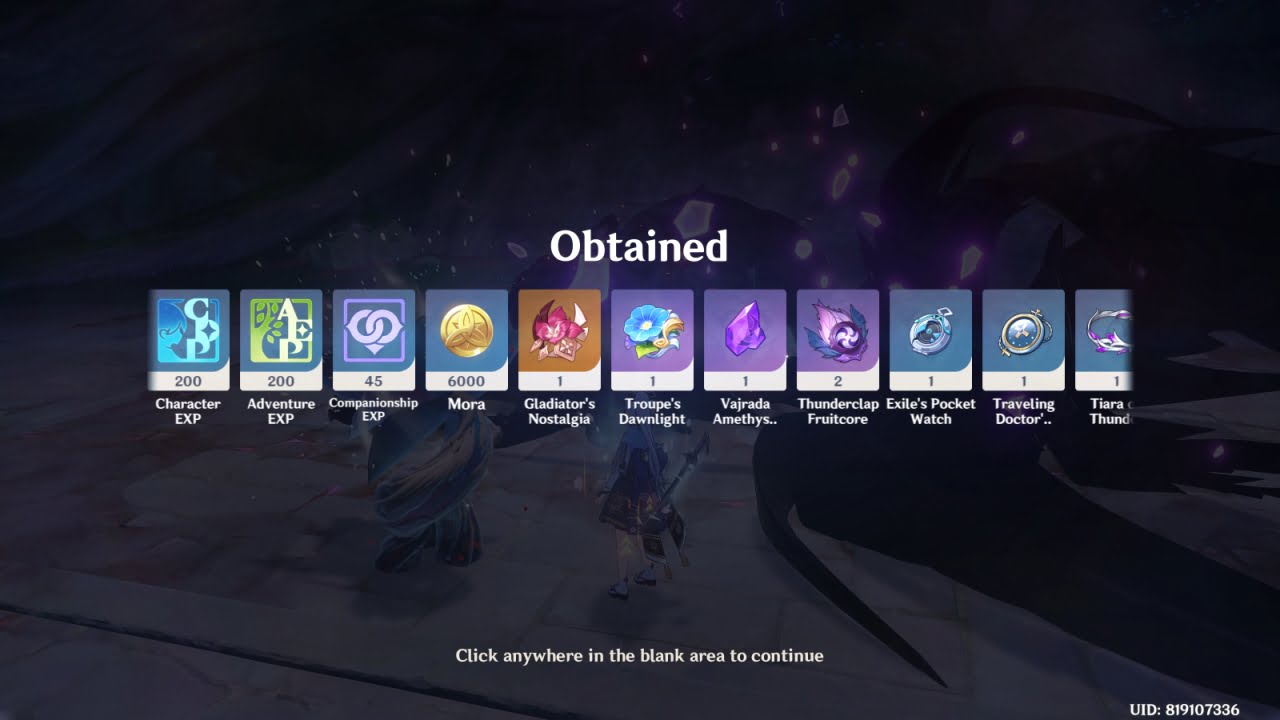 You require 40 Original Resin at the Ley Line Trounce Blossom to claim rewards. All of the rewards depend on your World level or Boss level.
Character Ascension Material
Thunderclap Fruitcore (1-3)
Vajrada Amethyst Sliver
Vajrada Amethyst Fragment
Vajrada Amethyst Chunk
Vajrada Amethyst Gemstone
Artifact Sets
Traveling Doctor (1* – 3*)
The Exile (3* – 4*)
Instructor (3* – 4*)
Prayers for Wisdom (3* – 4*)
Gladiator's Finale (4* – 5*)
Wanderer's Troupe (4* – 5*)
Other Rewards
200 Adventure EXP
3,450 – 6,000 Mora
138 – 200 Character EXP
30 – 45 Companionship EXP
Achievements
There are only three obtainable achievements from the Electro Regisvine.
When Autumn and Dew Meet: Let the Electro Regisvine perform its charged electrical collision.
The Mad Flower at the End of the Road: When the Electro Regisvine emits a beam of thunderous light, paralyze it by attacking its Corolla.
Electric Shock Hazard: Defeat an Electro Regisvine in Co-Op Mode.