The Pyro Regisvine is a World Boss in Genshin Impact and was released in version 1.2 as one of the game's first bosses. It is one of the seven regisvines in Teyvat, an overgrown Whooperflower with overwhelming heat.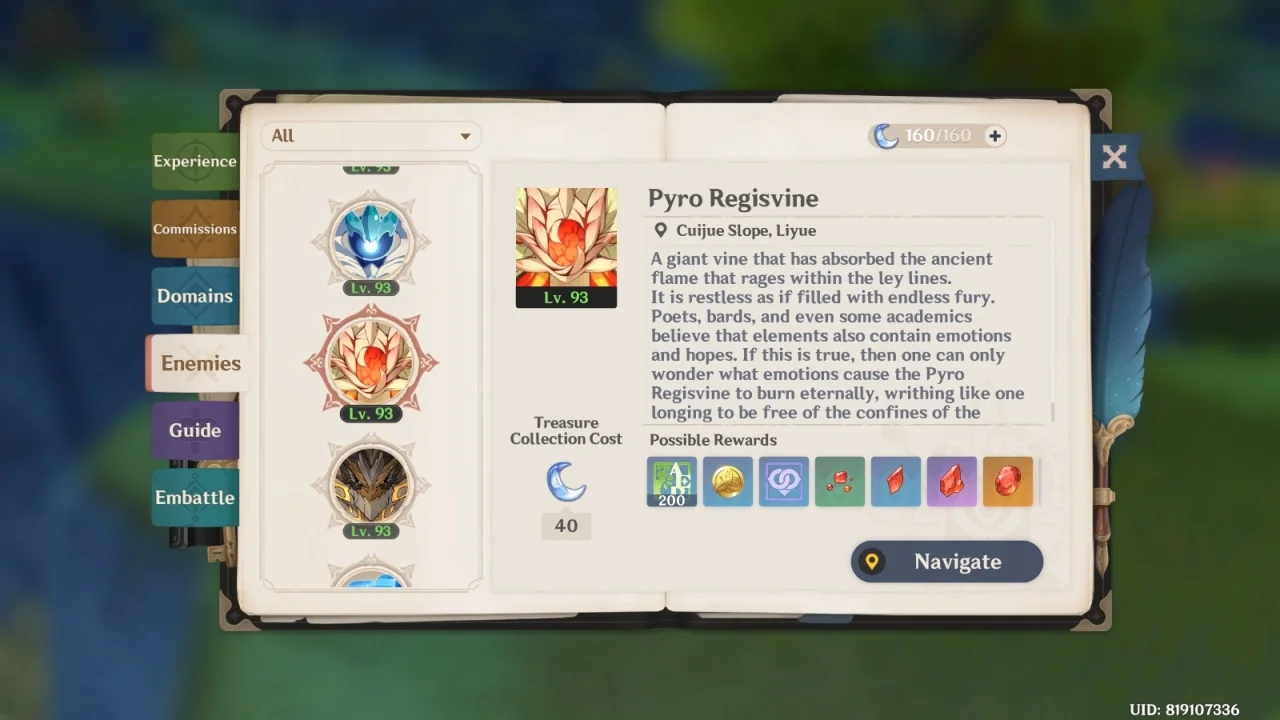 Where is the Pyro Regisvine Located?
It is found in the middle of the mountains of Liyue, in a place called Cuijue Slope between Tainque Valley and Luhua Pool. The easiest way to get to the boss is by unlocking the Waypoint West of Luhua Pool and walking into a cave leading to it. Another route is via Tianqiu Valley's Teleport Waypoint; you must go east and jump down onto the boss arena.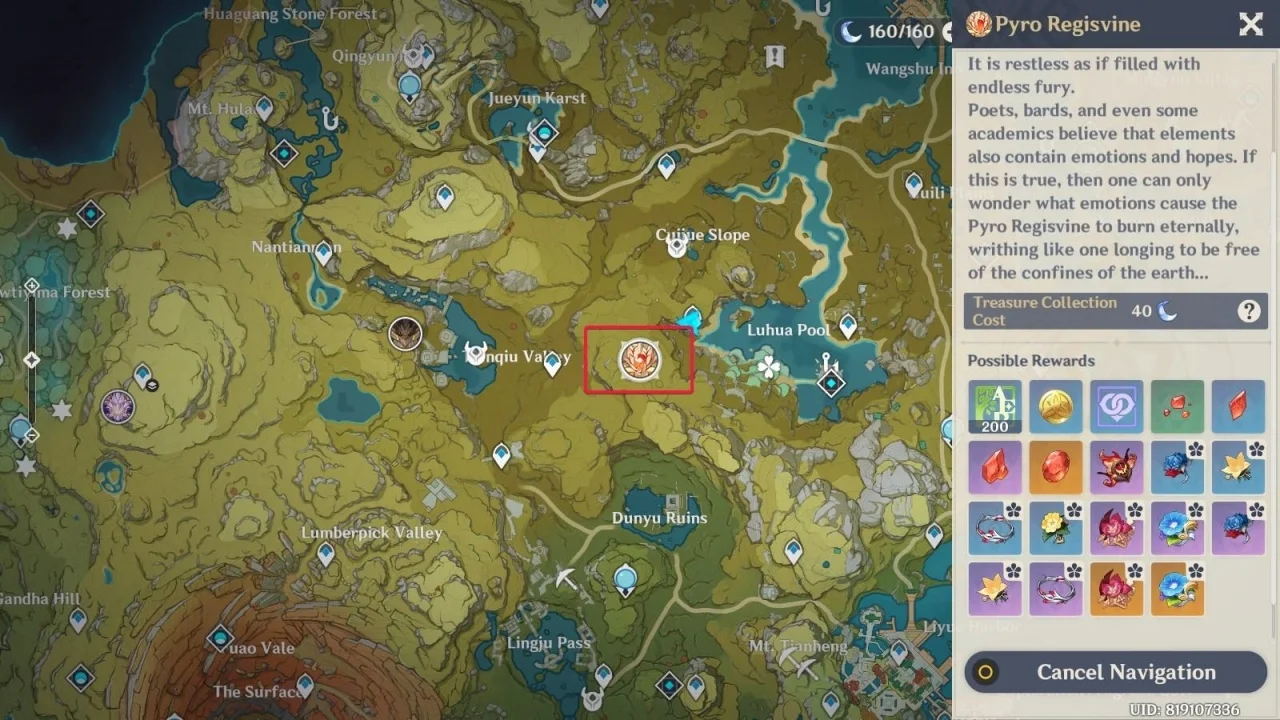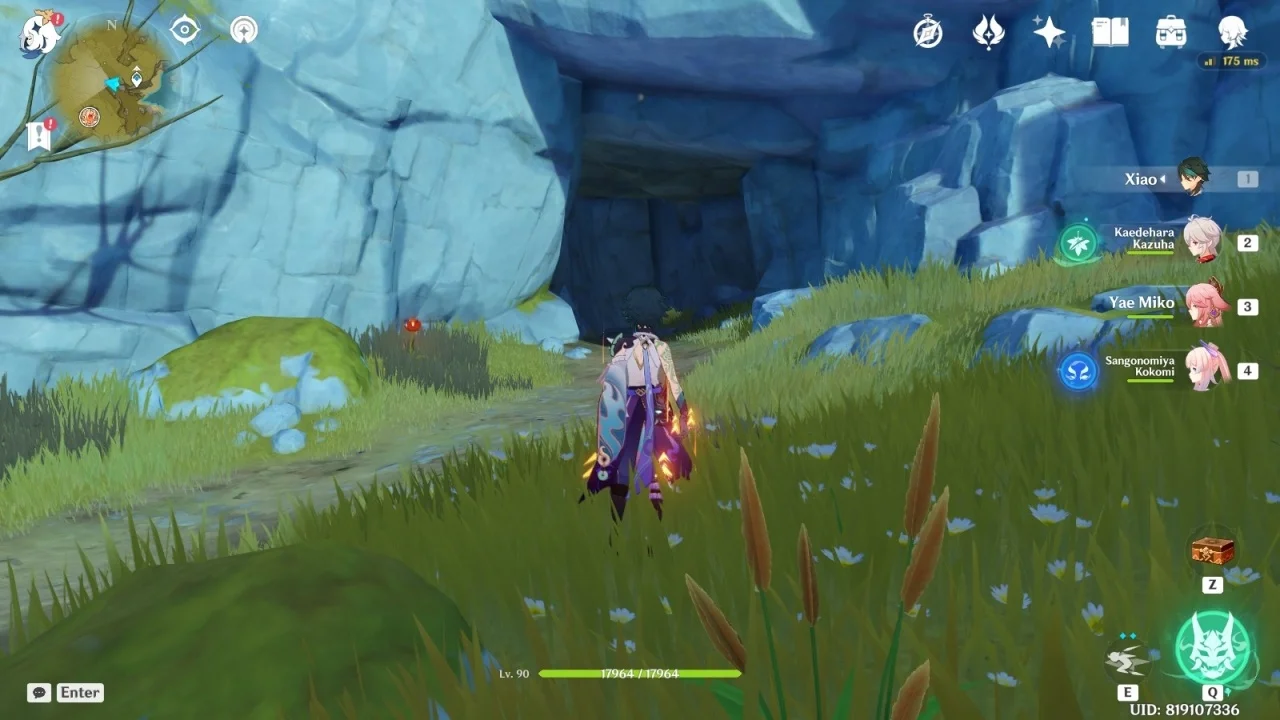 Pyro Regisvine Statistics
It has no unique stats except for higher resistance to pyro damage. Its HP is also significantly lower than other world bosses, and stats are similar to the other regisvines in Teyvat, like the Cryo Regisvine.
| Element | Resistance | Resistance When Stunned |
| --- | --- | --- |
| Physical | 130% | 30% |
| Pyro | 170% | 70% |
| Hydro | 110% | 10% |
| Electro | 110% | 10% |
| Cryo | 110% | 10% |
| Dendro | 110% | 10% |
| Anemo | 110% | 10% |
| Geo | 110% | 10% |
Health, Attack Power, and Defense
Its HP, ATK, and DEF vary according to the world and boss level (1 – 8)
Its HP ranges from 510 – 257,356 from boss level 1 – 100.
Its ATK ranges from 127 – 12,311 from boss level 1 – 100.
Its DEF ranges from 505 – 1,000 from boss level 1 – 100.
For reference, at level 60, it has 58,669 HP and 4,435 ATK.
Note: The above stats may differ when in Co-op mode or when in a domain.
Recommended Party Setups
First Character: Your DPS could be any character that is not Physical or Pyro, for example, Ayaka, Ganyu, Xiao, Nilou, Raiden Shogun, or Itto. This is because it has equal resistance to all elements except Pyro.
Second Character: The second character can be a Sub-DPS—a character for extra damage off the field. Like Yae Miko, Fischl, Beidou, Kaeya, Chongyun, or Lisa.
Third Character: Your third character is your hydro support character, as you need one to break the Pyro shield of the boss; having one which can constantly apply hydro is preferred. Examples are Barbara, Kokomi, Xingqiu, and Yelan. Barbara and Kokomi here can fill in the role of Healer.
Fourth Character: Your last character could be a shielder or healer to keep your other characters alive, or it could be a support like Kazuha, Sucrose, Venti, Bennet, or Noelle.
Best Tips for Pyro Regisvine Boss Battle
You need to bring at least one character that can constantly apply Hydro to break the boss' Pyro shield.
Bringing a Pyro or Physical DPS will put you at a disadvantage as the regisvine has a higher resistance to Pyro and Physical damage. However, it is not immune to them.
It takes equal damage from other elements like Hydro, Cryo, or Anemo; you can use various characters aside from Pyro.
Dump all of your attacks on it when it is stunned.
Its weak point is only exposed after you break the shield that forms on its Corolla.
Pyro Regisvine Attacks and Dodges
The regisvine has two different phases, and it uses special attacks in each one. These two phases are the Roots Phase and the Corolla Phase. It enters the Roots phase once the fight begins and once it wakes up after having its Corolla shield destroyed. It enters the Corolla phase upon waking up after being paralyzed from its Roots phase.
Roots Phase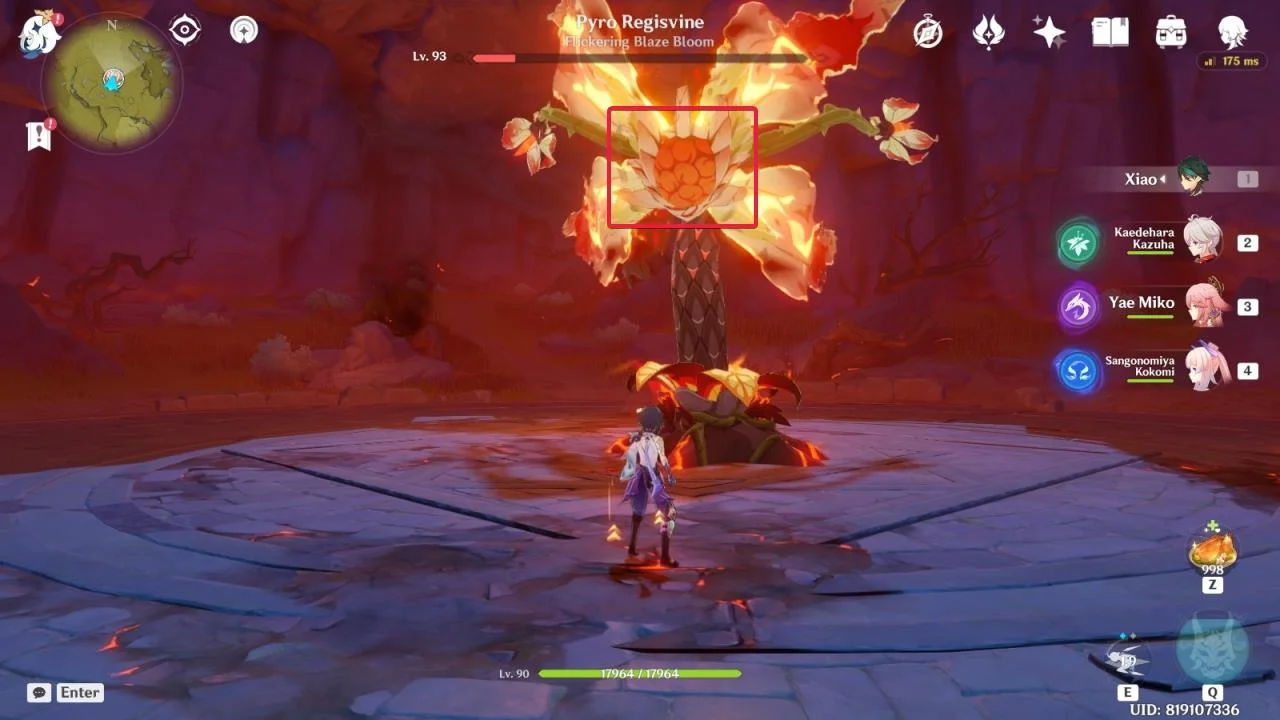 Faceplant
Locks onto your current position, charges up, and slams its face into the ground. On a direct hit, it deals 100% ATK as Pyro DMG. It also sends tremors outwards in its face's direction with explosions. Each explosion deals 50% ATK as Pyro DMG. This attack can be used three times in succession. When locking on to your location, the boss will shake its head; when this happens, you can run to the side to dodge it.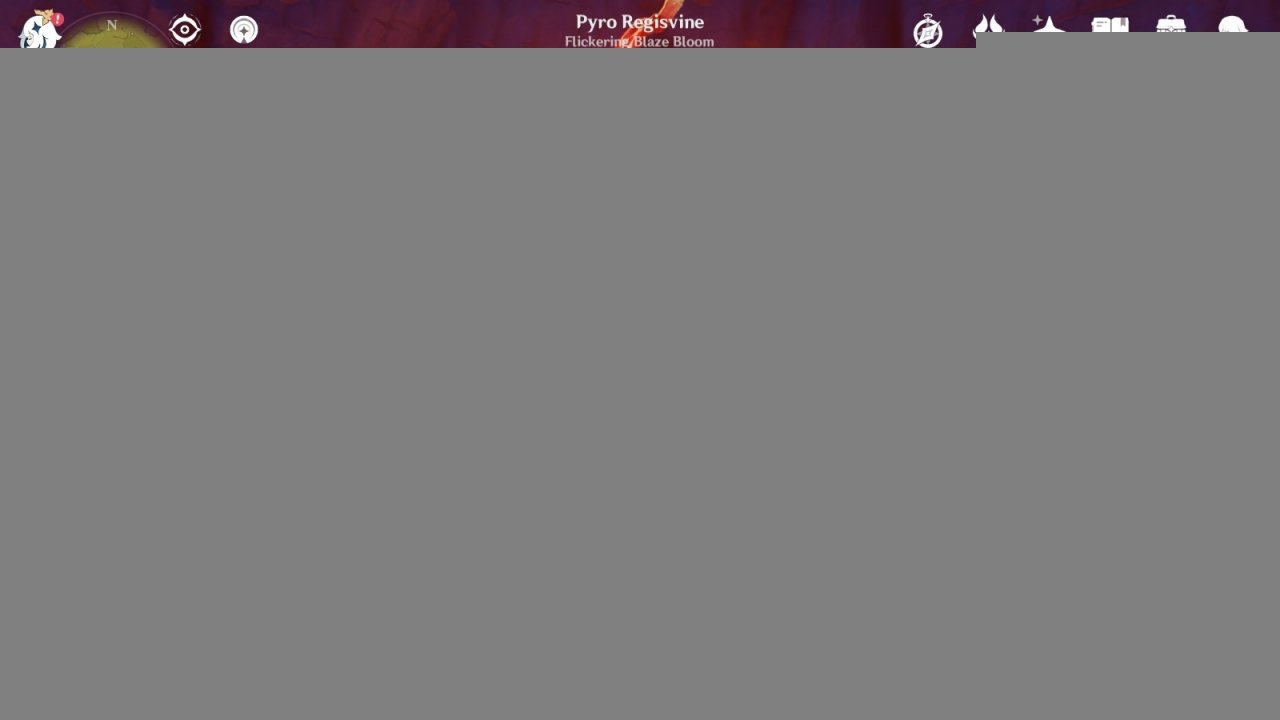 Rapid Fire
The boss will use both its arms to fire small fireballs in rapid succession, each dealing 20% ATK as Pyro DMG. Moving around, either right or left, is enough to dodge this attack.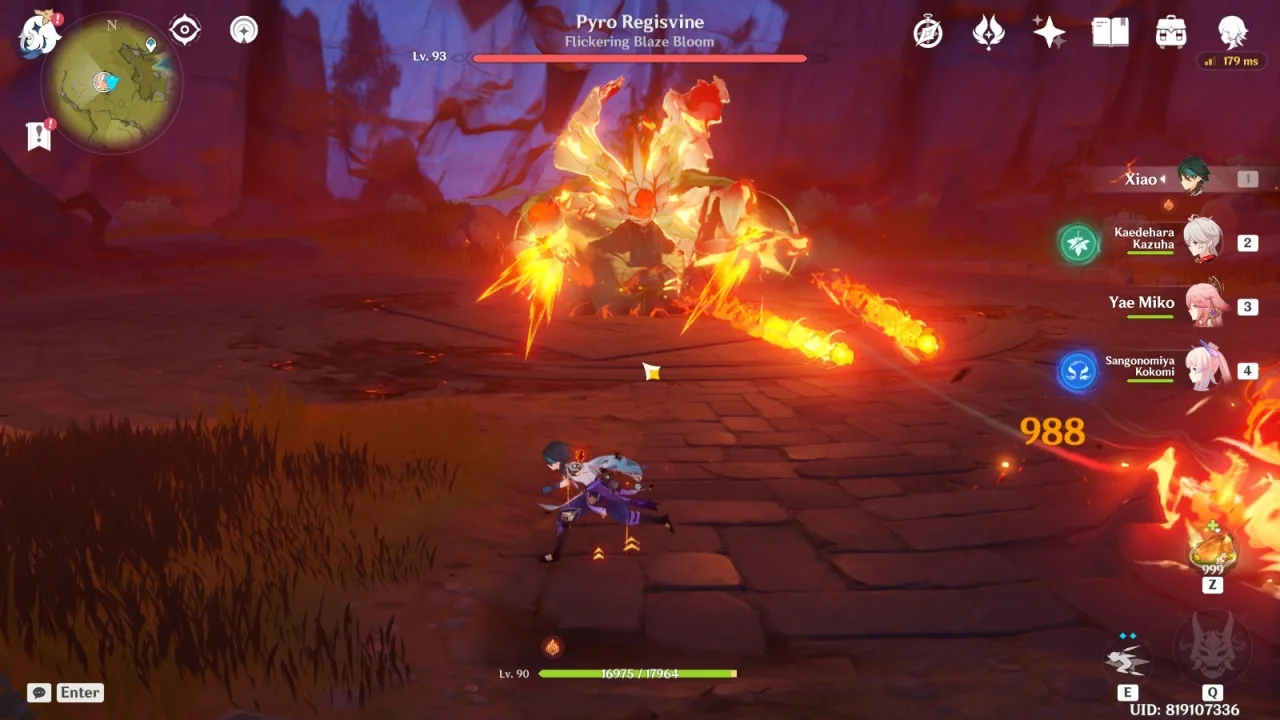 Fireball
Brings its arms together and charges up quickly, gathering Pyro. It then hurls a large fireball toward you at high speed, which explodes upon impact, dealing 25% ATK as Pyro DMG. The explosion leaves a seed that explodes after a few seconds, dealing 50% ATK as Pyro DMG. The ground near the seed is infused with Pyro and starts to do 30% ATK as Pyro DoT. To dodge this attack, dashing to the side will work. However, an easier way is to go to the roots/base of the regisvine when it is charging up.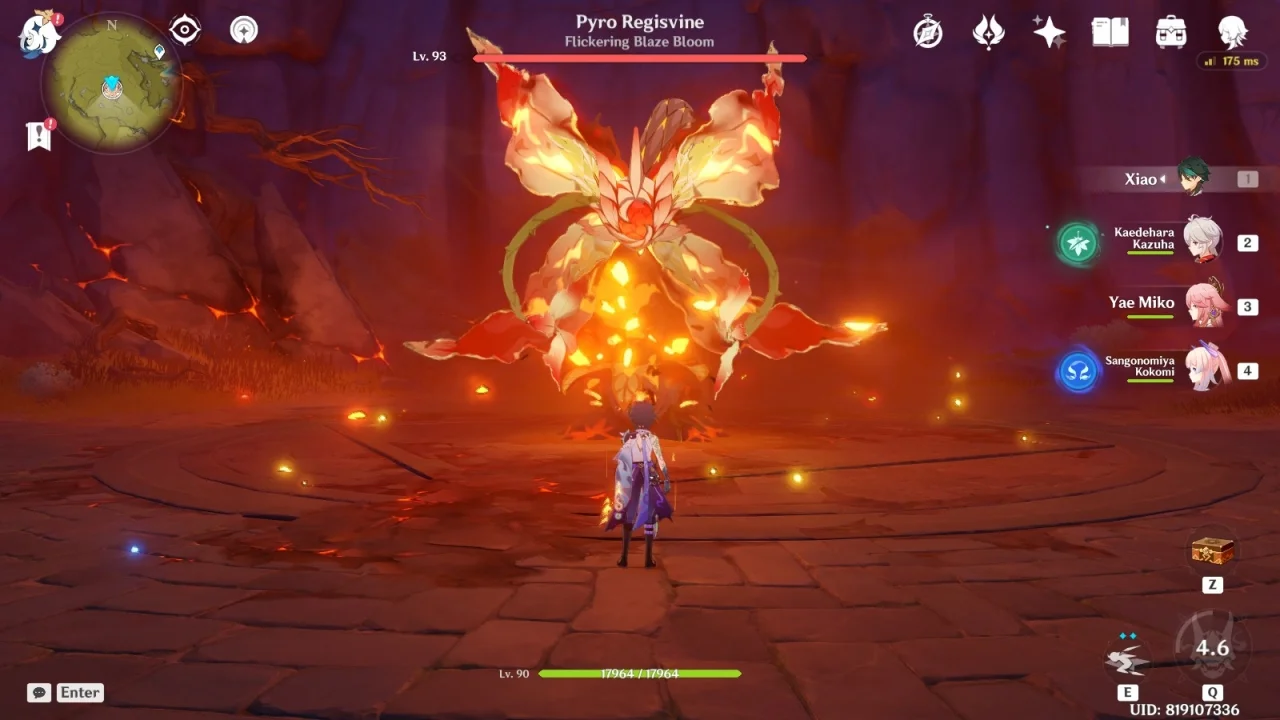 Homing Shots
Raises its arms and shoots out multiple small orbs at you. These orbs are slow but home toward you; each orb deals 12.5 ATK% as Pyro DMG. To dodge this, wait for all the orbs to be near you and then dash to the side.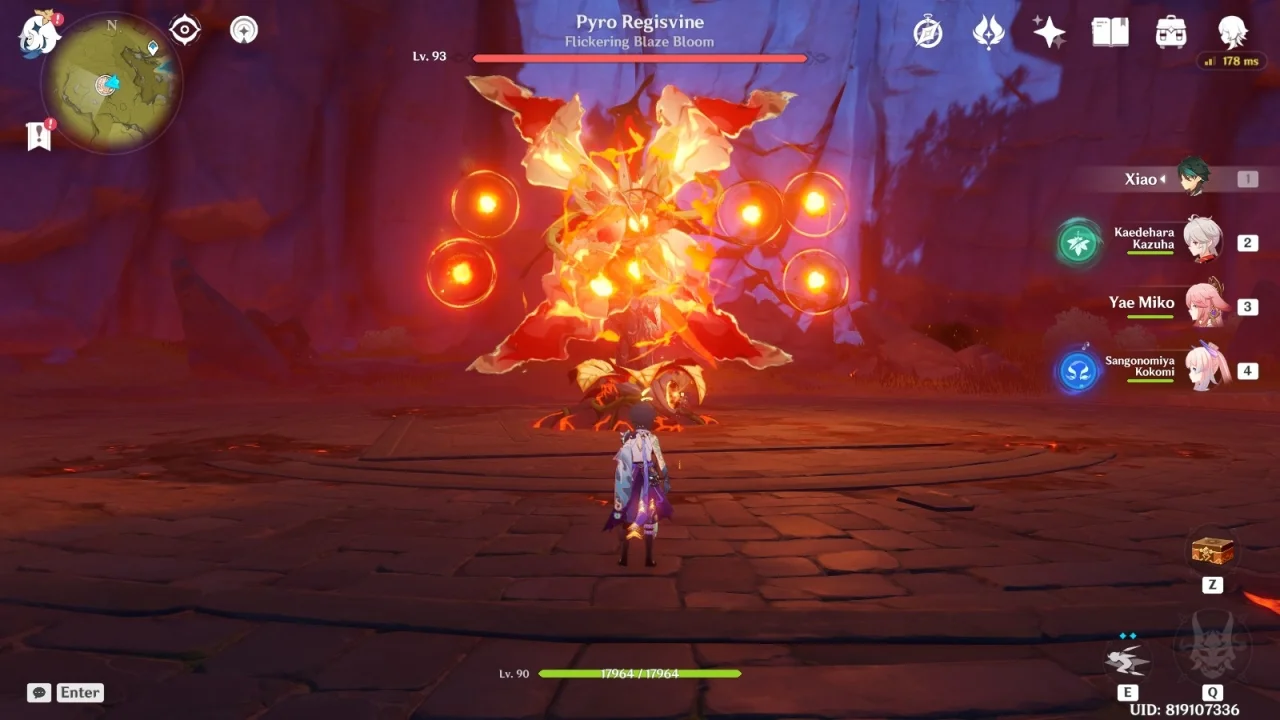 Spin
A pyro circle summons around the boss showing the attack's range while expanding out its petals and rotating. It deals 100% ATK as Pyro DMG within the radius. This attack also knocks you back if you are hit by it. Once the spin stops, the ground under it is infused with Pyro; walking over it deals 30% ATK as Pyro DoT.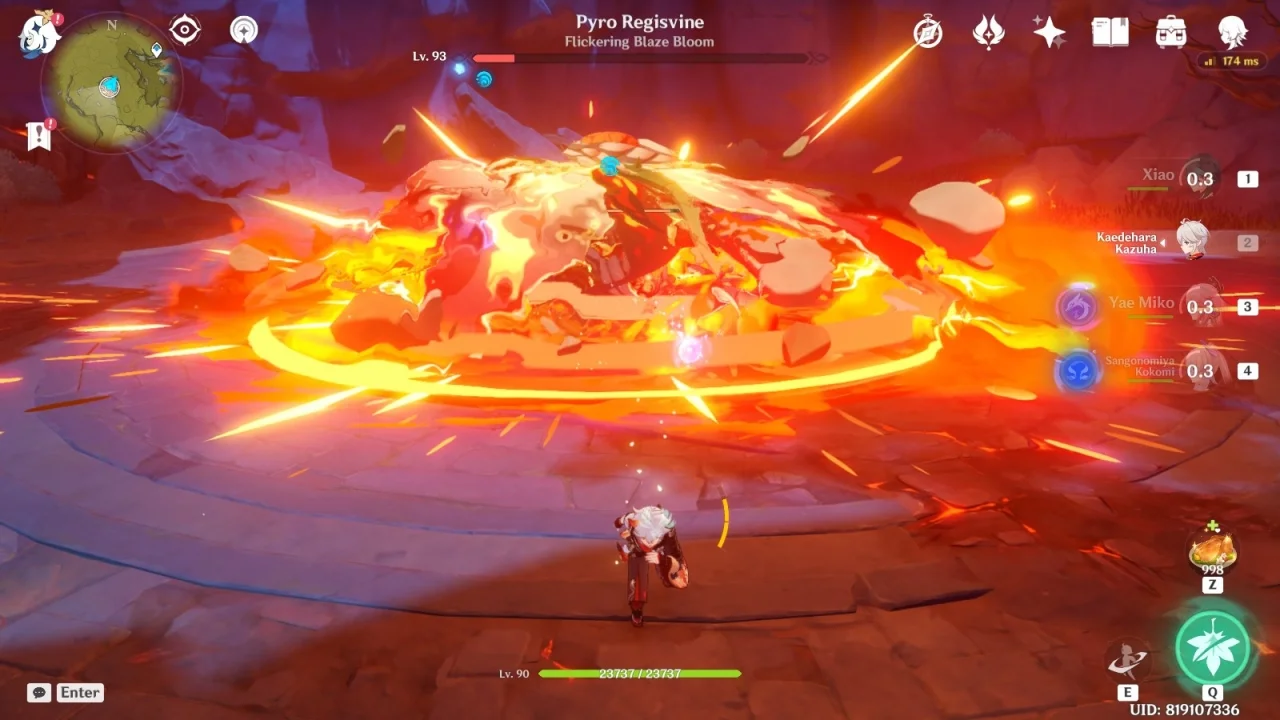 Half Flail
Smashes its head on the floor and rotates 180 degrees. It deals 100% ATK as Pyro DMG and knocks you away. Dodge this attack using a dash I-frame or dashing away when it smashes its head.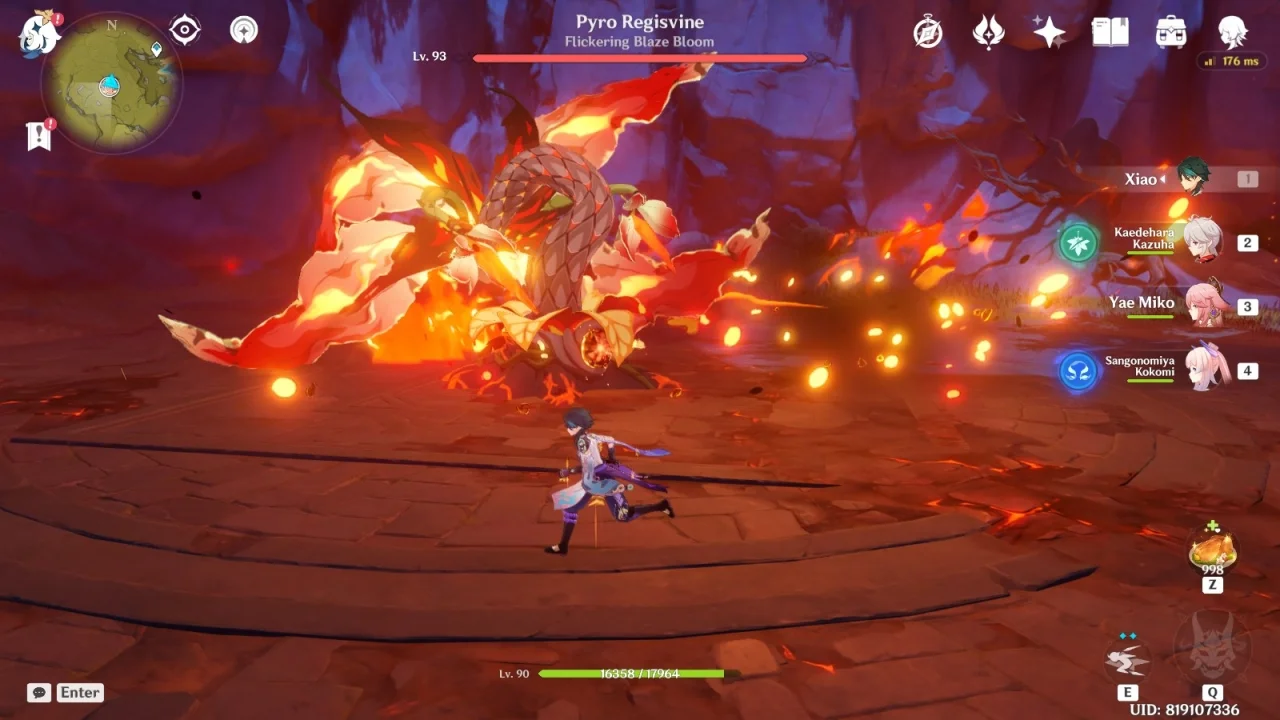 Corolla Phase
Performs a Flail attack immediately upon entering this phase. If the Corolla shield is not destroyed for a long while, it is transferred to its roots and re-enters its roots phase.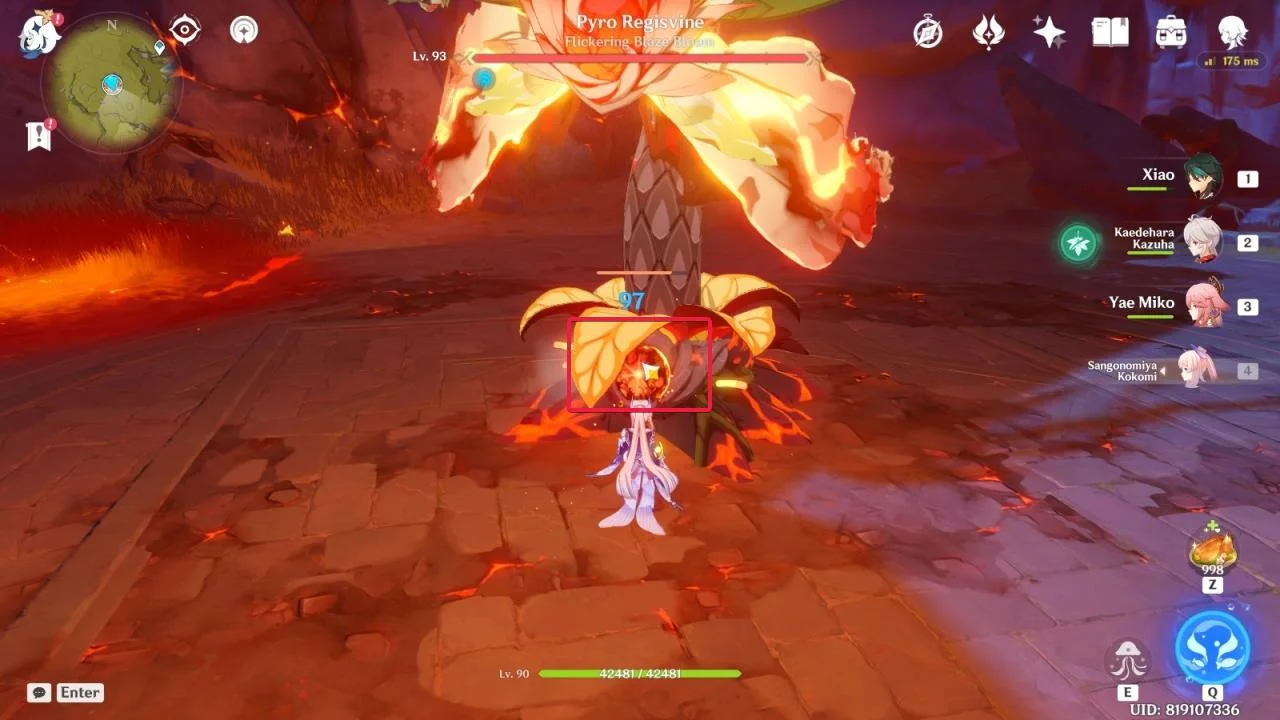 Flail
Strikes its head on the floor and rotates 360 degrees dealing 100% ATK as Pyro DMG and knocks you away. It can be dodged using a dash I-frame or dashing away when it smashes its head.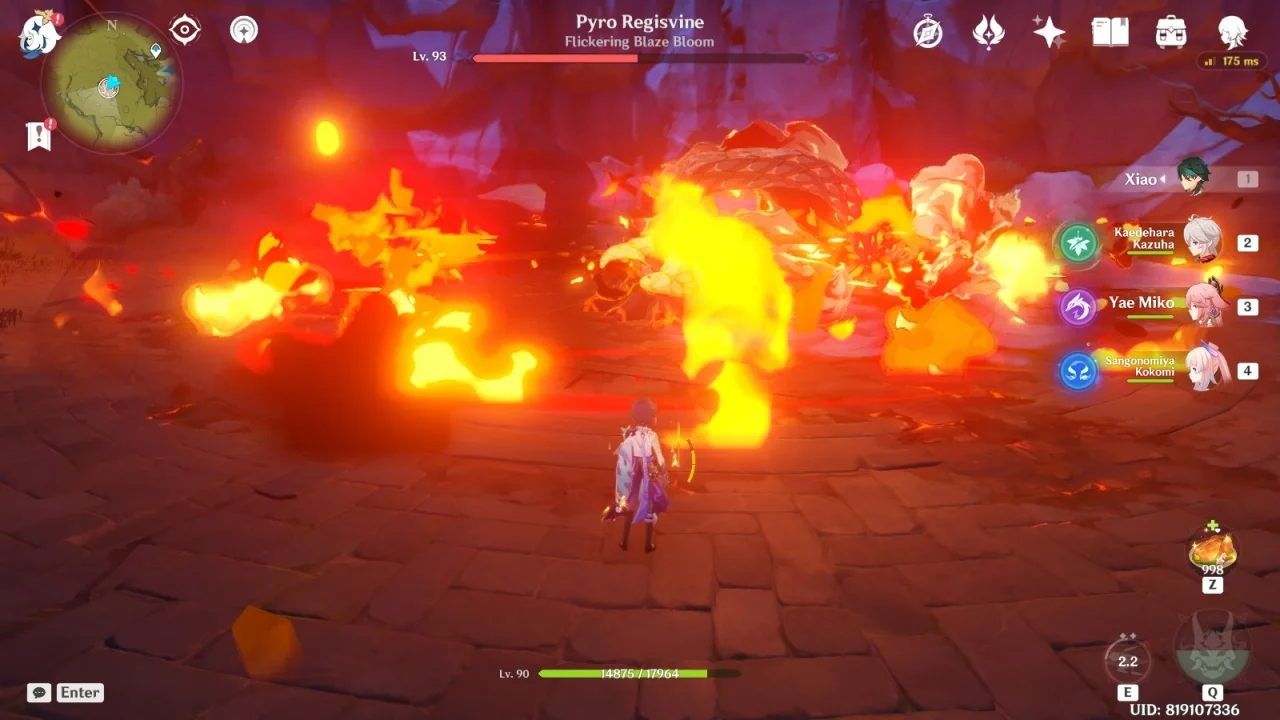 Half Flail Combo
Performs two Half flails and follows up immediately with a Faceplant.
Eruption
Faces upwards and raises its buds/arms. It absorbs Pyro energy and erupts. This deals 100% ATK as AoE Pyro DMG and launches you upwards; more eruptions will take place near you. This attack only happens if you are far from the boss. To avoid this attack, run around near the base of the regisvine; it is recommended not to perform any special moves with long animations as you might get caught up in the explosions.
How To Defeat Pyro Regisvine Easily
It is essential to destroy the weak point/shield of the Pyro Regisvine. This is due to its high resistance to damage. Use your Hydro character to destroy it while avoiding its attacks (It may also be damaged using Electro, Anemo, Geo, or Cryo). When the shield is destroyed, the regisvine will be paralyzed for a few seconds. This is your time to dump all your ultimates and abilities to defeat it; attack it as much as possible.
When it wakes up, Its new shield will be on its face, the Corolla. This means the Corolla phase has started. It usually is hard to destroy this shield as it is too high to reach. However, it will be exposed to attacks when the regisvine uses its Faceplant attack, allowing you to damage it.
Rewards for Defeating Pyro Regisvine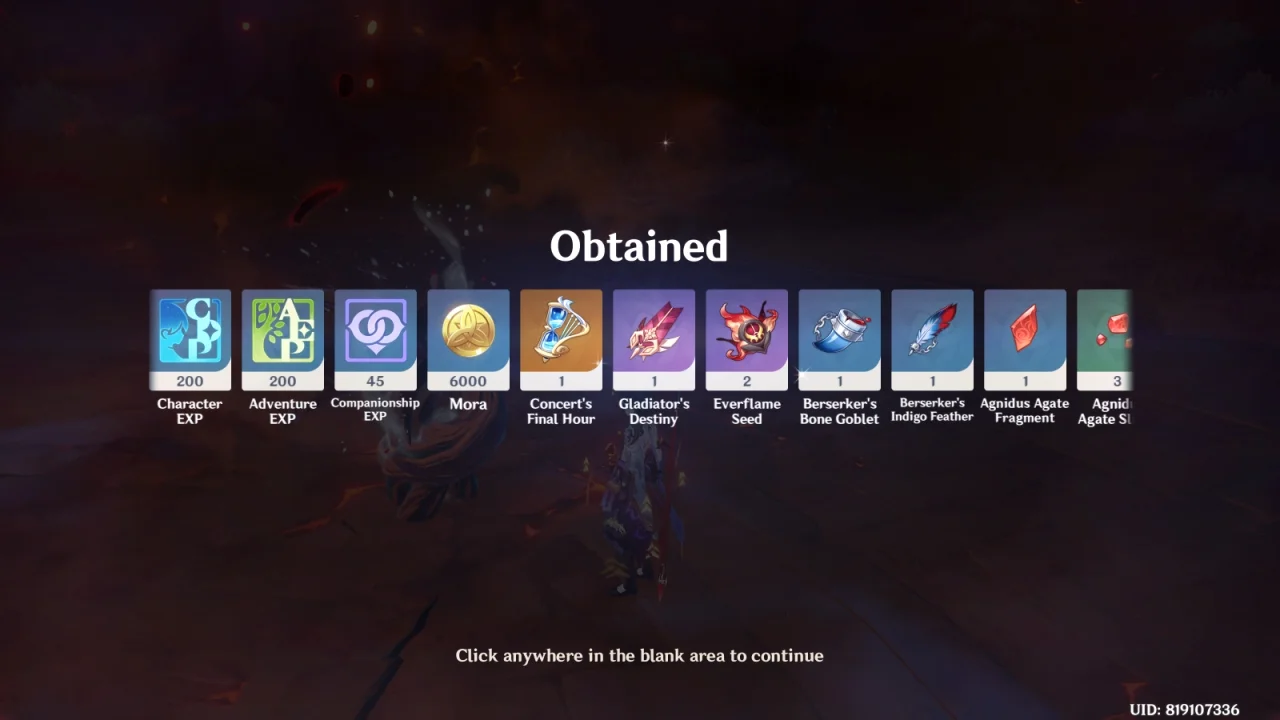 You require 40 Original Resin at the Ley Line Trounce Blossom to claim rewards. All of the rewards depend on your World level or Boss level. It has three categories of rewards:
Character Ascension Material
Everflame Seed (1-3)
Agnidus Agate Sliver
Agnidus Agate Fragment
Agnidus Agate Chunk
Agnidus Agate Gemstone
Artifact Sets
Adventurer (1* – 3*)
Berserker (3* – 4*)
Instructor (3* – 4*)
Prayers for illumination (3* – 4*)
Gladiator's Finale (4* – 5*)
Wanderer's Troupe (4* – 5*)
Other Rewards
200 Adventure EXP
3,450 – 6,000 Mora
138 – 200 Character EXP
30 – 45 Companionship EXP
Achievements
There are only four obtainable achievements from the Pyro Regisvine.
Gardener Extraordinaire: Paralyze a Pyro Regisvine by attacking its corolla.
That Was Blooming Hot: Defeat a Pyro Regisvine without destroying its Corolla weak point.
Core Meltdown: Destroy the Blazing Seed created by a Pyro Regisvine.
This Is Fine: Defeat a Pyro Regisvine in Co-Op Mode.