Abductor Virgins is an optional boss; fighting them is not mandatory to progress through the story. This boss fight consists of fighting two variants of Abductor Virgins at the same time, one annotated as Abductor Virgin (Wheel) while the other one as Abductor Virgin (Swinging Sickle). It also has a lesser version which is a standard enemy that can be located at various locations in the game.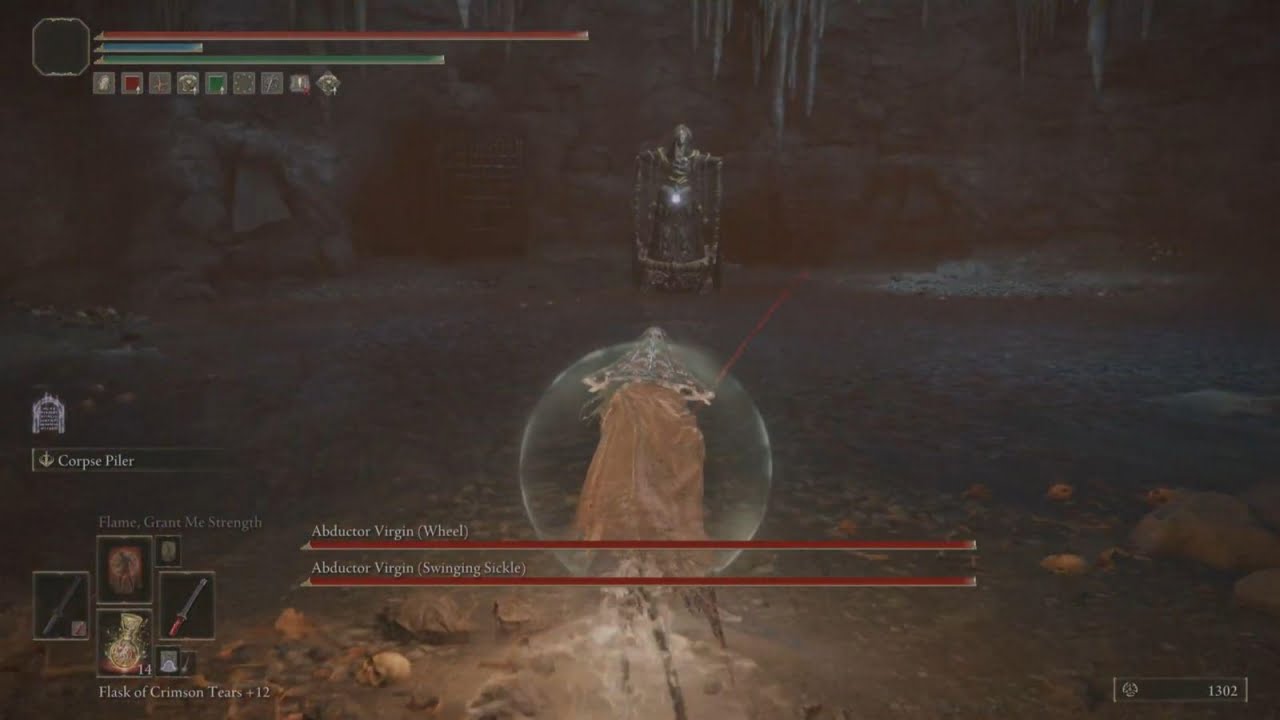 The bosses' name pretty much describes the whole mechanics of the fight as one chases you with its wheels and deals damage through those roller blades while the other has a pair of sickles that swings around in a great range. Since both of these variants are pretty tough standalone, they can be a real menace and become one of the most frustrating battles for some players.
Abductor Virgins Location
From the Schoolhouse Classroom Site of Grace in the Academy of Raya Lucaria, make your way back out of the room to the area with the giant waterwheel, hop on it, and travel downwards by jumping at the end of it. There, you will face an Abductor Virgin (not the boss, a normal version), get killed by it during the grab, and this process will transport you to Volcano Manor. Then travel southeast from here to arrive at the Subterranean Inquisition Chamber Site of Grace. Follow the path relative to the pillars in the south, and you will stumble upon a cave; go into the cave to reach the boss arena.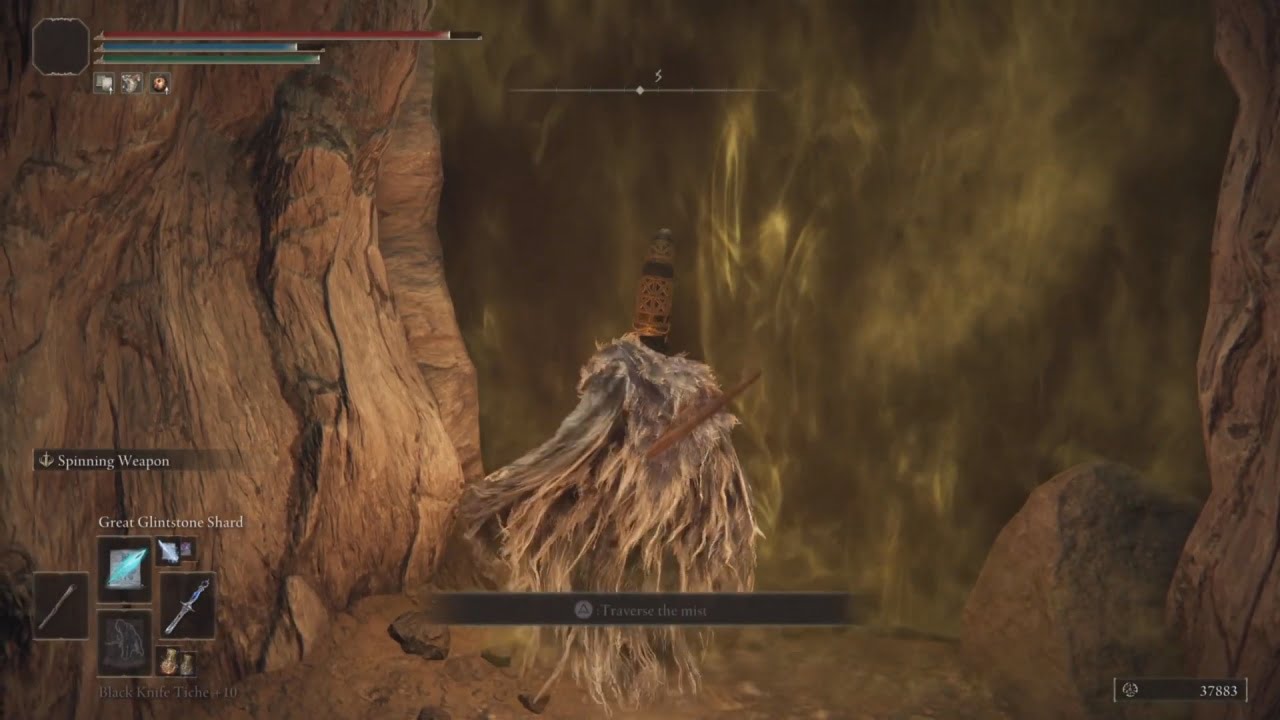 Abductor Virgins Statistics
| | |
| --- | --- |
| Health | 3,811 HP each |
| Defense | 110 |
| Stance | 65 |
| Parryable | No |
| Damage Type | Negations |
| --- | --- |
| Standard | 10 |
| Slash | 10 |
| Strike | 0 |
| Pierce | 10 |
| Magic | 0 |
| Fire | 20 |
| Lightning | -20 |
| Holy | 20 |
| Infliction | Resistance |
| --- | --- |
| Poison | Immune |
| Scarlet Rot | Immune |
| Hemorrhage | Immune |
| Frostbite | Immune |
| Sleep | Immune |
| Madness | Immune |
How to Beat Abductor Virgins Easily?
Since two enemy fights simultaneously, this boss fight can be gritty for new or under-leveled players or all players. As the fight commences, you will see yourself facing the Abductor Virgin (Wheel) and Abductor Virgin (Swinging Sickles) together, while the latter being a ranged attacker and the first one charging at you.
Preparing for the Fight
Consume a Rune Arc to gain extra health to help you support this fight.
Use Summons to distract one boss so you can deal with the other.
Fast weapons, such as Straight Swords or Twinblades, which deal quick and fast damage, are recommended.
The recommended level to fight this boss is level 70 or above.
They are weak primarily against lightning as they have a -20 negation for lightning.
Abductor Virgins Attacks and Counters
Abductor Virgin Wheeled Variant
The wheeled Variant of the Abductor Virgins is very aggressive and will start the boss fight by charging at you.
Abductor Claws (Grab)
It opens its doors, grabs the player, and keeps him trapped inside, dealing damage and might take out your entire health bar; just roll backward and start attacking again when you see the hands go back inside and the door close.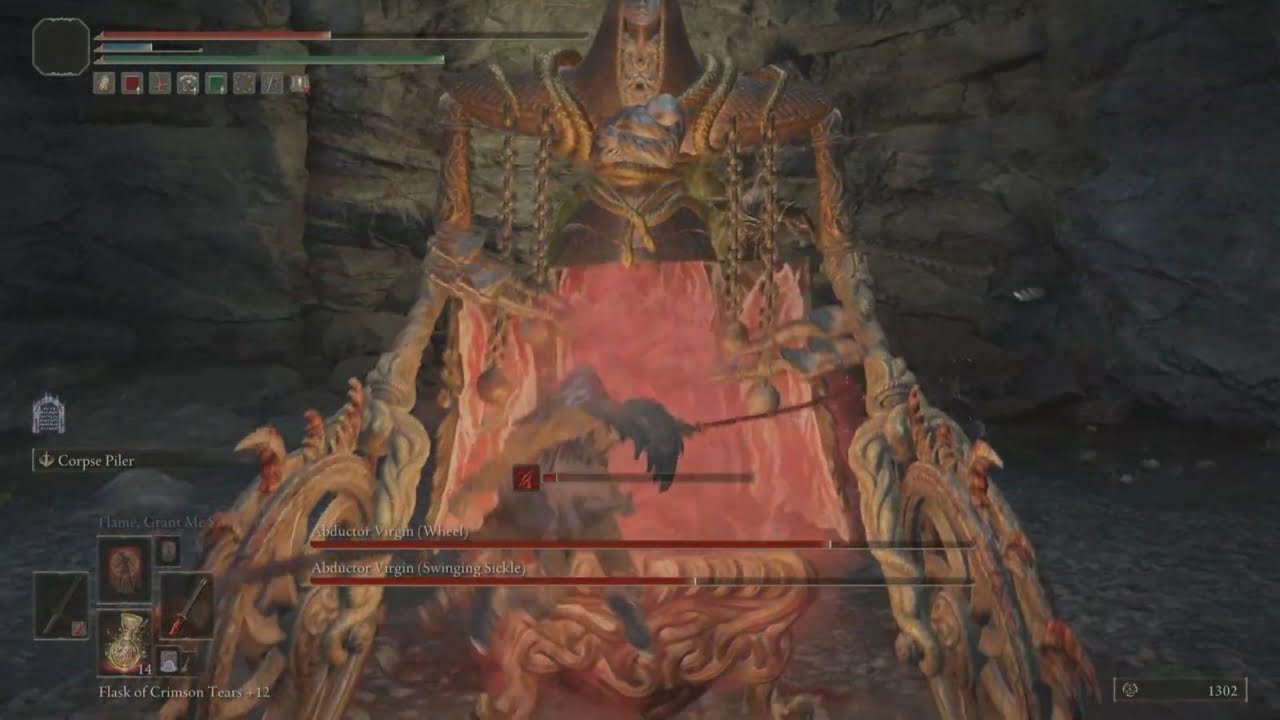 Charge
It charges toward you with full force; even a slight touch will deal a lot of damage. Roll away as soon as it comes close to you, or block it with a shield.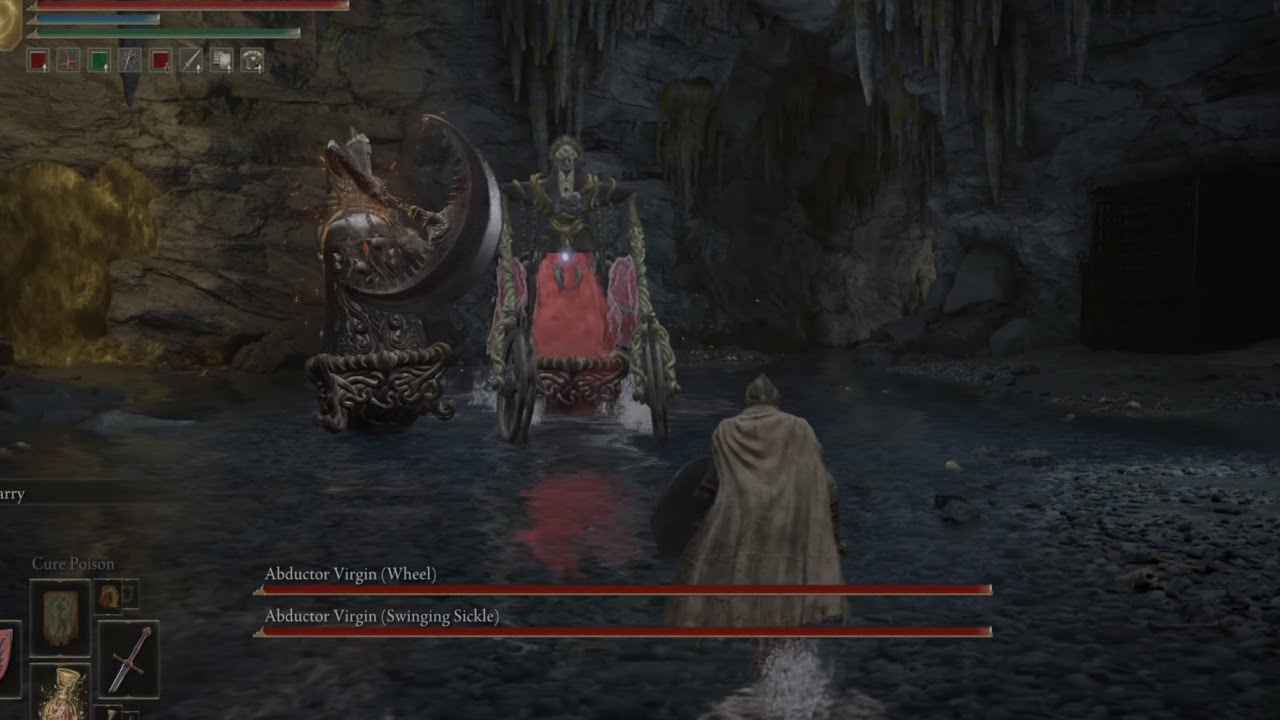 Wheel Uppercut
It performs an uppercut with its wheel limbs that can send the player flying, leaving him immobilized. The player can dodge this or even block this attack leaving the enemy open to the counter.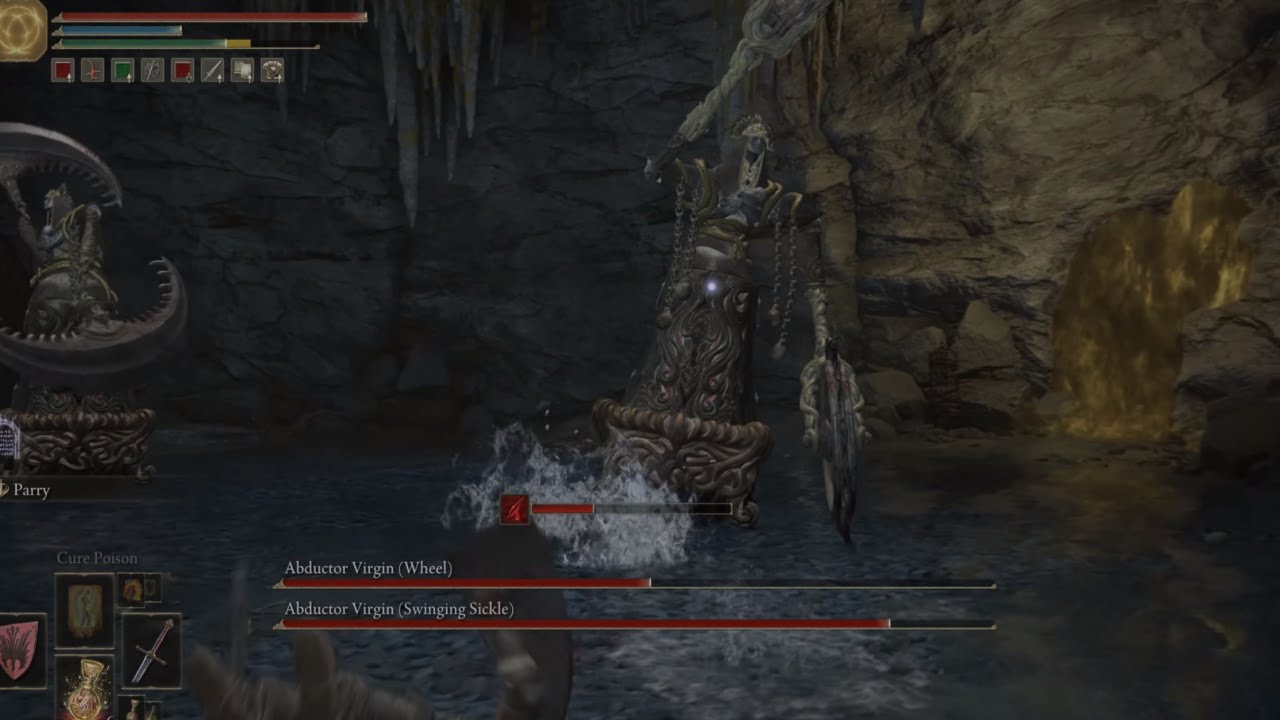 Abductor Virgin Swinging Sickle
This boss has much less maneuverability and can be dealt with once the player beats the wheeled variant.
Abductor Claws (Grab)
Like the Wheel variant, this version also does the same attack opening his chest with arms creeping out to grab and digest you, dodge backward, and deal damage when the cage closes.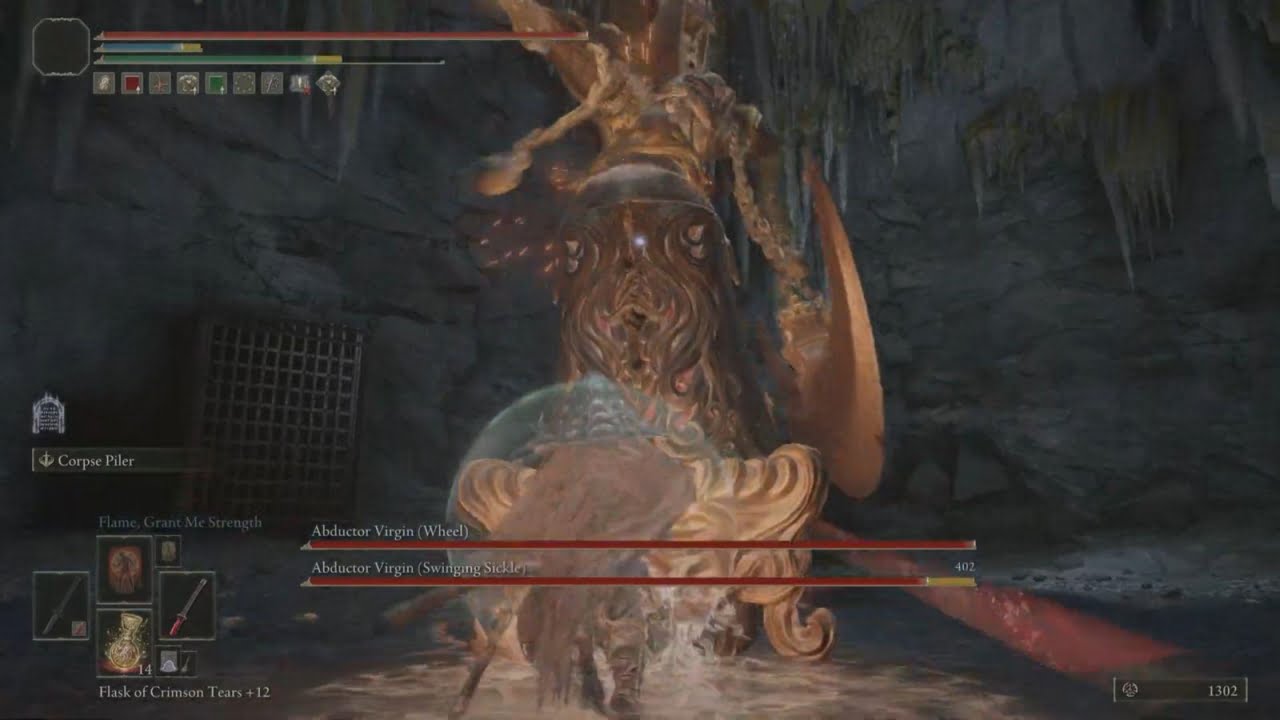 Sickle Rotate
It begins to swing his Sickle around all over the arena; the best way to deal with it is to dodge through the sickles or let the boss choose a trajectory for his attack and then follow him to attack him from behind.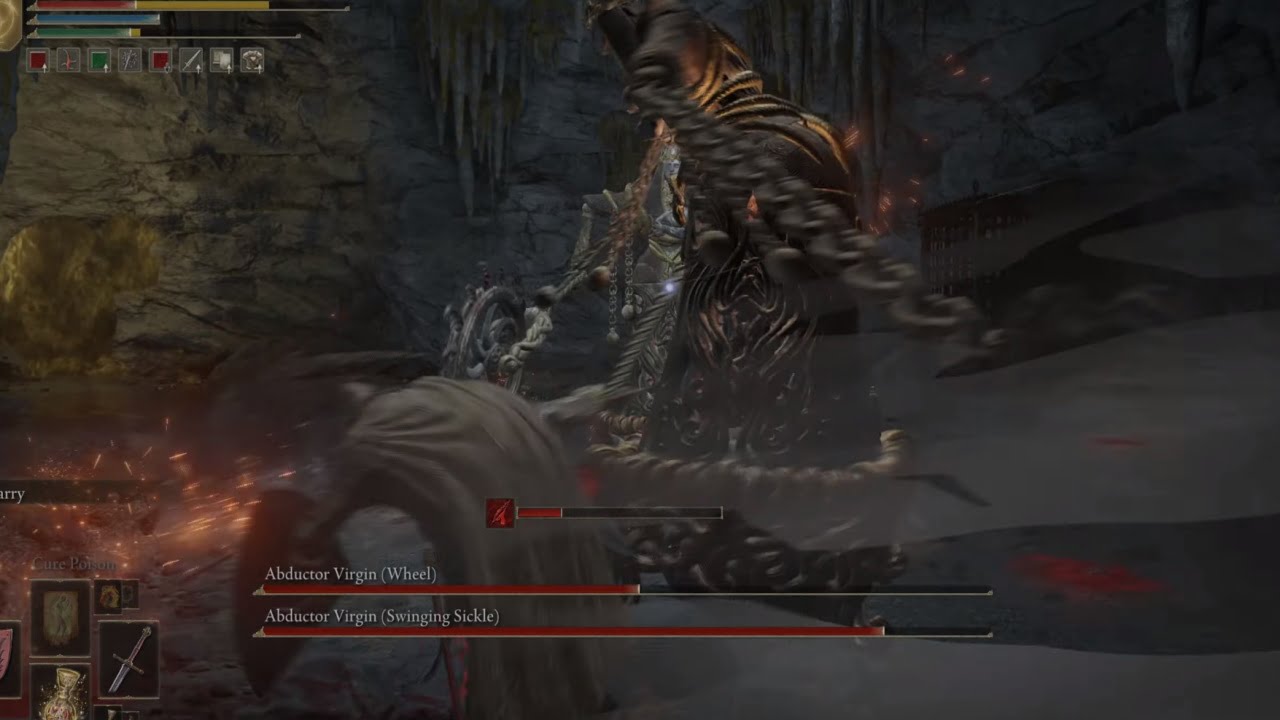 Sickle Throw
It throws its massive Sickle at the player. You can dodge this attack by rolling inwards through the sickles.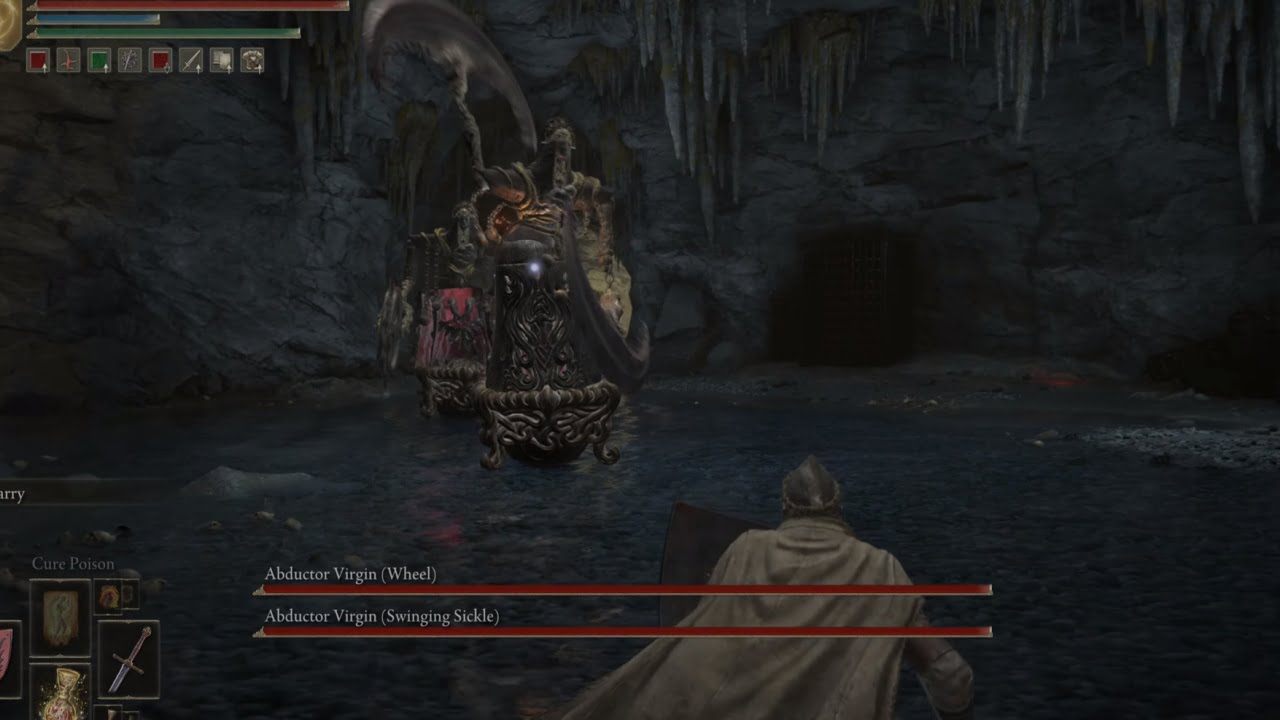 Abductor Virgins Drops/Rewards
10,000 Runes
Inquisitor's Girandole: A spear that scales primarily with Strength and Dexterity, suitable for melee combat.