Magma Wyrm is a field boss in Elden Ring, meaning that this boss has multiple variants that can be fought on different occasions and are entirely optional. The Wyrms were once humanoid but were turned into lesser versions of dragons, also known as the wyrms, for practicing Dragon Communion, a ritual linking dragon prowess to be wielded by humans.
Magma Wyrms seem to appear on many occasions in the game, noticeably the one in Gael Tunnel since most players will be aiming to get their hands on the amazing katana Moonveil.
Locations of Magma Wyrm
Gael Tunnel
Fort Laiedd
Volcano Manor
Magma Wyrm Makar
Ruin-Strewn Precipice Site of Grace in Liurnia of The Lakes.
Great Wyrm Theodorix
Albunauric Rise Site of Grace in Mountaintops of the Giants.
Stats and Combat Information
Negations/Absorptions
Standard Attack: 10
Slash Attack: 35
Pierce Attack: 10
Strike Attack: 10
Magic: 40
Fire: 100
Holy: 40
Lightning: 40
Absorptions/Negations are the percentages of the number of attacks that are absorbed or negated; for example, if you deal the Magma Wyrm an attack that deals 100 Magic damage, 60 of that attack will be dealt, while 40 damage will be negated.
Magma Wyrm Attack Patterns
Magma Wyrm is not necessarily a tough boss fight, but for under-leveled players who are trying to get that Moonveil for themselves or happen to stumble upon this boss, it can be a challenging and repetitive boss fight. The Magma Wyrm in Gael Tunnel has a small arena that can bring out your claustrophobia and make it very tough and challenging to dodge its attacks. Here are the attacks you need to look out for and how to counter those attacks.
Swinging Scalesword
The Magma Wyrm swings around its scalesword recklessly in horizontal slashes. These sweeps can be dodged by rolling into them or maybe even jumping, though we do not recommend jumping as it requires shorter i-frames. Dodge these attacks and strike him with your choice of weapon.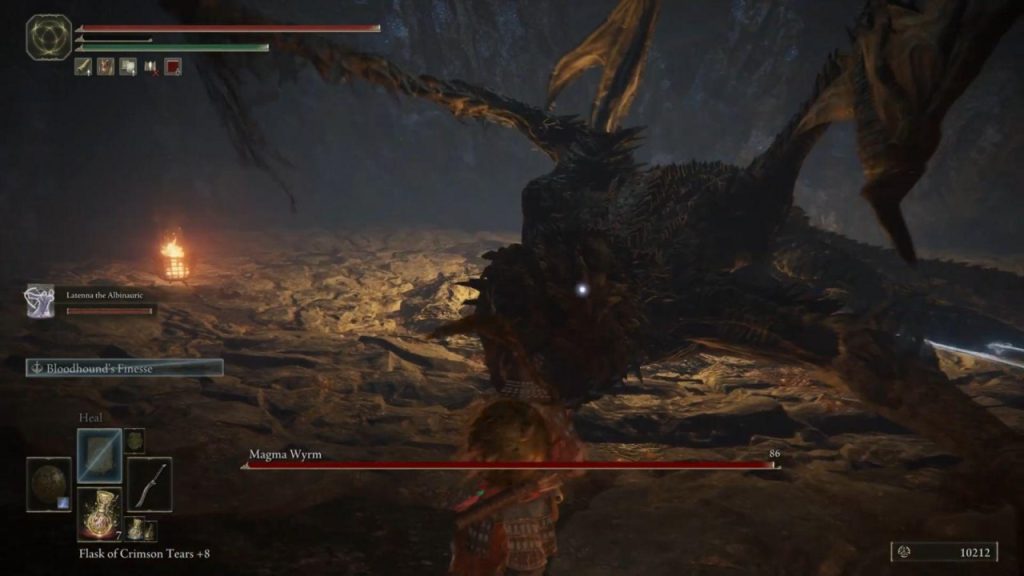 Scalesword Slam
The Magma Wyrm lifts its scalesword into the air and slams it on the ground dealing damage over a large span. Roll backward to get out of the range or roll inwards to i-frame the attack and get hits on its face, the most vulnerable part.
Gliding Slam
The boss wields his scalesword from his mouth, leaping into the air and slamming it on the ground. Get far from this attack as soon as you see him leap in the air with the sword in his mouth.
Charged Attack
The boss charges at the player while leaking lava on the floor; steer out of this attack, as even if you dodge the charge, the lava on the ground can deal AoE damage.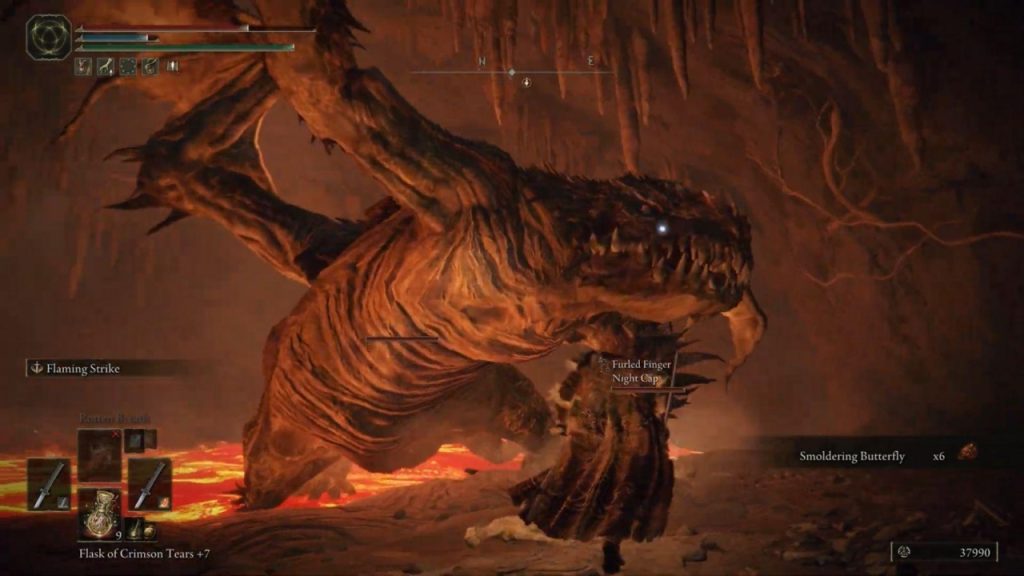 Lava Belch
The signature attack of the Magma Wyrm. The boss throws a burst of lava from his mouth at the player that can be left on the ground after it is dealt, dealing damage. Dodge sideways and attack his body or tail since the mouth is oozing lava.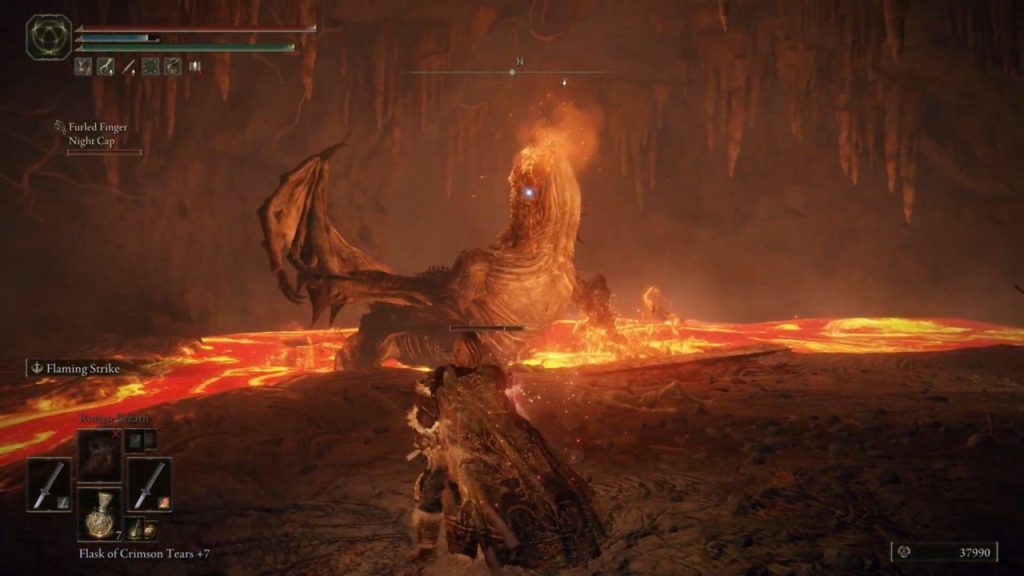 The boss enters its second phase at around 60% health or lower and adds a new variety of attacks to his arsenal. These are the attacks to look out for.
Rise Up
The boss stands on its hind legs, leaks lava from its mouth onto the ground, rolls inwards, and attacks its tail while in the animation. This attack is also an indication of the second phase.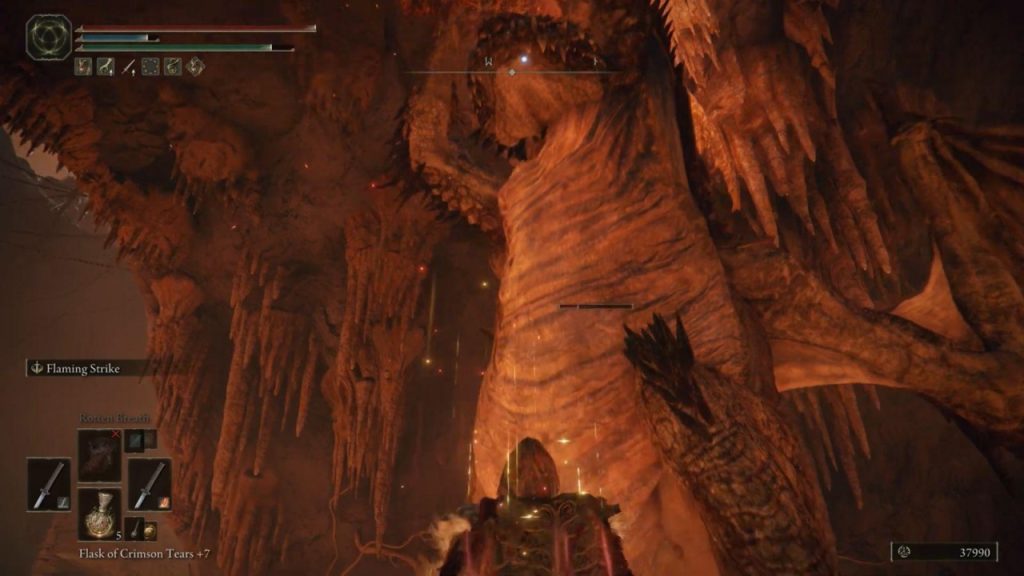 Lava Spray
The Magma Wyrm oozes out layers of magma from his mouth at the player. Attack him while he's in the animation, and run toward its tail to not get caught up in the lava.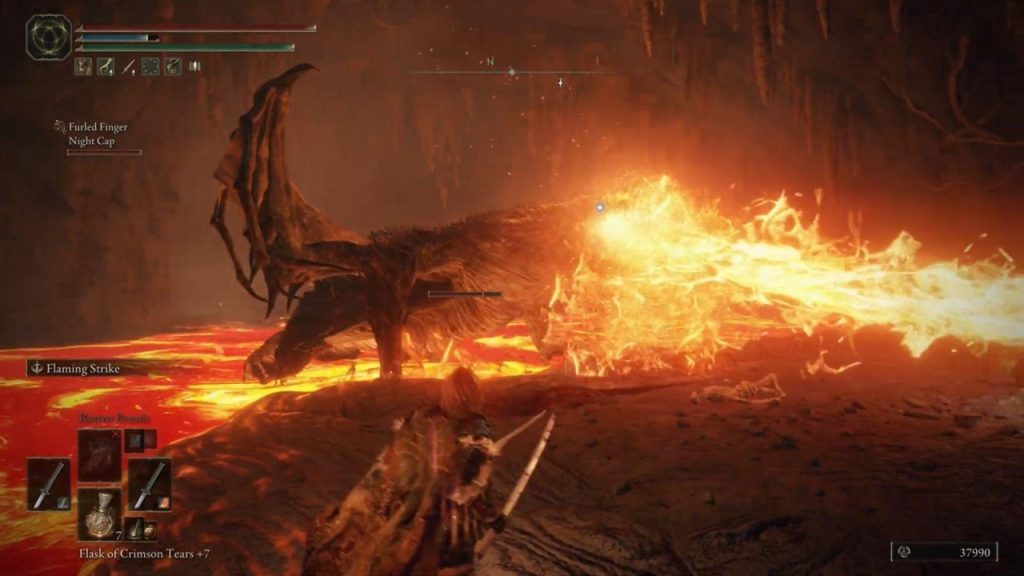 Magma Drool
The boss raises its head and lets out lava from his mouth. Run or roll towards its tail and get in some attacks since standing right below its head will cause you to take damage from the lava falling or from the pool of lava that is caused in the aftermath.
For Ranged Players
Ranged players have an advantage over melee combat players as they can freely attack this boss' head without fearing getting caught in the lava. Make sure NOT to do any fire spells or incantations since the Magma Wyrm has 100% fire absorption. Make use of the arena and keep your distance from this boss; it will be a piece of cake.
Tips and Recommendations
Steer clear of getting caught in the lava pool, as it will leave you staggered, open to slashes and swings by the boss.
Attack its head for extra damage, as he is prone to more damage on his face; it's a weak point of Wyrm.
Utilize the pillars in Magma Wyrm Makar boss fight as defense mechanisms to hide or break points to get your health up.
Reward for beating Magma Wyrm
Magma Wyrm (Gael Tunnel)
7,500 Runes
Dragon Heart(a consumable that can be traded for dragon-based incantations in the Church of the Dragon Communion)
Moonveil(A unique Katana that scales primarily off of Dexterity with a great Ash of War, Transient Moonlight)
Magma Wyrm (Fort Laiedd)
Magma Wyrm (Volcano Manor)
Magma Wyrm Makar
24,000 Runes
Dragon Heart
Magma Wyrm's Scalesword (A curved greatsword that scales off of strength, decent for dealing additional fire damage)
Great Wyrm Theodorix
180,000 Runes
Dragon Heart x3
FAQs
Which Magma Wyrm drops Moonveil?
The Magma Wyrm fought at Gael Tunnel drops Moonveil.
What is Magma Wyrm weak against?
The Magma Wyrm is weak against attacks dealt to its head.
What is the recommended level for Magma Wyrm?
The recommended level to beat Magma Wyrm is 50; for all variants, the least bare minimum should be 50.
What is Magma Wyrm weak against?
The Magma Wyrm is weak against attacks dealt directly to its head.
Which Magma Wyrm drops Moonveil Katana?
The Magma Wyrm of Gael Tunnel drops Moonveil Katana when defeated.