Maliketh, The Black Blade, is a Legend Boss who is mandatory to beat to advance in Elden Ring's main storyline. Appearing as the Beast Clergyman at first, he is a two-phase boss who emerges as Maliketh in the second phase. His origins connect him to Queen Marika, who entrusted him with the Rune of Death. His failure to guard it led to the Night of the Black Knives when Ranni the Witch stole it. Since then, this boss embedded the blade into his flesh to ensure it was never stolen again. This boss's initial phase has an NPC counterpart called Gurranq, Beast Clergyman.
Where to Find Maliketh, the Black Blade?
You will encounter him on Crumbling Farum Azula after burning the Erdtree. From the closest site of grace, Beside the Great Bridge, you should head to the west and then south towards the stairs. You'll see a ramp past the Draconic Tree Sentinel, leading you to the Maliketh boss arena.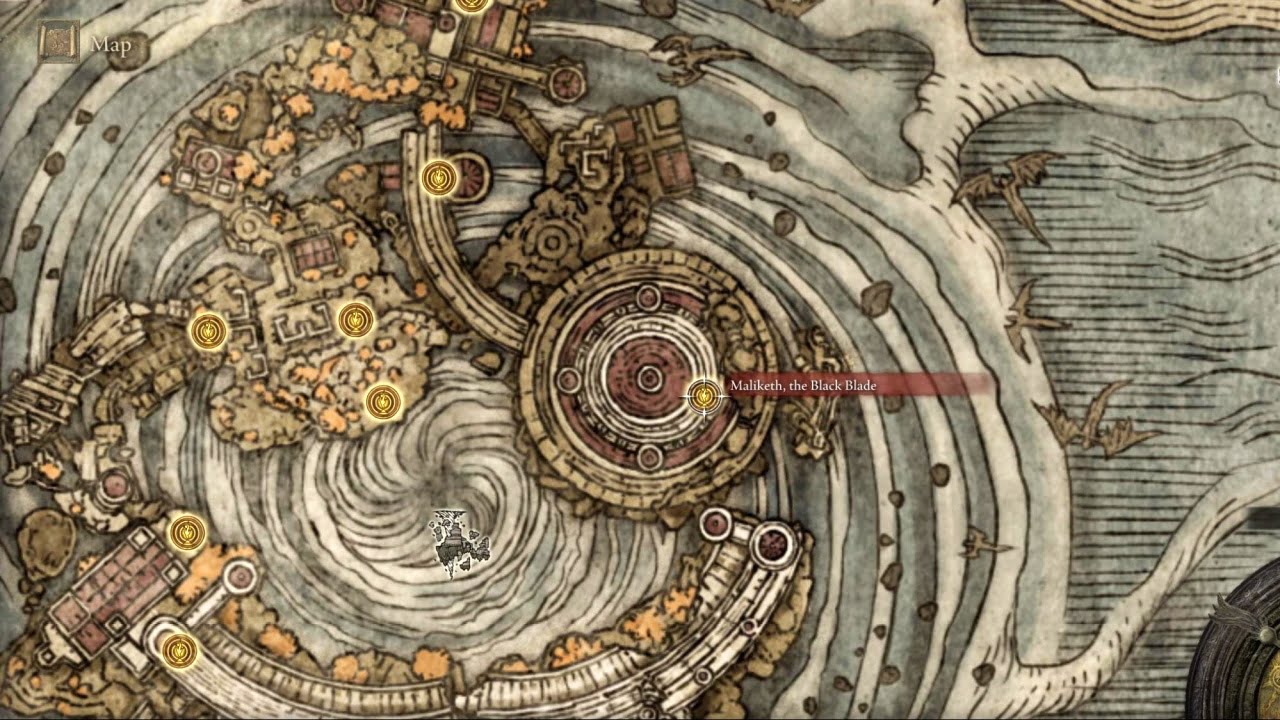 Maliketh, The Black Blade Statistics
Health
10,620 HP
Defense
120
Stance
80
Parryable
No, but can be staggered with a well-timed use of Blasphemous Claw
Weak To
Strong Physical Attacks
Strong To
-Holy
-Sleep
| Damage Type | Negations |
| --- | --- |
| Standard | 35 |
| Slash | 35 |
| Strike | 35 |
| Pierce | 35 |
| Magic | 40 |
| Fire | 40 |
| Lightning | 40 |
| Holy | 80 |
| Infliction | Resistance |
| --- | --- |
| Poison | 351 / 449 / 739 / 1196 |
| Scarlet Rot | 351 / 449 / 739 / 1196 |
| Hemorrhage | 574 / 864 / 1321 |
| Frostbite | 574 / 864 / 1321 |
| Sleep | 2277 |
| Madness | Immune |
Note: Values after the "/" s indicate the increased resistances after each successive proc.
Best Tips for Defeating Maliketh Boss
It is recommended to be at least Level 120 with maxed weapons to go head to head with Maliketh.
Summoning Spirit Ashes and Multiplayer (Co-op) is allowed for this boss.
Use the pillars in the arena to your advantage, as they will act as a shield against the boss's projectiles.
Beast Clergyman (Phase 1) attacks are in a single direction, so getting behind him will help in damaging him efficiently.
Since the boss is not parryable, you can still stagger him quickly with a perfectly timed use of Blasphemous Claw.
The Crimsonburst Crystal Tear can counteract the boss's tendency to do damage over time. (Phase 2)
Maliketh Attacks and Counters
Maliketh can pose a threat to the players because of how much damage his attacks can deal. But like every other boss, his attacks can be avoided.
Phase 1
Side To Side Swipe
He swiftly swings his sword to the front from any side. It can be dodged by rolling into or away from the boss.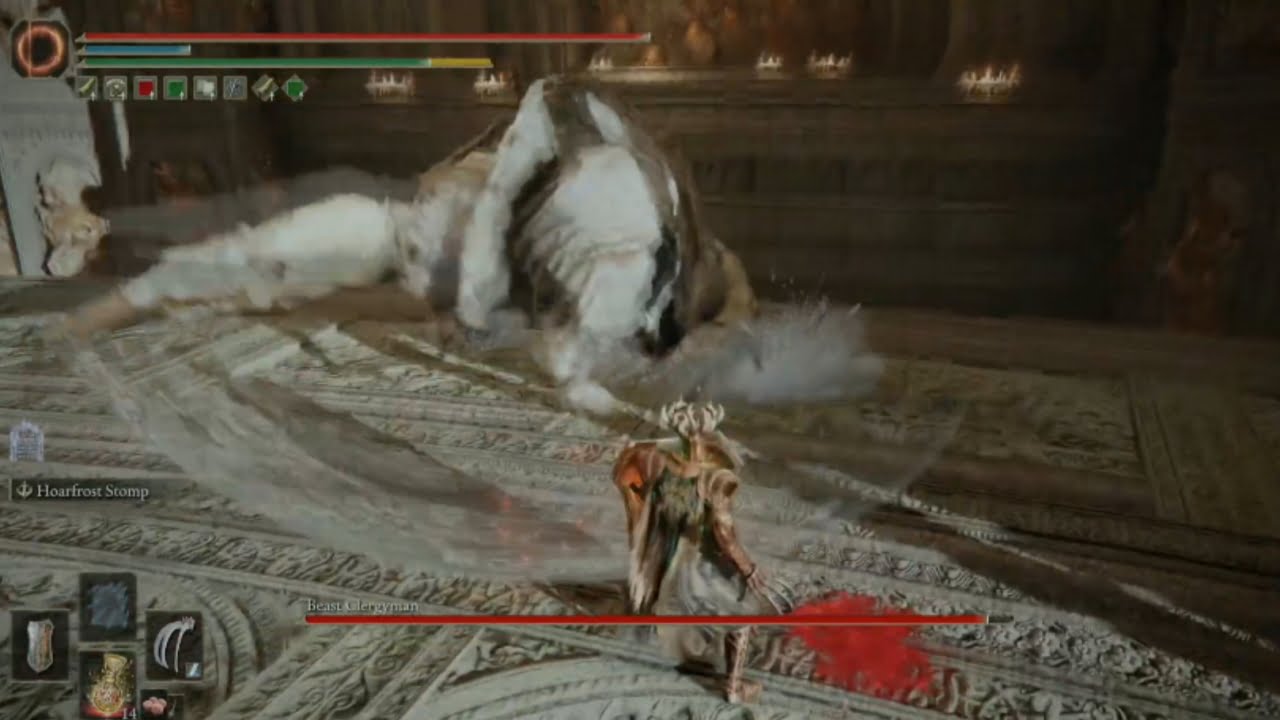 Forward Ground Stab
He steps forward to stab the sword to the ground. If you roll towards the right side, you can escape the stab.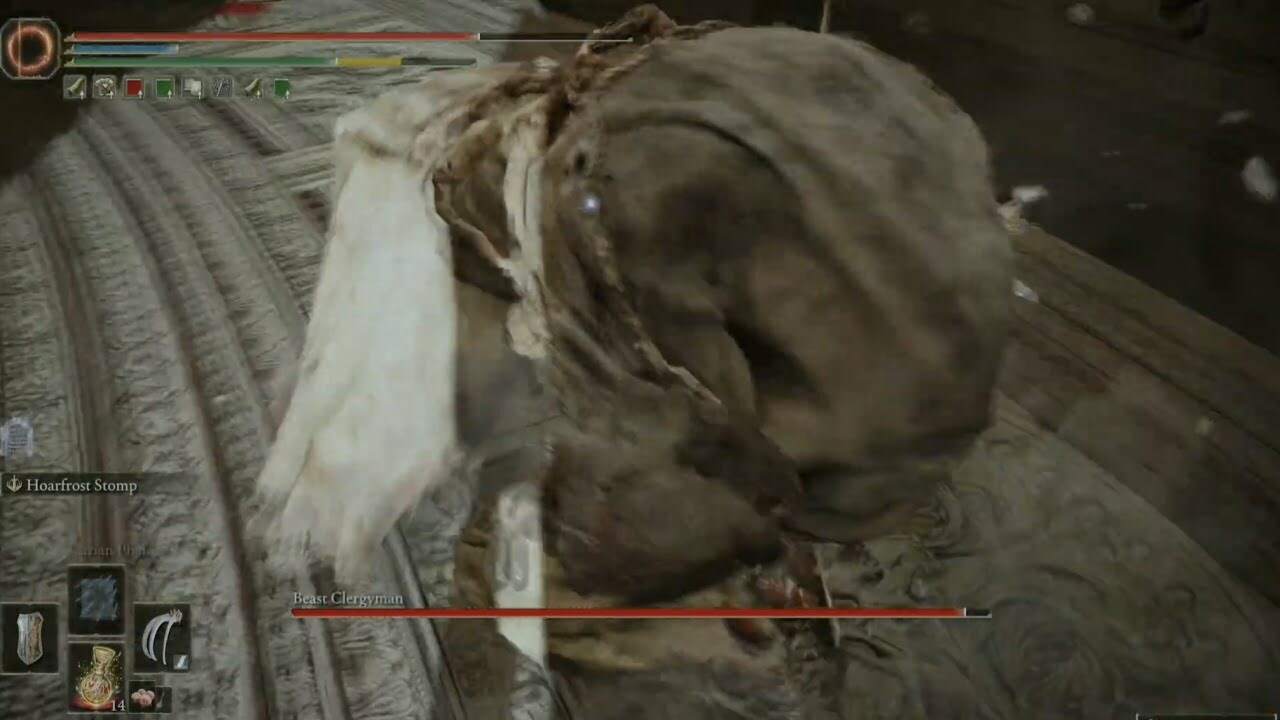 Bestial Sling (Varaint 1)
He throws rocks after collecting them from the ground. You need to roll a second before he throws the stones to dodge this.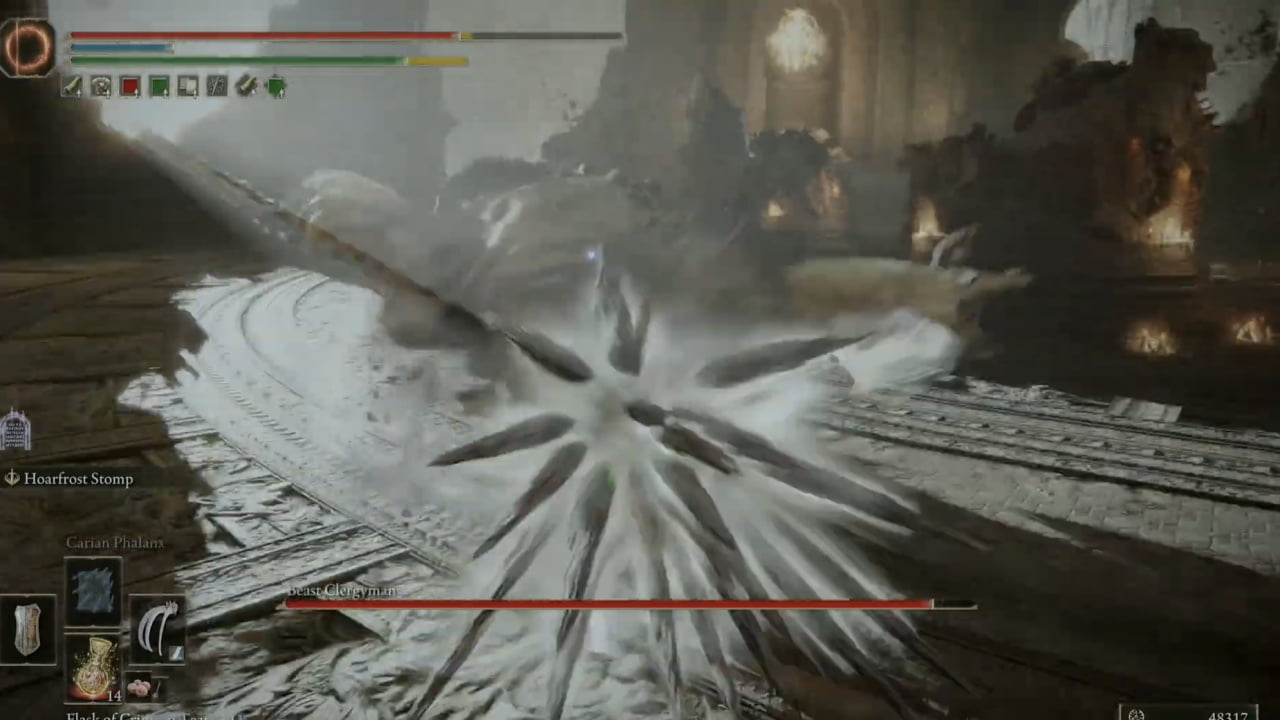 Bestial Sling (Variant 2)
He collects rocks while circling the player and throws them after a jump while landing. Just like before, you need to dodge a second before he lands back.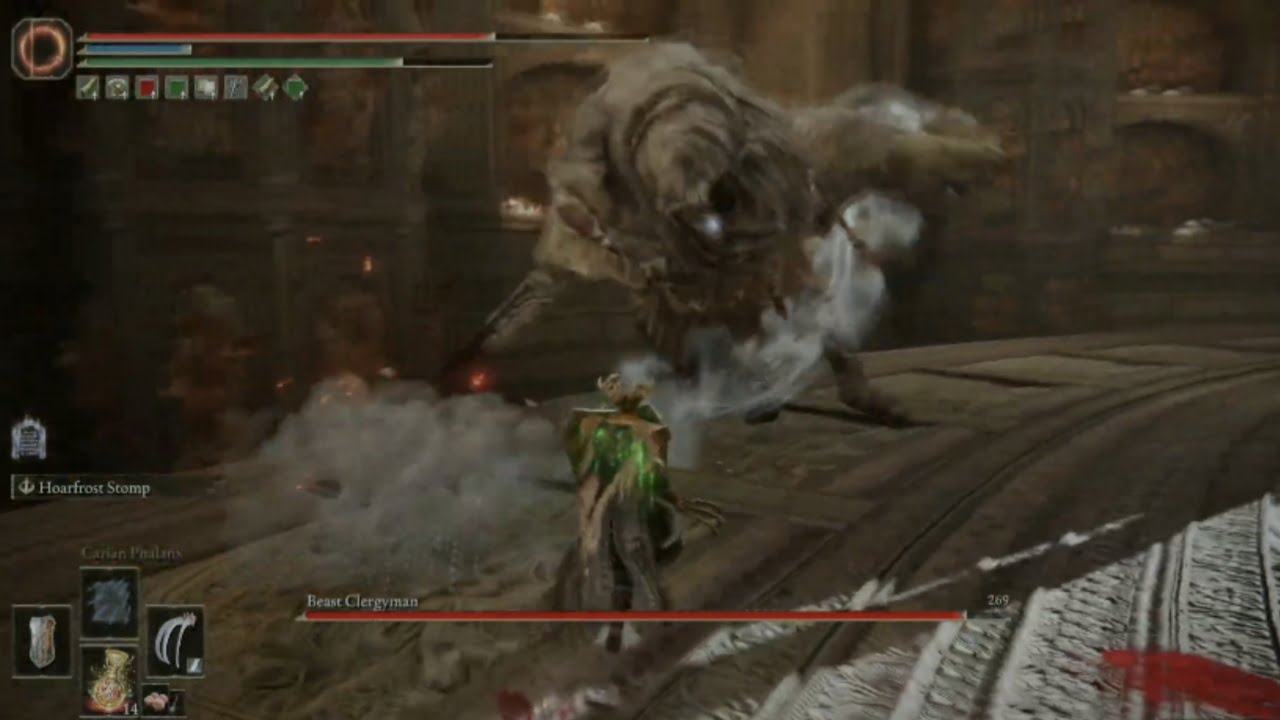 Bestial Sling (Variant 3)
It is a combination of attacks mentioned before. The boss follows up with a Bestial sling after a forward ground stab. Roll to your left to dodge this attack.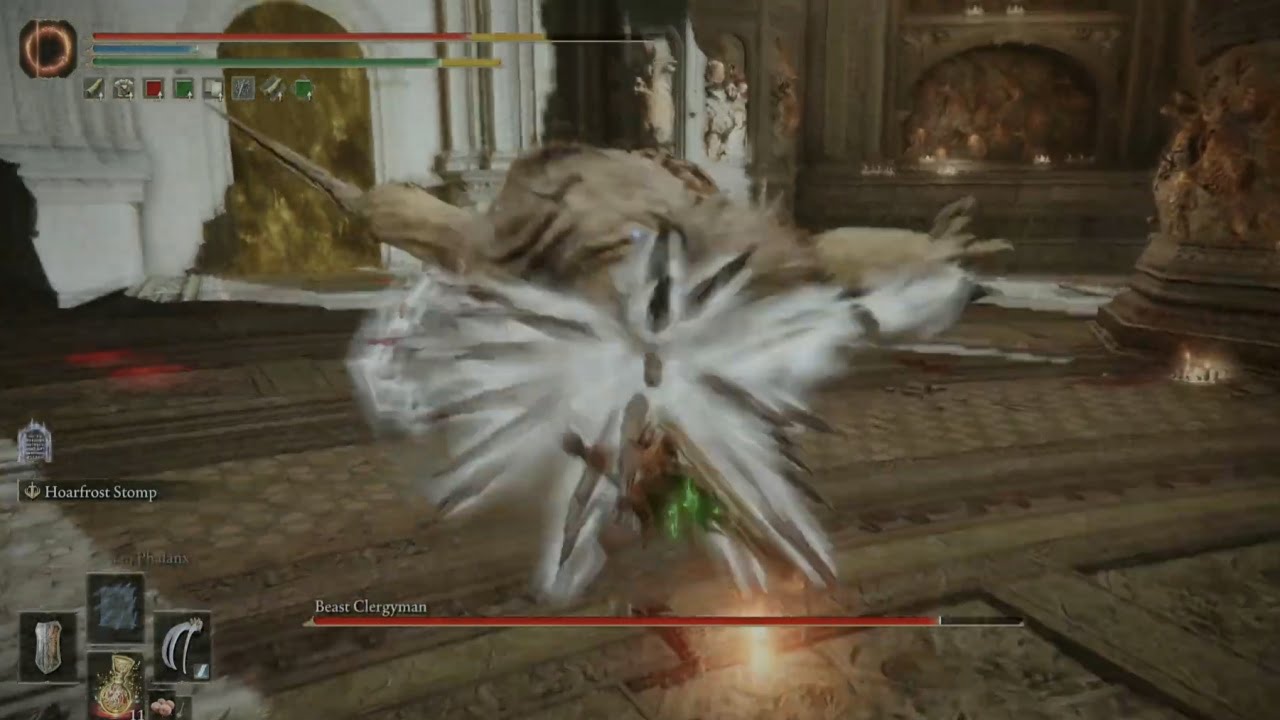 Beast Claw
For this attack, the boss will slam his hand into the ground after taking it high up in the air. This will print scars of the claws in the air, indicating the player to retreat and create distance. Small shockwaves will follow you when the boss takes his hand out of the ground, which can easily be avoided with forward rolls.
Lunge Swipe
He slashes from his left to right swiftly. You can either maintain distance or roll towards the boss to avoid it.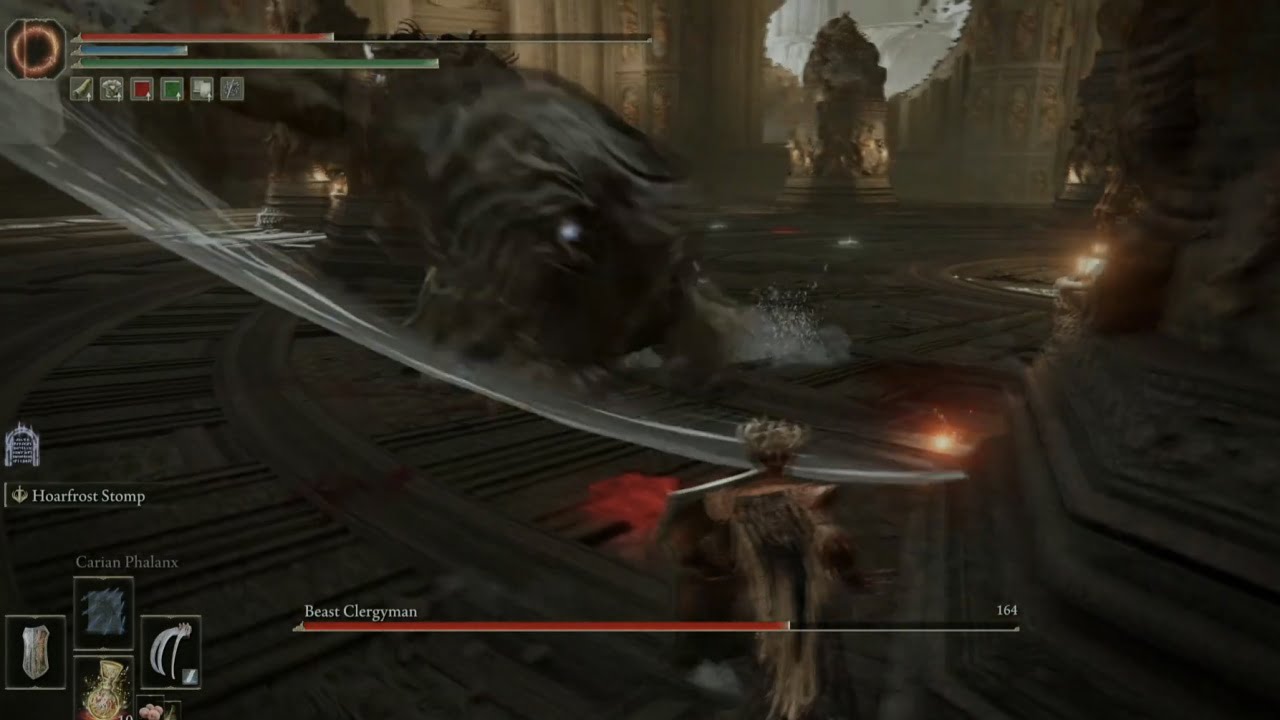 Ground Rupture
He slams his claws into the ground, takes enormous rocks, and then follows up with a Bestial Sling. Observe where the dust emerges is the area of ground where large rocks will emerge from, so avoid staying in that position and keep dodging.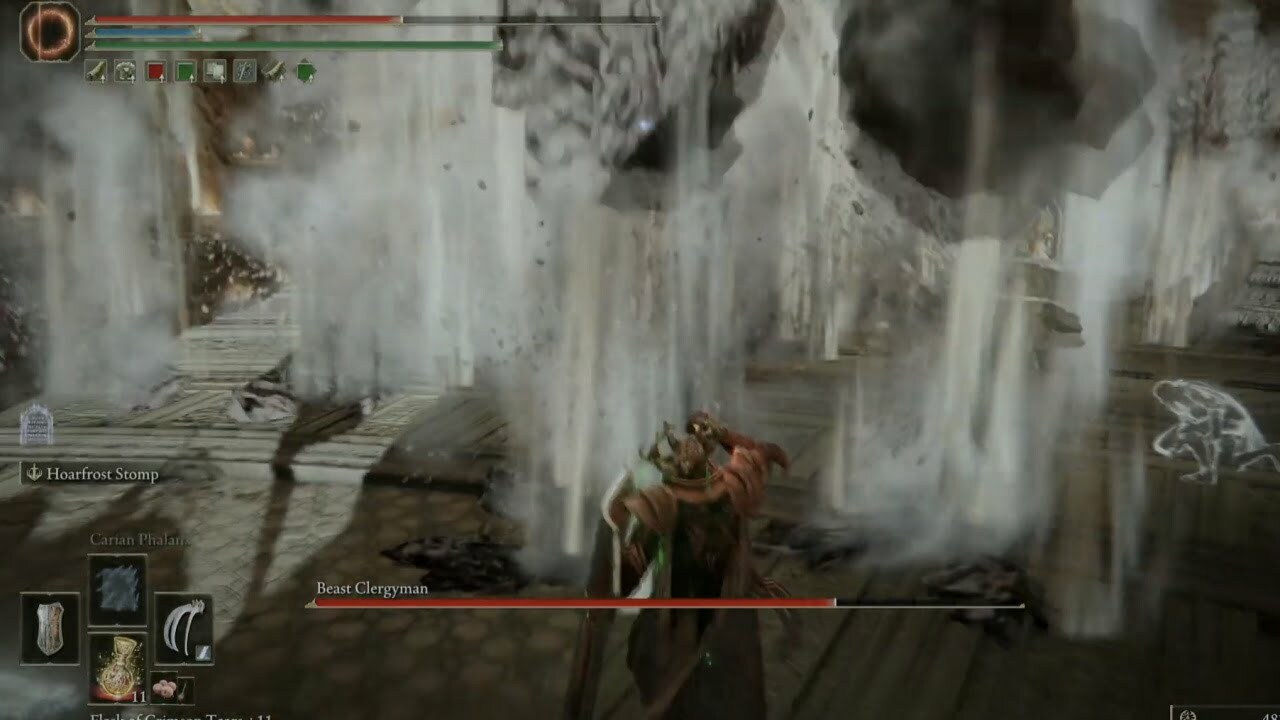 Stone of Gurranq
He chucks and throws a boulder straightly toward the player. It can be easily avoided by rolling to either side.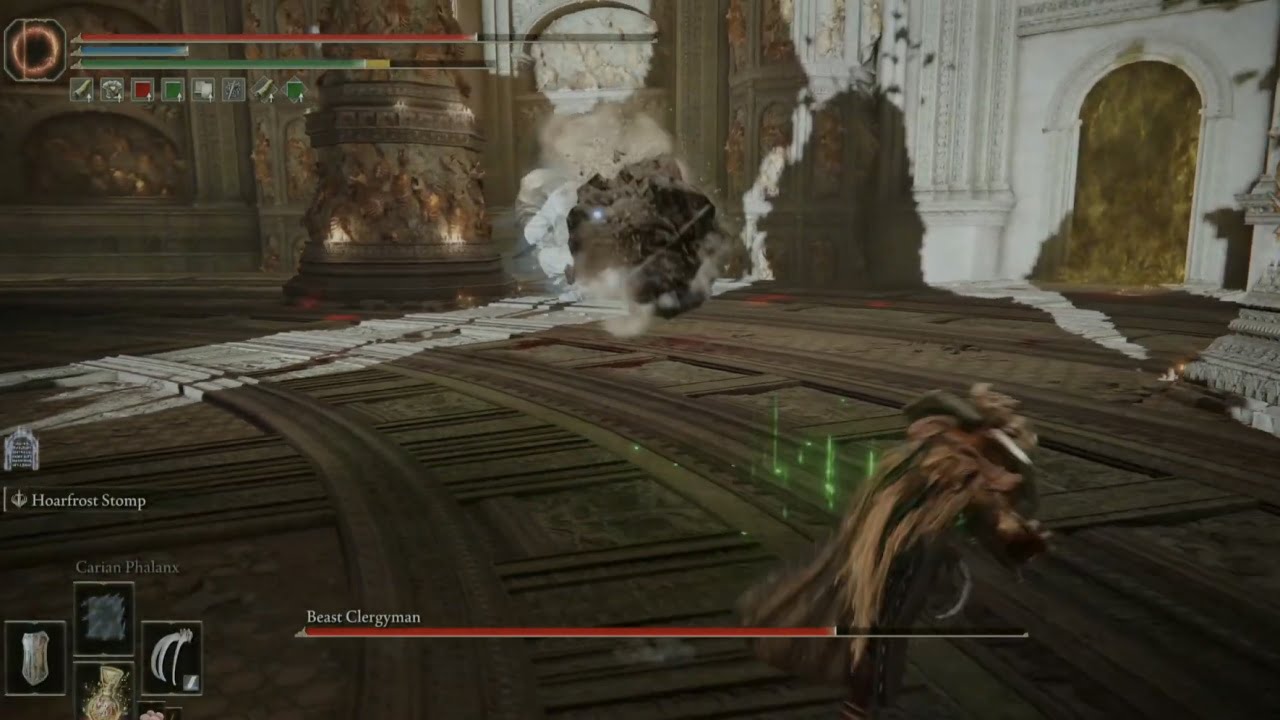 Quick Slash
He slashes forward rapidly and flips backward to create distance. It can be blocked by a shield or rolling on the side.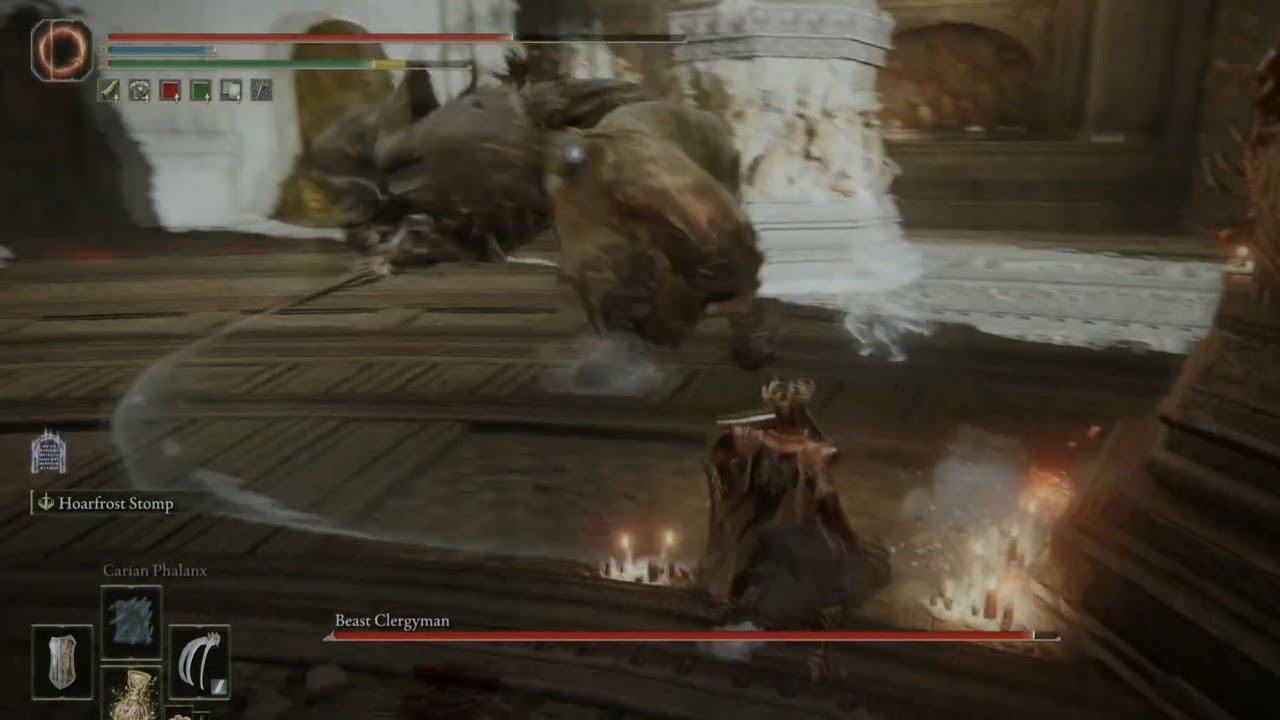 Sword Drag
He thrusts the sword into the ground and moves it from right to left. You can dodge it by sticking to his left hip and rolling towards the right side.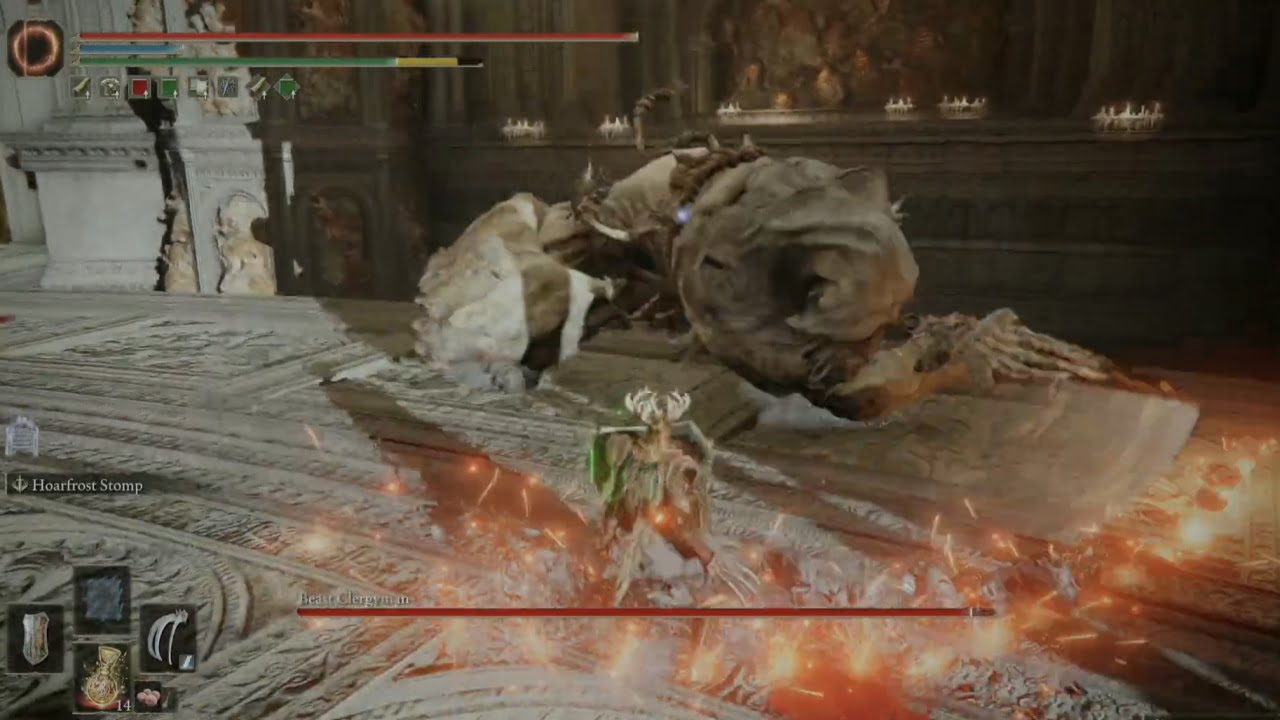 Gurranq's Beast Claw
This is a ground-based attack in which the boss slashes on the ground to emit beast claws that surround him. It is relatively easy to avoid this attack by jumping over the claws.
Slash and Stab
A quick stab, along with a slash from the boss, can be dodged by rolling or blocking it with a shield.
Phase 2
Flip and Slash
He swipes his sword at the player two times. To counter it, position yourself behind him to punish him as the assault ends.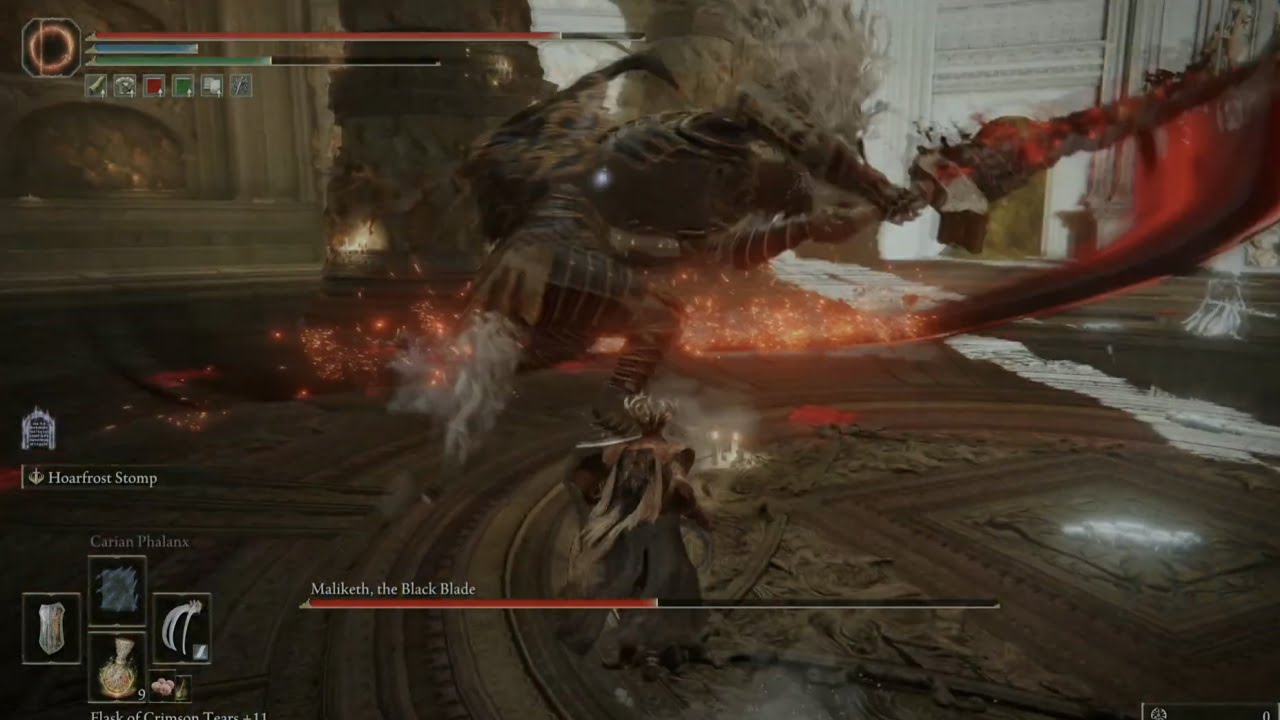 Piledriver
He jumps through the pillars in the air and then launches an AOE explosion after landing on the sword. You can easily dodge it by rolling through the initial slam on the landing and then maintaining a distance equal to 2 rolls. If you succeed in maintaining this distance before the AOE explosion occurs, the boss will act imprompt and perform two overhead slams and a flurry attack.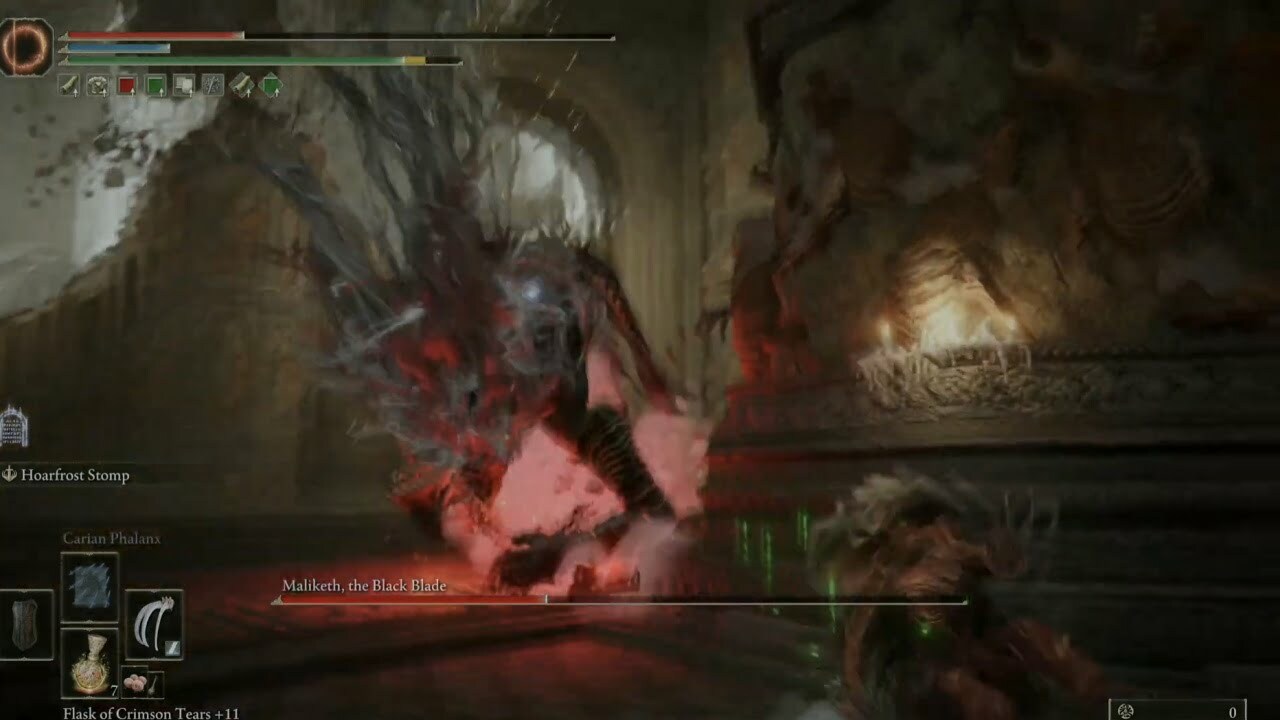 Black Blade
In this airborne attack, he backflips into the air and performs a slash in the player's direction, and the blades will start shooting out of the sword at high speed, which can deal critical damage. The blades might vary from 2 to 3, and the number of blades will determine what the boss does next. If the boss shoots out two blades, his black blade attack will end with an AOE Piledriver attack. On the contrary, the boss will perform a Double Spin attack if three blades shoot out of it. This attack demands perfectly timed dodges.
Once the boss slashes his sword in the air, you must wait half a second before dodging, then start counting the number of blades while avoiding them. If there are two blades, dodge the piledriver just like mentioned above. If three, you must roll toward him to escape the double spin attack. The second slash of the spin will not hit you because the boss himself moves while performing the attack. It is a good idea to avoid staying at large ranges because you might be unable to dodge the second spin attack. Or what you can do is use Blasphemous Claw to block this strike on the boss's fall.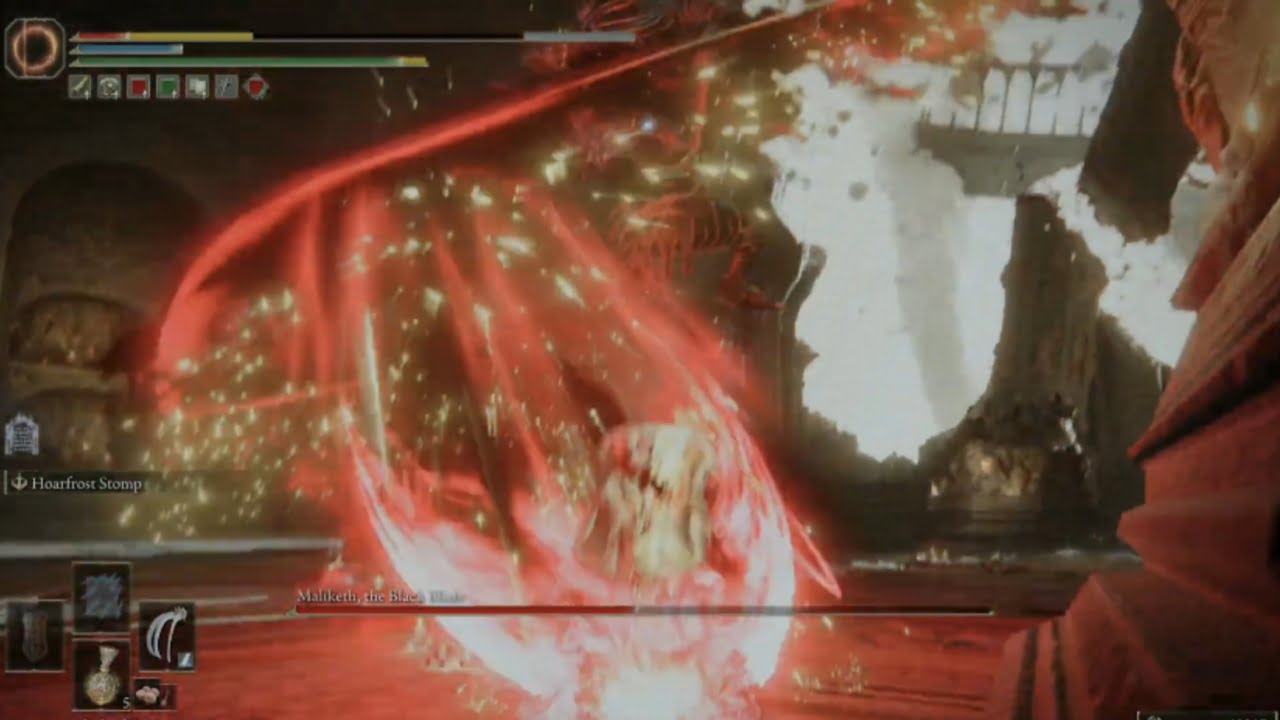 Quick Black Blade
He performs a quick flip with a single black blade which can be dodged by rolling through it.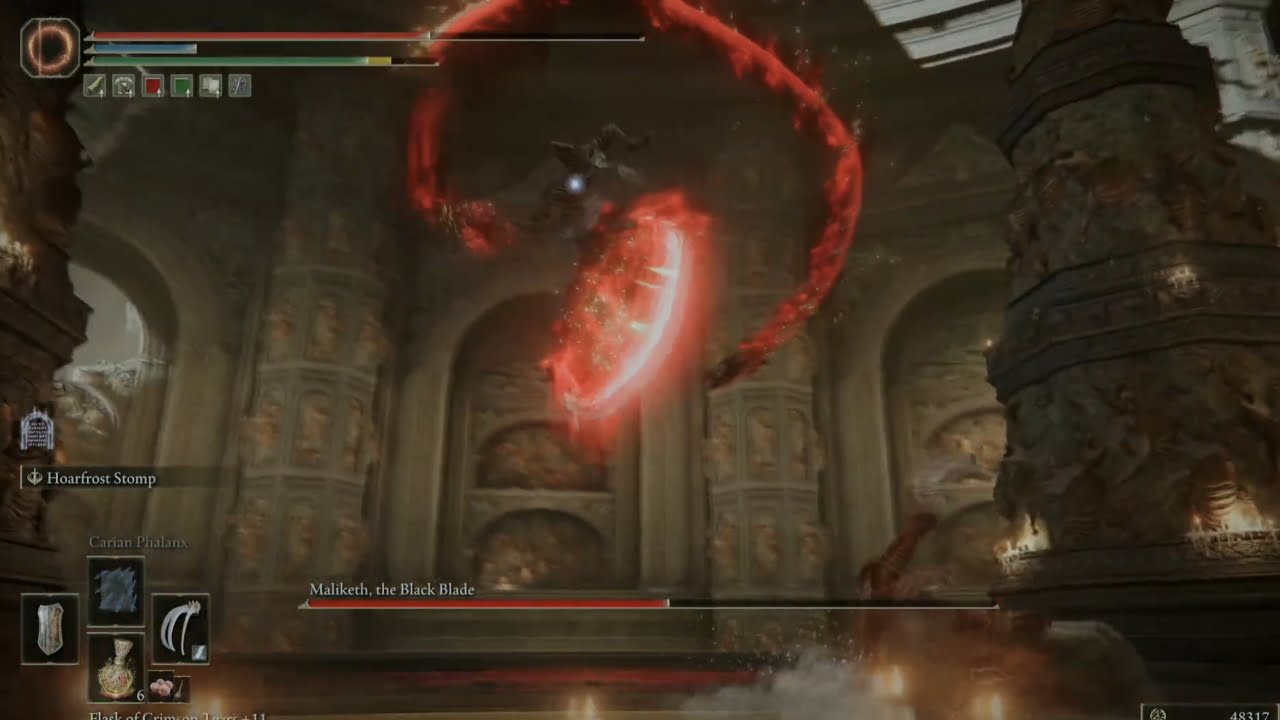 Roar
He performs a loud roar to push the player back a few meters. You can guard with the shield to reduce the impact, and no damage is taken.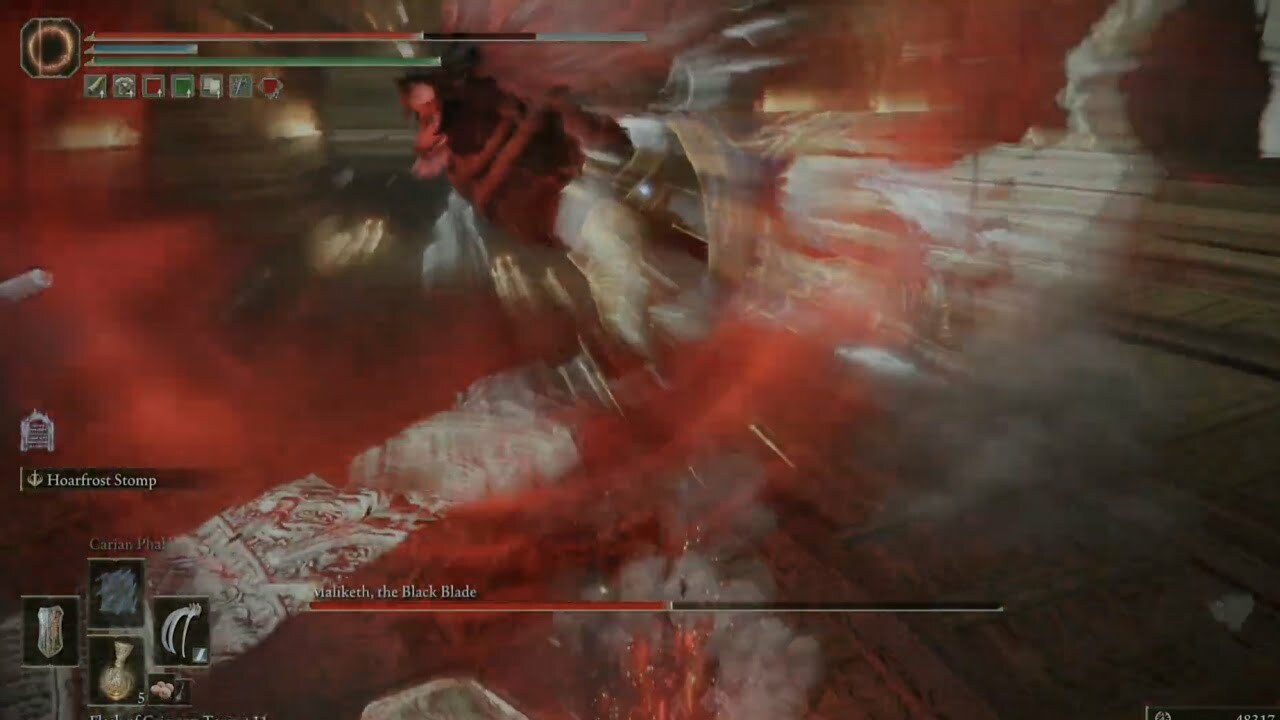 Destined Death
It is one of the deadliest attacks. He performs an overhead slam after slashing the ground. Roll to your right to dodge the swipe and get a few hits, and roll into his back to avoid the blow and carefully punish. It's wise to hold off on punishing him for a bit if he responds with a follow-up attack.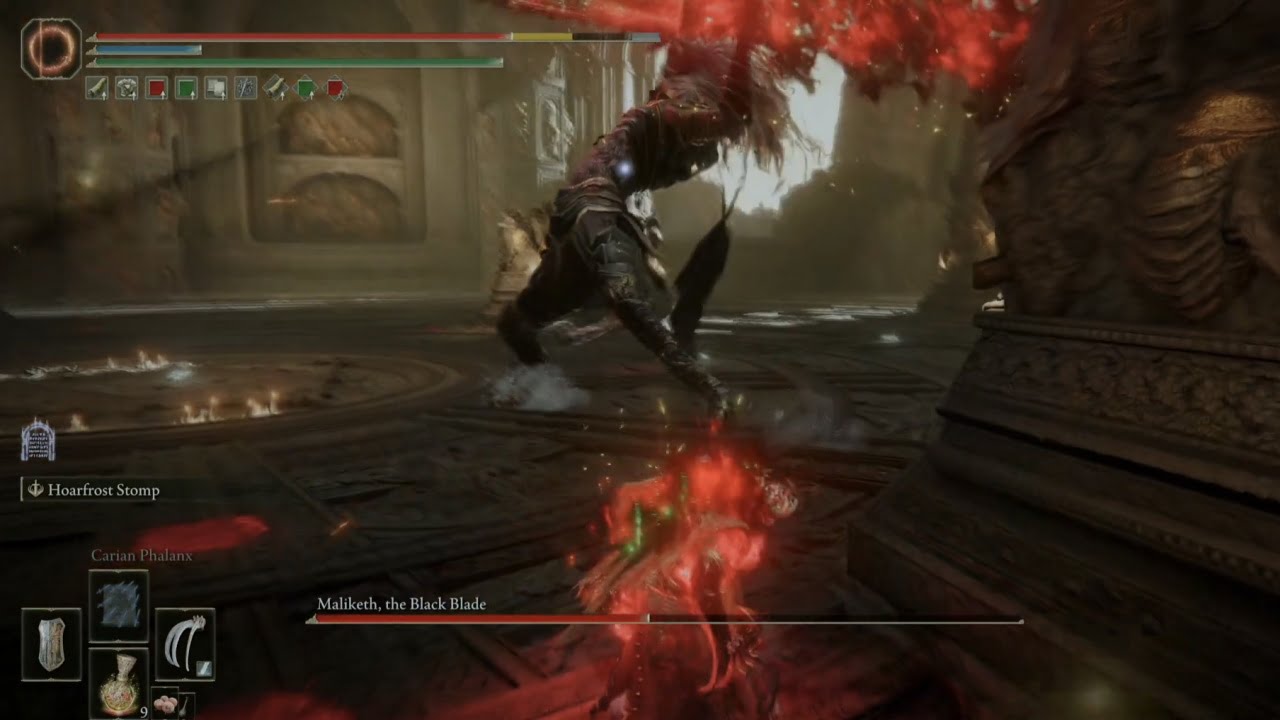 Destined Death (Follow-up)
A cloud of slashes is created as he moves forward, circling himself twice with the blade as he stabs the ground before him and quickly slices through anything in his path. When he is revolving the blade around himself, close the distance and try to get a few hits after dodging. If you get behind him, you can avoid the slashes.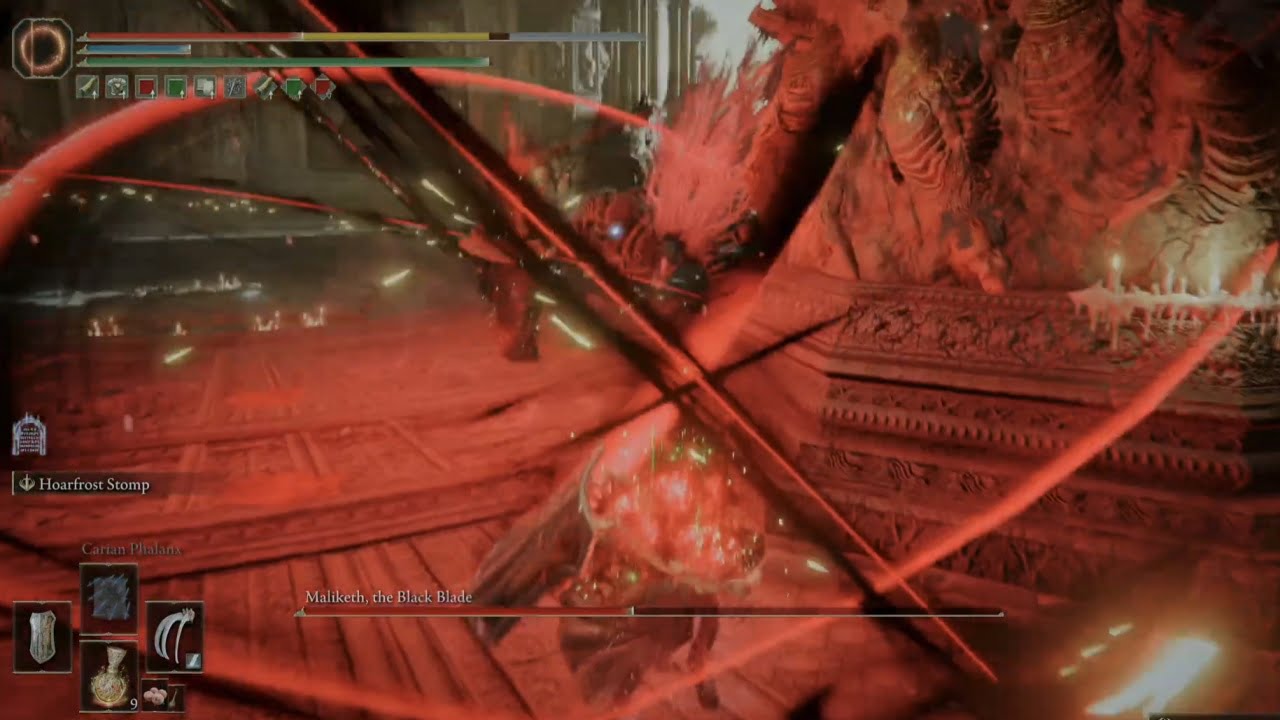 Double Spin
He spins twice with the blade in his hand, dodges the first spin by rolling, and for the second slash, time your rolls perfectly.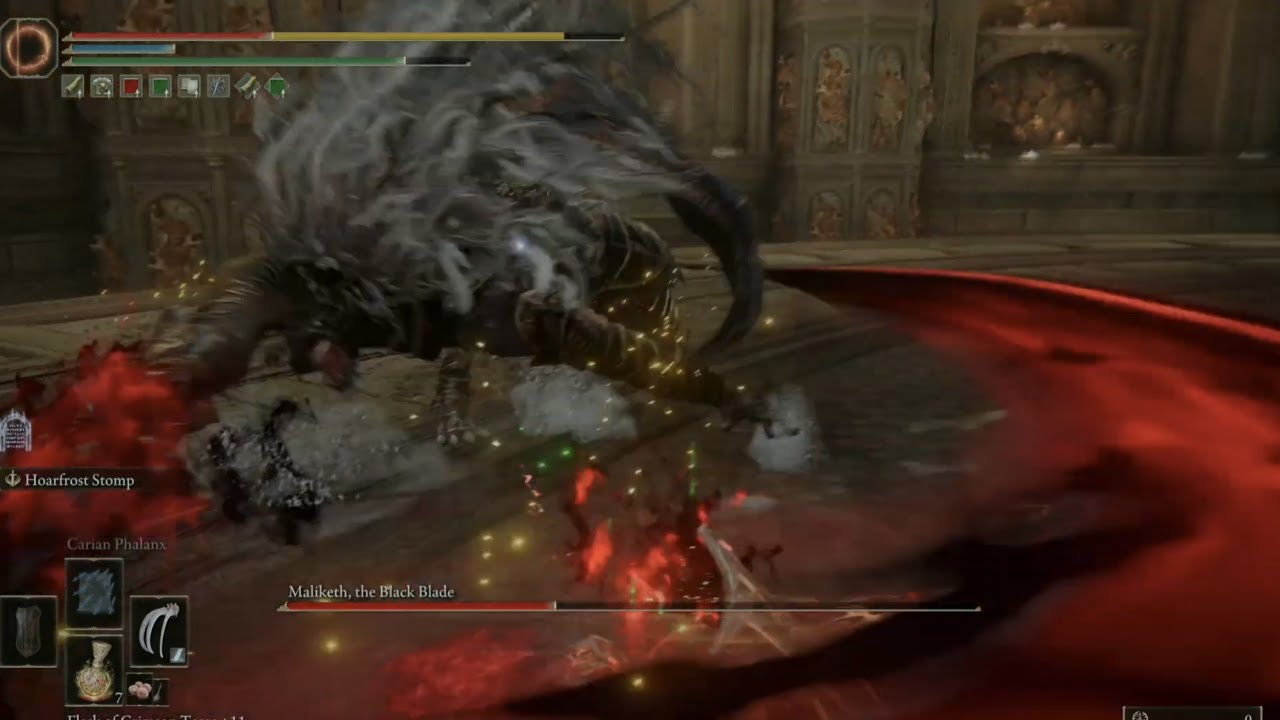 Blind Swings
He covers his eyes and performs blind swings after getting parried. Stay under him to avoid these slashes.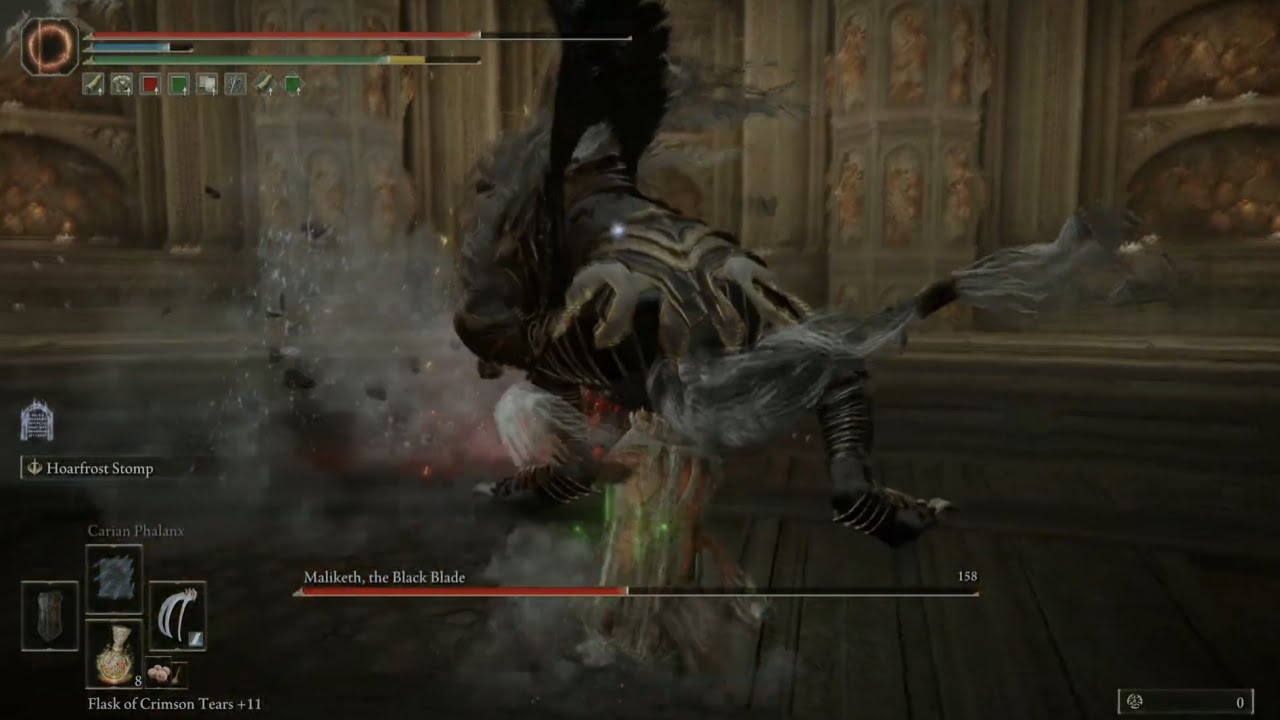 How to Defeat Maliketh, The Black Blade, Easily?
This fight occurs in a large arena with tall pillars and an open pit around the edge. After entering this room, you must immediately charge as fast as possible toward the boss, as you have an advantage in inflicting damage because of his long animations and strikes in a single direction. His set of attacks is avoidable and includes basic horizontal swings, and a few rock sling ranged attacks.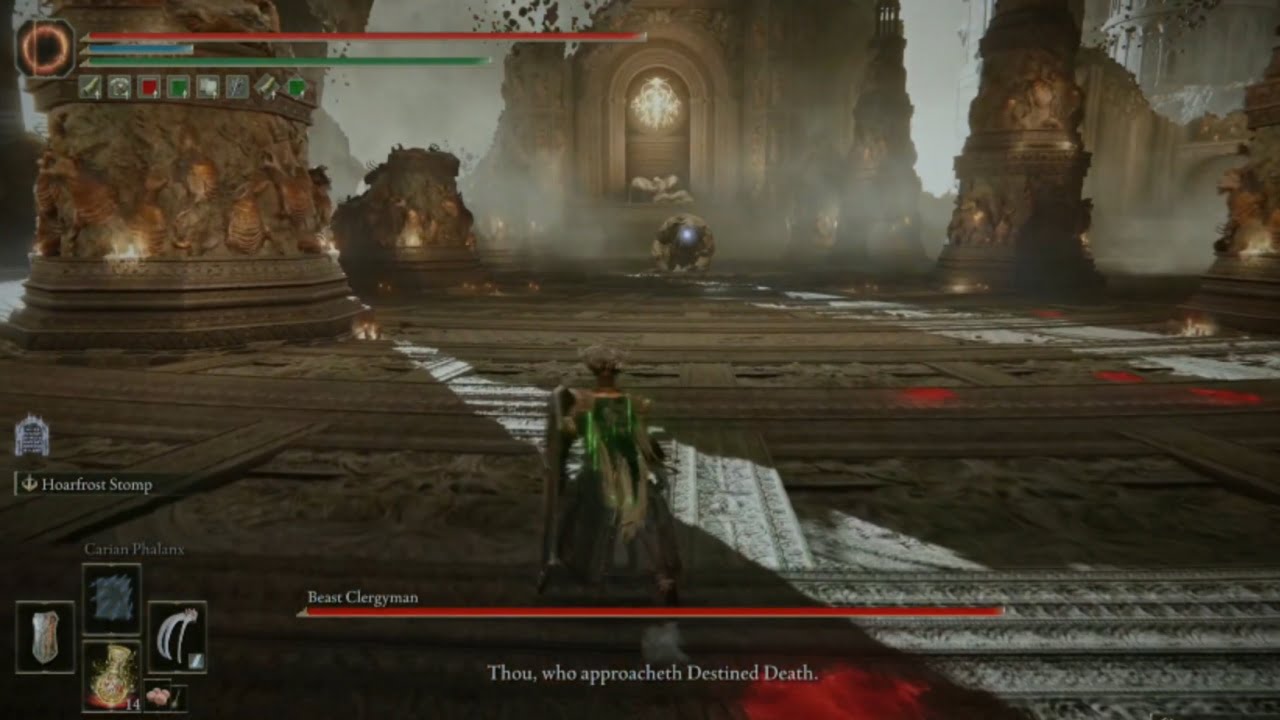 Moving onto the second phase, the boss will use the black blade, which, if attacked, will cause damage over time effect. Most of his attacks, like phase one, can be dodged by rolling under him. In this phase, the boss is uncertain and can fly with the help of the pillars in the arena; you can easily evade these airborne attacks. Several frontal cones Destined Death blows can be dodged at the boss's feet and from behind him. He poses the most threat when far away since he frequently uses ranged Destined Death attacks. As often as you can, close distance and advance.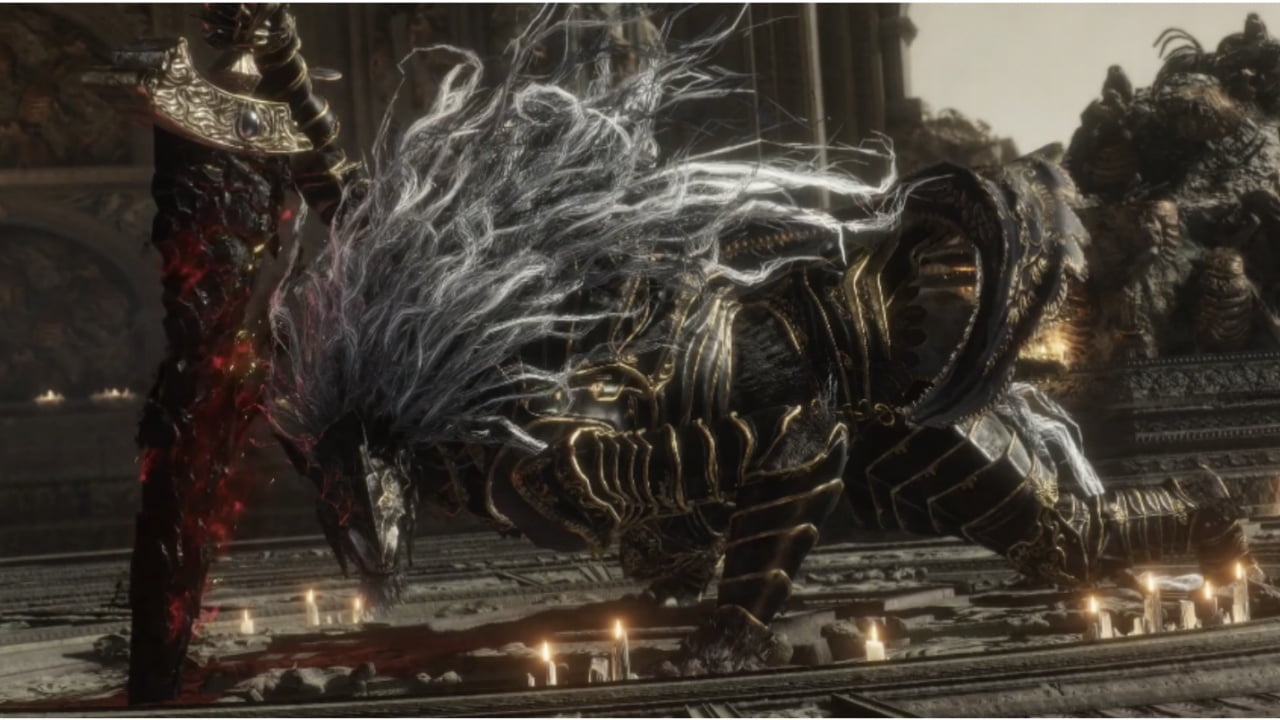 Melee Users
Using a shield to block the Beast Clergyman's dagger swipe can be a helpful tool, but when it comes to blocking his incantation, even the shields with 100% negation cannot entirely stop the damage from inflicting. When he plunges his dagger forward, you should roll through it, but it takes a keen observer to dodge the attacks that follow up. Sometimes he will step back and follow up with a Bestial Sling or a sideways dagger attack. His incantations usually start from him plunging his hand into the ground. They are slow projectiles, except the Bestial Sling, as it comes so fast that it takes precision to dodge.
A much more mobile phase of this boss is revealed as Maliketh, who gusts if the player decides to get in his close range or even rolls behind him. Usually, the boss's attacks have a damage over time effect which may not be a challenge, and not just that, but he can inflict the highest possible debuff of your HP. It can be devastating if the sword combinations get you close to death. It would be best to strike at close range and after he is done with flying attacks.
Note: If the boss's blades start glowing gold, it indicates that the attack can be parried with the Blasphemous Claw.
Magic and Ranged Users
Since the punishment window against the boss for ranged users is comparatively small, it is recommended to use incantations with slow recovery time and high speed, such as Lightning Spear or Night Comet. The boss starts by charging toward you, and if he is not a full sprint speed, you can inflict Scarlet Rot on him with Ekzykes Decay. If he is in full sprint speed, try creating distance using the pillars and the attack with long-ranging projectiles.
The second phase of the boss is a challenge for ranged users. You must only attack after dodging. If he is airborne, try not to cast any spells. You can use pillars to block his blade attacks, but it is necessary to maintain a distance from the pillar because the boss's attacks are so strong that they can inflict damage through it.
Rewards/Drops for Defeating Maliketh, The Black Blade
Remembrance of the Black Blade: It can be used to gain 30,000 runes or exchanged at the Two Fingers for Black Blade Incantation or Maliketh's Black Blade.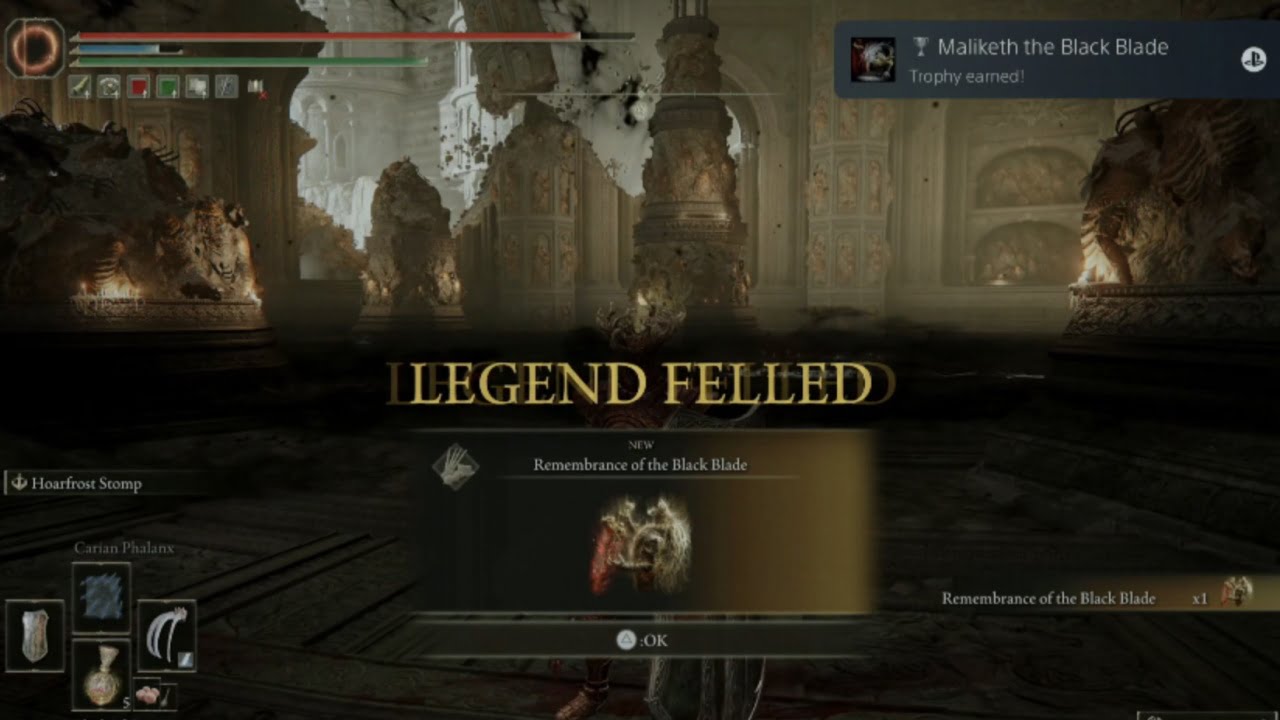 Frequently Asked Questions (FAQ)
Is Beast Clergyman and Maliketh the same?
Beast Clergyman and Maliketh are different phases of a single boss. Once you've given the Beast Clergyman enough harm, he reveals himself as Maliketh, The Black Blade.
Is Maliketh's Black Blade worth it? 
It is worth it, as it scales primarily with Strength, Dexterity, and Faith. It is an effective weapon for dealing holy-based damage.
Does Killing Beast Clergyman early in the game effects this boss fight?
Beast Clergyman appears as Gurranq in the game, and defeating him won't affect your quests and this fight with Maliketh. According to one theory, this could be due to Crumbling Farum Azula existing outside of time.