Just recently, news broke out that revealed many secrets of Microsoft regarding their plans to launch an Xbox Series X. Codenamed "Project Brooklin," a cylindrical unit boasting 2 TB storage and a completely redesigned controller. Thanks to the FTC vs. Microsoft trial, fans now know that Series X will launch in October 2024; unfortunately, to the demise of fans' excitement, this cylinder will not support a CD tray.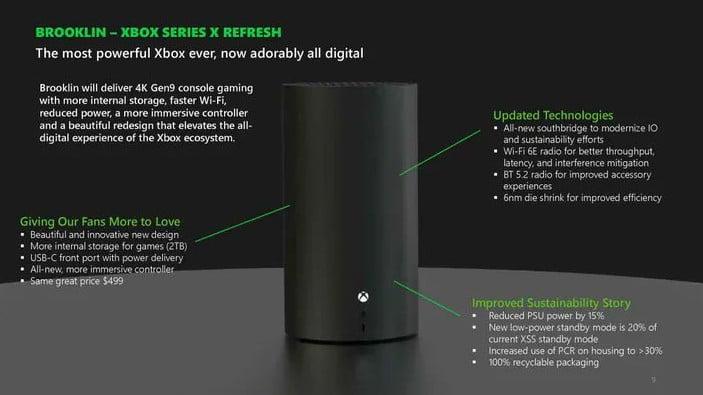 It is set to be priced at $499 and is described as the most powerful Xbox ever. Besides its cylindrical shape, it has the same singular USB-C port at the front and a logo power button. According to the documents, the new Xbox will deliver 4K Gen9 console gaming with faster Wi-Fi and reduced PSU power by a massive 15%. They have targeted reducing interference by upgrading to a Wi-Fi 6E radio and a BT 5.2 radio for a better accessory experience. They also boast a new low-power standby mode 20 percent of the current Xbox Series S.
Codenamed "Sebille," plans for a new controller were leaked in the documents and are said to be more immersive than ever. You can dive deep into the game with VCA haptics that also doubles as speakers, quieter buttons and thumbstick, and a new accelerometer with precision haptic feedback. It is claimed to have Bluetooth 5.2 and features Direct-to-Cloud capability.
It includes some app features that allow you to see and manage the connected devices and focus on environmental sustainability by continuing the rechargeable and swappable batteries. The controller will remain in standby mode unless you raise it to wake it; this will save you the effort of continuously replacing the batteries.
The console may be a good option, considering it will be the same price as its base model. What are your opinions about the design of the new Xbox? Are you excited about its launch?