Illusion Bamboo is a remote Island full of illusions and trickery, covered with Bamboo all around. It is also a training place for Zinnervale, who does challenging trials given by his master Shandi.
Illusion Bamboo Island Location
Illusion Bamboo Island is located at the bottom-left corner of the world map and right in the center of the Seeker's Sea. The most convenient route is to start sailing from Punika in the southwest, the nearest continent to the Island.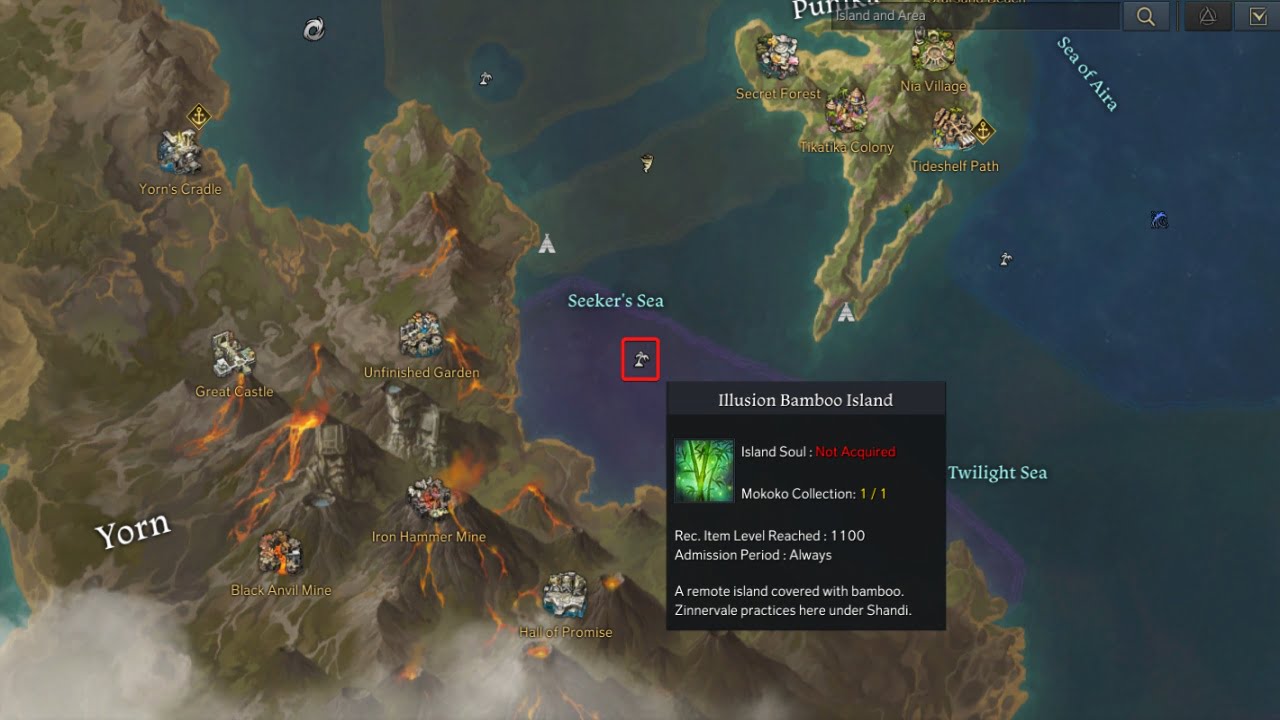 Requirements
Recommended Item Level is 1100
A Strong-Resistant Ship is required as the Island is located directly in the Siren Seas (Hazardous)
Forest Minuet song will be required to obtain Mokoko Seed from this Island
How to get Illusion Bamboo Island Soul/Token
Illusion Bamboo Island Soul/Token can be obtained by reaching the Trusted Rapport level with Zinnervale.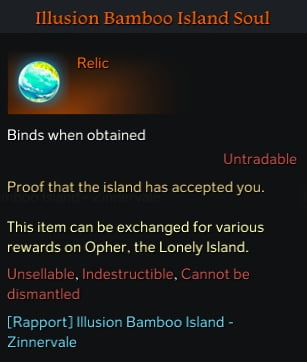 Illusion Bamboo Island Questline
Trapped in the Trial
When you enter the Island, the first thing you see is a Crumpled Note on the ground. Interacting with it starts your first quest, Trapped in the Trial. In this quest, you must find Zinnervale, which is located just ahead. After talking with Zinnervale, he will explain that he is stuck in the Trial along with you, and then you have to search about Shandi's Trial. While Exploring, you find a mysterious stone that turns into a portal. Stepping into that portal and talking with Zinnervale concludes this quest.
Rewards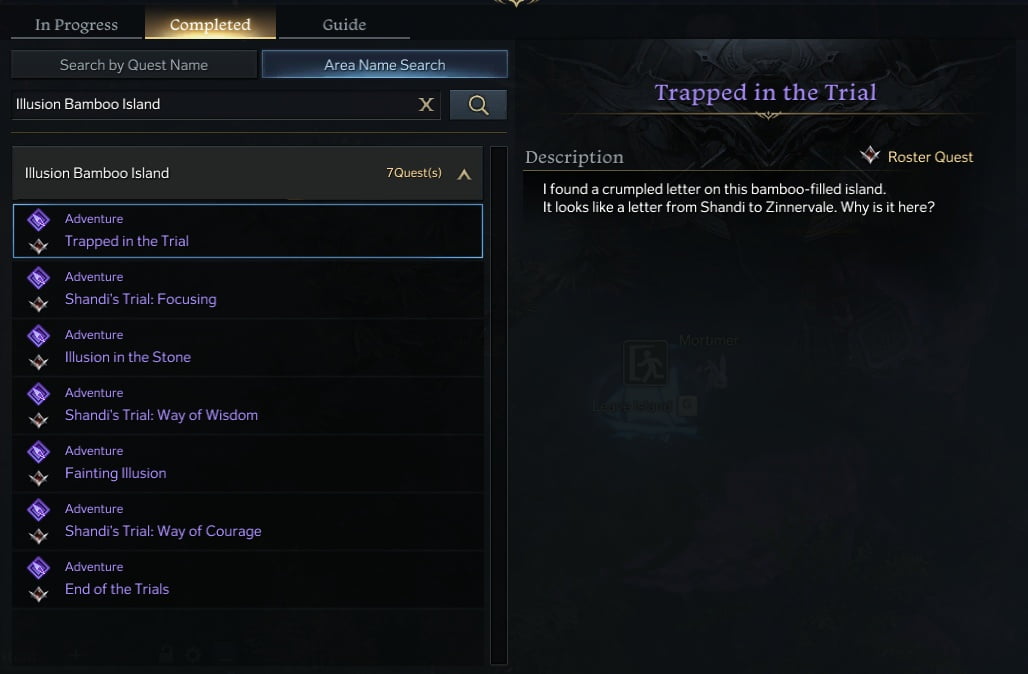 Shandi's Trial: Focusing
Advance toward the Illusion Manor created by Shandi to increase Zinnervale's focus. The first phase of the manor will be operating machines, defeating Focus Destroyer Mini-Boss, and clearing your way to the next stage. The next phase will be finding five real Shandi in many of his illusions; You receive a photo of a real Shandi's appearance to find them easily. After this task, Shandi will leave behind a Bamboo Twig, and another portal will open up to make your way back to Illusion Bamboo Island. Talk with Zinnervale to conclude this quest.
Rewards
Destruction Stone Crystal (Bound) x80
Guardian Stone Crystal (Bound) x250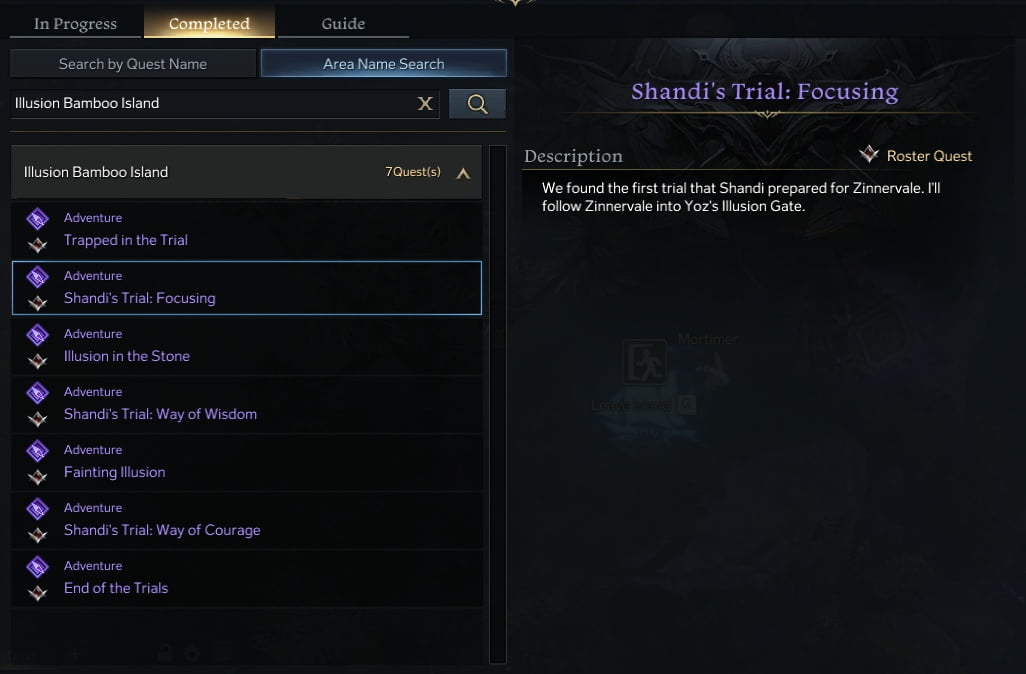 Illusion in the Stone
Use the Bamboo Twig you receive from Shandi on the Barrier stone to weaken the barrier around the Island. Find another Mysterious Stone to open a new portal for another Shandi's Trial, enter that portal, and talk with Zinnervale.
Rewards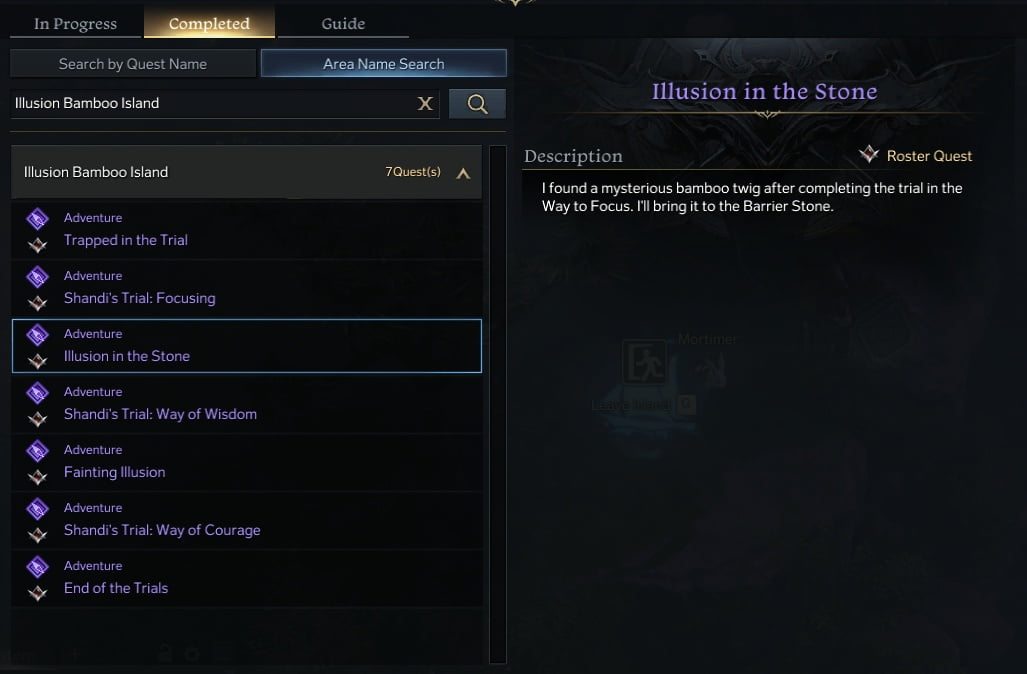 Shandi's Trial: Way of Wisdom
The last Shandi's Trial was for Focusing; this one is made explicitly for Wisdom. Fight through all the Demonic creatures you face as you move across this dungeon. The first phase will be blocking off the holes from where demons are coming out, but blocking them is a bit of an issue as they keep spawning, and you have to pick a giant rock to block that hole. It's better to defeat all the nearby enemies and cover the holes as soon as possible. The second phase is to lure the self-destructing demons toward the big rock and make your way through to claim the second Bamboo Twig.
Rewards
Honor Leapstone (Bound) x15
Fainting Illusion
Use the second Bamboo Twig on the Barrier stone and advance to find the third Mysterious Stone for another portal.
Rewards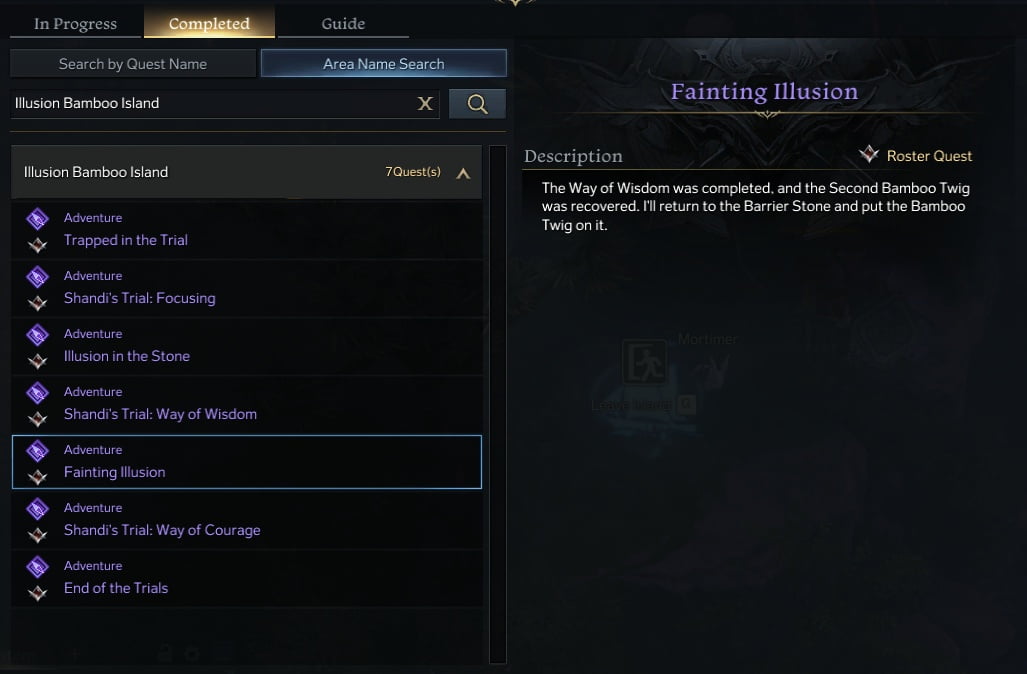 Shandi's Trial: Way of Courage
This Trial is an Illusion of Temerity boss fight to test your courage. The boss is a bit challenging for under-leveled players as his AoE attacks seriously damage the player. It performs rapid charging attacks, which are hard to dodge. The most straightforward Strategy to beat Temerity is Hit and Run; use your most single-targeted high-damage ability and dash away to a distance.
There is also a second phase of the boss. No matter what you do, he will do a high-damage attack to knock you out, which will trigger a cutscene where Zinnervale gives him a finishing blow. After defeating the boss, the last Bamboo Twig can be obtained, and claiming it finishes the quest.
Rewards
Solar Blessing (Bound) x5
Solar Protection (Bound) x2
End of the Trials
Use the last Bamboo Twig on the Barrier Stone to make the barrier around the Island completely disappear. This finishes your main quests for Illusion Bamboo Island.
Rewards
Honor Leapstone (Bound) x20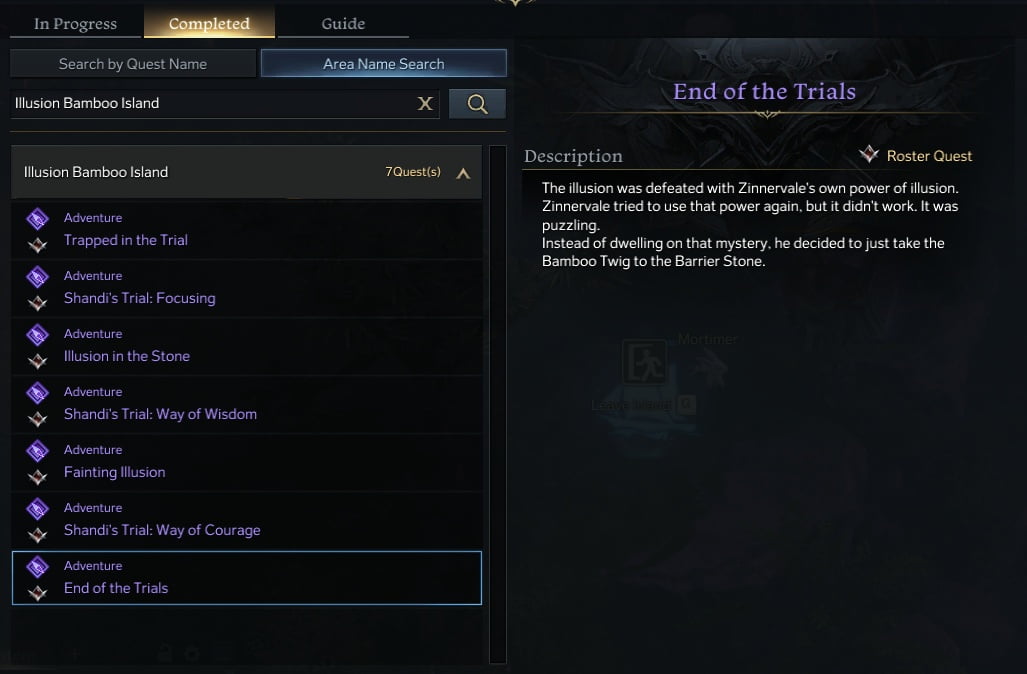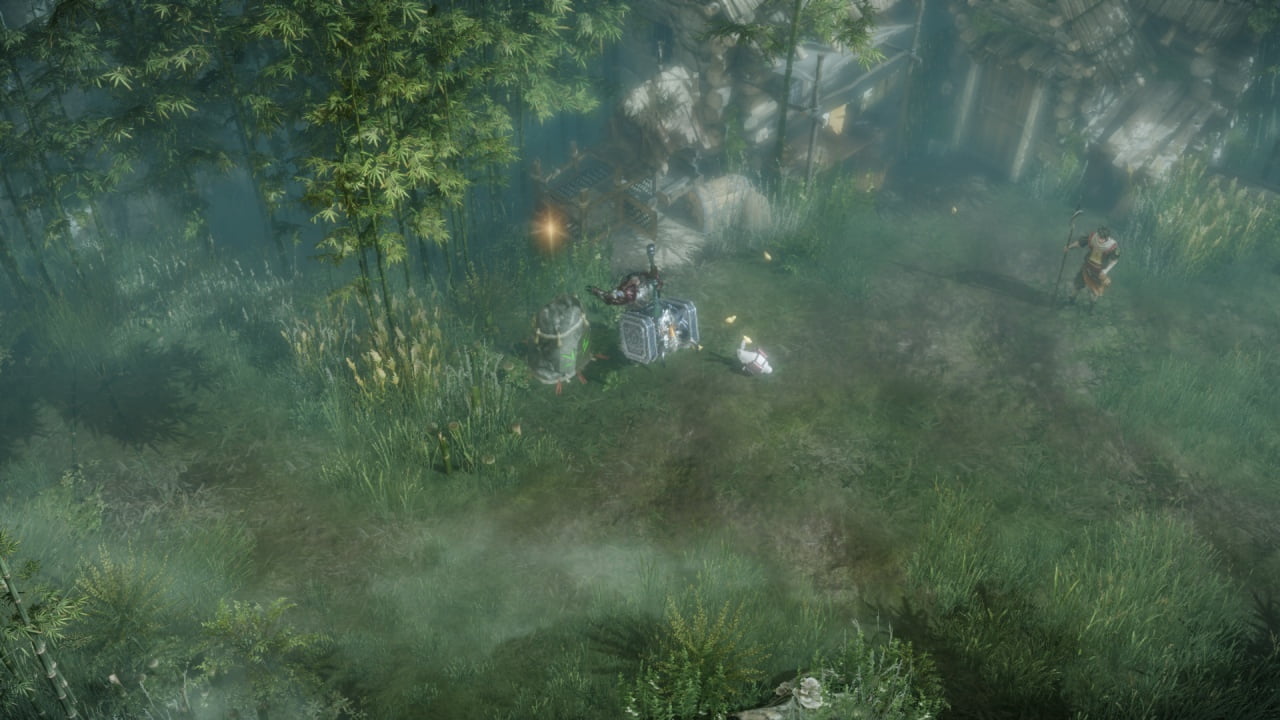 Zinnervale Rapport Quests
To Unlock Zinnervale's rapport, you must complete all Illusion Bamboo Island quests and possess the following Virtues.
150 Courage
150 Charisma
330 Courage
330 Charisma
Note: These requirements will change as you advance in rapport progression.
Letter in Waiting
This is the first rapport quest obtained by Zinnervale. Firstly, verify if Zinnervale has received a letter, then return it to him. Go with him near the sea to start catching fish, focus harder on getting one before Zinnervale, and deliver it to Shandi. Return the fishing tool to Zinnervale and grab the letter that was left behind by him, then tie it to Pegion for delivery to end the quest.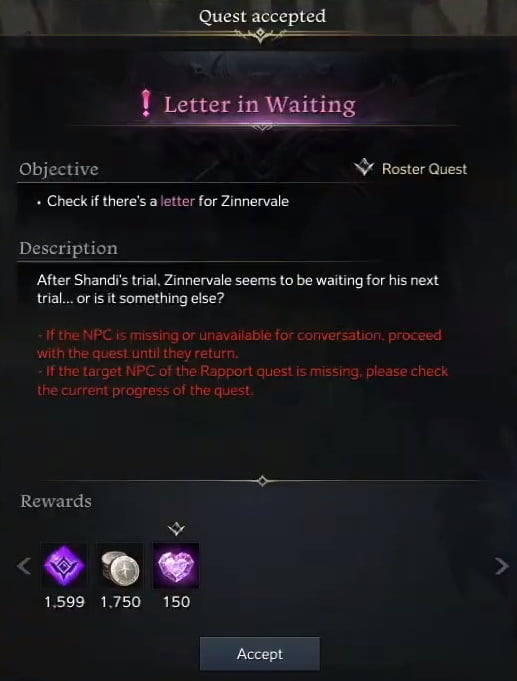 Lovesick Fools
Start this quest by interacting with Zinnervale. Talk Shandi into making medicine by persuading him and speak with Zinnervale again. Go to Sakeel's home for the medicine on Rattan Hill in Changhun afterward and stop by the fishing spot nearby. While fishing, he will tell you a funny story which, in the end, will force you to use the Sad emote. Return to Illusion Bamboo Island later and read the fallen letter while talking with Zinnervale to finish the quest.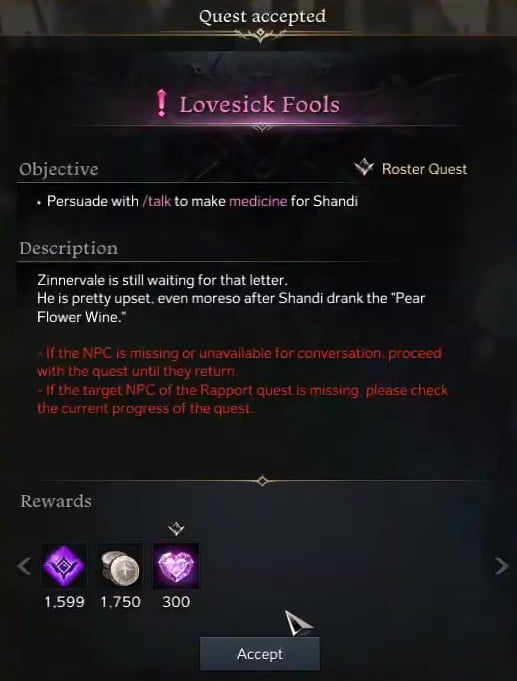 Healing the Pain
Examine the letter in the ash carefully and find the missing Zinnervale in different locations. To locate him, go to Azure Wind Island for clues. You will find him injured there, find and spread medication (herb) for his wounds. He will invite you to spar with him, battle against him. After winning, comfort him and return to Illusion Bamboo Island.
Love and Friendship
This last quest requires traveling to Liebhiem. Find Zinnervale's lover there by looking at the ladies. conversate with the kind lady and speak to Zinnervale again, who is vanished. Return to Illusion Bamboo Island and listen to his whispers, then use the Cute emote near Shandi to end the quest.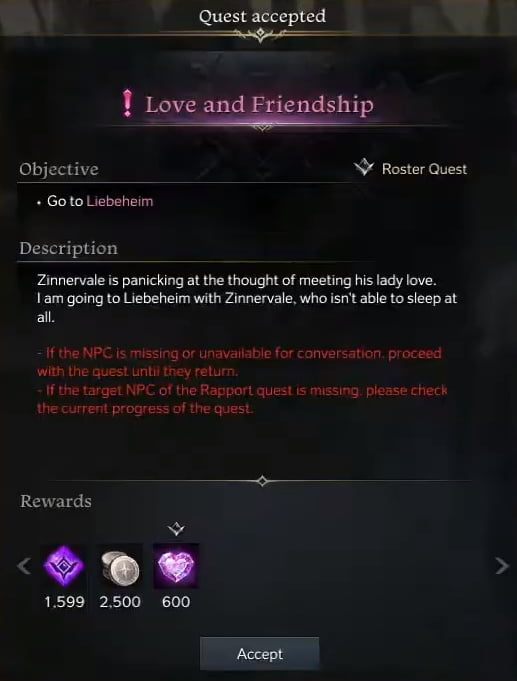 Bamboo Forest Spring Water is a hidden achievement located at the top corner of the map, which can be obtained by drinking water from the spring.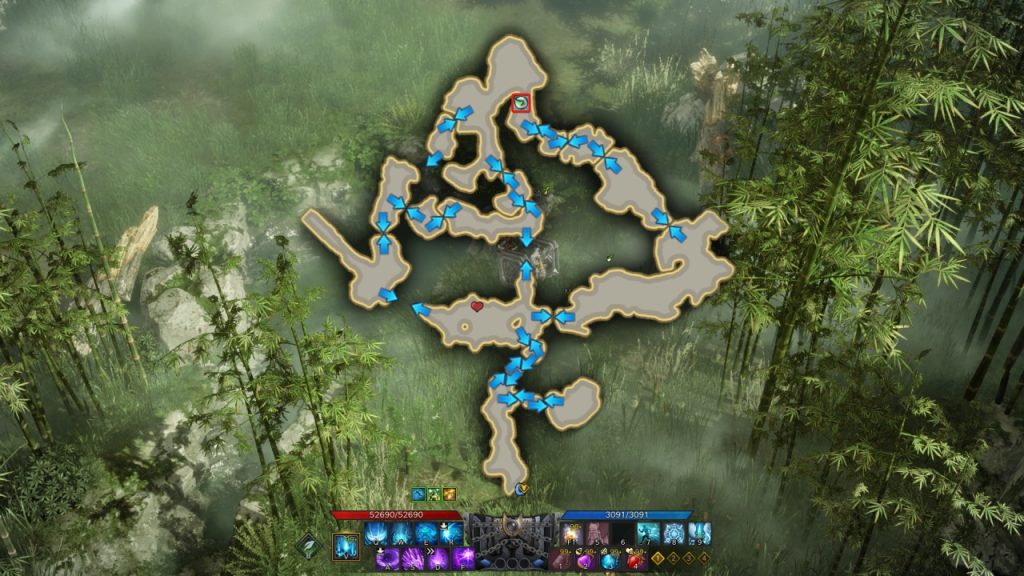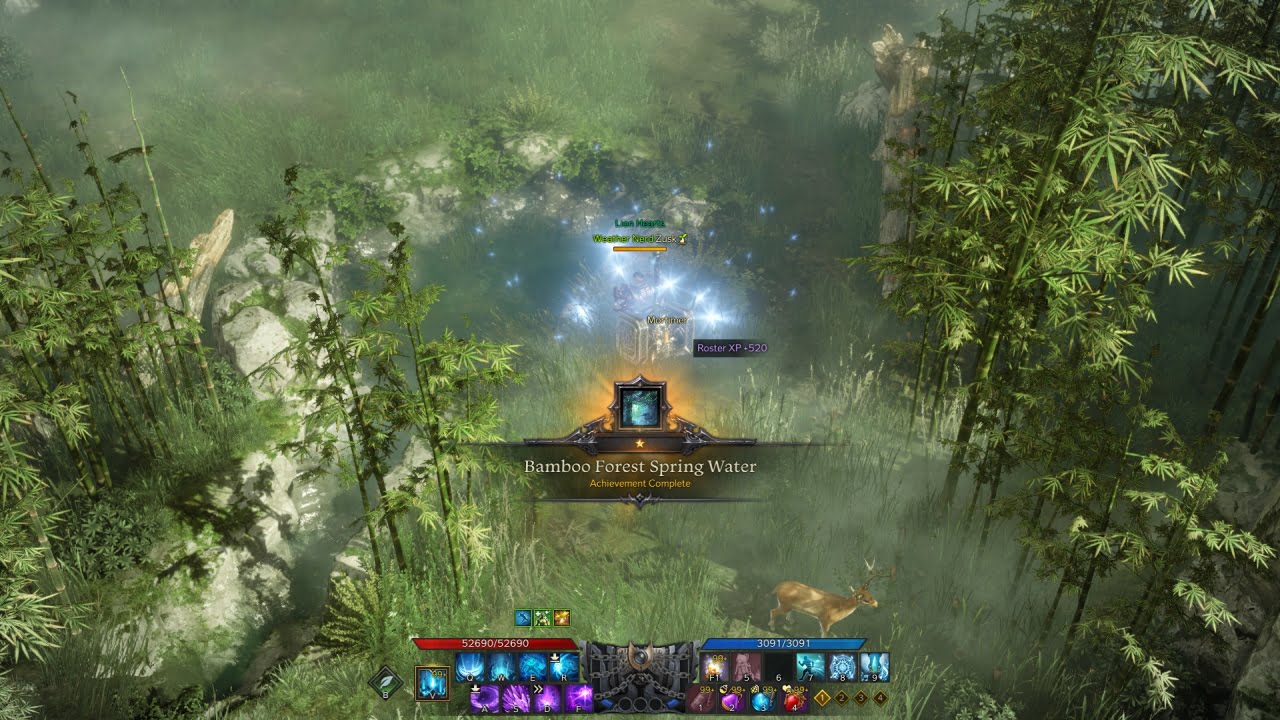 Illusion Bamboo Island Mokoko Seeds Location
Mokoko Seed #1
There is only 1 Mokoko Seed found in Illusion Bamboo Island, but you have to play Forest Minuet in the marked location to obtain that seed. After unlocking the secret area, you can find Mokoko Seed hidden behind the curved tree.