If you yearn for peace from the War Seas in Arcane Odyssey, you can start fishing, unlocked early in the game. It is one of the most common activities, with perks that include trading the fish caught for Galleons, making your time spent worth it. Arcane Odyssey's oceans have a massive variety of 86 fishes, most of which are limited to some regions and others exclusive to a specific body of water.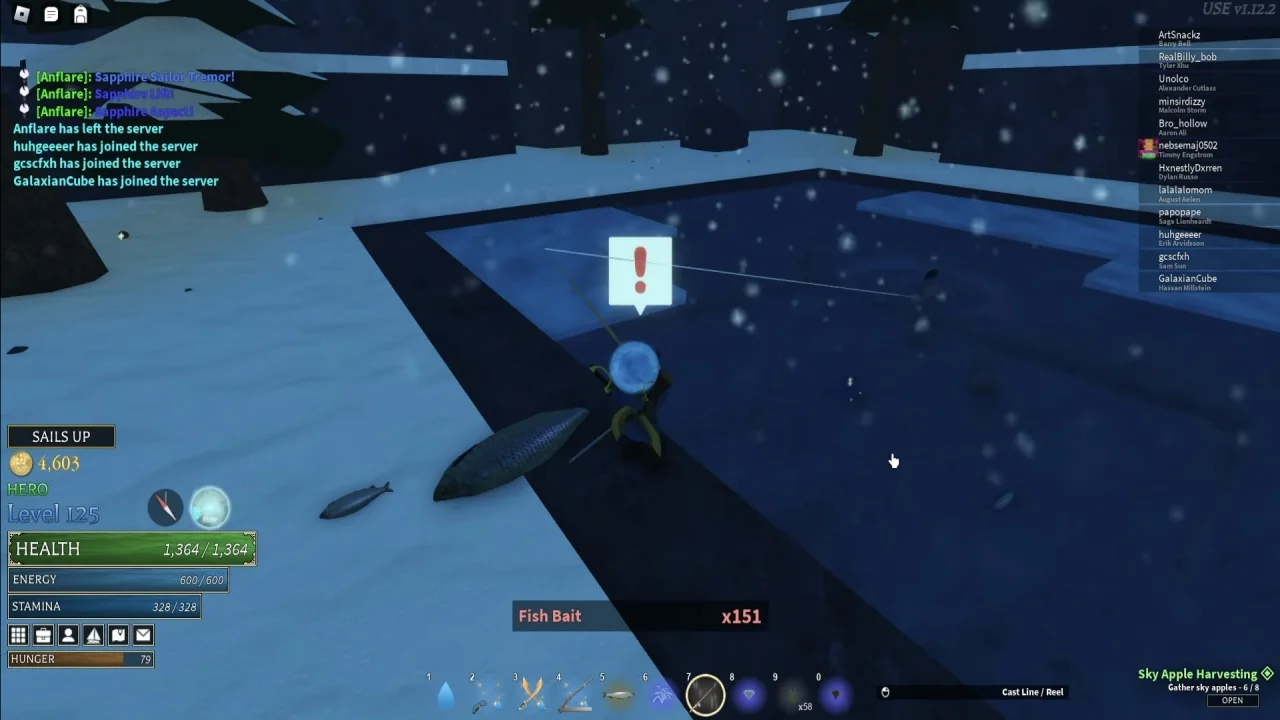 The mechanics to pull off this activity are complicated for many, so we will cover everything you need to know to start fishing.
What Items Are Required for Fishing?
To start fishing, you must have a fishing rod and a bait. Follow the guidelines below on how to get them.
Fishing Rod
At the start of the game, you will travel to Redwake through the rowboat and save the town from the pirates, upon which the Chief of the city will instruct you to help the people at the Redwake Harbor. There, you will find the NPC named Audbjorg standing near the body of water, indicated by a green question mark on his head. Upon interaction, he will give you your first fishing rod and assign a quest to catch five fish.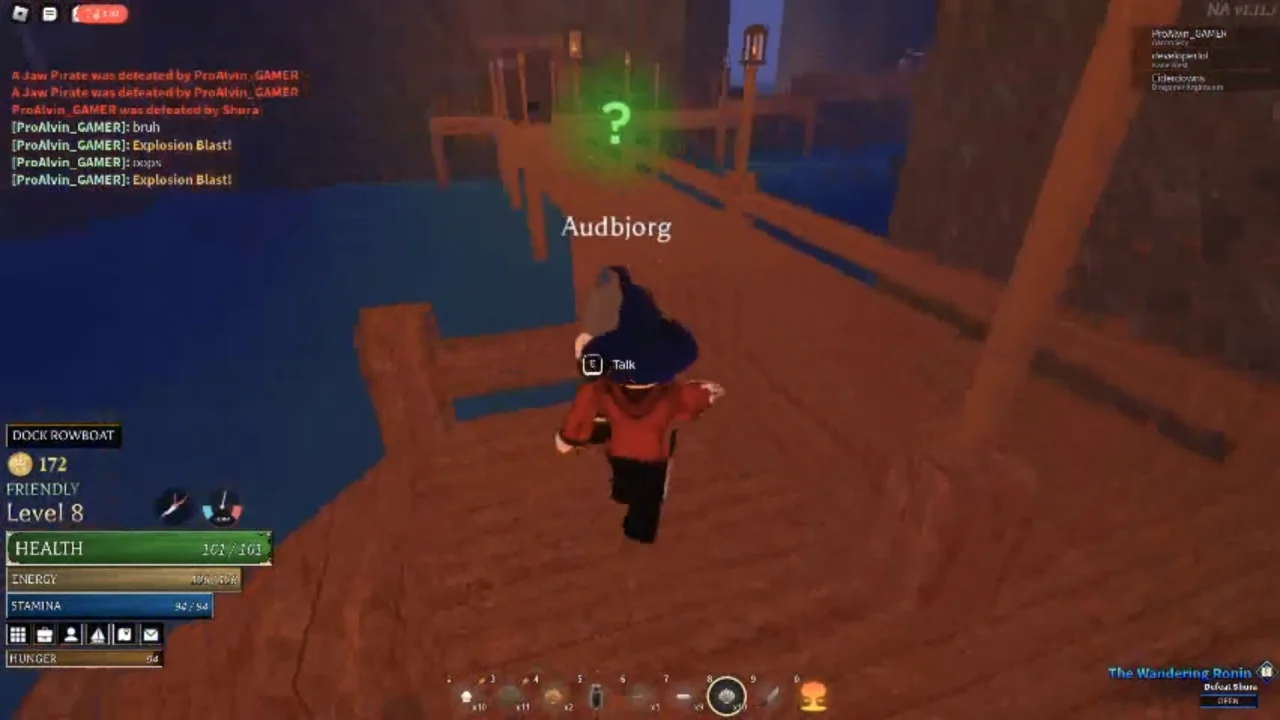 As the story progresses, you will find many other fishing rods from the Sailor Chests found on the map. Once you get a better fishing rod from these chests, you can sell the previous one for some Galleons.
Another way to get a better rod is by buying them from the fishmongers. You can only buy the unlocked fishing rod according to your game level. The different fishing rods and their unlocking level is given below: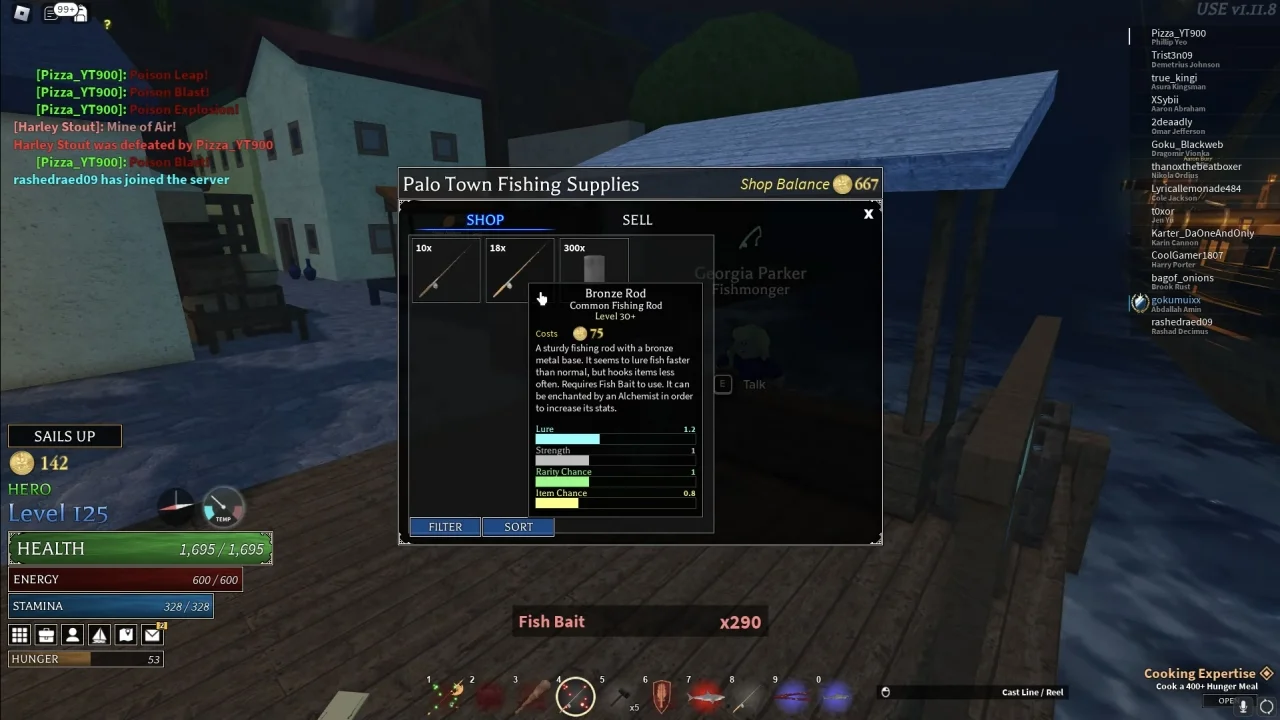 Wooden Rod: Available for purchase after you unlock fishing.
Bronze Rod: Available for purchase from the fishmongers in Palo Town only when you reach level 30.
Collector's Rod: Reach level 50 or above to buy this rod from the fishmongers in Shell Island.
Fishing Bait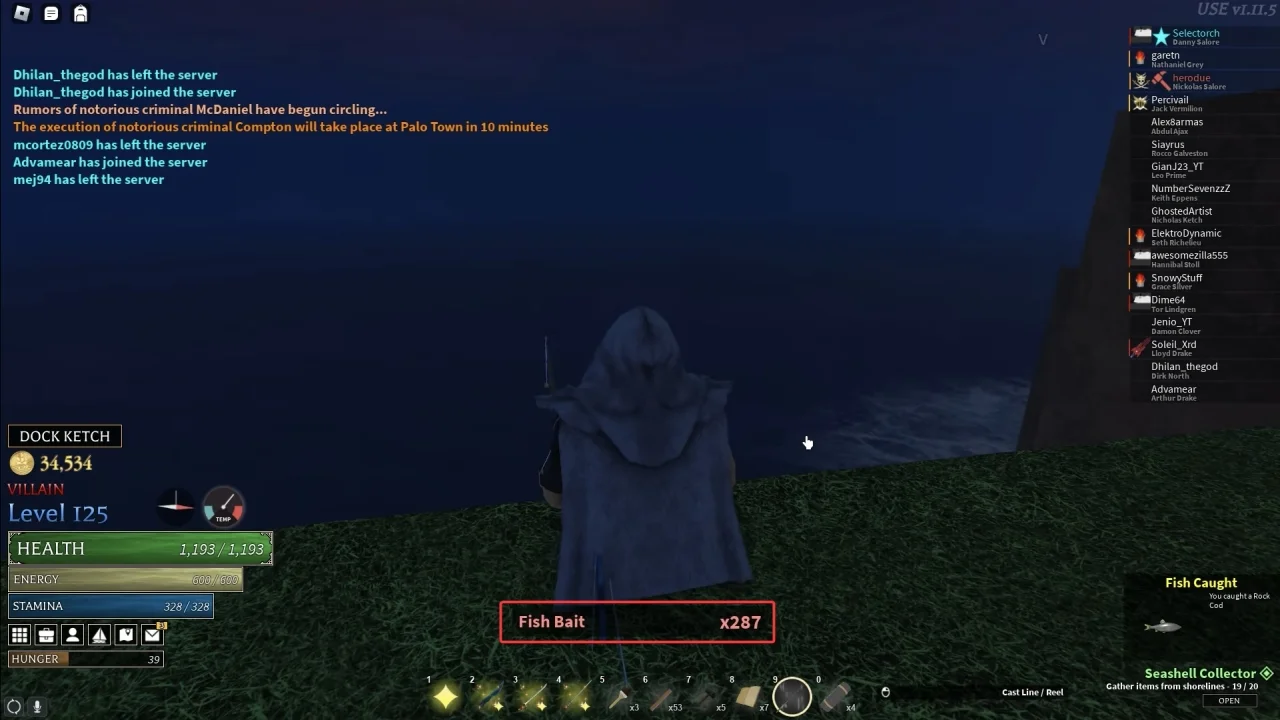 When you interact with Audbjorg, he will also provide you with a few baits that are consumed with every fishing attempt.
The second way to get bait is by opening as many Sailor Chests as possible. They have an 8% chance of being found in a chest.
The last way to get bait is by buying them from fishmongers for 3 Galleons. They will not sell you anything if you have a bounty, but you must find the criminal fishmongers on Whitesummit Island to get bait.
How to Start Fishing?
Once you have gathered all the required items, equip the fishing rod in your hand and cast it out into the water. Now, all you need to do is wait until a fish takes the bait, which will be indicated by a question mark on his head. Whenever it dies, start spamming the left button of your mouse to catch the fish, or it may escape your hook.
The number of clicks you need to spam depends on the fish's size and rarity. If you are successful, the fish will appear in your inventory.
Note: Once you catch a fish, it will only be safe until the next 16 real-life hours. After that, the fish will rot and turn into bones and scales, so you must decide to sell or cook the fish you have caught.
Tips and Recommendations for Fishing
Before you start fishing, here are some tips to enhance your fishing experience.
Utilize the Fishing Journal: If you head to the Main Menu, you will find a tab named "fish." Accessing it will lead you to a fishing journal with information about every fish you can catch in the game. If you hover over a fish, it will display all the information you need to grab it, like where it can be fished. Once you catch that fish, it will not be grayed out anymore in the journal.
Focus on Fish Details: Some fishes can only be found in warm or cold water ponds, and some at a specific time, like day or night, so stay focused on the details of the fish and their regions.
Don't Fish in a Moving Boat: You can cast out your fishing rod while it is moving, but it will only cause it to stretch out and break, so remember to stop the boar before you start fishing.
Complete Fishing Quests: If you are going to fish, it is better to take a quest from the Sailor's Lodge Island to level up while enjoying this activity.
Earn the "Expert Angler" Title: Unlock all the fish in the fishing journal to get the in-game title, "Expert Angler."
This was the complete guide to fishing. Now cast your fishing rod and start fishing to make some money.
FAQs
What enhancements are available for fishing rods in Arcane Odyssey?
You can use one of four enhancements for your fishing rod. Each enhancement increases its respective statistic by 0.25. The enhancements are:
Sturdy: Enhances the Strength statistic of the rod and reduces the number of clicks you need to pull the fish.
Luring: Enhances Lure statistic to reduce the waiting time for a fish to take the bait.
Magnetic: Increase the Item Chance statistic to catch more items than fish. It is best paired up with Collector's Rod to get the optimal Item Chance stat.
Lucky: Used to increase the Rarity Chance Statistic, which allows the player to net more rare and uncommon fish.