As you delve into the world of Elden Ring, you will come across a myriad of Tarnished characters, some of whom are friendly while others seek to end your life. Among them is Roundtable Knight Vyke, an optional but powerful boss. He is known for his potent blend of Madness and Dragon Incantations, which he unleashes upon his foes with proficiency. Furthermore, he possesses a Flask of Crimson Tears, enabling him to replenish his health to its total capacity, making him significantly harder to defeat.
Roundtable Knight Vyke Locations
Roundtable Knight Vyke is a formidable foe that the player will encounter in Lord Contender's Evergoal on the Mountaintops of the Giants.
The variant "Festering Finger Vyke" will invade you while advancing through the way to the Church of Inhibition in the northeastern part of Liurnia of the Lakes.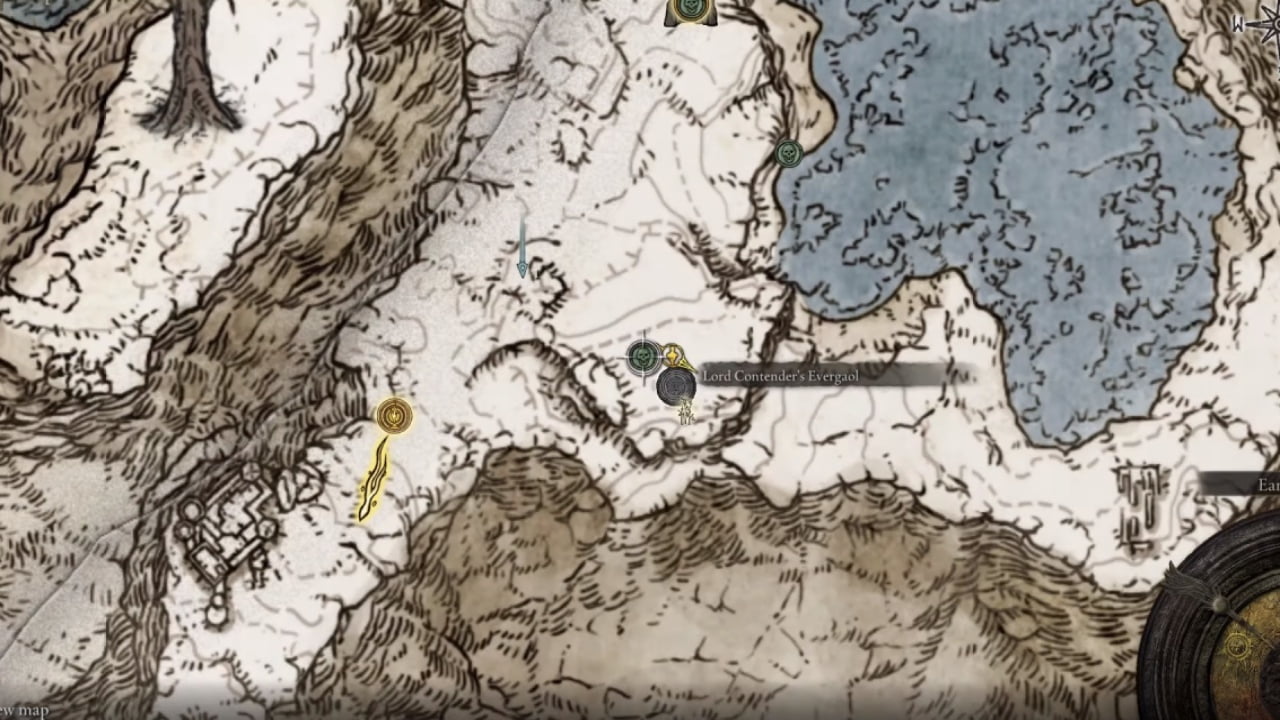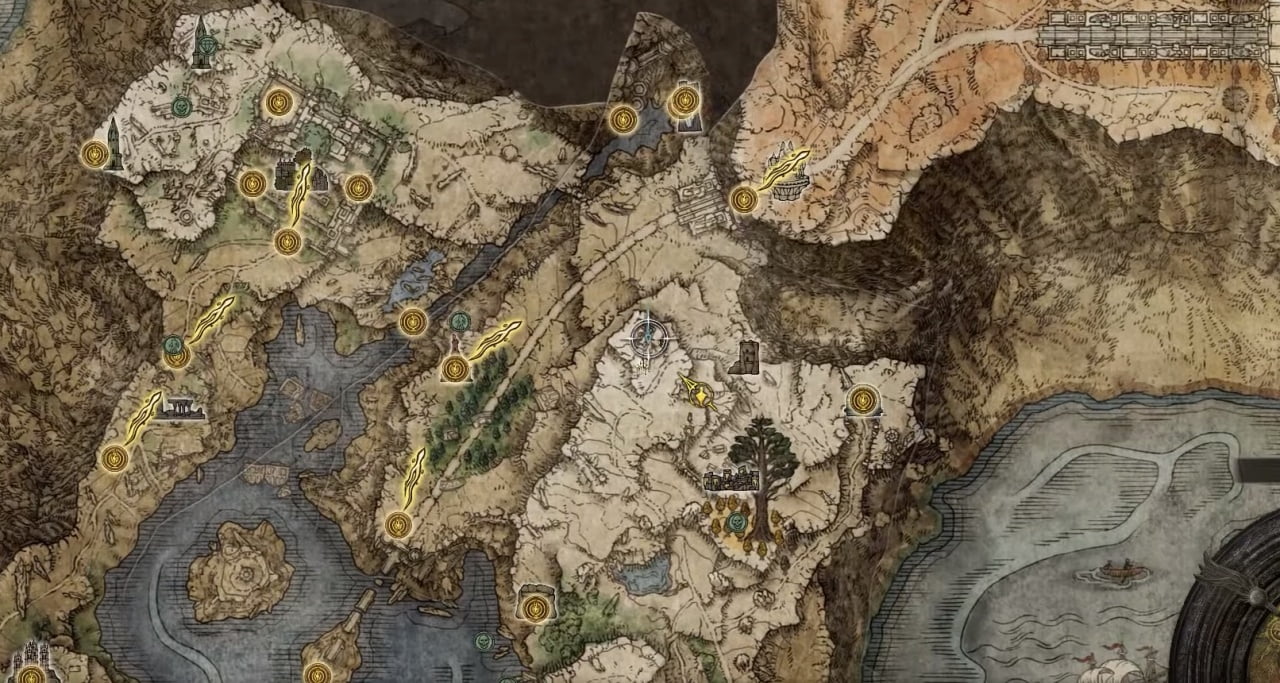 Best Tips to Defeat the Vyke Bosses
It is recommended to be at least Level 100 to battle Vyke easily.
Keep moving constantly to avoid being hit by the boss's area-of-effect spells and lightning assaults.
Take advantage of the boss's Buff by hitting them with strikes before they have a chance to heal.
Roundtable Knight Vyke Attacks and Counters
The boss's attacks are primarily mixed with lightning and deal deadly damage on impact.
Spear Thrust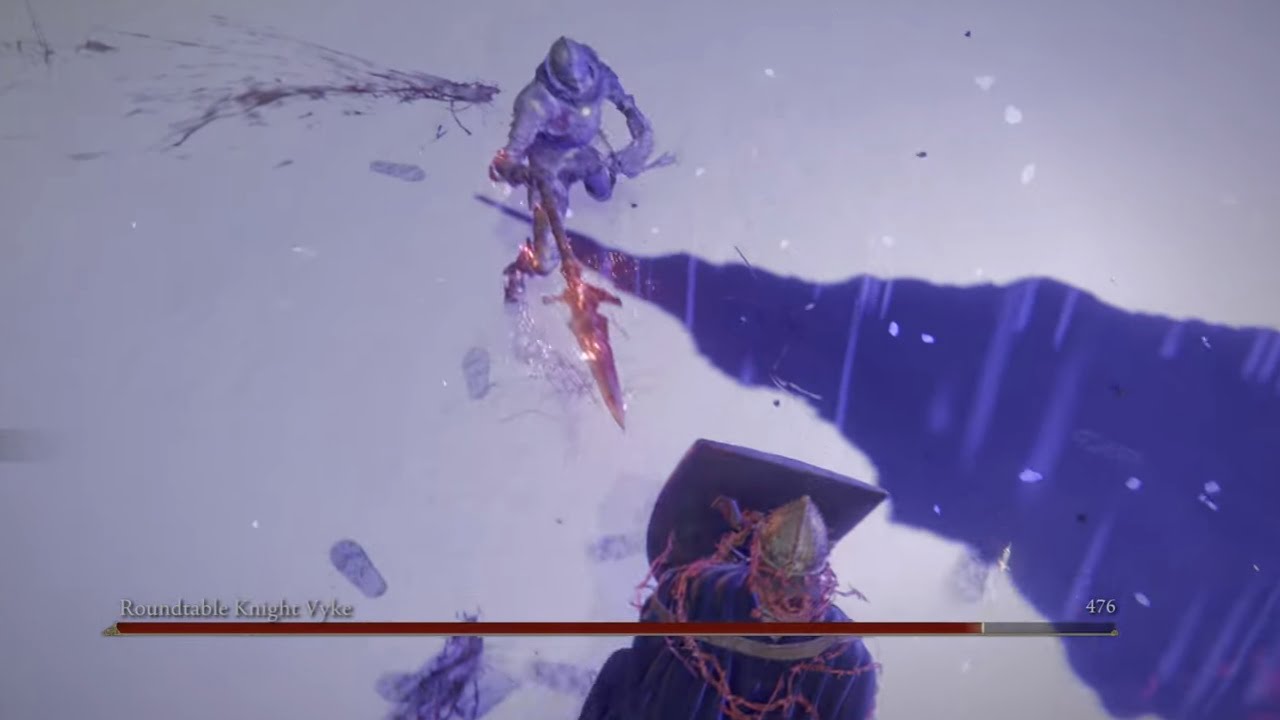 He thrusts his spear forward. It can be used multiple times in quick succession. Evade this attack by rolling back or dodging to either side. This maneuver will allow the player to avoid the boss's spear thrust entirely, leaving them open to launch a counter-attack.
Spear Charge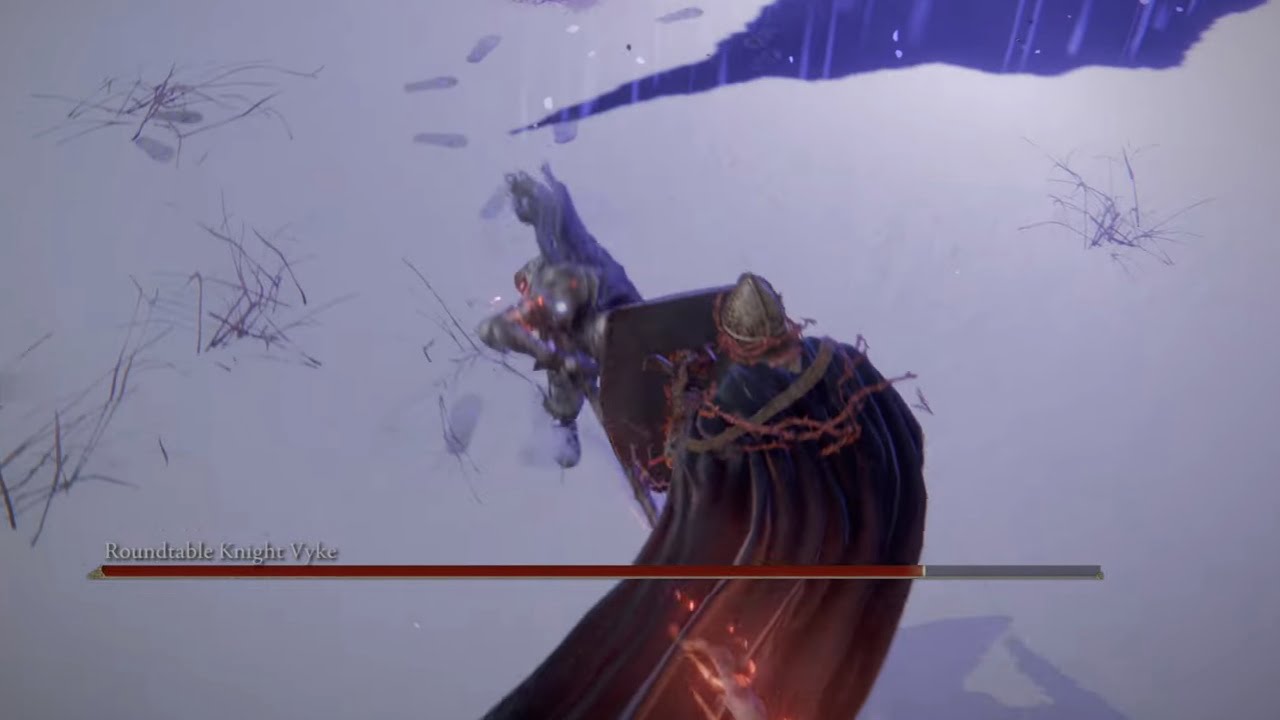 He charges aggressively toward the player with his spear in front. Avoid this attack by running away from the boss and dodging either side as the animation of the thrust starts.
Leaping Slam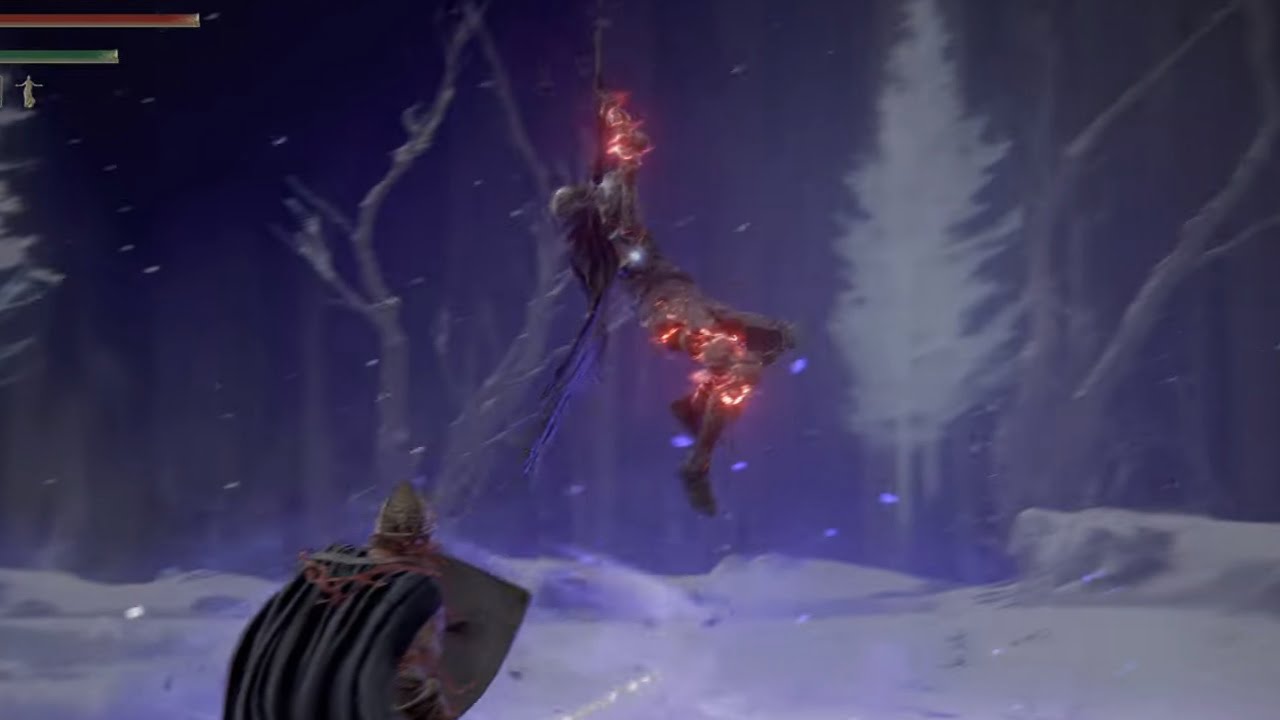 He lifts his spear in the air and slams it down, infused with windy lightning; it is a devastating attack that can damage the player. Roll back as the boss slams his spear down to avoid this attack. If the player stays within the slam's area of effect for a few seconds, they will suffer damage.
Horned Bolt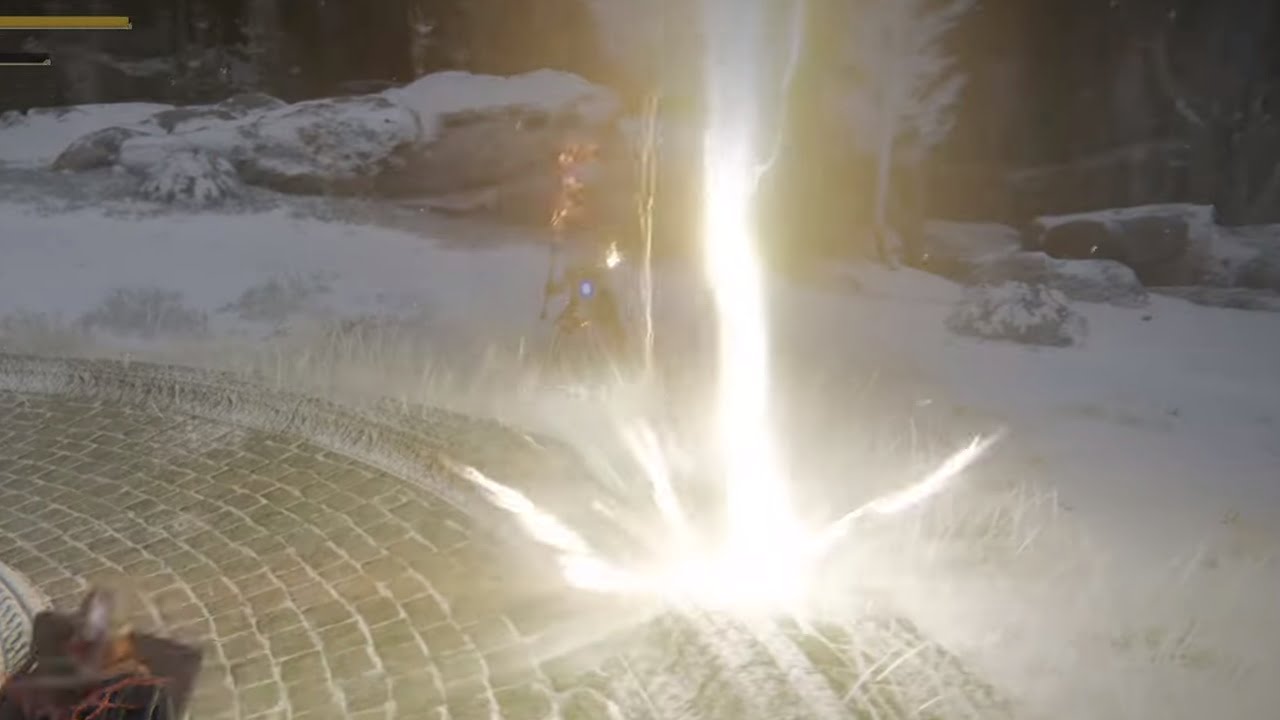 The boss attacks the player by unleashing two to three lightning bolts with high tracking capabilities. Roll to the side as the boss casts the bolts.
Lightning Buff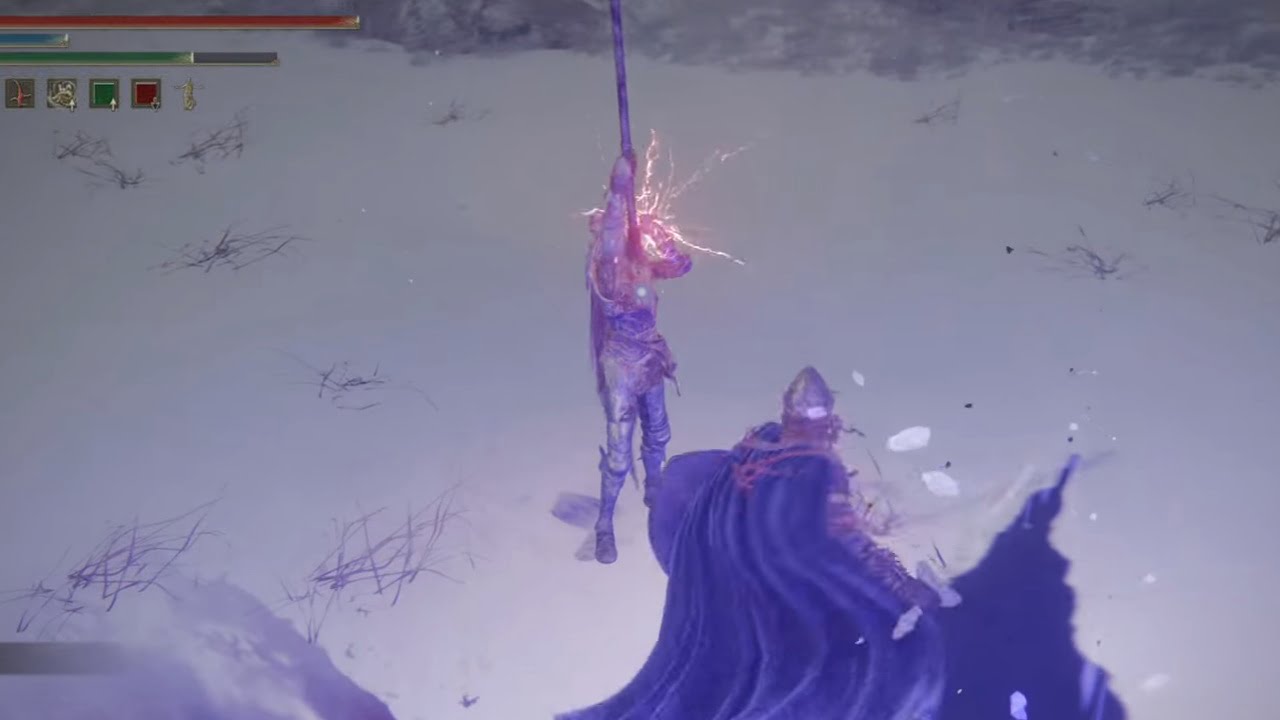 He harnesses the power of lightning, infusing his strikes with electrifying energy, amplifying their damage, and expanding his repertoire of devastating attacks. Prioritize equipping gear or spells that offer lightning resistance to mitigate the incoming damage. Additionally, defensive maneuvers such as dodging or parrying at the right moments can provide openings to strike the boss when they are vulnerable.
Dual Lightning Spear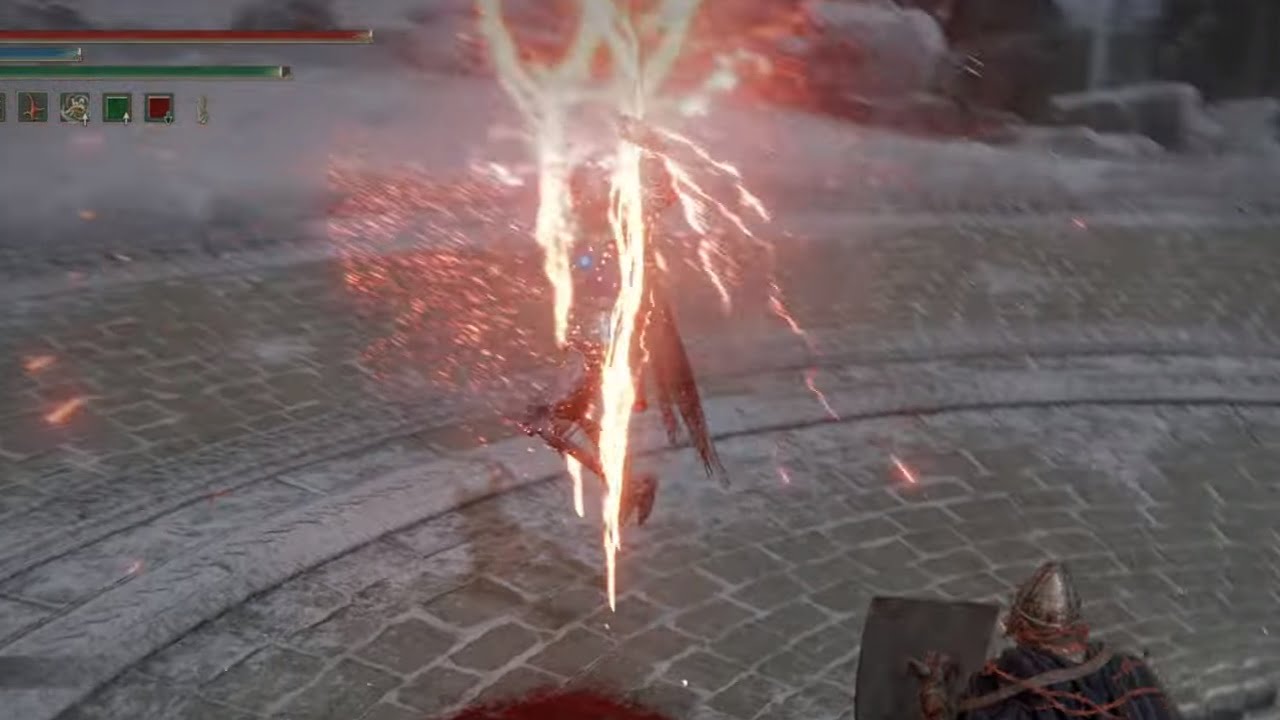 He soars into the air with astonishing agility, then hurls down a pair of electrifying spears with lightning speed, unleashing a devastating onslaught. An expansive shockwave reverberates as the spears crash into the ground, engulfing the surroundings in a pulsating aura of crackling lightning. Upon witnessing the boss's agile leap, retreat swiftly in the opposite direction. Maintain a safe distance until ethereal lightning subsides from the ground, indicating the dissipation of danger.
Festering Fingerprint Vyke Attacks and Counters
The two attacks, Spear Charge and Spear Thrust, are the same as Roundtable Vyke.
Polearm Combos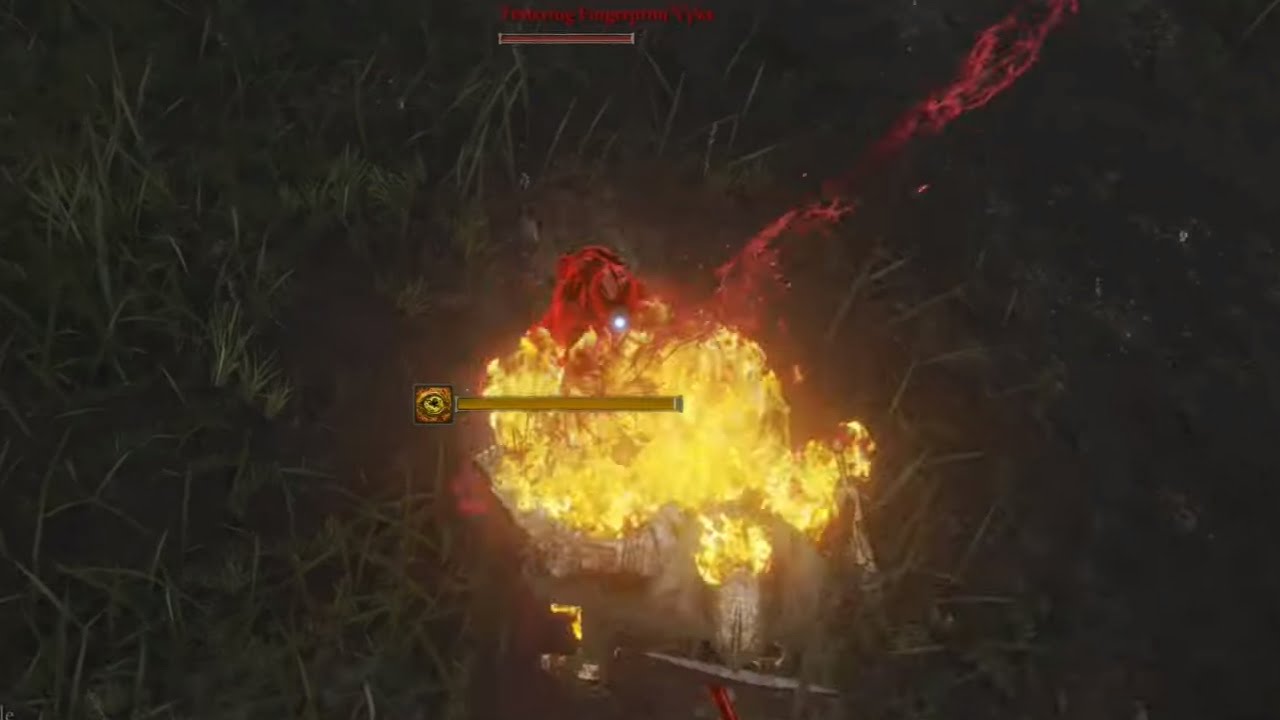 He will attack with his spear in combination with threes which can be interrupted midway. Use the guard counter to break the combo and roll to either side to evade it.
Howl of Shabiri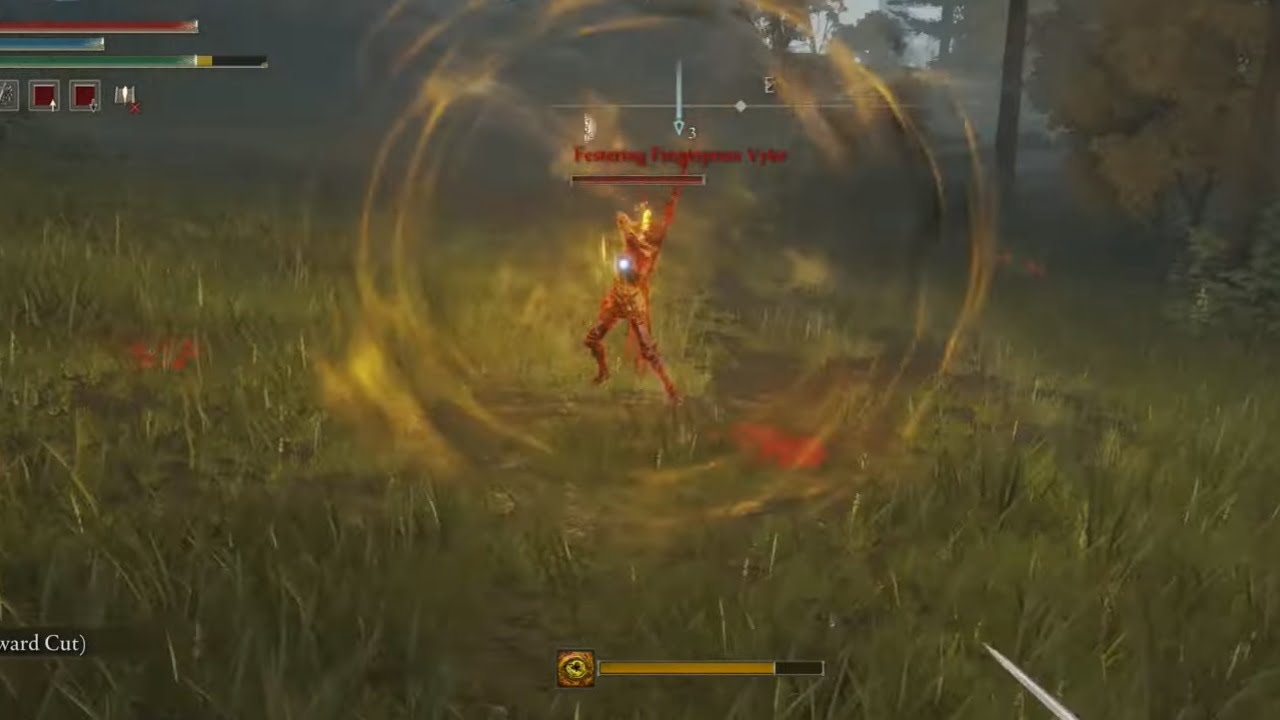 He holds his head with both hands and unleashes a howl, causing Madness to rise nearby. The range of this attack is short, so run away as soon as you see him hold his head.
Jumping Flame Spear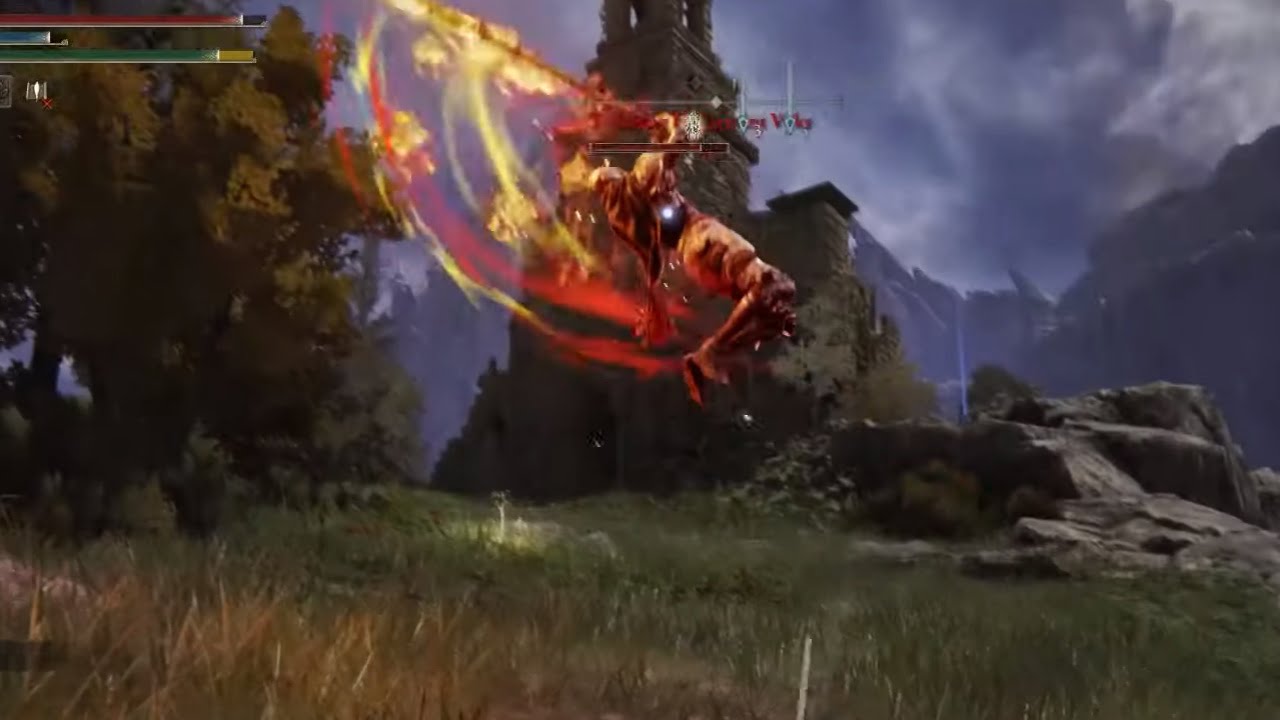 He jumps up and strikes his flaming spear down on the ground. If caught in its area of attack, the Madness bar will rise, inflicting damage. To dodge it, run away from him and try to get behind to get a few hits in as he lands.
Strong Strike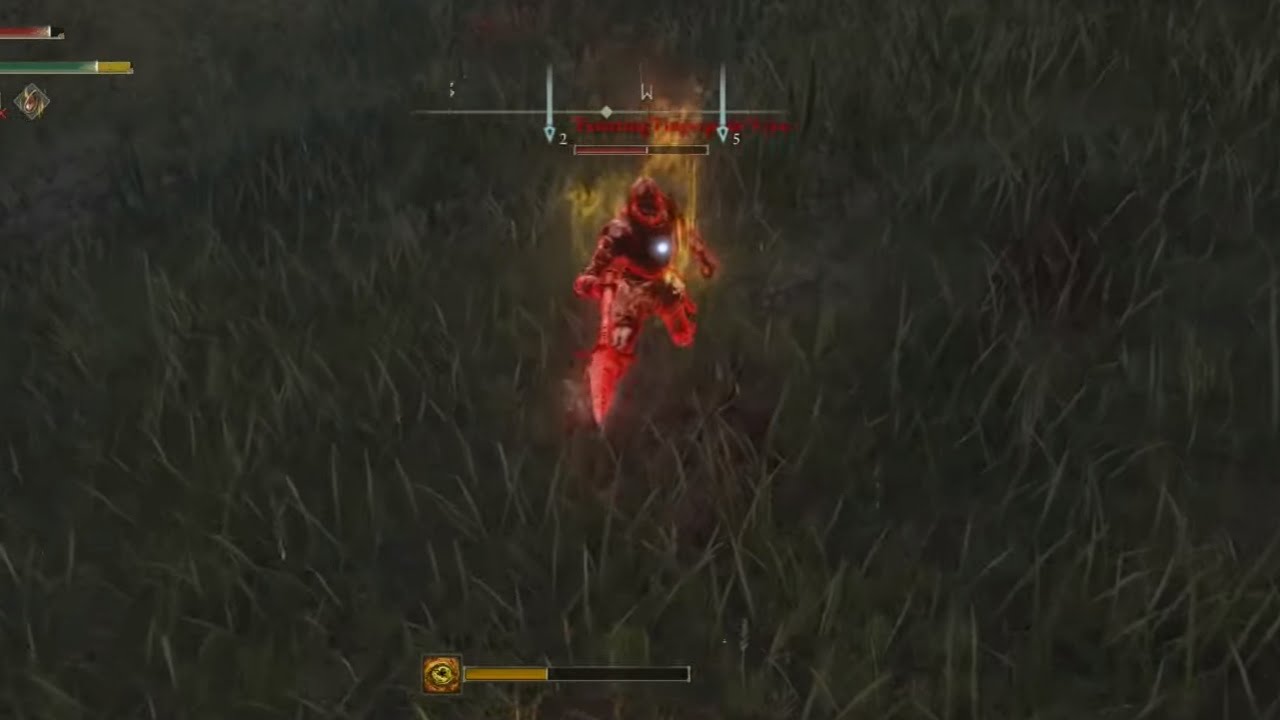 He pulls his arm back, unleashes a potent attack, inflicting deadly damage, and almost always breaks your stance. It is recommended to roll in either direction to dodge it.
Flame of Frenzy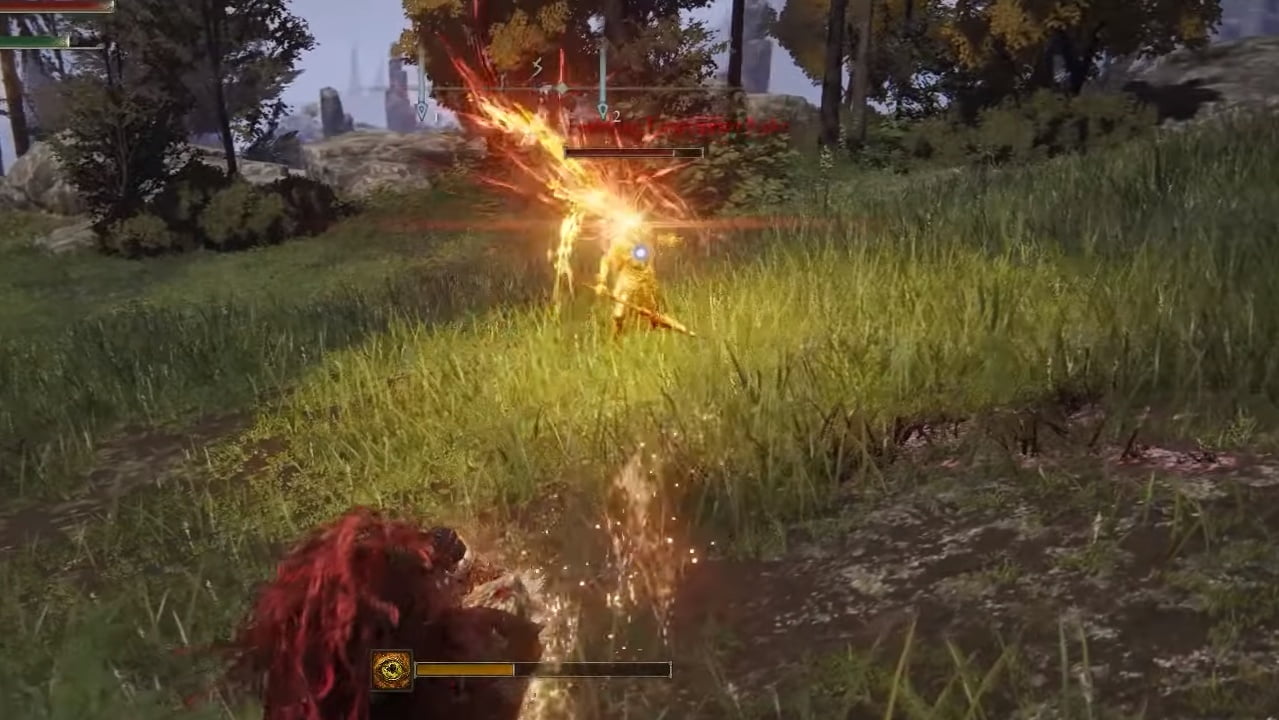 He shoots multiple Frenzied Flame beams from his eyes, and the coverage area is enormous. Run away from the boss as you see him starting to cast flames on the ground with his eyes.
Frenzied Burst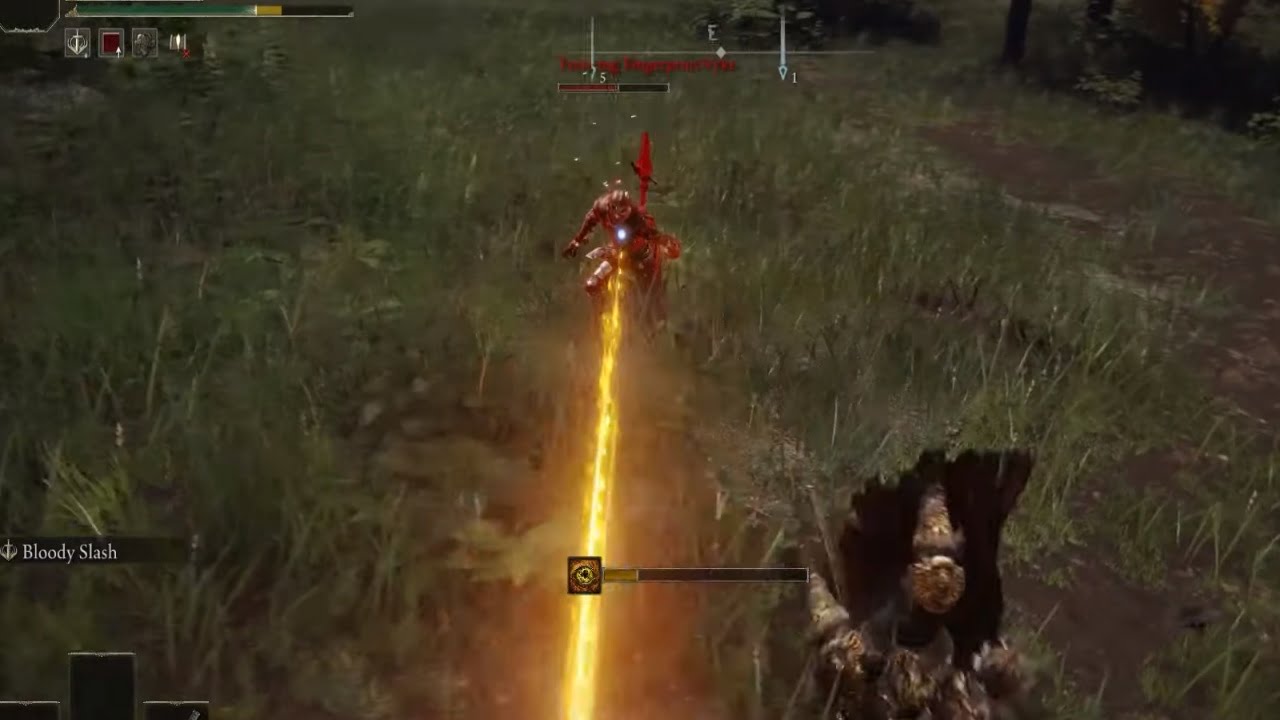 This powerful, concentrated beam of Frenzied Flame inflicts heavy damage. The boss holds his head and unleashes the beam, which has a fast travel time and can cause Madness to build up. It can also knock you back. Roll to either side as the beam is unleashed to evade it.
How to Defeat Vyke Easily?
Defeating a formidable opponent like Vyke can be an exhilarating experience. These are some of the points you should keep in mind while going against him.
Stay Outside the Range of His Attacks
Vyke's weakness is that he is generally a slow-moving fighter but can easily cover distances using poking attacks with his great spear. He possesses powerful lightning spells that cover a lot of ground, including Lightning Strike and Fortissax's Lightning Spear. It is essential to stay out of range of his attacks. Long weapons such as oversized spears and thrusting swords are most suitable for this conflict.
Utilize Lightning-Based Weapons and Spells
Vyke's armor has low lightning resistance, making him highly vulnerable to lightning damage, especially when casting the Dragonbolt spell. This spell reduces his lightning damage negation even further. A highly effective strategy is to wait until he casts Dragonbolt and then attack him using lightning-infused weapons or incantations to deplete his health swiftly.
Utilize Area-of-Effect Weapons and Spells
The boss lacks agility and finds it challenging to dodge weapon skills or spells that deal area-of-effect (AOE) damage. While he can avoid spells and attacks, he struggles with those that cause AOE damage. Ashes of War, such as Hoarfrost Stomp, can easily hit Vyke, even when he is rolling and evading. Flame of Frenzy is also highly useful during this fight as it covers a vast area and can catch the boss even when he is evading.
Strike When the Vyke is Casting Incantations
When casting Fortissax's Lightning Spear, he is particularly vulnerable, as this incantation leaves him suspended in the air for a few seconds. You can knock him out of the air using a jumping attack or a potent spell, such as Cannon of Haima or Giansflame Take Thee, before he can inflict any damage with his spell.
Rewards/Drops
Roundtable Knight Vyke
Fingerprint Set
Vyke's Dragonbolt
Runes x75000
Festering Fingerprint Vyke
Furlcalling Finger Remedy
Fingerprint Grape
Vyke's War Spear