Commander O'Neil is a Great Enemy Boss in the world of Elden Ring. Like many other bosses, this is also an optional one and may not be necessary for the game's progress, but he must be dealt with to progress with Gowry's and Millicent's questline. This terrifying boss is not any creature but a Human in the era of Choas. Yes, you heard that right; he is a human who wields a halberd with a battle standard and can call out for help from ghostly warriors. Commander Niall is another variant of him who is also an optional Great Enemy Boss.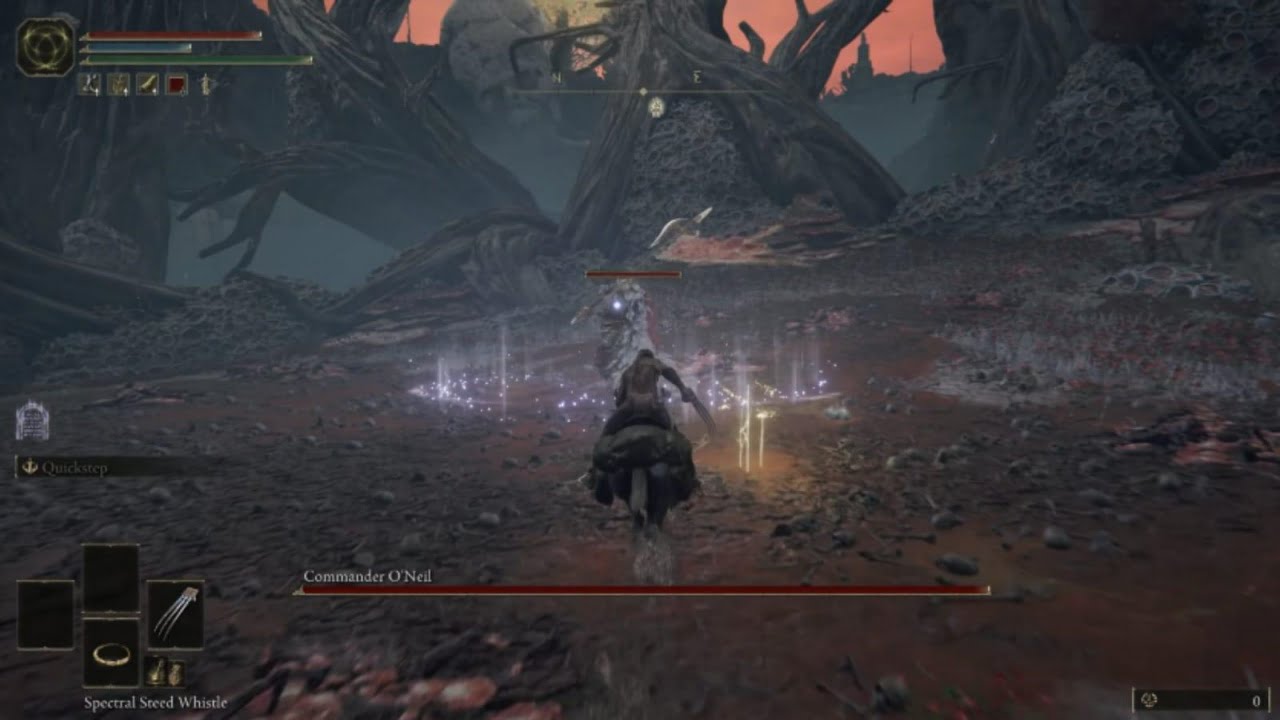 Commander O'Neil Location
You can find Commander O'Neil in the eastern part of Caelid within the heart of the Swamp of Aeonia. The two most direct routes here are from Caelid Highway or Sellia, Town of Sorcery. As you get to the swamp, seek out a cluster of big dead trees covered in Scarlet Rot, where you will find the human beast awaiting your arrival.
Closest Site of Grace: Inner Aeonia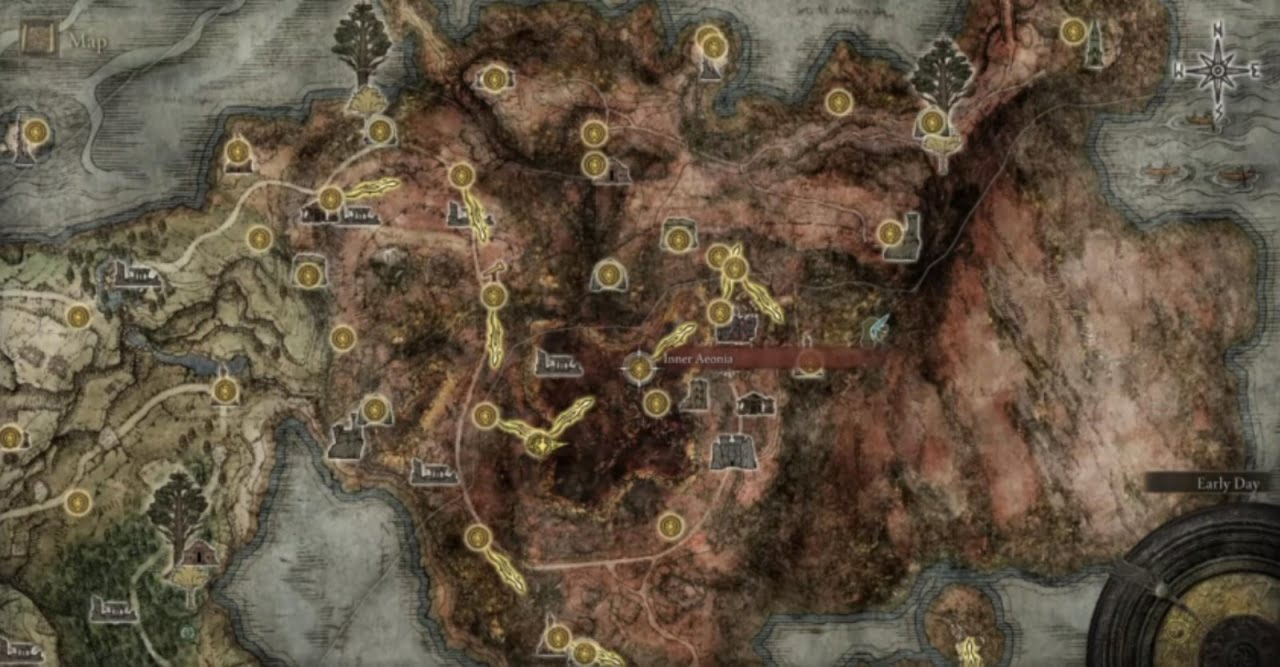 Commander O'Neil Statistics
Combat Information
| | |
| --- | --- |
| Health | 9,210 |
| Defense | 111 |
| Stance | 90 |
| Parryable | Yes |
| Inflicts | Scarlet Rot |
Negations or Absorptions
| Damage Type | Negations |
| --- | --- |
| Standard | 10 |
| Slash | 35 |
| Strike | 10 |
| Pierce | 0 |
| Magic | 20 |
| Fire | 20 |
| Lightning | 20 |
| Holy | 20 |
Resistances
| Infliction | Resistance |
| --- | --- |
| Poison | 332 / 430 / 720 / 1177 |
| Scarlet Rot | Immune |
| Hemorrhage | 332 / 430 / 720 / 1177 |
| Frostbite | 332 / 430 / 720 / 1177 |
| Sleep | 332 / 430 / 720 / 1177 |
| Madness | Immune |
Castle Exile Spirit Statistics
| | |
| --- | --- |
| Health | 435 |
| Defense | 111 |
| Stance | 30 |
| Parryable | Yes |
Large Castle Exile Spirit Statistics
| | |
| --- | --- |
| Health | 624 |
| Defense | 111 |
| Stance | 50 |
| Parryable | Yes |
Tips for Fighting Commander O'Neil
You must use a Torrent while fighting the boss to avoid Scarlet Rot.
You should be at least level 50 or higher to fight the boss easily.
Equipment that inflicts Hemorrhage or Frostbite is recommended.
Summoning Spirit Ashes and Multiplayer mode are allowed for this boss.
Sneaking up to the boss can give you a head start with him, as you can launch a few hits before he summons his spirits.
The spell you can use to ease the fight is Rock Sling.
If you speak with Sage Gowry first, an NPC Polyanna, Adopted Daughter, can be summoned for this battle. Gowry is an NPC in Elden Ring who wishes to cure Millicent's Scarlet Rot. You must speak with Gowry to finish Millicent's quest path as well.
Commander O'Neil Attacks and Counters
Commander O'Neil is an offense-oriented boss and does not counter or block your attacks. His attacks are mostly based on summoning spirits and casting buffs for them. He is not agile, so it takes time for him to close the distances with you giving you ample opportunity to escape his vicinity. You don't need to fear his aggression because we'll guide you on how to tackle every attack of this boss.
Call Spirits – Exile Crossbowmen
He summons five exiled crossbowmen that provide fire support, each having a health of 430. Countering the crossbowmen is easy; first, you must kite the boss away from them. While doing this, keep dodging his charging attacks and take out the Crossbowmen.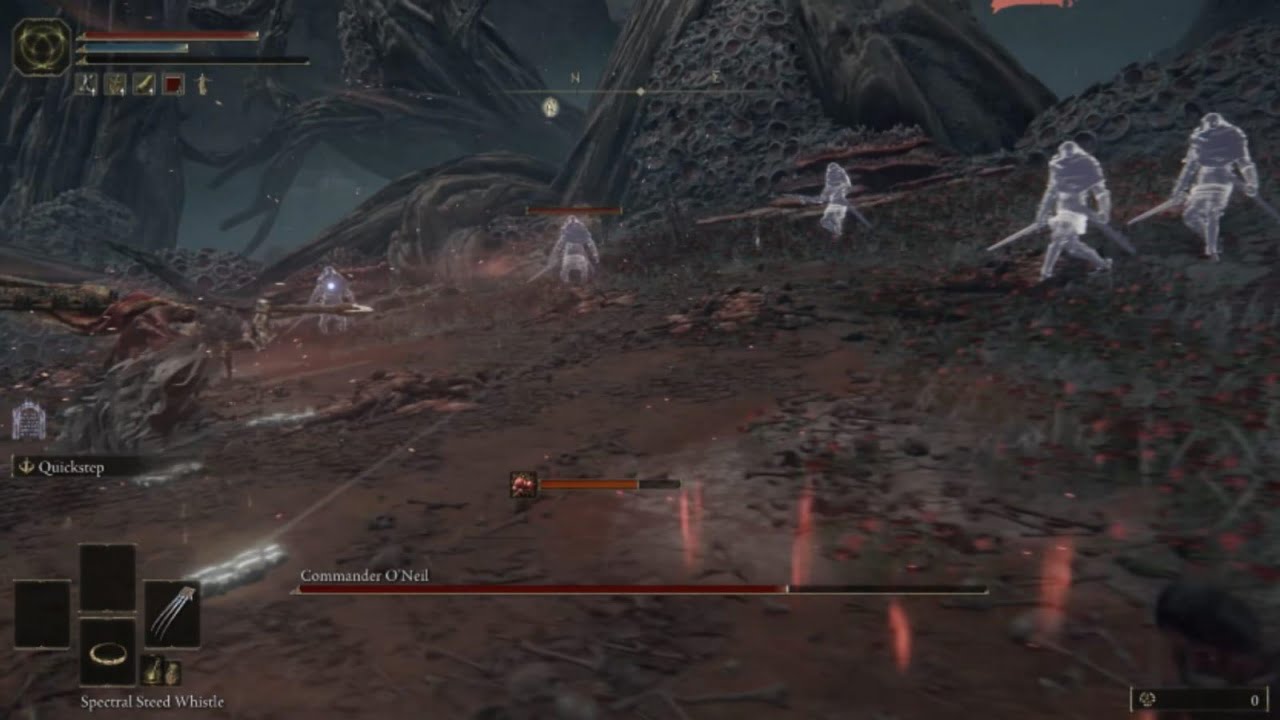 Call Spirits – Exile Greataxe Soldiers
When the boss's health drops to 40%, he will summon three exile axe soldiers, and each soldier will have 500 health. These soldiers move swiftly and close the distances with you very rapidly. However, the boss is relatively slow and is left behind easily, allowing you to deal with the soldiers easily.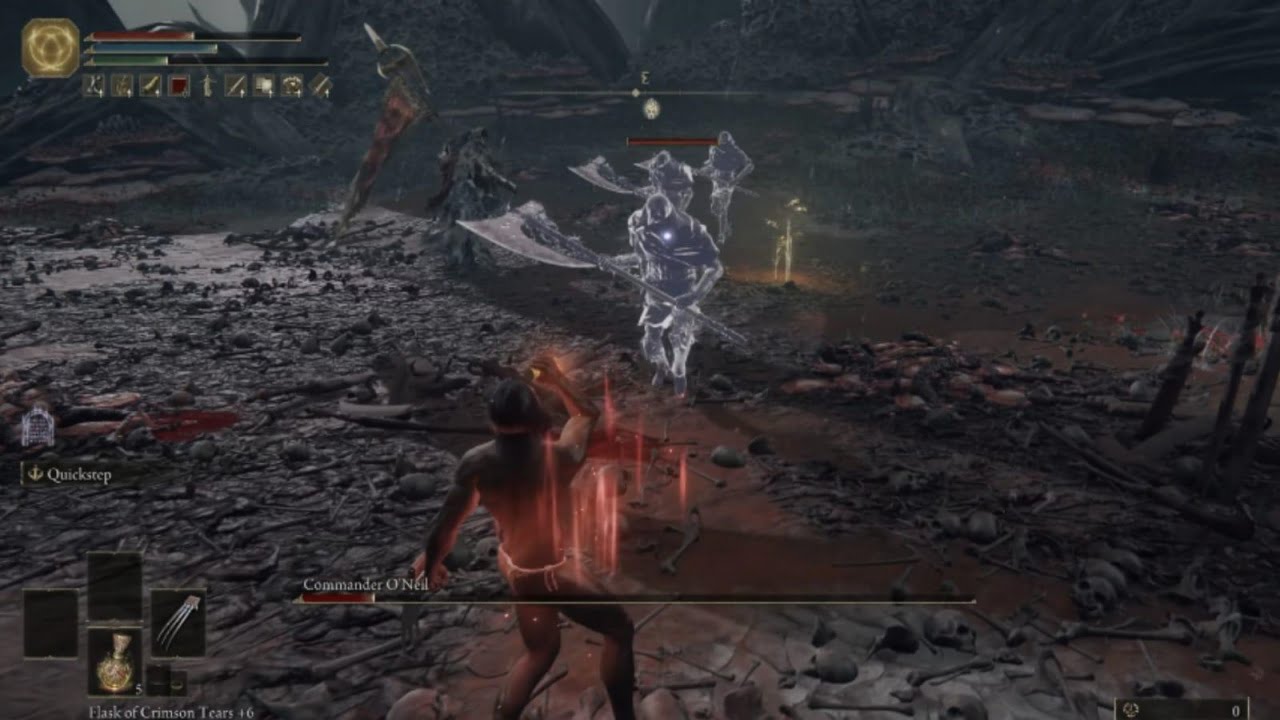 Glory, Fame! – Offensive
He swings his weapon around in the air, which serves as a sign for his summons to charge the player much more furiously. Their attack speed is boosted, and the buff takes the form of a little red mist around the summons, showing a much-improved offense capacity.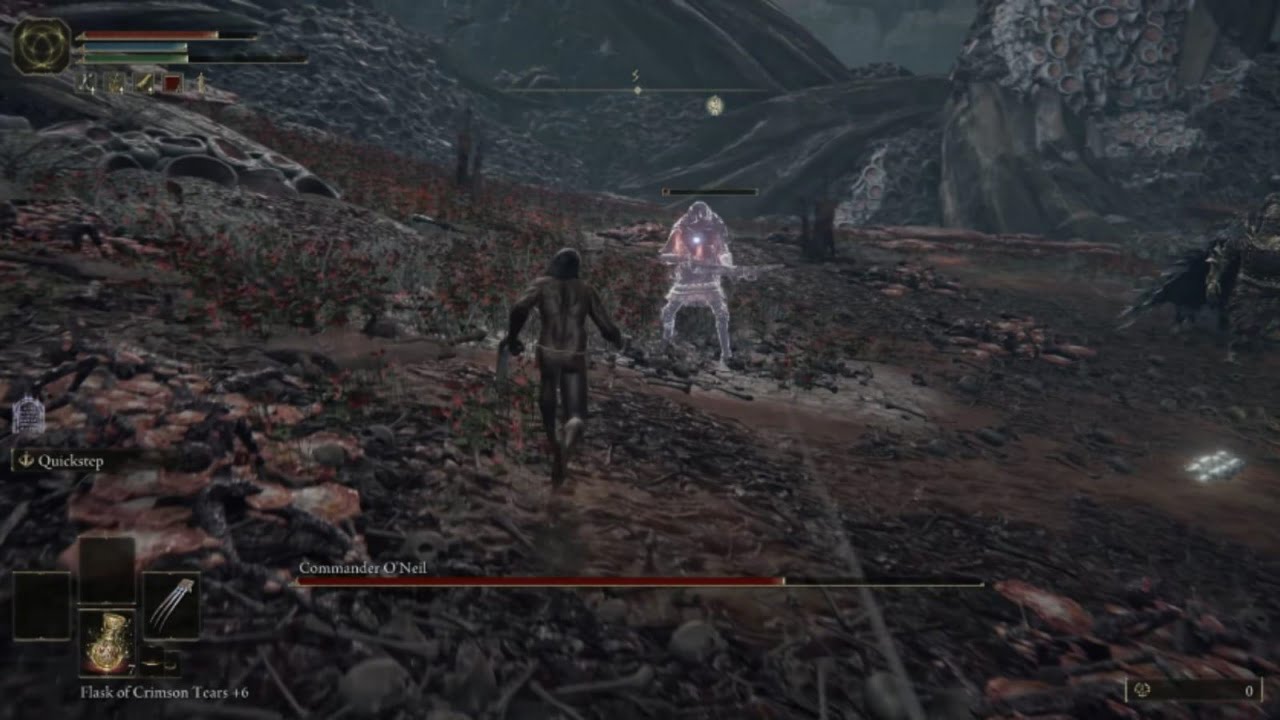 Glory, Fame! – Defensive
Just as the boss swings his sword for the offensive glory fame, he will also do it for the defensive. Only this time, the summons will be promoted to fight defensively as their health will be boosted. A white circle on the enemies indicates this buff.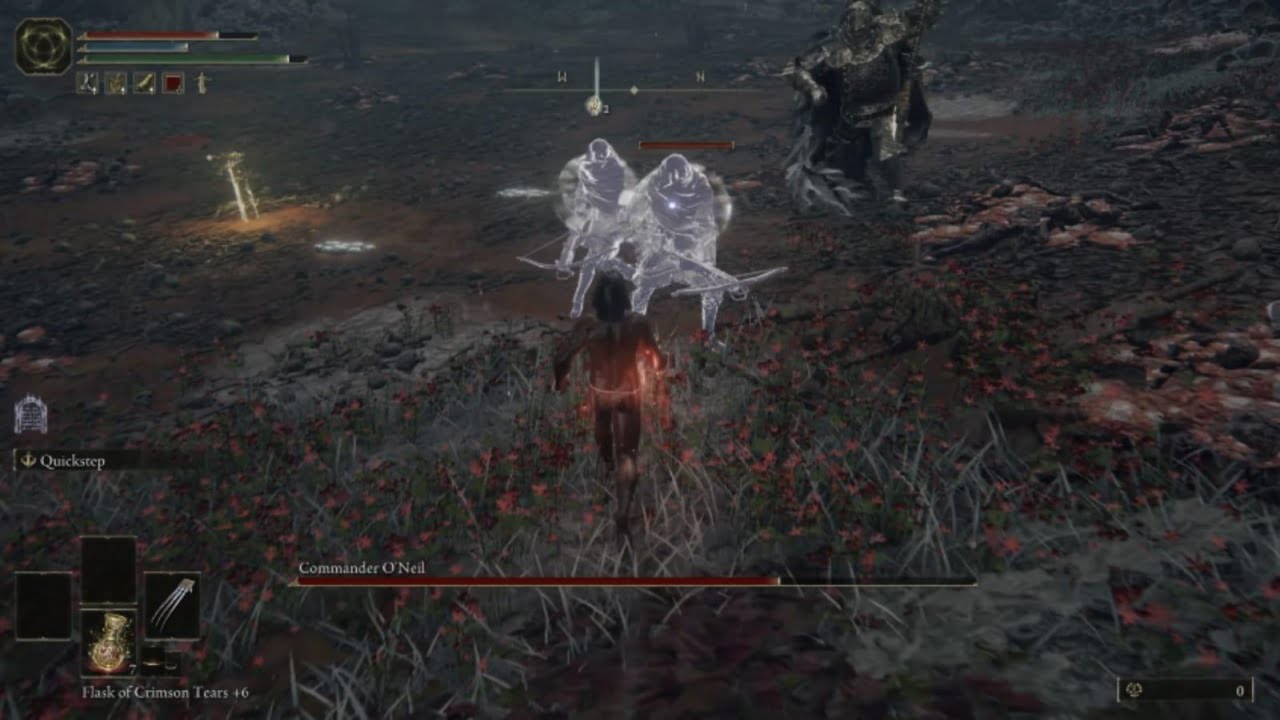 Rotting Whirlwind
The wind around him will blow as soon as the boss kneels down. He will swing his standard three times, damaging anything that stands in the area of effect, and the scarlet Rot will emerge that guarantees a proc. As suggested before, you should always ride on Torrent, which will help you escape the area easily.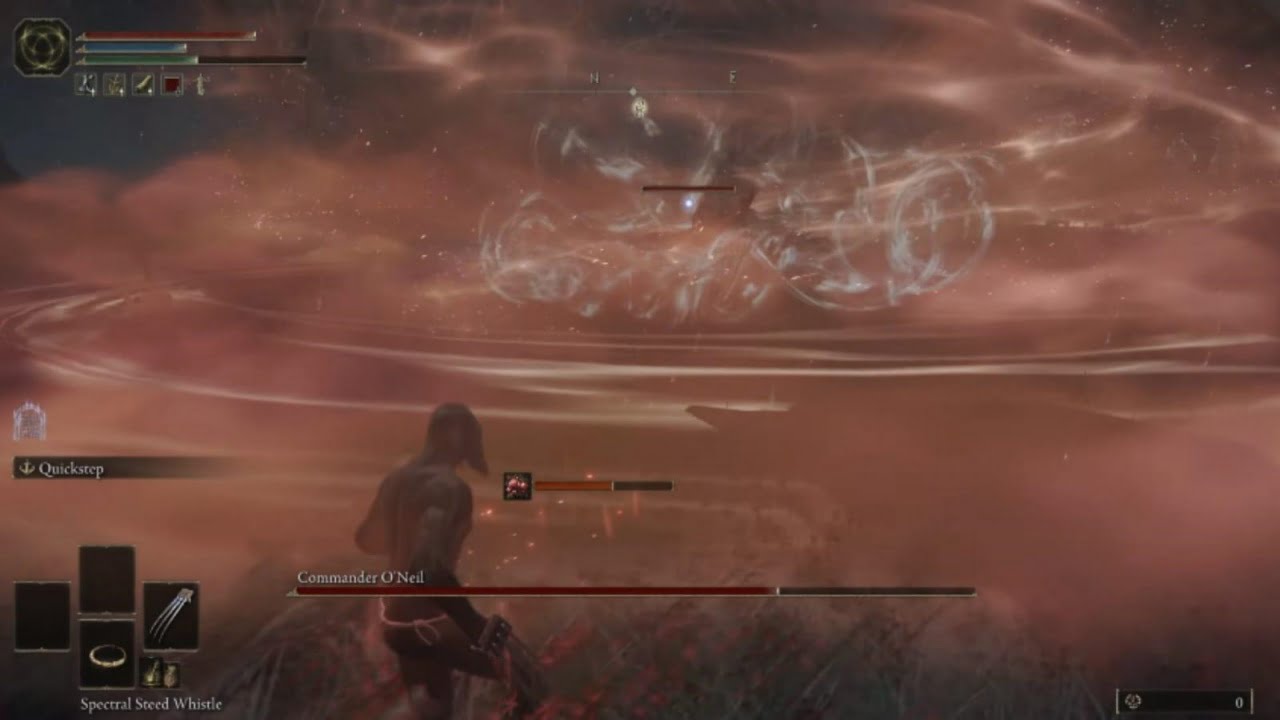 Spearing Attack
He performs multiple random mixtures of thrusts and slashes and might chain it with the rotting wind attack. This attack is parryable, or you can dodge or roll away from the thrust of the spear.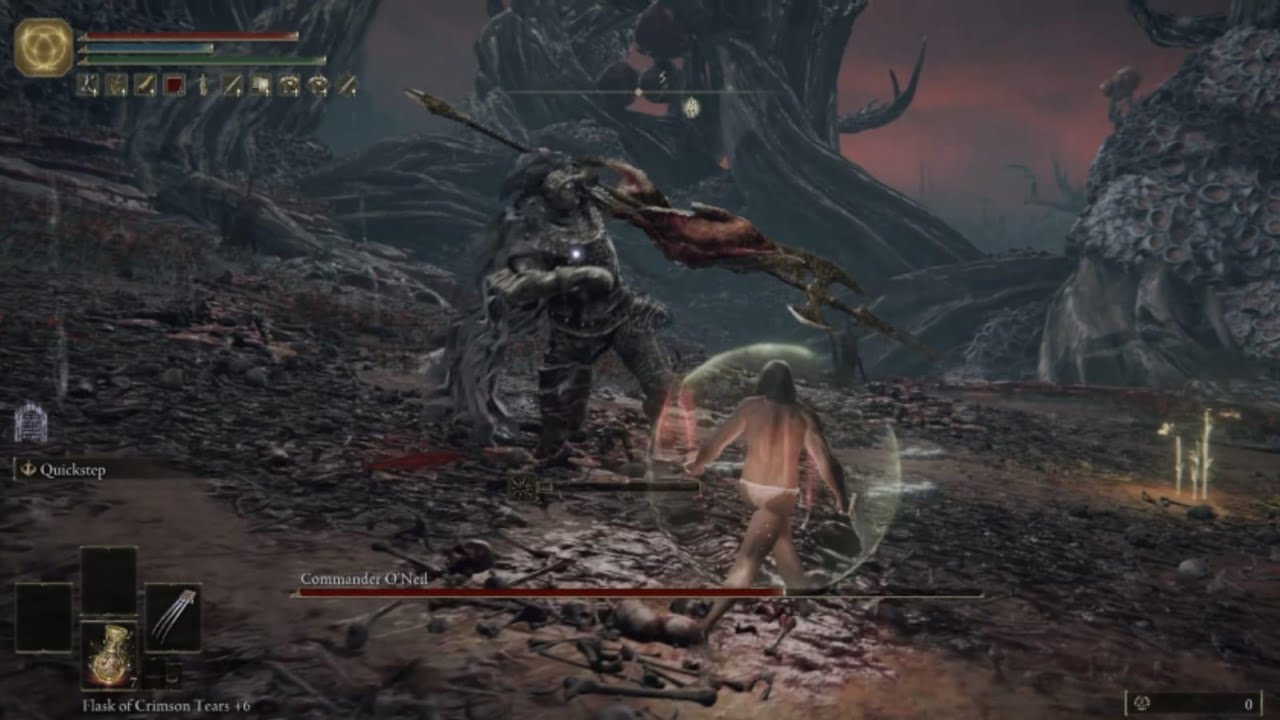 How to Defeat Commander O'Neil Easily?
Commander O'Neil relies upon the spirits he summons, which are usually easy targets and won't appear again once killed. You should focus on targeting the summons and have a keen eye toward the boss so you can dodge his attacks. Battling the summons first will allow you to fight one-on-one with the boss.
For Melee Users
Melee Users must go for a hit-and-run strategy as this will allow them to dodge the counterattacks of the boss. It would be best if you always were on horseback, so the combat area can be exited quickly to avoid the Scarlet Rot. All the Exile crossbowmen and soldiers can be easily targeted while riding. They'll appear stronger in phase 2, but you don't need to worry; they are still an easy target.
Fighting the boss on foot is also possible, but the catch is that you have to look out for the Scarlet Rot and the summons. Since most of his attacks are parryable, one on one combat against him is easier.
Magic and Ranged Users
As this boss is not very fast, he takes time to close the distances and gaps to take on you. Magic users can use long-range spells that will cast maximum damage to the boss. His summons must be taken care of as soon as they are called upon.
Commander O'Neil Cheese Strategy
Kite the boss to the closest site of grace through Scarlet rot geysers. When he walks through the geysers, erupt them to inflict maximum damage. You can kite him out again in phase 2 and his summons hence defeating him without even fighting.
Drops for defeating Commander O'Neil
Runes x12,000
Commander O'Neil's Standard: A halberd that primarily scales with strength and dexterity, recommended for strength builds)
Unalloyed Gold Needle: A key item required to progress in Millicent's questline.
Frequently Asked Questions (FAQ)
Does Scarlet Rot effects Commander O'Neil?
The boss is immune to the effects of scarlet Rot.
Is Commander O'Neil Parryable?
Yes, the attacks or counter of Commander O'Neil are parryable, making him vulnerable to critical hits.
Can Commander O'Neil be backstabbed?
Yes, it is possible to backstab the boss by sneaking behind and stabbing before he summons his knights.