Commander Niall is an Optional Great Enemy Boss in the world of Elden Ring. In case you want to proceed to The Consecrated Snowfield, you have to defeat him as the second part of the Haligtree Secret Medallion, the key to the entrance, is protected by this boss. He is a military commander who wields weather-themed powers. A creature that somehow surpasses all the horrors you have faced up to this point, but don't let these horrors consume you because, in this guide, we bring you a potential cheese strategy to beat this boss easily.
Commander O'Neil is the other variant of this boss. The other half of Haligtree's Secret Medallion is protected by him.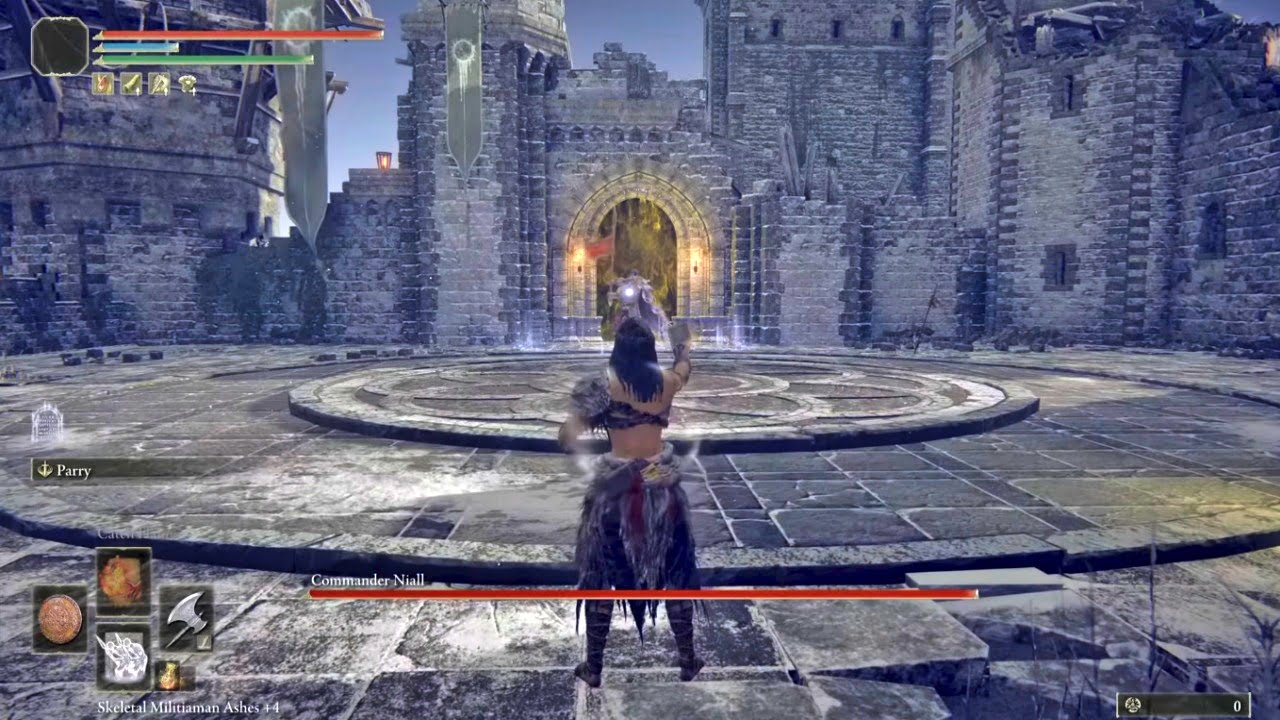 Where is Commander Niall Located?
In the southeast section of Castle Sol, you need to access the Church of the Eclipse Site of Grace. Take the eastern exit of the church that leads to a new building. It will take you to the upper level of this section, where the gate for entering this boss's arena exists.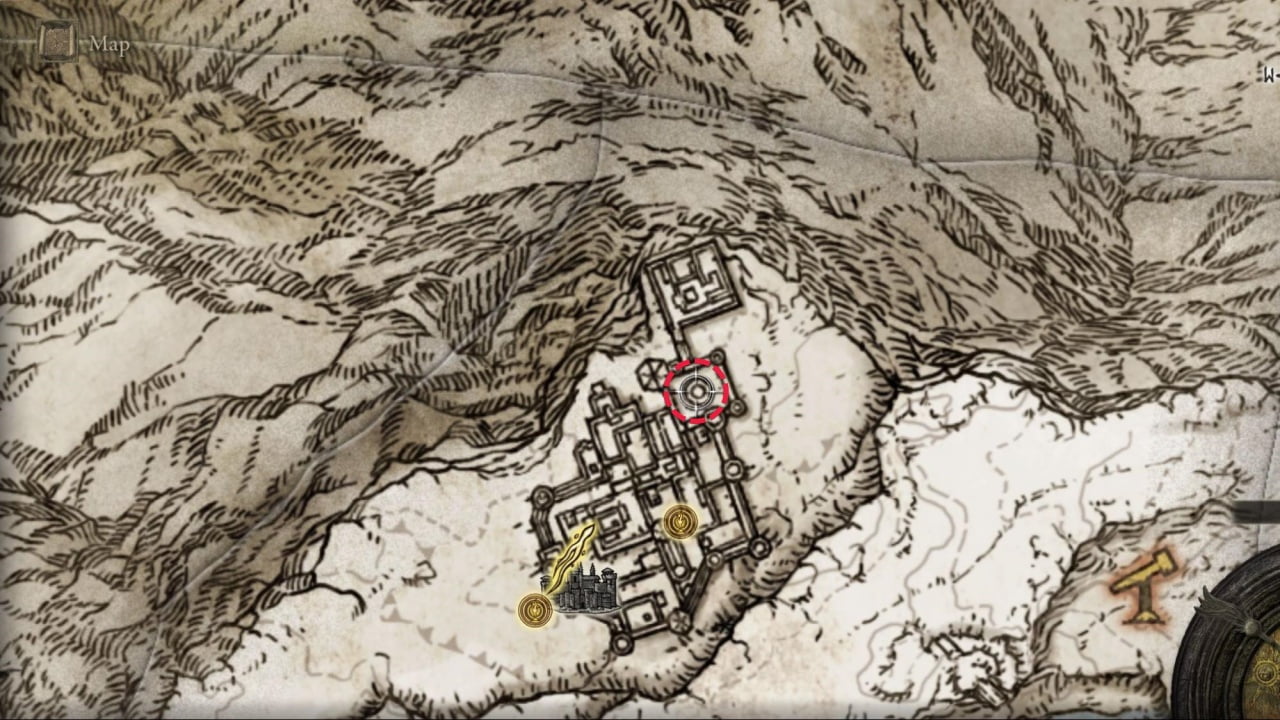 Commander Niall Statistics
| | |
| --- | --- |
| Health | 15,541 HP |
| Defense | 117 |
| Stance | 90 |
| Parryable | Yes |
| Inflicts | Frostbite |
| Weakness | Bleed Damage |
| Damage Type | Negations |
| --- | --- |
| Standard | 10 |
| Slash | 35 |
| Strike | 10 |
| Pierce | 0 |
| Magic | 20 |
| Fire | 20 |
| Lightning | 20 |
| Holy | 20 |
| Infliction | Resistance |
| --- | --- |
| Poison | 343 / 441 / 731 / 1188 |
| Scarlet Rot | 343 / 441 / 731 / 1188 |
| Hemorrhage | 343 / 441 / 731 / 1188 |
| Frostbite | 343 / 441 / 731 / 1188 |
| Sleep | 343 / 441 / 731 / 1188 |
| Madness | Immune |
Note: Values after the "/"s indicate the increased resistances after each successive Proc (Programmed Random Occurrence).
Banished Knights Combat Information
| | |
| --- | --- |
| Health | 1,967 HP |
| Defense | 114 |
| Stance | 65 |
| Parryable | Yes |
Tips For Defeating Commander Niall Boss Battle Easily
It is recommended to be at least Level 100 to defeat Commander Niall easily.
Summoning Spirit Ashes and Multiplayer (Co-op) are allowed for this boss fight.
Direct your attention to Niall's dual-sword spirit. You can get in a few quick hits before its animations start.
Niall's phase 2 will begin when he loses half of his health or when his knights are dead. You don't want the boss to enter this phase early, so what you can do is that you kill the dual-wielding sword knight but spare the shield knight.
The Rotten Breath incantation is available to faith casters, a reliable tool to deal damage to the boss.
The initial phase of the boss can be made very simple by charming one of the Knights with Bewitching Branches.
Using Magic-Shrouding Cracked Crystal Tear is recommended for the fight as it will allow you to increase your magic power.
How to Beat Commander Niall Easily?
Commander Niall is not very offensive in the initial phase and roams around the arena without closing the gaps. Instead, he summons two Spectral Banished Knights, one wielding two greatswords and the other wielding a shield, to fight for him. The dual sword knight is more offensive, and it is recommended to summon a tanky spirit to help you manage the knights. The magic users are at an advantage because the knights are vulnerable to sorcery damage. Enter the arena through the fog gate, hurry up to the right corner of the battleground, and await the charge of the dual-wielding knight. Once he does, use Bewitching Branch on him to turn him into an ally. Now keep damaging the boss slowly until he runs half out of his health. He will charge you with heavy attacks when the knights are dead.
Melee Users
Land a heavy attack on the dual-wielding summon before he materializes, followed by a second heavy attack that will stagger him. If you get critical attacks in, you can quickly kill him, making the battle much more straightforward. For the second summon, if you perform a heavy attack while running, it will easily stagger if running with the shield up, allowing you to eliminate him easily.
If he creates a frost whirlwind around him, which is then followed by an electric strike, just roll into him once and deal a light attack, then roll your way out of his hitbox. Watch out for a fast stab and then a powerful telegraphed swing, and roll once more to the left.
Organizing your distance at the right time to evade it would be best. When you see a frost swing charging towards you, escape the close range. He will kneel and halt after one of his frost attacks, charged with electricity, giving you a great chance to deal damage with heavy attacks. Simply rinse and repeat this strategy to defeat the boss fairly.
Magic and Ranged Users
The magic users must opt for the same strategy and deal with the knights just as melee users. Equip an incantation that deals heavy damage before entering the arena. It is recommended to equip arrows with status effects like rot or bleed if you're using a bow.
Deploy a Terra Magica spell at the boundary of the frost gate if you have Comet Azur, a spell used by Rennala, Queen of the Full Moon. You should use a Flask of Wondrous Physick along with Cerulean Hidden Tear to dampen FP depletion.
Commander Niall Cheese Strategy
This game has a potential cheese strategy that allows the player to defeat the boss without entering the arena. You can arm yourself with a bow, buy or make a tonne of arrows, and cheese Niall outside the boss arena if you want to avoid battling him fairly. Depending on how much damage you can deal with the arrows, you may need more or less ammo.
Note: You'll require at least 330 arrows if you're dealing 50 damage per shot.
Commander Niall Attacks and Counters
Call Spirits – Banished Knights
He waves his standard to summon two Banished Knights. He buffs them throughout their play or until he reaches half-health. It is recommended to focus on the dual-wielding knight or cast Bewitching Branch on one of them.
Halberd Combo
This attack is a combination of 3 basic attacks from Halberd that are not very difficult to dodge. The boss will perform a stab that is followed up by a sweep to the ground. The combination up to this second attack is fast, but the third attack, which is an overhead smash, is comparatively slow. This does not require any expertise to dodge but simply requires you to maintain a gap from the boss.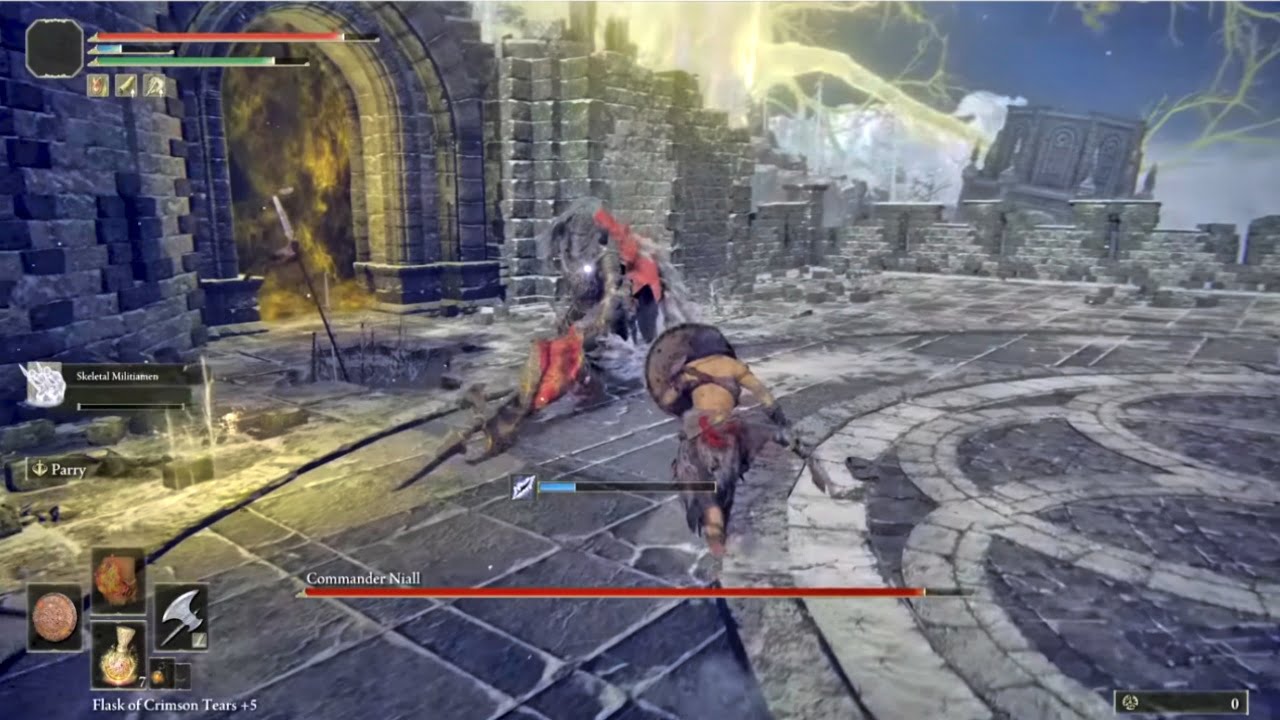 Storm Kick
He furiously smashes his prosthetic leg on the ground, which results in a massive frost whirlwind around him, and his leg is infused with lightning. After a minor delay, he jumps toward the player to shoot the lightning shockwave AOE. When the boss smashes his leg, you must create distance with him. His jump requires precise and timely dodge; wait for him to start dropping from the jump and then start rolling.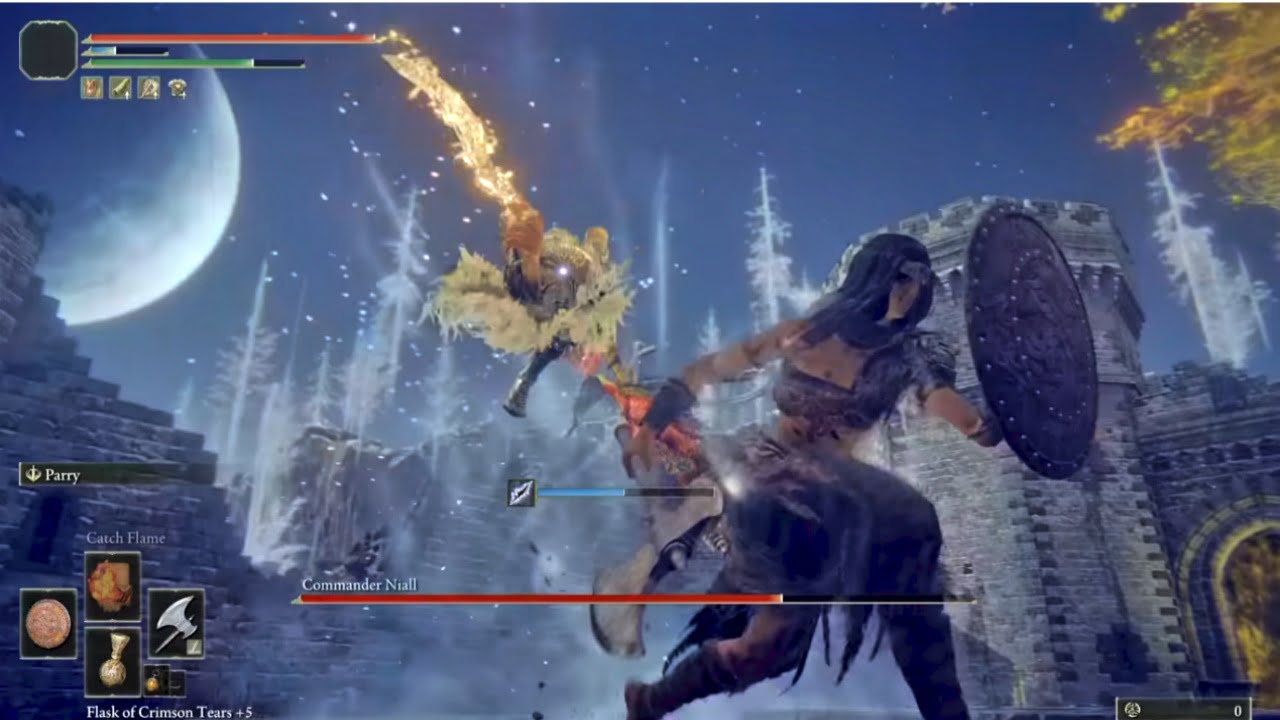 Storm Kick (Ground)
He raises his prosthetic leg and charges it with lighting, which, when stomped furiously on the ground, will create multiple shockwaves of thunder through the ground. This attack might prove to be tricky for the player, as running away from the attack of the area won't do the trick. Do not panic roll once the boss raises his leg, but wait until the shockwaves reach you and then jump over them. The trick is to stand your ground until the right moment.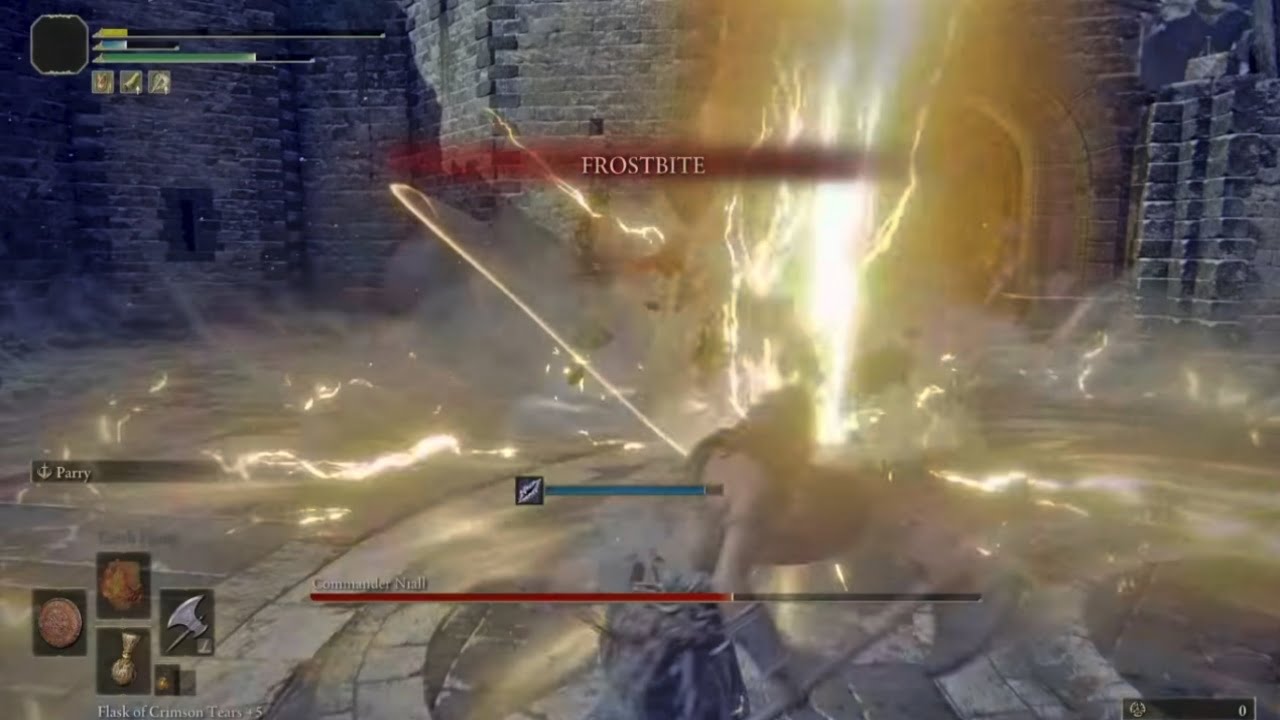 Whirlwind Dash
He swings his halberd in the air, which releases a whirl of wind around him, rendering the player difficult to see the boss when he swiftly moves towards you and deals an uppercut. This attack is a ruse to throw you off the timing to dodge, as the dash has no damage, so keep a keen eye on the halberd and dodge just when he performs the blow.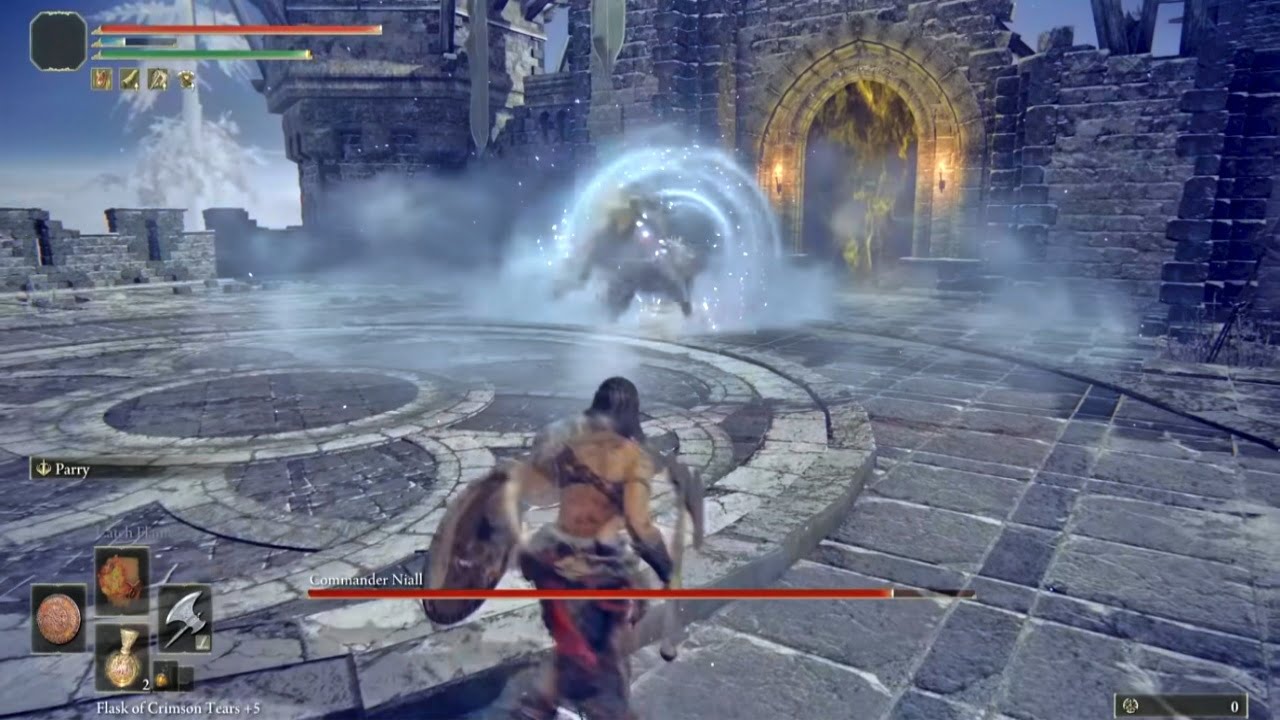 Whirlwind Dash (Charged)
He swings his halberd in the air more than once with the difference in the intensity of the wind from the previous attack. The twirls release an immense whirlwind of frost that covers most of his surroundings, and it becomes nearly impossible to keep the boss in sight. This attack may only sometimes be complete, but just until he releases a giant whirlwind.
The wind around the boss may not seem very injurious, but don't let that fool you, as it can deal lethal frostbite damage. The area that is affected by it covers a large ground of the battlefield, so you need to escape it as soon as you see the boss starting to spin his halberd. The boss tries to trick the player by swiftly moving sideways before charging with an uppercut from his halberd.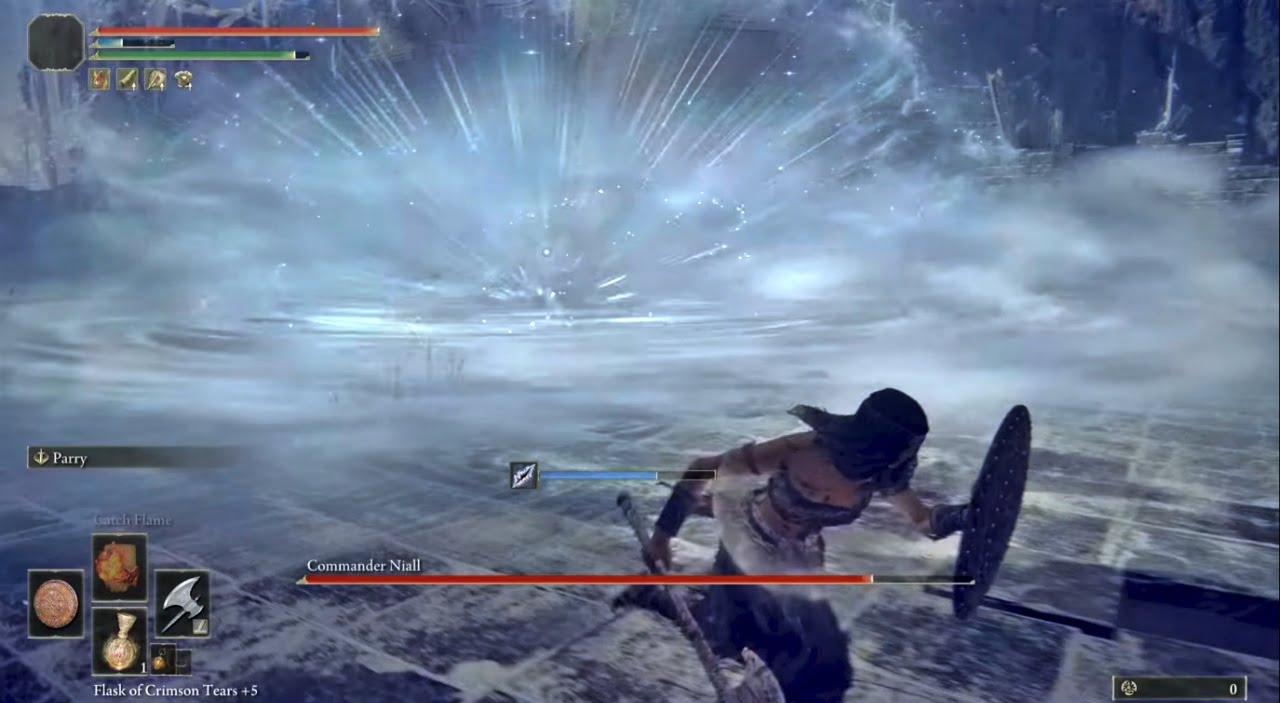 Rewards/Drops for Defeating Commander Niall
Veteran's Prosthesis: A Fist in Elden Ring that is good for Lightning damage builds. It is highly recommended, as it does massive damage for only 10FP. It's a high-speed weapon because of its nature as a fist weapon.
Commander Niall's Armor (Veteran's Set): The Veteran's Set is an old, worn-out armor set helpful for the wearer's defense. After executing Commander Niall at Castle Sol Rooftop, it can be acquired for 18,000 runes from Finger Reader Enia.