Esgar, Priest of Blood, is one of Elden Ring's most daunting field bosses to defeat. As his title suggests, he is a priest who serves the Blood God and is well-known for his bloody, violent rituals. Even the most experienced players will find him to be a formidable adversary due to his large axe and array of lethal melee strikes.
Note: Eliminating Esgar is not mandatory in order to progress through the main story.
Esgar, Priest of Blood Location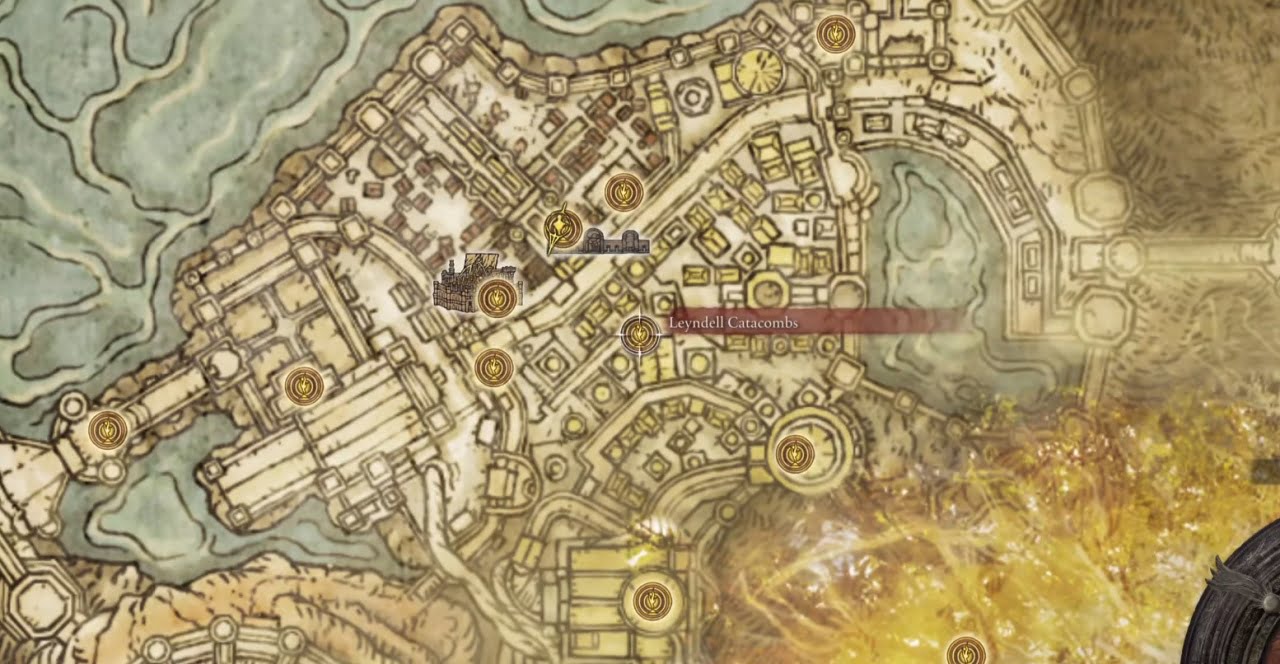 In the Leyndell Catacombs, a sizable mausoleum situated beneath Leyndell, Royal Capital, you can find Esgar. The Leyndell Catacombs are much more hidden compared to other locations in the game. To get there, you must first locate the Subterranean Shunning Grounds, which will also point you to the quickest route as they are the entrance to these catacombs. Once you get there, follow the roadside, where you will encounter a huge enemy Lobster (which can be ignored/skipped through).
Just like the other catacombs, you need to obtain a tool to open the main gate. You can find it by continuing into the long hallway from the entryway, and at some point, there should be a drop-off point with a tall ladder leading into an empty room where the switch (tool) is located.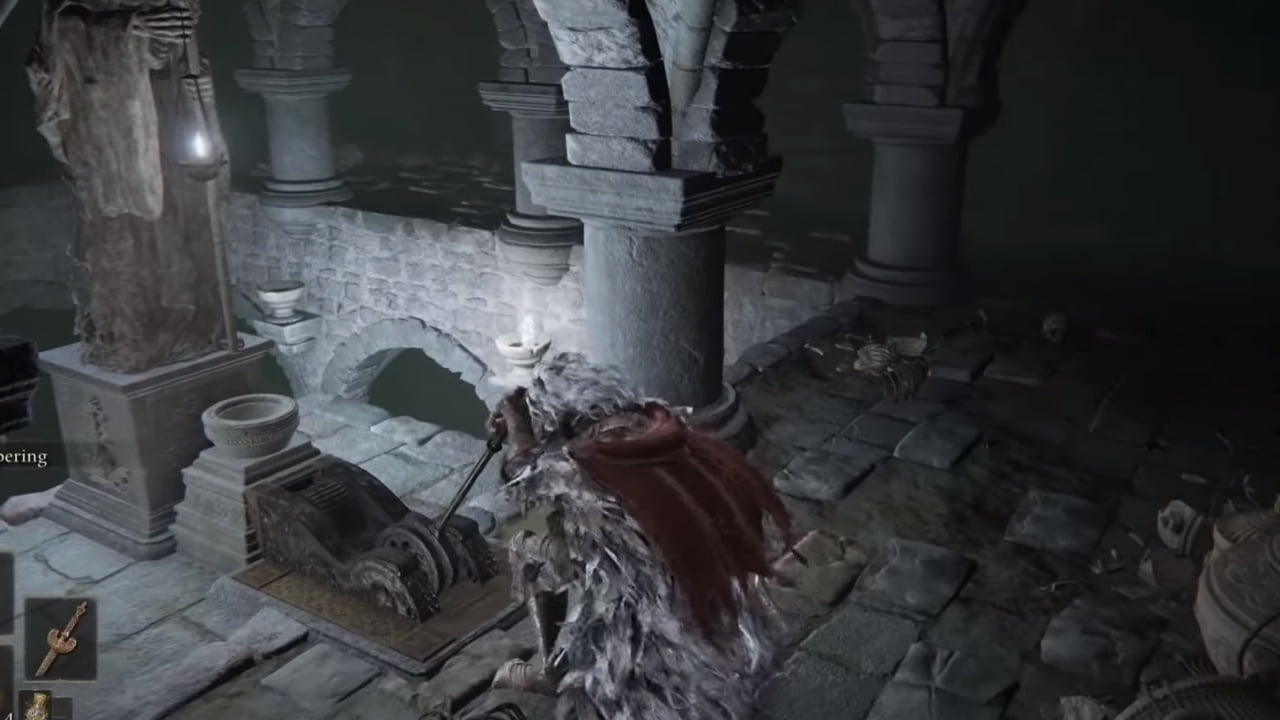 Note: Esgar can still be battled even after Leyndell, Royal Capital shifts to Leyndell, Ashen Capital, since the sewers are unaffected.
Esgar, Priest of Blood Statistics
| | |
| --- | --- |
| Health | 3511 |
| Parryable | Yes (Esgar) and No (dogs) |
| Inflicts | Blood loss |
| Damage Type | Negations |
| --- | --- |
| Standard | 12 |
| Slash | 11 |
| Strike | 11 |
| Pierce | 11 |
| Magic | 24 |
| Fire | 22 |
| Lightning | 5 |
| Holy | 25 |
| Infliction | Resistance |
| --- | --- |
| Poison | 236 |
| Scarlet Rot | 236 |
| Hemorrhage | 168 |
| Frostbite | 168 |
| Death | Immune |
Best Tips to Fight Esgar Priest of Blood
You might want to use items such as Invigorating Cured Meat that increases your Robustness.
The boss's defeat is a significant game milestone, so players must be equipped and skilled to challenge him.
Just before focusing on the boss, give the two dogs your attention. Use the Beast-Repellent Torch if you're having difficulties with them.
Spirit Summon and Multiplayer (CO-OP) are allowed for this boss, so make sure to use them to your advantage.
Use summon spirit ash to distract the dogs before they take your focus away from the boss battle.
Using a spell that deals damage over a large area, such as Dragon Fire, will make it much harder to dodge the monster if you're ranged, even though it might be challenging to hit him with his dodging.
Esgar, Priest of Blood Attacks and Counters
Swarm of Flies
He releases a swarm of flies that charge toward his target before exploding into a larger AoE. Avoid the initial projectile by evading it. It has strong tracking skills and will probably hit if you dodge sideways or backward.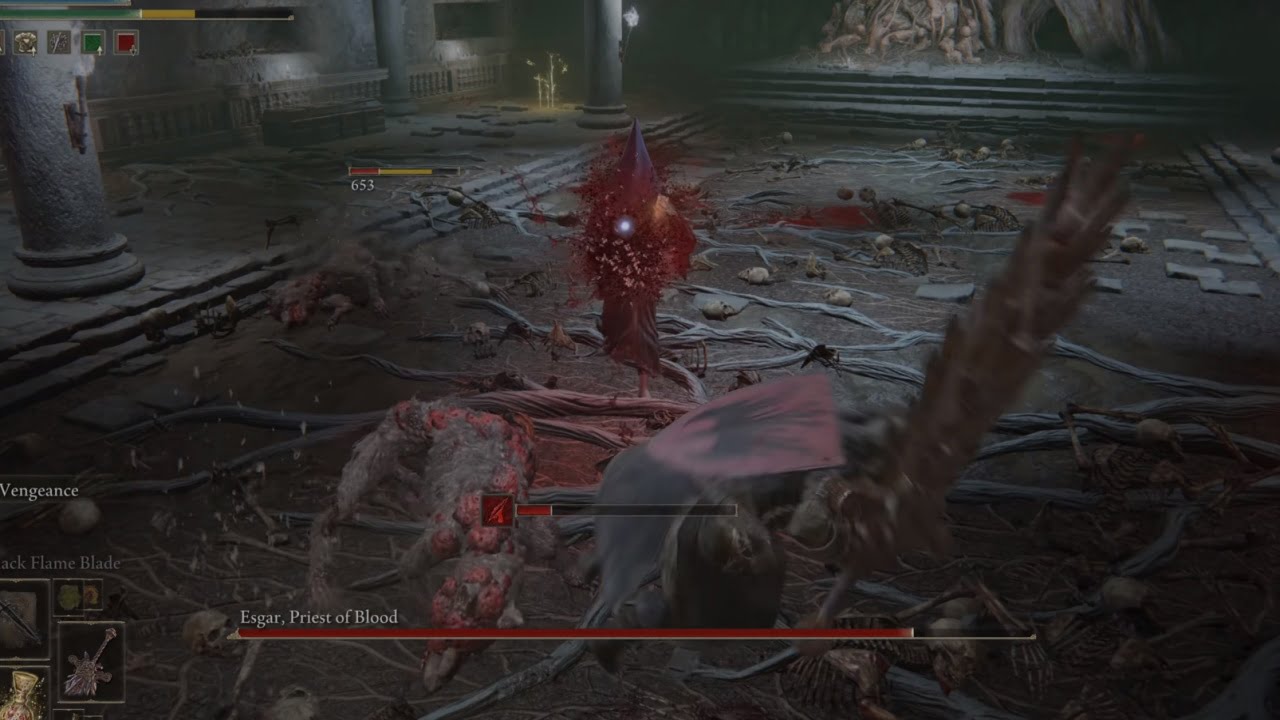 Bloodflame Talons
He slashes using the magical claws in front of him. The claw marks caused by his attacks will explode after a short delay inflicting high damage. To avoid it, keep your distance and refrain from approaching until the explosion occurs.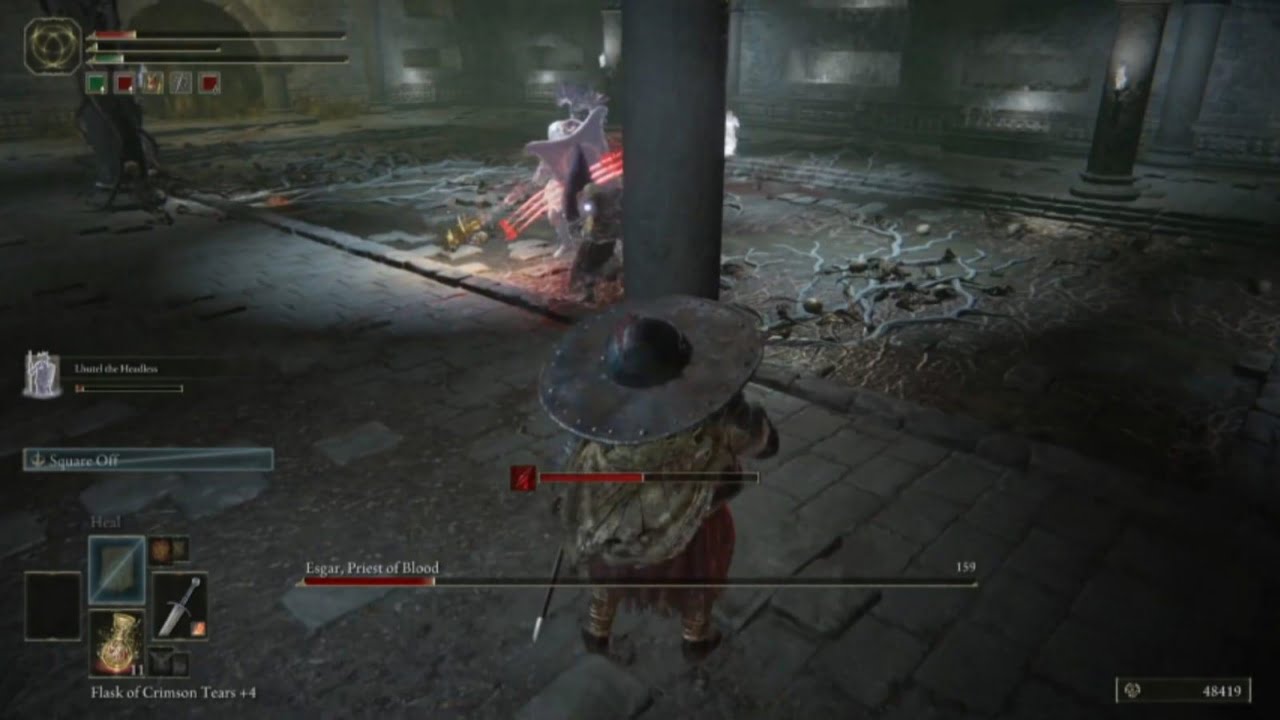 Bloody Slash
It is the broad horizontal attacks that release a rending blood slash in a wide arc using the dagger. Avoid the projectile by rolling through or to either side.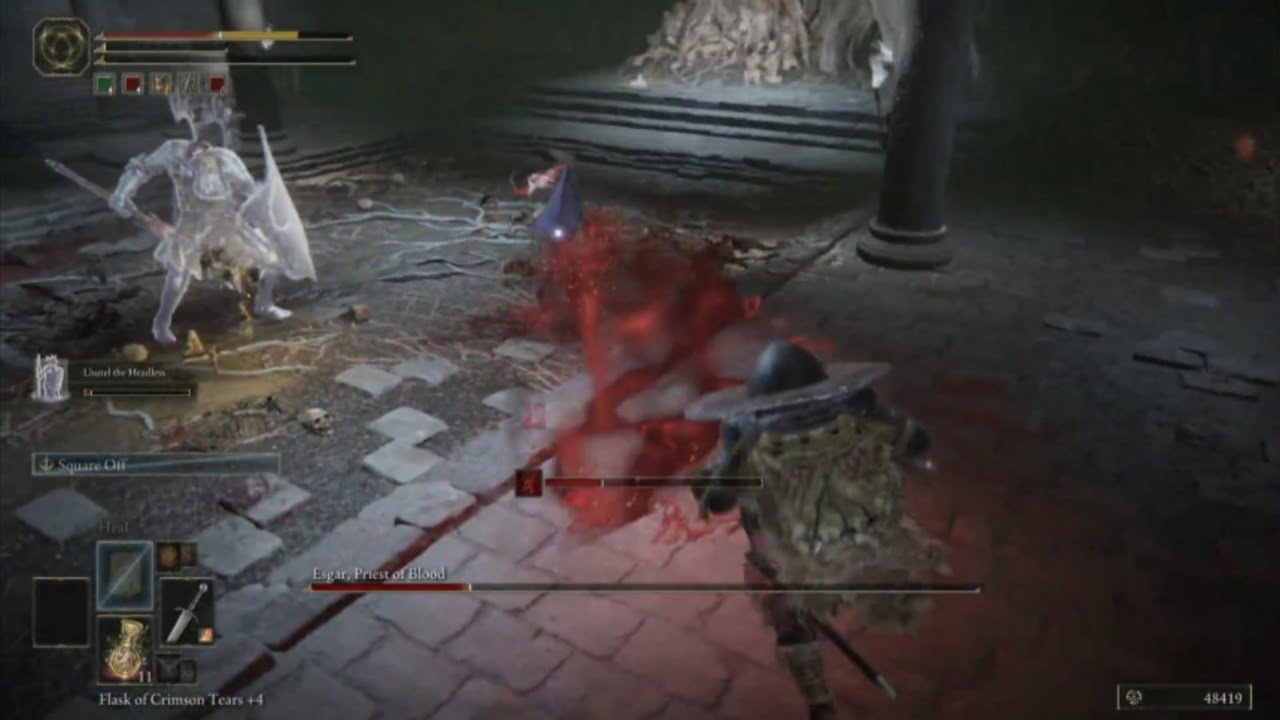 Jumping Attack
He swiftly charges at the player by jumping towards him, and attacking with the dagger is the jumping attack. You can get in 1-3 swings if you dodge-roll past the strike to escape it.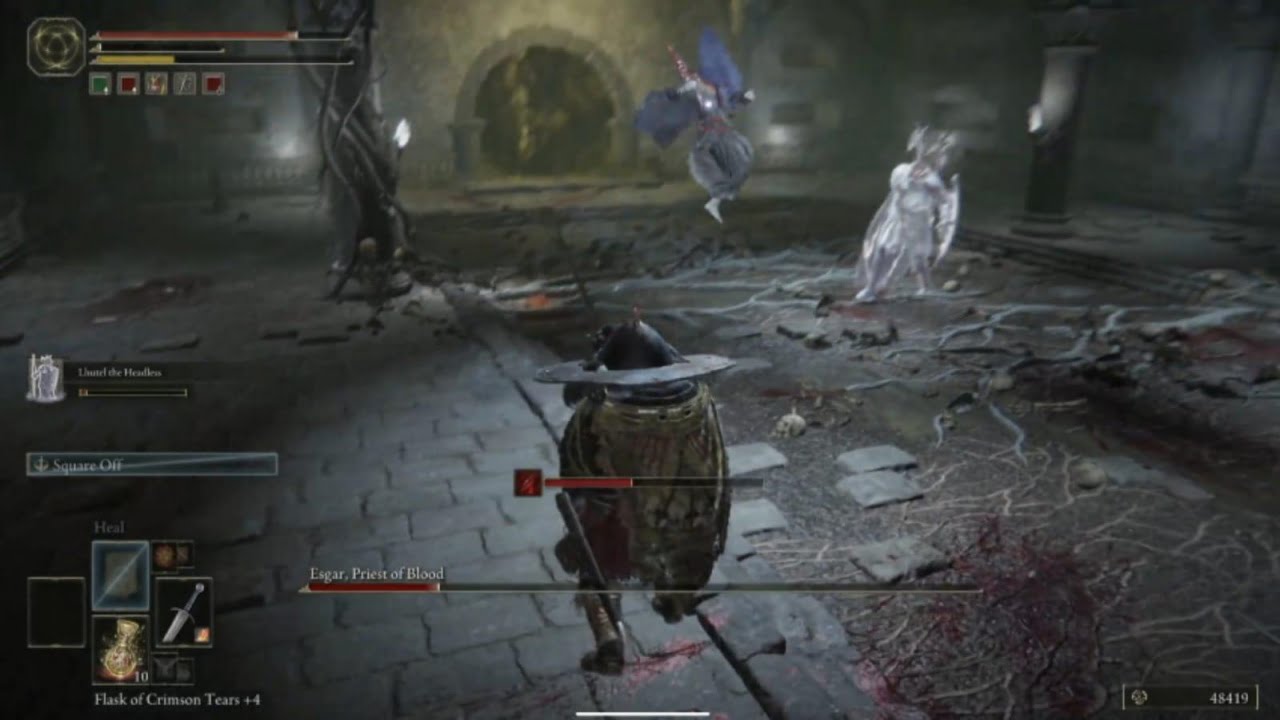 How to defeat Esgar, Priest of Blood, Easily?
Esgar is a rather straightforward boss who largely focuses on the bleed mechanic used by both him and his dogs. You must stop this impact from growing because the blood loss it causes has the potential to one-shot players even at higher levels.
For Melee Users
The boss lacks much poise; melee players can use whatever weapon they choose to stun, lock or stagger him. But at the same time, beware of his further attacks. Don't be greedy towards a combo of attacks at the same time, as Esgar's one hit can bring a noticeable difference in your health.
Magic and Ranged Users
The boss can evade spells more easily, so it is recommended to use AoE attacks. There exists a risk of being attacked while AoE attacks about the need to counter him more swiftly and dodge him at the perfect time. A spell-like Ekzykes Decay is much more effective against the boss if you ensure investing around 35-40 Mind points.
Rewards
22,500 Runes
7,500 Runes (Co-op)
Lord of Blood's Exultation: A decent Attack Talisman that raises attack by a HUGE 20% when blood loss occurs.