Mohg, Lord of Blood, is a Shardbearer twin brother of Morgott and is a demigod born to Godfrey, the first Elden Lord. He is an Optional Boss, so defeating him is not mandatory to progress the game's story. He is one of the accursed Omen, and unlike Morgott, he embraced the Omen and became a cult follower of the Formless Mother. Since the boss is an Omen demigod, he schemes to be an Empyrean by raising his brother Miquella to godhood and becoming his consort. This boss is a Shardbearer who took part in the war followed after the shattering.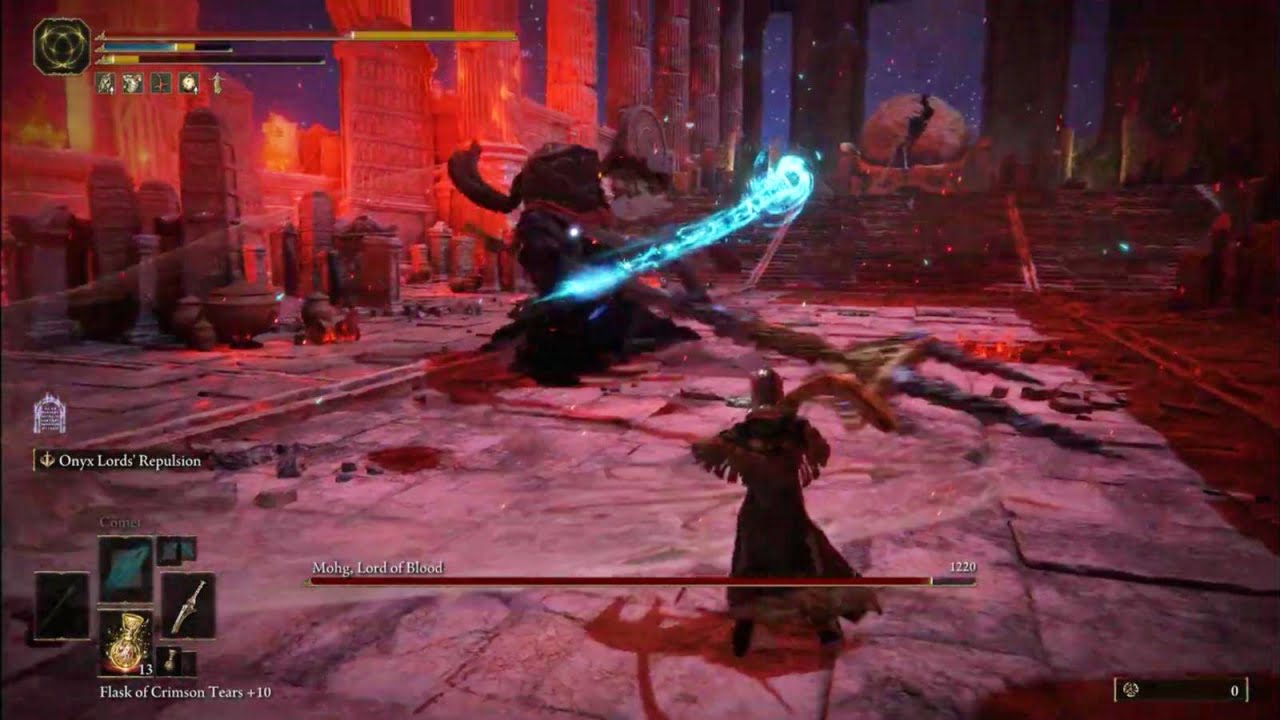 Mohg also holds a servant who is another blood-associated boss found in Leyndell Catacombs and is known as Esgar, Priest of Blood.
Mohg, Lord of Blood Location
Mohg, Lord of Blood, can be found at the Dynasty Mausoleum Entrance Site of Grace in the final stages of Mohgwyn Palace. Once you reach this Site, proceed to the stairs going upward to the mausoleum proper and then take a right to follow the path to the elevator, which will take you directly to the boss arena.
The other variant of this boss Mohg, the Omen, can be found at the Forsaken Depths Site of Grace. Progress your way through the Subterranean Shunning-Grounds area, and you will eventually find yourself at the boss arena.
Mohg, Lord of Blood Statistics
Combat Information
| | |
| --- | --- |
| Health | 18,389 HP |
| Defense | 122 |
| Stance | 110 |
| Parryable | No |
| Inflicts | Hemorrhage |
| Weakness | Bleed Attacks |
Negations or Absorptions
| Damage Type | Negations |
| --- | --- |
| Standard | 10 |
| Slash | 10 |
| Strike | 10 |
| Pierce | 10 |
| Magic | 40 |
| Fire | 80 |
| Lightning | 40 |
| Holy | 40 |
Resistances
| Infliction | Resistance |
| --- | --- |
| Poison | 653 / 943 / 1400 |
| Scarlet Rot | 653 / 943 / 1400 |
| Hemorrhage | 290 / 332 / 430 / 720 |
| Frostbite | 653 / 943 / 1400 |
| Sleep | 1406 / 1863 |
| Madness | Immune |
Note: The values after the "/"s indicate the increased resistances after each successive proc.
Best Tips for Mohg, Lord of Blood Boss Battle
Mohg's Shackle is a crucial item to hold down the boss for a specific amount of time and acts similarly to how Margit's Shackle works.
Bring Purifying Crystal Tear with you to negate the blood loss attacks and helps greatly without causing significant damage to the player.
Equip fast weapons like Straight Swords and Katanas to deal damage quickly.
You must be at least Level 87 to beat Mohg easily.
Spirit Summons and Multiplayer (CO-OP) are allowed for this boss.
Mohg, Lord of Blood Attacks and Counters
Bloodflame Talons
He slashes his claws in the air causing an AOE Bloodflame attack that explodes. This attack can cause quite some damage and break the player's poise, roll right when he slashes his claws to avoid it.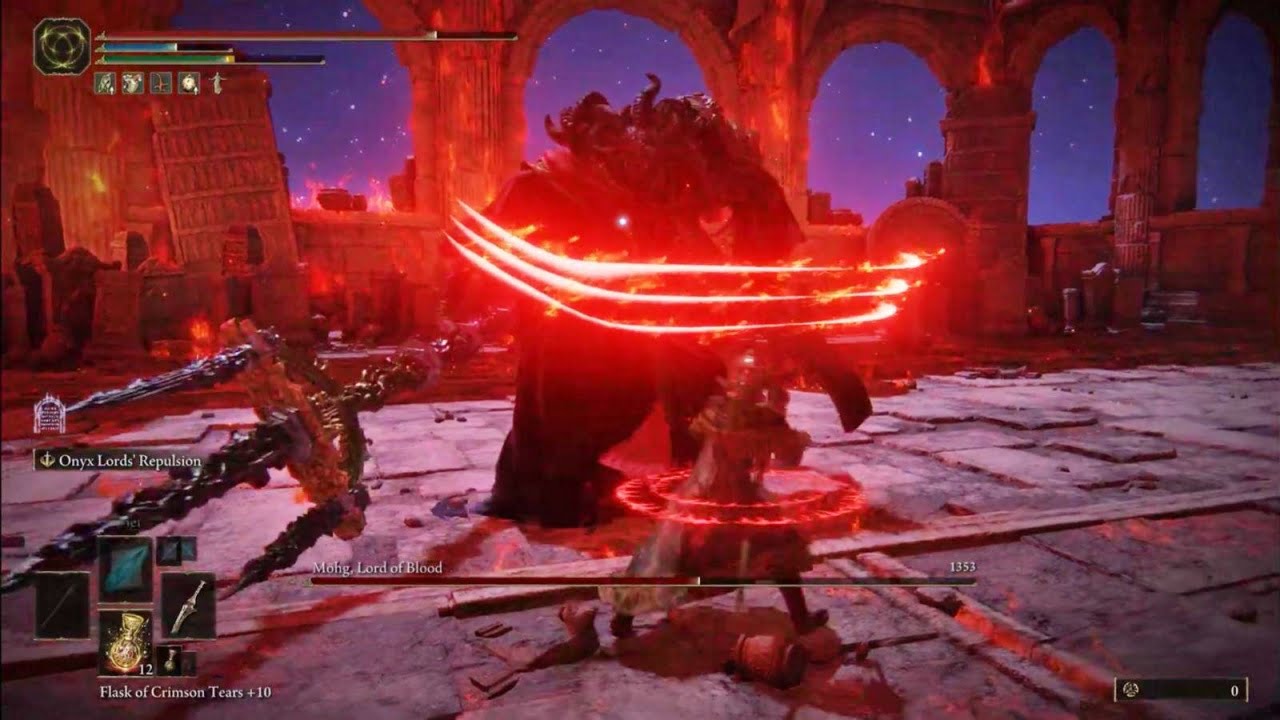 Bloodboon
He opens a vent that brings in a shower of Bloodflame, which splatters all over the floor. Whenever you see the boss opening up a portal, roll away since the player can be caught up within the pound made by the attack. It can be performed in three different ranges depending on the player:
Horizontal Swipe: Used at medium range.
Over-Shoulder Swipe: Used at medium range.
Shower Variant: Used at short range.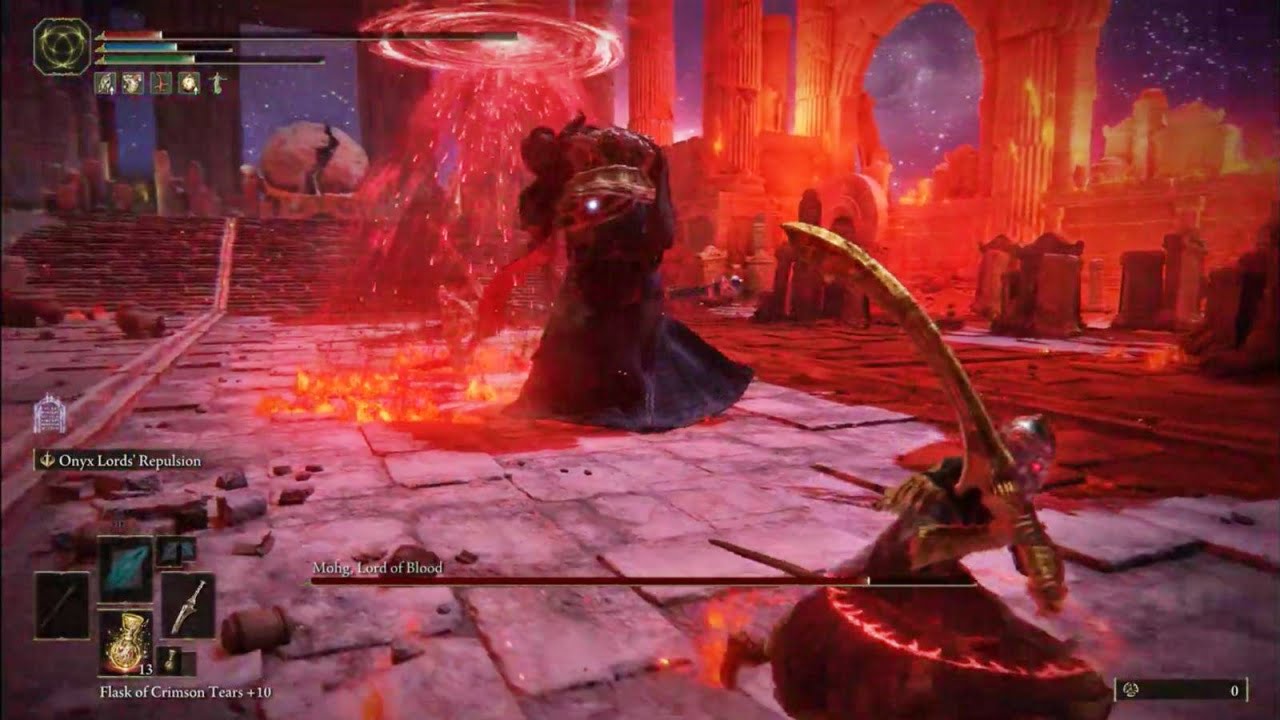 Swinging Spear
He swipes his spear horizontally, 2-3 times which sometimes ends with an overhand slam. You must roll into each and every swipe to avoid getting hit.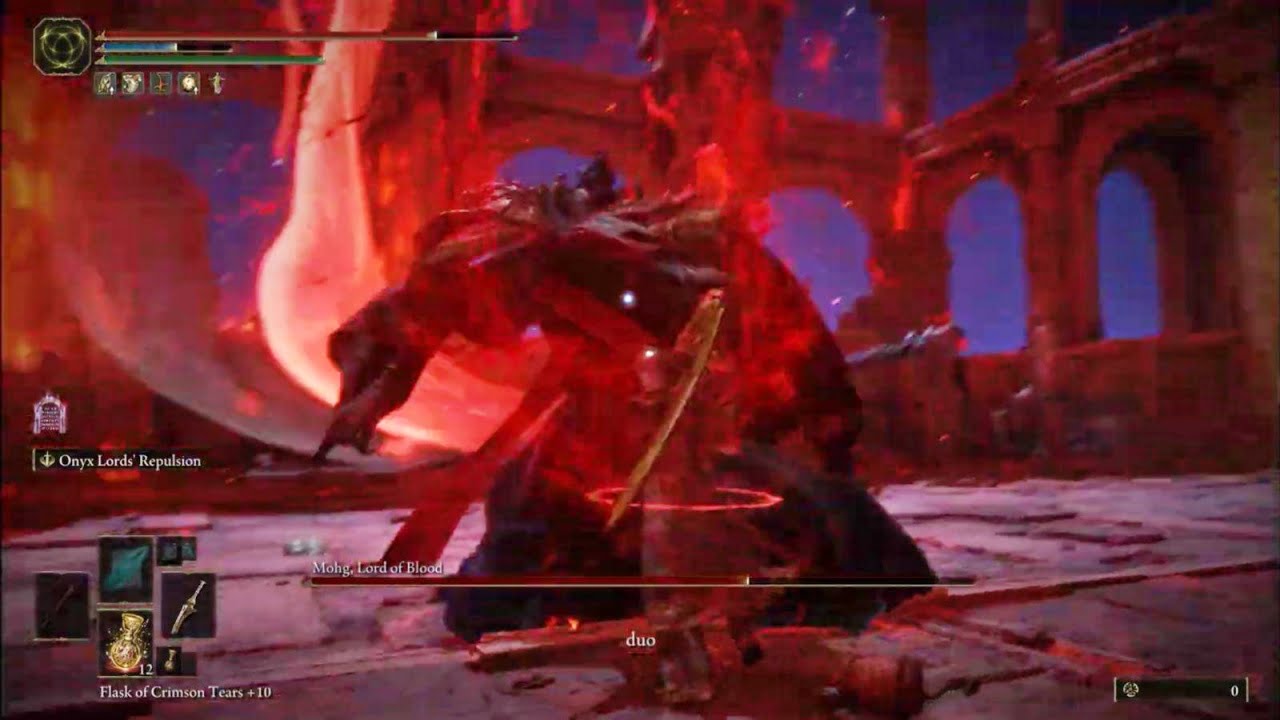 Thurst Spear
He thrusts his spear into the ground and winds it up. This can also cause AOE damage since it covers a little bit of land. Roll backward to dodge this attack easily.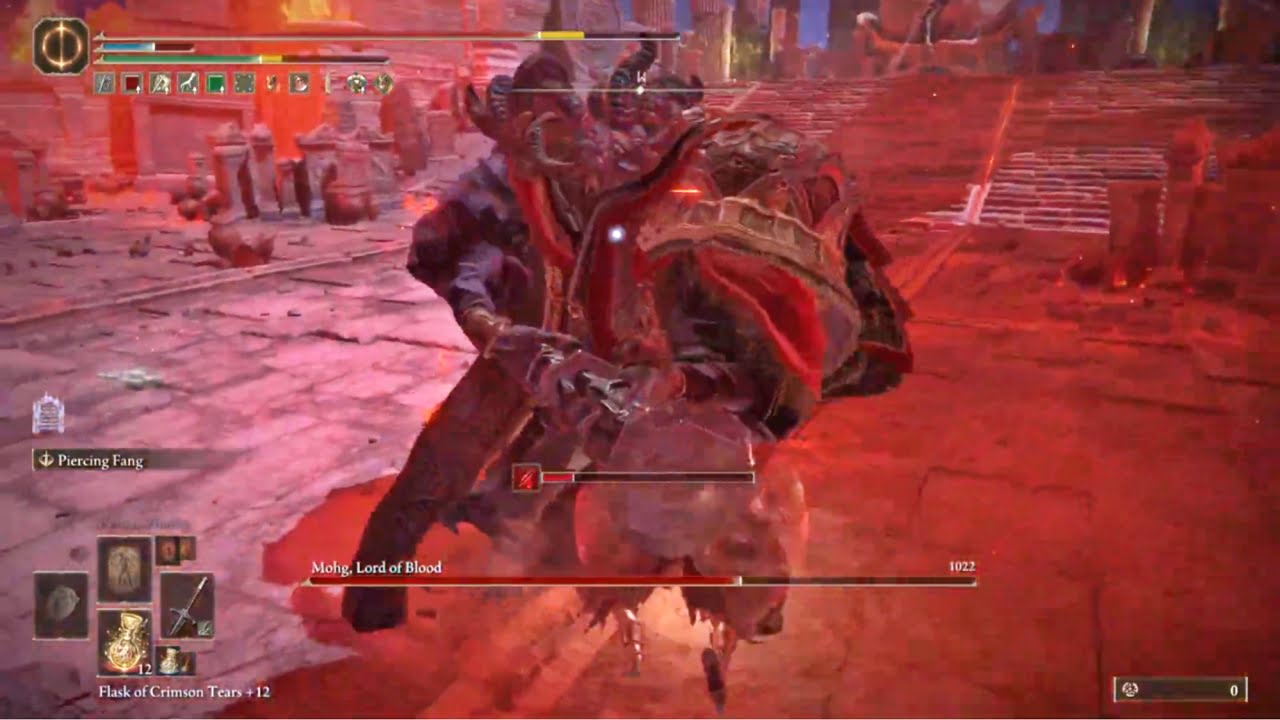 Ritual Countdown
He lifts his spear and starts to recite "Tres," "Duos," and "Unnus." Steer clear of his front and run to his back to get in some attacks, as he is completely vulnerable from the backside.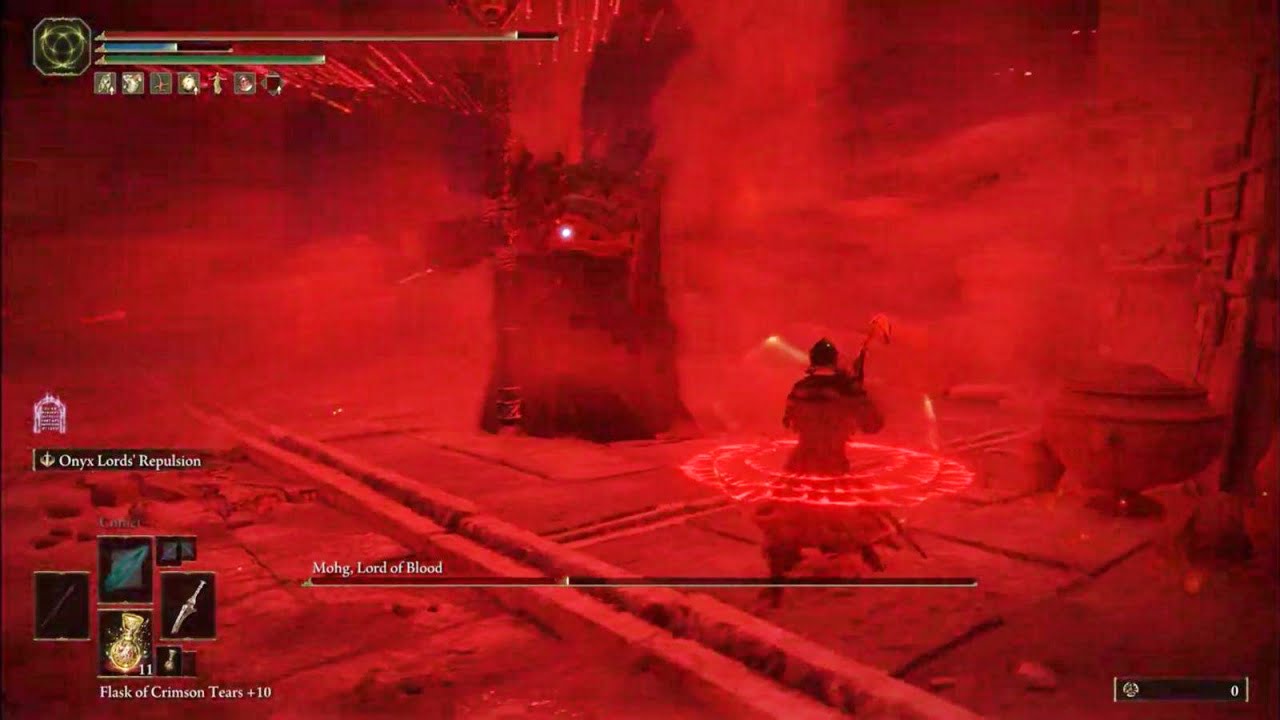 Bloodboon Ritual
When the boss reaches half health, he lifts his spear in the air and recites "Nihil" three times which heals himself while inflicting Hemorrhage on the player. Since this attack is unavoidable, use the Purifying Crystal Tear to decrease the damage inflicted by this attack significantly.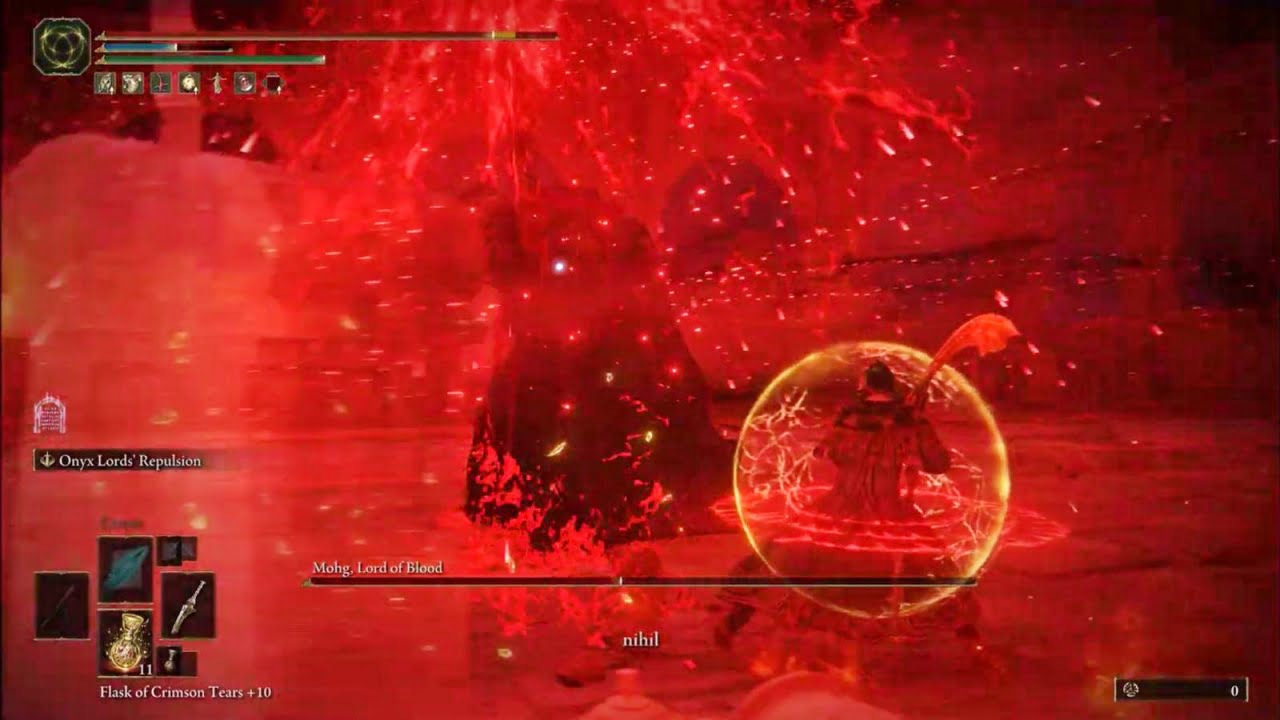 Airborne Assault
He flies into the air and charges at you with his spear while throwing a splash of Bloodflame. Roll forward to dodge this attack.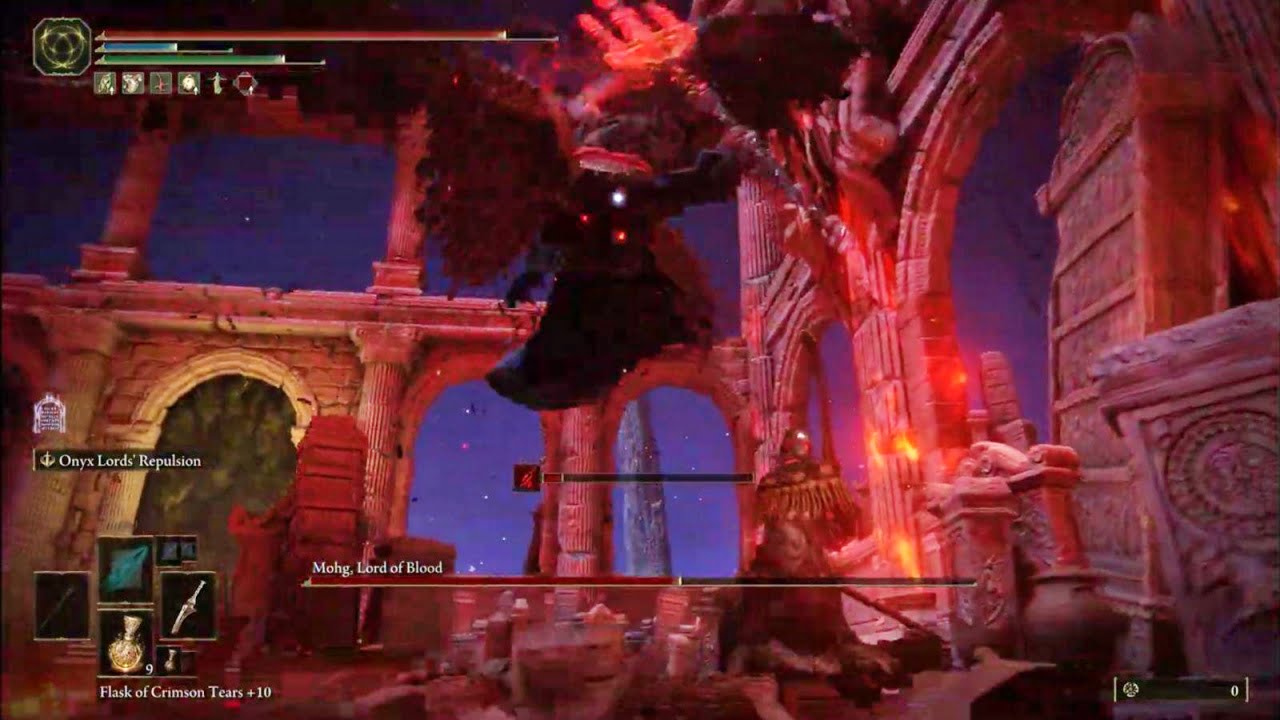 Blood Tax
He thrusts his spear and rotates, dealing Bloodflame damage and building up Hemorrhage. Roll to either side to avoid this attack.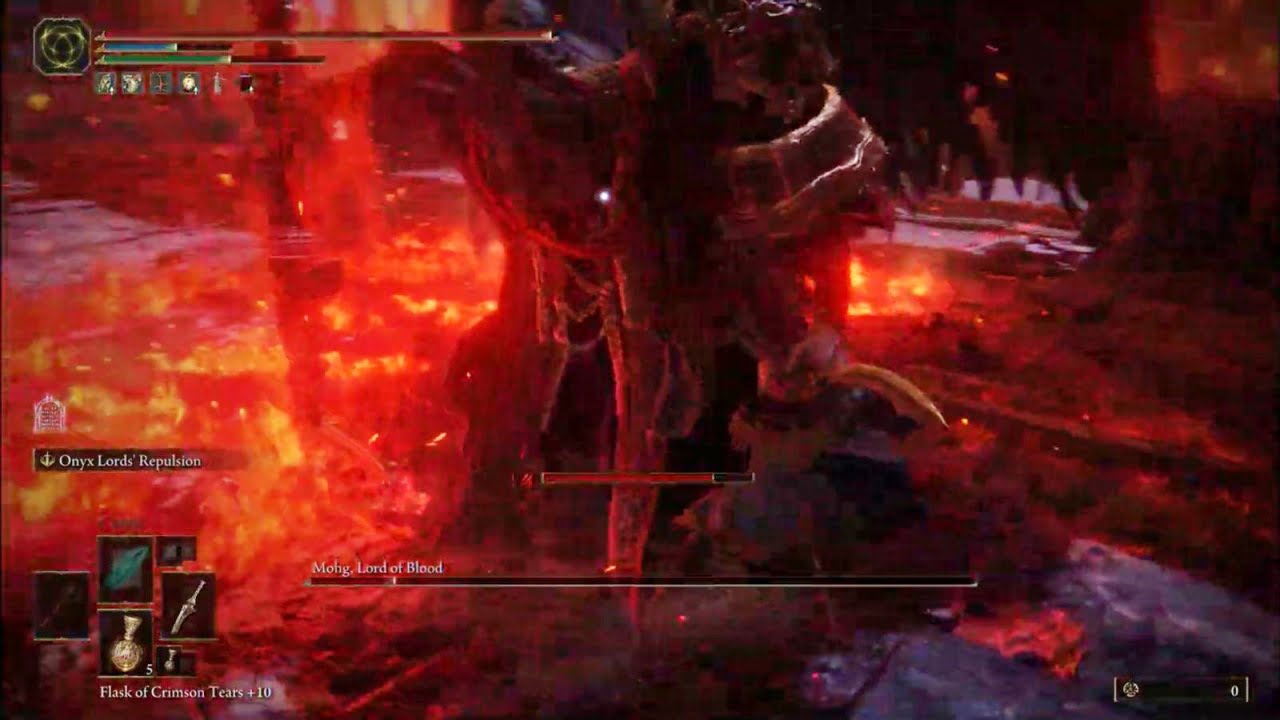 Spear slam + Explosion
He thrusts his spear into the ground creating an AOE explosion and dealing significant damage. Roll away as you see him raising his spear.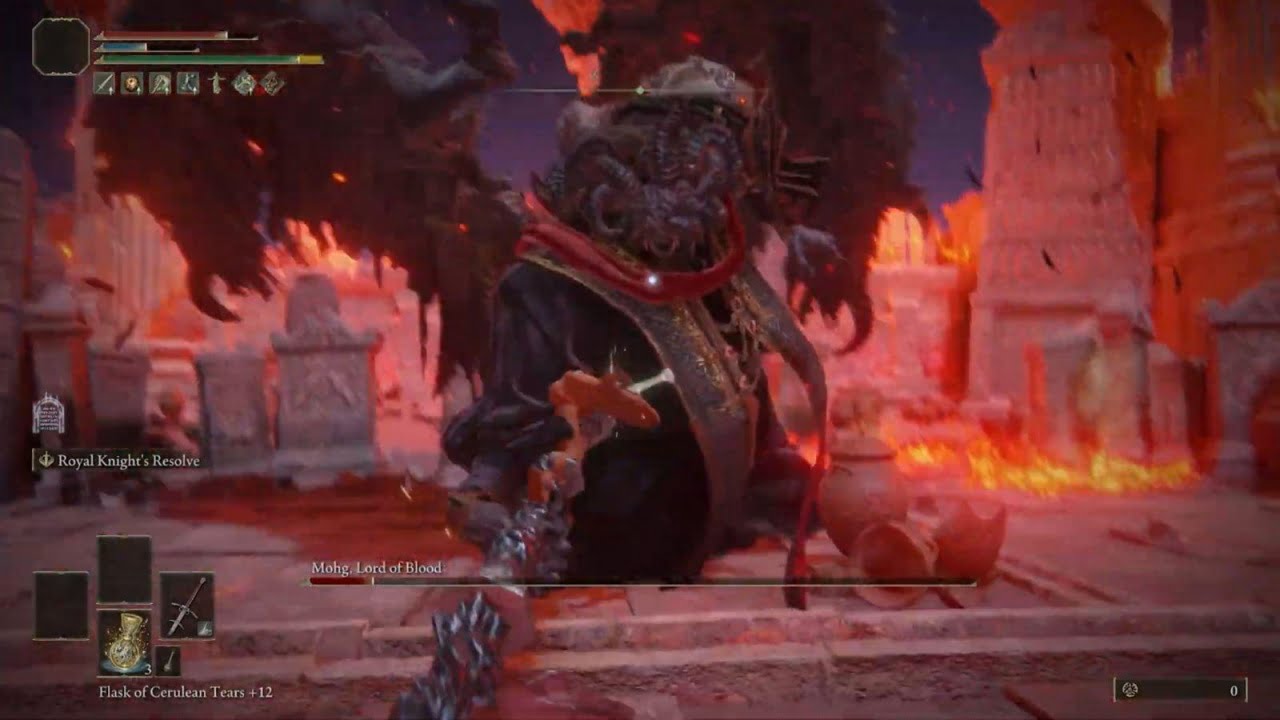 Upwards Swing and Slam
He swings his spear in the air, releasing bloodflame and slamming it back on the ground creating an explosion. Roll away as soon as the boss starts the blood waterfall.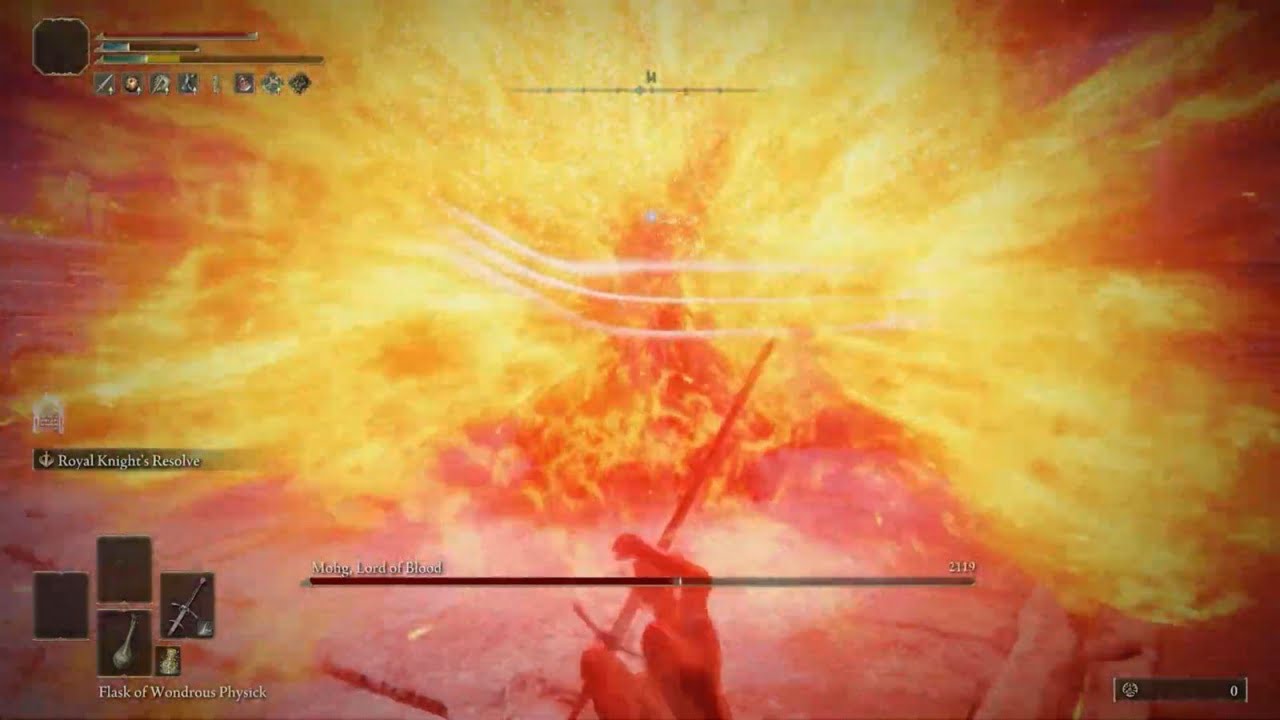 How To Defeat Mohg, Lord of Blood, Easily?
It is quite a tough boss fight filled with many bleed build-ups and highly damaging attacks. He has fast attack patterns with low I-frame windows to dodge them. If the player is not careful with the blood loss bar filling up, it will take a toll on the health bar, slowly driving you out of your flasks and being stuck dumbfounded.
Melee users
It's the usual hack and slash and runs back to your domain technique. Try to get in attacks when the boss is busy doing his incantations or through precise timing to make this battle less challenging for you.
Ranged Users
Try to maintain a distance from the boss to avoid being hit by his attacks and to avoid the hemorrhage bar being filled to the brim.
Drops for Eliminating Mohg, Lord of Blood
Mohg's Great Rune
Remembrance of the Blood Lord
FAQs
Who is Mohg's twin brother?
Morgott, the Omen King, is the twin brother of Mohg, born to Godfrey, the First Elden Lord, and Queen Marika.
Who is Mohg protecting?
Mohg is protecting his empyrean brother Miquella since he plans to raise Miquella to godhood and become his consort.