The fearsome Decaying Ekzykes is a Great Enemy Boss in Elden Ring; even though infected with Scarlet Rot, this decaying dragon can still severely threaten unwary travelers. This rotten creature with deadly attacks will test your mettle and your skill. Unlike other bosses, this dragon can fly, and its vast size means its attacks can cover extensive battlegrounds. He is an Optional Boss and does not contribute to the storyline, but defeating him in advance can reward the player with spoils of victory that are well worth the effort.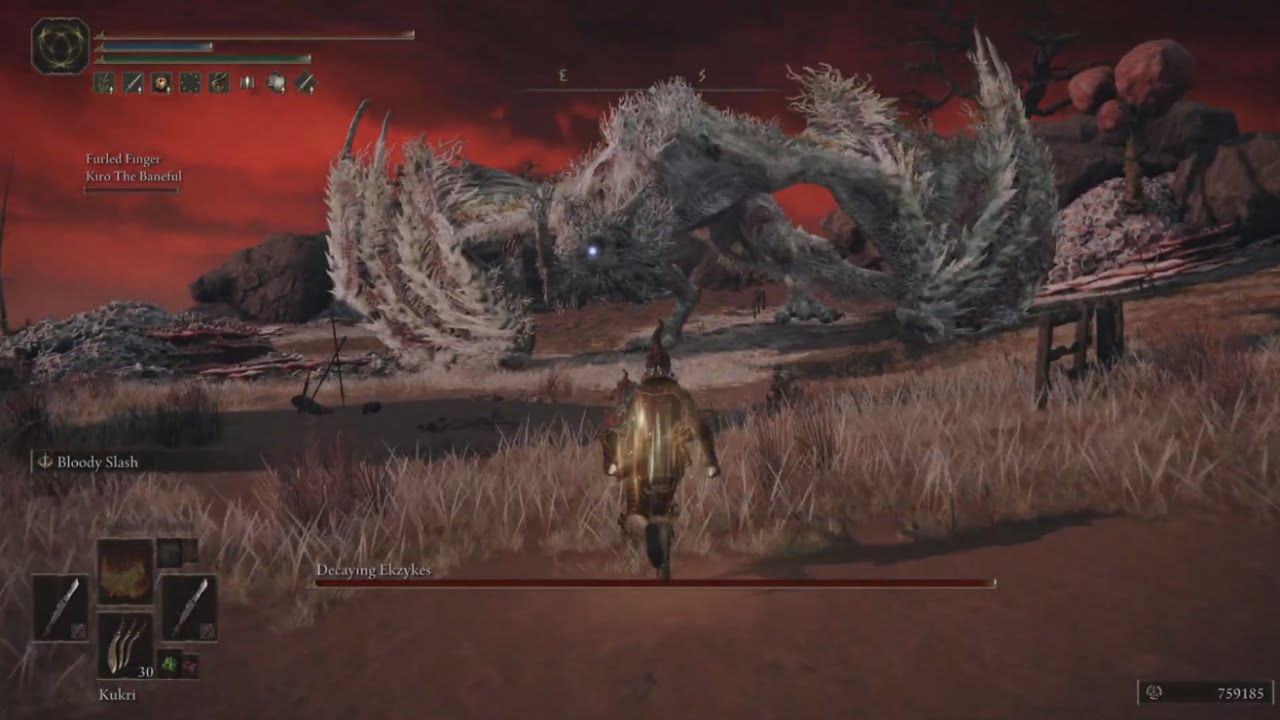 Decaying Ekzykes Location
You can find Decaying Ekzykes from the closest Site of Grace, the Caelid Highway South. It's hard to miss if you travel directly along the main road on the southeast of here. You will spot him sleeping close to the Cathedral of the Dragon Communion.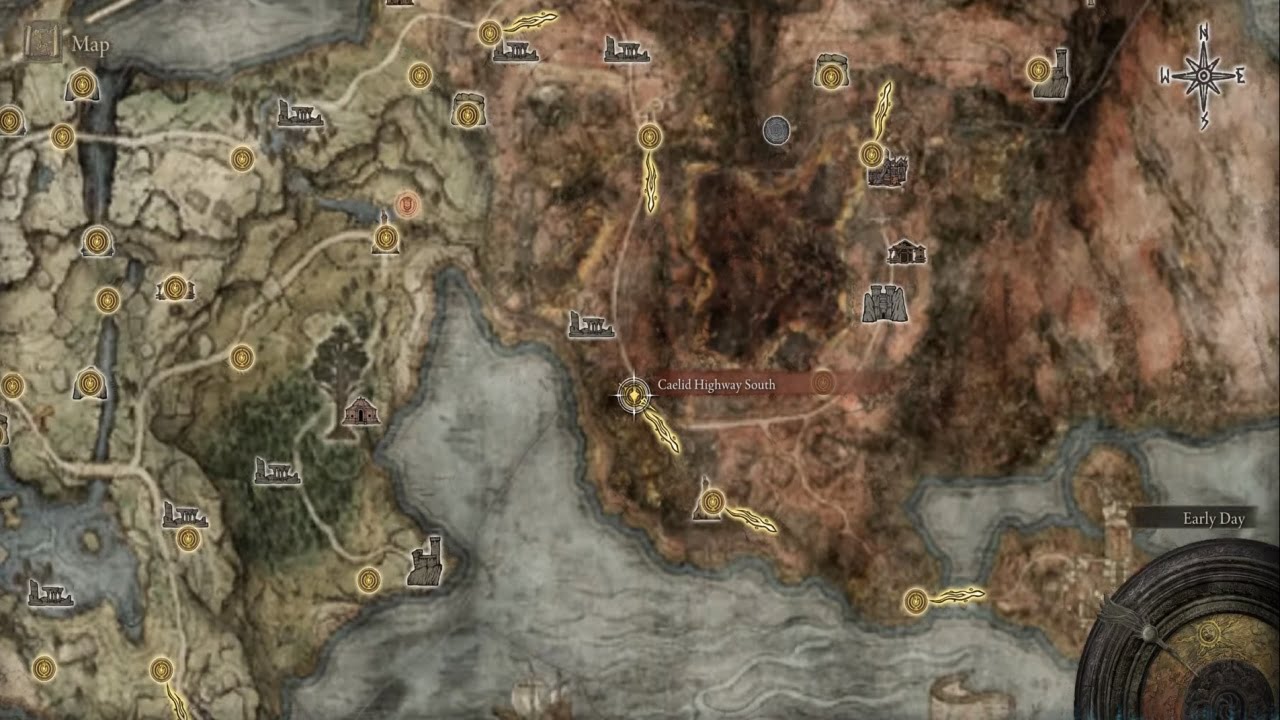 Decaying Ekzykes Statistics
| | |
| --- | --- |
| Health | 23,731 |
| Defense | 114 |
| Stance | 120 |
| Parryable | No |
| Inflicts | Scarlet Rot |
| Weak Point | Head (+50% damage) and Fire |
| Infliction | Resistance |
| --- | --- |
| Poison | 1188 / 1645 |
| Scarlet Rot | 1188 / 1645 |
| Hemorrhage | 245 / 287 / 385 / 675 |
| Frostbite | 245 / 287 / 385 / 675 |
| Sleep | Immune |
| Madness | Immune |
| Damage Type | Negations |
| --- | --- |
| Standard | -40 |
| Slash | -40 |
| Strike | -40 |
| Pierce | -10 |
| Magic | -40 |
| Fire | -100 |
| Lightning | -40 |
| Holy | -40 |
Tips for Fighting Decaying Ekzykes
Summoning Spirit Ashes and Multiplayer (CO-OP) for this boss.
Use Torrent while fighting Dragons to avoid his attacks easily.
He is extremely weak to fire, so consider using fire spells and incantations such as Black Flame.
He Inflicts Scarlet Rot, so equip items to cure the rot, like Preserving Boluses or cast the "Flame, Cleanse Me Incantation."
You must be at least Level 70 to beat this boss easily without much hassle.
Decaying Ekzykes Attacks and Counters
Decaying Ekzykes' attacks cannot be parried. As a result, you must exercise greater caution when dealing with him.
Low Stomp
He takes his head up high and opens his wings. Then he will stomp his foot after taking it just as high as his knee. This stomp will release a small cloud of scarlet rot. You can escape it by taking a few steps back and charging toward the other leg as soon as his attacking feet start falling down.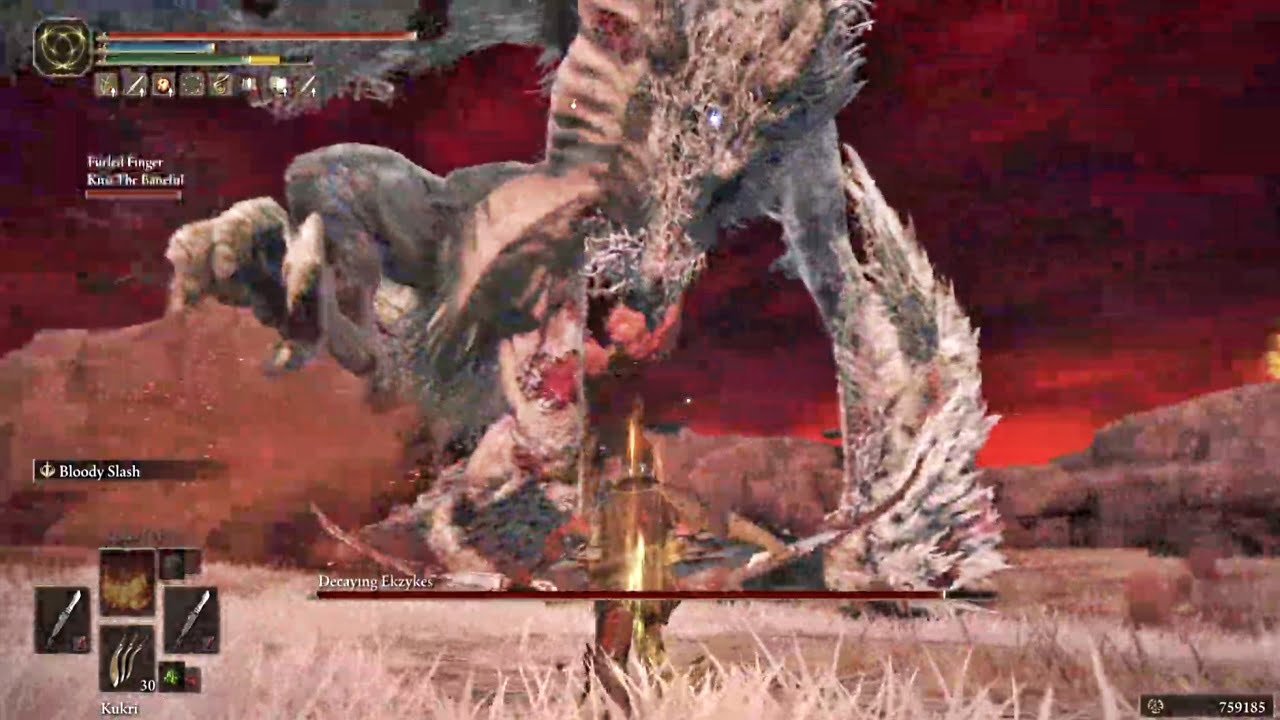 High Stomp
He stomps his feet after keeping his head and wings low. The maximum height of his stomping feet will be at the level of his hips. Dodge it the same way as low stomp by keeping a small distance and then charging at the other leg as soon as his feet start dropping.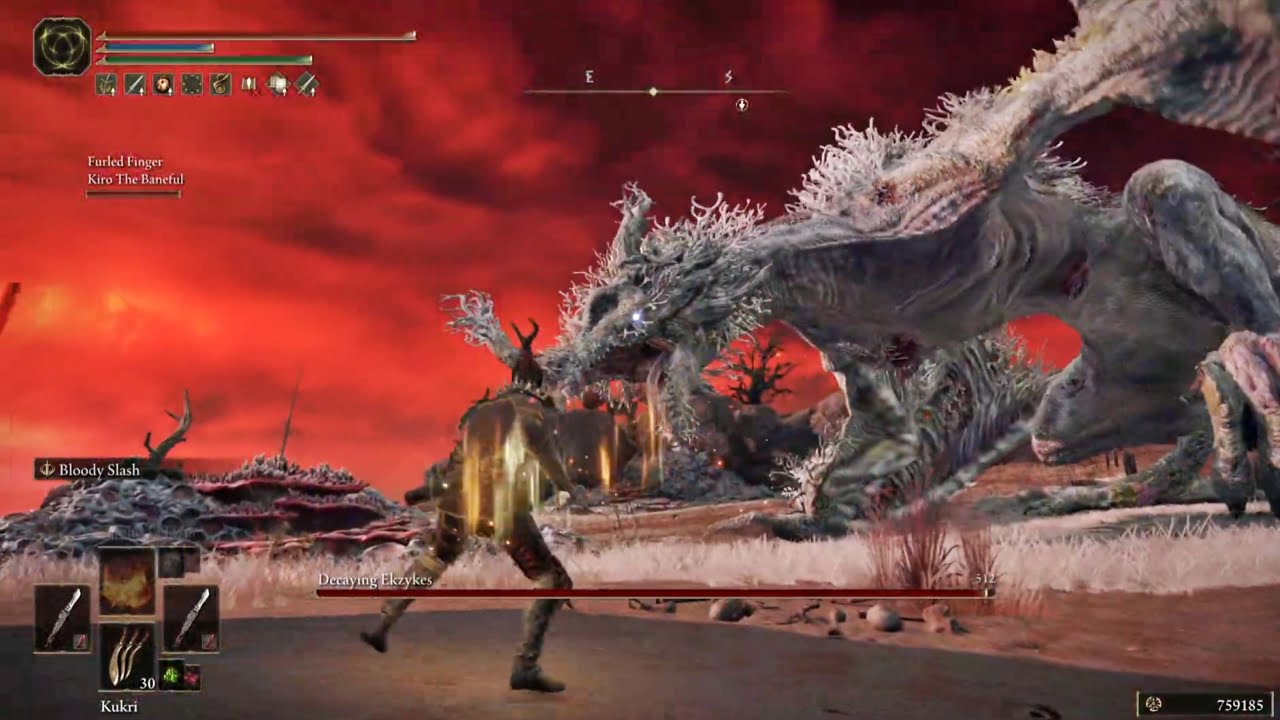 Lunging Stomp
After putting his right foot back and the claws in the ground, the boss will raise the left foot up in the air to stomp one step forward on the ground. This will release a cloud of scarlet rot in a larger area. If you want an easy approach to dodging this attack, you can sprint under him and attack his leg from behind him. But if you want to deal damage, create distance and stand in the midline of his body. As soon as he starts dropping his foot, deal a heavy damaging attack straight to his face.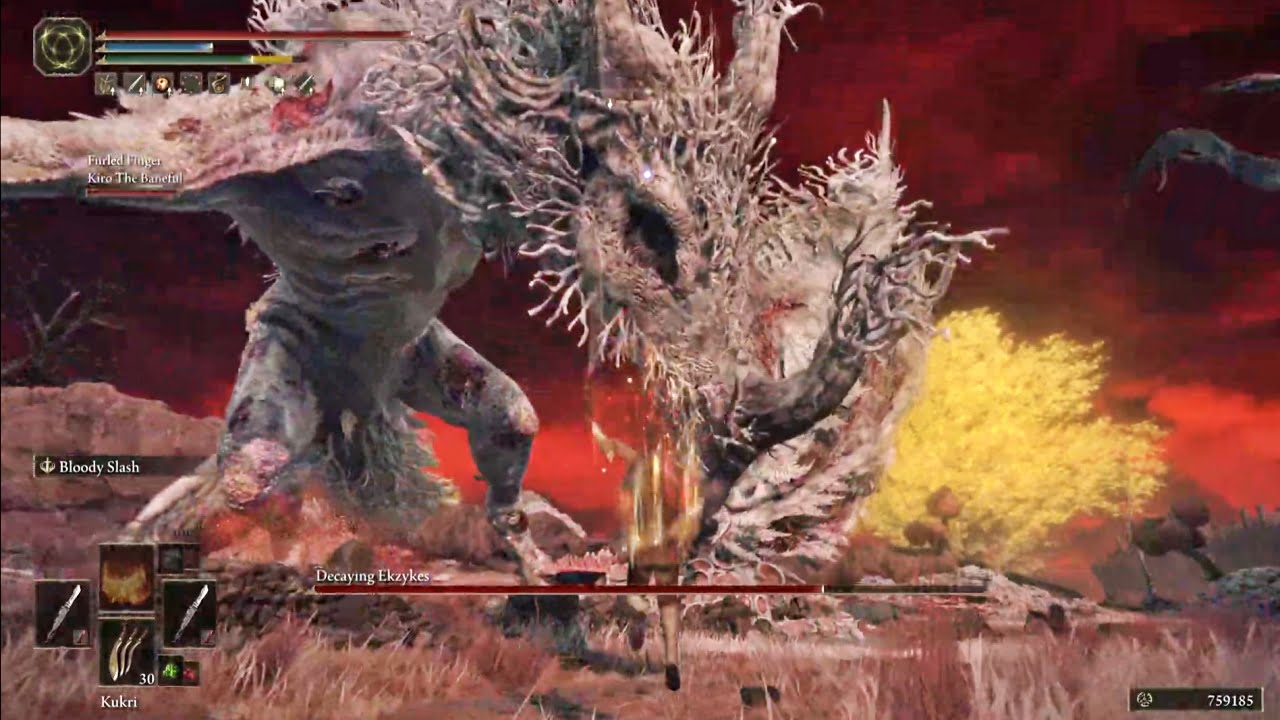 Bite
The boss will bend its head in one direction after lowering it to the ground. After roaring, he will swiftly move his head in the opposite direction while biting. You can either roll forward to avoid this attack or roll backward out of its range to deal a heavy damage attack on his second bite.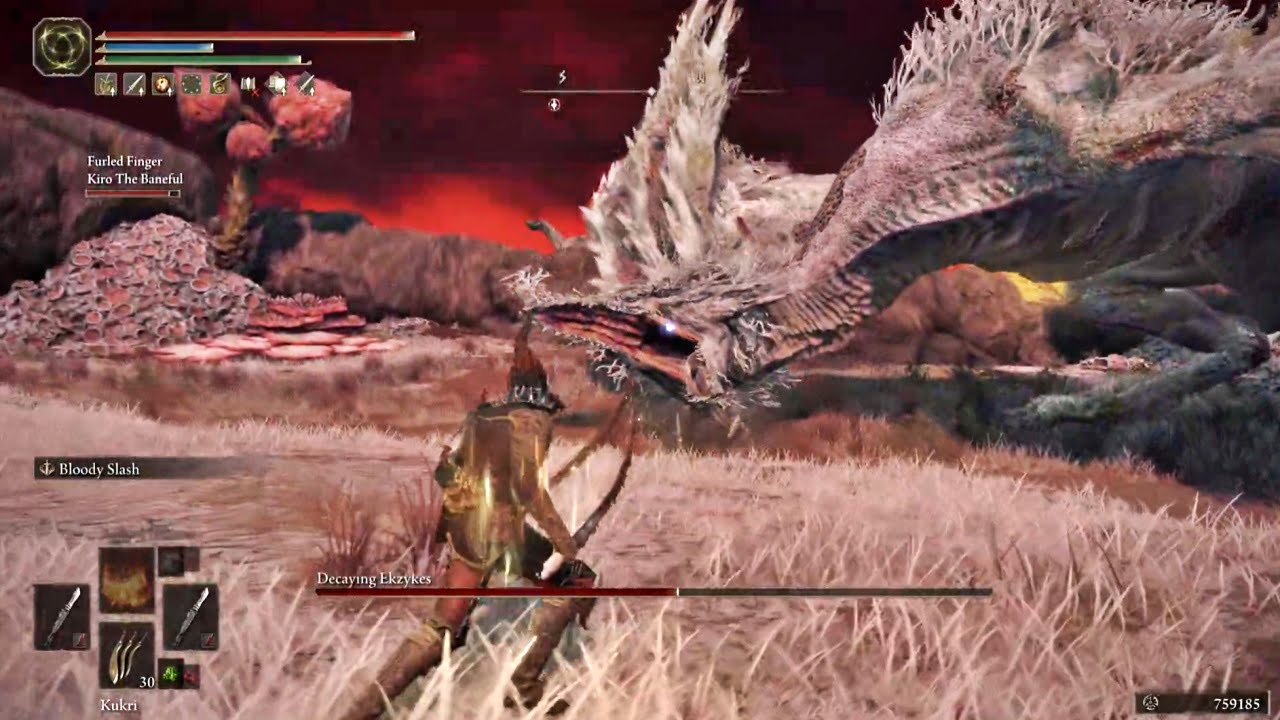 Wing Slam
He slams his wing on the ground after taking a step back. You can charge on his legs when he steps forwards or runs backward to deal a few hits on his head after the wings hit the ground.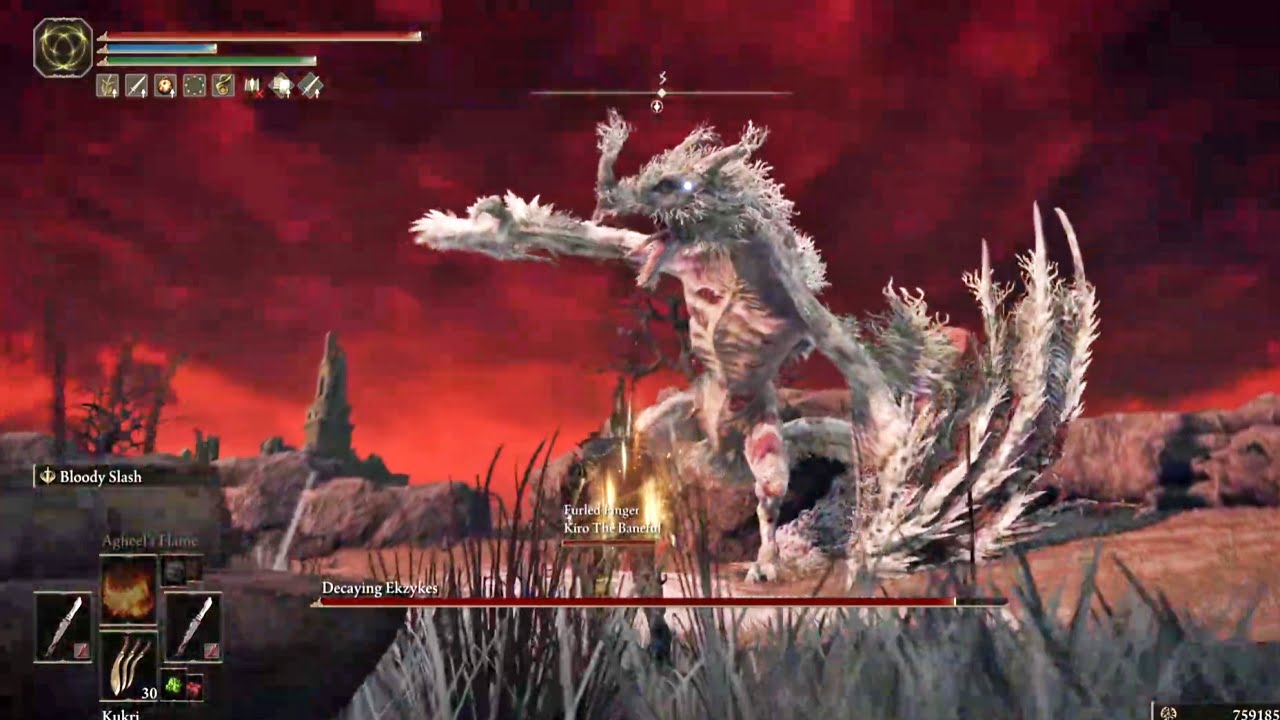 Wing Sweep
He takes his wing up in the air to sweep it onto the ground. The dodging mechanism is the same as Wing Slam. You can charge forward to deal damage on his feet or maintain distance to attack his head after the attack.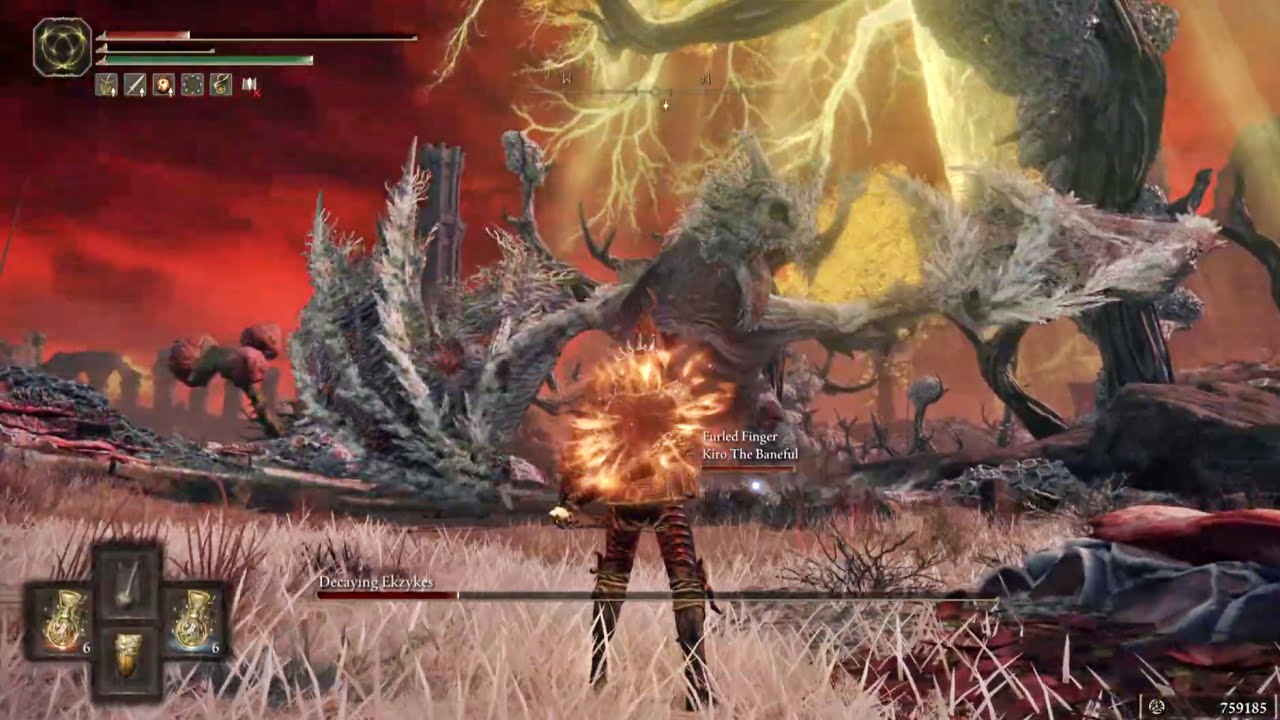 Charge
He charges forward two steps with his head lowered to the ground. Then he will move his head in a counterclockwise direction to hit you with his horns. This attack only deals damage when his horns hit you, so you can charge forward toward his feet before his horn hits you to avoid this attack.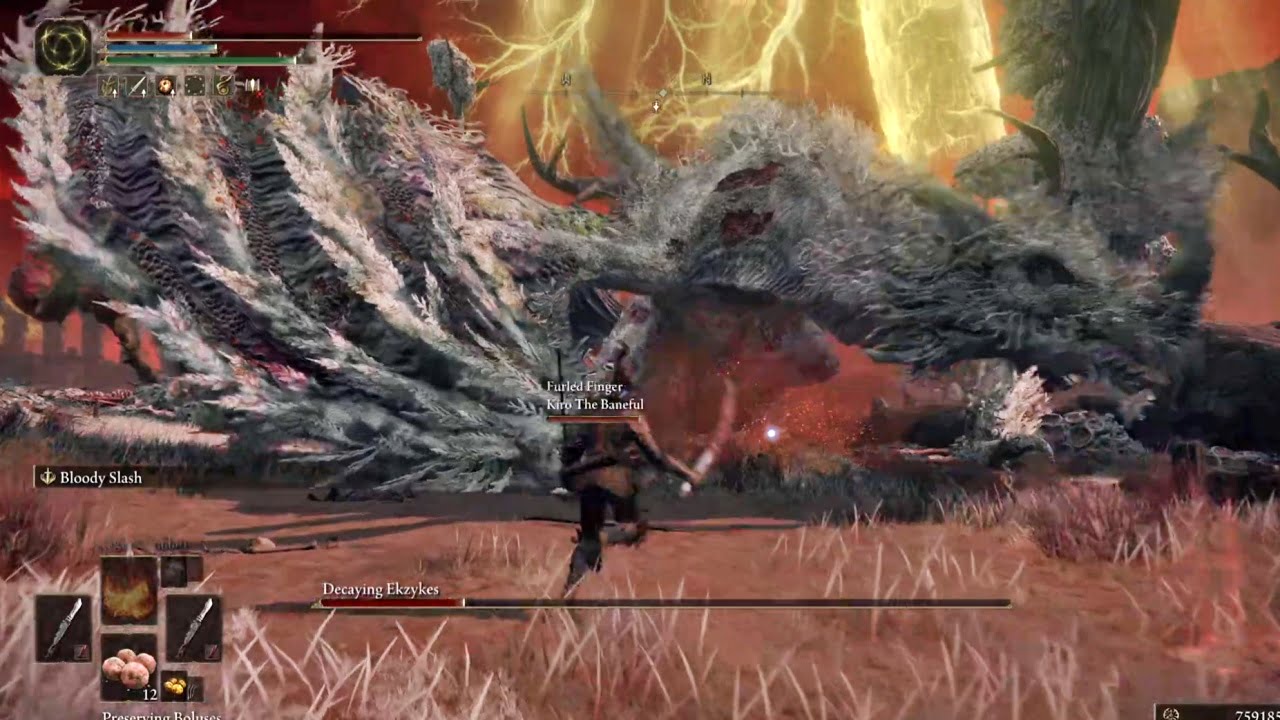 Spin Bite
He spins his head to look at you when you are behind him. As soon as he gets a sight of you, he will charge with a bite. You can run towards its feet or roll forward when the boss starts moving his head forward for biting.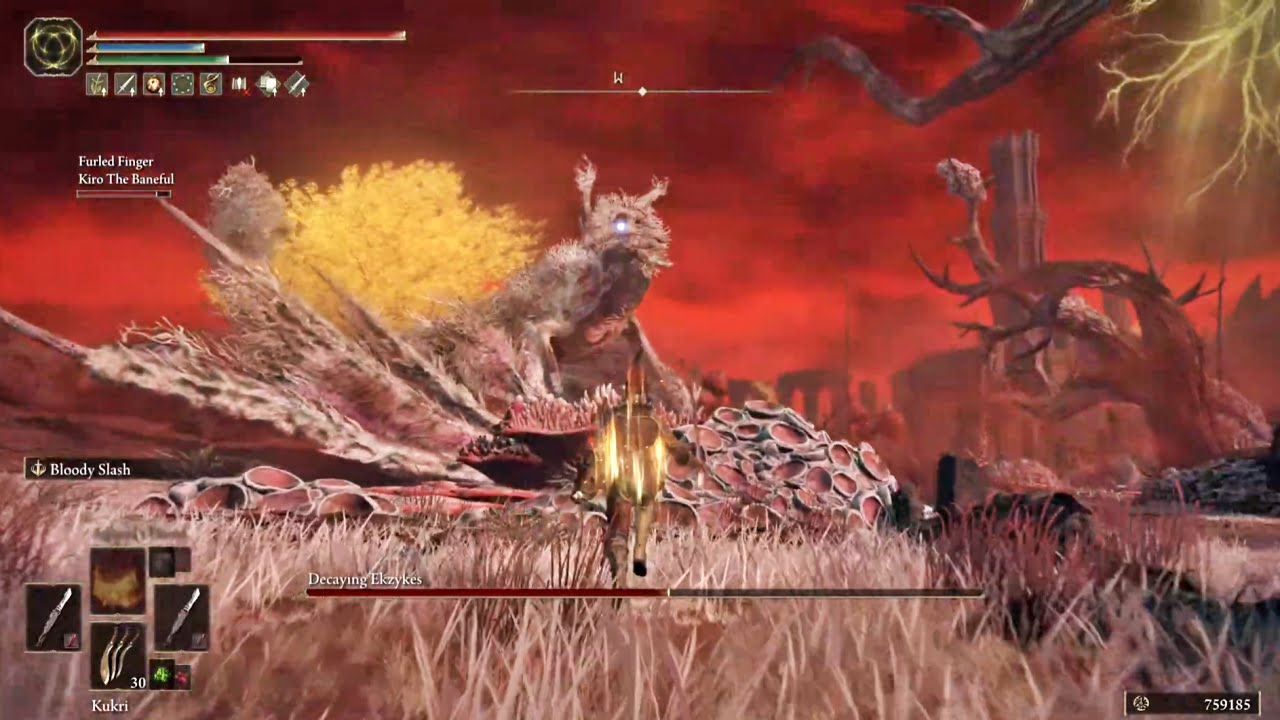 Tail Whip
When you are behind the boss, he will spin its tail clockwise and then stretch it, followed by a counterclockwise swing. When you see the tail coming at you, start rolling clockwise. If you are on a torrent, you can double jump to avoid this attack, but the torrent might get killed.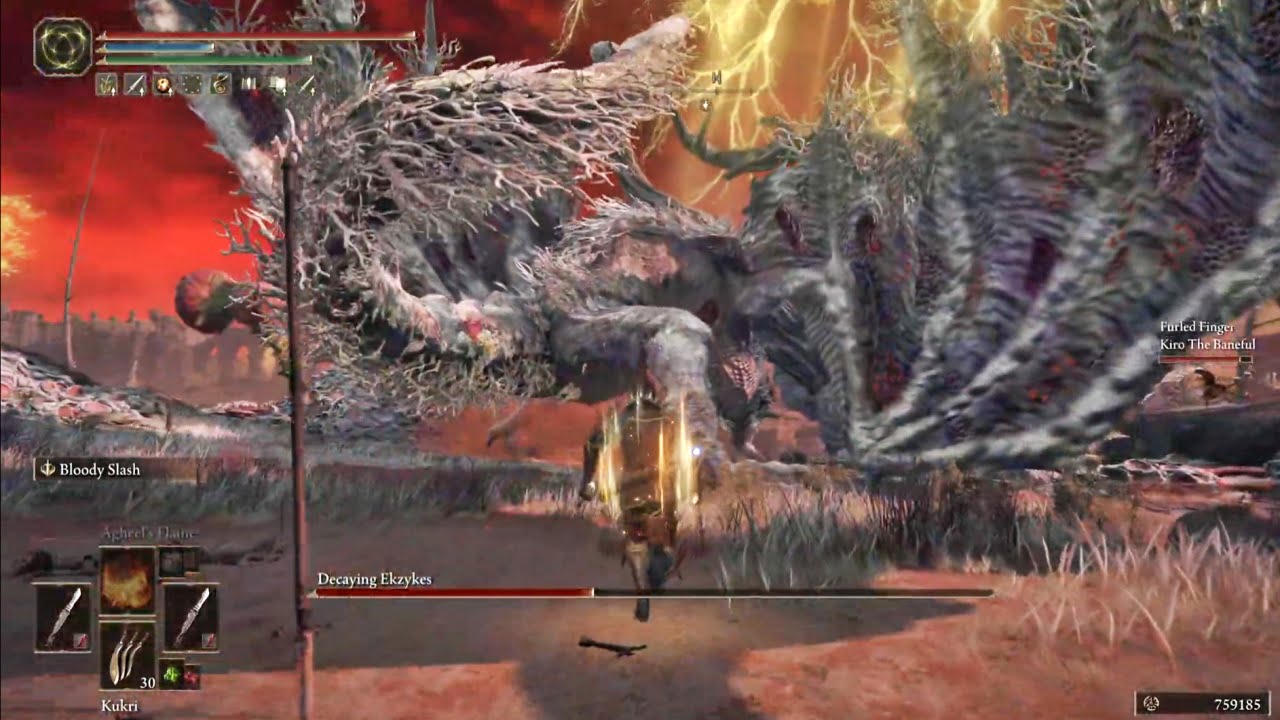 Repositioning Hop
When you are out of the boss's sight, he will hop up in the air to reposition himself to face you in order to avoid any airborne attacks, move forward to the boss and cross from beneath him.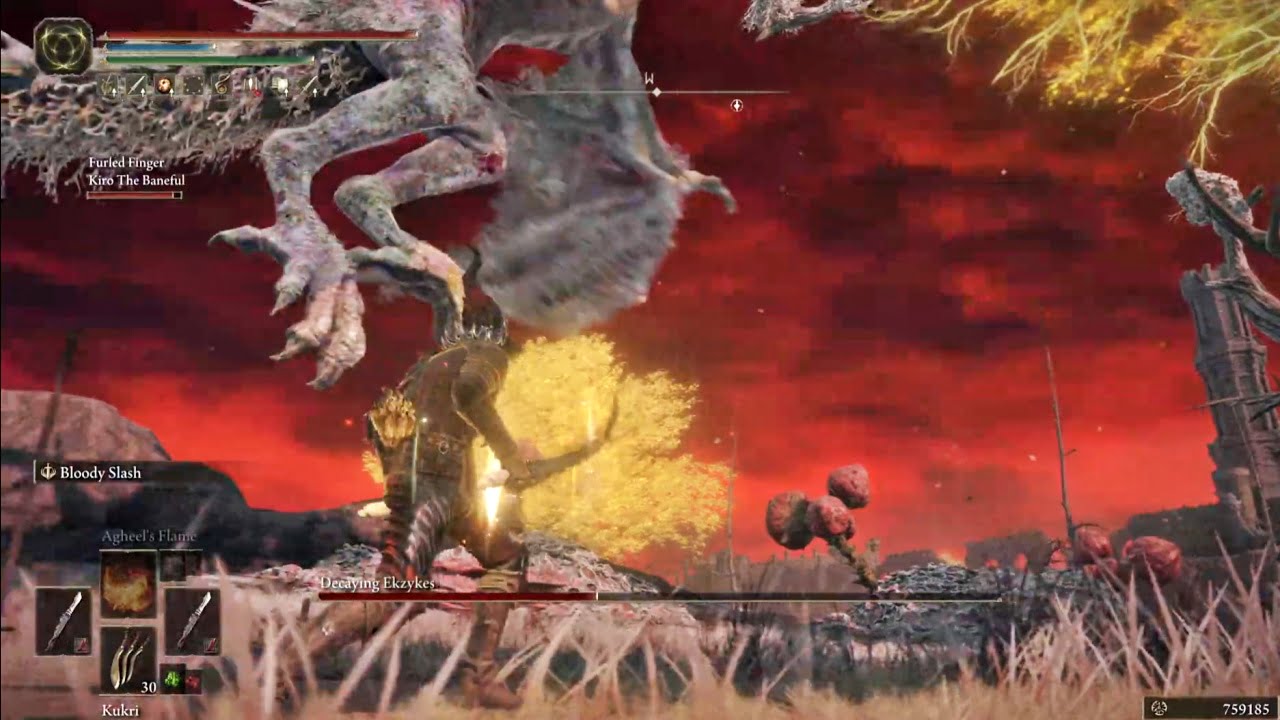 Dive Bomb
He jumps in the air and flaps his wings three times before diving into you. You can avoid this by counting his flaps and rolling after the third flap.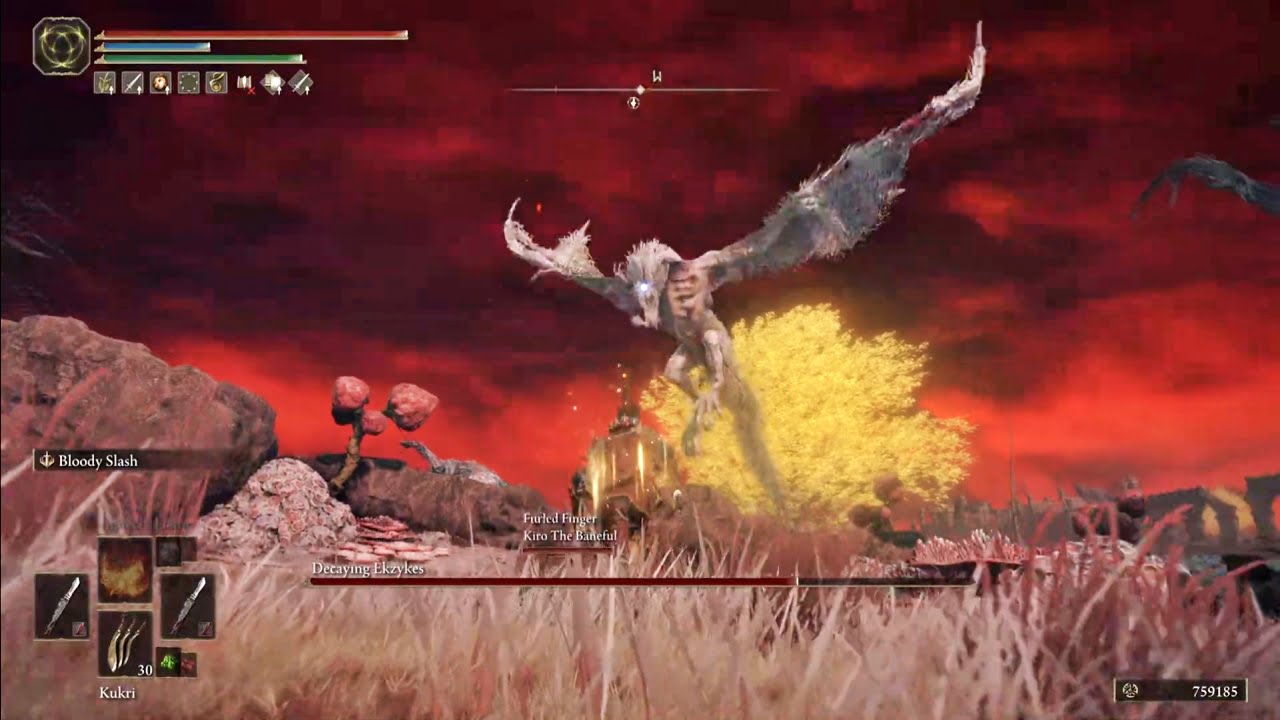 Tracking Breath
He breathes scarlet rot at you but in a straight line, which has the potential to track and follow you slowly. If you sprint forward on a torrent diagonally, you can land a few hits on his head and dodge the rot too.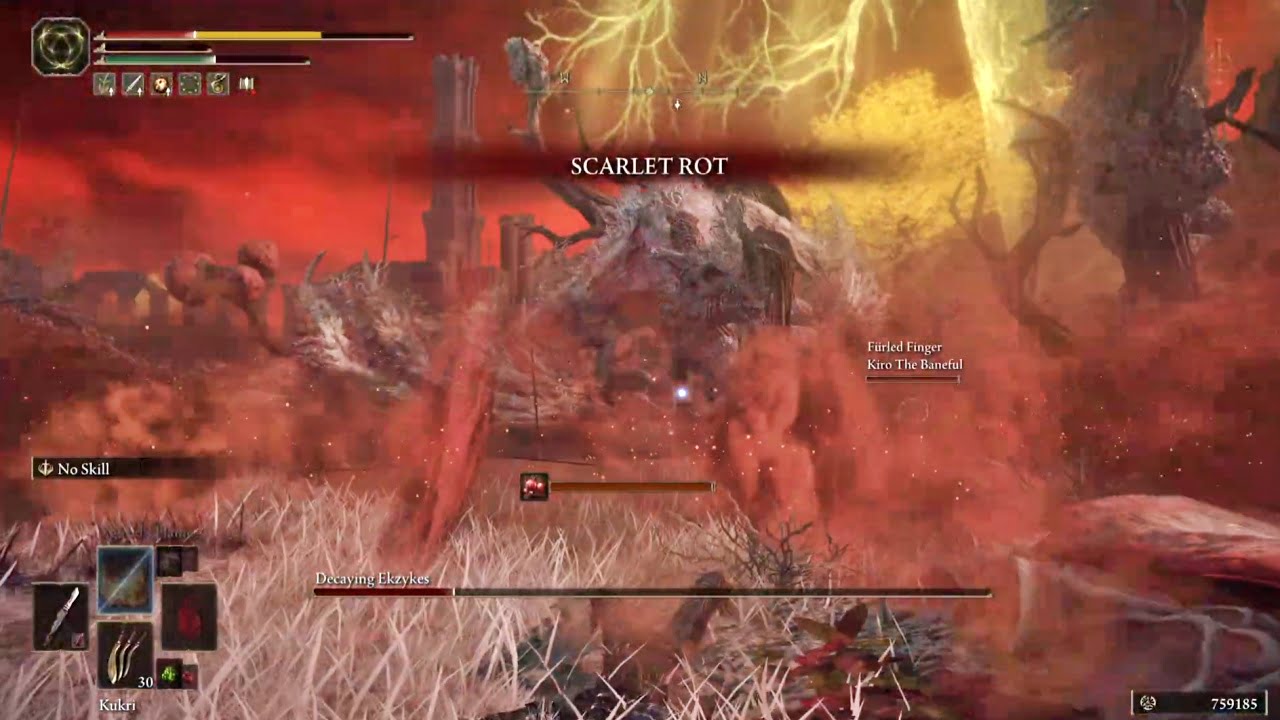 Roar
He throws scarlet rot fog out of its mouth while roaring. Before that, he raises his head, which is a warning sign for you to evade the area. The scarlet fog lingers at his feet for a few seconds and does not go far. You can easily escape this by moving backward and charging back as soon as the fog finishes.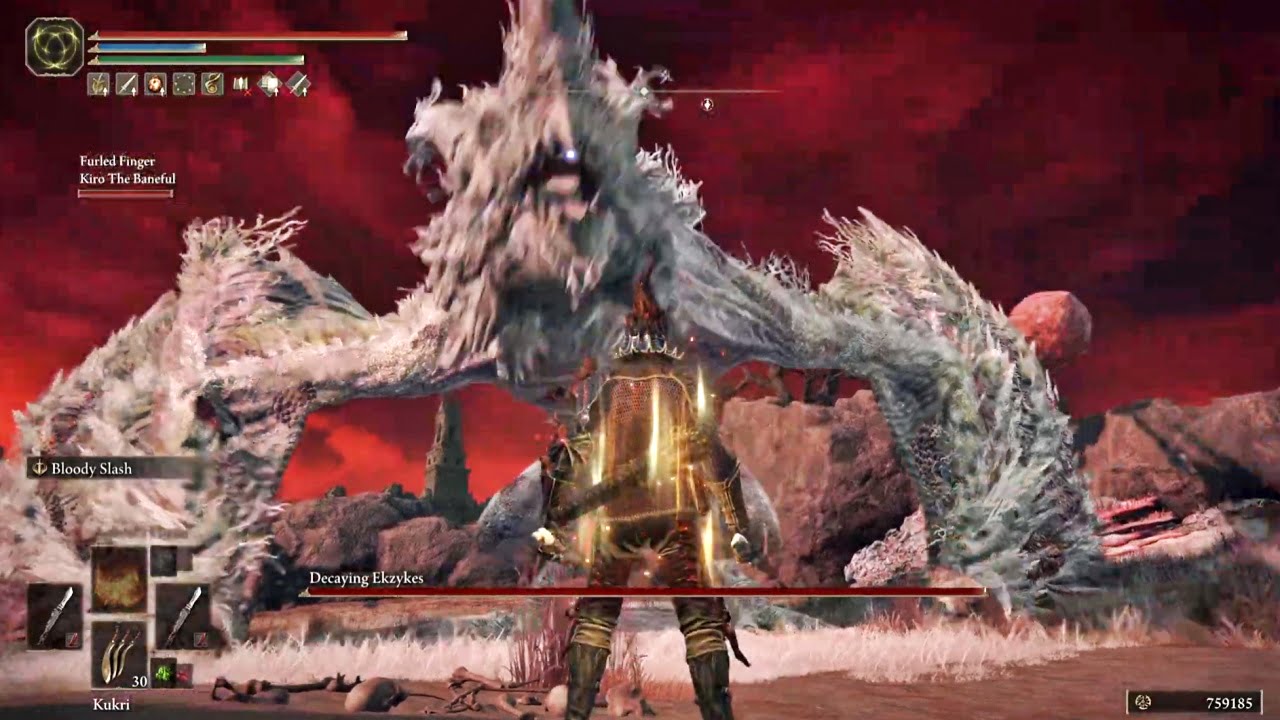 Rotting Miasma
He turns his head towards the ground and unleashes a massive cloud of scarlet rot, which covers a larger area and remains there for several seconds. He only uses this attack below 70% health and only repeats this attack after 2 minutes. You should instantly mount up at that moment, evade the boss, and maintain your distance.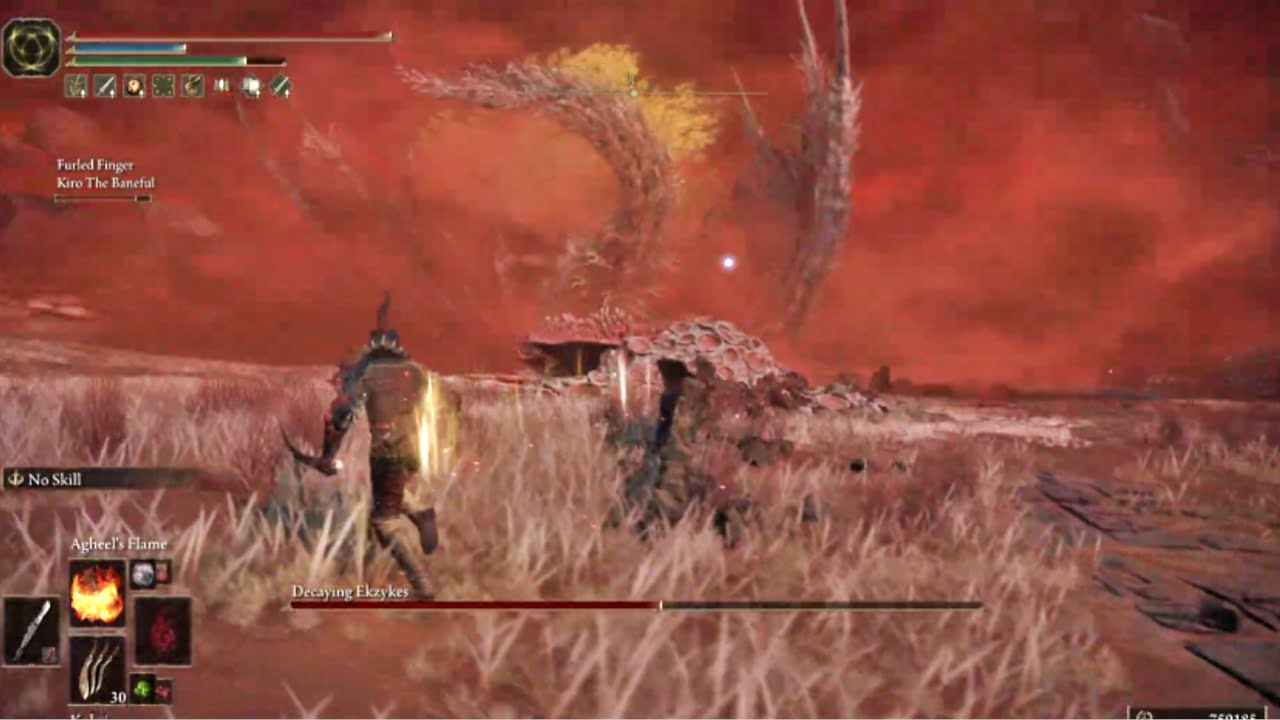 Flying Fire
He goes up in the wind and throws out the scarlet rot. You should run behind him from beneath as soon as he goes up in the air.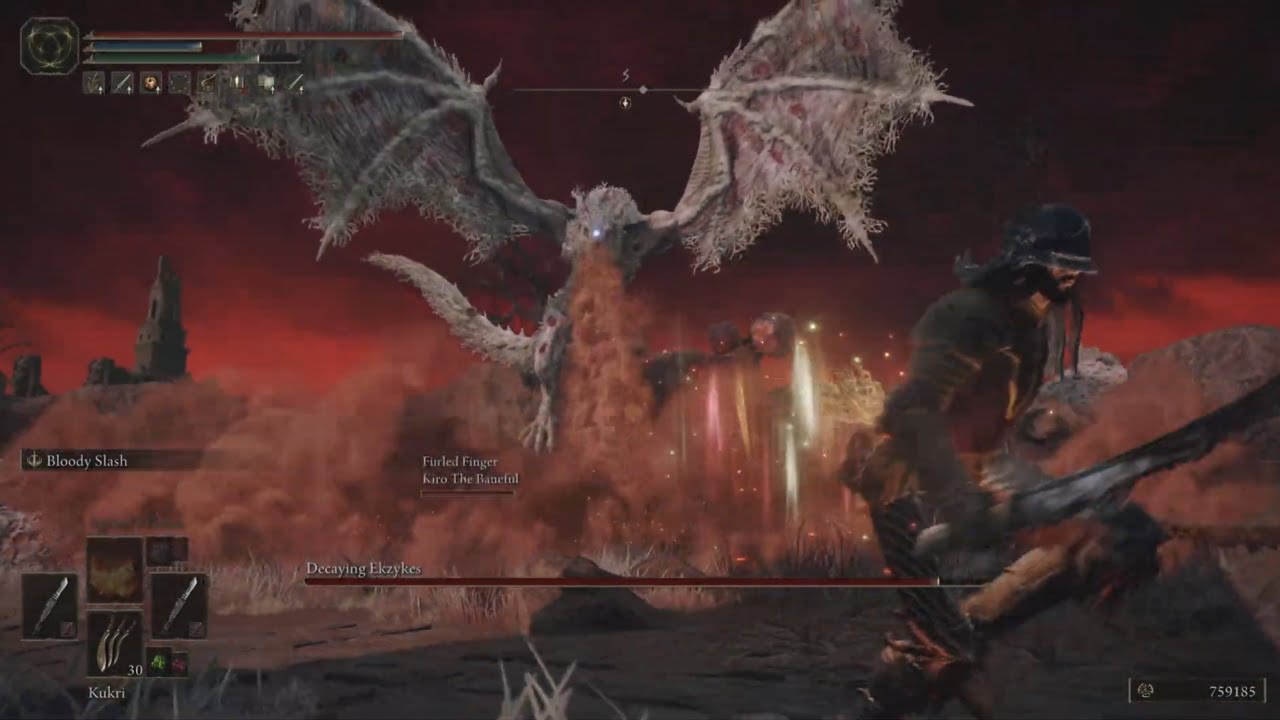 Rot Wind
He stomps on the ground, releasing a lot of scarlet rot. You can quickly distance yourself from it during the animation, as it is a slow process and takes plenty of time.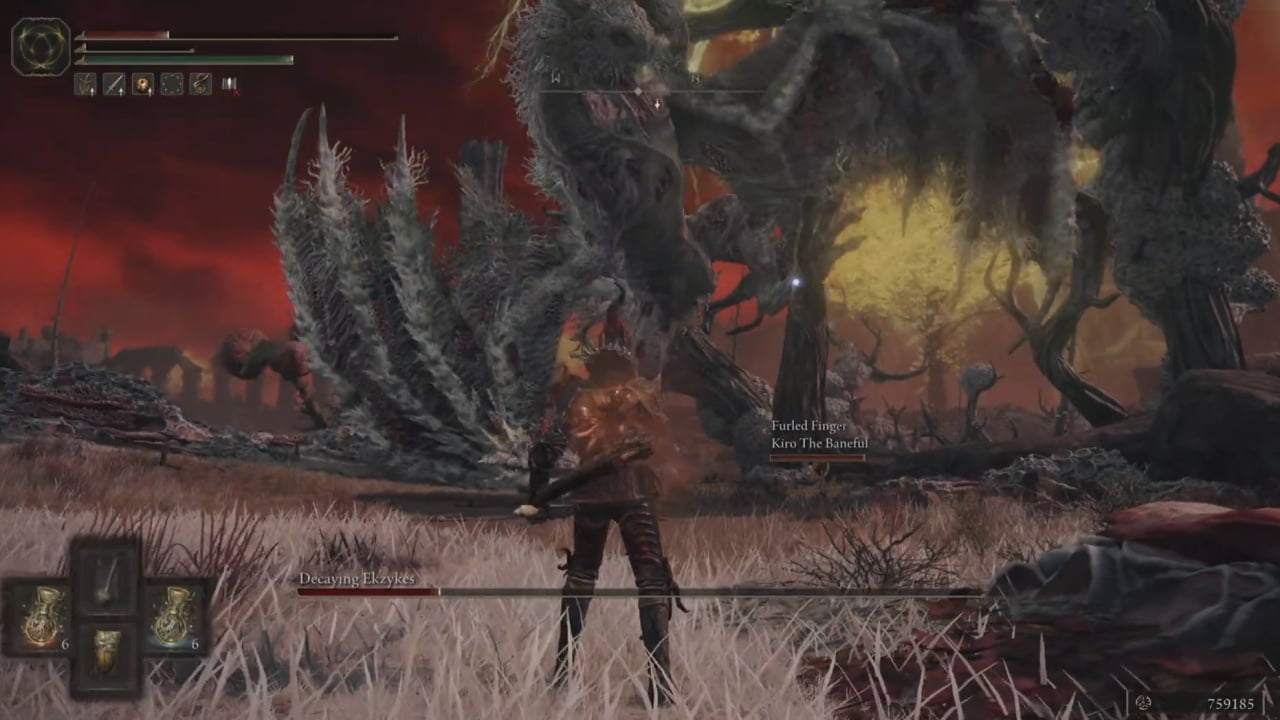 How to Beat Decaying Ekzykes Easily?
The weapon you must use for this fight is Uchigatana which is suitable for slash and piercing damage and inflicts hemorrhage. Ekzykes is vulnerable to these damages as they take a large portion of his health pool. You should try to aim for the head, as it significantly damages his health pool by an extra 50 percent. Since its attacks cover a large ground area and are hard to evade, you must always use torrent to escape the rot breath quickly, and you can even double-jump over it without damage.
For Melee Users
You should always stay upon the mount and charge only when the boss starts the breath attack. You can get a few hits on his head and save enough time to get out of range before another attack begins. This approach is slow but enough to keep you alive. Most of the attacks of this boss can be avoided by running toward his feet, except the stomp that kicks up scarlet rot, which makes it dangerous to charge toward it.
For Magic and Ranged Users
Most of its breath attacks are on the ground level, so use this to your advantage to attack his head while you are above the ground level. This boss, in particular, is weak to fire more than it is to frostbite, so you should deal fire attacks more than freezing him to deal a higher amount of damage.
Rewards for defeating Decaying Ekzykes
38,000 Runes
Dragon Heart: An item used to trade at the Church of Dragon Communion for Dragon-based Incantations.
Ekzykes Decay: It is a spell that can be purchased for 2 Dragon Hearts from the Cathedral of Dragon Communion in Caelid after defeating Decaying Ekzykes.
FAQ
What is the difference between Rotten Breath and Ekzykes Decay?
Ekzykes Decay deals 18% more physical damage than the Rotten Breath spell. It has a slightly longer range than Rotten Breath. You cannot hover your character efficiently while casting Ekzykes Decay, but Rotten Breath allows you to move swiftly while casting. Unlike Rotten Breath, Ekzykes Decay cannot be thrown while riding horseback.