Armored Core 6's relentless boss, Balteus is one fierce foe that the most seasoned players have pushed themselves beyond their limit. This boss will not allow you to emerge victorious so quickly, as it requires high skill and precise timing to take your shot. Balteus has two phases and gets much more aggressive in phase two. If you thought the first phase was difficult, brace yourself for a heart-pounding battle in phase two.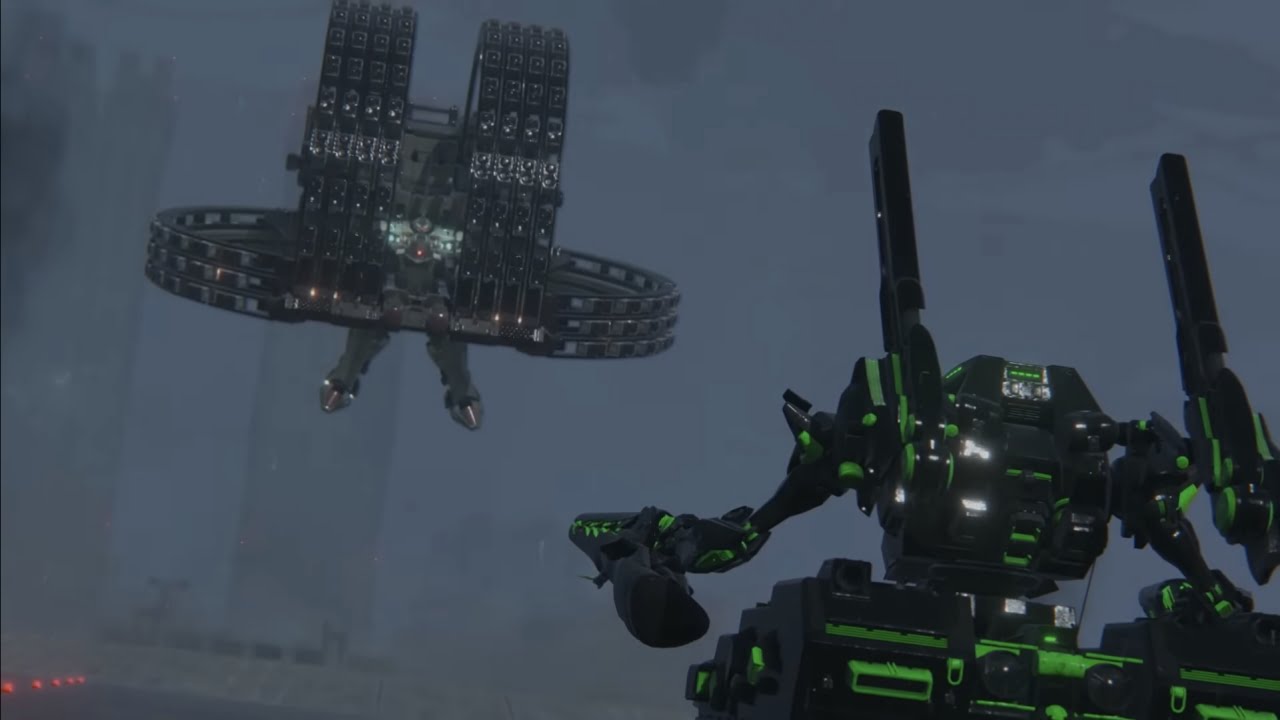 If you're having a hard time getting past this fight, you don't need to worry, as we will share strategies that will help you reduce the effort to beat the boss.
What Is the Best Build to Defeat Balteus?
The recommended loadout to defeat balteus is:
Right arm weapon: Pulse gun
Left arm weapon: Plasma blade
Back weapons: Missile launchers
Legs: Bipedal
Booster: Prioritize Quick boost
Arms, Core: Prioritize AP
This build features the essential weapon, a pulse gun, which is used to drain Balteus's shield much more quickly. It may have its faults, such as overheating, but it is the strongest weapon to exhaust the opponent's shield health. This build keeps your speed and missile launchers equipped, making it easy to shoot Balteus and take a chunk out of his health bar. The bipedal legs improve your mobility, allowing you to catch the small openings to deal damage to the boss or avoid his fast attacks.
What Are Balteus Attacks and Counters?
It's essential to understand the boss before trying to defeat him, including his attacks, so you can easily avoid them.
Phase 1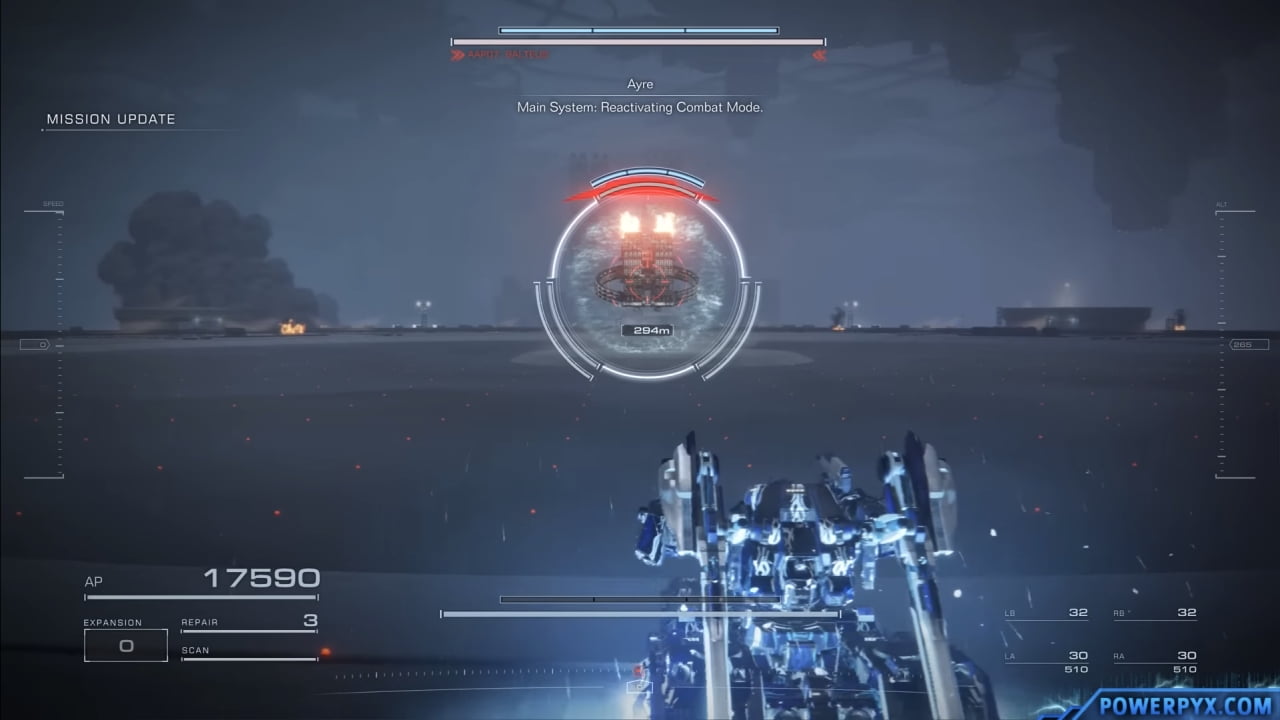 Full Barrage
The boss fires all of its missiles at you and has a locked target on you, so all you have to do is strafe to the left and quick-boost to the right as soon as the missiles get close to you. The boss will be vulnerable for a few seconds, so you can deal damage with the missile you are holding.
Retreat and Missile
The boss will fire a missile that has a two-beep audio cue, and a square box appears around him as soon as he fires it. You can avoid it by dodging or "juking" just before the missiles hit you.
Boost Away
The boss tries to create distance between you and him by firing up his boosters and taking off quickly. While he is firing up his boosters, notice the direction of the boosters so that you can follow him as soon as he jets away. If you boost in the same order, you can close the distance and deal high damage.
Instant Missile
This attack does not have a warning or audio cue before the missiles are fired and you will only be hit if you are right up front of Balteus and stay there for a long time. The boss uses the missile launcher on his arm to fire missiles at you, so the only way to avoid this attack is by not staying close to his face for a long time.
Vertical/Horizontal Missiles
The boss will shoot out vertical or horizontal missiles that a full barrage may follow. You can avoid it by quick-boosting.
Fly-by Shooting
The boss will fly towards you while shooting at you, and it can be avoided by running to the sides.
Phase 2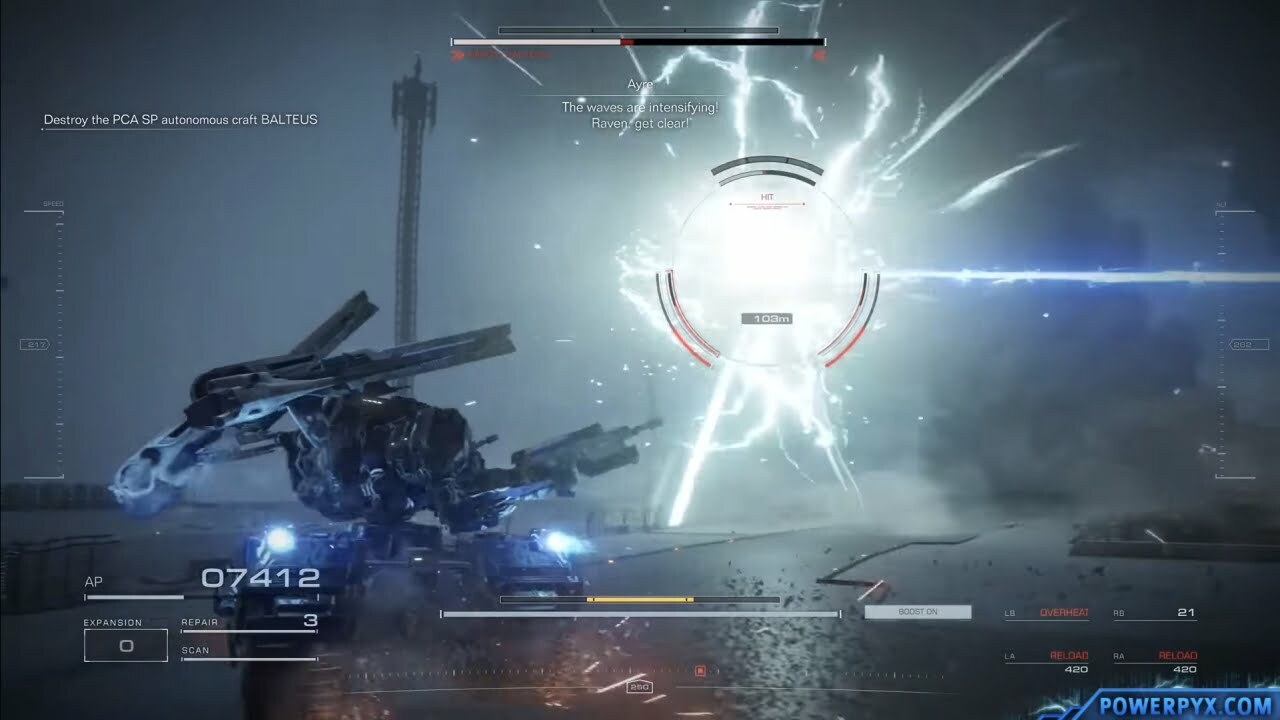 As soon as the boss's health reaches 50%, it will stop to charge up for a massive explosion. It is best to create distance between you and the boss, or the blast will take a significant chunk off your health bar. At this point, the boss has entered phase 2 and has the following set of attacks, in addition to the ones mentioned above:
Flame Slash Into Double Shotgun
This is the first attack of phase 2. The boss shoots a large flame directly at you, followed by two shotgun blasts. You can dodge this attack by moving out of the way of the flame and then running to either side to avoid the shotgun blasts.
Single Into Double Slash
The boss slashes with the fiery blade from the left, followed by a spin, which ends in a slash from both swords. You can jump over the first slash but must dodge backward for the follow-up.
Diagonal Double Slash
The boss levitates to slash at you with the flame blade at your left first, then the other. You can avoid this attack by going beneath Balteus and getting one or two melee attacks in.
Flaming Floor
If you're caught in this attack, the boss will shoot from its two flamethrowers at the ground, dealing damage to you over time. You must always have enough energy to fly in the air to avoid this attack.
Flamethrower
The boss whips out both flamethrowers and shoots directly at you. You can avoid this attack by dodging to the side, as it has poor tracking. This leaves an excellent opportunity to close in on the boss and deal a few hits.
How to Defeat Balteus?
As soon as the battle starts, rush towards Balteus to cross from beneath him to avoid the large volley of missiles. Use this opportunity to spam all weapons you have to remove the shield. Once the plasma shield is down, the boss will stagger and land on the ground, where you have to deal maximum damage before the boss regains his guard. Use these small openings to charge with all you have. You can stagger the boss thrice if You're at your finest before he gains his shield back. Keep staggering and attacking until he has 50% of his health. At this point, the boss will trigger an explosion that you must stay clear of.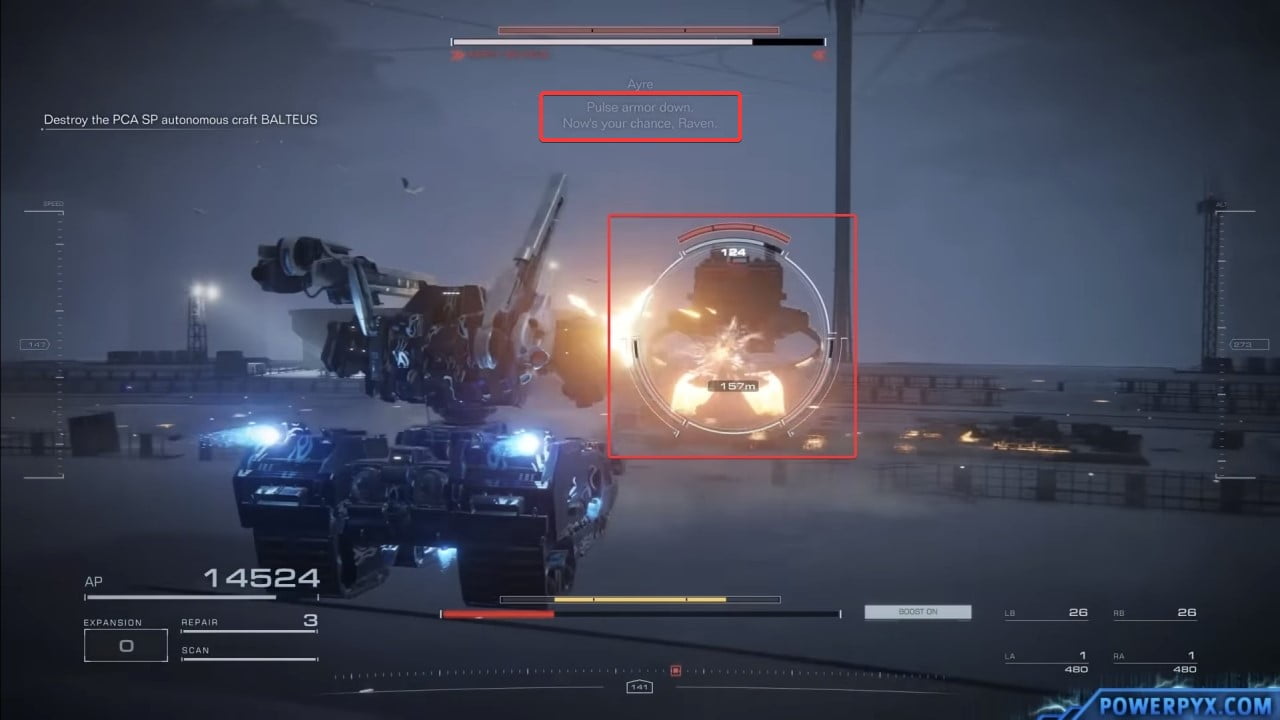 Once Balteus leaves a massive explosion, he will attack much more fiercely as he has entered phase two. Keep watch of the fire swords he slashes with, which can deal much damage. Staying close to the boss will be difficult now, but take the slightest chance to get close and stagger him to spam all missiles. Keep doing this until the boss finally dies.
Conclusion
Armed with this guide, you are ready to embark on your journey to defeat the infamous Balteus. Don't quit, as emerging victorious may require multiple attempts, but each failure will provide valuable lessons to propel you toward victory.