In the game Project Zomboid, survival relies on how skillful the player is, and one of the skills the player must have is Tailoring. This allows the player to customize clothes and repair them for protection against zombie scratches and bites.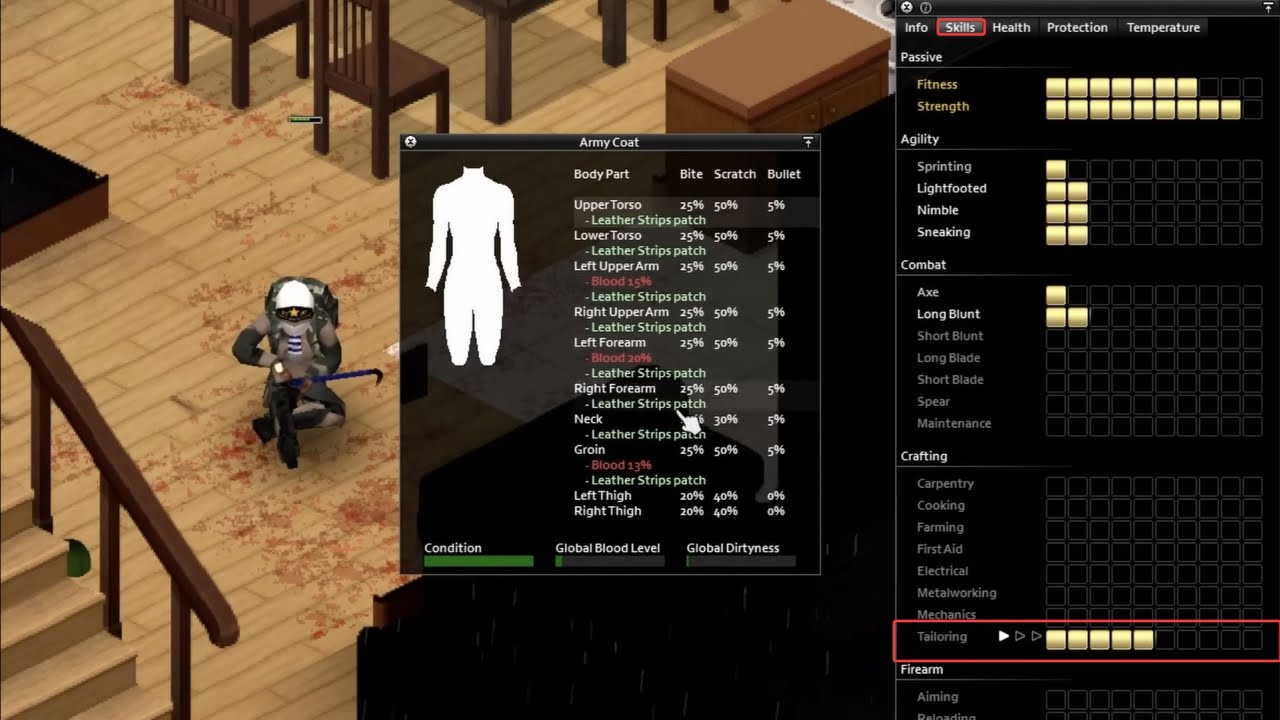 Items Required for Tailoring
Equipment
To start tailoring, the player must be equipped with the right tools, which are given below:
Needle: The most basic material that can be used in tailoring is found in medicine cabinets and sewing kits.
Thread: Found in sheds, garages, sewing kits, and stores, thread is used with a needle to fix clothes.
Scissors: A tool required to rip clothes to obtain strips and sheets.
Fabric
For repairing clothes, you need a fabric to patch up with. There are three types of materials in the game that are mentioned below:
Ripped Sheets: The most common type of fabric is made of cotton and can be obtained by tearing the clothes. It only provides an additional 1% defense against a zombie bite.
Denim Strips: Obtained by ripping denim clothes, they are commonly used in Project Zomboid. It provides a 1% base defense against scratches, bites, and bullets.
Leather strips: Obtained by ripping leather clothes, it is a rare fabric. It protects against scratches and bullets by an additional 1%, while 2% for a bite.
Note: The base defense increases as the tailoring level goes up.
Ways to Level up Tailoring
Increasing tailoring skill in Project Zomboid is vital as it boosts crafting options, enhances armor effectiveness, and extends clothing durability. Following are some methods to get tailoring XP to level up:
Read All Tailoring Books
Reading all tailoring books allows players to maximize their gain of experience points by acting as a multiplier. These books are found in schools, libraries, homes, bookstores, or any bookcase on the map.The name of these books is given below:
Tailoring for Beginners (vol. 1): Read for levels 1 to 2 as it multiplies the experience points by 3.
Tailoring for Intermediate (vol. 2): Awards 5 times the experience for levels 3 to 4.
Advanced Tailoring (vol. 3): Gives 8 times the experience for levels 5 and 6.
Expert Tailoring (vol. 4): Awards the player 12 times the experience for levels 7 and 8.
Master Tailoring (vol. 5): For levels 9 and 10, the player is awarded 16 times the experience after reading it.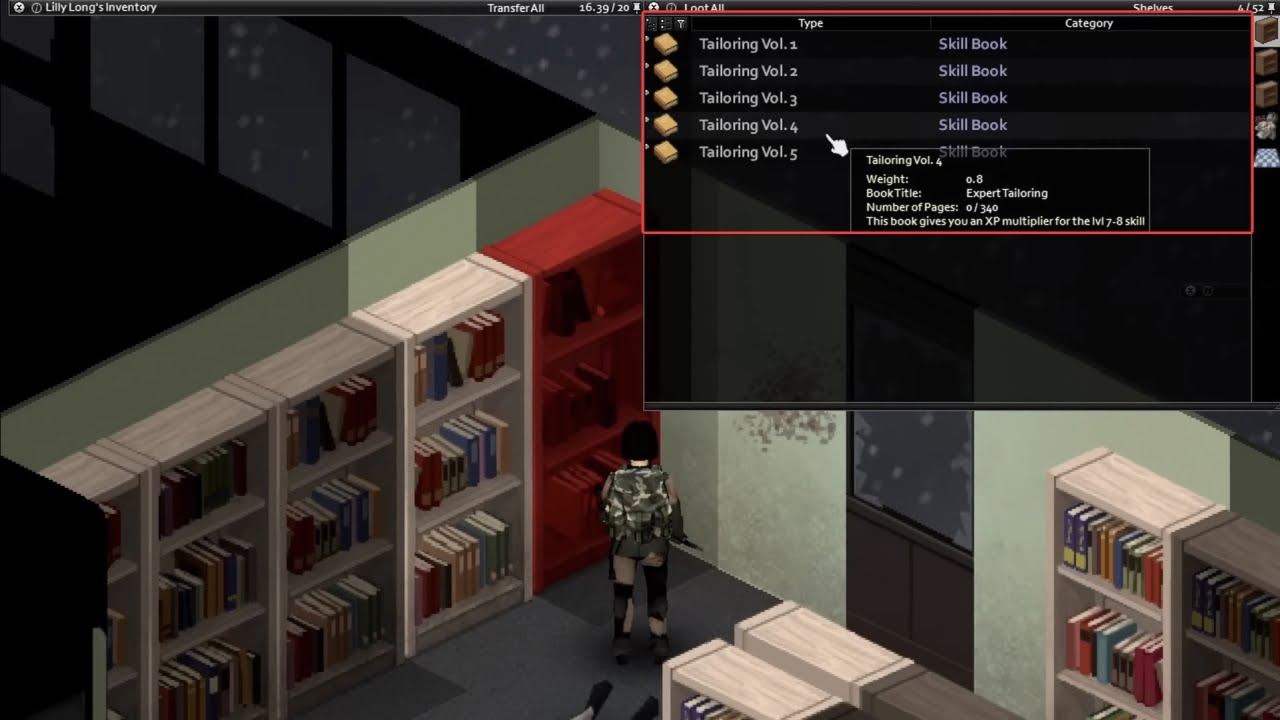 Rip Clothes
The easiest way to level up tailoring skill is to rip clothes as much as possible. The only catch is that ripping clothes will only give you experience points if you obtain thread from torn clothes. For lower levels of tailoring, the chance to get thread is low and increases with the level. If you find a thread, your experience points will increase by 0.325. This will be multiplied by three if you have read the first book mentioned.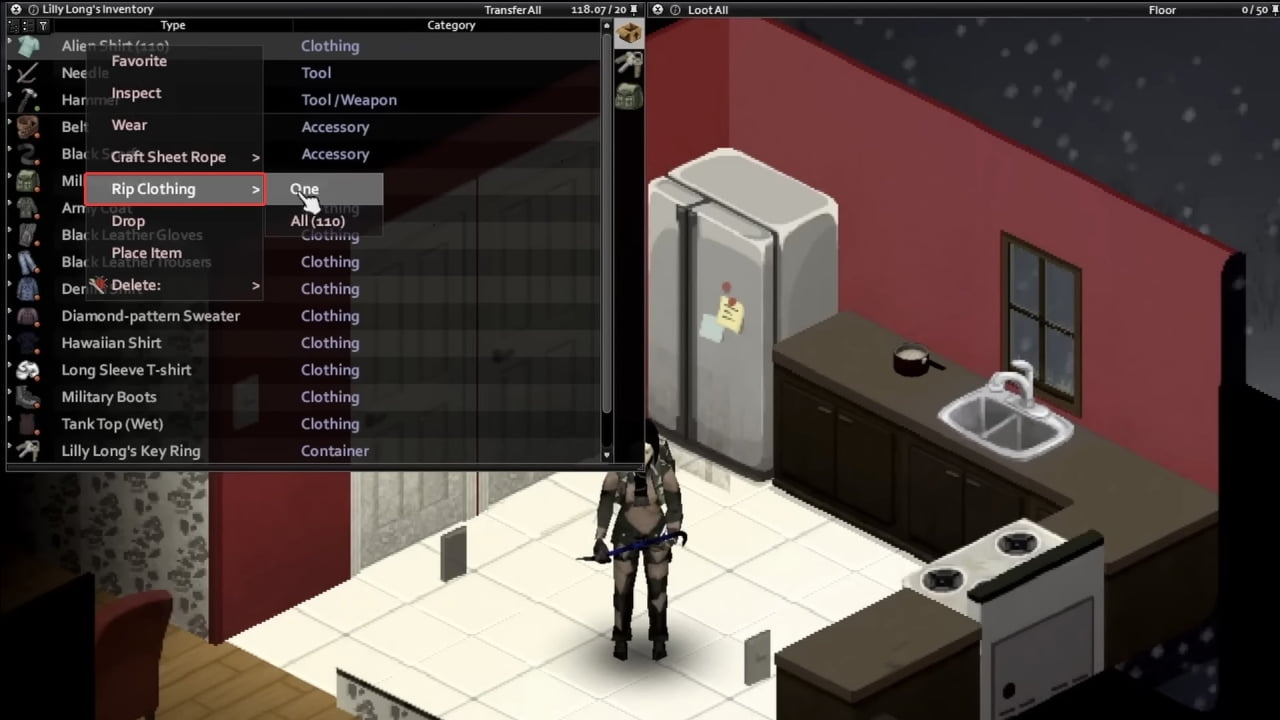 To rip the clothes, select the "Rip Clothes" option after selecting the clothes in inventory. Then choose if you want to rip just one or all, and you'll be awarded ripped sheets, denim, and leather strips depending upon what fabric your cloth was made up of.
Add Padding
To add padding, you must have ripped sheets, denim strips, leather strips, and a needle. To do so, right-click on the cloth and select the "Inspect" option, which will display the menu with all the cloth's body parts. Right-click on the body part that requires padding to select the option "Add padding." Then, choose the desired material, and you have successfully added padding to your clothes customizing the base defense statistics.
You can also add padding to all the body parts by selecting the option "Add padding to all" of the desired material. You are awarded 0.5XP for each padding.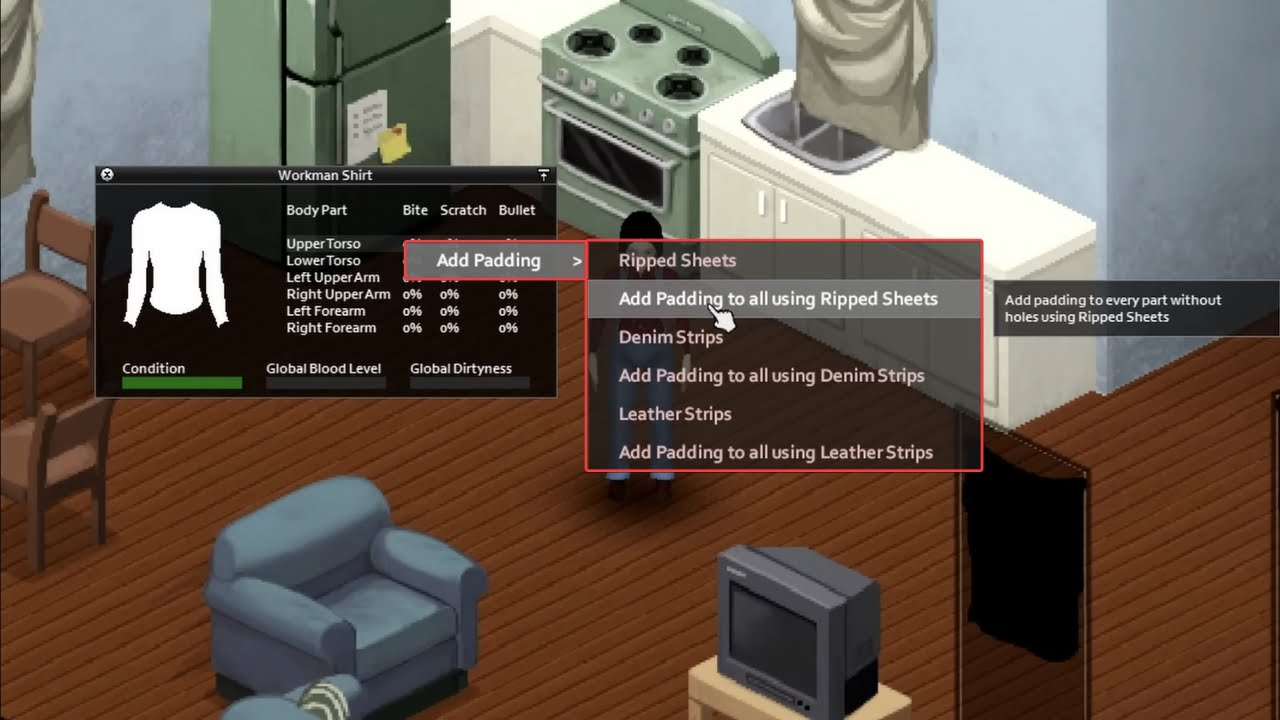 Note: Belts and footwear cannot be padded; only clothes like pants or socks can be.
Remove Padding
You can also remove the padding from the clothes if you decide to change it, and it also awards you experience points. 1XP for removing padding and successfully retrieving the patch, but you only get 0.25 XP if not recovered. The chance to get the patch back depends upon the level of tailoring skill you are on. For example, there is a 10% chance of retrieving the patch at level 0, and it goes up to a 60% chance at level 10.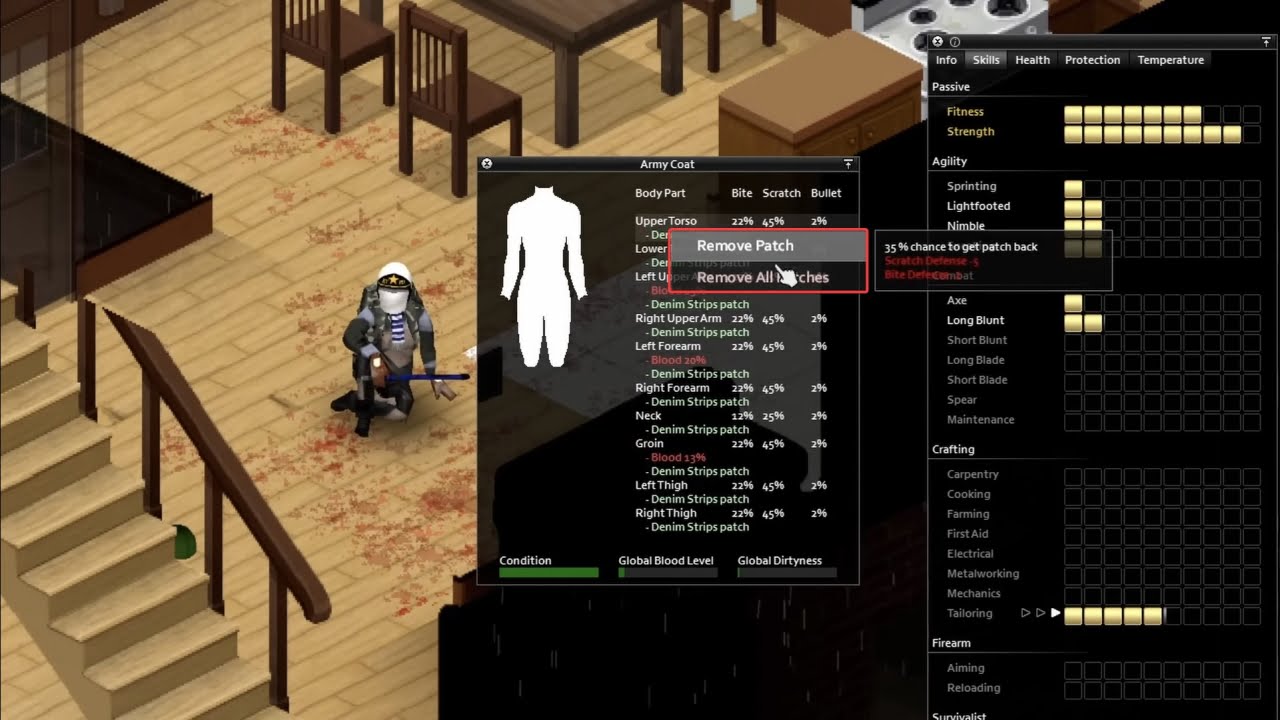 How to Repair Clothes?
Once the player reaches level 8 tailoring, he can repair holes in the clothes. To fix this, the player must right-click on the cloth and select the "inspect" option. A menu displaying all the statistics of the clothing will show the text "Hole" written in red beneath the part that needs repairing. Select the option "Patch Hole," and the cloth is fixed after selecting the material to patch with.
Repairing restores the original condition and defense of the clothing.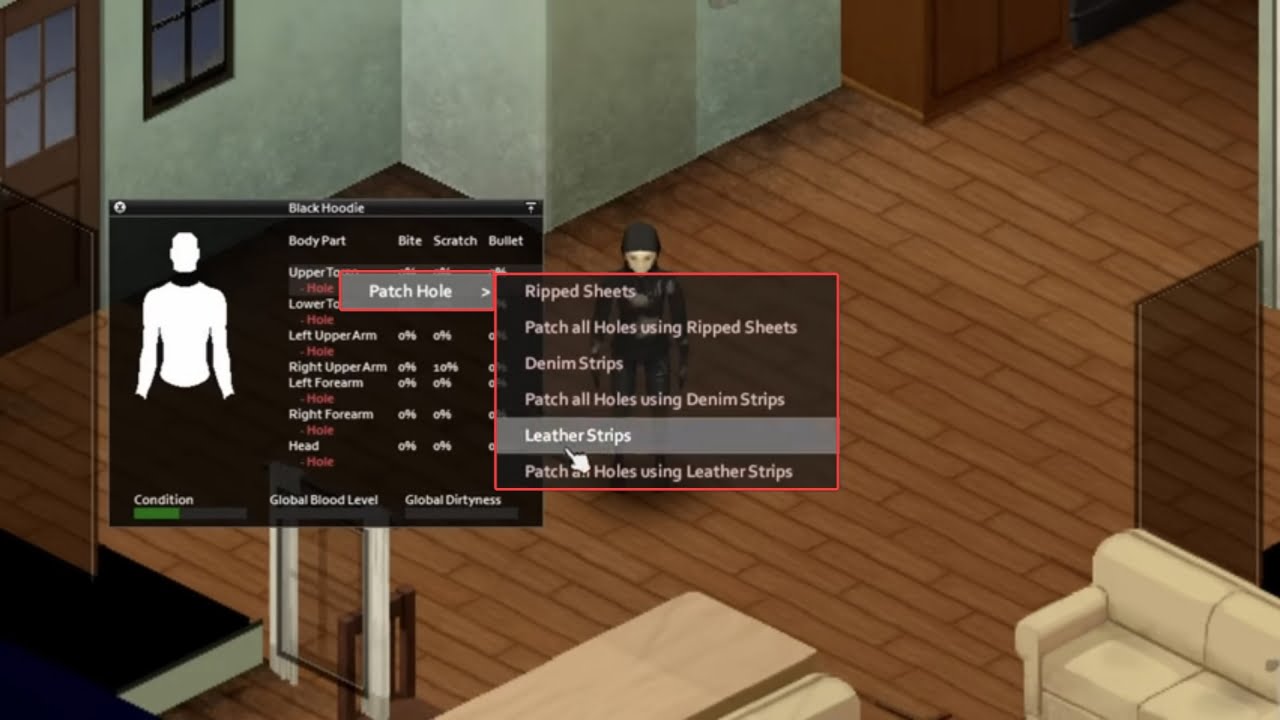 Note: Clothes like bulletproof vests, firefighter pants, or military boots cannot be repaired.
FAQs
How to quickly level up tailoring?
Repeatedly adding the patch and removing it after some time can deal you a good amount of experience points to boost the tailoring level.