Stacking up a sufficient amount of food according to your character's health is crucial in Project Zomboid. As food is essential to staying alive, players must learn how to cook in the Zombie Apocalypse to preserve food for much longer and take care of the hunger problem. Players will get a decent amount of food supply in the early game which contains fresh food and canned food from almost every house but they will not last longer. All types of food will begin to rot if they stay in the inventory for long enough and players cannot eat rotten food as it gives diseases and poisonous effects that can make your character end up dead.
To survive for much longer in the Zombie Apocalypse, players will have to get certain tools and ingredients which will help them craft cooking recipes that not only fill hunger but provide them with additional bonuses. If you are looking for a way to make your character more productive and constructive, leveling up the cooking skill tree is the way to go.
In this guide, we'll tell you all the things that you need to start cooking in Project Zomboid.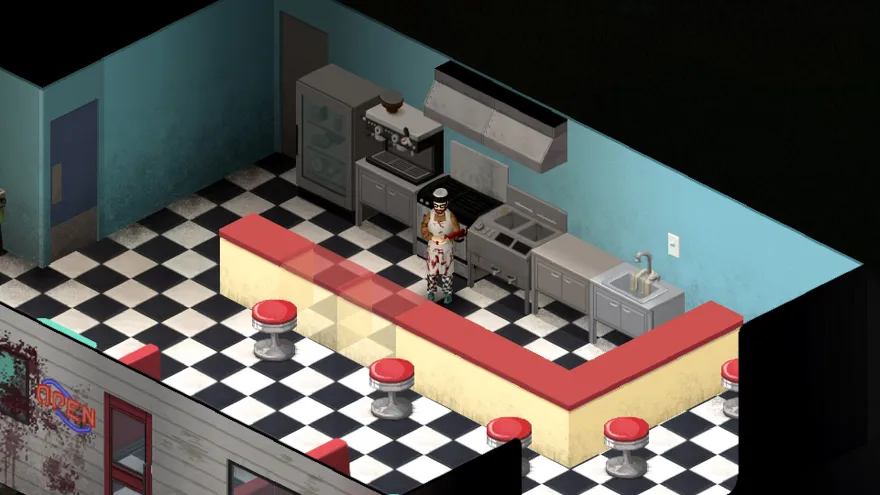 Materials Needed for Cooking
Before players get to cook the food, they will have to gather the required materials for it which includes Cooking Containers, Heat Source (required for some recipes), and Food Ingredients. The cooking containers are of different types and specific recipes are only made in their respective cooking containers. Players can get the following Cooking Containers in Project Zomboid.
Cooking Pot
Bowl
Pan
Cup and Mug
All of these containers are also used to store water in them and players can find them easily at the residential houses and restaurants. However, the thing that players need to keep in mind is that each type of container is used to craft a specific type of recipe which are the following.
Cooking Pot is used to cook Stews & Soup recipes.
Bowl is used to make Salads, Pasta, and Rice recipes.
Pan is used to make Fried & Baked recipes which includes fried/roasted vegetables and baked cake.
Cup and Mug is used to make Beverages.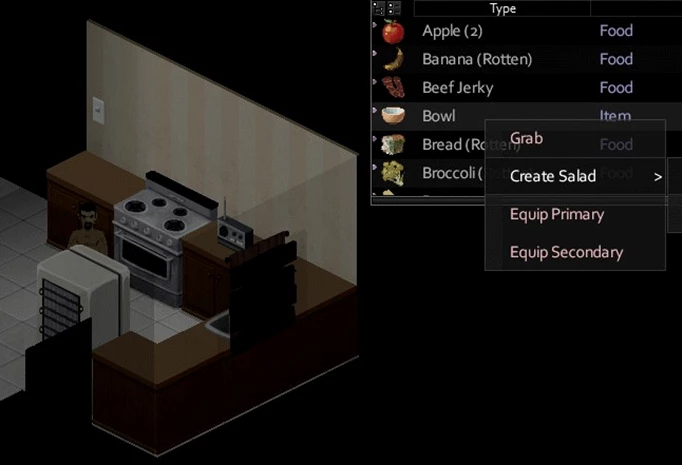 As mentioned earlier some of the recipes will require a Heat Source to properly cook. These recipes mostly require Pan as a cooking container. There are various Heat Sources in the game and players can find most of them in the kitchen of the residential houses and restaurants. It can be either a Cooking Stove, Oven or even a Campfire that can be crafted anywhere.
The final and most obvious thing that players require for cooking is Food Ingredients. Food Ingredients can be obtained by searching houses, warehouses, stores, and restaurants. players will either get fresh food or canned food from all of these places.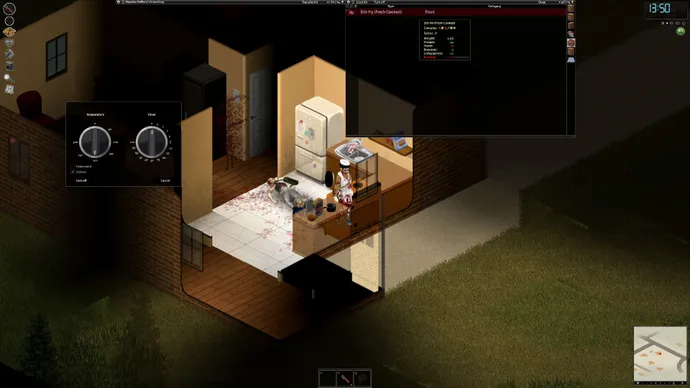 How to Cook in Project Zomboid
Once players have all the essential things required for cooking, they can start cooking and crafting the food recipes on their own to lower their hunger level. To start cooking the food, press the B Button to open the cooking recipe menu. The menu will show all of the recipes and highlights the ones for which you currently have all the required ingredients. Select the recipe you want to cook and you will see the required ingredients under "Items to Add" section. You can either choose to manually add the ingredients by selecting the "Add Ingredient" option or you can select the "Add Random Ingredients" to let automatically add the ingredients to the container.
Once all the ingredients are added to the container, select the "Craft" option to cook the recipe. Each recipe will take a certain time to cook so wait until the recipe is prepared and then collect it from the container. For the recipes that need Heat Source, players will have to do a couple of extra steps. They will have to set the temperature of the Heat Source and then collect the cooked recipe on time because if the cooked recipe stays on the Heat Source too long, it will get burnt which will make the character ill.
As players cook more food, they will level up their Cooking Skill. When they reach Level 7 of the Cooking Skill, they will be able to cook and eat rotten food as well without any poisonous or diseases. Players can also get Cooking Magazines to learn more recipes. The Cooking Magazines can be found in the Library so, make sure to explore the library as well to pursue your culinary experience even further.