The Grau 5.56 was one of the most popular builds in MW 2019. From launch, the Grau 5.56 dominated the warzone scene. With its damage being optimal in almost all ranges. After the release of Warzone 2 the Grau is still deeply missed, as no other weapon has even come close to its stats.
With the addition of tuning in MW2, we can help you get similar stats to the Grau 5.56. The following are the best Grau 5.56 builds for Warzone 2 and multiplayer in MW2. These builds will not be as same as the Grau 5.56, but it will satisfy your needs.
Lachmann-556 (Warzone)
Since the launch of MW2, the Lachmann 556 has been a hard hitter. This weapon dominates all ranges similar to the Grau and will allow you to shred your enemies from afar.
Note: This is a warzone build and will not suit multiplayer players with its mobility, weight, and Aim-down sight speed being slow and sluggish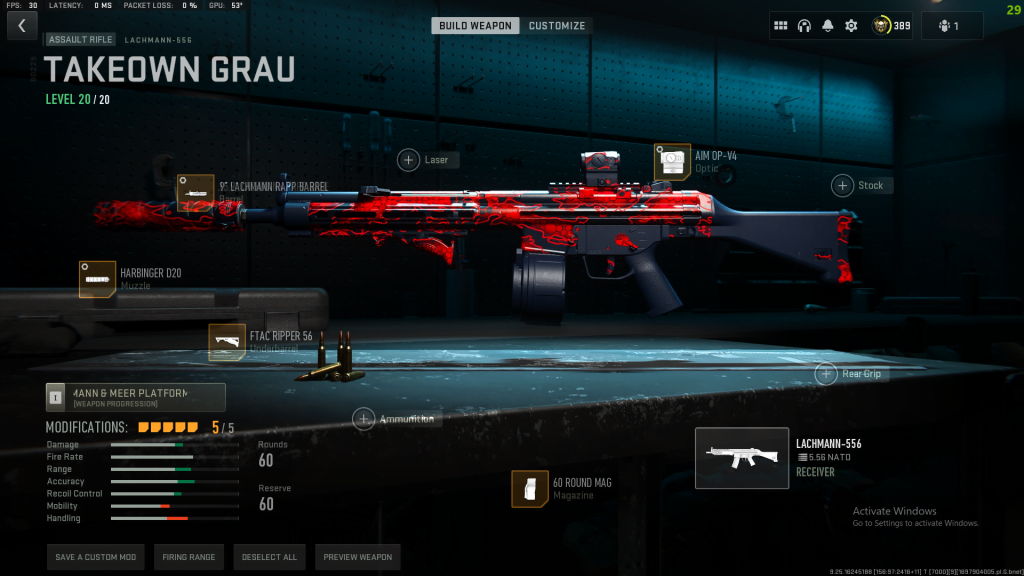 Barrel: 15.9" Lachmann Rapp Barrel ( +0.11⬆, +0.09➡)
Underbarrel: Ftac ripper 56 ( +0.28⬆, -0.17➡)
Optic: Aim OP-V4 (- 1.55⬆, + 1.80➡)
Muzzle: Harbinger D20 (-0.45 ⬆, +0.39➡)
Magazine: 60 Round Mag (Not Tunable)
Lachmann 556 (Multiplayer)
The previous build was as efficient as the grau but it did not look the part. With it being a warzone build we needed to focus more on the optics and rounds capacity which is more valuable in Warzone.
But if you want a gun with almost the same looks and performance as the Grau 5.56 this build is for you. The Lachmann 556 is a spitting image of the Grau 5.56. This build is for multiplayer which allowed us to get rid of the optic and the mags which helped us in making it look identical to the Grau 5.56
Note: This build can still shred in warzone but the visibility will be low and you'll have to reload more often. Feel free to change it to your preferences.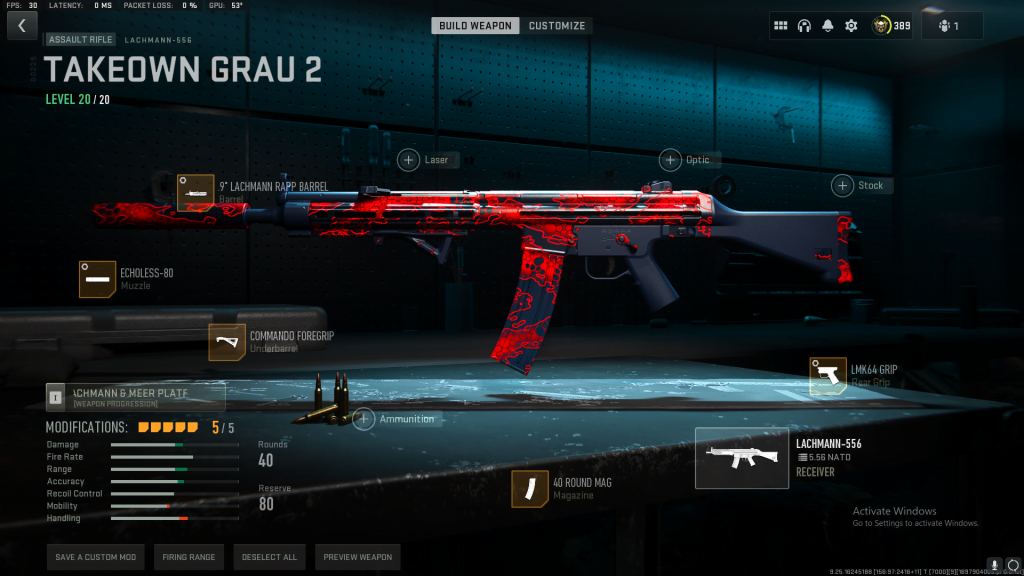 | | |
| --- | --- |
| Barrel: 15.9" Lachmann Rapp Barrel | ( -0.34⬆, +0.22➡) |
| Underbarrel: Commando Foregrip | ( -0.36⬆, -0.35➡) |
| Muzzle: Echoless-80 | ( -1.31⬆, +0.87➡) |
| Rear Grip: Lmk 64 Grip | ( -0.65⬆, +0.19➡) |
| Magazine: 40 Round Mag (Optional) | (Not Tunable) |
TakeOwn Lachmann 556 GRAU Build Multiplayer
The M4 5.56
The classic M4 is always a good option. You can never have a bad build with this gun. With that being said this weapon caught our eye when we were testing other guns. This weapon looks similar to the Grau and with some tweaks, it can outperform most guns.
This build is our favorite as it has the fastest TTK ( Time to kill) out of the bunch. In multiplayer this gun will get you all the killstreaks and will help carry your team to the win.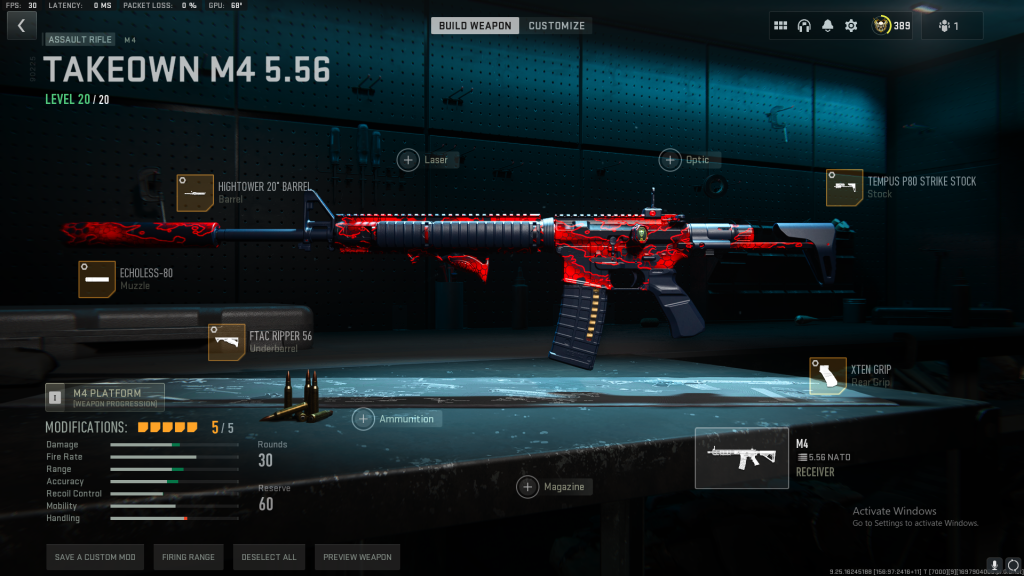 Barrel: Hightower 20" Barrel ( +0.47⬆, +0.26➡)
Underbarrel: Ftac Ripper 56 ( -0.36⬆, -0.35➡)
Muzzle: Echoless-80 ( -1.22⬆, +0.87➡)
Rear Grip: Xten Grip ( -0.97⬆, -0.42➡)
Stock: Tempus P80 Strike Stock ( -3.74⬆, +2.17➡)
The Chimera Build
The Chimera Assault Rifle is one of the fasting shootings ARs in the game, this gun helps us achieve the stats that we want. With some tuning magic, we can proudly say that this gun can help you re-live your memories of the good 'ol Grau 5.56 days.
Barrel: 10" SA Phoenix ( +0.13⬆, +0.23➡)
Underbarrel: Ftac Ripper 56 ( -0.36⬆, -0.35➡)
Muzzle: Polarfire-S ( +1.17⬆, +0.77➡)
Lazer: Point – GeP 04 ( +0.39⬆, -11.52➡)
Stock: TRX- 56 Stock ( -2.45⬆, +0.77➡)
These are our top 4 picks for the best Grau 5.56 builds. Feel free to tweak them to your liking and have fun along the way. These builds will not suit everyone because everyone has their own personal preferences