Wenuts occasionally attack you from under the sand in the deserts of Genshin Impact, dealing physical damage; this damage isn't significant but is annoying for many. The boss version of them is called Setekh Wenut, The Last Prince of the Sands a World Boss, released in version 3.4. It is a snake-shaped beast that can dive in and out of the sand to attack you, making it hard to defeat.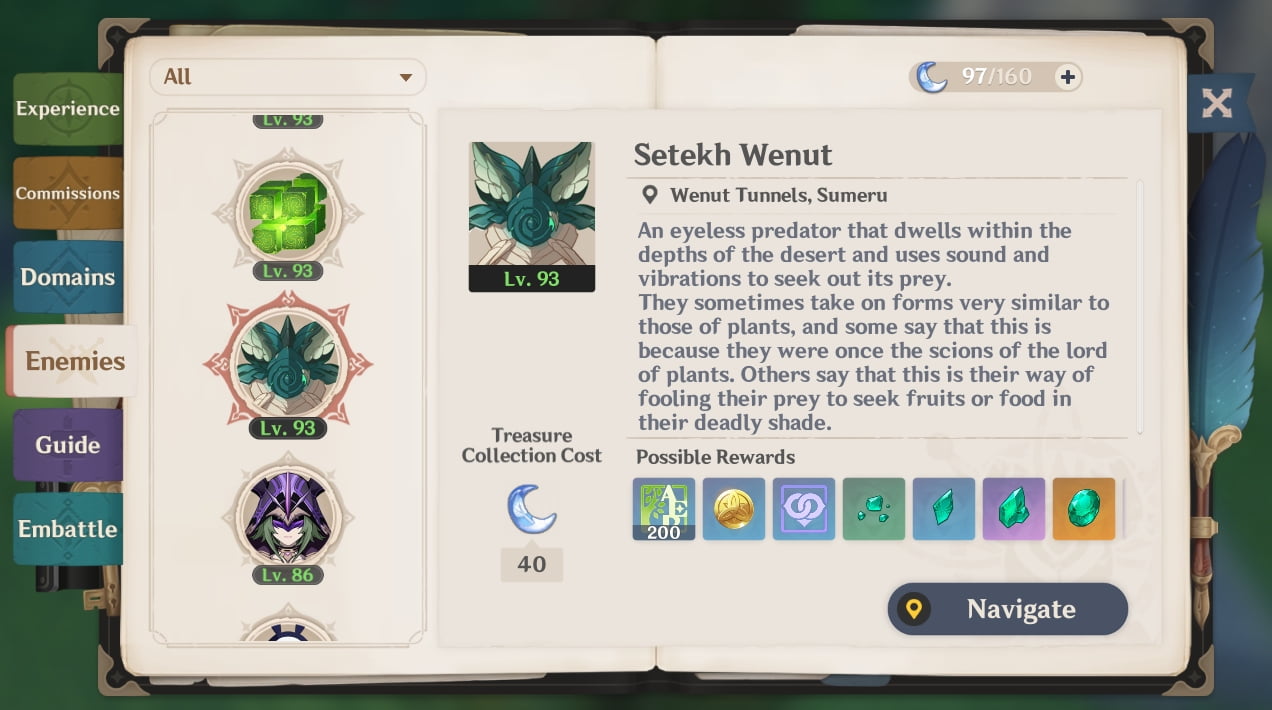 Where is Setekh Wenut Located?
It is located underground, inside the Passage of Ghouls, and the convenient way to access it would be from the nearest teleport waypoint, which is directly south of that area.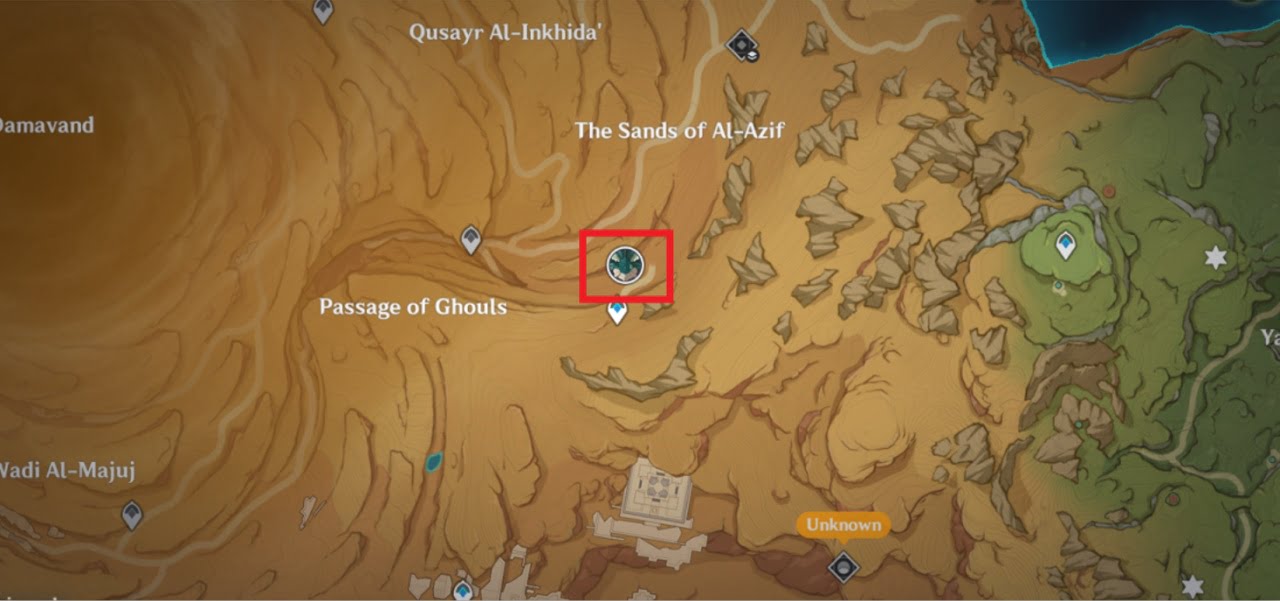 Recommended Characters and Party
Since the Setekh Wenut is a boss constantly moving around and has abilities requiring a bow user to counter, your Main DPS for this fight has to be a bow user like Yoimiya or Amber. Remember that your bow character has to be Cryo, Pyro, Hydro, or Electro. Otherwise, there will be no point in bringing one.
Free to Play Party
Amber
Xiangling
Xingqiu
Barbara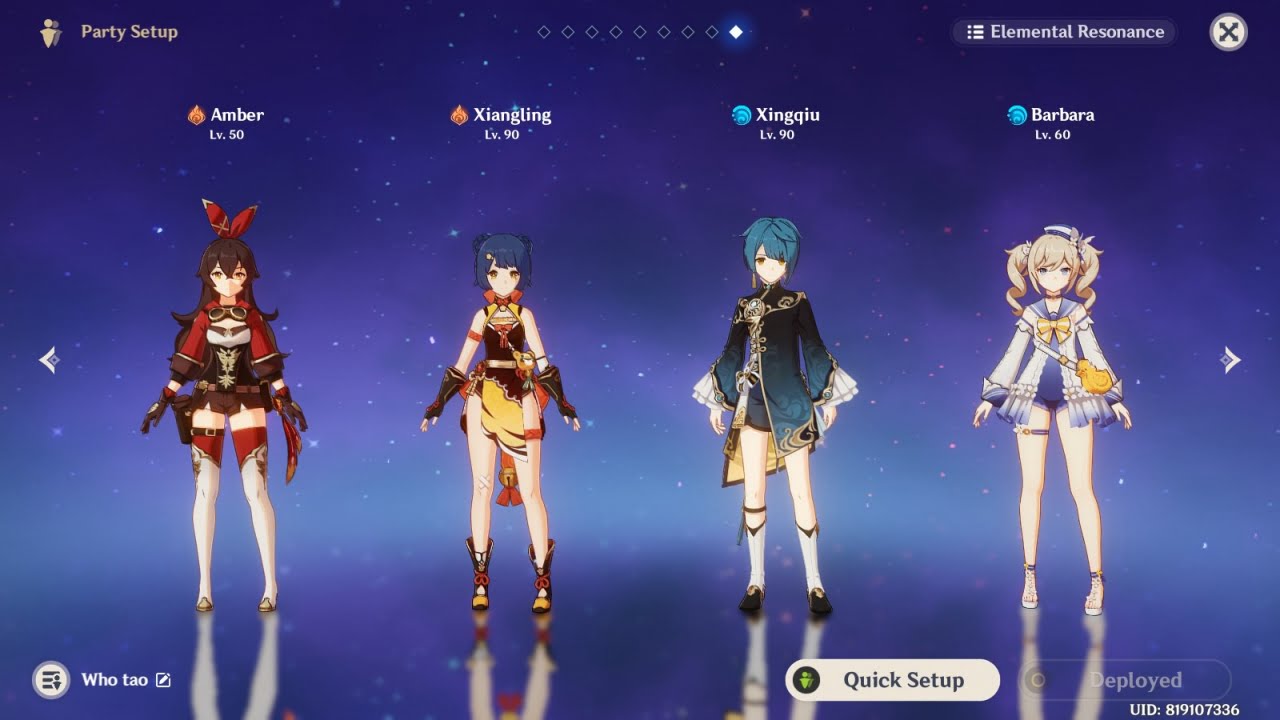 Yoimiya DPS
Yoimiya
Xingqiu
Bennet
Zhongli/Diona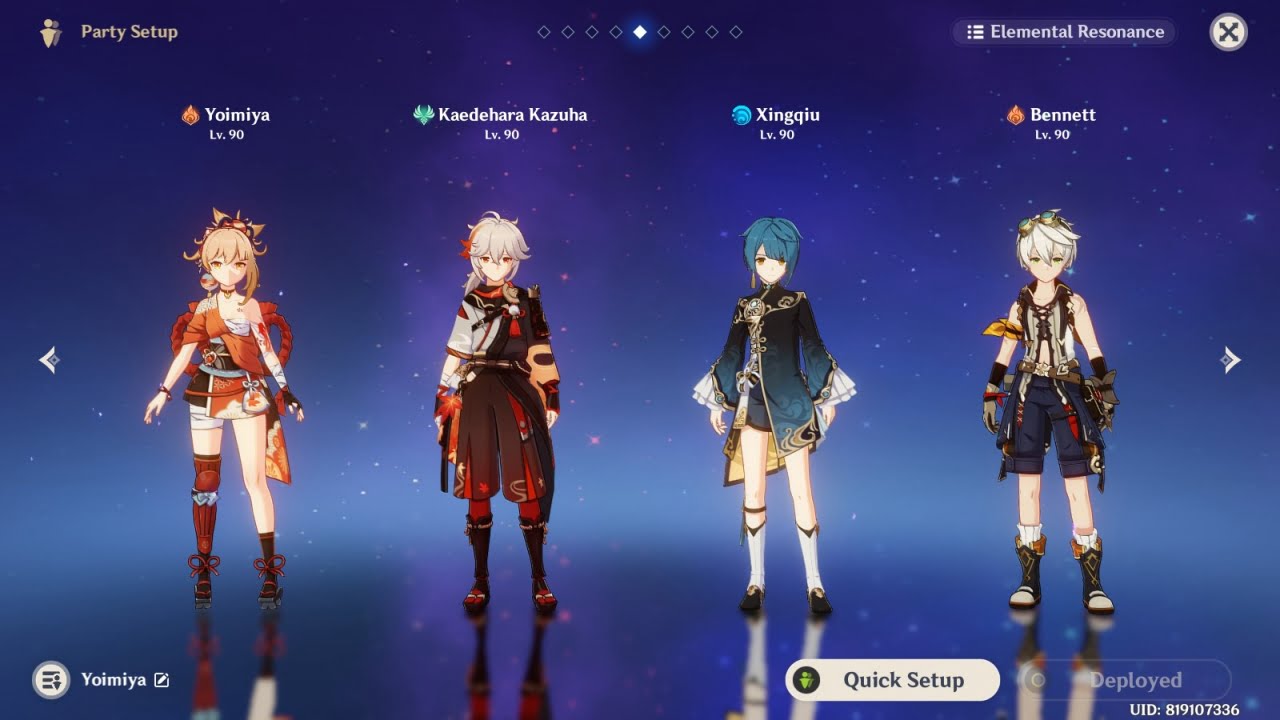 Other parties could use characters like Raiden Shogun, Yelan, or Ganyu.
Setekh Wenut Statistics
Setekh Wenut has Weaknesses in four elements: Cryo, Electro, Hydro, and Pyro. Utilizing these elements correctly could help you paralyze and deal with the boss quickly.
| Element | Resistance | Resistance in Spiral Abyss |
| --- | --- | --- |
| Physical | 25% | 55% |
| Pyro | 25% | 55% |
| Hydro | 25% | 55% |
| Electro | 25% | 55% |
| Cryo | 25% | 55% |
| Dendro | 25% | 55% |
| Anemo | 60% | 90% |
| Geo | 25% | 55% |
HP/ATK/DEF
HP ranges from 1,101 to 831,900 from boss level 1-100, depending on The World Level.
ATK ranges from 152 to 14,773 from boss level 1-100, depending on The World Level.
DEF ranges from 505 to 1,000 from boss level 1-100, depending on The World Level.
Note: The ranges of the Values above may differ in Co-op mode or specific domains/quests.
Setekh Wenut Attack Patterns
Setekh Wenut does not have any fearsome attacks which are hard to dodge or block, but being underground most of the time surely gets annoying. Its attacks vary with three different phases throughout the whole fight.
Phase 1
Phase 1 only lasts for the first 20 seconds or until the boss reaches 97.5% of its HP. The boss only has two basic attacks in it, both of which are pretty slow and easy to dodge. Just dash away from the attack radius that will appear before the attack happens and then counter while the boss is on the surface.
Sweep
Closes its head and then sweeps the ground in front of it with its entire body. This attack deals 100% ATK as AoE Physical DMG.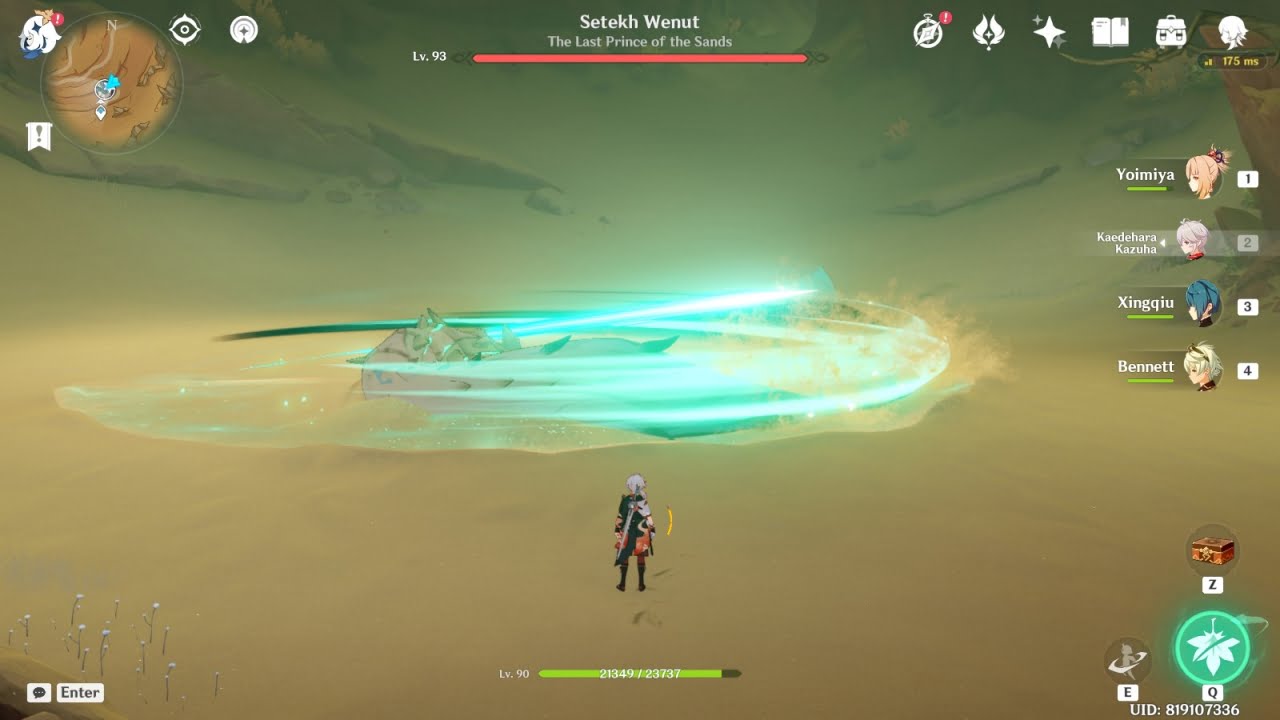 Spit
Charges up in its head and then shoots out three projectiles at the player. Each projectile deals 50% ATK as Anemo DMG.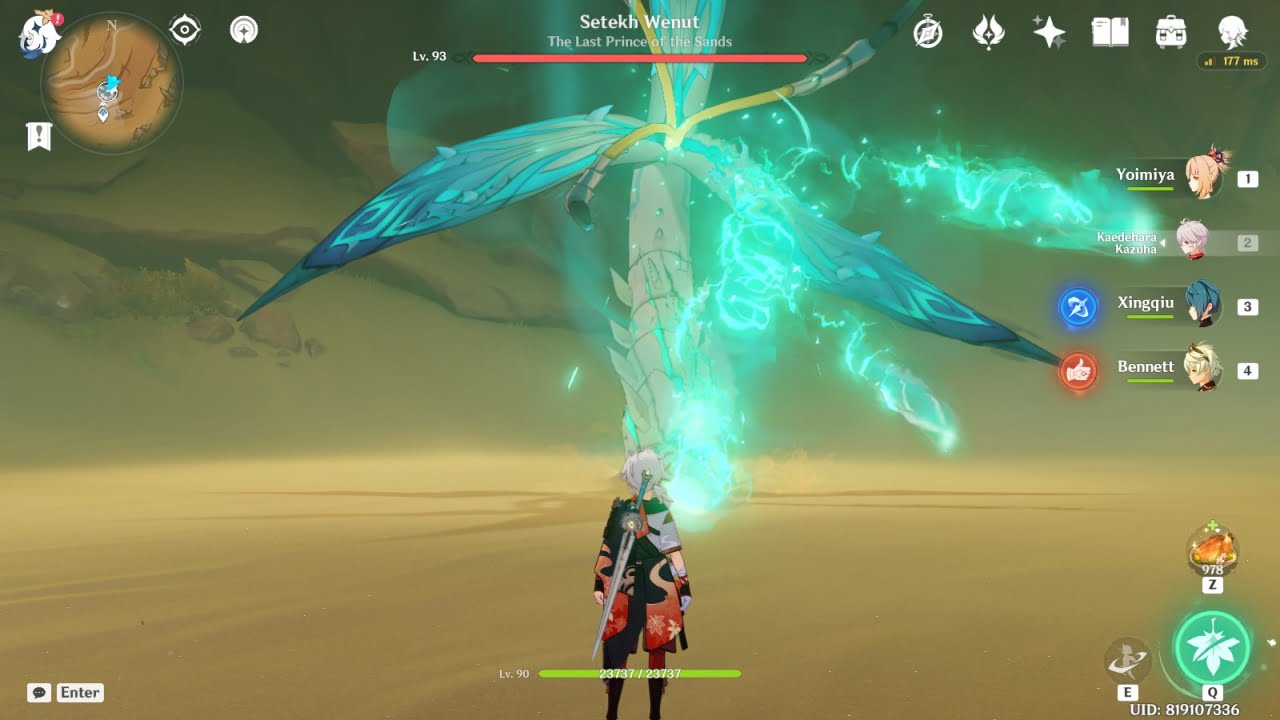 Phase 2 Transition
Comes out of the ground facing upwards and then bends to the side mid-air before jumping back into the ground, signaling the transition to the second phase.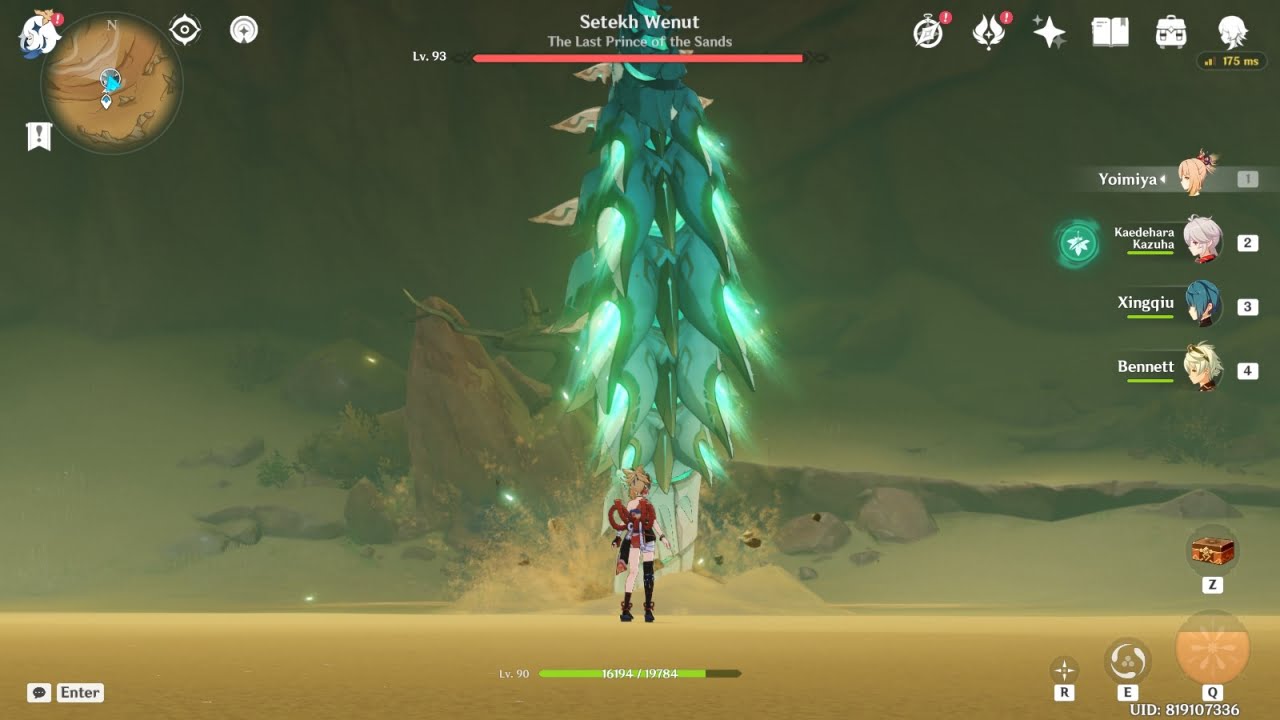 Phase 2
This phase only starts when the battle has been going on for 20 seconds or the HP of the Setekh Wenut has reached 97.5% and only lasts for 60 more seconds or when its HP reaches 50%. Once in Phase 2, it will not use any more attacks from Phase 1 and will start using a new variety of attacks.
Thrust
An attack radius appears on the ground where the player is standing, and then the boss digs up from that area to attack the player from underneath. This deals 100% ATK as AoE Physical DMG.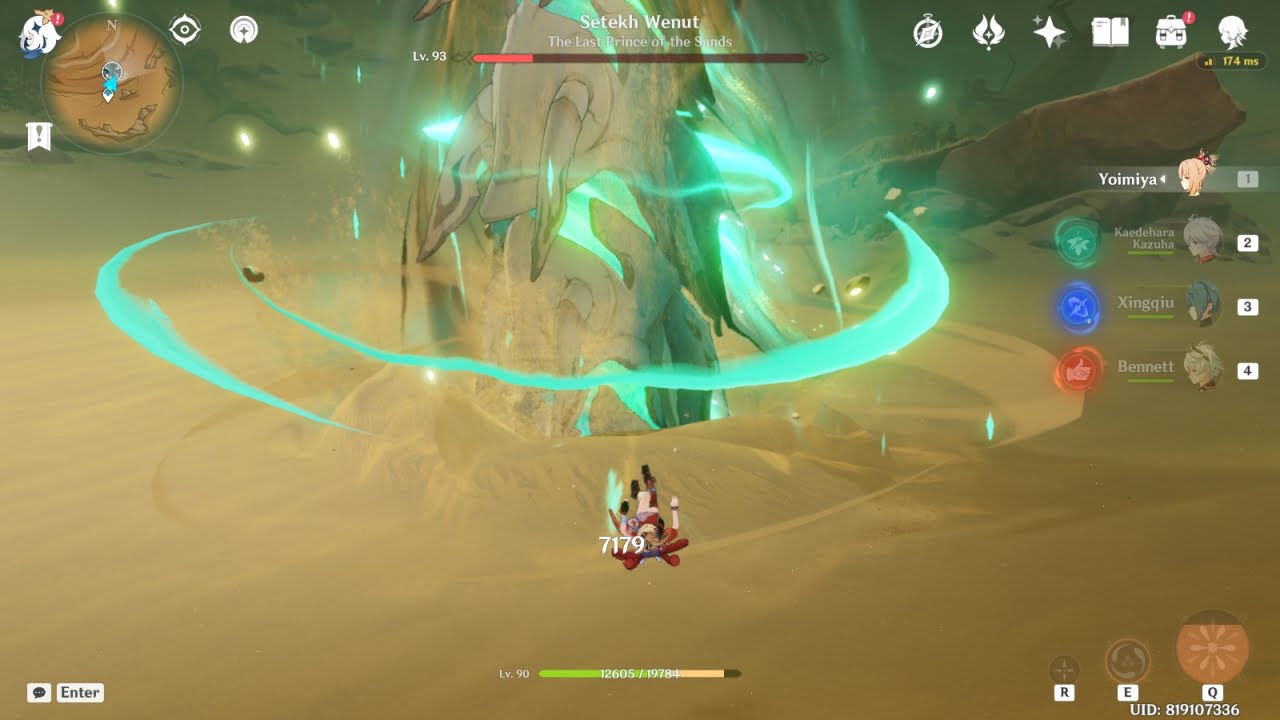 Stream of Gales
It comes up from the Center of the arena for a brief moment while randomly releasing many projectiles around it. Each projectile deals 50% ATK as Anemo DMG.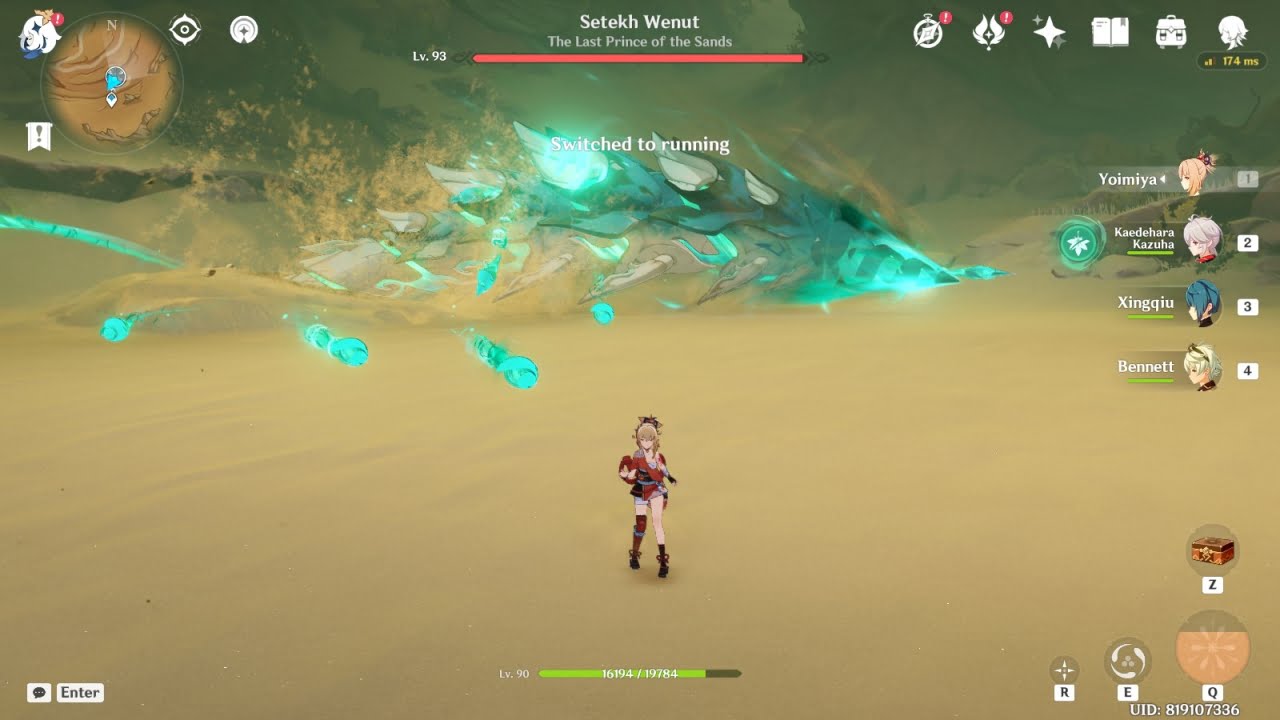 Stormbreath
It sweeps the whole arena around itself with a surge of Anemo energy from its mouth, dealing 100% ATK as Anemo DMG.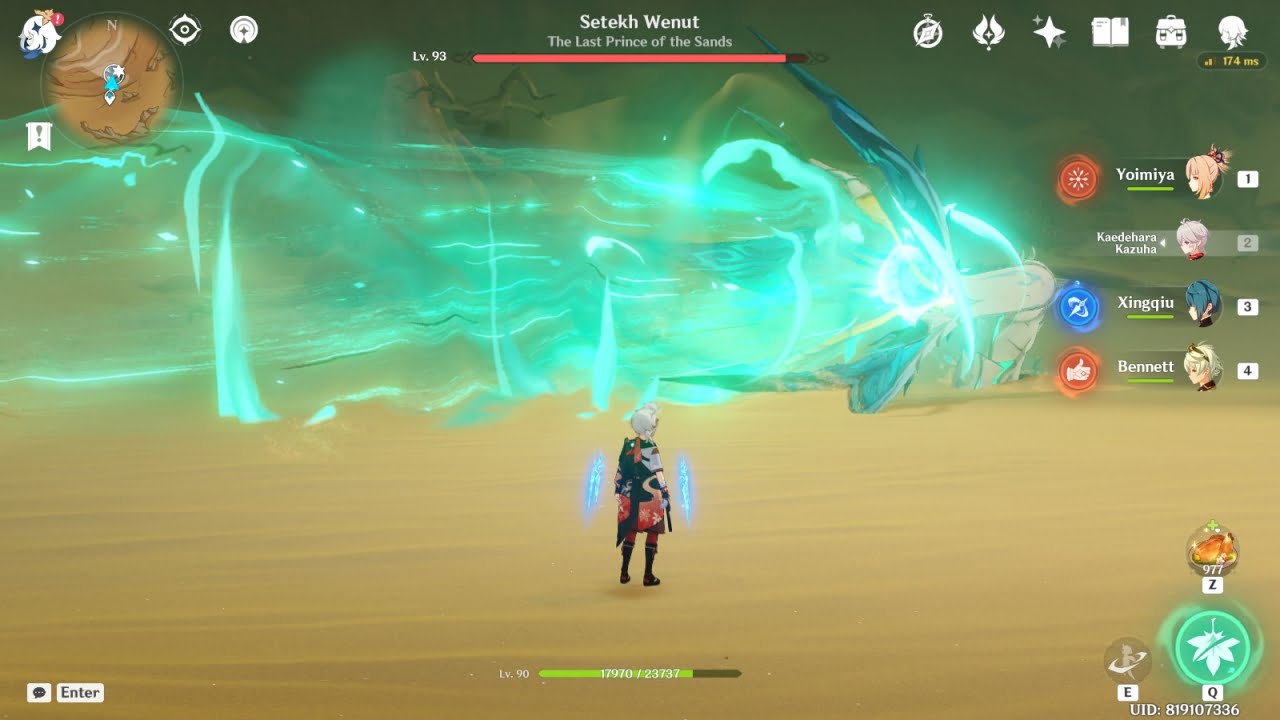 Pressurized Anemo Beam
It surfaces from the ground and then fires an Anemo beam toward the player dealing 100% ATK as Anemo DMG on hit.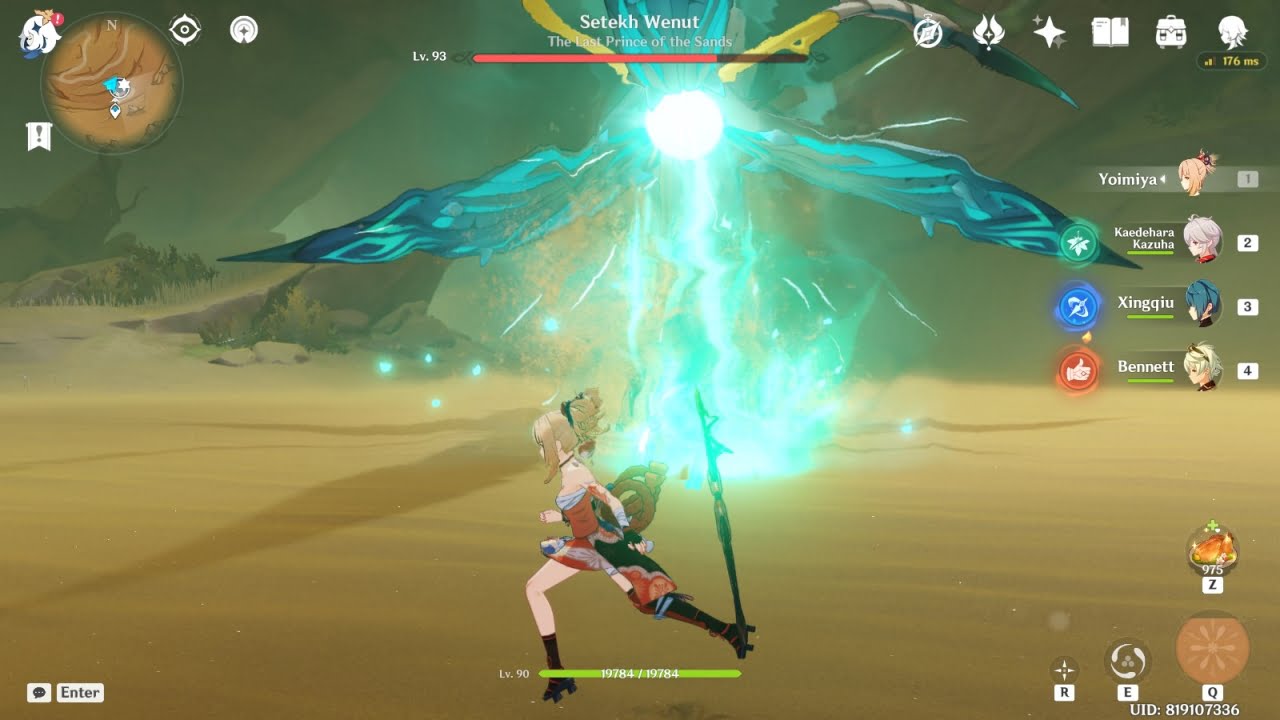 Dig
It keeps digging out of the ground and then going back in for brief moments.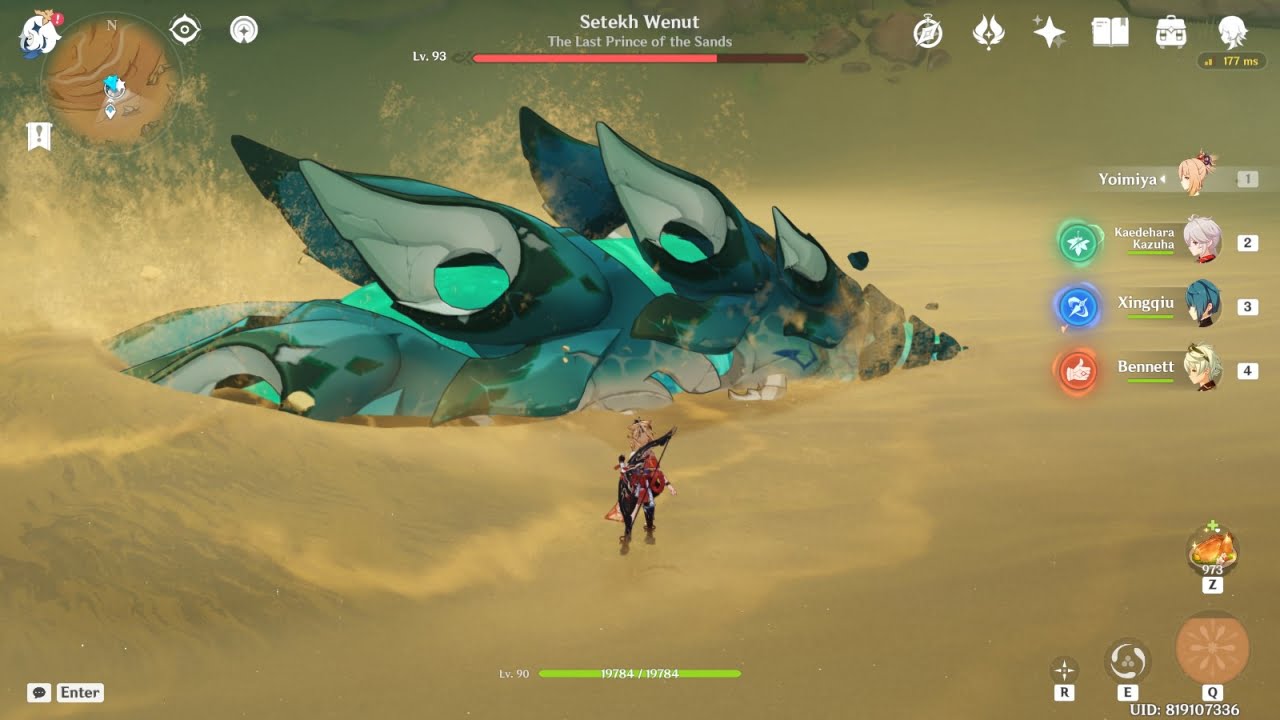 Phase 3
As soon as the HP of the Setekh Wenut reaches 50% or when 1 minute has passed since the beginning of Phase 2, the third phase starts. It immediately uses an ability called Floating State. It also has all of the attacks it used in phase 2 in its arsenal.
Floating State
It goes up into the air and summons 6 Windbite Bullets. After a few seconds, It absorbs these Windbite Bullets to fire three projectiles, each covering circular areas. Each of these projectiles deals 100% ATK as Anemo DMG.
The Windbite bullets can be destroyed by using Cryo, Hydro, Pyro, or Electro attacks.
As soon as two Windbite bullets are destroyed, the boss becomes paralyzed for around 10 seconds and falls to the ground.
How to beat Setekh Wenut Easily?
Taking Setekh Wenut to Phase 3 should be your primary focus in this fight. When it launches 6 Windbite Bullets, you must use your bow's charged attacks to destroy at least 2 of the 6 Windbite Bullets. Once this is done, the boss will be paralyzed for around 10 seconds, giving you the perfect opportunity to take it down or damage it as much as possible. One more major thing to remember is that the boss has a 45% decreased resistance to the element used to destroy the Windbite Bullets. For example, if you used Yoimiya to destroy the Bullets, then the boss' Pyro resistance will be lowered by 45%.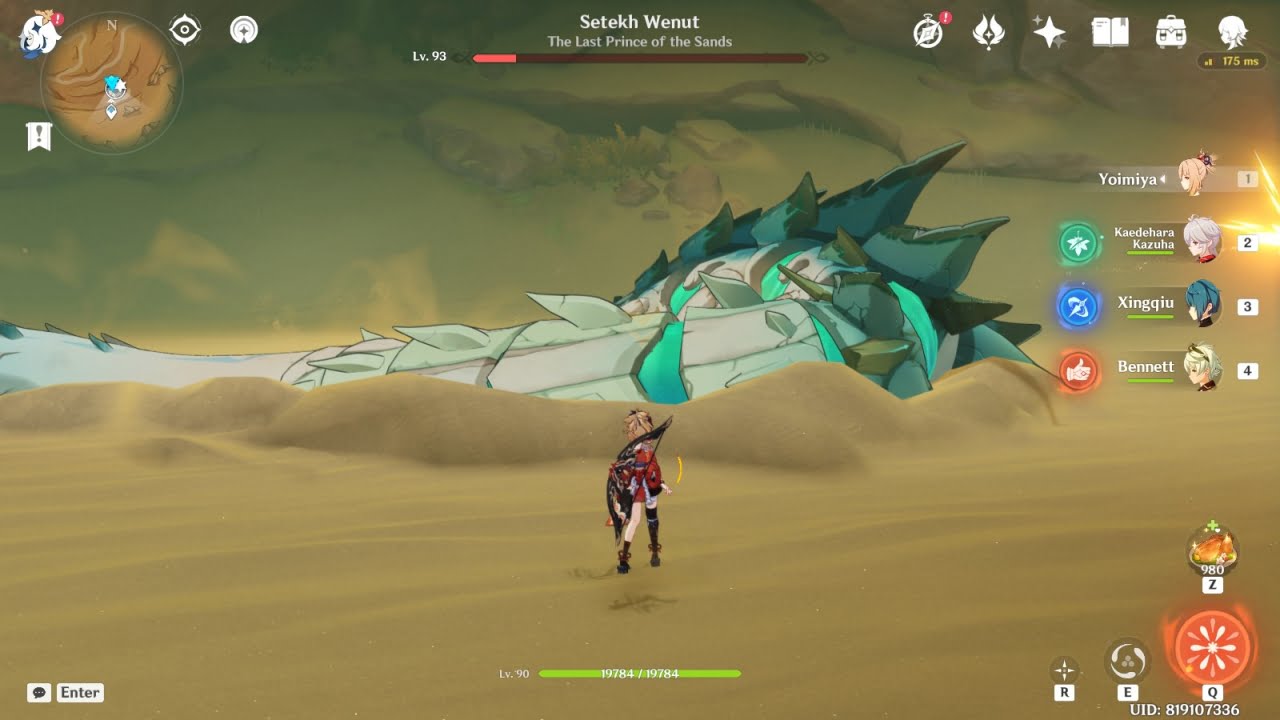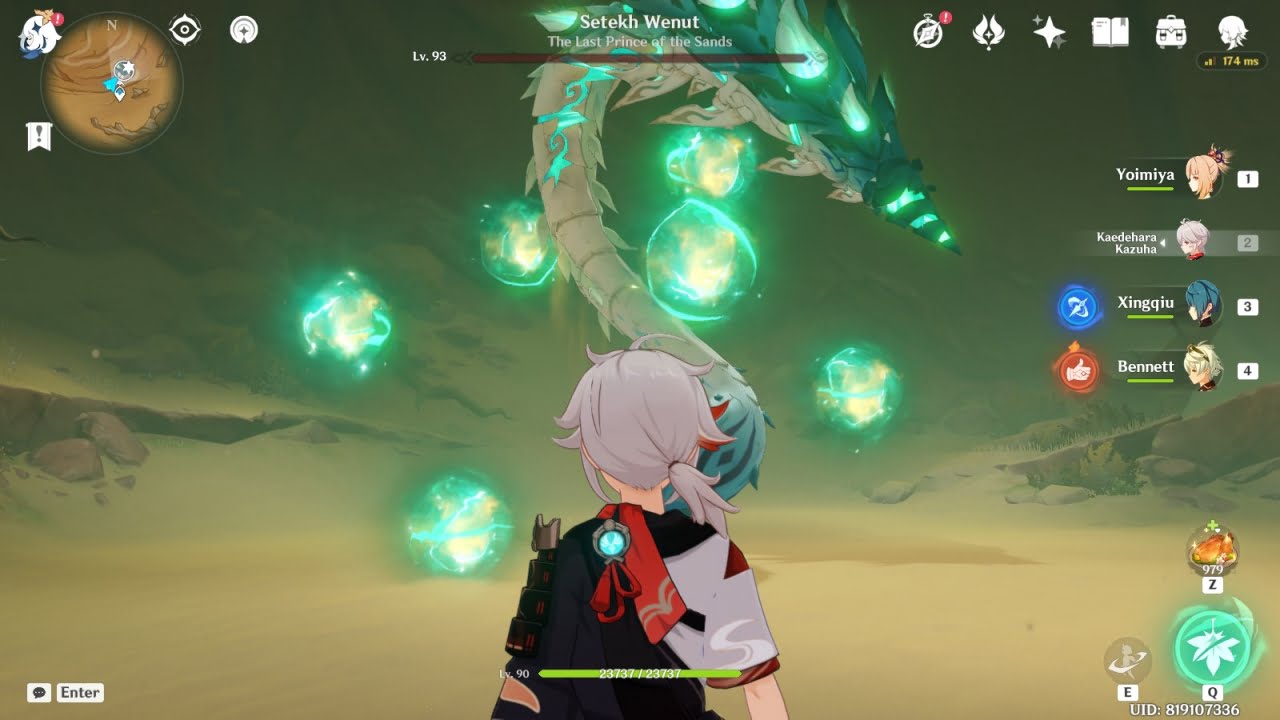 The boss also drops Energy Orbs, which recharge your ultimate quickly at various HP thresholds. You can use these to your advantage when you need your ultimate—these drops when the boss' HP reaches 75%, 50%, and 25%.
Note: The Setekh Wenut prioritizes being in its floating state more than other attacks.
Achievements
There are 2 Achievements that a player could get through the Setekh Wenut.
He Who Controls the Spice…: Destroy the Windbite Bullets to paralyze the Setekh Wenut.
I Hate 'Em Myself!: You simply need to get attacked by the boss for the first time.
Rewards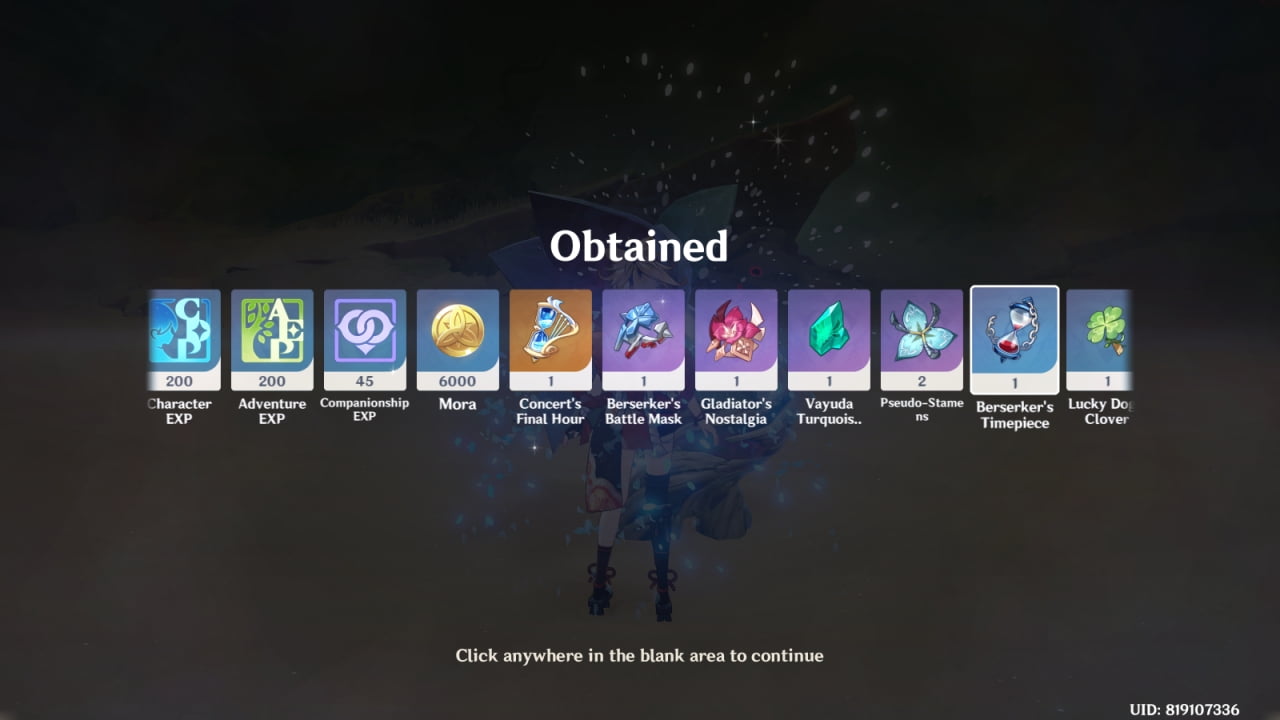 Character Ascension Material
Pseudo-Stamens (1-3, Depends on Boss and World Level)
Vayuda Turquoise Sliver
Vayuda Turquoise Fragment
Vayuda Turquoise Chunk
Vayuda Turquoise Gemstone
Artifacts
Lucky Dog (1* – 2* – 3*)
Instructor (3* – 4*)
Berserker (3* – 4*)
Gladiator's Finale (4* – 5*)
Wanderer's Troupe (4* – 5*)
Other Rewards (Vary according to Boss and World Level)
200 Adventure EXP
3,450 – 6,000 Mora
138 – 200 Character EXP
30 – 45 Companionship EXP