The Jadeplume Terrorshroom is a normal World Boss in Genshin Impact. It is a proud-looking bird-like creature, lord of all fungal beasts. It was the first Dendro boss when released in the game, and despite its name, the "Terrorshroom" is not scary at all when tackled with the right team and strategy.
Where is Jadeplume Terrorshroom Located?
Jadeplume Terrorshroom resides in the northeast corner of Vanarana, Sumeru. This is to the left of "Chatrakam Cave." You may need to use the cave entrance shown on the map below. To unlock Its teleport waypoint, reach the bottom of this cave and follow the four leaf sigils. Ultimately, you will reach the teleport waypoint next to the boss fight arena.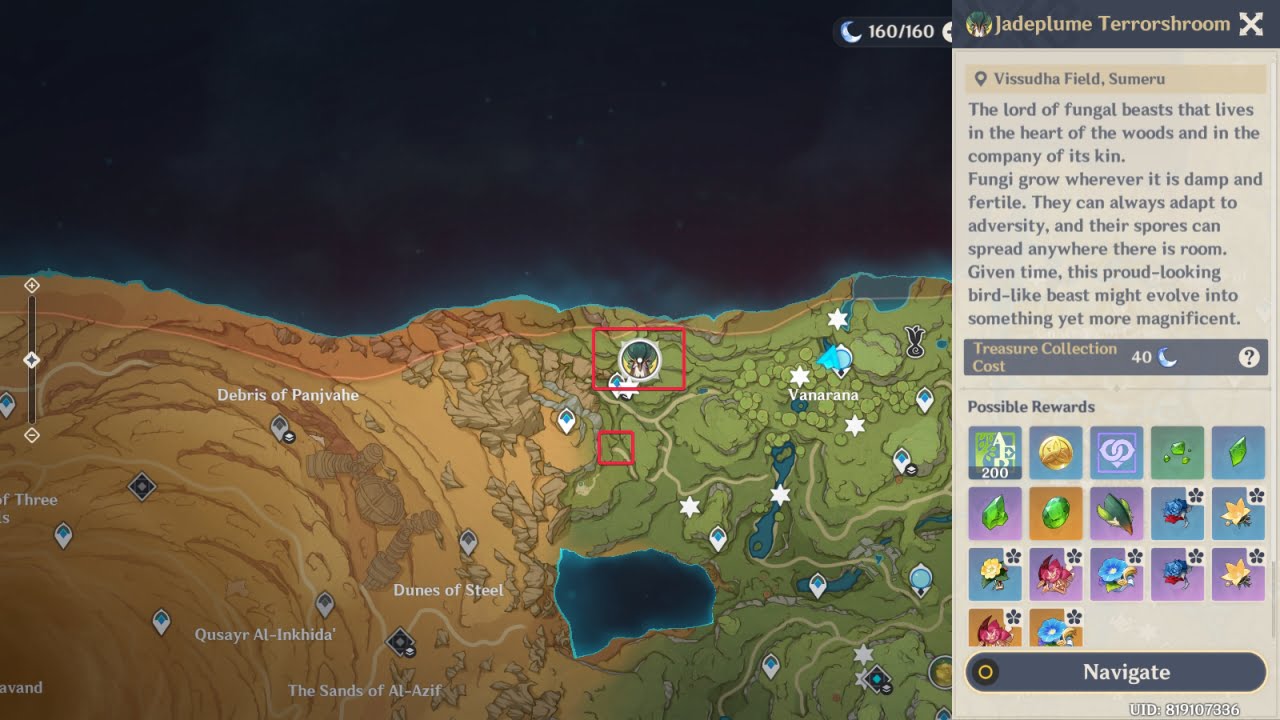 Jadeplume Terrorshroom Statistics
As it is a mutated mushroom, its resistance to Dendro is significantly more, even when stunned. The other statistics are the same as most normal world bosses.
| Element | Resistance | Resistance When Stunned |
| --- | --- | --- |
| Physical | 25% | 0% |
| Pyro | 25% | 0% |
| Hydro | 25% | 0% |
| Electro | 25% | 0% |
| Cryo | 25% | 0% |
| Dendro | 80% | 55% |
| Anemo | 25% | 0% |
| Geo | 25% | 0% |
Attack, HP, and Defence
ATK ranges from 178 – 17,235 from Level 1 – 100
HP ranges from 1,028 – 776,440 from Level 1 – 100
DEF ranges from 505 – 1,000 from Level 1 – 100
Note: The stats mentioned above may differ when in CO-OP mode or when in a domain.
Recommended Character Parties
First Character
The first character, your DPS, is preferred to be Electro; however, you can use any other element except Dendro and Pyro. The perfect characters are Yae Miko, Fischl, Beidou, Lisa, and Ganyu. Especially because they can deal damage long range while the Terrorshroom's attacks are mostly melee.
Second Character
When it comes to the new reactions, a character that can apply Dendro easily is a must; this makes Collei, Yaoyao, and The Traveler most suited as your party member.
Third Character
Ensure you bring an excellent shielder or healer so your team stays alive. Diona can fill both roles, but you may bring any other character you choose, like Zhongli, Kokomi, Kuki Shinobu, Yaoyao, Noelle, or even Barbara.
Fourth Character
Your last slot can be filled by strong Anemo support like Kazuha, Venti, or Sucrose; which makes your reactions even stronger, or you could bring any other Dendro or Electro character of your choice. A strong burst DPS is also an option, like Raiden Shogun or Fischl.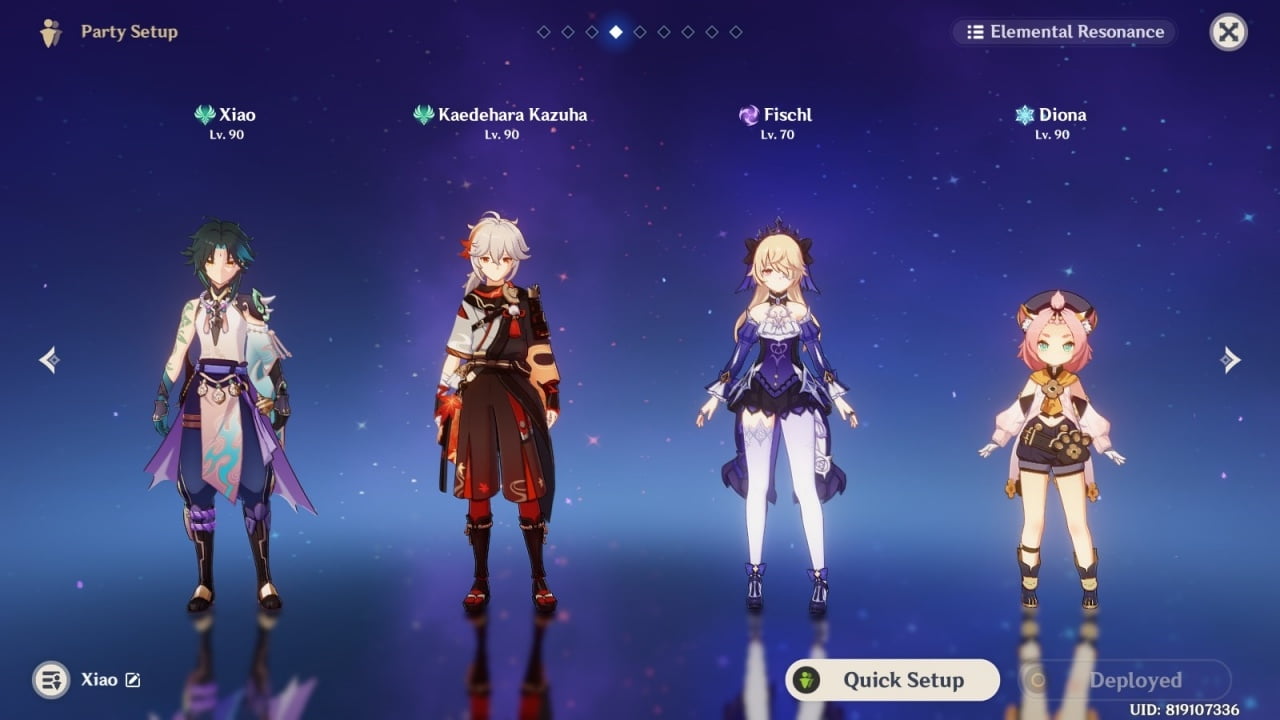 How to beat Jadeplume Terrorshroom Easily?
The fastest, most efficient way to clear this Dendro boss is by using Electro and Dendro attacks to take it into the activated state, after which it is paralyzed, giving a perfect chance to finish him off with your blows.
Note: Jadeplume's weakness is being hit by Quicken, Aggravate, or Spread reactions.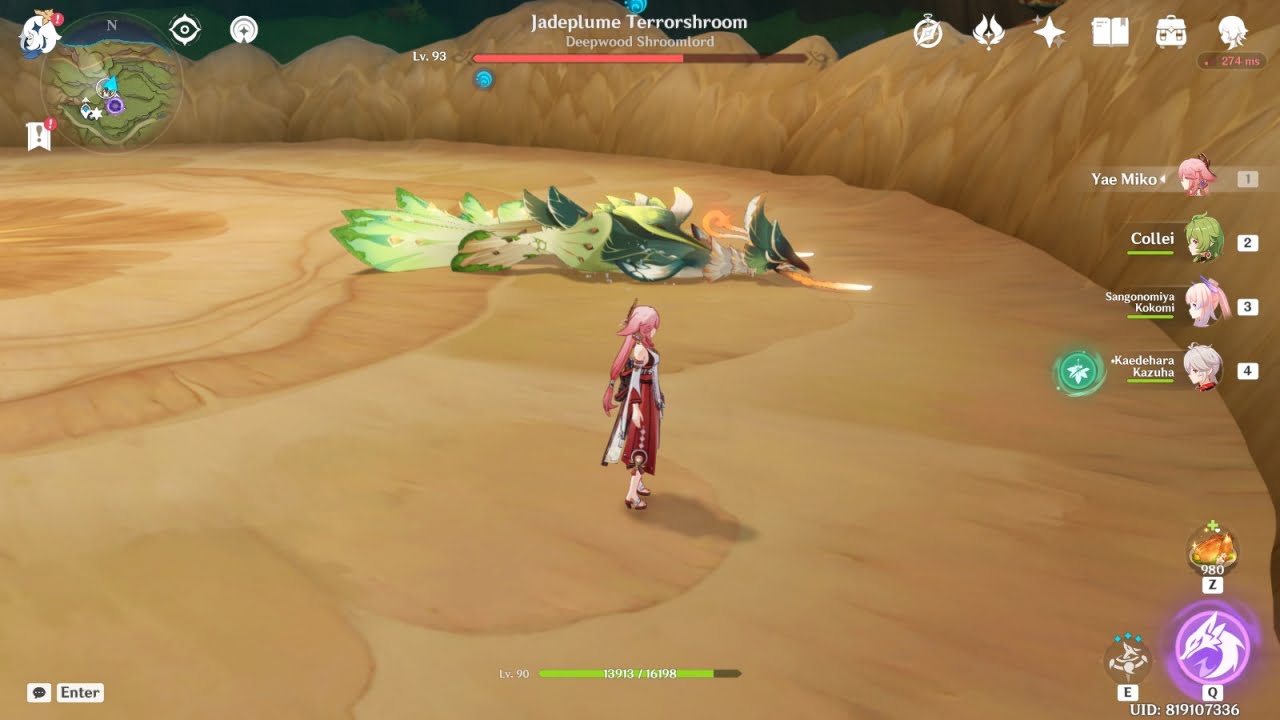 You must avoid using any character that is Pyro as this creates more enemies for you during the fight: the Floating Dendro Fungi summoned by the Terrorshroom in its Scorched state but don't worry too much about them; these little minions will be easy to take care of.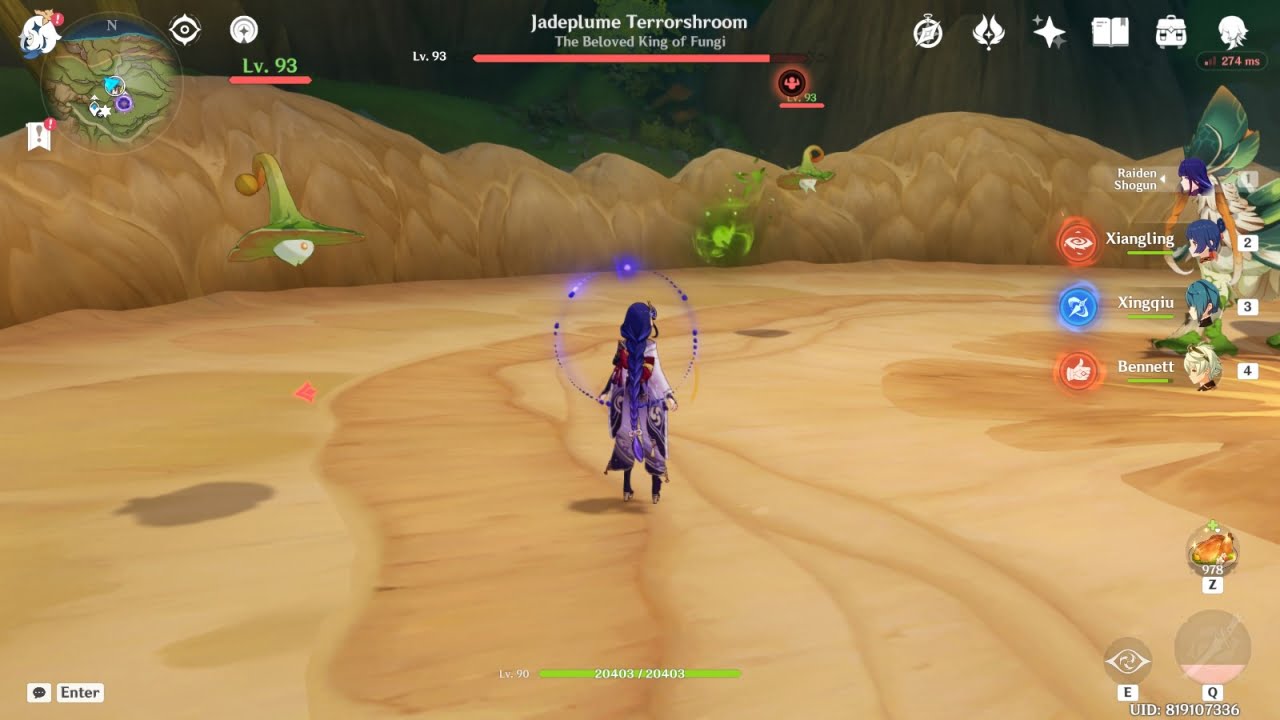 Jadeplume Terrorshroom Attacks and Dodges
Note: Most attack names below are unofficial.
Normal State
Majestic Combo
Performs a 3-step combo attack which consists of a Sweeping Bite, a Head Slam, and a Jump Slam. These deal 80% ATK, 80% ATK, and 100% ATK, as Dendro DMG in a small AoE. When performing the Jump Slam attack, the Terrorshroom will imbue itself with Dendro before attacking. To avoid it, dash away from the Terrorshroom while it is performing the combo.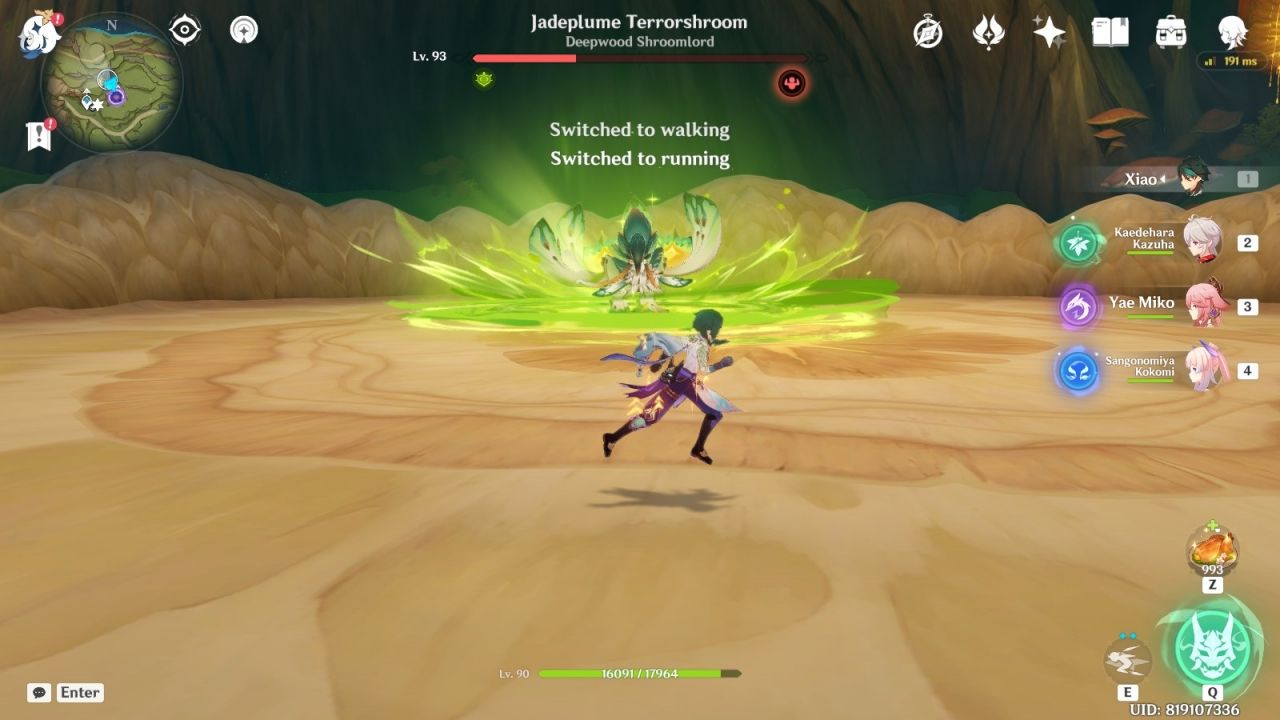 Barrage Attack
Imbues itself with a Dendro aura. Then it swings its tail to the left, swings it to the right while jumping, then turns it back while releasing a barrage of projectiles. This attack is only performed three times consecutively, and each projectile deals 30% ATK as Dendro DMG. To avoid it, dash towards any side when the projectiles are launched.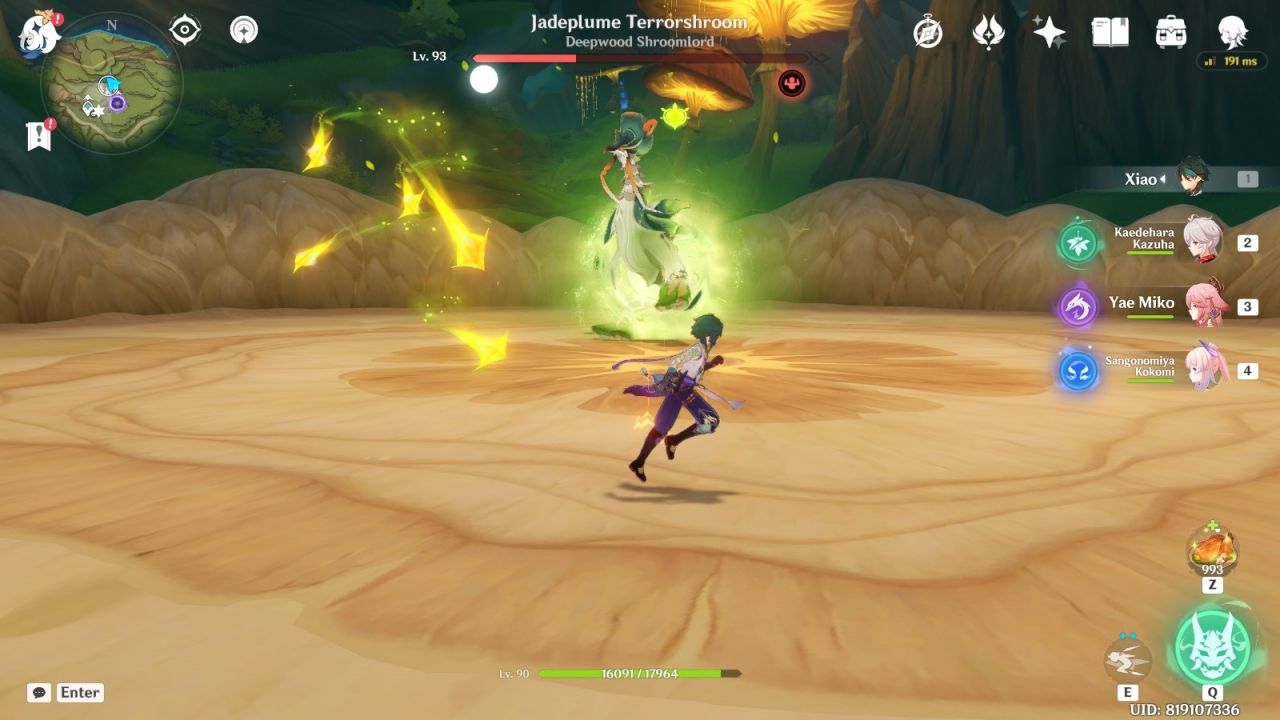 Spore Cloud
Imbues itself with a Dendro aura and releases spores in a large radius. It explodes them using a spark in its beak and deals 50% ATK as Dendro DMG. You have to run out of the radius to dodge this attack.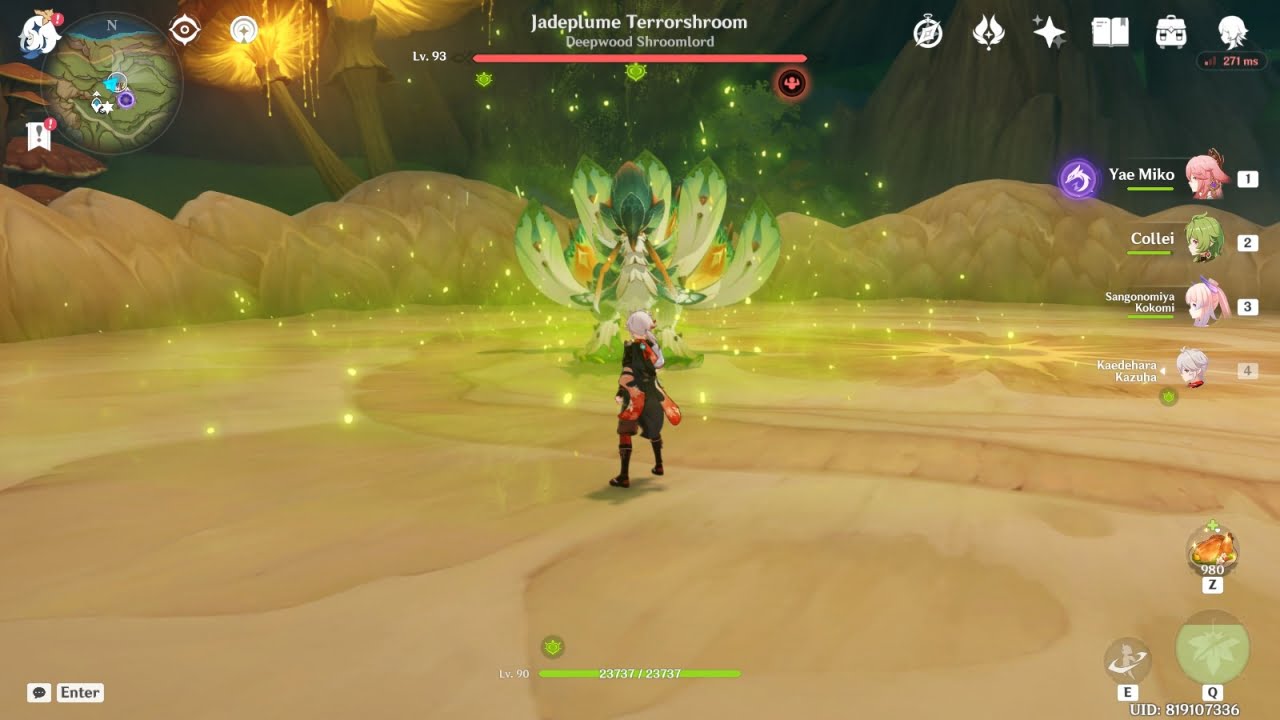 Activated State – Radical Vitality
The boss has a "Fury" bar underneath its health bar. This bar fills by 2% when the Terrorshroom is hit by an electro attack and fills by 15% when a Quicken, Aggravate, or Spread reaction is triggered. It is reduced by 34% when hit by a Pyro attack. When this Fury bar is full, the Terrorshroom will perform three special attacks, Feather Spreading, Furious Charge, or Rapid Beak Pecks. It then becomes paralyzed for around 15 seconds and will have reduced resistance.
Feather Spreading
Charges up with a Dendro aura for a moment, then release countless spores into the air. These spores home toward the player and deal 45% ATK as Dendro DMG on hit. You need to keep running in one direction to avoid them.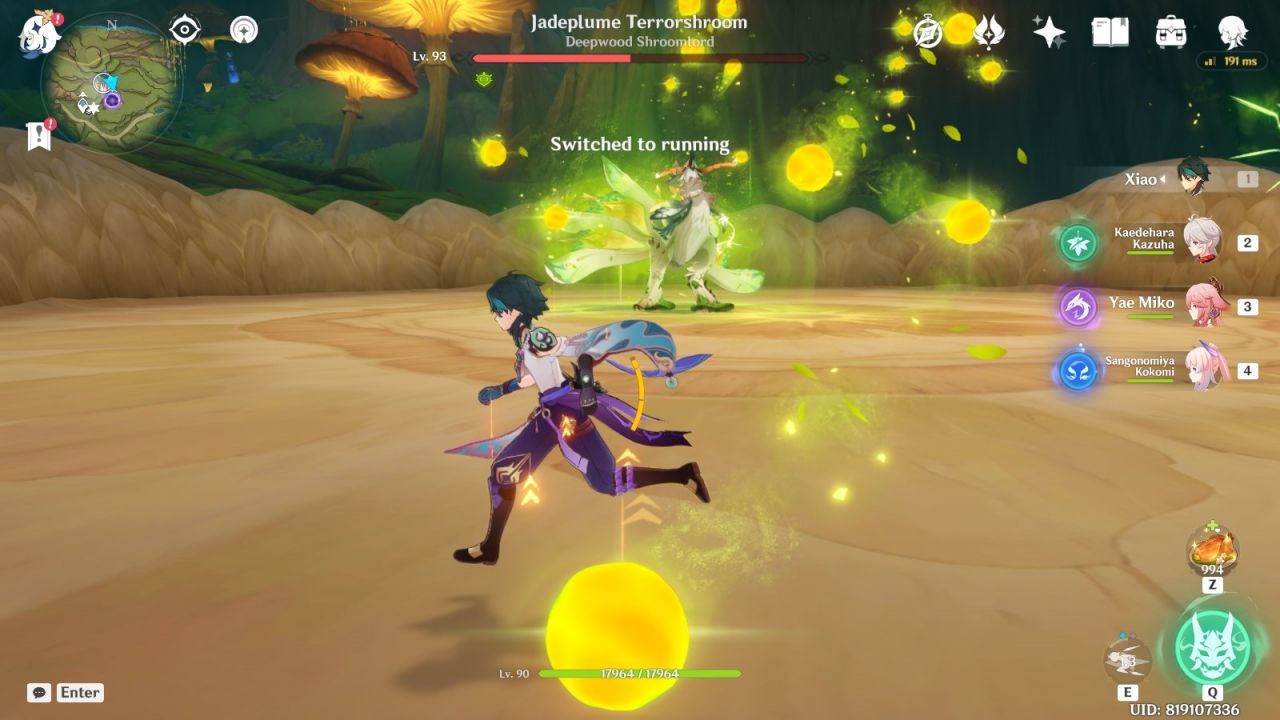 Furious Charge
Imbues itself with a Dendro aura and then runs charging at the player. It does this charge twice and deals 120% ATK as Dendro DMG. You must dash to the side when the Jadeplume Terrorshroom starts its charge to avoid being hit.
Rapid Beak Pecks
Aimlessly swings around its beak rapidly four times, hoping to hit the player. It deals 120% ATK as Dendro DMG with each swing. Maintain your distance from the boss while it performs this attack.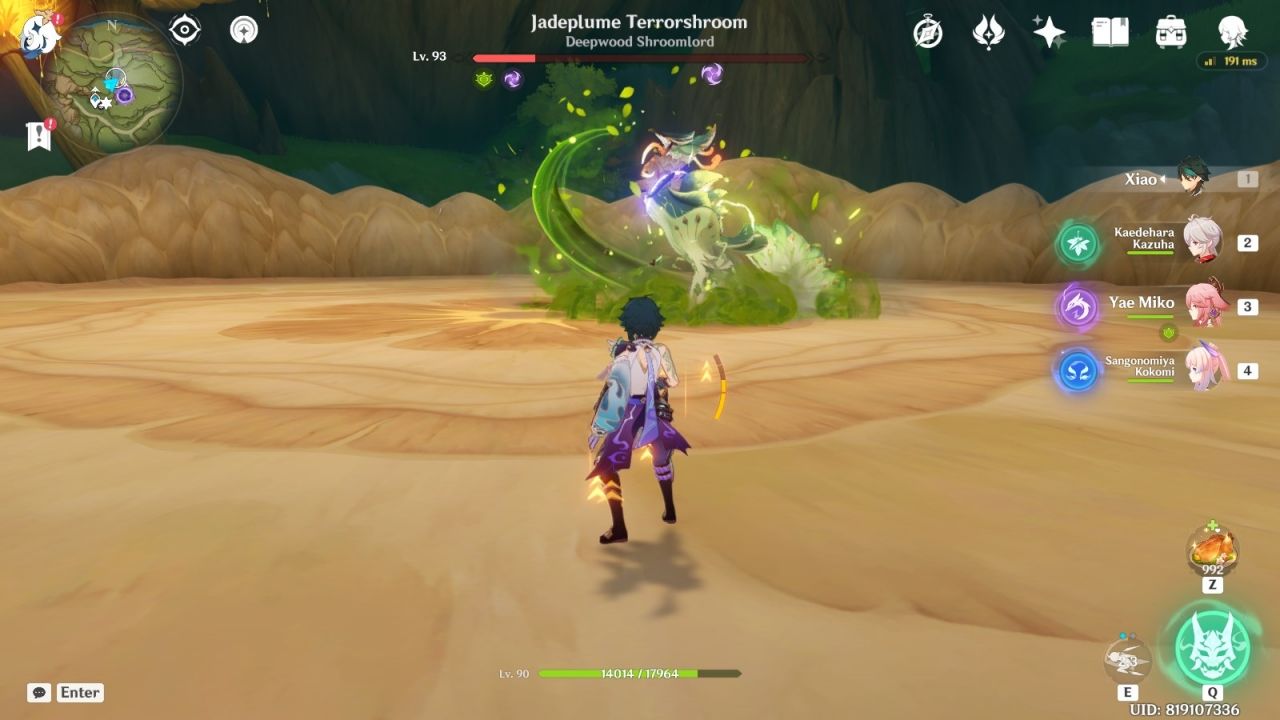 Scorched State
Proliferating Spores
This happens if a burning reaction is triggered on the boss while not in the activated state. It will shoot out three spores that land on the ground near the player. Each spore can be destroyed by using Electro, Hydro, or Pyro attacks. If not destroyed, they will explode after three seconds, dealing 50% ATK as Dendro DMG, and then transform into Floating Dendro Fungi. These fungi will assist the Terrorshroom in battle and be very annoying.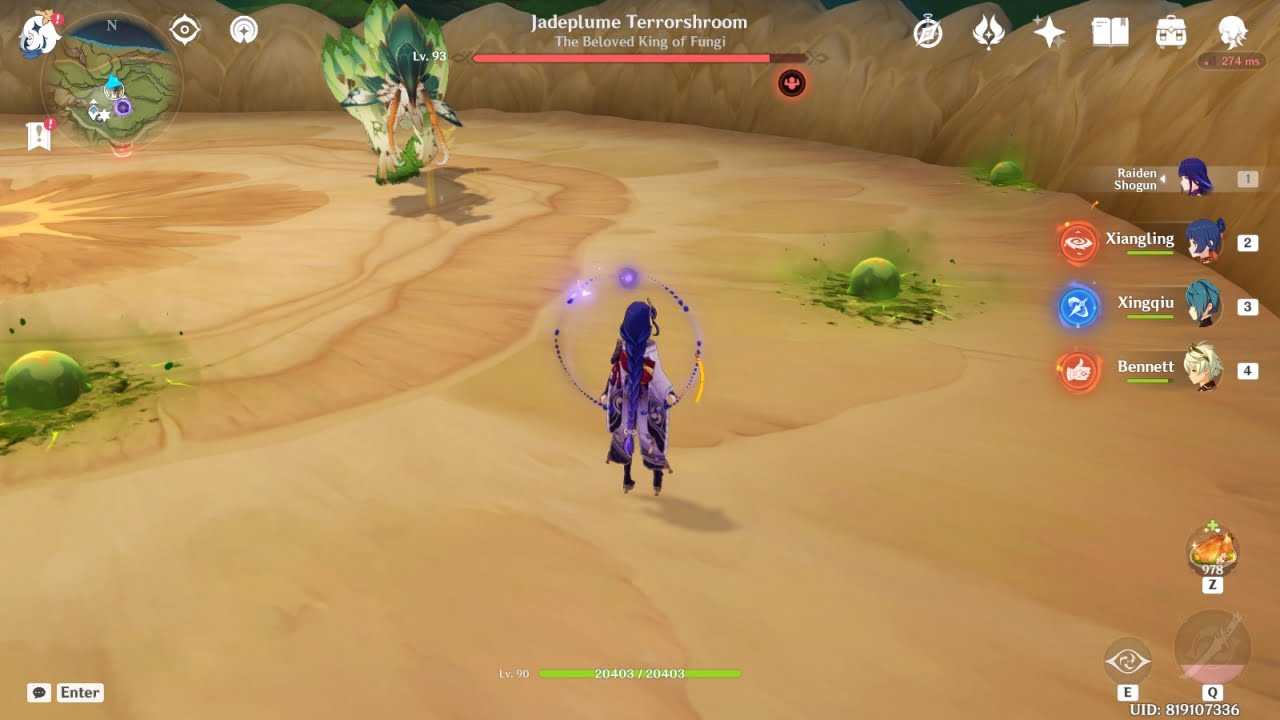 Rewards for Defeating Jadeplume Terrorshroom
Claiming the rewards from this boss requires 40 Original Resin. Among all of its rewards, the unique reward is the Majestic Hooked Beak which is an ascension material for Tighnari and Collei.
Character Ascension Material
Majestic Hooked Beak (1-3)
Nagadus Emerald Sliver
Nagadus Emerald Fragment
Nagadus Emerald Chunk
Nagadus Emerald Gemstone
Artifact Sets
Adventurer (1* – 3*)
Berserker (3* – 4*)
Instructor (3* – 4*)
Gladiator's Finale (4* – 5*)
Wanderer's Troupe (4* – 5*)
Other Rewards
200 Adventure EXP
3,450 – 6,000 Mora
138 – 200 Character EXP
30 – 45 Companionship EXP
Achievements
There are five possible achievements from the Jadeplume Terrorshroom.
Three Strikes: Activate the Jadeplume Terrorshroom with Electro, and witness its three powerful abilities.
I Can't Take It Anymore!: Defeat an exhausted/paralyzed Jadeplume Terrorshroom after its activation state is finished.
The Smell of Grilled Mushrooms in the Morning: In a single challenge, defeat 6 Fungi produced by Jadeplume Terrorshroom in a Burning state.
Nanomachines, Son!: Defeat the Jadeplume Terrorshroom while it is performing the Feather Spreading, Furious Charge, or Rapid Pecks attack.
I'm a Flexitarian: Defeat a Jadeplume Terrorshroom in CO-OP Mode.