Sir Gideon Ofnir is the iconic figurehead of Roundtable Hold; his title speaks for itself as it defines his utmost quality, the power of knowledge; Sir Gideon Ofnir, The All-Knowing.
The NPC first greets the player at the roundtable hold and guides the tarnished with the source about the shardbearers, the children of Marika. He also answers any queries related to the player's quest, as he should since he knows all.
Gideon Ofnir is also the adoptive father of Nepheli Loux, Warrior, a great fighter trained to kill and dethrone Godrick. She's also implied to be the daughter of Godfrey, First Elden Lord.
Sir Gideon Ofnir later betrays the tarnished as he believes that the tarnished will kill Marika and ascend to godhood which shall be prohibited, saying:
A Tarnished cannot become a Lord, not even you. A man cannot kill a god.

Sir Gideon Ofnir
Sir Gideon Ofnir Location
Sir Gideon Ofnir is situated at the Erdtree Sanctuary Site of grace at the exact location where the player fights Godfrey, First Elden Lord.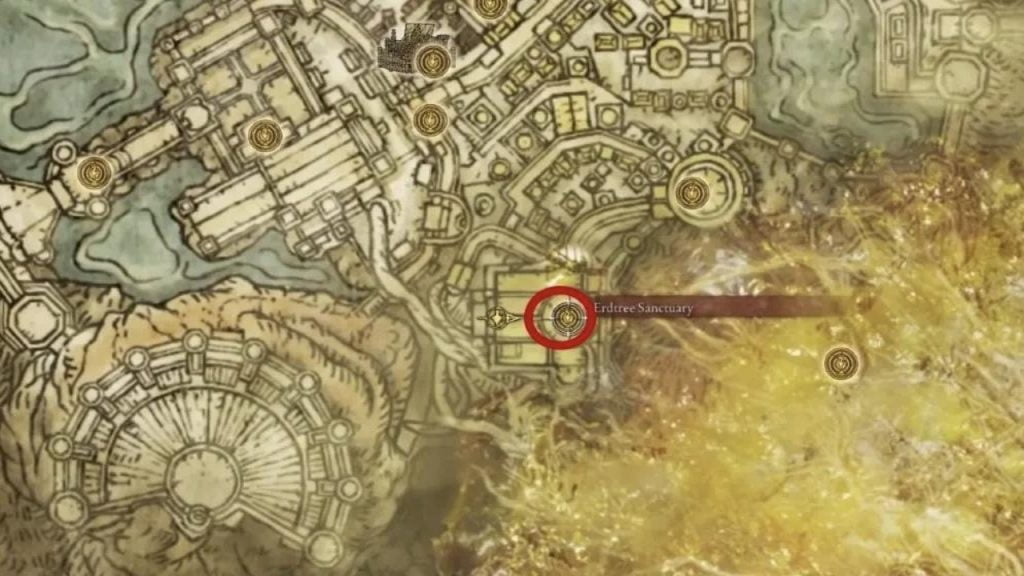 Sir Gideon Ofnir Stats
Health: 6226
Absorptions
Standard Attack = 25
Slash Attack = 26
Strike Attack = 23
Pierce Attack = 23
Magic = 25
Holy = 19
Lightning = 1
Fire = 18
Absorption works in such a way that the numbers are the percentage of the damage that will be blocked; for instance, if you deal Gideon Ofnir 100 magic damage, 75% will be dealt while 25% being negated.
Resistances
Death: Immune
Madness: 171
Scarlet Rot: 193
Poison: 193
Frostbite: 240
Hemorrhage: 240
Sleep: 163
These are the numbers that need to be dealt to Sir Gideon Ofnir to deal with the aforementioned statuses.
The Boss Fight
The fight starts off in the arena with Gideon wielding a staff. Sir Gideon Ofnir can do a magnitude of different spells due to his vast knowledge; he has a big artillery full of spells and incantations. The fight is relatively easy, though, due to Gideon's VERY low poise, and it might be a piece of cake for melee combat players. Sir Gideon can be backstabbed, and the player should avail of this during the starting monologue by him.
Comet Azure and Scarlet Aeonia
The spells to watch out for are the Comet Azure and Scarlet Aeonia, which deal ALOT of high damage draining your health bar relevantly easily, while the latter applies Scarlet Rot to you.
Rhykard's Rancor
Another spell to look out for is Rhykard's Rancor. Sir Gideon Ofnir releases the skull that leaves a trail of blaze behind that deals damage even when stepped upon. Make sure to run out of its field of damage, and you will be safe.
Blackflame Ritual
Blackflame Ritual also deals a ton load of damage, so be on your tiptoes and ready to dash just as you see those black-greyish flames rise from the ground. All these spells can be dodged with ease by rolling in the opposite direction to where the spells are cast.
Health Regeneration
Sir Gideon Ofnir also has an HP flask under his belt to regenerate his health once. This can be a pain as you would have to repeat the process you did before.
Melee Players
For Melee players, this boss could be very easily as he can be intercepted while casting spells and incantations and has low to little poise. Start off with backstabbing him when he's delivering his speech about stopping you and then spamming Light Attacks, followed by Jump Heavy Attacks. When he's in the sky casting Scarlet Aeonia, he can be interrupted by any light attack and fall on his bare back giving the player a chance to bombard him with attacks and deal a great hit of numbers to the health bar. Spells that are a little hard for you to dodge, like the Glinteblade swords or the Cometshards, can be blocked by optimizing and using the pillars in the boss room, just run and stay behind the column to avoid being hit by the spells. Sir Gideon can also be killed before he has the time to drink the flask and make this fight much less time-consuming, do not rush him, though; he can pretty easily kill or even one-shot under-leveled players.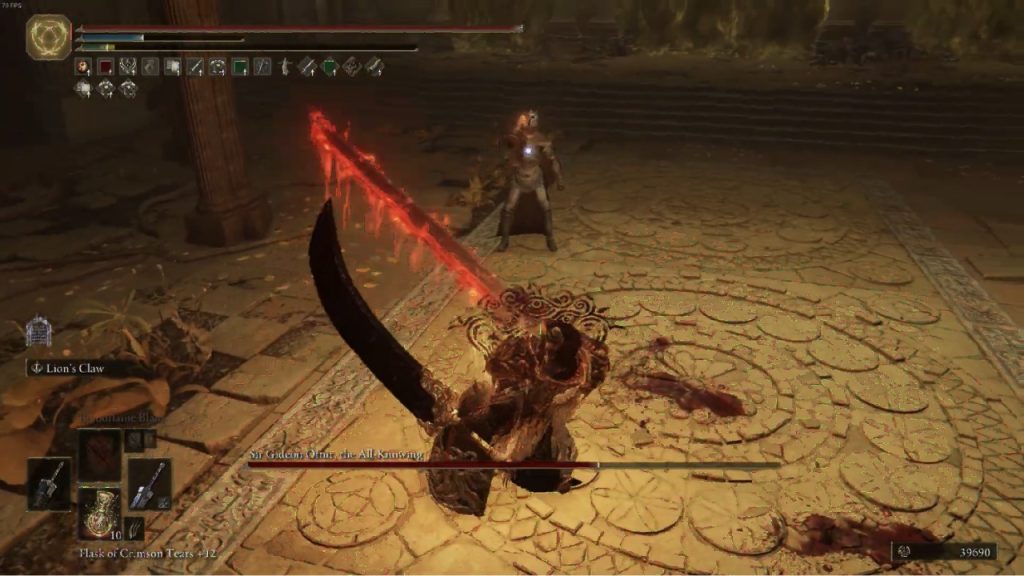 Ranged Players
While we recommend Melee combat stance to deal with Gideon, magic builds can also demolish the boss. Start off with casting a Heavy spell or incantation that deals a tone of damage(Lightning Incantations recommended). As the fight progresses, dodge his spells as aforementioned and hit him with spells when the window is open. Make sure to strike Gideon down during his Scarlet Aeonia animation and deal damage since it gives the player a huge window to attack him.
Recommendation and Tips
We highly recommend that you use a heavy weapon with great range so that the boss does not have the opportunity to revitalize himself or even deal damage to you.
Take advantage of the dialogue animation at the start of the fight to deal damage.
Interrupt him before he casts massive damaging spells (Comet Azure, Rhykard's Rancor, etc).
Pace up with the fight and do not allow him to drink the flask and regain his hp.
Rewards for beating Sir Gideon Ofnir, The All-Knowing
150,000 Runes
The All-Knowing Set
All-Knowing Helm
All-Knowing Armor
All-Knowing Gauntlets
All-Knowing Greaves
Scepter of the All-Knowing
A set that is pretty decent for physical and magical defense and a hammer that deals some nice Heavy Attack damage if leveled properly.