Elemer of the Briar is an optional Great Enemy Boss of Elden Ring, a powerful being not one to be taken lightly and certainly isn't a force to be reckoned with. This Shaded Castle boss has an insane amount of strength that puts you at a disadvantage, as his aggressive attacks are deadly and can wipe out the character with just a few hits. He is said to be from Eochaid, where he retrieved his sword and furnished it with his fury and combat skills. Bell Bearing Hunter is the weaker variant of this boss, and just like this boss, he is also optional.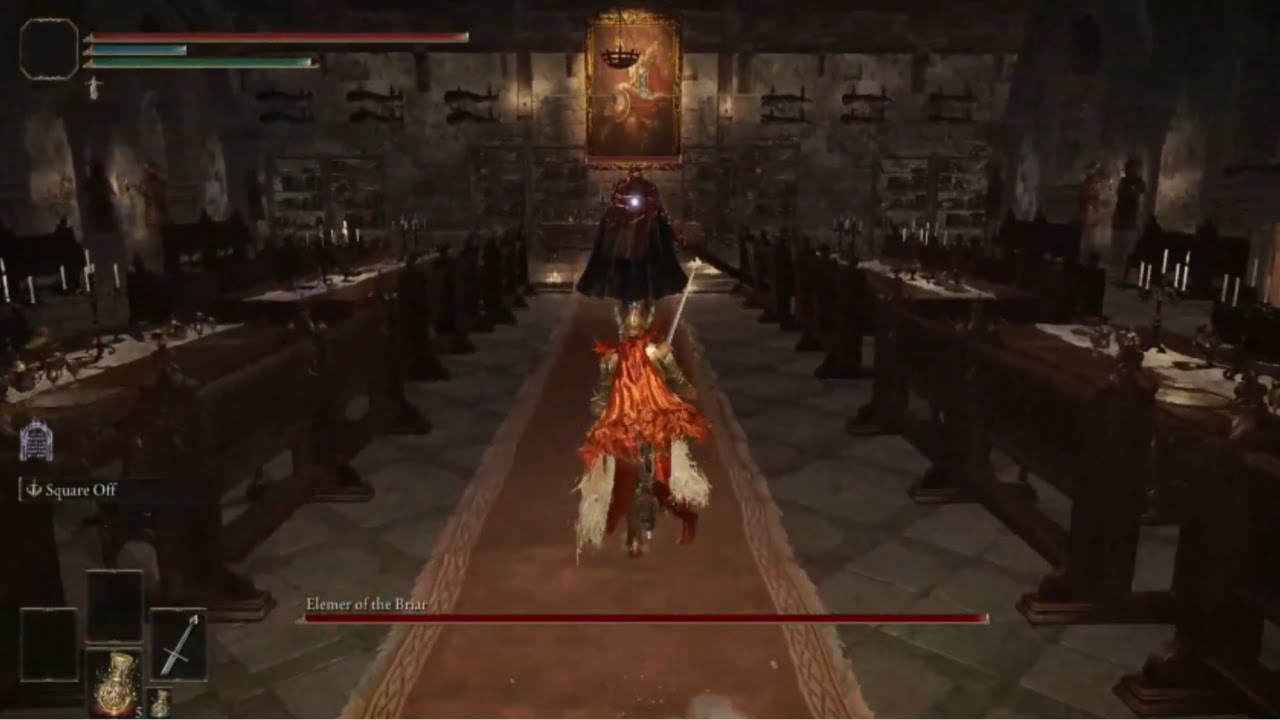 Elemer of the Briar Statistics
Combat Information
| | |
| --- | --- |
| Health | 4897 |
| Defense | 111 |
| Stance | 80 |
| Parryable | Yes, but 2 parries are required per stance break |
Negations or Absorptions
| Damage Type | Negations |
| --- | --- |
| Standard | 35 |
| Slash | 35 |
| Strike | 35 |
| Pierce | 10 |
| Magic | 40 |
| Fire | 40 |
| Lightning | 20 |
| Holy | 40 |
Resistances
| Infliction | Resistance |
| --- | --- |
| Poison | 332 / 430 / 720 / 1177 |
| Scarlet Rot | 332 / 430 / 720 / 1177 |
| Hemorrhage | 543 / 833 / 1290 |
| Frostbite | 543 / 833 / 1290 |
| Sleep | 332 / 430 / 720 / 1177 |
| Madness | Immune |
Elemer of the Briar Location
Elemer of the Briar can be found at the top of the Shaded Castle in the Altus Plateau. The passage there is full of poison and Valkyrie enemies who might give you a hard time.
The Closest Site of Grace for this boss is Shaded Castle Inner Gate.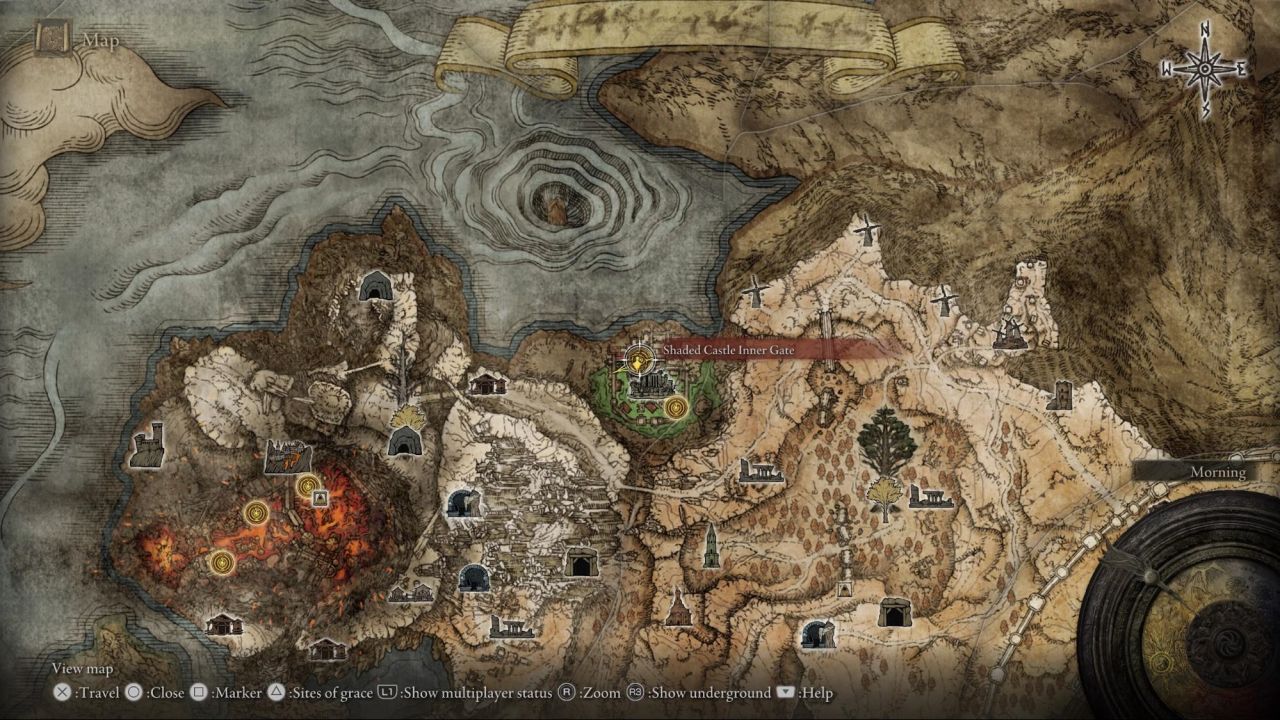 To reach the mentioned location, you must head north along with the passage from the Site of Grace. You need to turn West at the fork and then take up the ladder leading to a balcony where two Rotten Strays will be waiting for you. While escaping them, you need to head East to the next building and then cross the bridge that leads to the other side. You'll have to climb the stairs to access the courtyard towards the South. There you'll find a door that leads to an elevator, which will take you straight up to the boss.
Elemer of the Briar Boss Battle Tips
It is recommended to be at least Level 70 to cheese Elemer of the Briar.
You are allowed to summon Spirit Ashes and enable Multiplayer for this boss.
It is possible to sneak up behind the beast when entering the boss arena and hit him with a fully charged heavy attack for a head start in the fight. He will typically respond to this with a Shield Slam, allowing you to roll behind him and strike him again. Even though you can sneak up on him, you cannot backstab this boss.
The sword wielded by this boss deals physical damage, so a shield with 100% physical negation can be pretty helpful to block the strikes.
Usually, when his blade glows red, he is preparing to extend his range, so you might want to maintain distance from him.
Elemer of the Briar Attacks and Counters
The main concern for Elemer is that this boss doesn't stagger at all, so taking in heavy weapons is a no-go. Here are the attacks that you should be wary of:
Swing Attack
A normal swinging attack that can be easily dodged by rolling through it.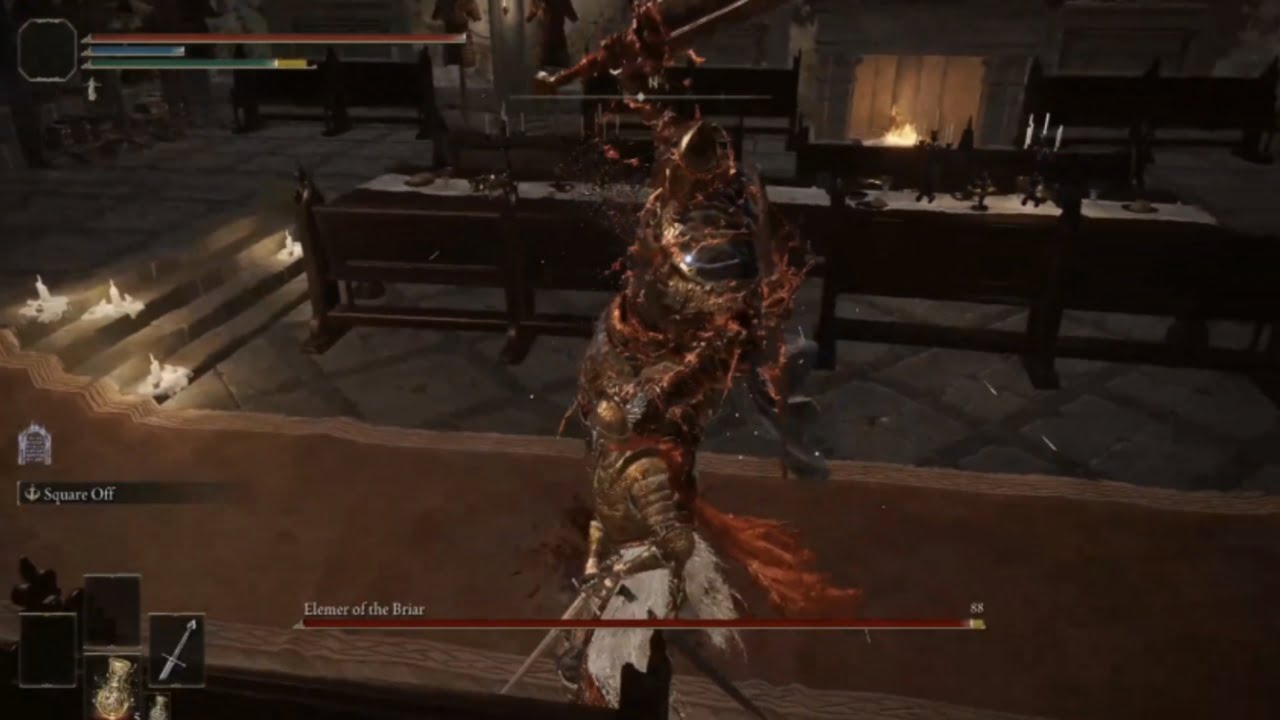 Shield Charge
Equips his shield and aggressively charges toward the player if standing far away. You can roll out when he closes up in the distance.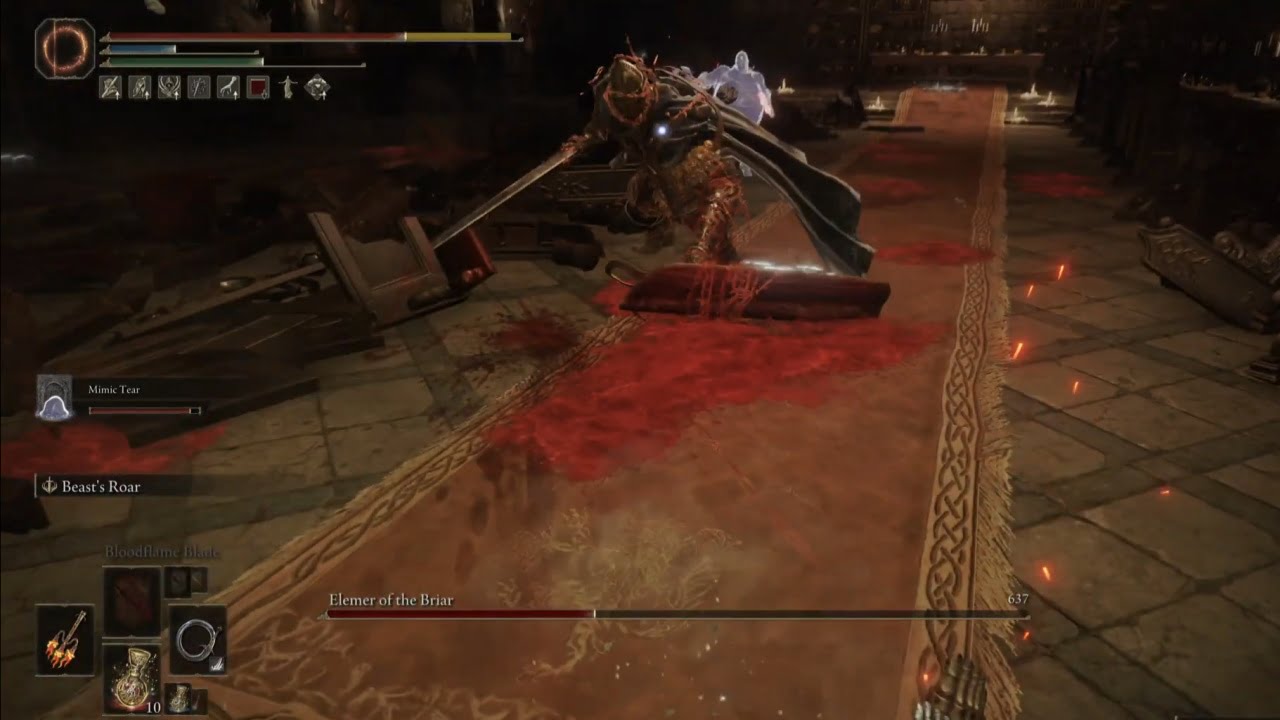 Stab
Lunges forward and stabs his sword at the player. Roll your way out of this by dodging to either side.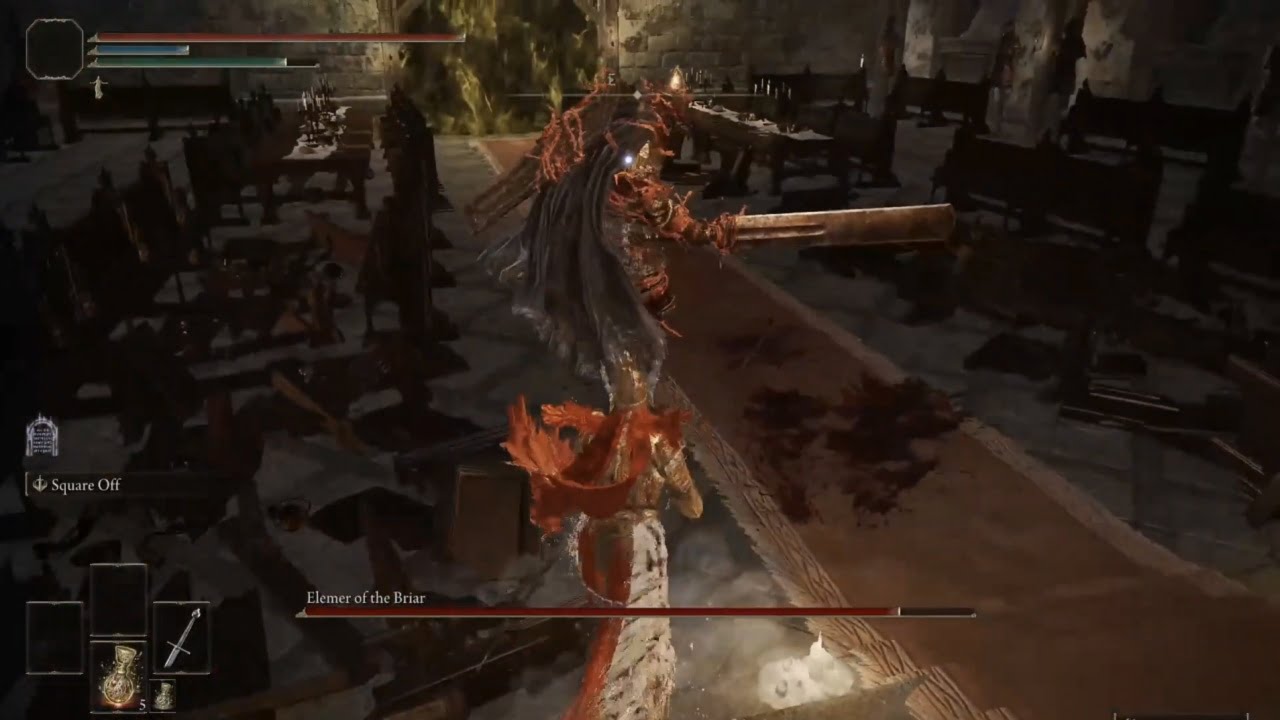 Shield Slam
Slams his shield into the ground dealing AOE damage. Roll backward to avoid getting caught up in the damage radius.
Eochaid's Dancing Blade
You will see the boss's greatsword covered in a red aura as the sword covers a distance on its own and starts swinging. As soon as you know the sword begins to glow red, roll toward the boss to dodge it.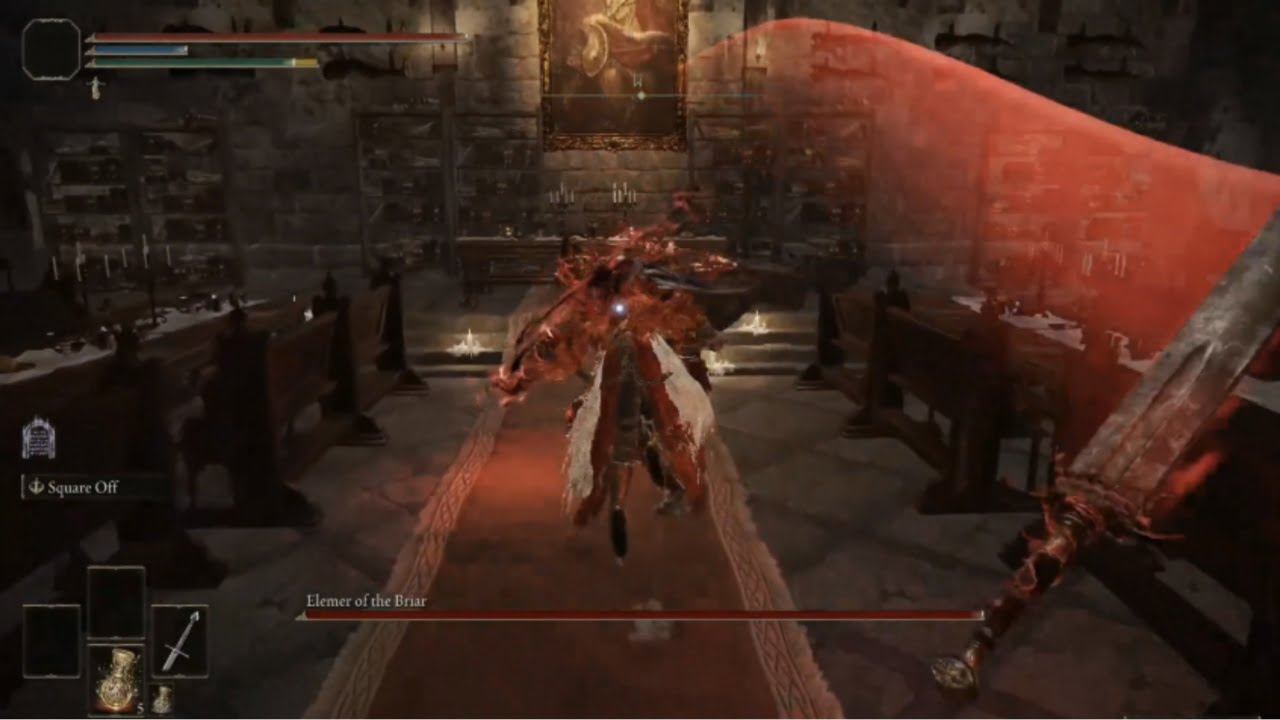 Blade Return
After doing Eochaid's Dancing Blade, the boss will stick out his right hand and call his sword back, which can deal quite an amount of damage if caught up in it. Roll to the left side of his hand to dodge this attack.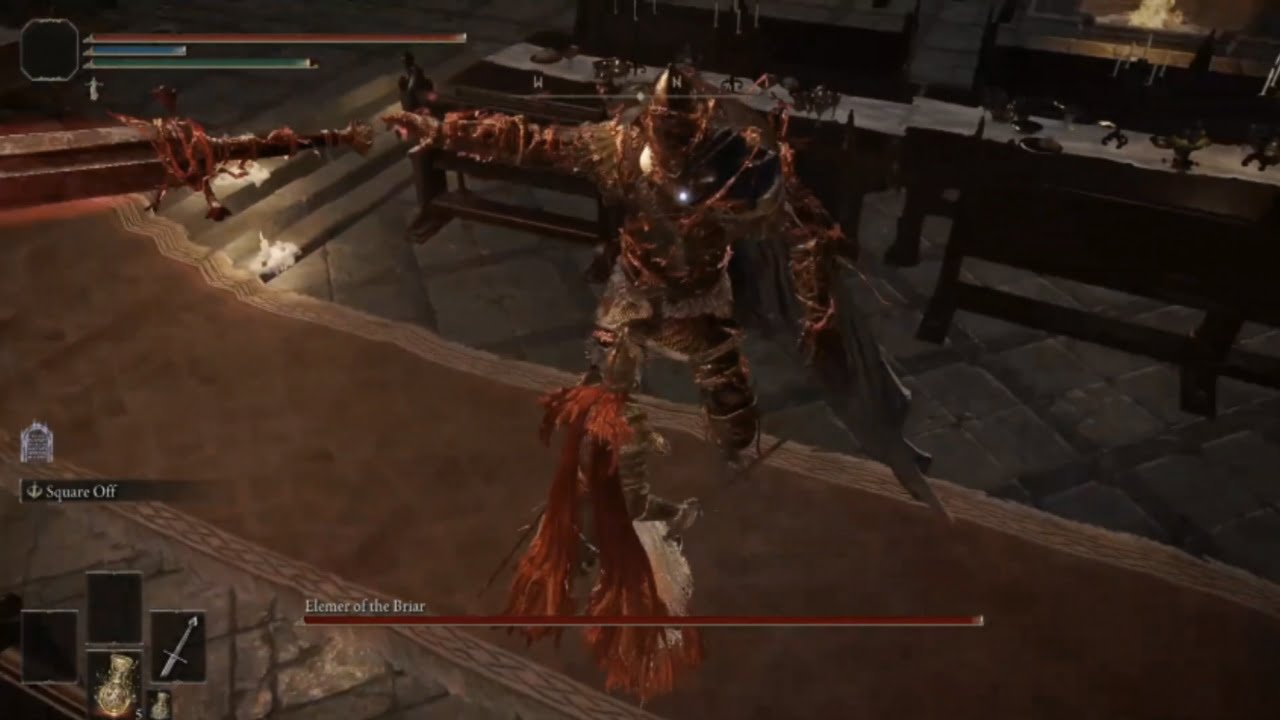 Grasp of Eochaid
This is a grab attack used like the infamous Dark Souls chest Mimic. The boss will try to grab you with his hand, lifting you and slamming the player down with his sword. To dodge his grab attack, get out of his range as soon as you see his right hand lifting up.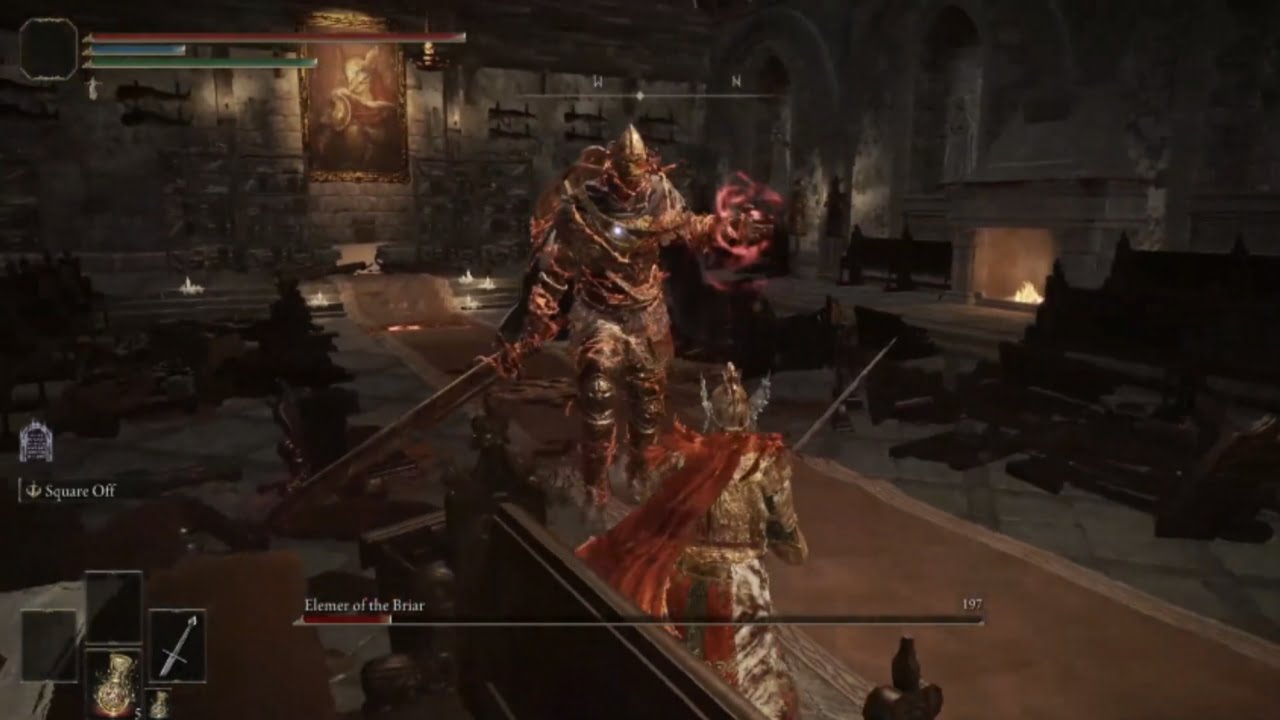 Drilling Blade
Holds his sword, and it begins to glow red, spinning and thrusting forward, dealing massive damage. Roll to your left or right to avoid getting caught up by the drill.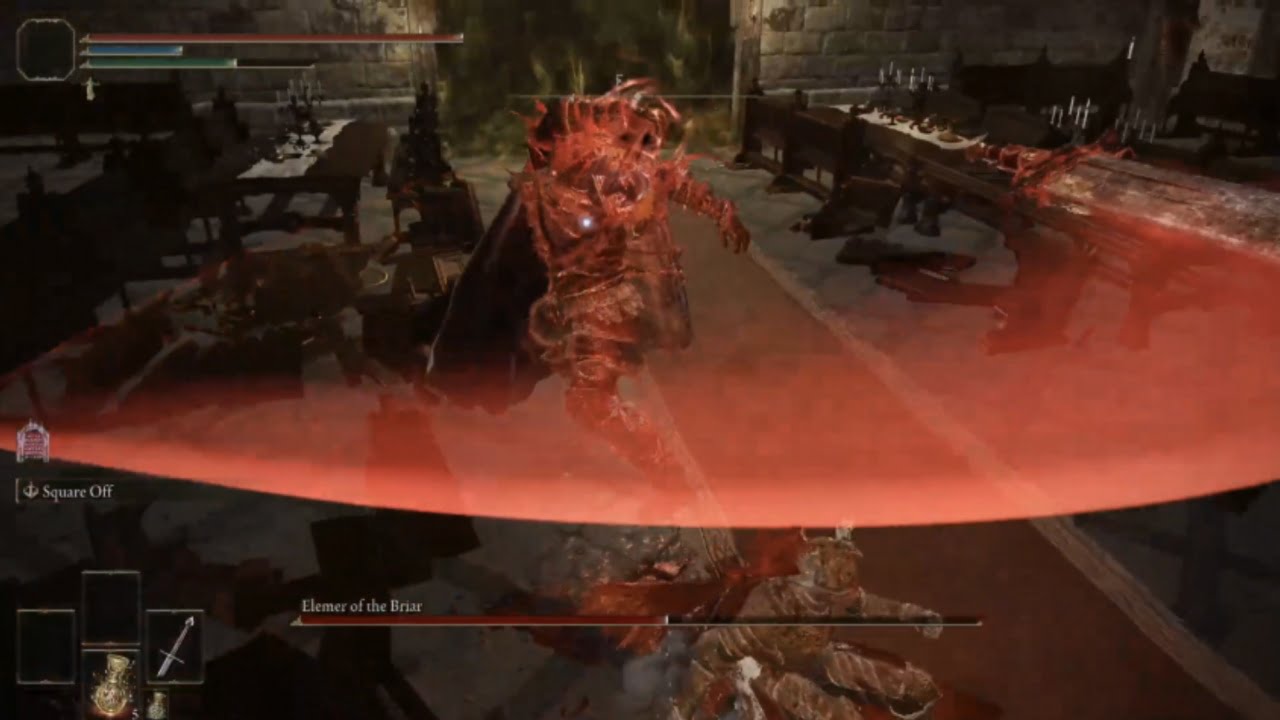 How to Cheese Elemer of the Briar?
Since the arena is a fully packed room with tables and chairs in banquet style, it is recommended to roll a few times before you engage in a battle with the boss to clear up some space. When you're prepared, the opponent's enormous red sword should be your major concern. Instead of using its hands to attack you, the boss levitates the weapon in front of it. His attacks can be easily foreseen, but they are not easy to avoid.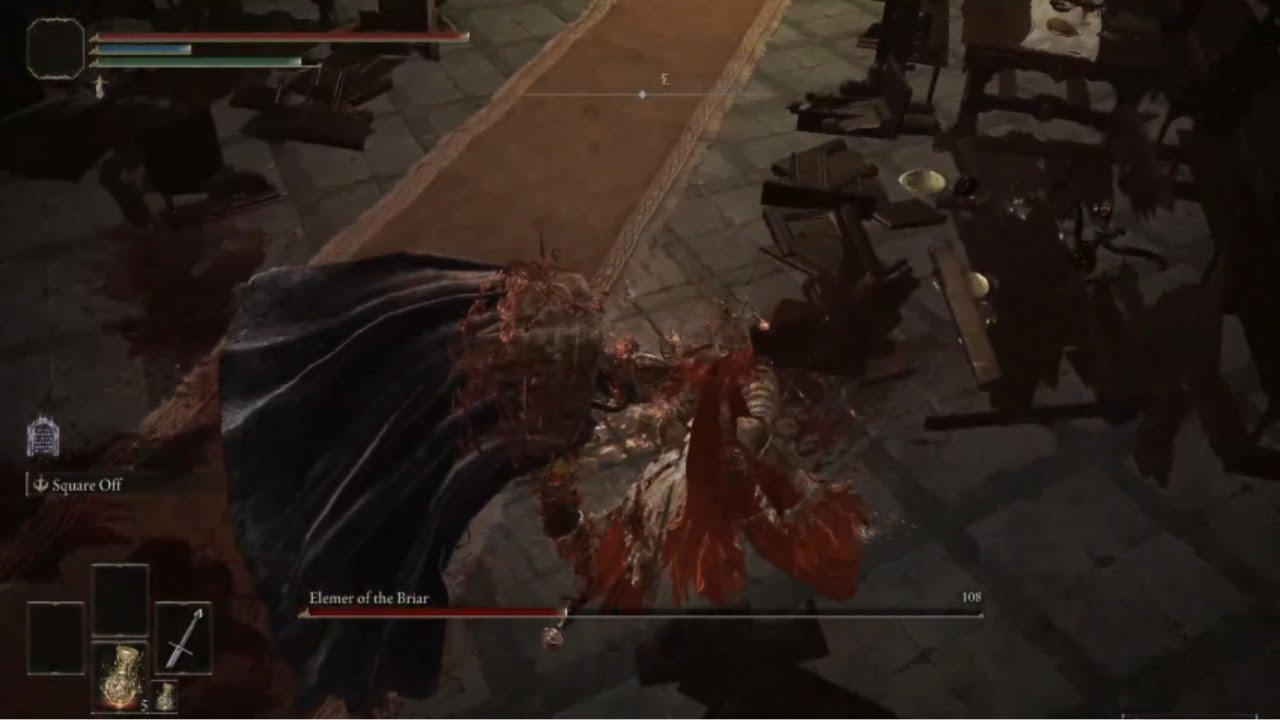 For Melee Players
The boss's sword is effective at medium and long-range distances; at short-range, he has a few predictable attacks that are relatively hard to counter. Closing in on the boss is an excellent strategy if you are precise about dodging the boss's attacks. If you need to heal, you mustn't do without exiting from his vicinity, or you can wait for him to Shield Slam, as it has the longest recovery time.
For Magic and Ranged Users
Magic and Ranged user's best strategy is to summon a Spirit Ash as it will keep the boss busy while you can inflict damage upon him. You must keep your distance so his quick melee attacks can be easily avoided, but don't go too far as it might trigger Shield Charge.
Rewards/Drops for defeating Elemer of the Briar
24,000 Runes
18,000 Runes (Co-op Host)
6,000 Runes (Co-op Phantom)
Marais Executioner's Sword: A Greatsword that scales primarily with Strength and Arcane and used to perform a corkscrew attack
Briar Greatshield: A Greatshield that increases the value of blocking and defending oneself from enemy attacks
FAQs
What are Elemer's weaknesses?
The main weaknesses of Elemer are Lightning, Piercing, and Jump Heavy Attacks.
What is the achievement unlocked after beating Elemer?
You get the achievement "Defeated Elemer of the Briar." Also, after you beat the boss, you can purchase his armor, "Briar Set," from Enia.
Where is NPC Patches located?
Patches is located on the bridge that leads to Elemer of the Briar in the Shaded Castle area.
Is Marais Executioner's Sword and Briar Greatshield worth it?
Marais Executioner's Sword is worth it as it deals severe damage and allows the melee users to perform a corkscrew attack. Briar Greatshield is also worth it because it does not let any attack affect you.