Rangers are a unique, versatile, and overwhelmingly strong class in Baldur's Gate 3 and with the right character build-up, you can unlock their maximum potential. They have great weapons proficiency, spell-casting, and cute animal companions, what more could you want? Ranger is played as both ranged and melee which makes choosing the correct feat entirely situational. This guide will help you find the perfect feats suitable for any kind of Ranger so without further ado let's get on to it.
Best Feats For Rangers
After every four levels, you get a feat and it is up to you to decide where to use it. Most feats are beneficial toward a specific playstyle but there are some useful in any case. The suggested feats combinations are mentioned below:
Melee Focused
A melee build Ranger should always pick Dual Weilding and Savage Attacker. It allows them to equip two weapons (must be light at off-hand) at once and deal a ton of damage. Melee fighter is always open for attacks and for that reason the last remaining feat should be used in Tough, making the Ranger tanky in combats.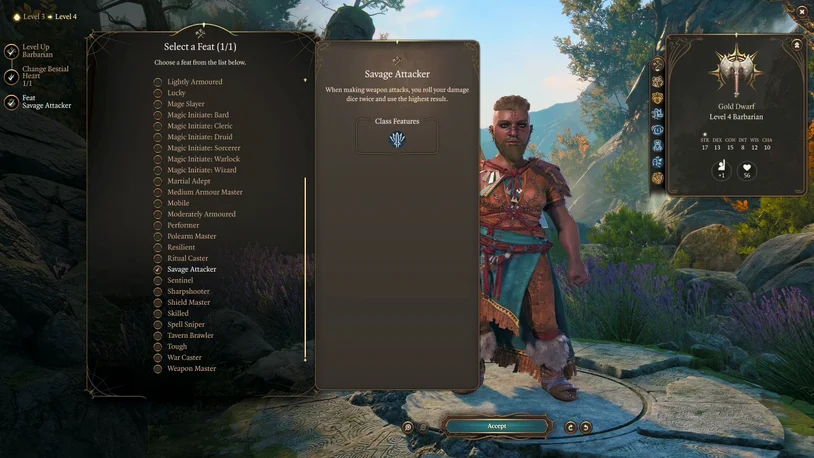 Ranged Focused
The best feats for ranged build are Crossbow Expert and Sharpshooter. You will gain a massive advantage over your foes in long-range fights. The effect of the wound through your attack will last longer on enemies dealing additional damage per second. Lastly, you should add one point in Mobile to be faster and easily maintain distance from tough enemies.
These are the top-notch feats combinations for the Ranger class. Considering how strong the base version is, opting for one of the build strategies will make your Ranger a ruthless warrior on the battlefield.