Unfortunately, with the release of Call of Duty: Modern Warfare 3, there has been a lot of discussion and debate regarding SBMM. Many players are complaining that this system is too strict, It is even stricter than in MW2, which makes the game less enjoyable. Some players have even said that they simply stopped playing the game just because of this one factor.
In case you are unaware, SBMM is a system that matches players based on their skill level, so that they are more likely to have evenly matched games.
Now, you might ask, 'Why is this annoying?' That's because if players are constantly matched against other skilled players, they will never have the chance to practice against weaker opponents and learn from their mistakes.
Also, SBMM can make the game feel very sweaty and competitive. Every match feels like a battle for survival, and there is no room for relaxation or casual play. This situation can be frustrating for players who just want to have some fun and not take the game too seriously. This graph by u/mrfoster42 on Reddit summarizes SBMM perfectly: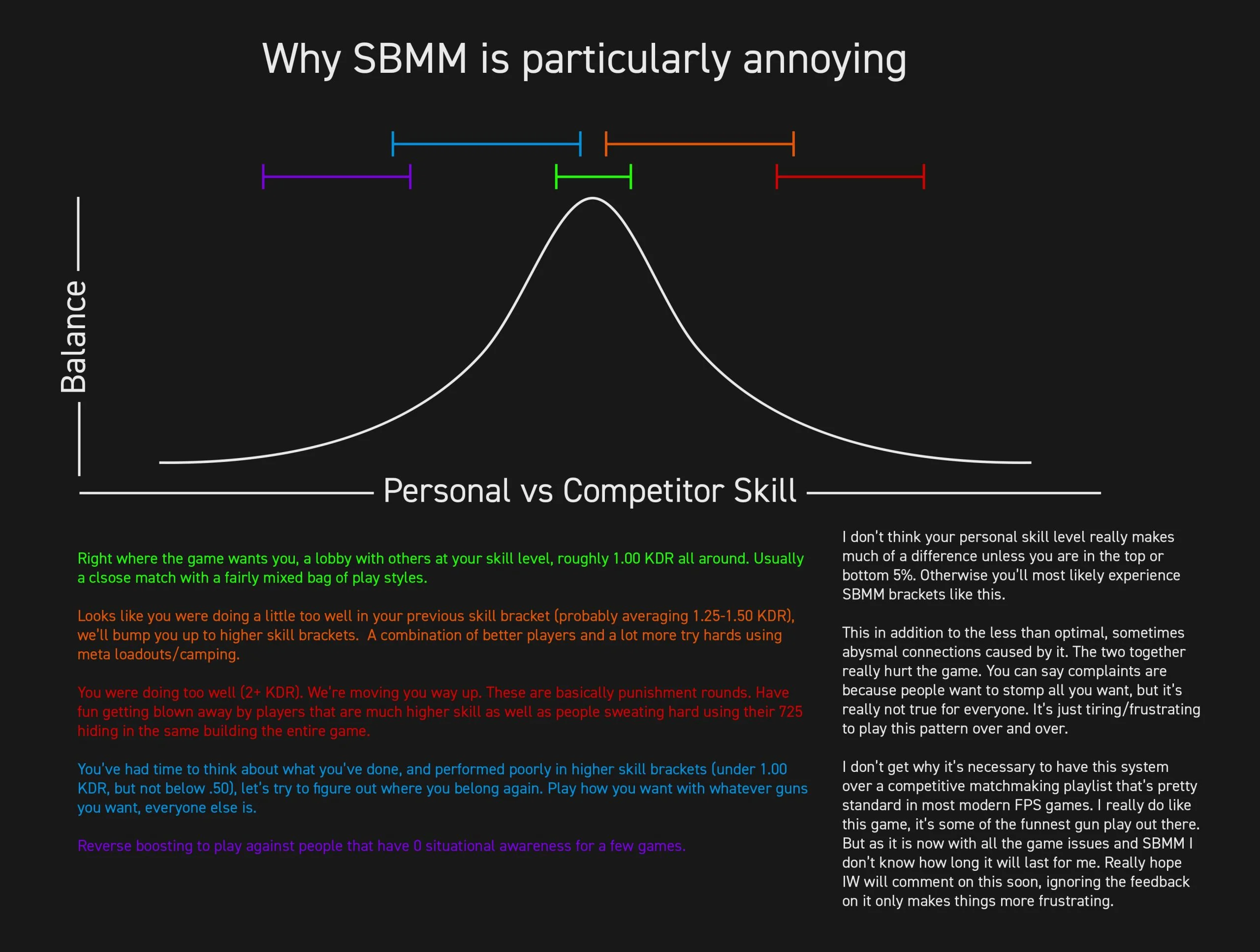 Opinions on SBMM are conflicted: some players think it is completely fair and balanced, while others believe it is ruining the game and making MW3 unplayable.
Now, the worst part: there is no option to disable SBMM; it's forced upon players. You can't turn it off, there is nothing you can do that GUARANTEES to avoid SBMM. However, we have tested some techniques that proved effective for us and the community.
Although there is no foolproof method to completely avoid skill-based matchmaking (SBMM) in Call of Duty: Modern Warfare 3, there are a few ways you can try to trick SBMM into pushing you in easier lobbies. Try these methods:
How to avoid SBMM in Call of Duty Modern Warfare 3?
Play with friends of varying skill levels: This can help to balance out the teams so that you are not always matched against other skilled players.
Play at off-peak times: When there are fewer players online, you are more likely to be matched against players of all skill levels.
Reverse boosting: This strategy involves intentionally performing poorly in matches to lower your SBMM rating. While it can be effective, it can also be time-consuming and frustrating.
Play different game modes: Different game modes may have less strict SBMM than others. For instance, try playing objective-based modes like Domination or Ground War instead of purely deathmatch-focused modes.
Change your playstyle: If you are constantly playing aggressively and trying to get high killstreaks, you are more likely to be matched against other skilled players. Try changing your playstyle and focusing on objectives or playing more cautiously.
Note: We are aware of methods such as 'Creating multiple accounts' and 'Using a VPN'. However, it's best to avoid those as they might be considered as 'Spoofing' which is against Call of Duty's terms & conditions and your account might be permanently banned.
It is important to note that there is no guaranteed way to avoid SBMM, and some of these strategies may not be effective for everyone. However, if you are willing to experiment with different approaches, you might be able to find a way to reduce the impact of SBMM on your gaming experience.
Ultimately, the best way to avoid SBMM is to simply enjoy the game and not worry about your performance. If you focus on having fun, you will likely find that you are less bothered by SBMM.
In conclusion, it is clear that SBMM is a major source of frustration for many players. It is important for Activision to listen to these players and consider making changes to the system in order to make the game more enjoyable for everyone.