Halo Infinite introduces a new and improved ranking system to the franchise that puts its matchmaking on par with other popular FPS titles like CS2, Rainbow Six Siege, and VALORANT. This new ranking system is designed to keep players engaged in the game by motivating them to keep improving their gameplay and aim for the highest ranks.
Whether you're a veteran Spartan or new to the series, grasping Halo Infinite's Rank System is key to your experience. Our detailed guide will explore the system's ranks and the mechanics of CSR/MMR, giving you a clear understanding of how it works.
How does the Halo Infinite Rank system work?
If you're familiar with competitive FPS titles, Halo Infinite's ranking system will be very easy to understand. It functions very similarly to the ranked systems in CS2 and VALORANT.
The purpose of this ranking system is to carefully evaluates each player's skill level during their gameplay, and then assign them a rank that accurately represents their skill level (relative to other players). This ensures fair matchmaking by pairing players of similar abilities.
The ranking system in Halo Infinite motivates players to enhance their gameplay since rank progression is performance-based. Better performance results in ascending the competitive ladder.
To dive into the technical side of this rank system so you can understand how your rank is determined, it's essential to understand Halo Infinite's CSR (Competitive Skill Rank) system.
What is CSR in Halo Infinite?
In Halo Infinite, CSR, or Competitive Skill Rank, is a metric that quantifies your skill level with a numerical rating beginning at 0, It functions just like "Elo" in other FPS titles.
If your CSR is at the starting point of 0, you are placed at the Bronze I rank. To achieve a higher rank, you must increase your CSR.
Your CSR in Halo Infinite is influenced by both the results of your matches and your individual performance within them. However, since Season 3, match outcomes have a greater impact on your CSR compared to individual performance metrics.
that said, it's very important for you to perform well in matches to rank up quickly. Factors affecting the CSR you earn from a match include:
Your KDA (Kill/Death/Assist).
The number of points you scored.
The time it took you to complete objectives.
The amount of team damage you did.
What Ranks Are There in Halo Infinite?
There are six unique Halo Infinite ranks, with five of those ranks having six sub-tiers. Below is a list of all the ranks in the game:
Bronze I-VI
Silver I-VI
Gold I-VI
Platinum I-VI
Diamond I-VI
Onyx
As the list shows, Halo Infinite's ranking starts at Bronze I and goes up to Onyx, the highest achievable rank. Every rank below Onyx is divided into six sub-tiers, meaning you need to advance through six divisions to progress from, say, Gold I to Platinum I.
Onyx is unique in the ranking system. Once you surpass Diamond VI, your CSR becomes visible, and to enter the Onyx rank, you must achieve a CSR of 1500.
Upon reaching Onyx, with no further tiers to ascend, your progression is measured by increasing your CSR and competing with others at this elite level for leaderboard positioning.
Once you reach the Onyx rank in Halo Infinite, your progression is directly linked to your CSR. Your position on the game's leaderboard is determined by how high your CSR is—the higher your CSR, the higher your rank on the leaderboard. This allows for a competitive environment where players strive for the best possible CSR score to achieve top positions.
At the end of each season in Halo Infinite, player ranks are reset, and individuals are awarded Emblems corresponding to the rank they attained at the season's end. Following the reset, players must re-earn their rank by participating in placement matches.
As for the rank distribution, 343 Industries hasn't released a verified graph for it. However, the following graph is available on the Halo Tracker website, which is based on the data of around 180,000 players. Keep in mind that this graph is not fully accurate, as the actual player base of the game is much bigger than what's accounted for in this graph.

As the graph shows, the highest concentration of players is in the Platinum, Diamond, and Gold tiers respectively. And surprisingly, there are more players with the Onyx rank than with the Bronze rank.
How to Unlock a Rank in Halo Infinite?
When you first access the game's ranked mode, your rank is initially locked. To unlock it, you must complete 5 placement matches.
Your performance in these matches is absolutely critical as it establishes your Matchmaking Rating (MMR), which significantly influences your initial ranking during these placement games.
Before the February 28 update in 2023, MMR used to be just as important as CSR in Halo Infinite, as it determined how skillful your opponents would be and how much CSR you would gain from a match.
However, after the update, the MMR system has been practically only utilized in placement matches. So for your first 5 matches, the game focuses heavily on your individual performance to determine your MMR.
The better your performance, the higher your MMR will climb, leading to matches against more challenging opponents.
This MMR is then used to calculate the amount of CSR you'll receive from your placement matches.
It's important to note that defeating higher-ranked opponents will result in greater MMR gains.
So, queuing with a lower-ranked teammate to face easier opponents can backfire since you'll end up gaining less CSR overall from the match. This will result in you unlocking a low rank.
This means you shouldn't queue with high-ranked teammates and expect them to carry you to a higher rank.
Since individual performance is crucial, being carried in placement matches will harm your CSR.
After you finish your placement matches, the role of MMR in your ranking becomes very small. From there onwards, your CSR is the only thing you should worry about.
As of November 2023, the highest rank one can unlock as their initial rank is Diamond V.
How Do I Check My Rank?
To easily check your Halo Infinite rank and statistics, use this website. But before you visit this website, ensure your match history isn't private. Otherwise, the website won't be able to get access to your stats.
To make your match history public, simply go to the game settings, navigate to the "Accessibility" tab, and set the following two options to "Share":
Matchmade Games
Non-Matchmade Games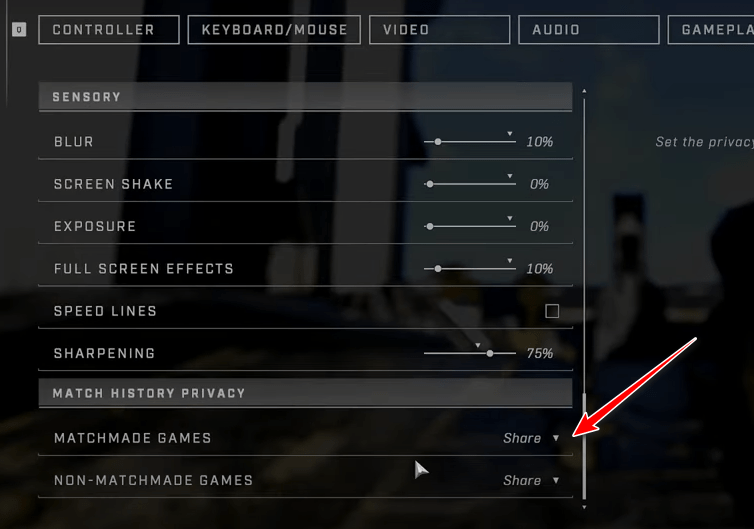 Once you've done that, head over to the aforementioned website, log in to your account, and you'll be able to check your rank and other statistics.
What is the Career Rank in Halo Infinite?
Your Career Rank is entirely different from your matchmaking rank in this game. Introduced in Season 4, Career Rank is a brand new way for players to track their progress across the entire game (instead of a specific mode) without the rank resetting every season.
Your Career Rank is determined by your Personal Score in any multiplayer game mode, and achieving higher scores will help you rank up faster. Unlike your regular rank, Career Rank cannot decrease; it only goes up as you play the game.
The Career Rank does NOT affect matchmaking in any way. According to John Junyszek, the senior Community Manager at 343 Industries, the idea of this rank is to track your overall progress in the game.
There are 8 tiers in the Career Rank, listed below:
Recruit (Starting Career Rank)
Bronze
Silver
Gold
Platinum
Diamond
Onyx
Hero (Final Career Rank)
Each Career Rank tier has 15 sub-tiers to it called Ranks. But that's not all, as each of those sub-tiers has 3 of its own sub-tiers, called Grades. The starting and ending ranks (Recruit and Hero) have no tiers associated with them. This means that after Recruit, there are 270 total ranks that you need to grind through before you finally get Hero.
For example, to rank up from Bronze Lance Corporal Grade 1, you need to rank up through Bronze Lance Corporal Grade 2 and 3 before you can get Bronze Corporal Grade 1.
This rank will be visible at (practically) all times in the game. You'll see it on your profile, during the match intro, while viewing the Post-Game Carnage Report of a player, and many other places.
When you reach certain ranks, you'll get nameplates and armor, weapons, and vehicle emblems as rewards.