If you're an avid Xbox enthusiast or simply someone seeking to add a unique touch to your gaming setup, we have some exciting news for you. The Xbox Series X Mini Fridge, a quirky yet practical novelty item, is currently available for just $44.88 at Walmart, a price that will leave you amazed. This incredible deal not only reflects the gaming community's sense of humor but also presents an opportunity to acquire a piece of gaming history at an unbeatable price.
A Nod to Console Humor
The idea for the Xbox Series X Mini Fridge was born out of playful banter surrounding the console's design, which some likened to a refrigerator when it was first revealed in 2019. Microsoft embraced this humor and took it a step further by not only creating full-sized fridges shaped like the Series X but also offering mini-fridges for sale. This miniature marvel is more than just a novelty; it can hold up to 8 cans of your preferred beverages and includes two shelves for your snacks. Moreover, the LED lights give it that iconic green glow reminiscent of the Xbox Series X.
Unbelievable Savings
At its regular retail price, the Xbox Series X Mini Fridge would set you back nearly $100. However, thanks to a limited-time offer at Walmart, you can now own it for just $44.88. This represents a discount of over 50%, making it an appealing deal for both Xbox aficionados and those seeking a unique addition to their gaming setup.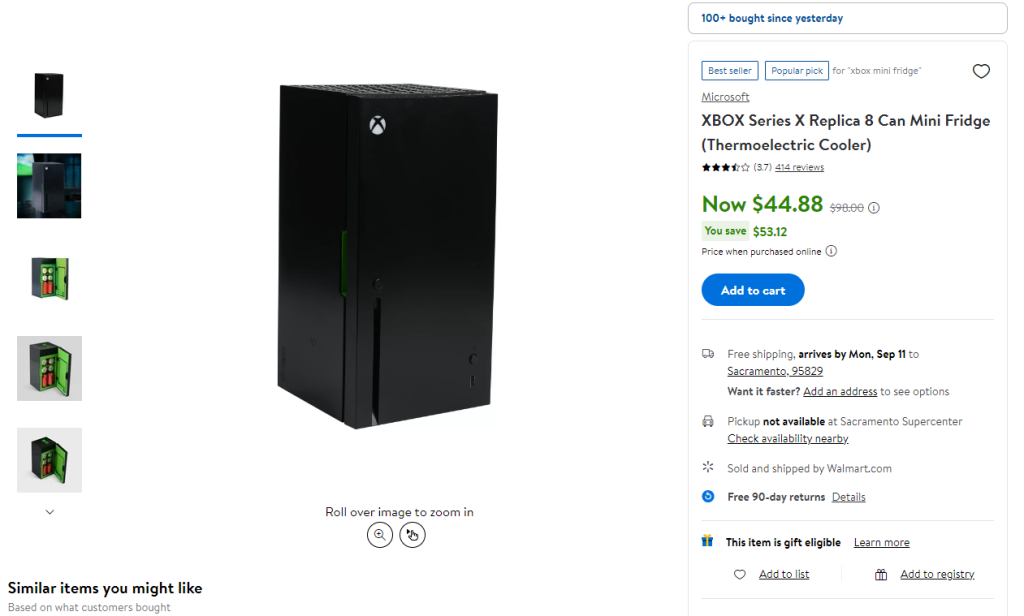 Important Note
While the Xbox Series X Mini Fridge can cool your drinks, it's crucial to understand that it operates as a thermoelectric cooler. This means that it can lower the temperature of your stored items in relation to the surrounding temperature but won't provide ice-cold beverages. So, while it may not replace your traditional fridge, it certainly adds a cool factor to your gaming area.
In the realm of gaming, where innovation and humor frequently go hand in hand, the Xbox Series X Mini Fridge serves as a testament to the gaming community's creativity. With this incredible discount available at Walmart, now is the ideal time to add this quirky piece of gaming history to your collection. Just remember, it's more than a fridge; it's a conversation starter and a reminder of the enjoyable side of gaming culture.
For additional gaming-related deals and gift ideas, be sure to explore our comprehensive Xbox gift and merchandise guide. Whether you're a devoted Xbox enthusiast or simply on the hunt for the perfect gaming gift, we've got you covered. Don't miss out on this amazing offer, and secure your Xbox Series X Mini Fridge today to elevate your gaming space!