One of the notable aspects of the game, RimWorld, is mechanoids. They are built only for domestic, industrial, or military reasons and have complete autonomy over themselves until you try to control them. These robotic adversaries have advanced weaponry, and a sophisticated AI that makes them a formidable threat to your colony.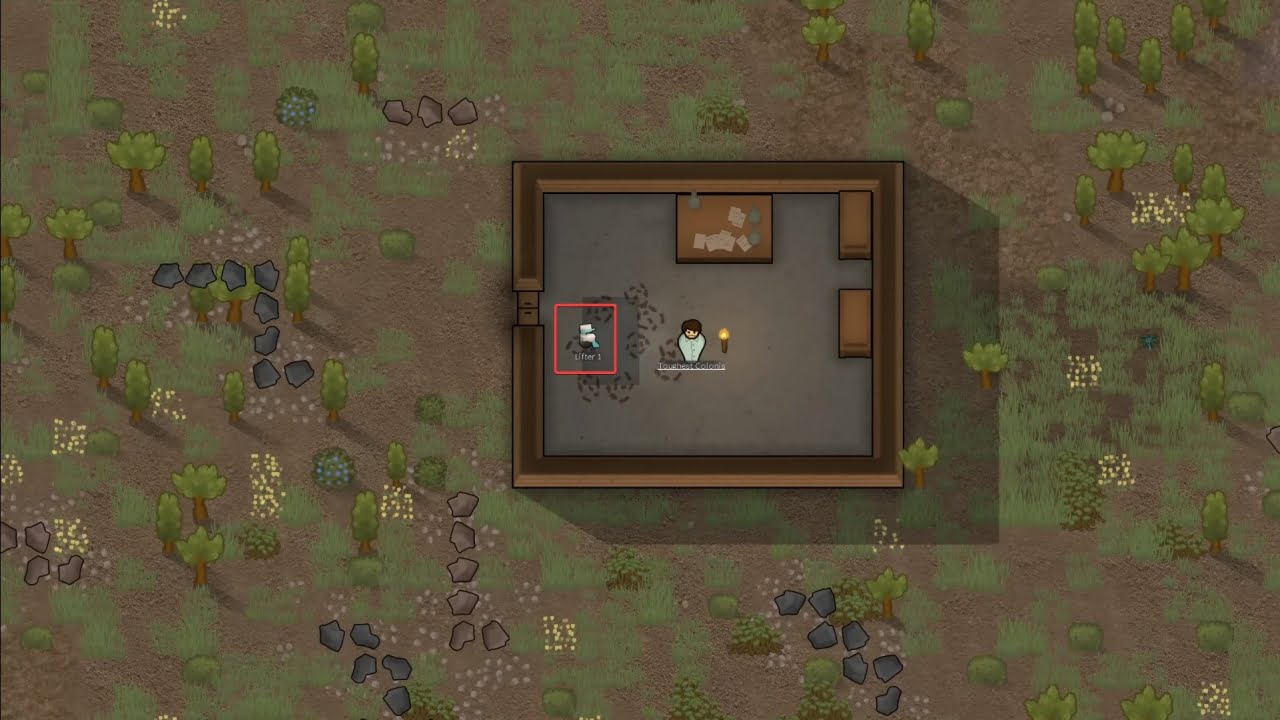 If you are victorious in defeating the mechanoids, you can get valuable materials and recoverable technology that can provide chances for the development and survival of your colony. Although messing with them can be a huge mistake, they can also be precious allies.
What Are the Nature of Mechanoids?
Two natures of mechanoid are given below:
Mechanoids Hive
The hostile mechanoids who intend to harm your colony or affect you in any way are part of the mechanoids hive. These appear from the ships landed upon your base and can spawn inside the mountains or any part of your landscape. You can also find them inactive in Ancient Complex while guarding any relic.
Allied Mechanoids
The Biotech DLC updated the types of mechanoids you can find in the game RimWorld. One type is allied mechanoids which can be created and controlled through Mechanitor. These will be the guide's primary focus since the mechanitor can be complex for the players.
What Are the Types of Mechanoids?
The types of mechanoids are divided into two categories.
Core Types
These are pre-existing mechanoids in the game, each with a specified role.
Centipides: These mechanoids have a thick and robust outer shell which gives them an advantage against the defenders. They tread with dozens of legs, so their agility is one weakness. But to make up for that weakness, they possess firepower.
Lancer: These mechanoids are fast and are the size of humans in the colony. Since they are lightly weighted, they can perform well only in the medium and long-range combats. But if someone attacks them at close range, they are trounced.
Pikeman: Like Lancers, they are of no good at close range but are at their peak performance while battling at long range.
Scyther: These paired up with Lancers are a great duo because it covers their weaknesses. Scyther is also human-sized, fast, and effective in close-range combat. They possess arm blades that they utilize to slash the opponent fiercely.
Termite: These mechanoids take a different approach while attacking as they don't attack the opponent but their structured defenses. They burrow, dig, and break through the enemy defense lines.
Biotech DLC
These mechanoids were added by DLC and are guided by their units which are categorized as the following:
Labor Mechanoids
Lifter: Though these small mechanoids are only intended for hauling, they can also deal with some light melee attacks if need be.
Constructoid: These mechanoids are intended for constructing the required structures. They can also deal some direct melee attacks in case of a raid while working on a construction site.
Fabricor: The manufactured objects you find in your colony are built by the fabricor mechanoids.
Agrihand: The small-sized mechanoids with blades are used for sowing and harvesting crops. They can also be utilized for combat if necessary.
Cleansweeper: These types of mechanoids make very light melee attacks which is why they are designed only for cleaning.
Paramedic: These mechanoids are available for medical assistance and can also handle emergencies like fighting fire with its built-in fire foam popper. They can take on medical surgeries in an emergency if humans are unavailable.
Tunneler: These types of mechanoids come with huge claws with intense strength and thick armor. Though intended for mining, they can prove worthy in combat.
Militor: A four feet tall mechanoid who is equipped with a mini-shotgun with less damage and range. Despite their lack of ability to deal a good amount of damage, they are often used as guards because they don't cost you enough to gestate and maintain.
Scorcher: These mechanoids are famous for starting fires among the enemy's defense line. Though they have a short range, their flame burst attacks can be deadly.
Tesseron: A medium-ranged combat mechanoid that can be cruel with its sweeping beam graser attacks. They are very vulnerable to enemy attacks since they only focus on offense.
Legionary: The combat mechanoid equipped with a broad bullet shield that protects it from the enemy encounter and a mid-ranged needle gun to charge the enemy. Its only weakness is that anyone inside its shield can deal all kinds of damage.
Centurion: This mechanoid is unique because it can fire from its point-defense bulb turret while moving and possesses a large shield bubble generator.
Commander Mechanoids
Diabolus: A power mechanoid that holds a hellsphere cannon. While the cannon takes time to charge up a shot, its destructive capabilities are unparalleled, as it can melt something as hard as concrete. Through a pulsating heat column on its back, it can ignite nearby flammable objects.
War Queen: A giant insect-looking mechanoid with a built-in mech gestator that creates War Urchins in its shell and deploys them to the battleground.
War Urchin: Created by the War Queen, they are non-rechargeable and are equipped with spiner guns.
Apocrition: It can revive and reactivate damaged mechanoids, turning them into a formidable force once again.
How to Control Mechanoids?
To control a mechanoid, the pawn must become a mechanitor. They can only become mechanitors if they are implanted with mechlinks. Mechlinks give psychic control to the person it is installed in and can be installed by a colonist in himself.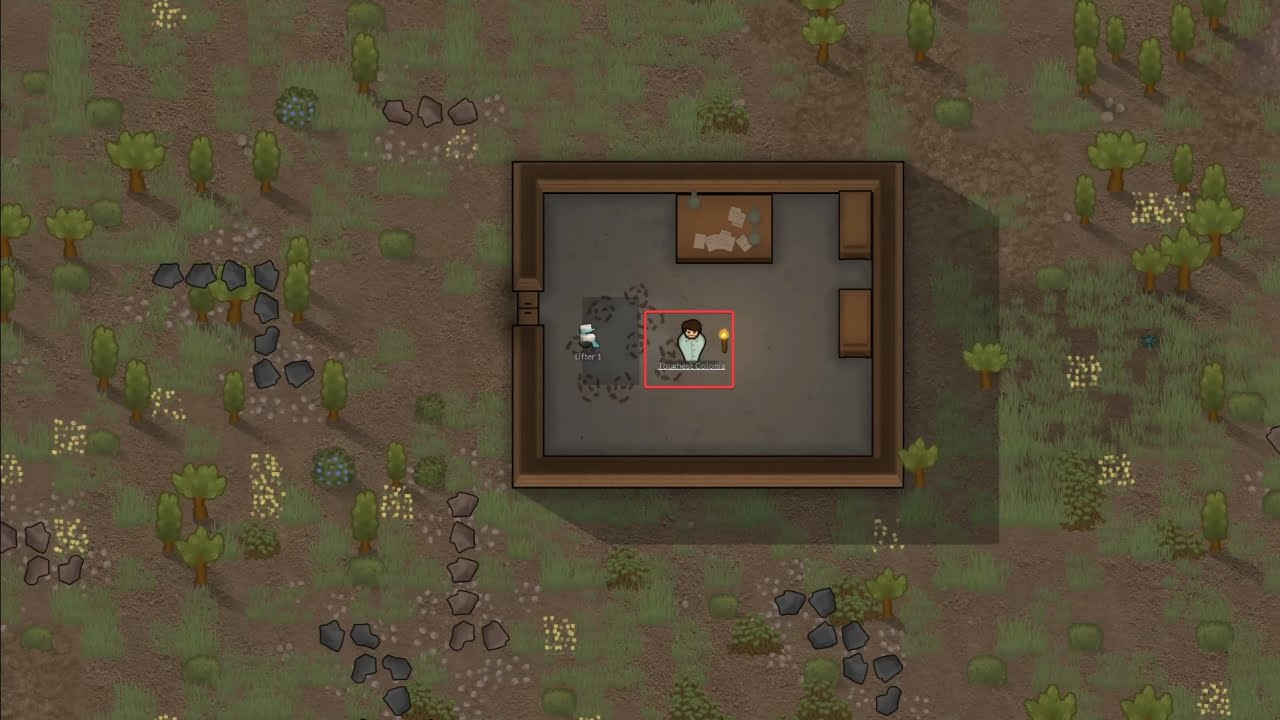 Note: This feature works only if Biotech DLC is enabled.
How to Become a Mechanitor?
Everyone can become a mechanitor except people who are psychically deaf. There are multiple ways you can become a mechanitor:
Start Game in Mechanitor Scenario
Select "The Mechanitor" when selecting the scenario, and you will begin with two mechanitors under your control.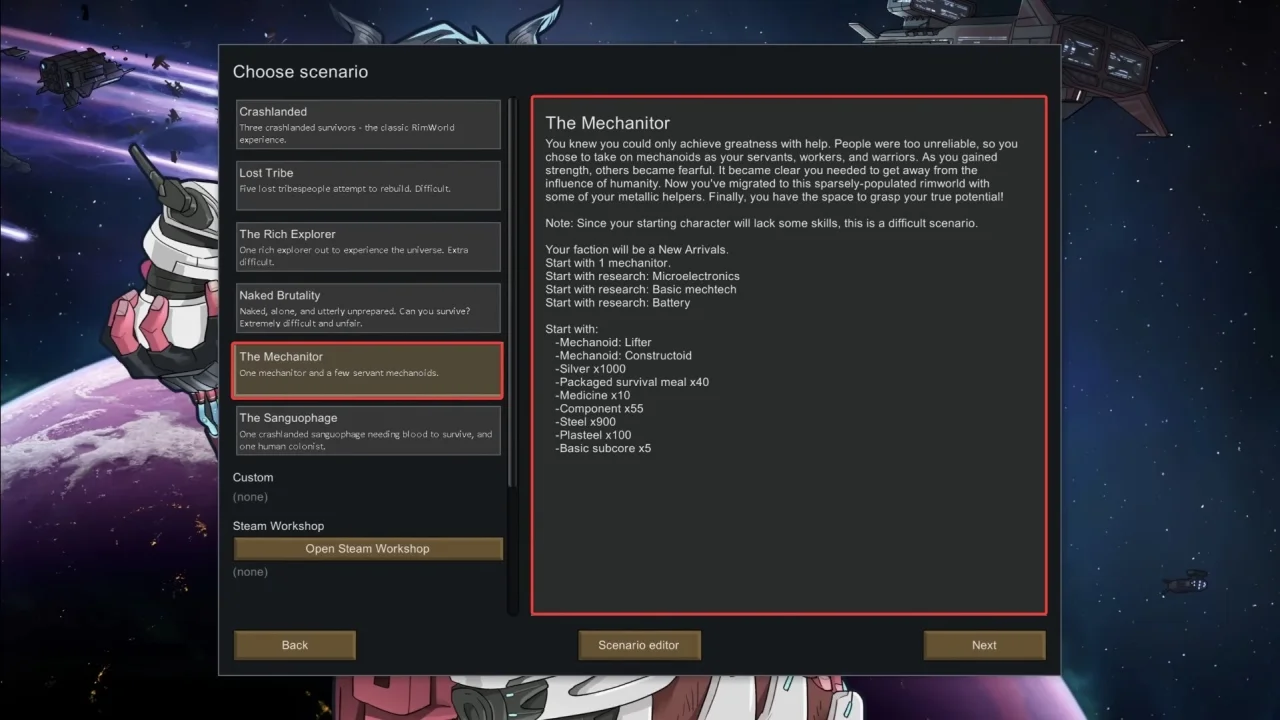 Attacking Ancient Exostrider Midsection
This method will not work more than once since it is only spawned on your first map, and the second settlement will not have one. Once you have destroyed the Exostrider, you will get a mechanoid transponder which you can decrypt through the research bench. This will get you a quest of an ancient damaged ship in orbit that needs to land. It will contain a mechanoid hive and some dead mechanitors. Accept the quest and once the ship lands, extract the mechlinks from the dead mechanitors and install it in one of your colonists.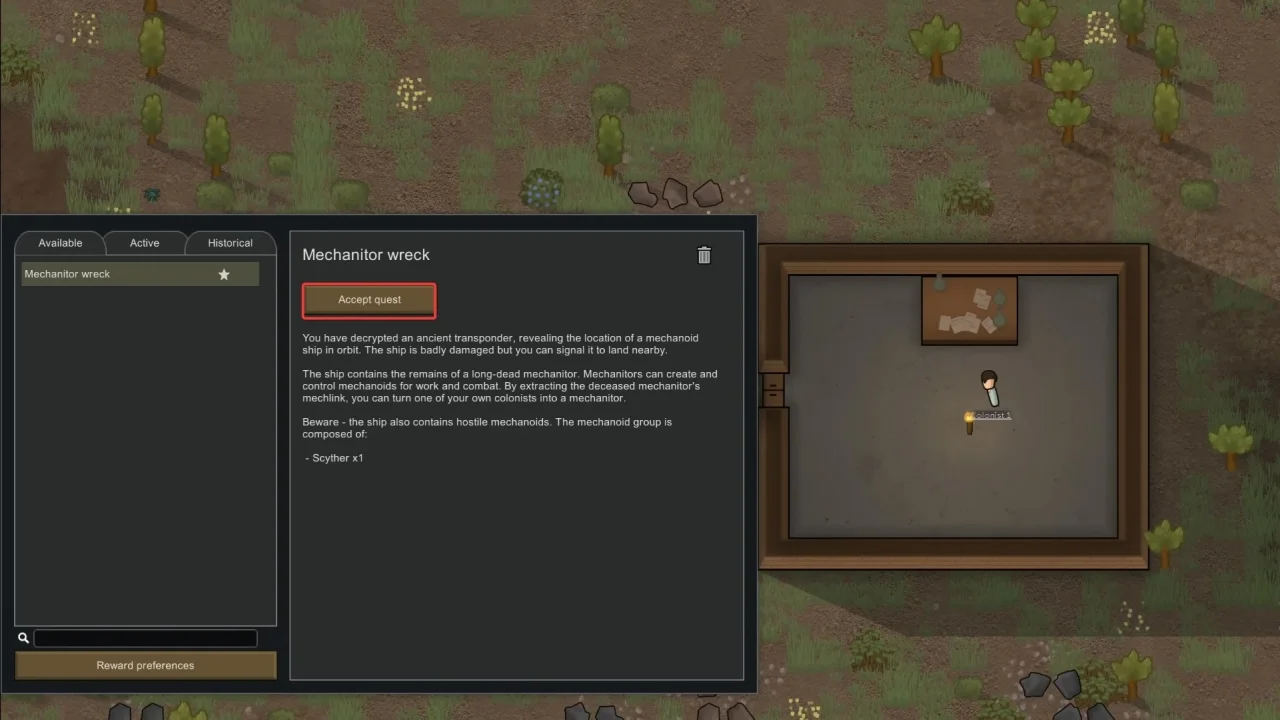 Discover Mechanitor Complex
These are not the most reliable sources of becoming a mechanitor since you may not be offered these quests. If you do, you can explore the complex for a hostile mechanitor hidden in a pod so you can extract its mechlink.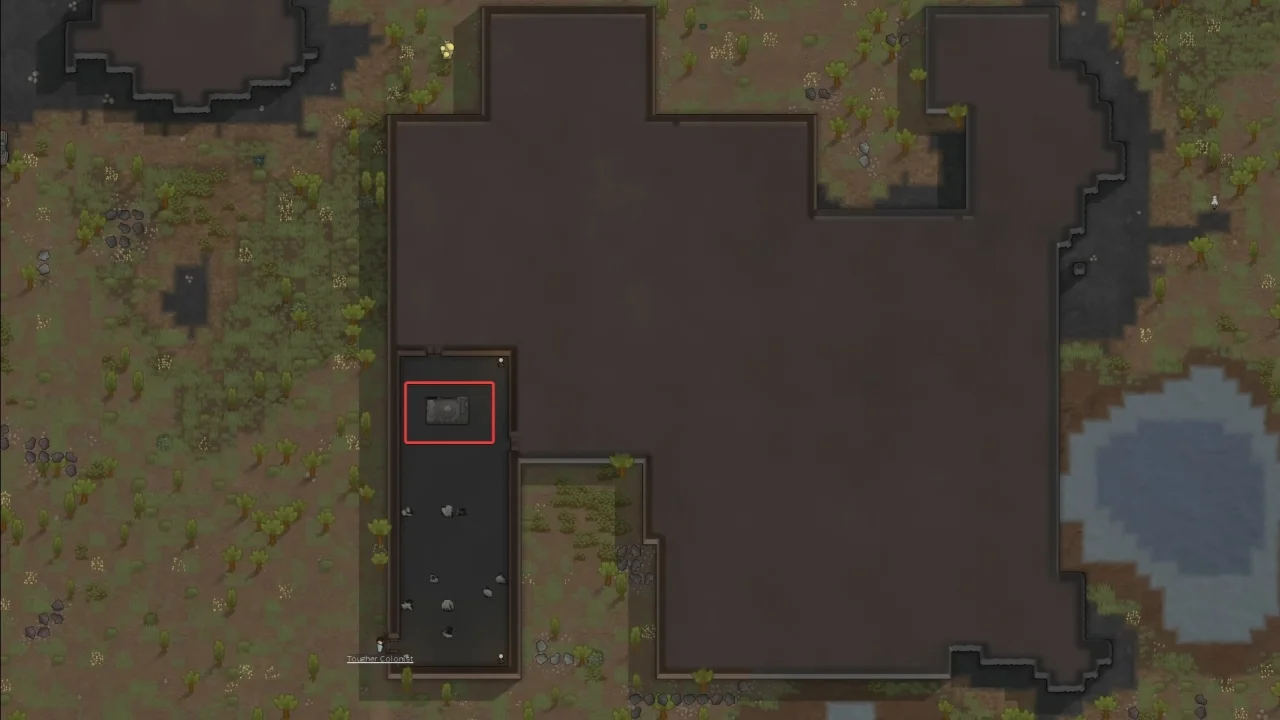 What Do You Need to Do After Becoming a Mechanitor?
The first thing that you should do is research Basic Mechtechs that will allow you to control all the mechanoids you own. Once you complete the research, you will be gifted your first mechanoid dropped from above.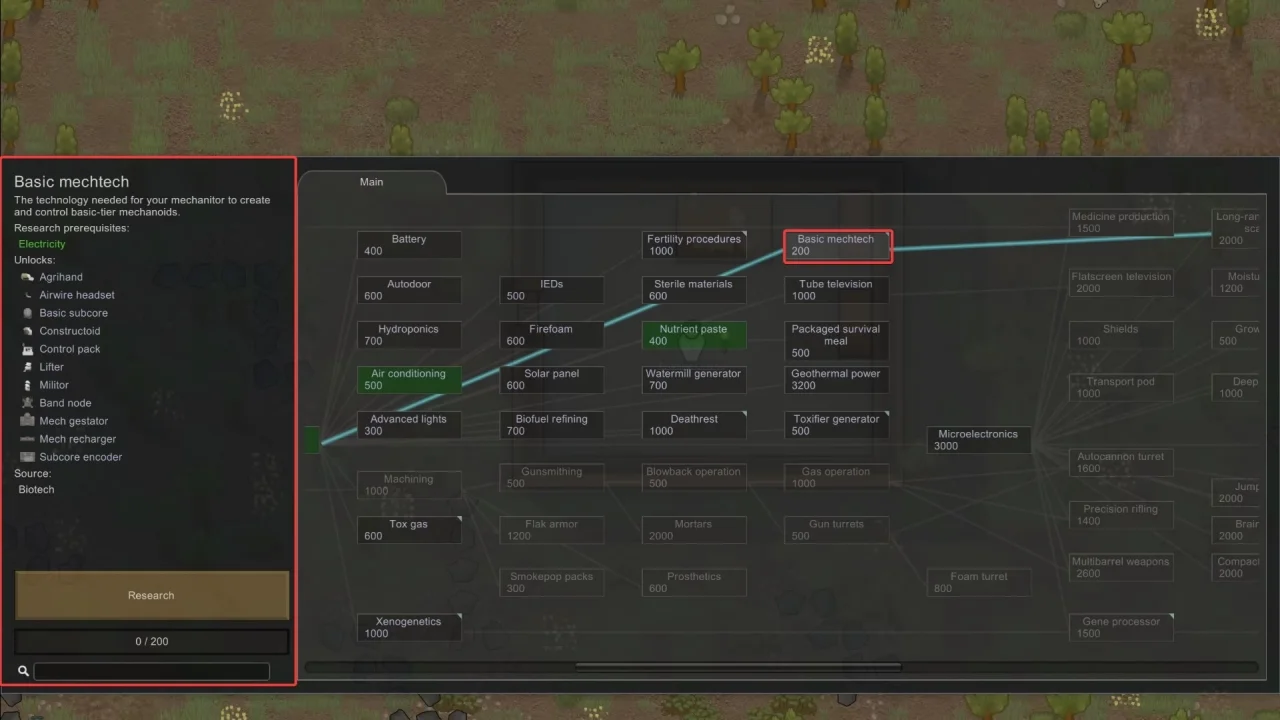 Note: You need to keep researching to control the mechanoids, or they won't be able to recharge and may become dormant.
What Is Bandwidth?
Bandwidth determines the number of mechanoids one mechanitor can control. Once you install a mechlink, you get a bandwidth of Six automatically. It can be further increased by building certain items.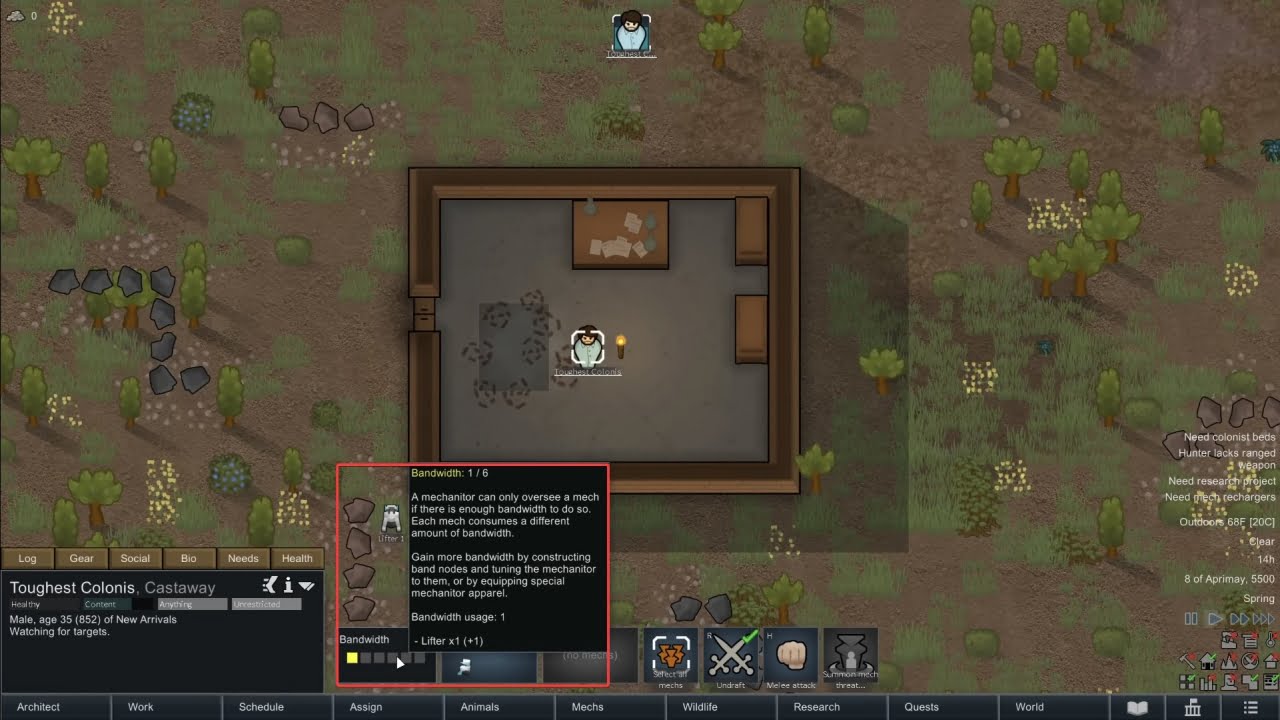 One example of an item to increase bandwidth is Band Nodes. It increases the bandwidth by 1.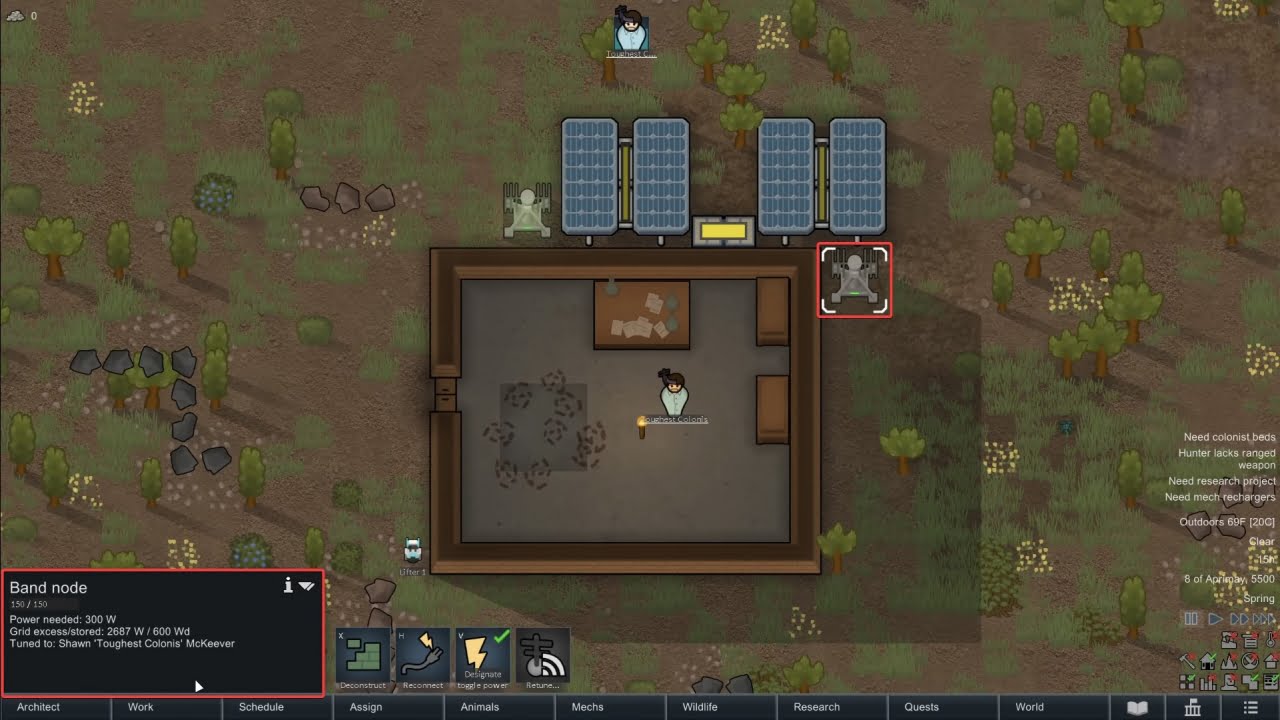 Note: Not all mechanoids have the same cost of bandwidth. The larger mechanoid's bandwidth will be much more than the small one. If the mechanitor's bandwidth is less than the cost of controlling the mechanoid, the mechanoids may become uncontrollable and go feral.
What Orders Can You Give to Mechanoids?
The game does not allow you to directly order any task, to mechanoids because they are autonomous in nature. But you can create control groups that can be called to do any of the following functions: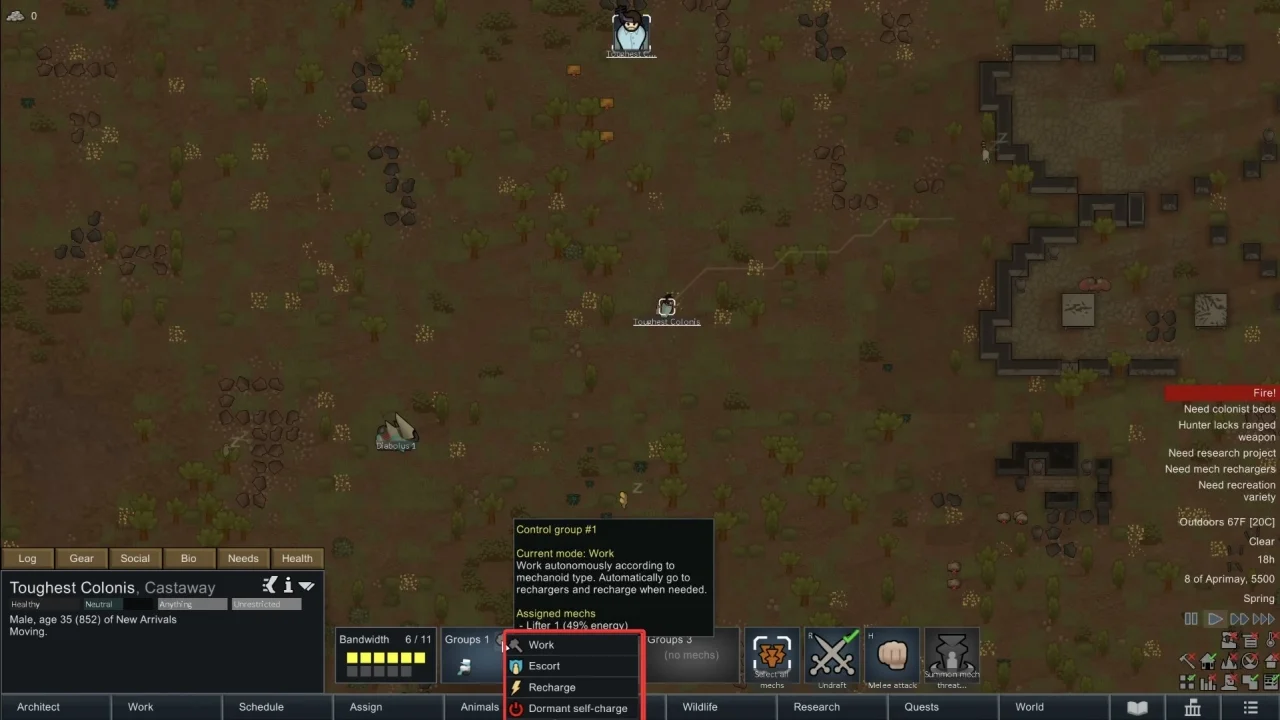 Work: Any available task can be assigned to the group. The mechanoids working on the job will report to the charging station when down to 5% power.
Escort: The mechanoids will stay with the mechanitor that controls it and will start fighting the enemies that surround its mechanitor.
Recharge: The mechanoids, when ordered to recharge, will start looking for a charging station to charge. If any station is not available, they will enter the self-charging mode.
Dormant self-charging: The mechanoids will become inactive and charge themselves at the speed of 1% per day. They can only be woken up after accumulating 15% of power. While they are in self-charging mode, they will not pollute the area.
How to Break Down Mechanoids?
If you have killed enemy mechanoids or have had your own killed, you don't need to worry because you can still shred them and get different components. To disassemble them, carry them to the machining table and select shred.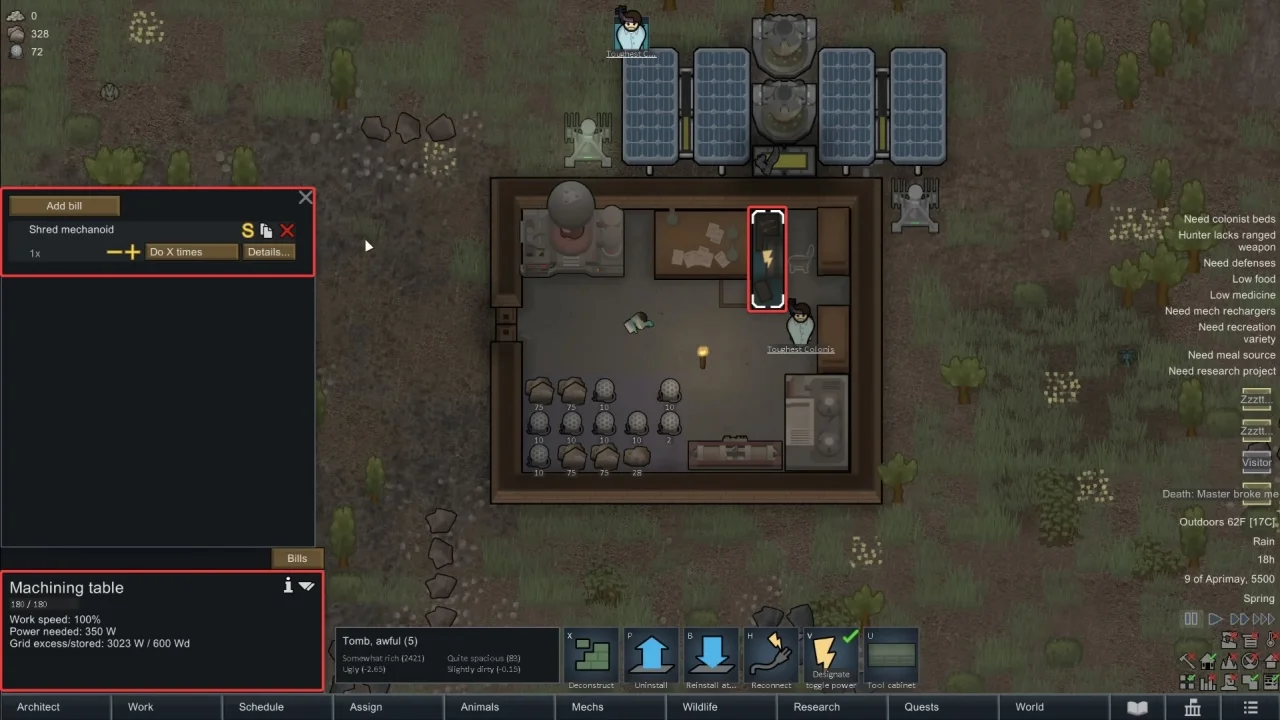 FAQs
Can you resurrect mechanoids?
Mechanoids can be resurrected through Mech Gestator if their corpses are available.
Can you build mechanoids?
You can build mechanoids by first creating a mech gestator. It will allow you to gestate militor, lifter, constructoid, and agrihand mechanoid. The mechanitor will work at the mech gestator to initiate the process of creating mechanoids.