In Starfield's huge world, Bethesda Game Studios adds a fun mechanic that lets players not only build impressive outposts for gathering resources and making scientific progress but also hire people as valuable crew members.
Lin and Heller: Unforgettable Comrades
As you venture through Starfield, characters like Lin and Heller may fade from memory amidst the numerous named NPCs you encounter. However, their initial roles are vital to your journey. Lin serves as your overseer at Argos's dig site, where the game's narrative unfolds. Heller works under her. The three of you share a professional connection as colleagues in an exhilarating galactic exploration.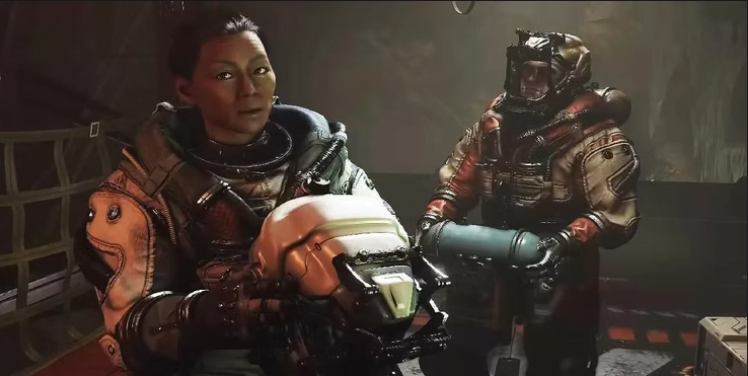 Despite facing unforeseen challenges early on, Lin and Heller manage to survive, surpassing expectations. As the narrative propels you toward greater horizons, Lin and Heller remain behind, seemingly overlooked in the broader scope of the game.
Recruitment Process: Reuniting with Lin and Heller
To reconnect with Lin and Heller and integrate them into your crew, follow these steps:
1. Immerse yourself in the universe: Engage in the expansive world of Starfield, relishing its vast landscapes and immersive gameplay. Immerse yourself in the epic narrative, avoiding the temptation to rush through the main story.
2. Embark on the Constellation quests: Progress through the Constellation quests, a central component of the main questline. As you navigate these quests, centered around the enigmatic Artifact, you'll embark on a mission alongside Sarah.
3. Navigate the mission named 'The Empty Nest': Within the Constellation quests, you'll eventually encounter a crucial mission named 'The Empty Nest'. This quest marks a pivotal moment in your ability to recruit Lin and Heller as crew members.
4. Reconnecting with Lin: During 'The Empty Nest', your path leads back to Argos' dig site. Here, you'll reunite with Lin, who is contemplating a career change due to recent events. Engage in conversation with her after completing the necessary tasks related to the computer and Barrett's message.
5. Meeting Heller: Your journey then takes you to the crash site of the Crimson Fleet vessel, where you'll find Heller. His eagerness to join your crew becomes evident, and you'll have the option to welcome him immediately. This decision holds significant implications for Heller's fate, as he finds himself in a vulnerable state.
Lin and Heller's Specializations: Enhancing Your Crew
Lin and Heller's skills mirror their roles in your crew. Both excel in outpost-related tasks at the third tier of the Outpost skill, but they have distinct strengths. Heller is adaptable, while Lin's specialization complements effective outpost management, making her a valuable asset in that regard. Keep in mind that their effectiveness aboard your starship may be slightly compromised due to their outpost skills.
Starfield introduces an engaging mechanism that enables players to recruit Lin and Heller as crew members, enriching the depth of their cosmic adventure. By immersing yourself in the expansive universe, progressing through Constellation quests, and reconnecting with these characters during 'The Empty Nest', you will have the opportunity to fortify your crew with individuals who bring unique skills to the forefront. The inclusion of Lin and Heller underscores Bethesda Game Studios' meticulous attention to detail and storytelling prowess in their latest space-faring escapade.