Turtle Island inhabits some Legendary Turtles, which are known to be even older than the oldest of all Sylvains. The island consists of easy, straightforward quests with handsome rewards like High Seas Coin Chests and a Rare Mount: Red Moss Turtle.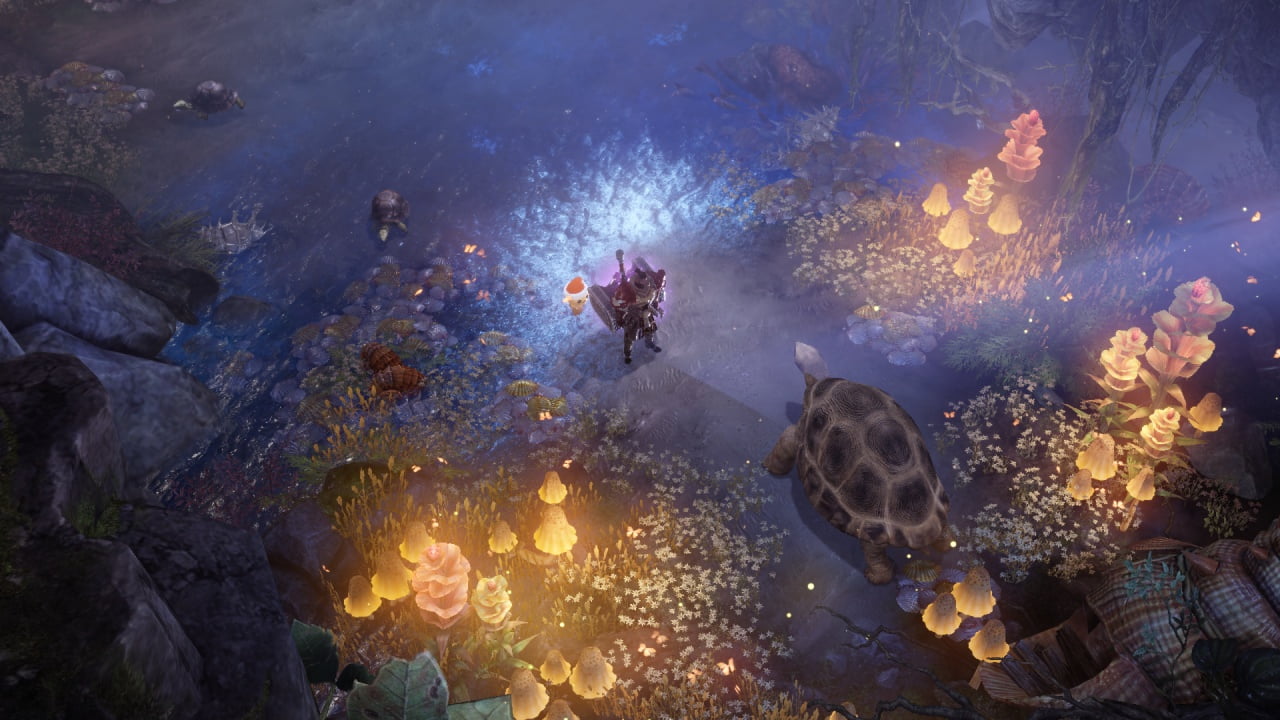 Turtle Island Location
Turtle Island is found within the East Central Gienah Sea, between the continents Pleccia and Annika. Another highly rewarding Island, Peyto, is just located west of this island.
Item Level Reached: 250
Admission Period: Always Open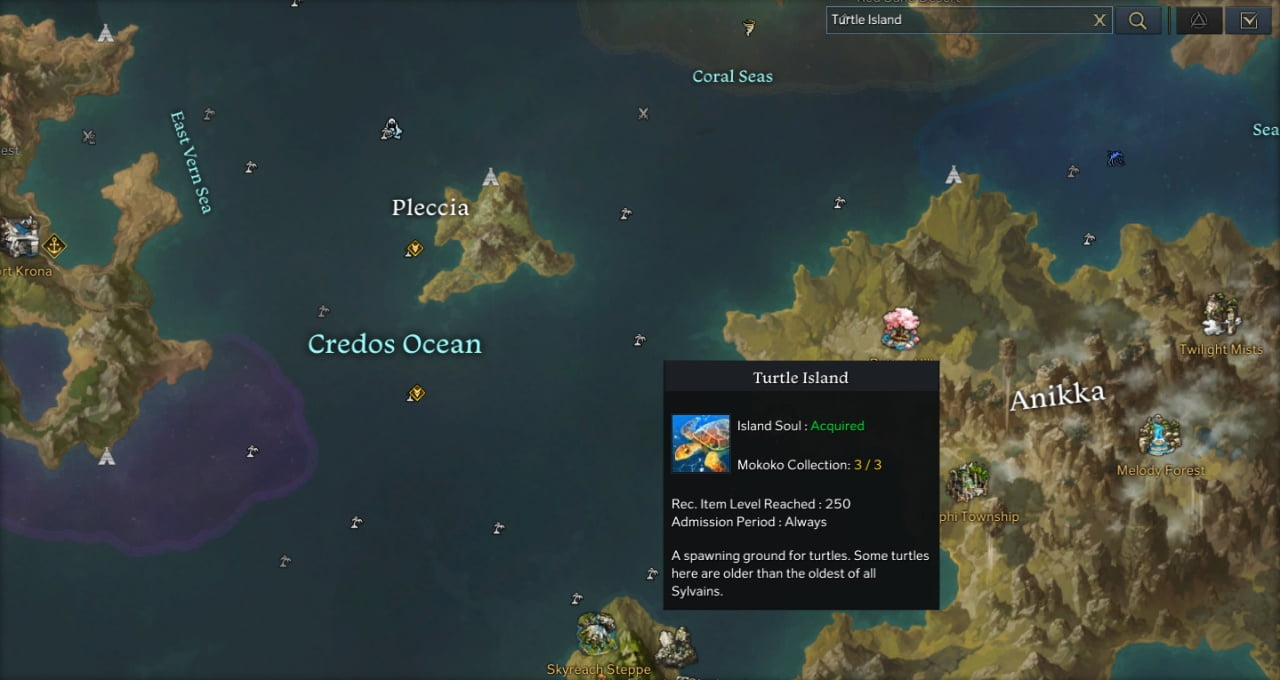 How to get Turtle Island Soul (Token)?
You can obtain the Turtle Island Soul or Island Token by completing the entire questline of Turtle Island, which can take approximately about 30 minutes to an hour, depending on your pace. While progressing with the missions, you will travel to various continents like Annika, Vern, and Arthetine. The last quest, which rewards you with the soul, is called "To The Sea." The next part of this guide will walk you through all the missions and challenges this island offers.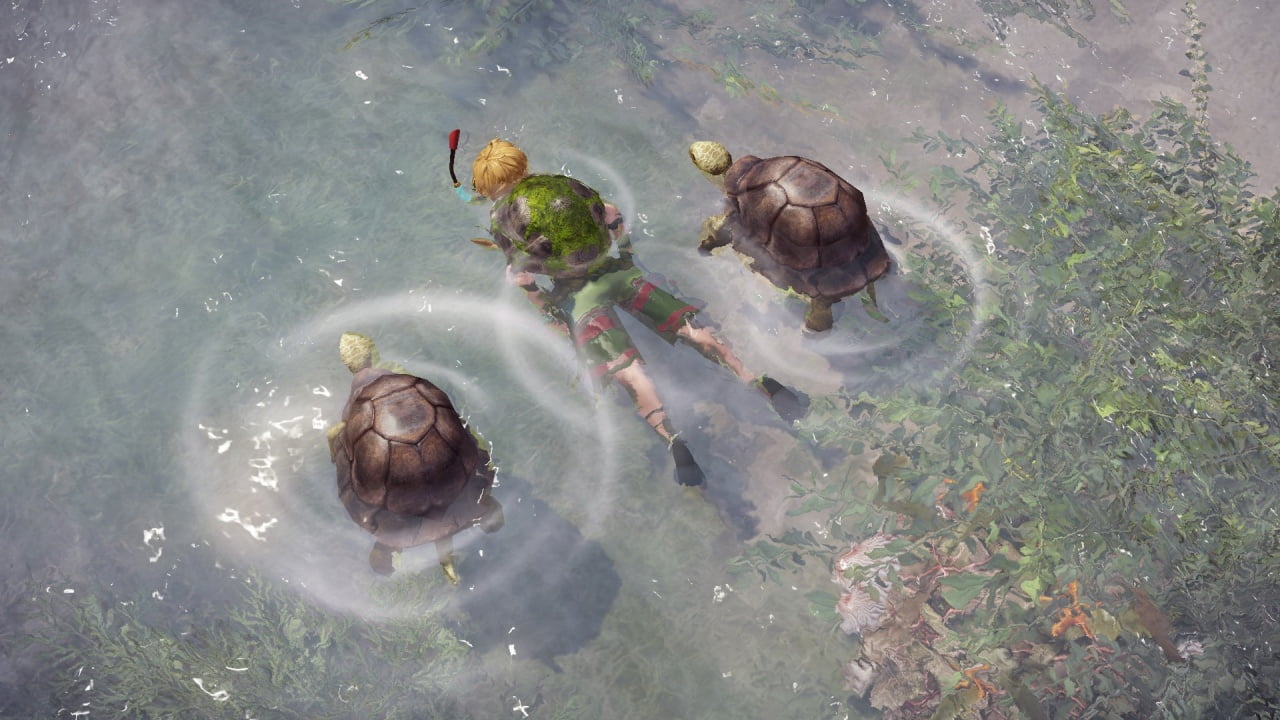 Turtle Island Quests Walkthrough
Only one quest chain is available on this island; completing it till the end will grant you many rewards and, most importantly, Jewel Coral.
The Turtle and the Boy
Meet with the turtle named Tatan to begin the first part of the roster quest chain. Find another person wandering around named Flynn in the middle of the island and then conversate with Baham (The Giant Turtle) inside the cave. Interact with Flynn again to conclude this quest.
Rewards
Creation Fragment x2
Uncommon Battle Engraving Recipe Selection Pouch x3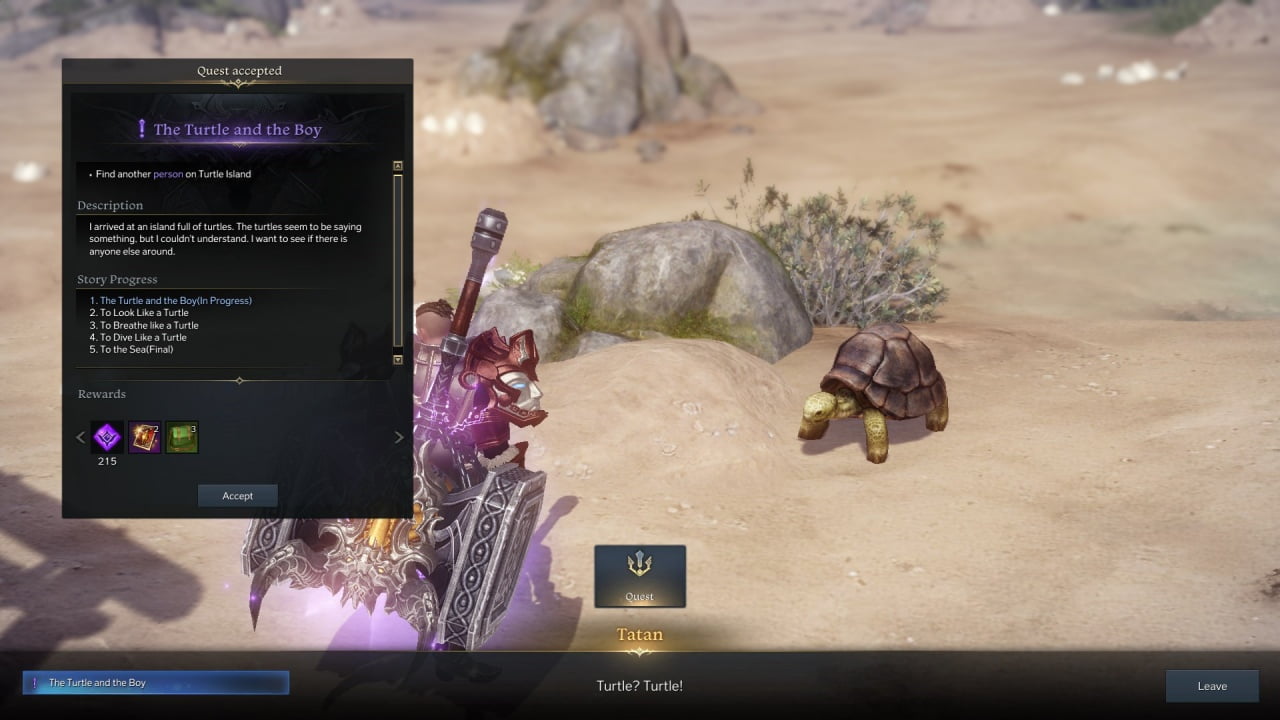 To Look Like a Turtle
The second part of the chain will be given to you by Flynn instantly after completing the last quest. Return and talk to Baham; he will ask you to sail to Changhun in Annika. This city is close to the island and will take no time at all to reach here. Once you arrive, ask the folk about the turtle clothes, they will suggest you talk to Ringling (Textile Merchant) in Delphi Township. She will request you to take care of thieves on the field and drive them away. After this task, talk to the Villagers and return to Flynn to finish the quest.
Rewards
Epic Rapport Chest x3
Uncommon Battle Engraving Recipe Selection Pouch x3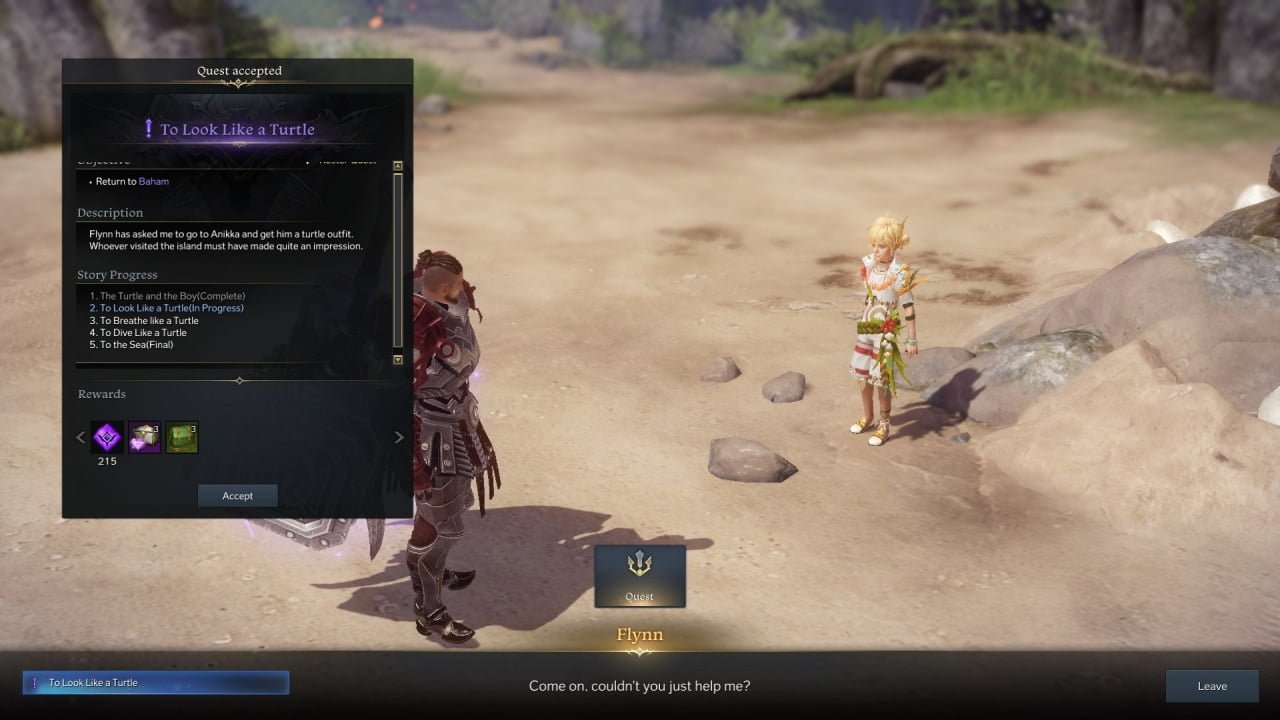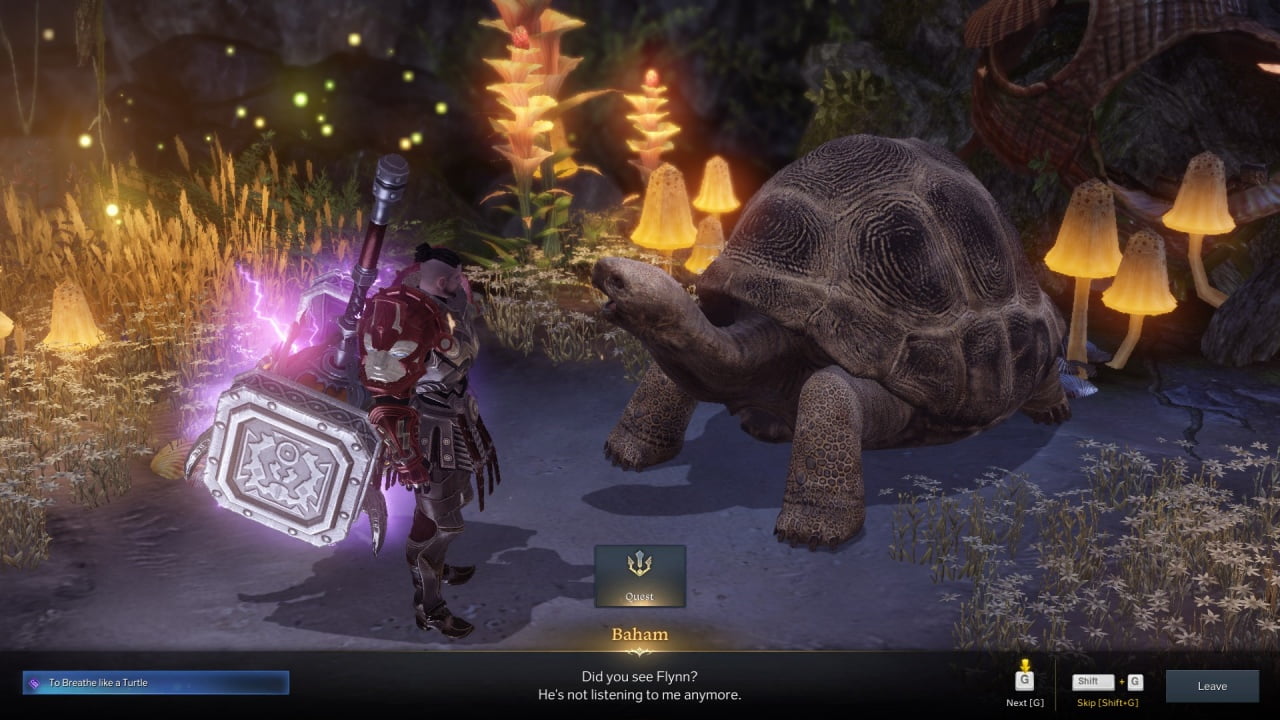 To Breathe Like a Turtle
Get the quest from Flynn and talk to Baham again, then set your sail toward Arid Path in Arthetine. After arriving, go to Rizen Orphanage in Totrich and talk with Viltri and Hoyte. Move to Stern next to make Turtle Shell with Equipment Crafter. Look around to see if you're being followed, then check the Crafter. Return to Flynn on Turtle Island once crafting is complete.
Rewards
Creation Fragment x3
Uncommon Battle Engraving Recipe Selection Pouch x3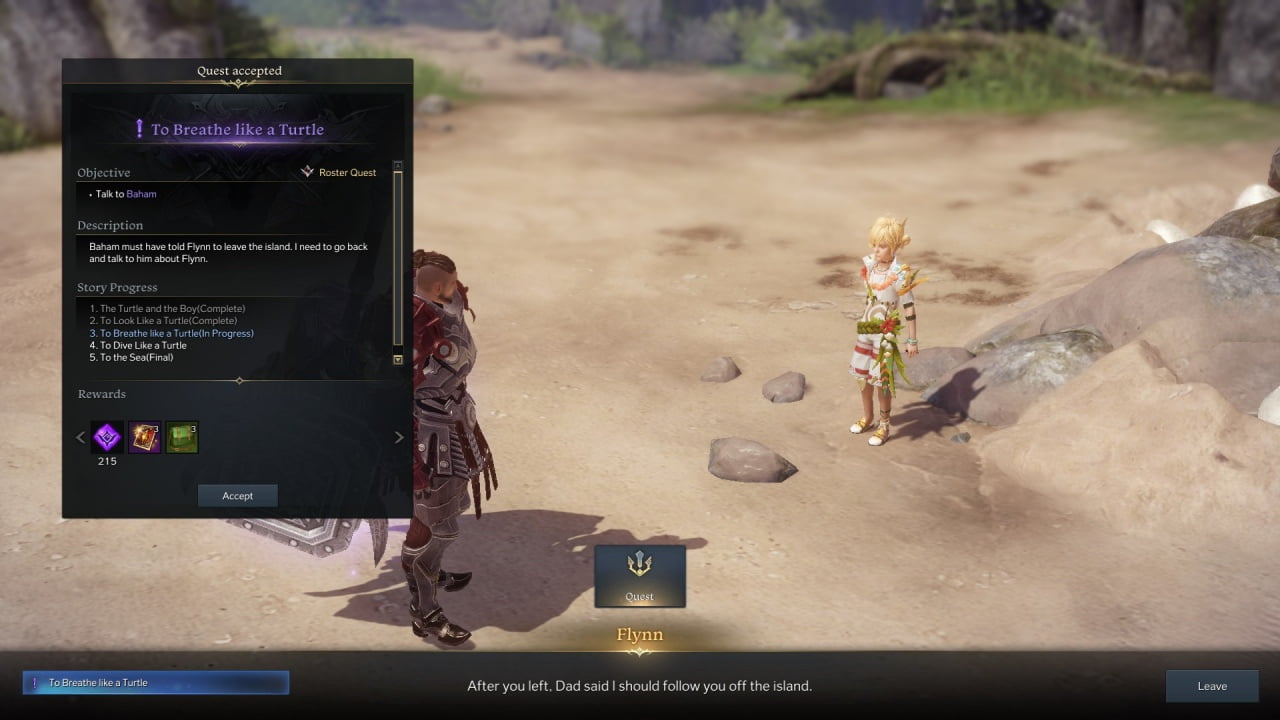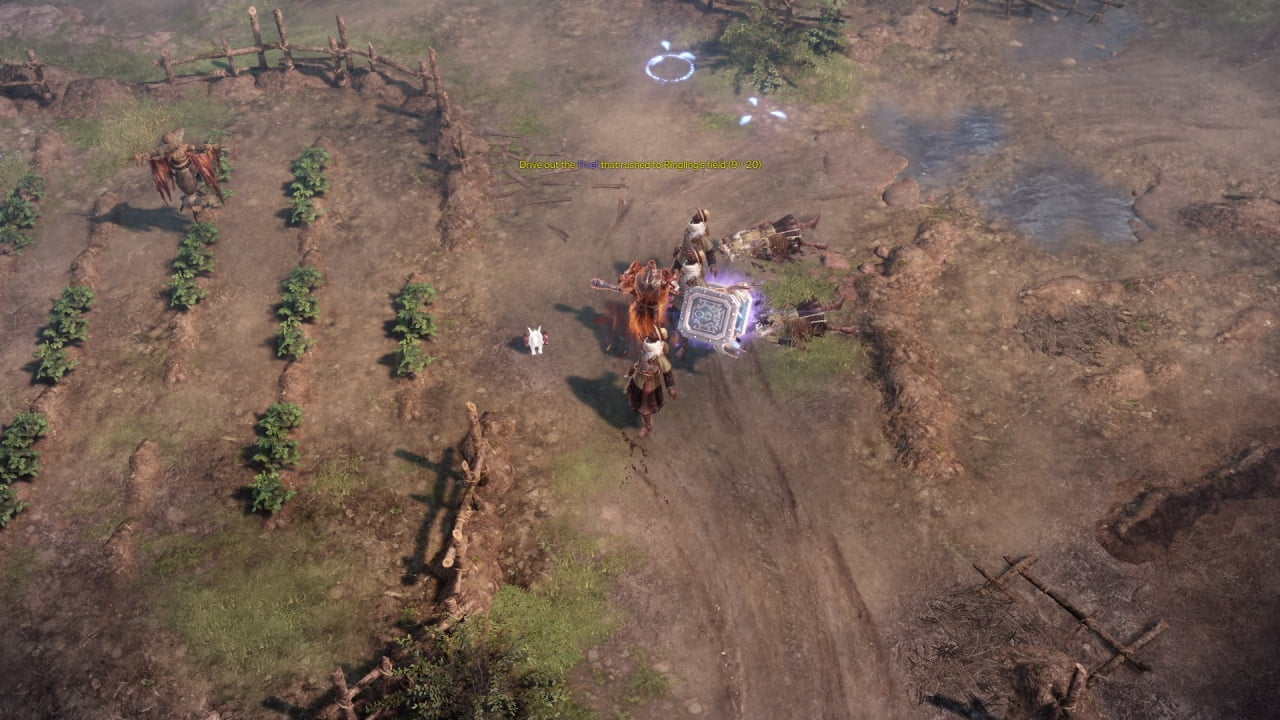 To Dive Like a Turtle
Go to the beach and talk to Flynn after accepting the quest. Conversate to Baham and sail toward Port Krona in Vern this time. Ask Vern Scholar Irene about the issue; she will further order to collect Spectral Breaths by eliminating the Spirits in the marked area of Fesnar Highland. After collecting the required material, talk with her again, then return to Flynn.
Rewards
Uncommon Battle Engraving Recipe Selection Pouch x9
Silver x20,000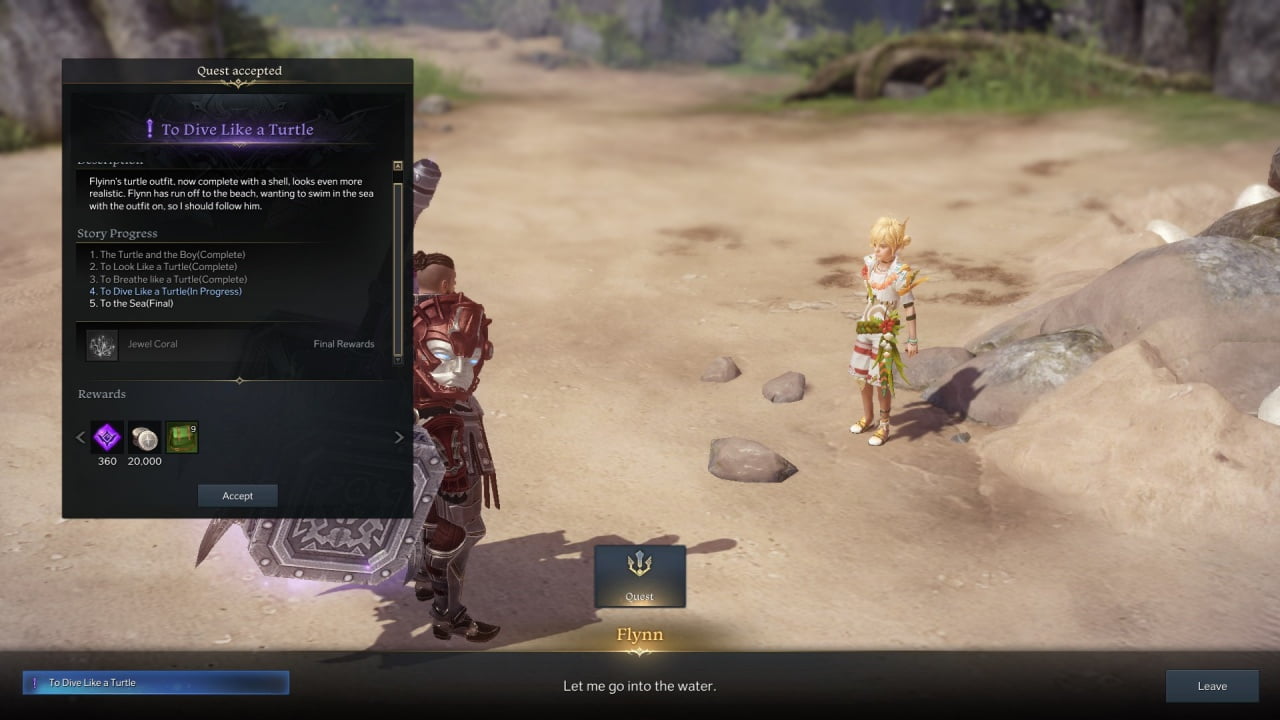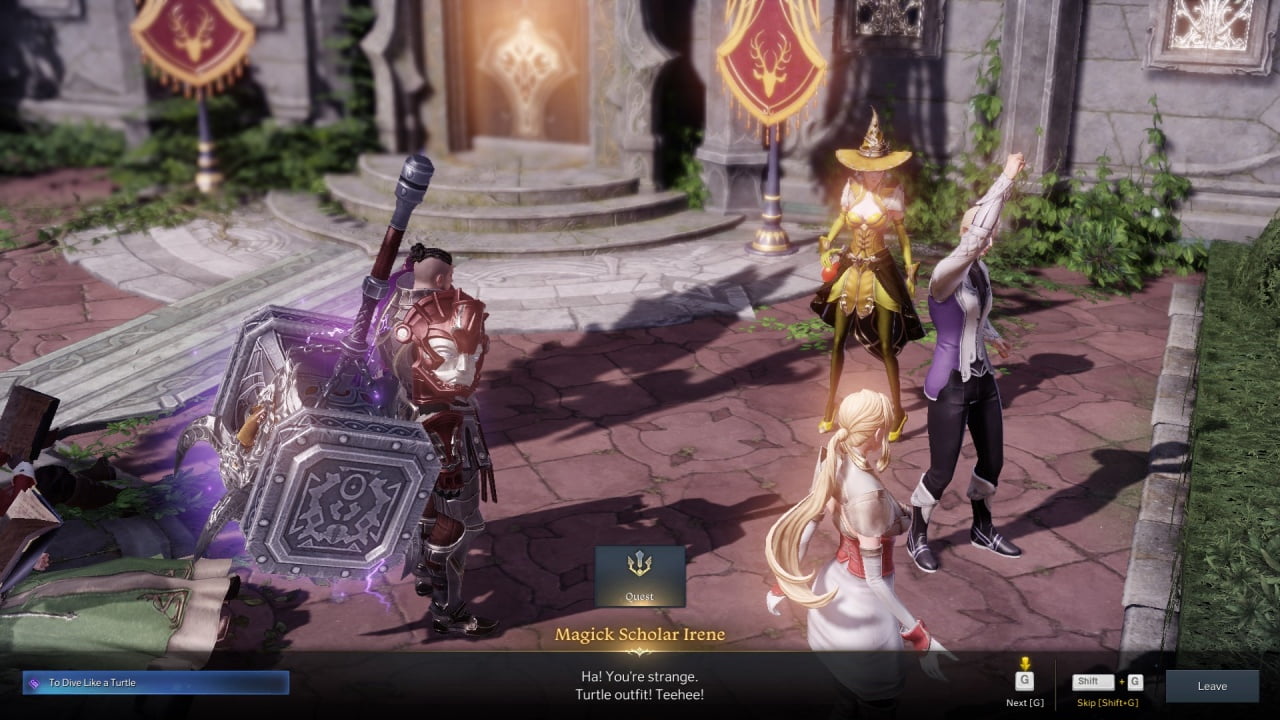 To the Sea
This is the final part of the quest chain given by Flynn. Talk to Baham and show him the turtle clothes, then look for Flynn on the beach. Interacting with him will trigger a cutscene and complete the island's story.
Rewards
Turtle Island Soul
High Seas Coin Chest x7
Jewel Coral: It is a rare currency that can be exchanged with three types of Turtle Mount from Florian [Luxury Exchange] in Arthetine. However, the Red Moss Turtle mount is only obtainable by performing Una's Tasks.
Silver x10,000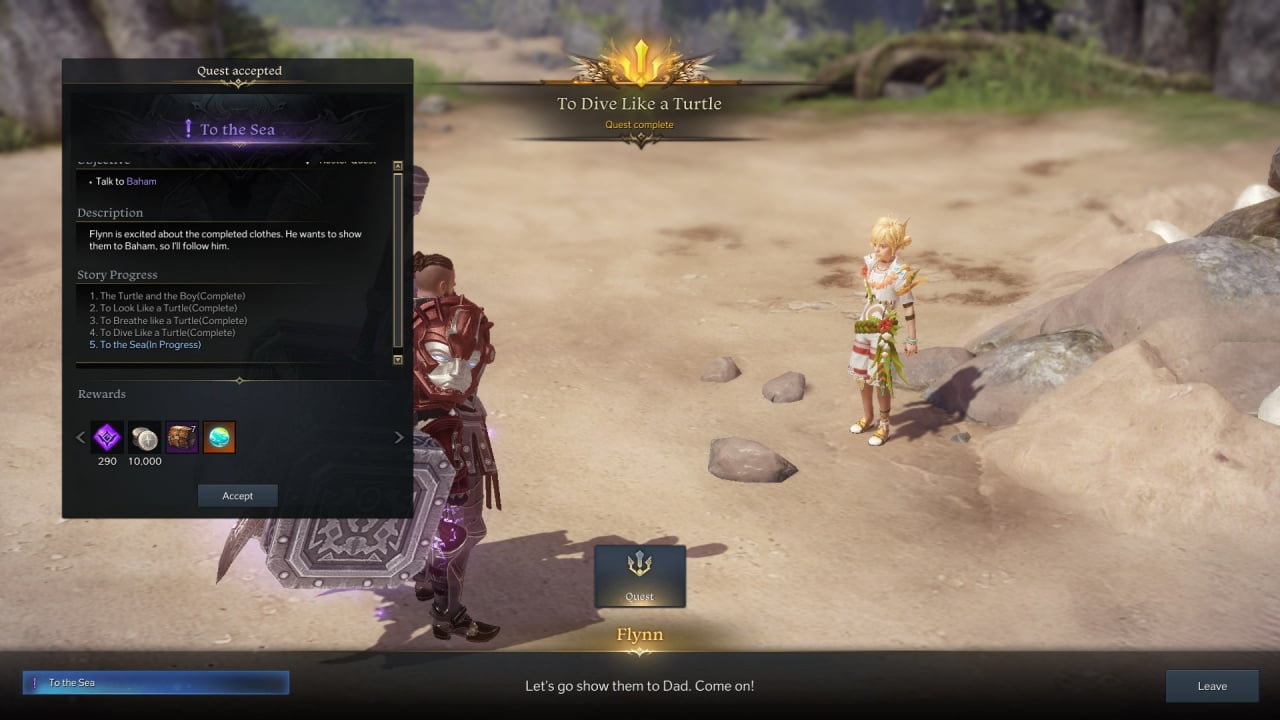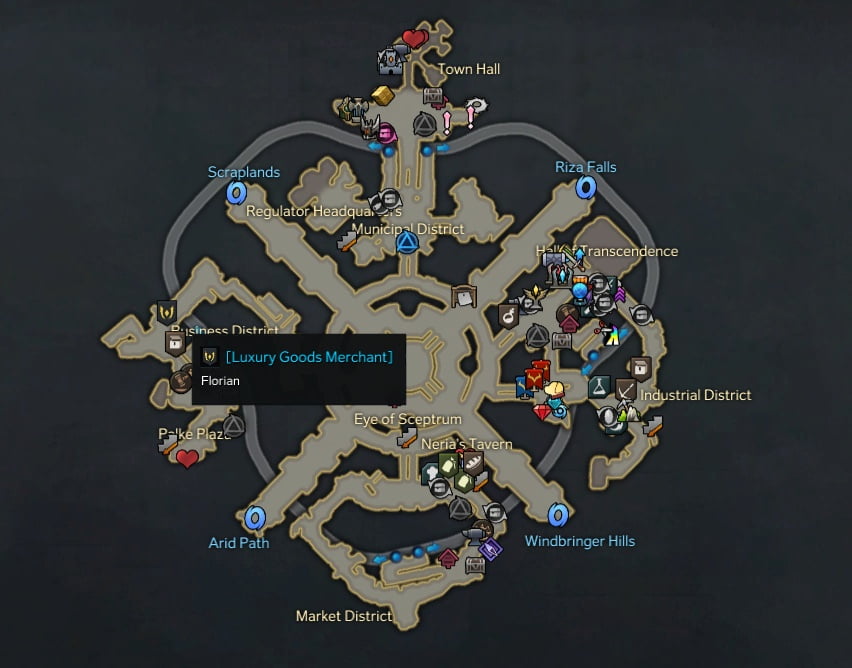 Una's Tasks – Sinking Island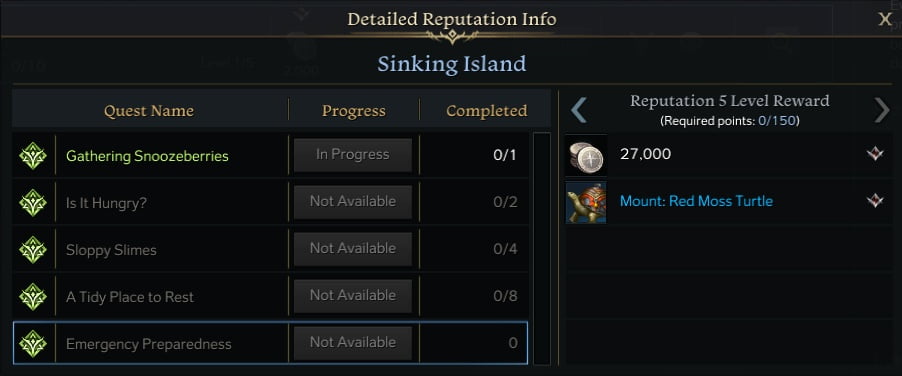 There are five levels of Turtle Island Una's Task; proceeding requires specific reputation points and rewards accordingly. These tasks have a simple, straightforward objective, and all can be completed within the island. Following are the rewards for each tier:
Gathering Slumberries [10 Reputation Points]: Silver x2,000
Is it Hungry? [20 Reputation Points]: Silver x4,000
Sloppy Slimes [40 Reputation Points]: Silver x7,000
A Tidy Place to Rest [80 Reputation Points]: Silver x14,000
Emergency Preparedness [150 Reputation Points]: Red Moss Turtle (Mount) and Silver x27,000
Turtle Island Mokoko Seeds Location
A total of 3 Mokoko Seeds can be found here. Two of them are hidden in a secret area northeast, while the last one is between the eggshells on the northernmost part of the island.