Eternity Isle is an island where a huge unknown pyramid structure has just been discovered. Dr. Callanin, with her assistant McBennan, came here all the way from Arthetine, intending to explore this mysterious ruin.
Where is Eternity Isle?
It is located within the North Procyon Sea, southeast of the main continent Feiton. There is another mysterious place situated near it called Fantasm Island.
Recommended Item Level Reached: 802
Admission Period: Always Open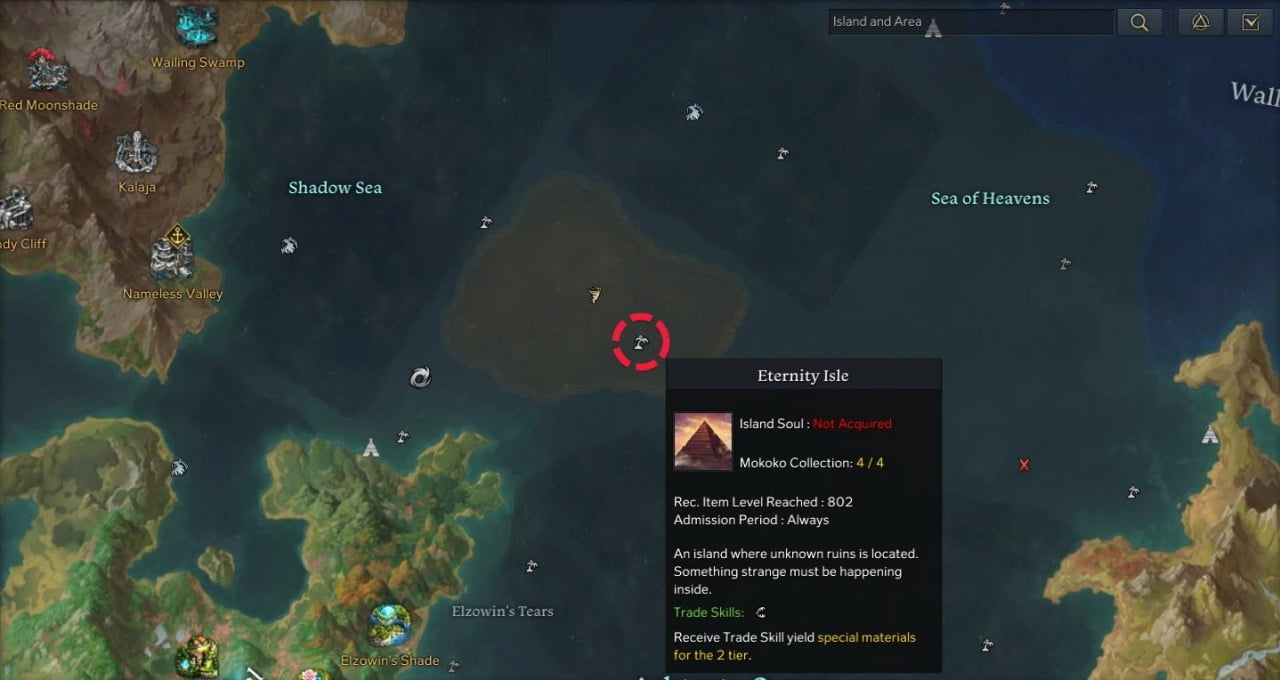 Requirements
The island is located amidst Sandstorm Seas: Lv.3, so prepare your Ship accordingly.
You must have the best possible equipment to clear The Secret Labortary Dungeon easily.
Song of Resonance is required to obtain two hidden Mokoko Seeds here. You can purchase this song from Treasure Hunter Igran (Merchant) in Peyto.
How to Get Eternity Isle Soul?
Eternity Isle Soul is obtained as a reward for reaching the "Trusted" Rapport Level with NPC Mari.
Eternity Isle Quest Chain
The Secret Gates
The first "General Quest" on the island begins after interacting with the first NPC, Dr. Callanin, who is seemingly observing the place.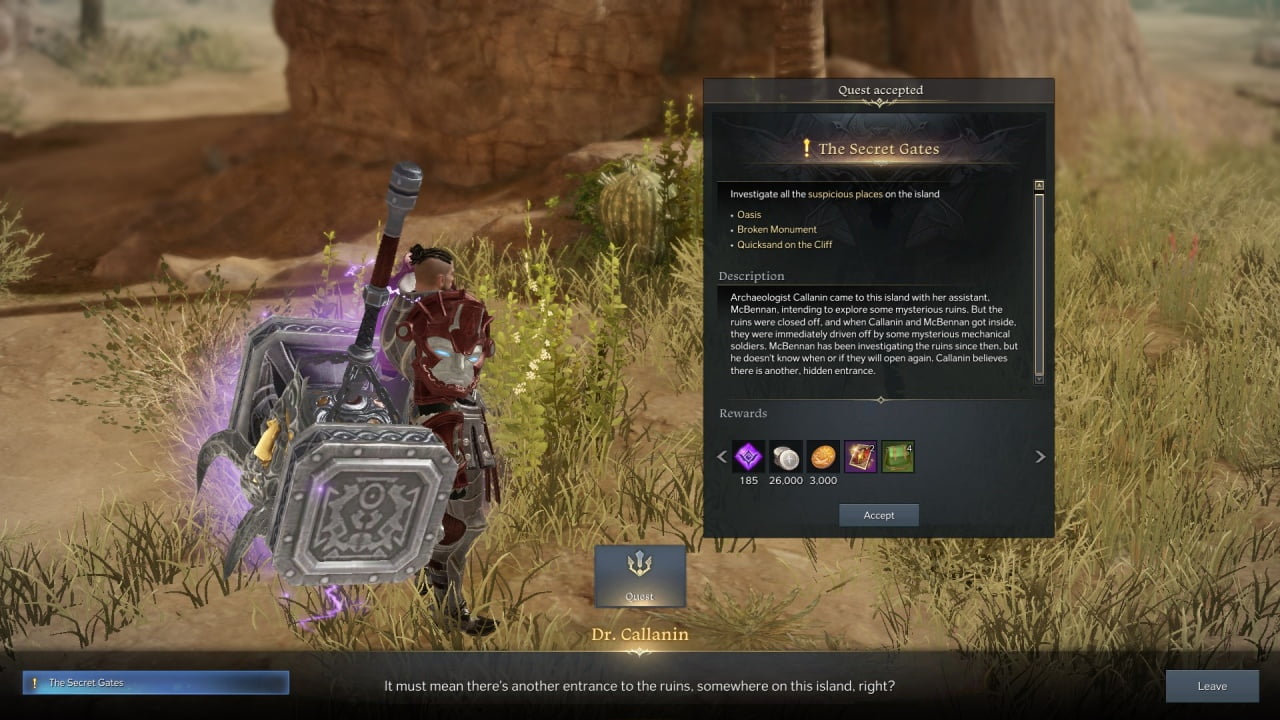 She tells you about why she traveled here to explore this mysterious ruin, but the door to enter inside is locked, and she asks you to find a secret entrance by investigating suspicious places. Two out of three places are marked on the map, but the last one, "Oasis" is hidden; we have marked it for you in the image below.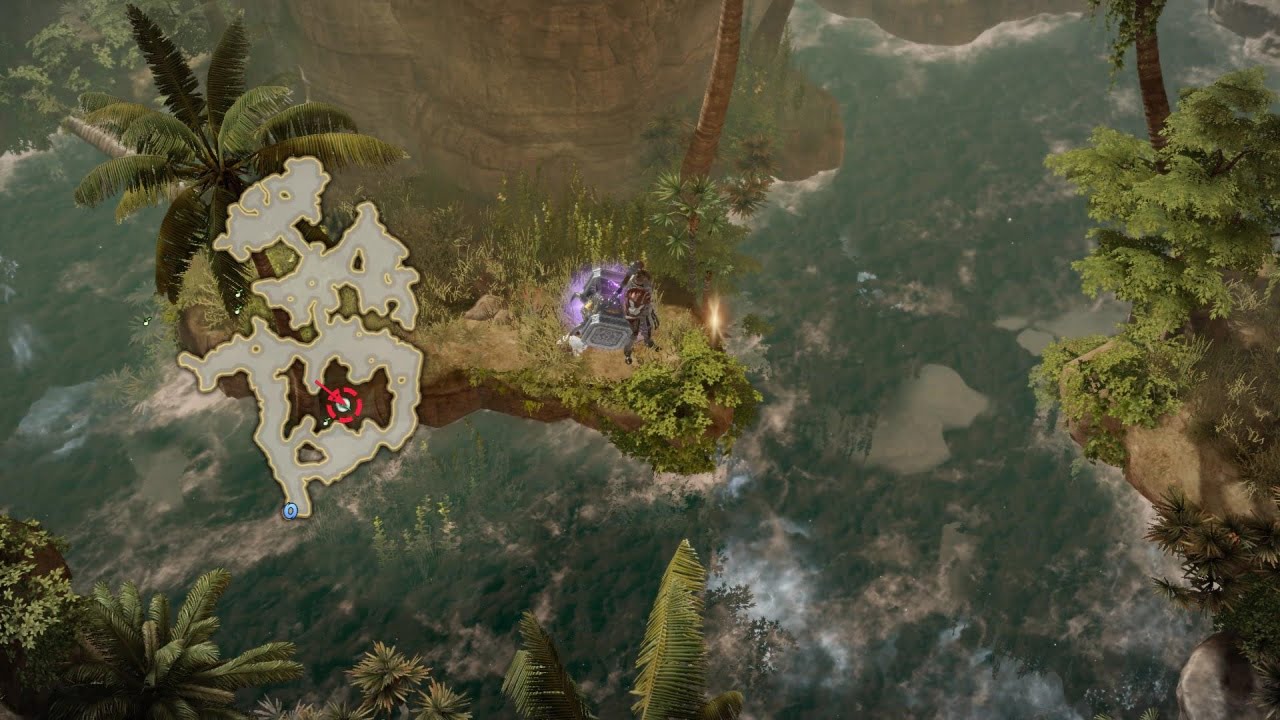 Report back to Callanin to complete this quest.
Rewards
Creation Fragment x2
Uncommon Battle Engraving Recipe Selection Pouch x4
Pirate Coin x3,000
Silver x26,000
Mysterious Ruins
After completing the last quest, the first part of the roster quest chain is available. To start this quest, you must talk with the Guard Jave, who appeared near the entrance of the island.
In order to proceed, you must talk with Guard Megan standing beside Jave and head towards Callanin's location, where Dr. Vanderwal is situated. Once you finish talking with Vanderwal, Callanin requests you save her assistant McBennan. Arrive at the entrance to the mysterious ruin and talk with McBennan to complete the quest.
Rewards
Exploring the Mysterious Ruins
Get this quest from McBennan instantly after completing the last one. After talking with him, enter the dungeon "Secret Laboratory."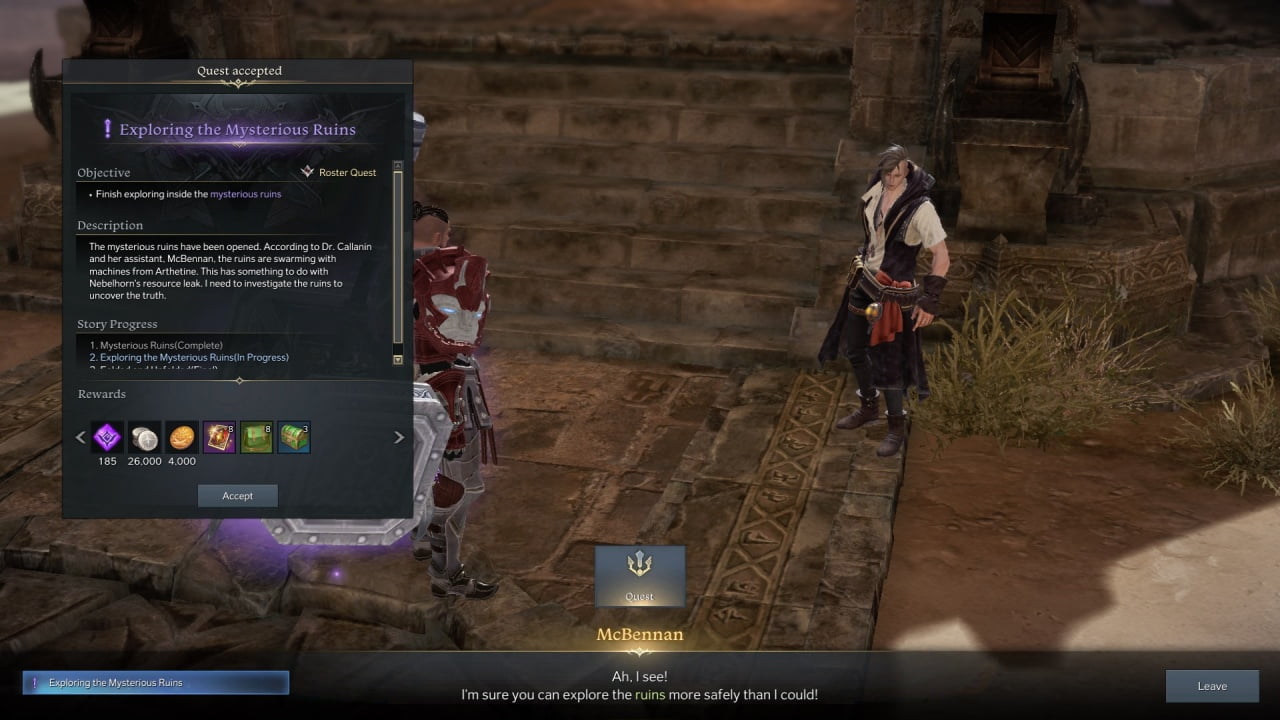 The objective is to explore the dungeon until the end by following the mechanical sounds, activating mechanisms, and defeating enemies. Halfway through, you will face a minor boss named Antigone, who isn't hard to kill if you are at the recommended item level. The last dungeon boss is Signatus MK II; defeating him and rescuing Mari will complete the quest.
Rewards
Creation Fragment x2
Rare Engraving Recipe Selection Chest (Class Exclusive) x3
Uncommon Battle Engraving Recipe Selection Pouch x8
Pirate Coin x4,000
Silver x26,000
Note: Don't bother finding dungeon Mokoko Seeds on this story mode run. The seeds are only available when you use a ticket for entry.
Folded and Unfolded
Mari will be found right outside the dungeon entrance after the last quest; interact with her to get this quest.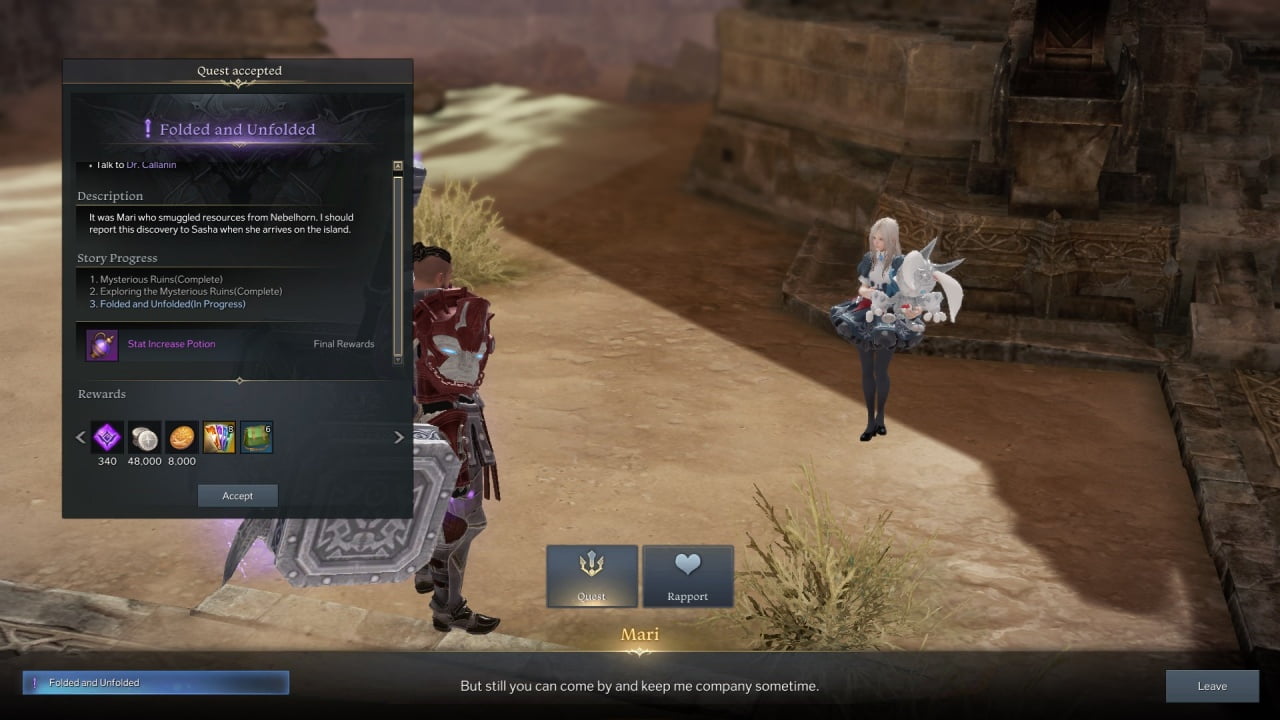 Talk to Dr. Callanin and approach Sasha, who arrived on the island. The mysteries behind the smuggling in Nebelhorn will be solved with this discovery, and the final roster quest will be finished.
Rewards
Stat Increase Potion
Legendary – Uncommon Card Pack x8
Rare Battle Engraving Recipe Selection Pouch x6
Pirate Coin x8,000
Silver x48,000
Mari Rapport Quests
In order to unlock Rapport with Mari, you must complete the final quest in the quest chain called "Folding and Unfolding" offered by Mari herself, along with a particular virtue requirement. You must have all virtue stats (Wisdom, Courage, Charisma, and Kindness) at least 170 to start talking to her; keep in mind that these requirements increase as you progress in the rapport stages.
The Trusted Rapport Stage with Mari requires 102,700 rapport experience. Relying solely on daily rapport activities will take 71 days to reach this stage. Daily activities include:
Romantic Weapon (350 Rapport)
Song of Eternity (375 Rapport)
Emote: Sway (275 Rapport)
Emote: Wave Dance (400 Rapport)
Now that you know the grind you have to go through, let's talk about the rewards available for it:
Neutral: Reaching this stage rewards with Ancient Platinum Coin x3
Amicable: Rewards with Stat Increase Potion, Secret Laboratory (Entrance Ticket) x4, and Ancient Platinum Coin x5
Friendly: Rewards with Mari Card, Secret Laboratory (Entrance Ticket) x6, and Creation Fragments x5
Trusted: Rewards with Eternity Isle Soul, Vitality Increase Potion, and Epic Judgement Skill Rune
For the Bored Girl
Sail towards Luttera Castle, and get some interesting books and snacks for Mari. Return to Eternity Isle to deliver things to her, then use apology and affection emote to finish the quest.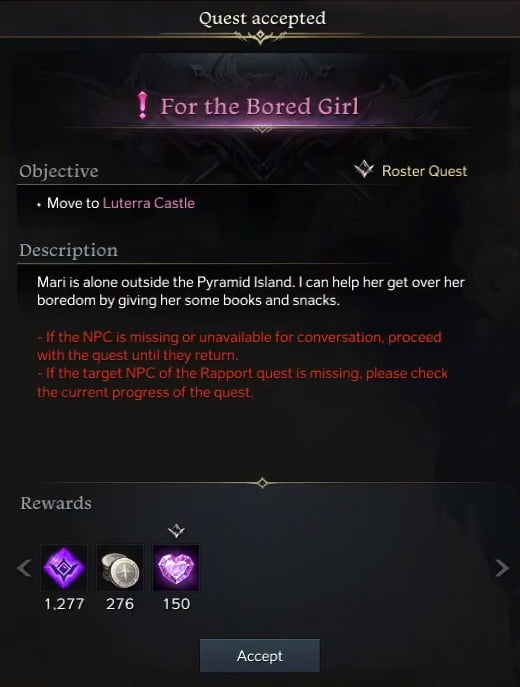 A Single Flower Is Enough
Travel to Liebeheim and talk to Mari once you reach there. Pluck a cute flower and gift it to her, then talk with her thrice to conclude the quest.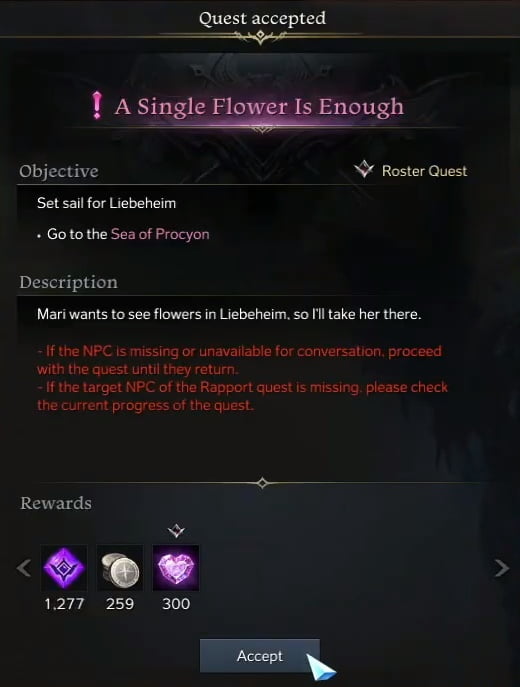 My Dear Frazio
Start this quest by collecting and reading the note given by Mari. As requested by her, travel to Alteisen and collect the following Protenstones parts:
Artificial Brain x2
Magick Engine Lubricant x10
Arthetinean Manipulator x5
After acquiring these parts, deliver them to Mari on Eternity Isle to end the quest.
Ice, Ice, Mari
Set sail for Argon in order to proceed with this quest. Conversate with Mari right after reaching the destination. Speak with Realistic, Romantic, and, lastly, Skilled Artists. Find the Ice Flower afterward and give it to Mari to conclude the quest.
Highly Pure, Prickly, and Lonely
Go to Stern in Arthetine for this quest. Get Protenstones from the underground merchant and deliver them. Move toward Arid Path, speak with Mari, and return to Eternity Isle to finish the quest.
Entrance to the Chaos
Try and persuade Mari by using Talk emote thrice; once she calms down, move to Twilight Hills to fend off the Demons from chaos gates. Alert the Guard Captain Akerman after eliminating demons and report this incident to Bastion in Stern to conclude the quest.
Everything She Has
Locate Mari on the southwestern part of the island and talk to Mari, it will trigger a cutscene, and after this, the quest will be finished.
All Mokoko Seeds Locations on Eternity Isle
There are a total of 9 Mokoko Seeds hidden here. Four can be found within the island, while the other five are in the Secret Laboratory dungeon.
However, the ones on the island are tricky to find, two seeds are in a secret place off-map, and to access that place, you need to play Song of Resonance near the Statue. Other remaining seeds are also placed in remote places, but they can be accessed easily without any special requirements.
Island Seeds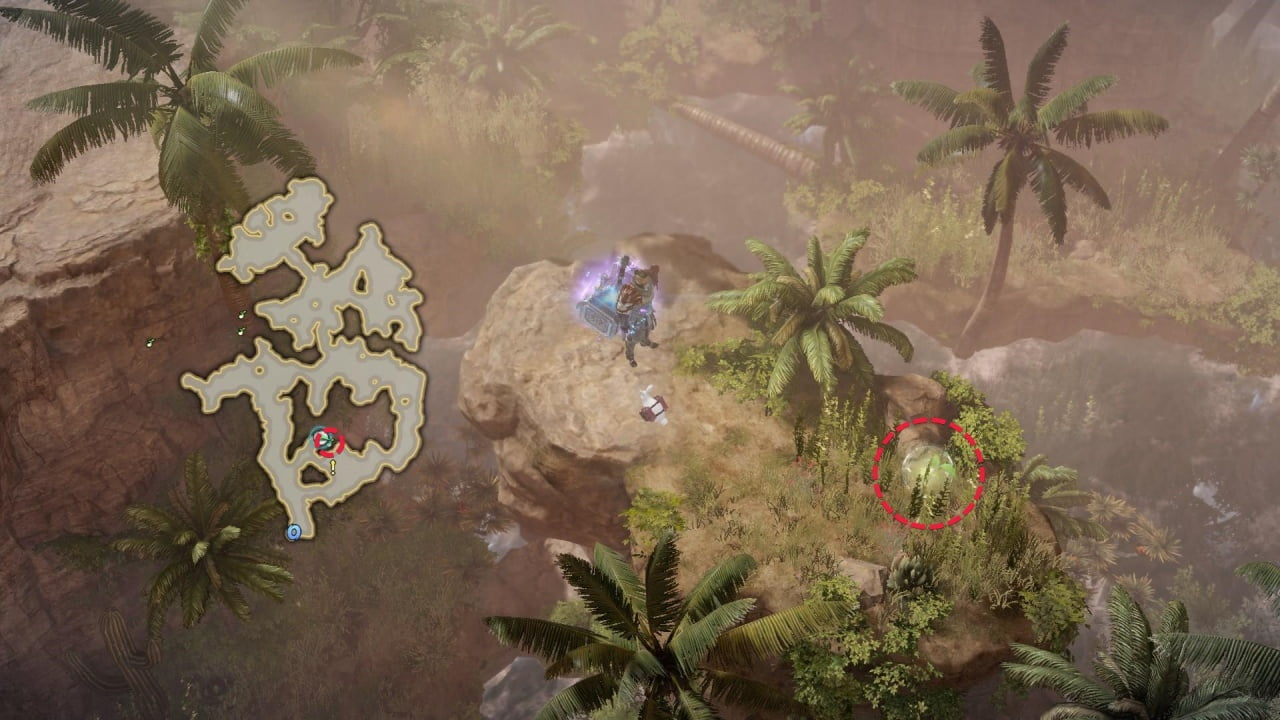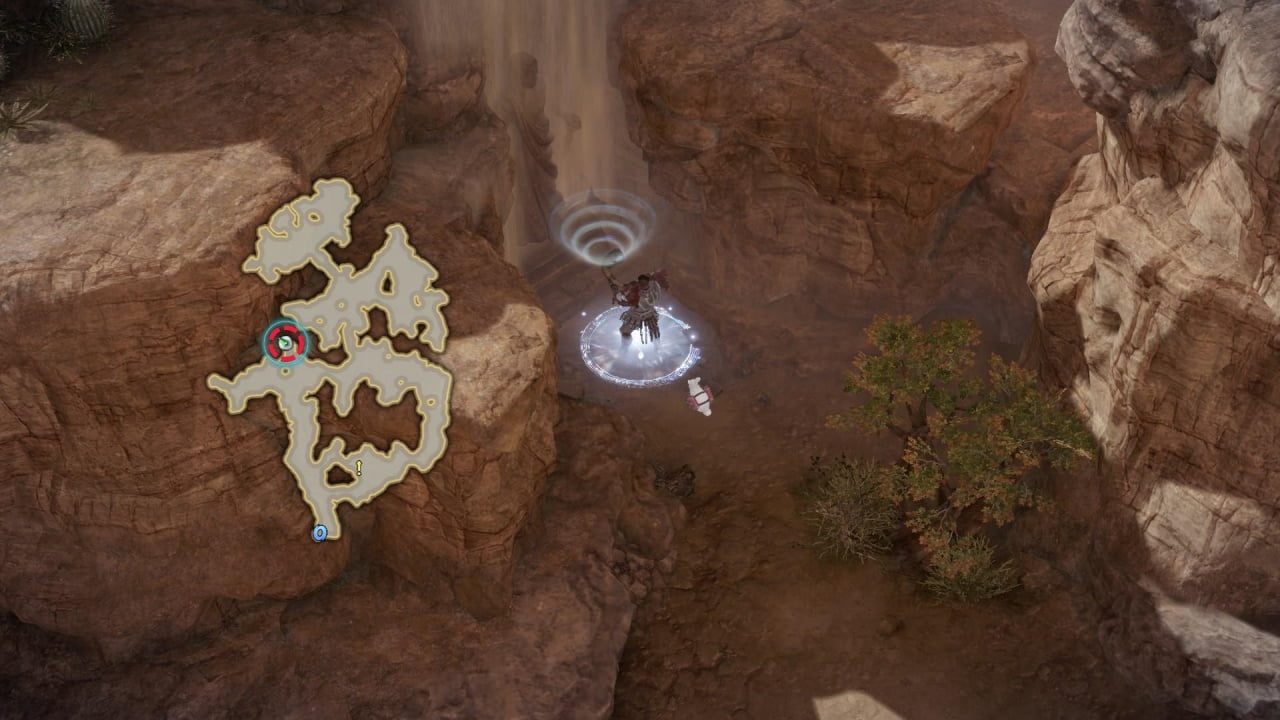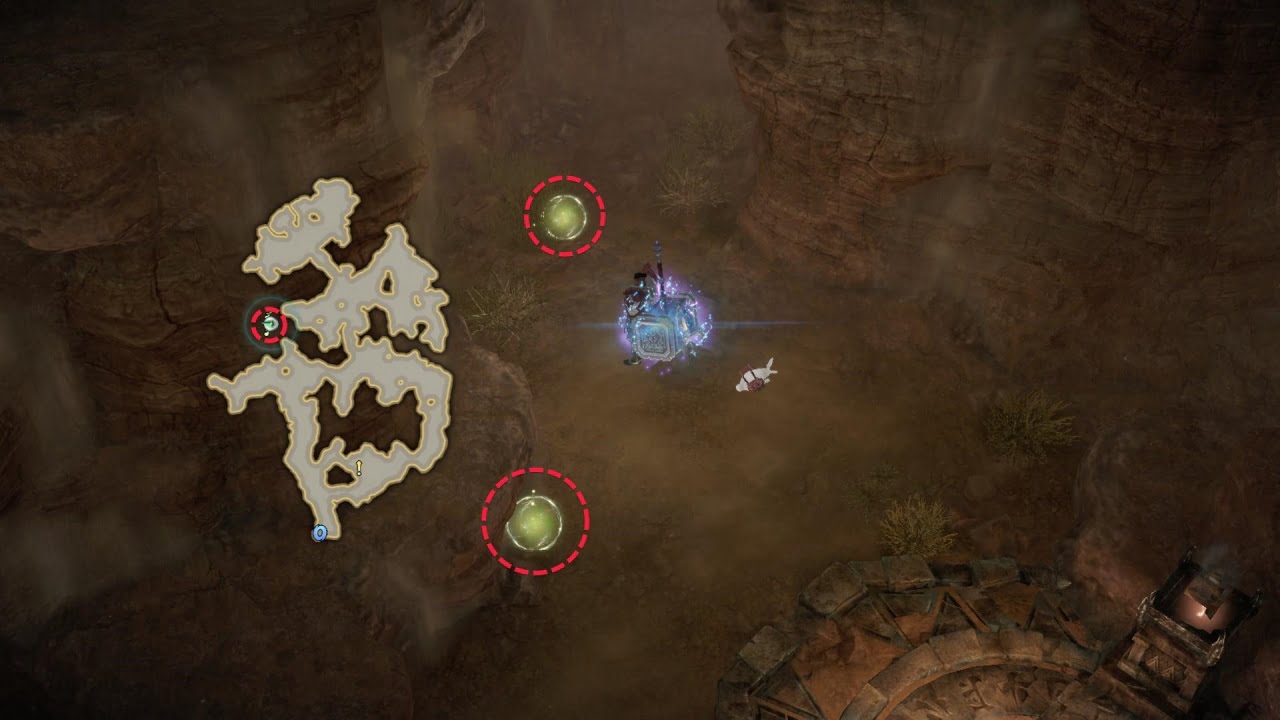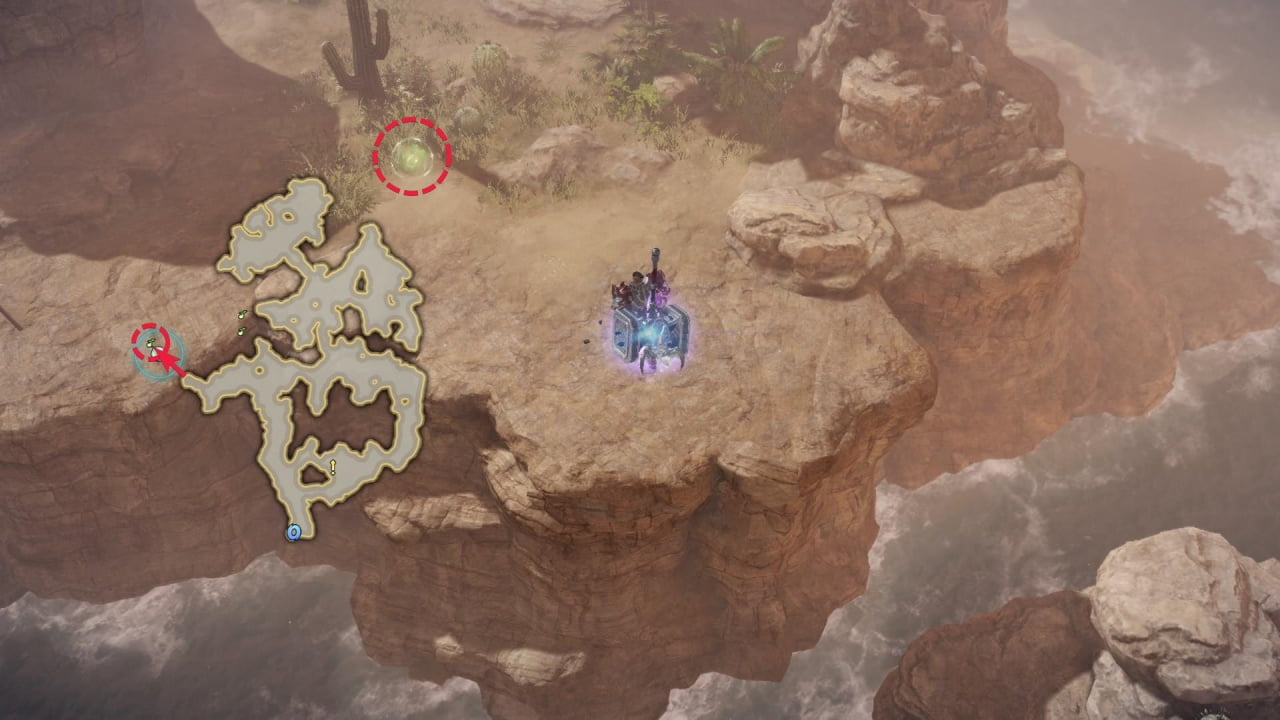 Dungeon Seeds