Asura Island is a place with a dark and gloomy atmosphere where once a horrible massacre took place. This island is categorized as one of the unique Adventure Islands in Lost Ark, where you can experience both PvE and PvP in one place.
Note: Adventure Island means that the island will have a random spawn schedule throughout the day; use Procyon's Compass to check its schedule and plan accordingly.
Asura Island Location
Asura Island is located east of Feiton in the northern part of the World Map, just past the upper Wall of Procyon. Check your Procyon Compass for the island's spawn timing before sailing here.
PvP: Enabled after a short period of time.
Admission Period: Appears according to the Adventure Island schedule of Procyon's Compass.
Bifrost: Unavailable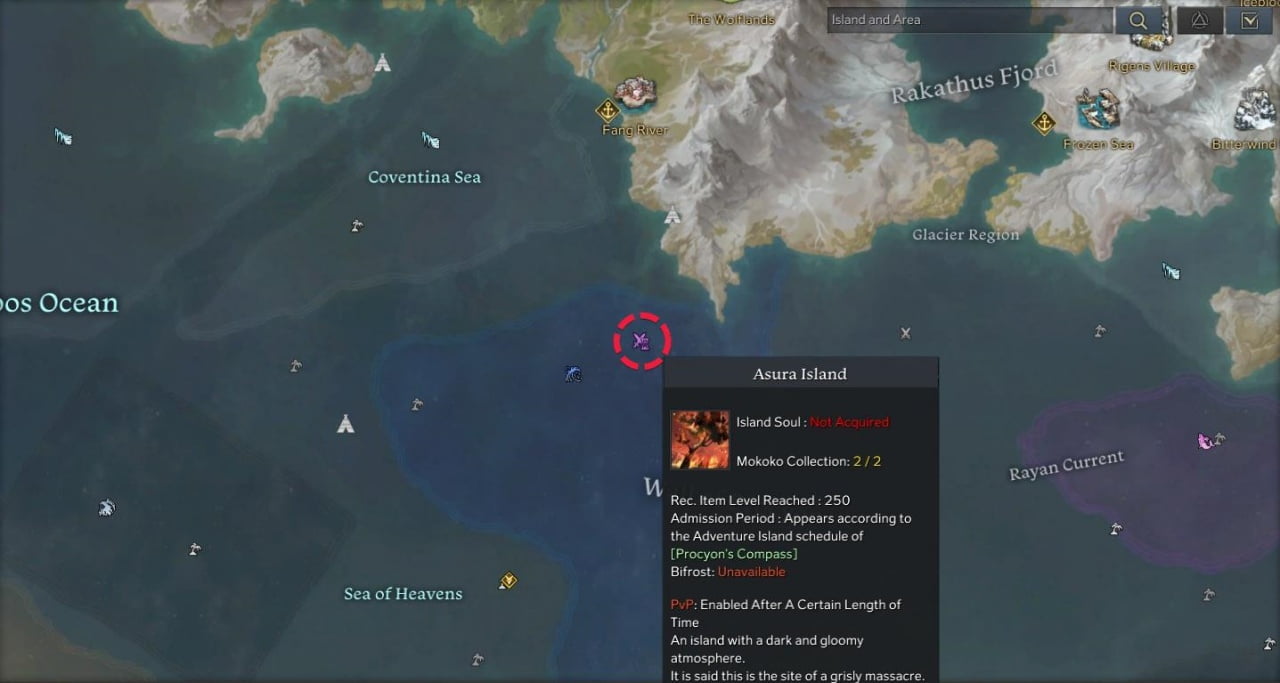 Requirements
We recommend you have the best possible equipment, as the island's nature is fully fighting-based (both PvE and PvP).
Asura Island is located amidst Tempest Seas, so prepare your ship accordingly. If the island hasn't spawned yet, waiting outside of the hazardous area is recommended so that you won't get any durability damage.
How to Get Asura Island Soul?
Asura Island Soul is a reward for completing the quest Gangwoon's Rematch. However, you cannot receive this quest by simple means.
Firstly, you have to grind Blood Shard x100 and use them to purchase Challenge of Blood (quest item) from the merchant Ghostwhisper Spirit—Use the item from the inventory for the first quest to begin. After completing the first quest in the chain, you must return to Asura Island (second time) to trigger the second quest, Gangwoon's Rematch.
Note: You cannot earn rewards if you give up in the middle or leave the area.
Asura Island Co-Op Quests
Soothing the Spirits (PvE)
The first PvE cooperative quest starts 3 minutes after 1st person enters the island. The quest requires you to defeat 200 Resentful Spirits and put them to rest. It will not take much of your time with other players helping. Rewards vary with the rank you obtain on the leaderboard:
1st Place gives a reward of Blood Shard x15 and Silver x1,500.
2nd Place gives a reward of Blood Shard x14 and Silver 1,000.
3rd Place gives a reward of Blood Shard x13 and Silver x750.
4th Place gives a reward of Blood Shard x10 and Silver x500.
Participating in the PvE challenge will reward you with Blood Shard x5 and Silver x500.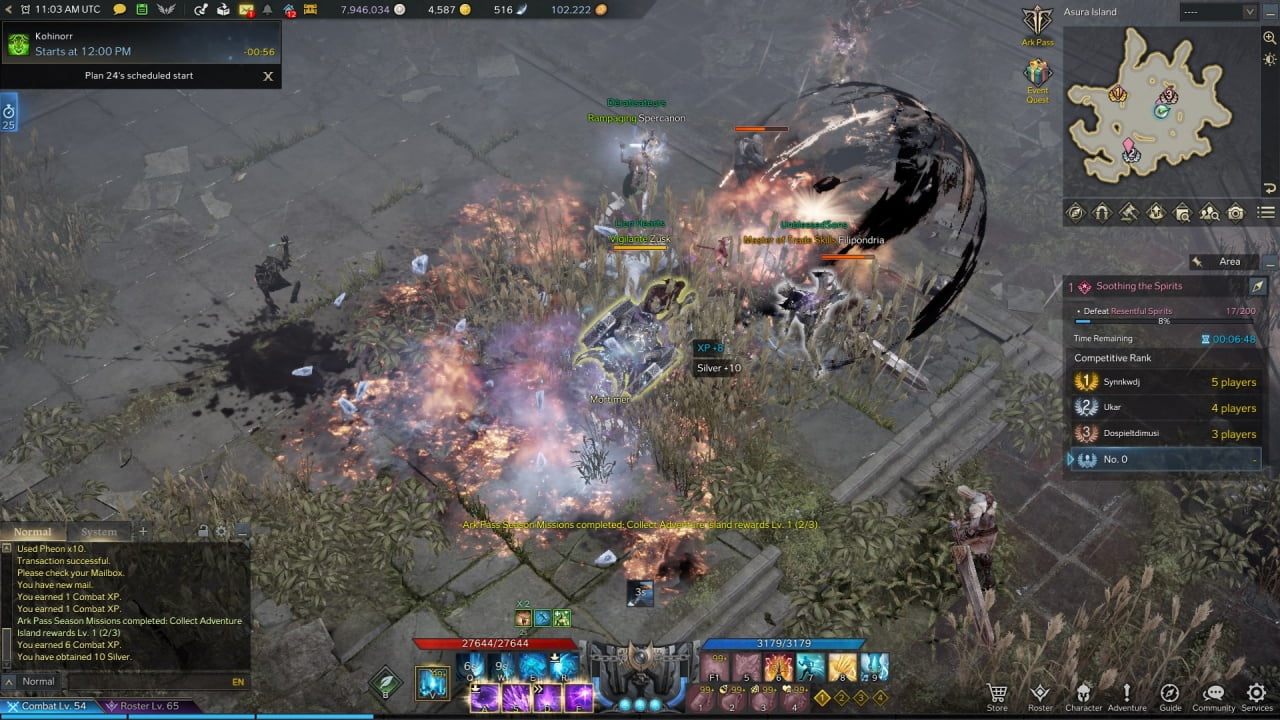 Showing Strength (PvP)
This PvP quest starts 30 seconds after the first one ends. You have to face other players in a free-for-all death match. A total of 600 points must be reached before the quest ends. Rewards vary according to your position.
1st Place gives a reward of Blood Shard x100 and Silver x5,000.
2nd Place gives a reward of Blood Shard x80 and Silver 3,000.
3rd Place gives a reward of Blood Shard x70 and Silver x2,000.
4th Place gives a reward of Blood Shard x50 and Silver x1,000.
Participating in the PvP challenge will reward you with Blood Shard x20 and Silver x1,000.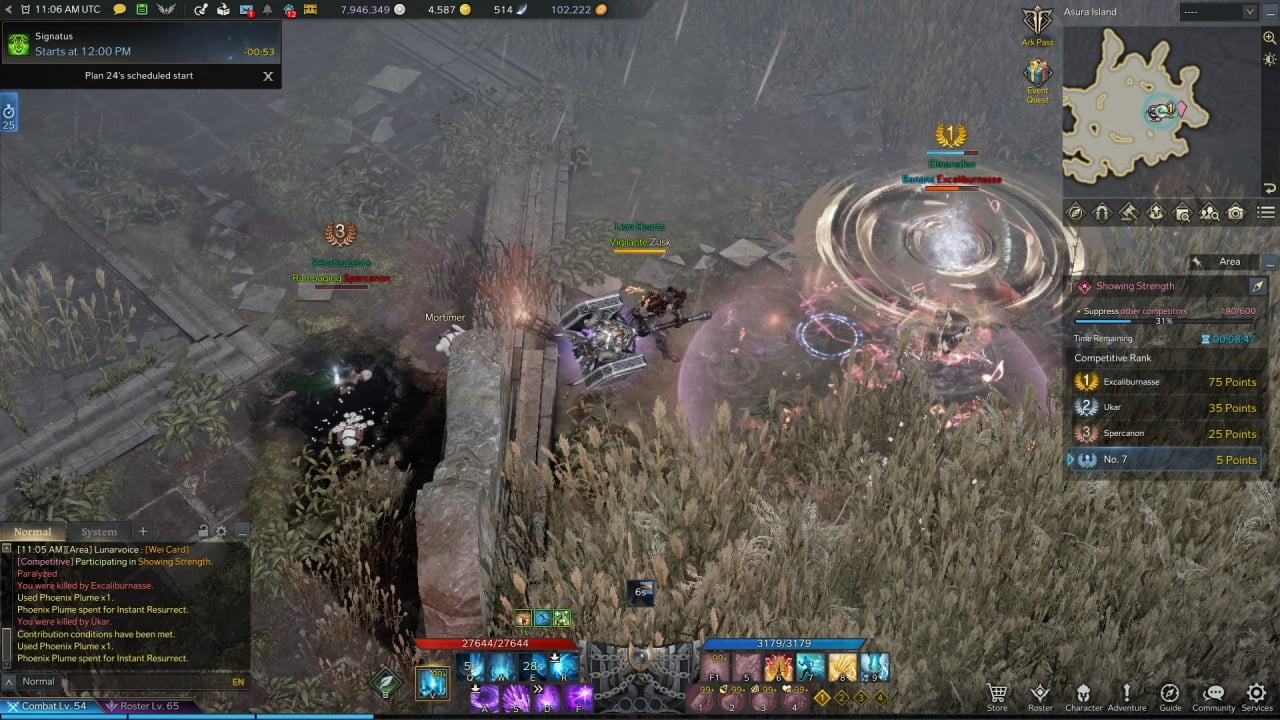 Even if you only participate in the PvE challenge and somehow manage to obtain the first position in the PvP challenge, you can attain 100 blood shards to start the main quest line of the island.
Note: You can always return to the island again next time if you didn't manage to gather enough blood shards on the first visit—open Inventory > Storage > Sailing Materials to check how many blood shards you possess.
Asura Island Main Quests
A Mysterious Creature
After buying the Challenge of Blood from the merchant, accept it from the inventory to start this quest. Approach the dungeon entry in the middle of the island. Once you enter it, follow the path you spawn at till the end until you find the mysterious creature, Gangwoon. This will trigger a small cutscene, and you will be teleported to an arena where the fight will commence.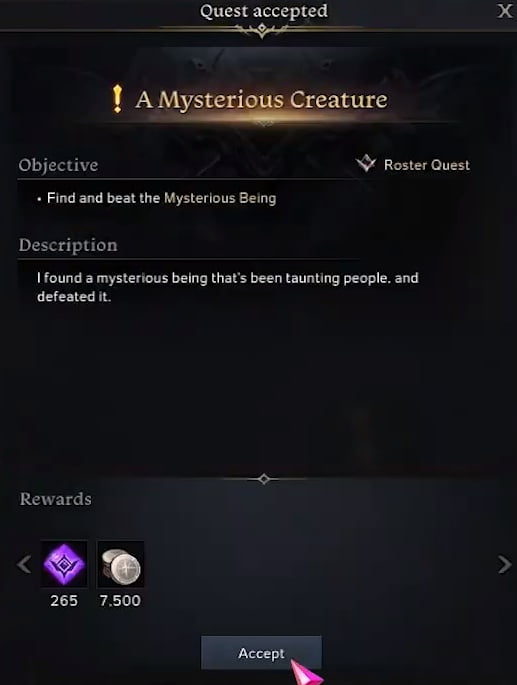 The Gangwoon boss fight is fairly easy because health potions are allowed but still utilize your attacks carefully, as he is pretty good at dodging them.
Rewards:
Silver x2,500
Gold x50
Courage +1
Note: There are no other options other than leaving the island after you finish this quest. To start the second quest, you have to return when the island spawns again.
Gangwoon's Rematch
Island Spirit NPC offers you this next part of the questline. Gangwoon, unable to accept his failure, demands a rematch in the arena where you fought him last time. Defeat him again to complete this quest and fetch the Asura Island Soul.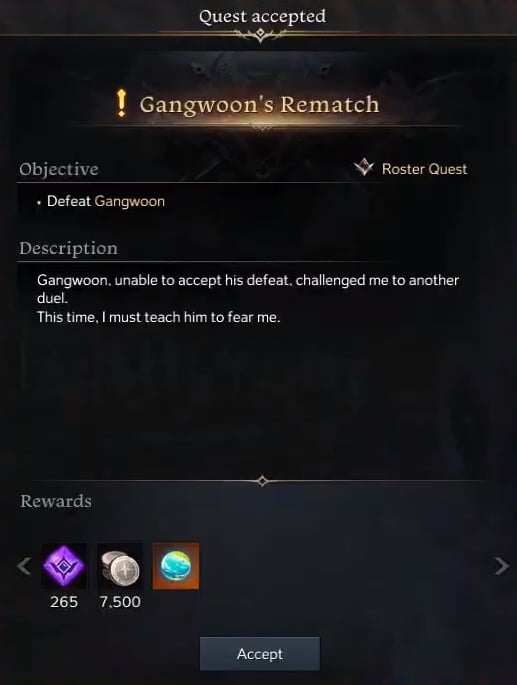 Rewards:
Asura Island Soul
Gold x50
Courage +1
Silver x2,500
The Story of Fresh Blood
You must have completed the 'Gangwoon's Rematch' quest to start this additional side quest. Once Asura Island appears, sail there and approach the Island Spirit to begin the quest.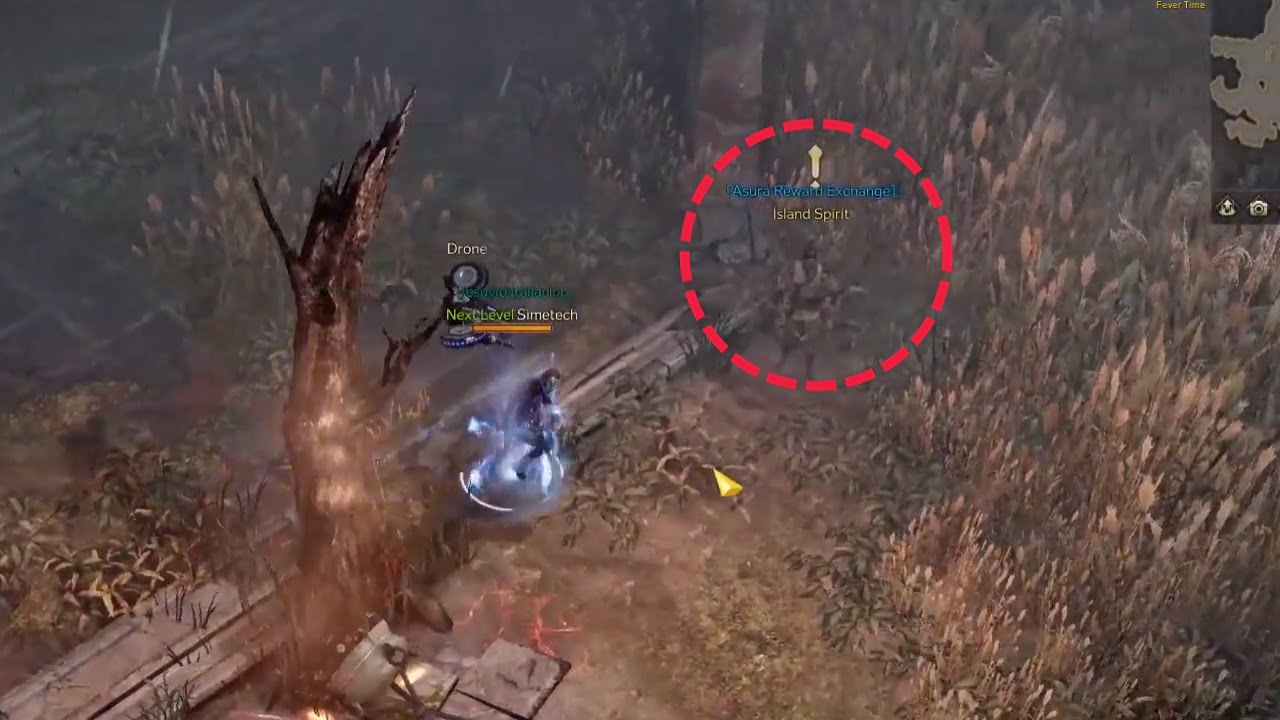 This chain quest requires you to travel to Illusion Isle and Annika. Get this quest from Island Spirit and complete the following main objectives to complete this quest:
Go and Investigate Illusion Isle
Ask the Island Spirit about Illusion Isle
Find the Mysterious Creature's trail
Ask the Island Spirit about the Mysterious Creature
Search and talk with a resentful island spirit
Go to Changhun in Anikka
Talk to NPC Well-Informed Villager, Jinmo, Howan, and Pahan
Rewards:
Silver x2500
Gold x50
Tournament Entrance Certificate x4 (Rapport Gift)
All Mokoko Seed Locations on Asura Island
There are only 2 Mokoko Seeds on Asura Island because of the island's small size, and both are comparatively easy to find—the exact location of the seeds is marked in the images below.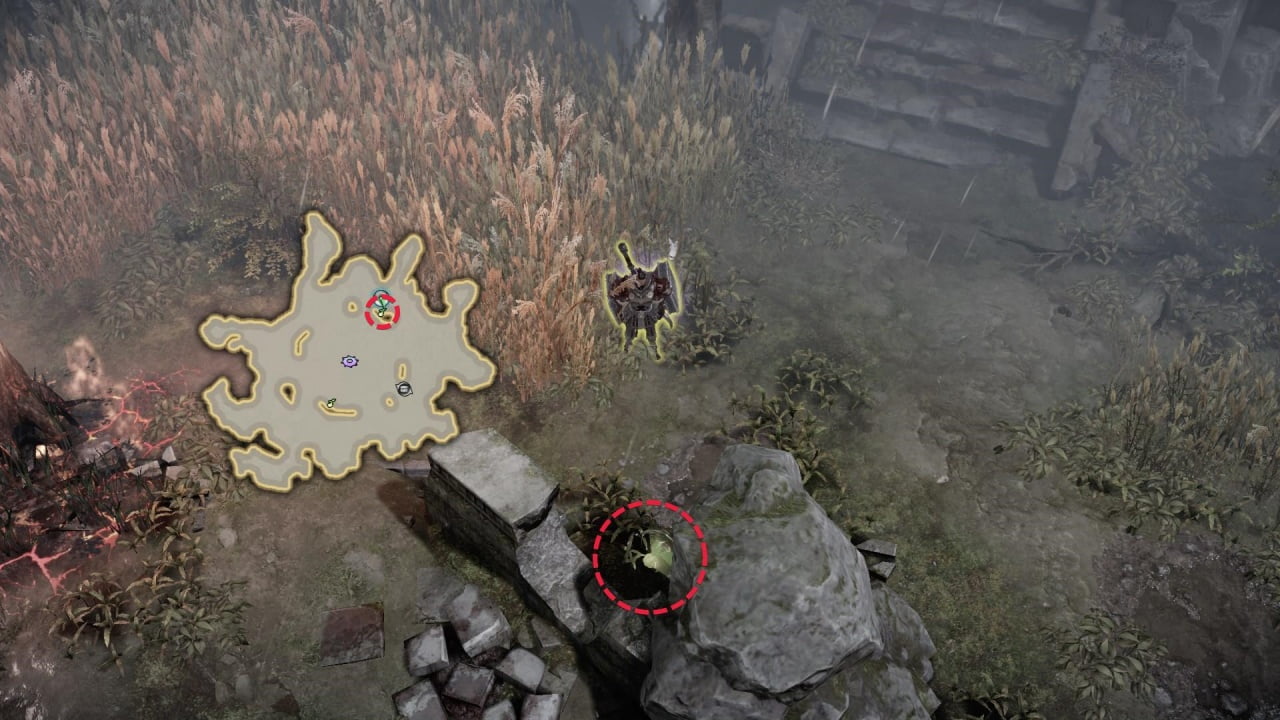 Merchants on Asura Island
Island Spirit [Blood Shard Exchange Merchant]
| Item Sold | Limit | Item Cost |
| --- | --- | --- |
| Uncommon Battle Engraving Recipe Selection Pouch | Weekly Limit 5/5 | Blood Shard x7 |
| Rare Battle Engraving Recipe Selection Pouch | Weekly Limit 2/2 | Blood Shard x20 |
| Bloodstone of Light | | Blood Shard x3 |
| Bloodstone of Darkness | | Blood Shard x3 |
| Sail Glyph: Bravery | 1 | Blood Shard x1000 |
| Challenge of Blood | +300 Item Level | Blood Shard x100 |