In the gaming sphere, Starfield's 2023 release garnered immense anticipation. Yet, users wielding Intel Arc GPUs encountered performance hiccups and peculiar bugs. In response, Intel has introduced an eyebrow-raising Arc GPU driver update, identified as version 31.0.101.4676, aimed at enhancing the Starfield experience.
The Quirky Solutions
The most peculiar aspect of this driver update, as outlined in the release notes, is its resolution of missing eyebrows on Starfield characters. While not a game-breaking glitch, it certainly adds a touch of whimsy. However, Intel's commitment to elevating Starfield extends further, encompassing enhancements in-game stability and rectifications for rendering issues with glass surfaces and objects, thus ensuring a smoother gaming voyage.
Known Hurdles
While this driver update ushers in multiple fixes, awareness of prevailing issues is imperative. Several of these problems are specific to Starfield when played on Intel Arc GPUs:
Intermittent instability in diverse game areas.
Occasional corruption when utilizing Dynamic Resolution Scaling (accompanied by a workaround).
Reduced texture details on particular in-game elements.
Occasional texture flickering with light sources during gameplay.
Furthermore, this update addresses complications in other games like Fortnite, Uncharted: Legacy of Thieves Collection, Halo Infinite, and more. Despite acknowledging these issues, Intel remains unwavering in its commitment to delivering peak performance for Starfield enthusiasts.
Bethesda's Perspective
In an unforeseen twist, a user seeking assistance from Bethesda was informed that Intel Arc GPUs fail to meet the game's minimum system prerequisites. Bethesda's support representative cited Radeon RX 5700 and GeForce GTX 1070 Ti as the minimum GPU requirements, despite the Arc A770's comparable or even superior capabilities. This disparity between support directives and the Arc A770's prowess raises questions about the synergy between Intel and Bethesda in optimizing Starfield for Arc GPUs.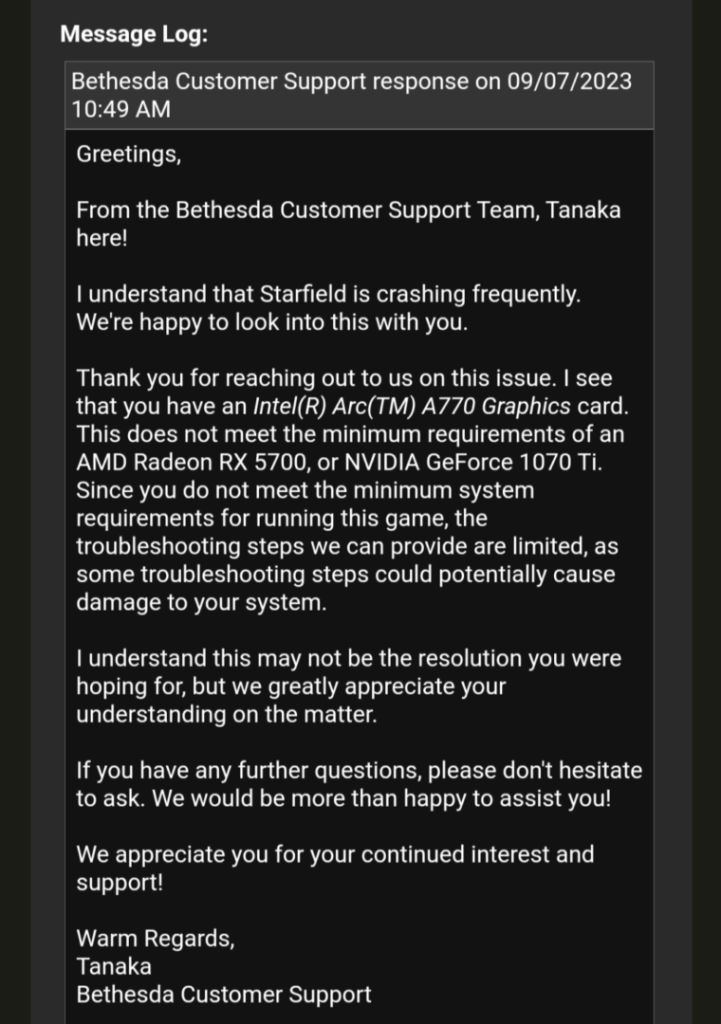 Gazing Forward
Intel's prompt responses with driver updates underscore their dedication to refining the Starfield experience on Arc GPUs. Nonetheless, the pursuit of an entirely optimized gaming encounter persists, demanding patience from Alchemist GPU series users. As Intel and Bethesda collaborate to iron out remaining issues, the gaming community fervently awaits the arrival of an impeccably optimized driver.
Stay tuned for forthcoming updates on Intel's Arc GPU drivers and their continuous endeavors to enhance the Starfield gaming escapade. We remain committed to keeping you well-informed, offering insights into the evolving realm of gaming.