Fortnite Chapter 4 Season 4 has commenced and revolves around a heist-based theme, and the weapons it brought are just from another world. It introduces a weapon, Rocket Ram, which will reshape your gameplay.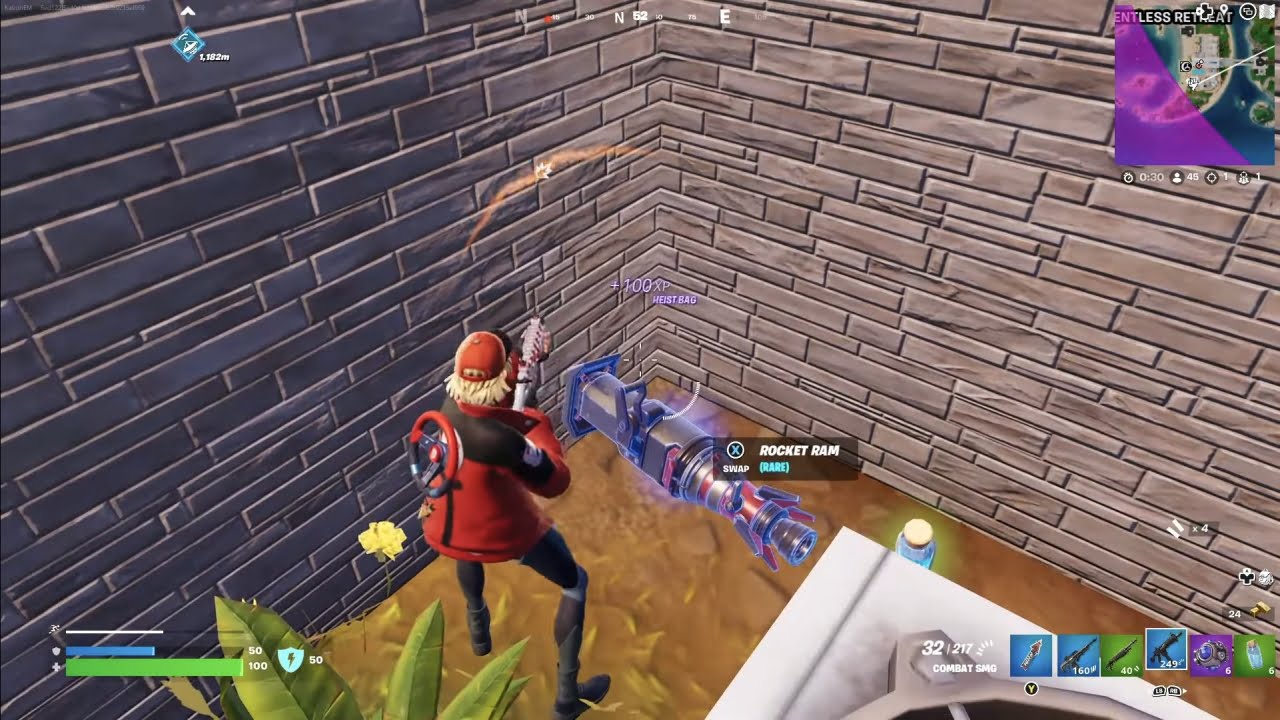 From being used as a launcher to being used as a weapon to slam into walls or any opponent, Rocket Ram promises exciting adventures in the game. It is highly recommended to use this weapon, so let's find out how can you get your hands on one.
How to Get Rocket Ram?
The Rocket Ram is a blue rarity weapon found from the floor or chest loot in Battle Royale Island. One of the loots may have this weapon waiting for you, but the chances are pretty low due to the large weapon pool of the game. If you want to maximize your odds of finding it, you must start opening the heist bags you find. Heist bags have a greater chance of rewarding you with Rocket Ram as they contain only the weapons you might use for a heist, reducing the pool of weapons in the game.
Since this weapon is best used for heists, you may find it in heist locations. With that being said, make your way to the Sanguine Suites, Relentless Retreat, and Eclipsed Estate, the three heist locations launched in Season 4 along with this weapon.
What Are the Uses of Rocket Ram?
Rocket Ram is a weapon that allows you to slam through walls and break structures if you like making an entry into the high-security zones and launching your way out of those regions. You can use this to land right on the enemies or escape if you have enough time to charge it up.
You can use it to ram into opponents or structures, dealing a massive 50 damage. Not only that, but if you ram into the ground after flying, you can deal a vast AOE blast upon impact, dealing much damage.
How to Use Rocket Ram?
Once you have acquired Rocket Ram, you can use it by simply pressing and holding the button you use for aim down sight. Doing so will show you a laser trajectory you will launch on, so aim for the direction you want to fly. A meter will charge for a few seconds, after which you can release the shoot button, and you will go straight into the sky. The key to traveling long distances is not to tilt the camera down so the direction of the rocket ram stays stable.
If you want to land an AOE blast, press the shooting button while still in the air. If you don't, you will safely land on the ground. To ram the walls or takedown enemies, aim at them instead of the sky.
Note: The Rocket Ram has a cooldown of 25 seconds; this means that it is rendered useless for 25 seconds after you have used it.
Rocket Ram will change your playstyle, but for effective use, always remember to let the meter charge completely to propel into the sky successfully for a long time. You might need some practice to get the hold of ascending and descending control, but once you do, you can cover considerable distances at once.