Red Wolf of Radagon is an optional boss in Elden Ring who guards the Grand Library in the Academy of Raya Lucaria. You must defeat him to advance towards Rennala, Queen of The Full Moon, the final Boss in the Academy. However, in order to achieve the Age of Stars ending, Red Wolf becomes a mandatory boss.
The Red Wolf of Radagon has two variants: Lesser Red Wolf of Radagon, a normal foe that can be easily defeated, and Red Wolf of The Champion, a world boss.
Location
Red Wolf of Radagon is located in the Academy of Raya Lucaria, inside Debate Parlour, also known as Grand Library. You will find him after progressing halfway through the Academy. The Site of Grace closest to him is Schoolhouse Classroom. Go up the stairs in the Hallway and make your way through the Glintstone Soccerers. After reaching the top floor, transverse through the mist to start your fight with the Red Wolf.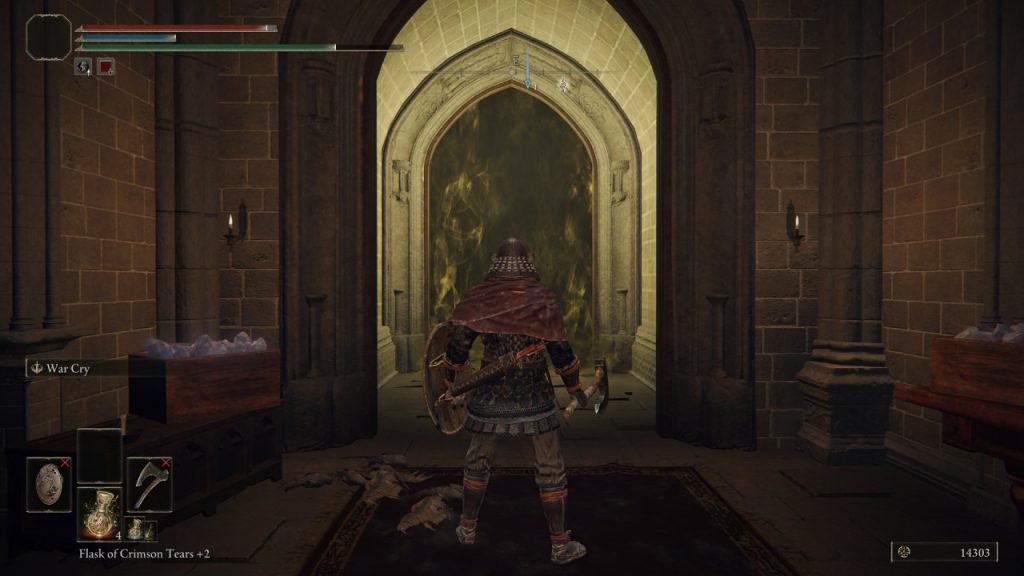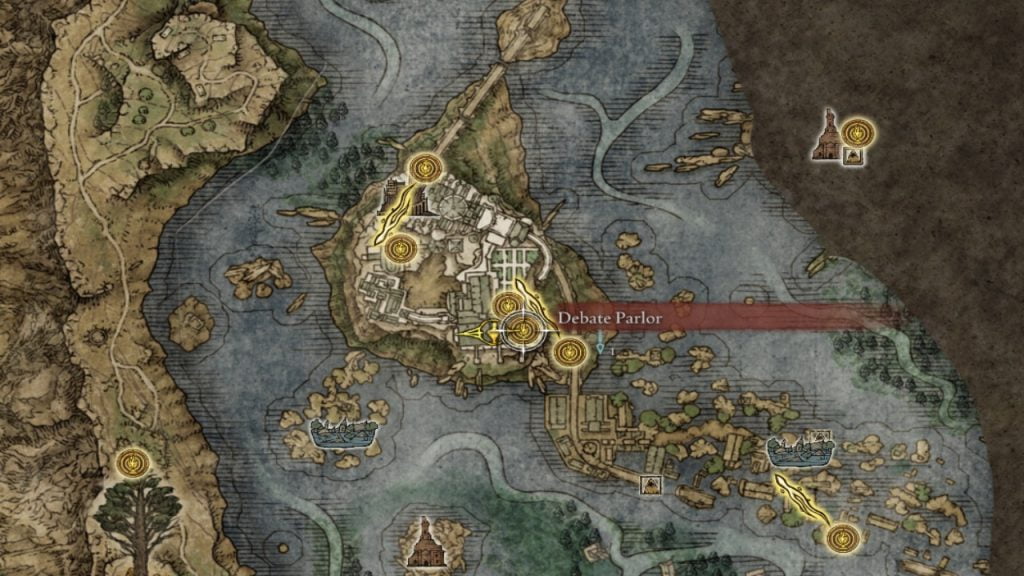 Red Wolf of Radagon Stats and Combat Information
2204 HP
Defense: 107
Stance: 120
Parryable: No
Strong against Magic, Frostbite, and Hemorrhage
Weak against Slashes, Fire
Multiplayer is allowed for this Boss, so you should use it.
Sorceress Sellen can also be summoned to help if you have completed her quest line.
Negation
Standard Damage: 0
Slash Damage: -10
Strike Damage: 0
Pierce Damage: 0
Magic: 40
Fire: 20
Lightning: 20
Holy: 20
Resistances
Poison: 324 / 422 / 712 / 1169
Scarlet Rot: 324 / 422 / 712 / 1169
Hemorrhage: 530 / 820 / 1277
Frostbite: 530 / 820 / 1277
Sleep: 324 / 422 / 712 / 1169
Madness: Immune
Preparing For The Fight
Summons are allowed for the Boss, so make sure to use them.
The Red Wolf's big chunk of damage output is with magic, so it's better to have magic-resistant gear.
If you are a magic user, you must have the Magic Fortification Incantation, which increases your magic resistance for a short time.
Use Quick-Casting Spells.
Barricade Shield works best for Wolf's physical attacks.
Make sure to notice your equipment weight, and do not overload, as you will have to roll dodge a lot during the fight.
Red Wolf Of Radagon Attacks and Counters
Unlike other Bosses, Red Wolf's Attack Combos are comparatively easy to memorize and predict.
Bite Attacks
Red Wolf Of Radagon does 3 types of bite attacks; the first one is a typical bite where Wolf just steps forward and bites at the player; it can be dodged by rolling or simply blocked by a shield. The second is Rear Bite; Wolf takes a step back and suddenly advances to bite, but it can be dodged by rolling forward. The last bite attack is the Leaping one, where the wolf leaps toward the player and bites him while mid-air, then lands on the opposite side; it can be dodged by rolling forward as soon as you see him descending.
Golden Sword Slashes
A Golden Sword appears in the Red Wolf's mouth, and he swings it wildly two times; you can either dodge it by dashing in the direction of the blade or block it with a shield.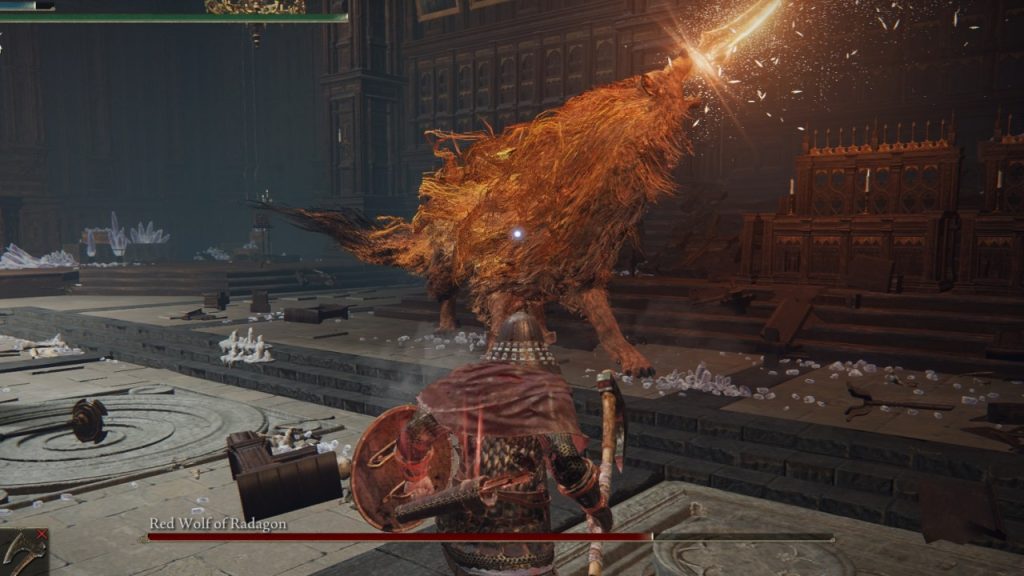 Jumping Attack
He summons his sword again, jumps high up into the air, and slams into the ground with his blade; this attack can easily be dodged by dashing forward as soon as you see him coming downwards.
Magical Attacks
He does two types of Glintblade attacks. The first type is when he moves right or left, making the magic orb that shoots a single Glintblade at the player. The second type is when he dashes to the left or right, leaving three magical Glintblades pointing toward you. You can easily dodge both kinds of attacks by just moving and not stopping until the Glintblades hits something in the environment.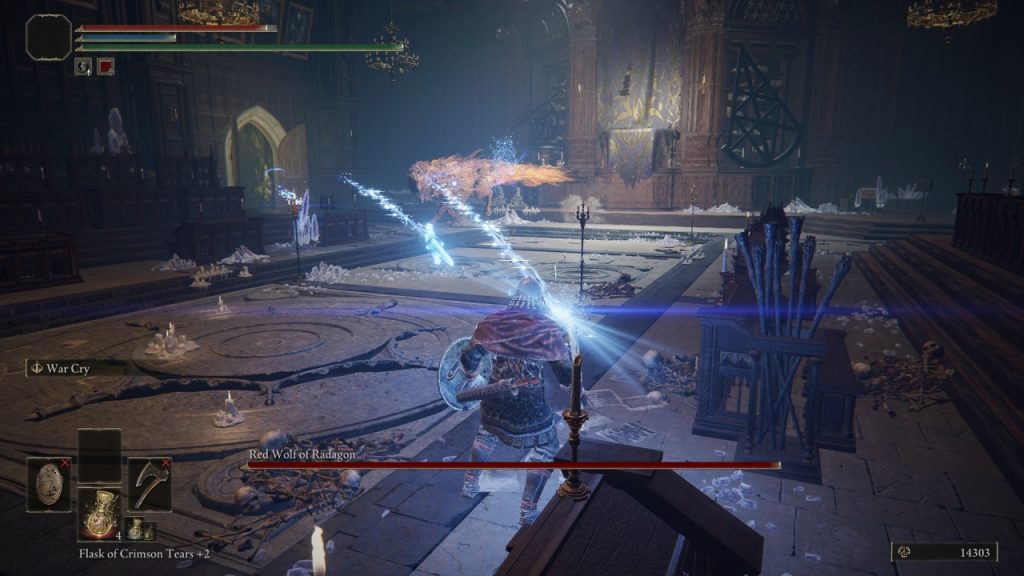 Cheesy Strategy to Defeat the Red Wolf
After using the spirit ashes, dive into the battle with him and let your spirit divert Wolf's attention and some of your combos to deal him some damage. The Wolf will mostly use his magic glintstone blades or the Jumping attack at first to open up the fight; these attacks can be easily dodged and give you time for a few starting hits. Stay Vigilante, and don't get greedy; you can always hit and roll back right after he performs his attacks. That's pretty much it for his first phase.
In the second phase (after 50% Hp), Red Wolf starts to use his magic spells and thrust attacks more aggressively, making it very hard for the player to dodge. However, the attacks become unpredictable sometimes due to Wolf's fast movement, so keeping your distance from him is better. Don't try to hit him if he comes up with his magics; dodge those Magical attacks and repeat the Hit and Run strategy.
All the bosses require patience so does the Red Wolf; time your dodges, and don't get greedy; it always results in YOU DIED.
Melee
Hit and Run Strategy
Hit and Run strat is best against all agile bosses like Red Wolf of Radagon; it helps you maintain your distance and land a few easy hits.
Blocking Attacks
Most of Wolf's Melee attacks, such as Golden Sword Slashes and Bites, can be blocked simply by a shield, so make sure to use them if dodging isn't working.
Ranged/Spell Caster
Baiting in Corners
A strong strategy for a spell caster is to bait him in a corner or wait for him to attack you so he cannot dodge your spells.
Quick-Cast Spells
Use Quick-Cast Spells, as Wolf will give you no chance to charge up a long-casting spell.
Melee Magic
You can use Melee Magic attacks like Carian Slicer, Winged Scythe, and other melee magic attacks.
Rewards
When Red Wolf bites the dust, you are rewarded with 14000 Runes and a Memory Stone (Used to increase the Memory Slot of the player).