You must be able to create your own AC and modify it to meet the demands of Armored Core 6. The Parts and Best OS Upgrades to unlock initially as you tamper with your build are covered in this build guide, along with general AC build theory and the Tips and Tricks you'll need to build your own AC in AC6.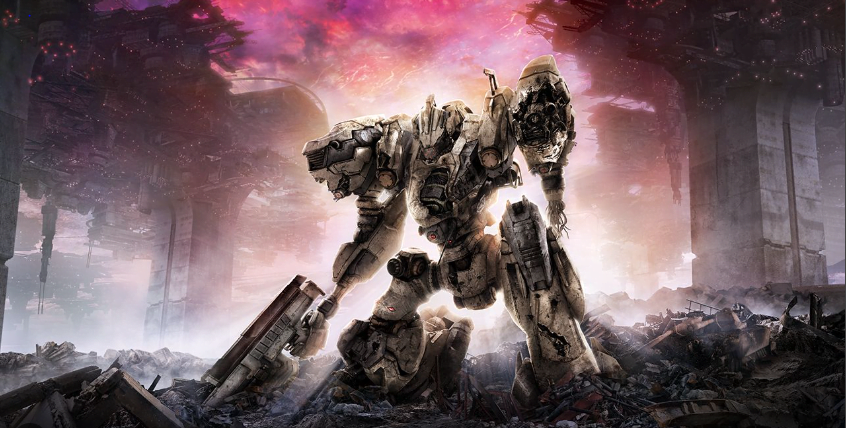 In general, it's crucial to remember that Armored Core is all about the little things. A small change, such as replacing your FCS or generator, can have a significant impact. Do not hesitate to modify your build.
Making a modest adjustment is frequently preferable to making a huge one. A single component can make the difference between a build that succeeds and one that fails. Don't stop experimenting.
Upgrade Your legs
People tend to leave the leg upgrades and go to the juicy stuff first like the shoulder weapons, which result in poor movements and bad builds. You should start with your legs because they define what you can carry, despite the fact that every AC must have a core.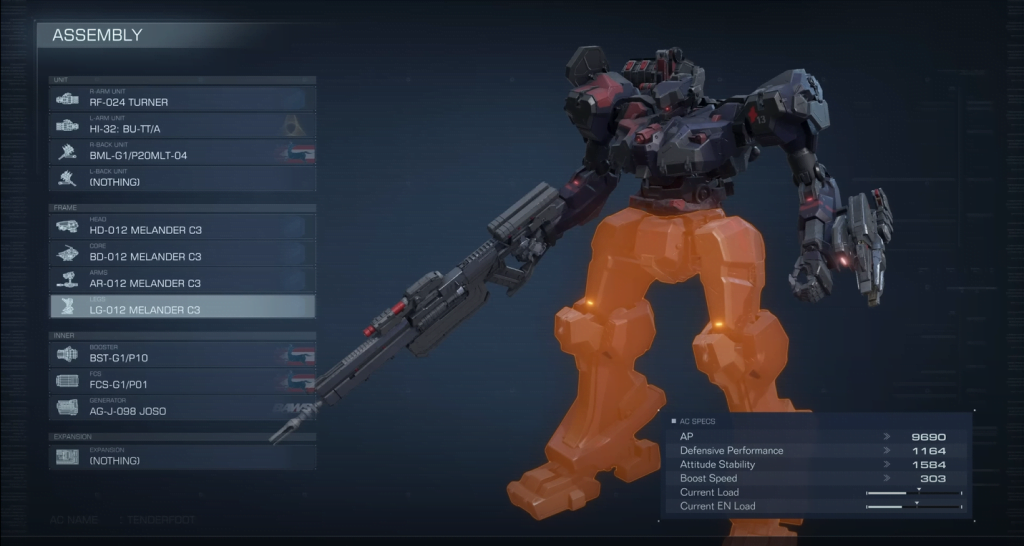 Light legs can only carry smaller, fewer weapons but are extremely swift, whereas heavy legs can carry more (and heavier) weapons.
For all-around builds that can do anything, medium legs are ideal. Strong, heavy weapon builds benefit greatly with heavy and tank legs. The tetrapod, which also allows you to fly, is another option. Every leg style has a unique build, and even within those categories, there are significant variations.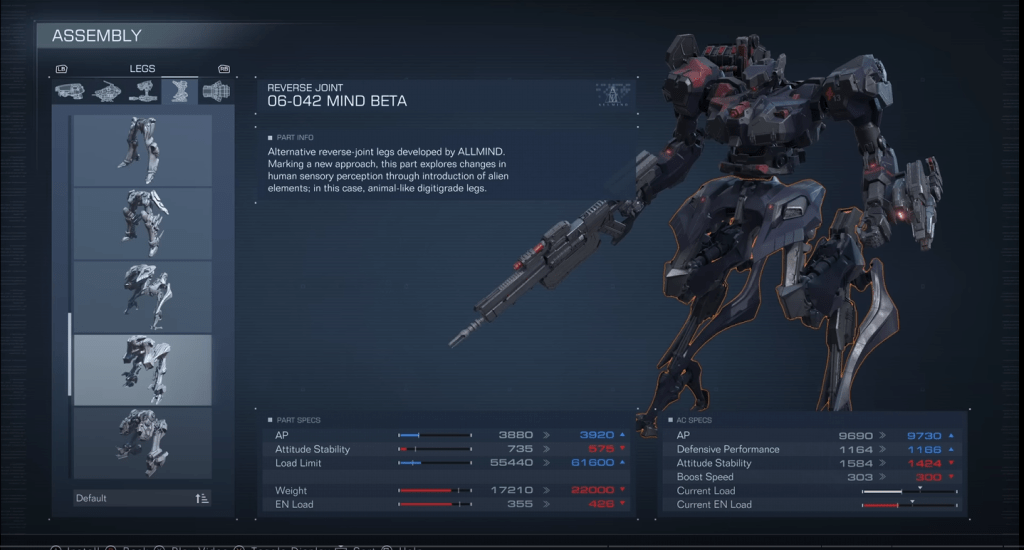 Light legs are a must for a mech if you want it to be extremely quick and agile with good maneuverability. Get medium legs if you want to play at mid-range and do a little bit of everything. If firepower is your thing, you need massive legs or treads like those of a tank. The tetrapod is the build to choose if you wish to be able to rain death from above.
What Weapons To Choose
Now that you have a broad concept of the type of AC you want to build, it's time to look into the weaponry you'll need with it. You'll have two weapons in your AC's arms and two on your shoulders if you can carry them all.
The only thing left to do is choose how to fill those spots. Armored Core is a game about specialization in general. It pays to specialize unless you are specifically aiming for a balanced setup.
We advise using medium legs, a rifle on your right arm, an energy sword on your left arm, a missile launcher on one shoulder, and another weapon of your choice on the other shoulder if you want a balanced build.
Though running two missile launchers can work in the correct build, you'll generally want to pick something distinct from your other shoulder weapon. Keep in mind that you need weapons that deliver damage and also increase stagger. On a weapon's stats list, a weapon's damage output will be indicated as Attack Power, while stagger damage will be identified as Impact
Specialized Builds
In the correct circumstances or when played well, specialized builds can be highly powerful since they naturally concentrate on doing one thing very well. For instance, If one build specializes in dealing high damage from longer ranges, it'll dominate in that aspect and be weaker at close range.
In Armored Core, balanced builds, like the one you start with, are typically fairly powerful. However, don't let that stop you from relying on specialized builds, particularly when facing off against challenging bosses or other ACs in the Arena.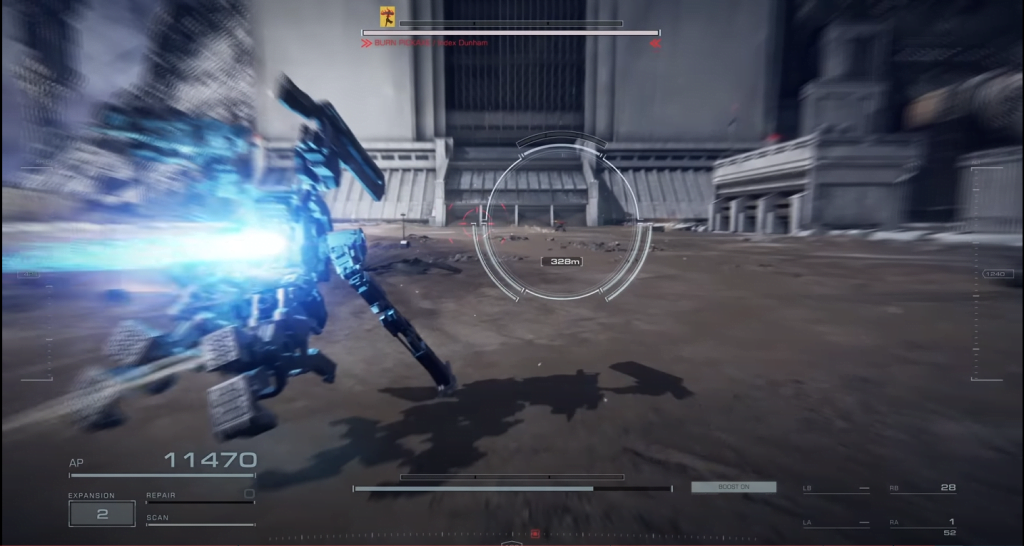 For example, a customized build might use two shotguns and twin missile launchers to continuously press the enemy and fast-stun their ACS. Another illustration may involve dealing immediate and significant damage with dual-wield Gatling weapons and tank treads.
All of them are legitimate builds that can be effective in the appropriate hands and situations, but they will struggle against ACs or bosses that aren't a good fit for their playstyle. Plan accordingly and be flexible.
The Head, Core & Arms
It's time to complete the remainder of your AC once you have the legs and weapons you want. Choose your head, core, and arms at this point. These sections are crucial, but as you cycle through them, you typically have fewer things to be on the lookout for.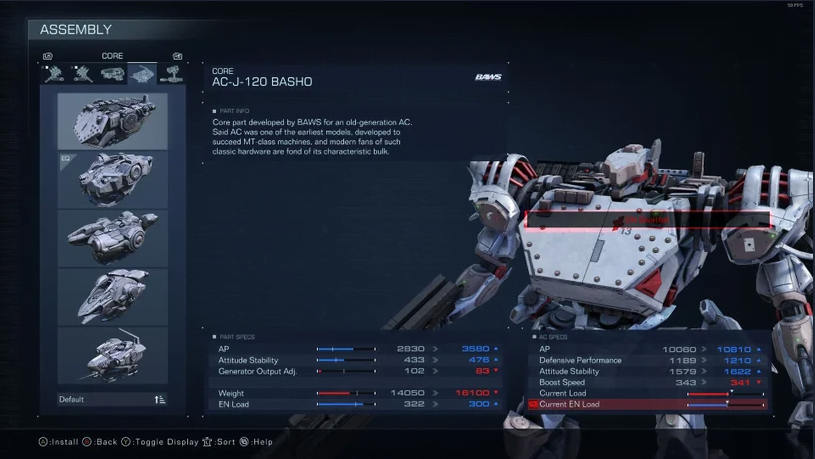 Note: Here, the AP (your health), Attitude Stability (how staggered-resistant your build is), EN Load (your energy load), and Weight are the most crucial statistics.
The ideal course of action is to aim for the components with the highest possible stats while making sure you can equip the desired weapons. These parts are less crucial to your overall build, so you can mix and match them to suit your other design preferences (and presumably will have to).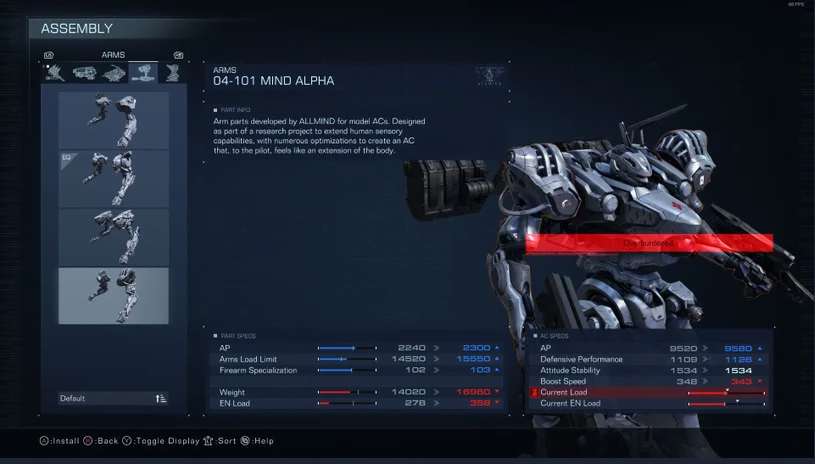 The ideal situation would obviously be more AP and Attitude Control with less weight, but this is not feasible.
The Internals
So now we have all of our external components. Now it's time to deal with the internal components that keep our AC running. Changing these components can help you a lot in battles
FCS
First, you must select an FCS (Fire Control System). Close-range Assist, Mid-range Assist, and Long-range Assist are the main numbers here, and they boost the aim assist at the given range.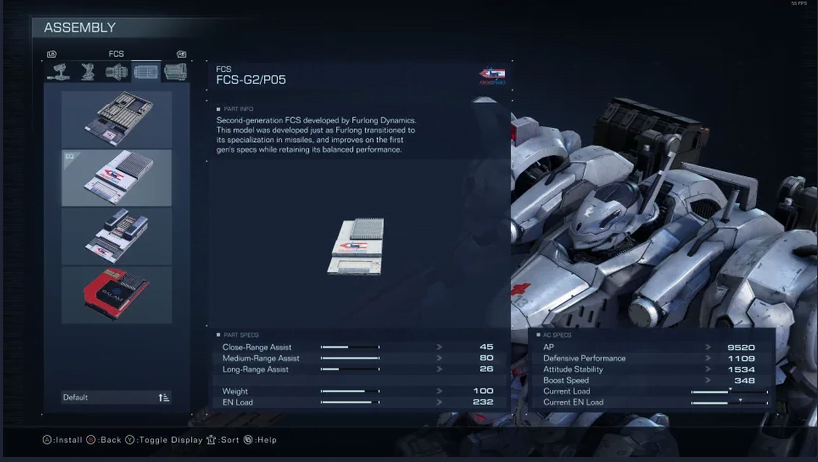 However, you should also pay attention to Missile Lock Correction and Multi-lock Correction, which indicate how long it takes missiles to lock on and how long it takes to multi-lock. You should select the finest FCS for the range you intend to play at, as well as the one that best fits your missile set-up if you have one.
Boosters
One of the most important parts is our boosters. These help us get out of dangerous areas and get different angles on our enemies. The three main stats are Thrust, Upward Thrust, and QB Thrust. Getting these as high as possible while keeping our EN load and weight as low as possible is crucial to winning battles.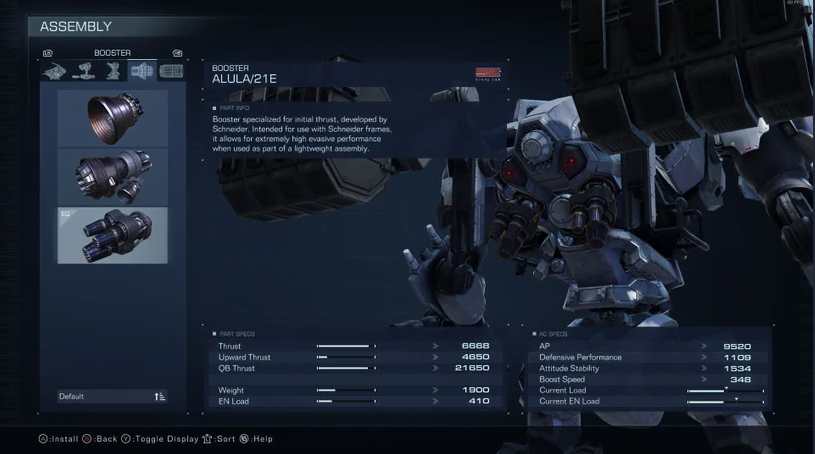 Generator
Finally, you'll need to choose a Generator. The core stats are EN Capacity and EN Recharge. Obviously, you'll want the best stats while managing your Weight and EN Load, but if you're not using a high Thrust Booster or energy weapons, you'll need a less powerful Generator. This is why you do this one last.