Only some players are fans of complex puzzles in a video game. You are at a point in Divinity Original Sin 2 where you have reached the cave north of the seeker's camp, where you'll find illusions. You'll eventually be led to the Statue of Illusions puzzle, but don't worry, I can explain the puzzle in this guide so you can quickly solve it the next time you hop on the game.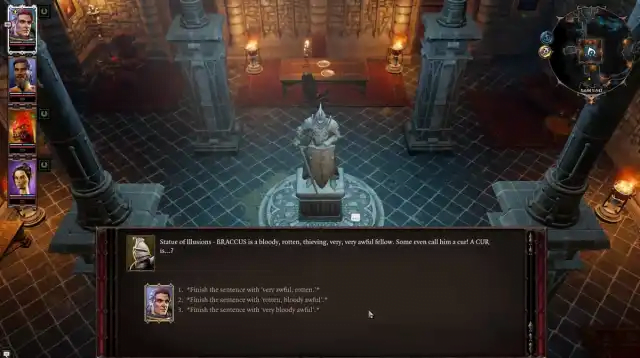 Solving the Puzzle
So when you arrive at the location and approach the puzzle, the first text that you get on your screen is "BRACCUS is a bloody, rotten, thieving, very, very awful fellow. Some even call him a cur! A CUR is…?" Now, as you can see, BRACCUS and CUR are in capital letters, and that serves a purpose, of course.
B refers to "bloody."
R refers to "rotten."
A refers to "thieving."
C refers to "very."
Now, you need to choose the correct pattern for CUR, which ends with "very awful, rotten."
Fighting Trompdoy Again
After solving the puzzle, you'll fight with Trompdoy again, and after defeating him, you'll get the Band of Braccus, which will curse your character. Teleport to the hall of the echoes and learn the Bless ability from Rhalic, allowing you to break your curse.