After facing severe destruction and oppression, Hope Island is where Goblins came in search of freedom and hope, fulfilling the will of their king, Gobius 24th.
Where is Hope Island Located?
Hope Island can be found on the western side of the World Map, between the continents South Vern and Rohendel. It is locked and hidden until you complete certain prerequisite quests.
Recommended Item Level Reached: 460
Admission Period: Always Open
Access beyond the Wall of Procyon.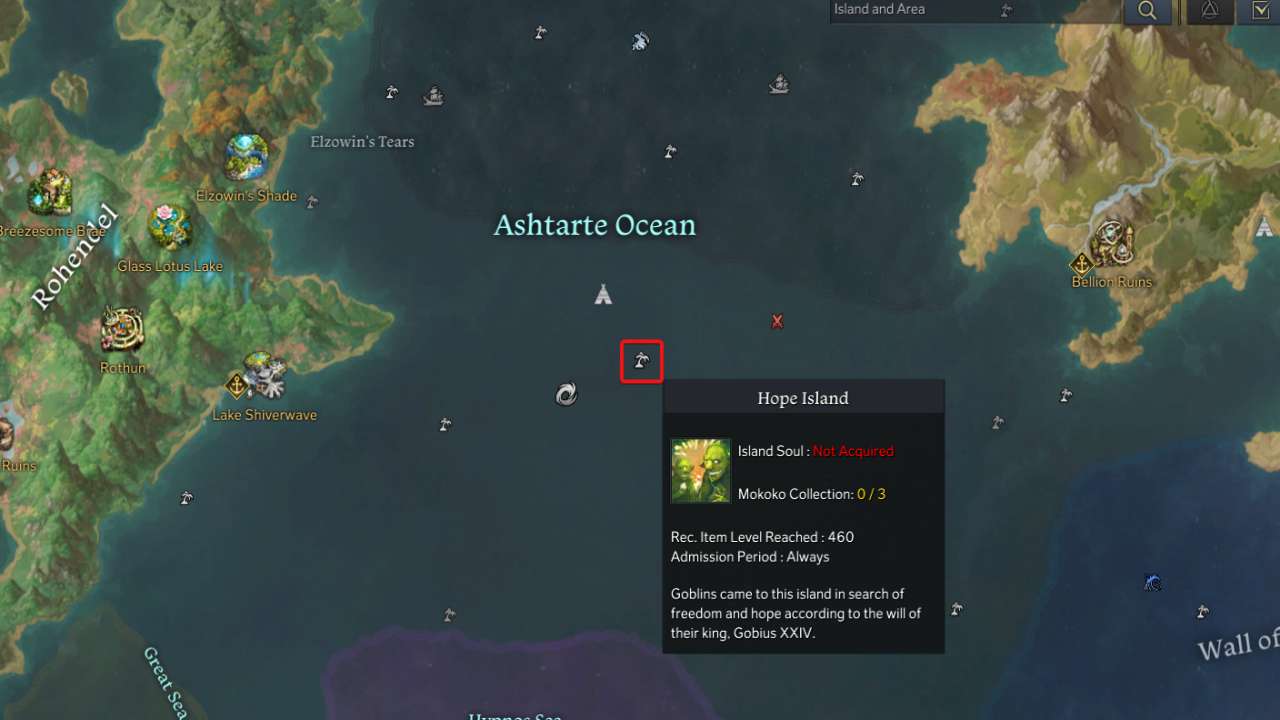 Prerequisite Quests to Unlock Hope Island
You can start this quest chain on Goblin Island by interacting with NPC Gobius. All three of them are simple, straightforward quests with the objective of speaking with other NPCs.
A King Who Is Not a King
A New Sea and A New Land
To Hope Island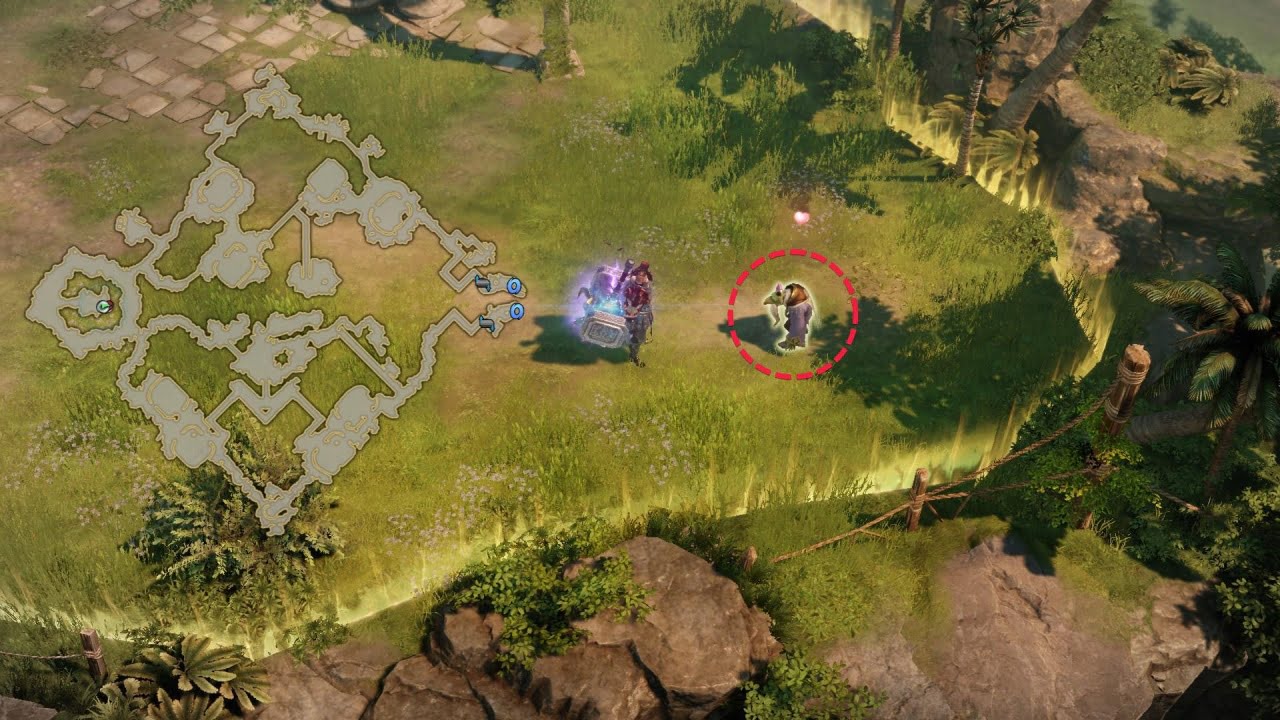 To receive the second quest, you must increase your rapport with goblin king Gobius up to Amicable (Level 2). After completing both of these quests, Hope Island will appear on the map.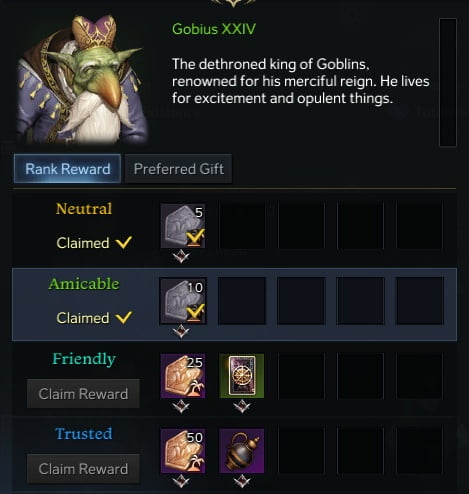 Requirements
You will require Song Of Resonance to collect two hidden Mokoko Seeds.
There is a mini Boss fight on this Island, so it's better to come here well-equipped.
How To Get Hope Island Soul
Acquiring Hope Island Soul is comparatively easy; you just need to complete the questline of the Island till the end to claim it.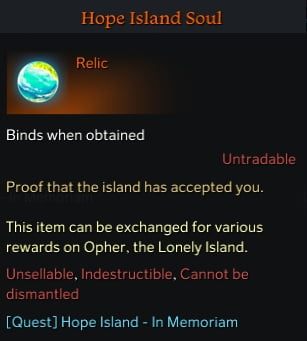 Hope Island Questline
Building Hope
The first NPC you meet after reaching Hope Island is Dadilloo; he welcomes you and gives you the first quest of the Island, Building Hope. Dadilloo wants you to meet other goblins, Sezo and Neth. After talking with Sezo, she requests you meet Neth. The quest will be completed after talking with Neth.
Shadows in the Ruins
Neth will appoint you the second quest of the Island, Shadow in the Ruins. In this quest, you will look for Goblin Warriors, who have gone to check terrifying ghosts on the Island. Meet Warrior Koward, who is acting dead; he will tell you about the sinister energy he senses near the graveyard. After listening to Koward, head toward the graveyard nearby and talk to the Island Ghost. You will receive Starlight Orb from Island Ghost to capture Wandering Evil Spirits and put them to rest, use it to kill the spirits nearby, and then report back to Island Ghost. The Island Ghost will leave and gift us the Starlight Orb. Report back to Neth and deliver her the treasure to conclude this quest.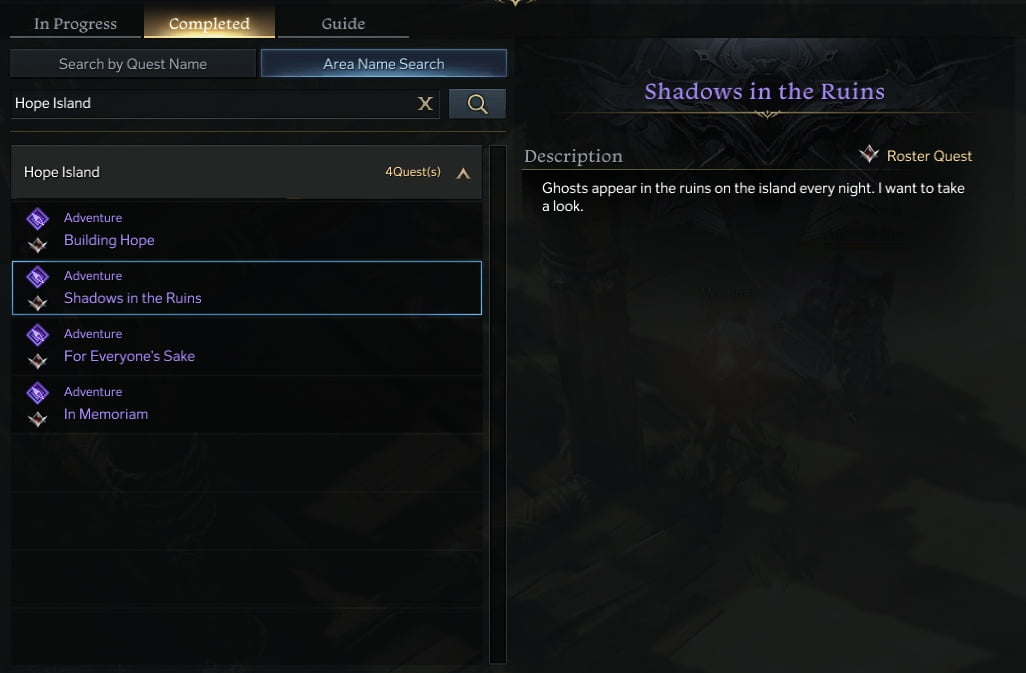 For Everyone's Sake
The third quest of this Island is given to you by Neth. Koward explains why the Troll Chief awakened the Ghosts. After talking with him, head toward the Top left corner where Troll Cheif is located; many trolls will attack you through the path, either dodge them or kill them, so you don't get into trouble while fighting. Troll Chief is strong and has a vast HP bar, but his attacks are slow and deal very low damage. You must keep dodging Troll Chief attacks during the battle and constantly use the Starlight Orb to damage him significantly. After Defeating the Troll Chief, report to Neth to finish this quest.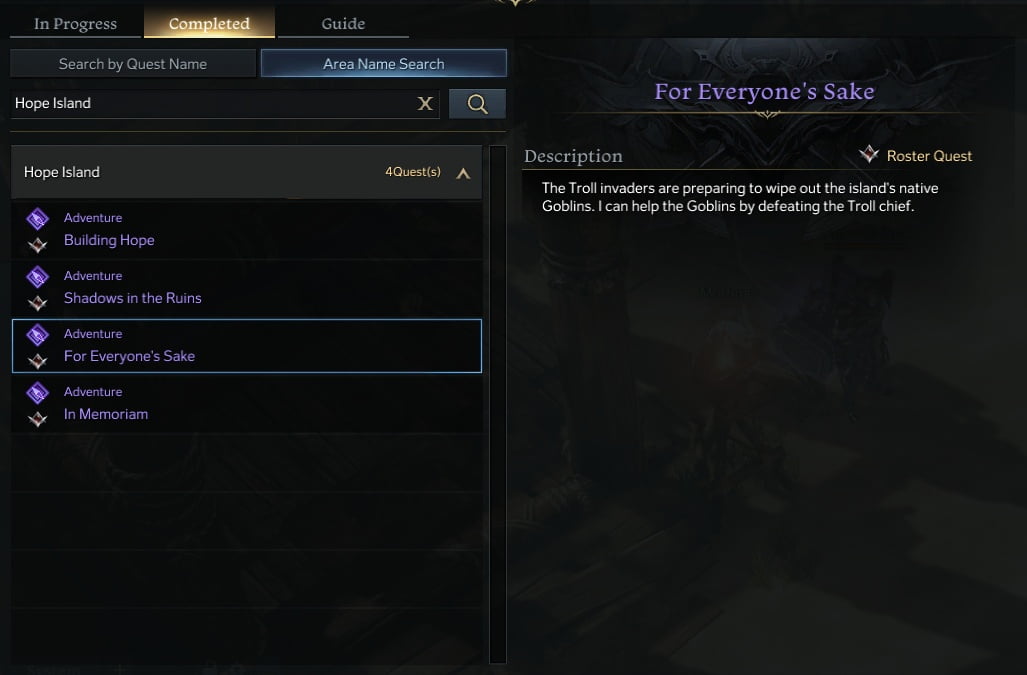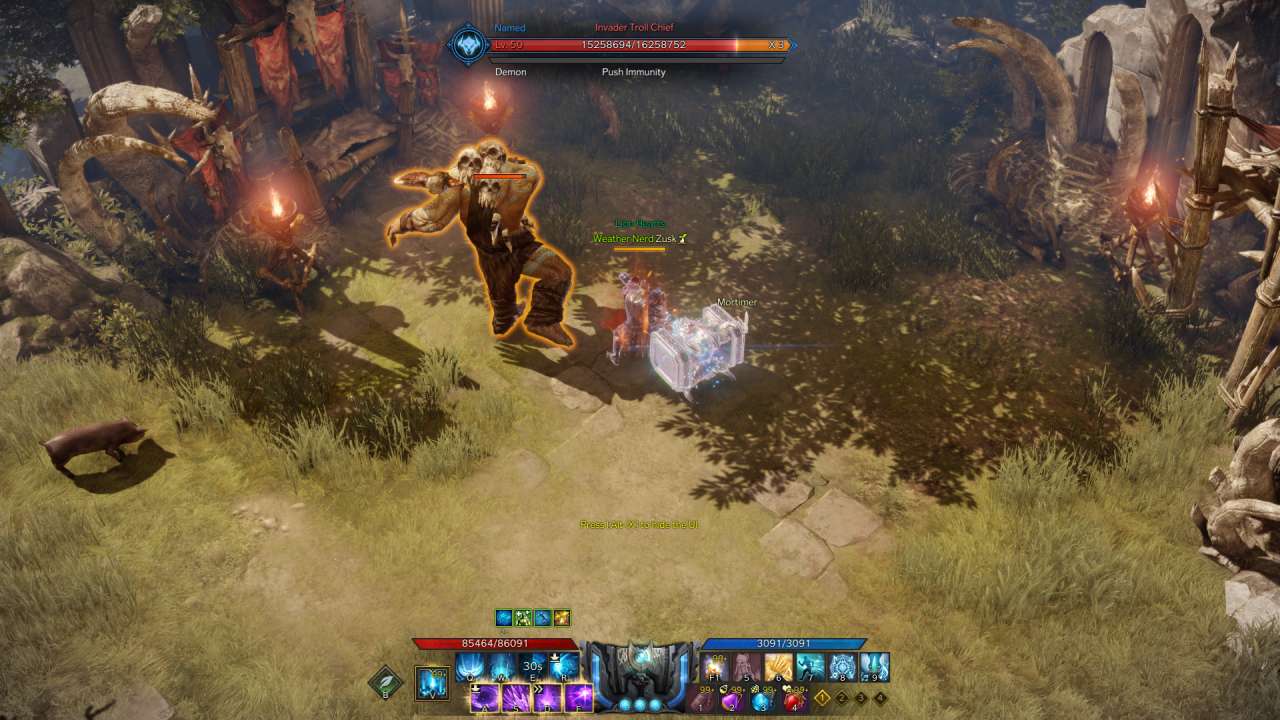 In Memoriam
Neth will now offer you the last quest of the Island. This quest will require you to check on Goblin Koru, who went to gather materials for the ritual. Goblin Koru will request you to collect some of those materials, Troll Tusk and Purple Bora Flower. You can obtain Troll Tusk by killing the trolls, and Purple Bora Flower can be found on the same troll base where you fought with Troll Chief. After collecting the required materials, deliver them to Neth. Check the Altar goblins created to complete the quest.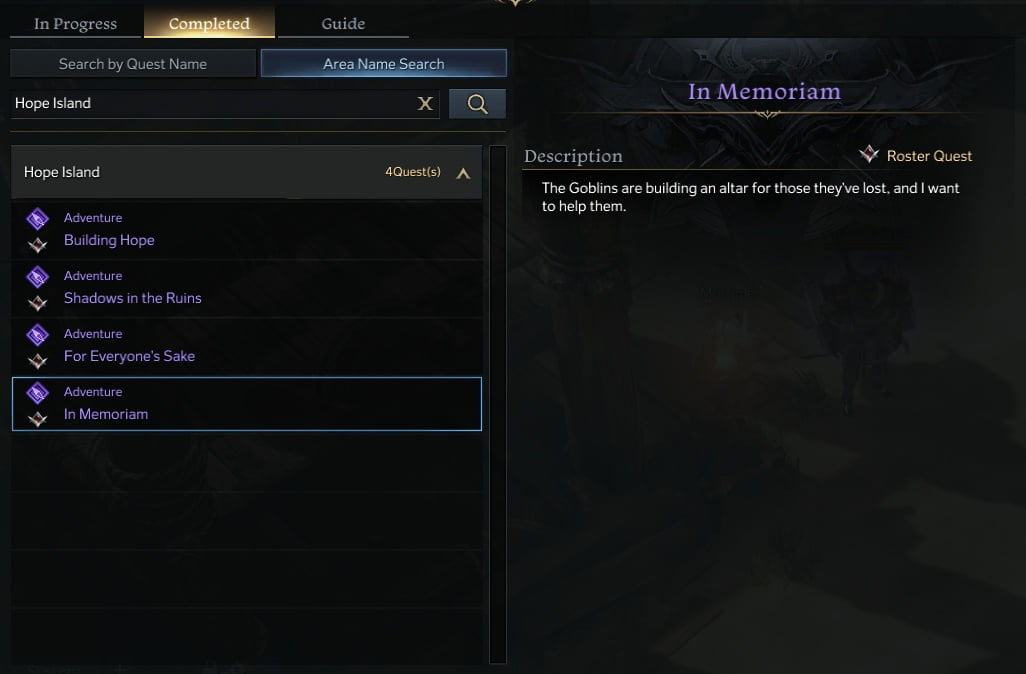 Rewards
Completing all the quests on Hope Island will grant you the following rewards:
Hope Island Soul
Creation Fragment x10
Kindness +1
Courage +1
Vitality Increase Potion
Gold x50
High Seas Coin Chest x5
Rare Battle Engraving Recipe Selection Pouch x6
High Seas Coin Chest x7
Uncommon Engraving Recipe Selection Chest (Class Exclusive) x6
Silver x100,000
Neth Rapport Rewards
To unlock Rapport with Neth, you must have 20 Kindness and 30 Charisma. You will receive the following rewards after maxing out Rapport with Neth.
Ancient Gold Coin x3
Neth Roster Card
Creation Fragment x3
Phoenix Plume x5
Vitality Increase Potion
Secret Map (Adventure: Magick Circle)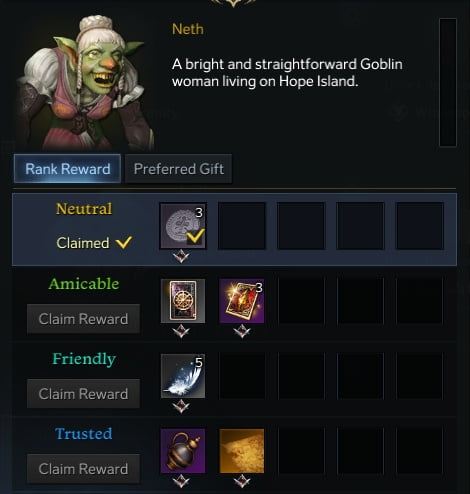 Una Task – Potatoes, Sweet Potatoes, and Weeds
There is only one Una task on Hope Island; however, it has four different tiers. These are short tasks with no trickery; completing them will not be a problem. Rewards for different tiers are listed below.
Some Necessary Weeding [10 Reputation Points]: Rewards with Golden Goblin Coin x10 and Silver x3,000.
Mementos of the Dead [20 Reputation Points]: Rewards with Golden Goblin Coin x20 and Silver x6,000.
Finding Food [40 Reputation Points]: Rewards with Golden Goblin Coin x30 and Silver x13,000.
Needles and Threads [80 Reputation Points]: Rewards with Charisma Potion and Silver x26,000.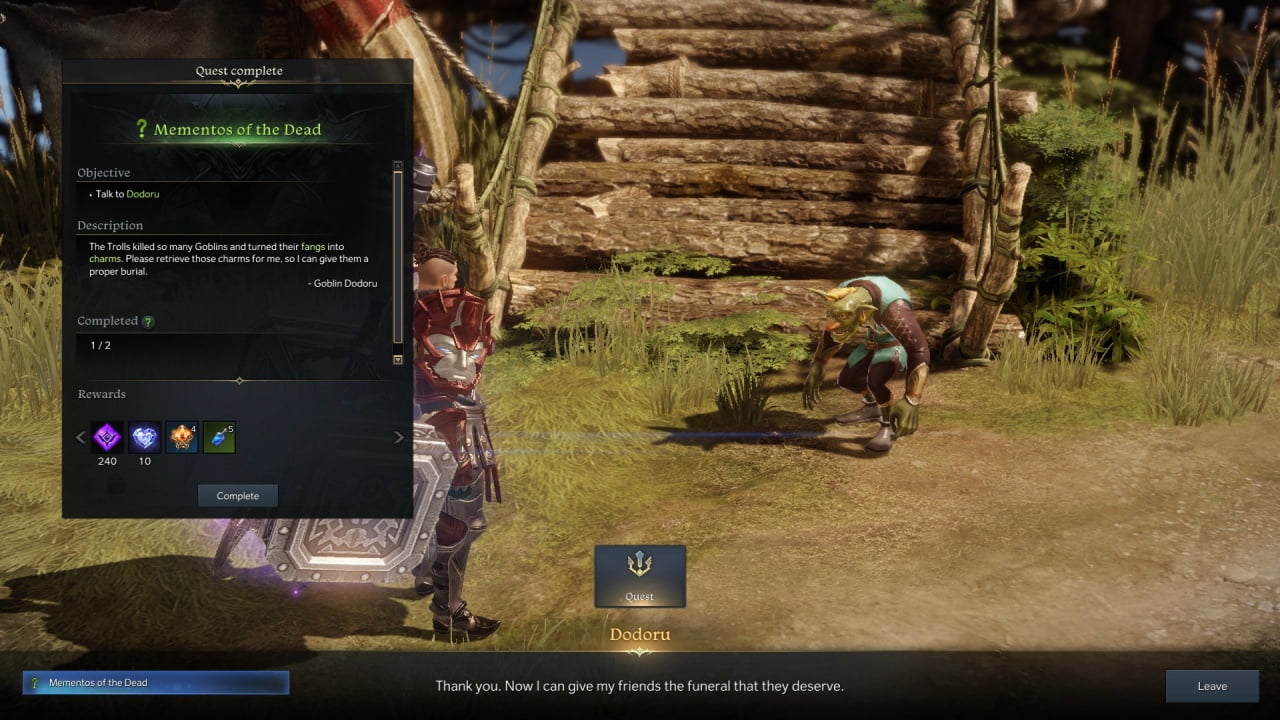 Hope Island Mokoko Seeds
Mokoko Seed #1
The first Mokoko Seed is located in the same graveyard where we saw Warrior Koward acting dead.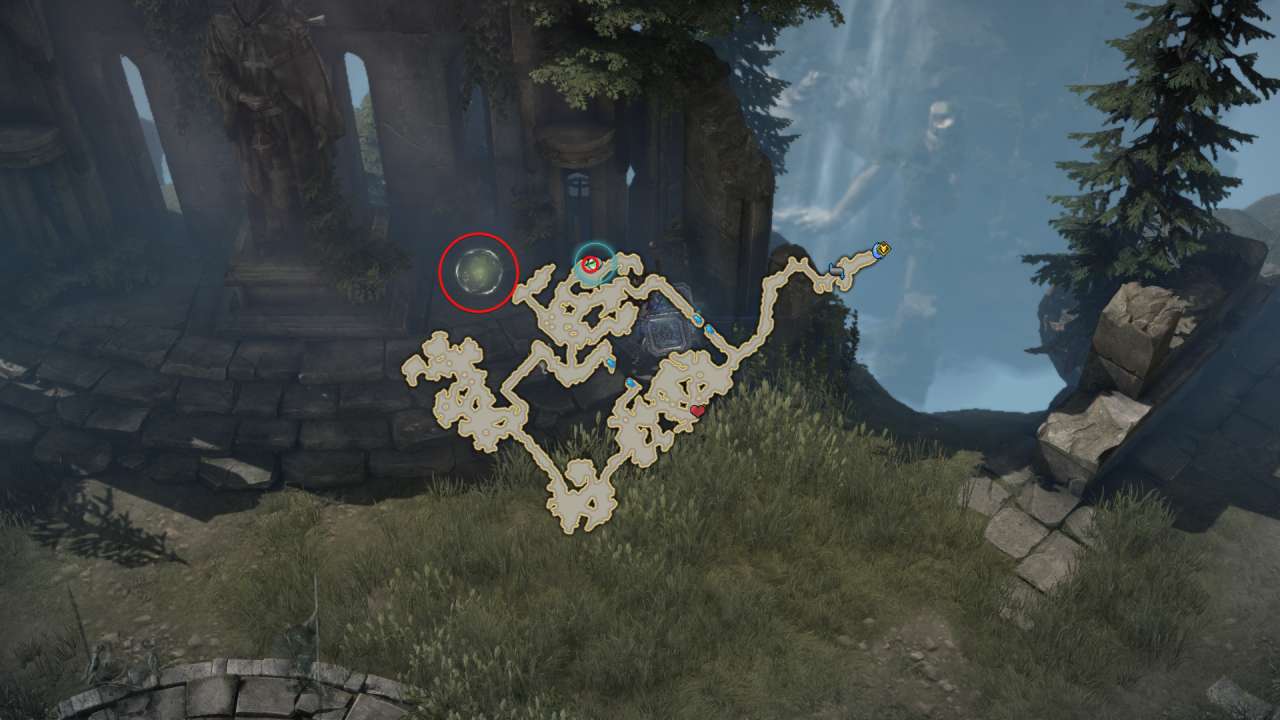 Mokoko Seed #2 & #3
Both of these seeds are hidden in a secret area of Hope Island. To unlock this area, Play Song Of Resonance near this statue situated at the corner of Troll Chief's base. After opening the passage, go inside and grab those Mokoko Seeds.