The most feared among pirates, Blackfang, has a home on the most peaceful yet treacherous island, known as Blackfang's Den. After her appearance in the main story of Luttera, she can be found here for her own questline.
Blackfang's Den Location
Blackfang's Den is located in the eastern part of the World Map within the Sea of Gienah, along the southern coast of Annika and directly below Tortoyk. Other pirate-captured islands found nearby are Atlas and Freedom Isle.
Admission Period: Always Open
Recommended Item Level Reached: 250
Blackfang's Den is located amidst Level 2: Tempest Seas, so prepare your ship accordingly.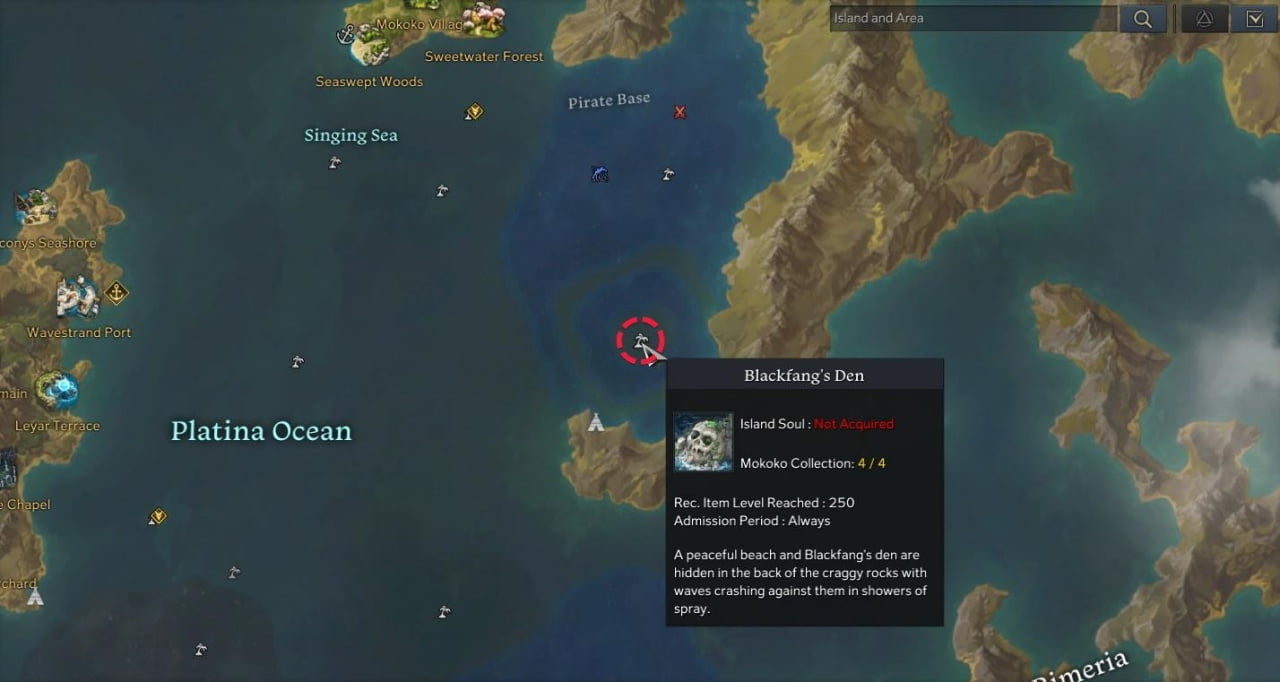 How to Get Blackfang's Den Island Soul/Token?
Blackfang's Den Island Soul can be acquired after reaching the "Trusted" rapport level with Blackfang. However, along with the Soul, you will also receive her Card and Crew application of Blackfang herself for your ship.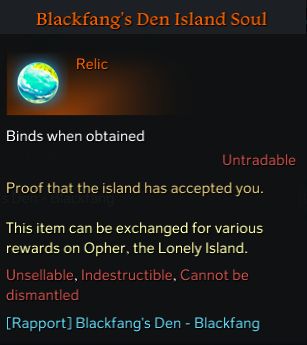 Blackfang's Den – Ruri Questline
Blackfang's House
Ruri thinks you are an intruder when you enter Blackfang's House; use Emote: Negative to deny her acquisition. She will then ask you to take care of the parrot cage, wipe the dust off the bell and wipe Blackfang's secret chest.
Rewards:
Silver x7,600
Creation Fragment x5
Kindness +1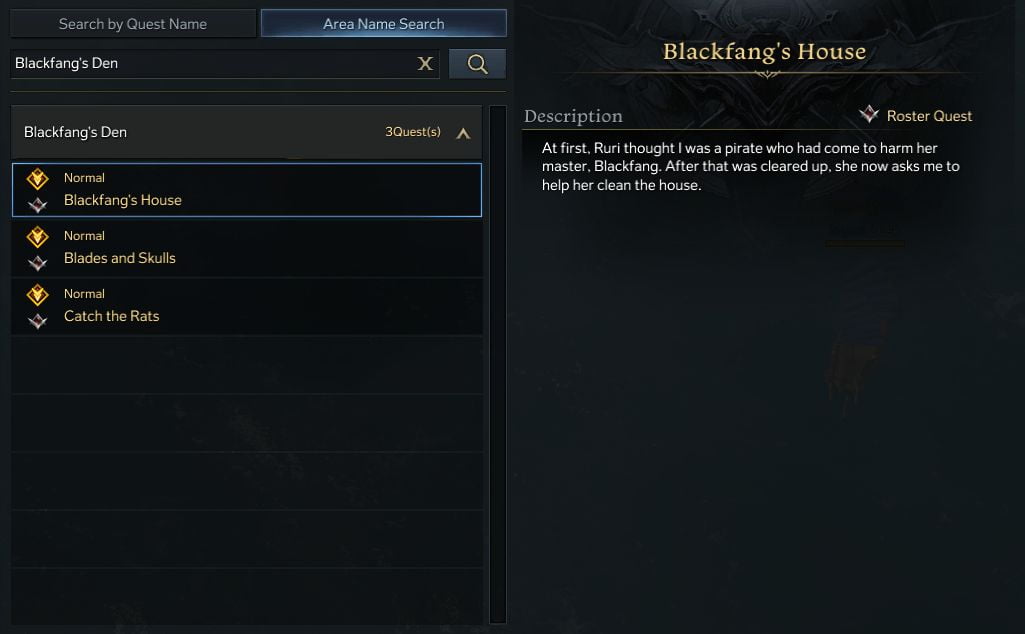 Blades and Skulls & Catch The Rats
These are two separate quests received by Ruri instantly after completing the last one. Exterminate the Shore Rats and Collect 10 Sharp blades both these things are found near the shore. Return the blades to Weapon Rack, and start collecting Skulls scattered across the island to pile them up in one place. After doing all the tasks mentioned above, return to Ruri.
Rewards:
Silver x17600
Pirate Coin x10000
Legendary – Uncommon Card Pack x5
Courage +2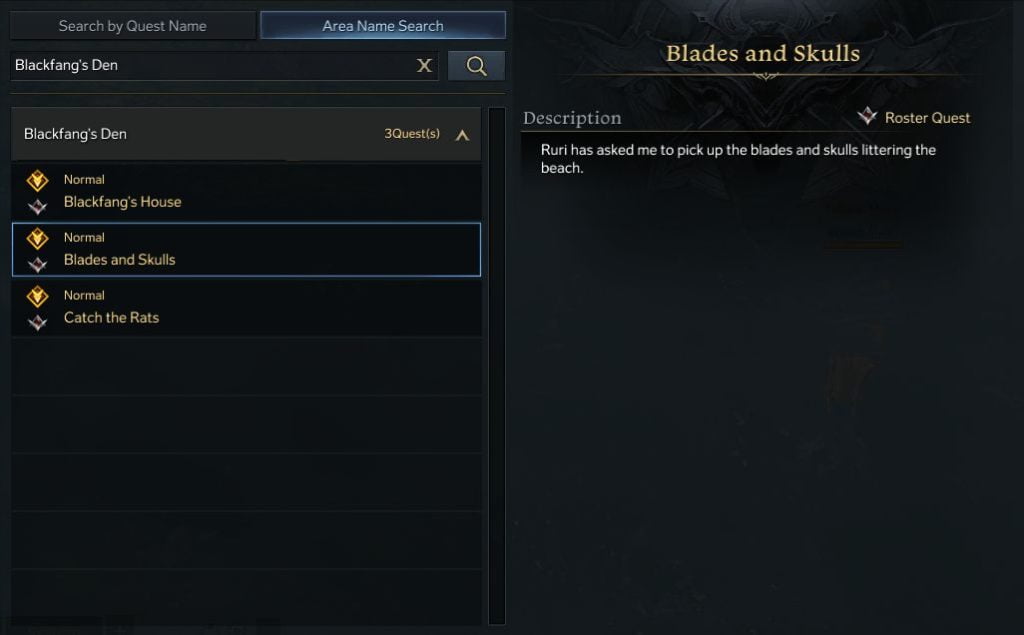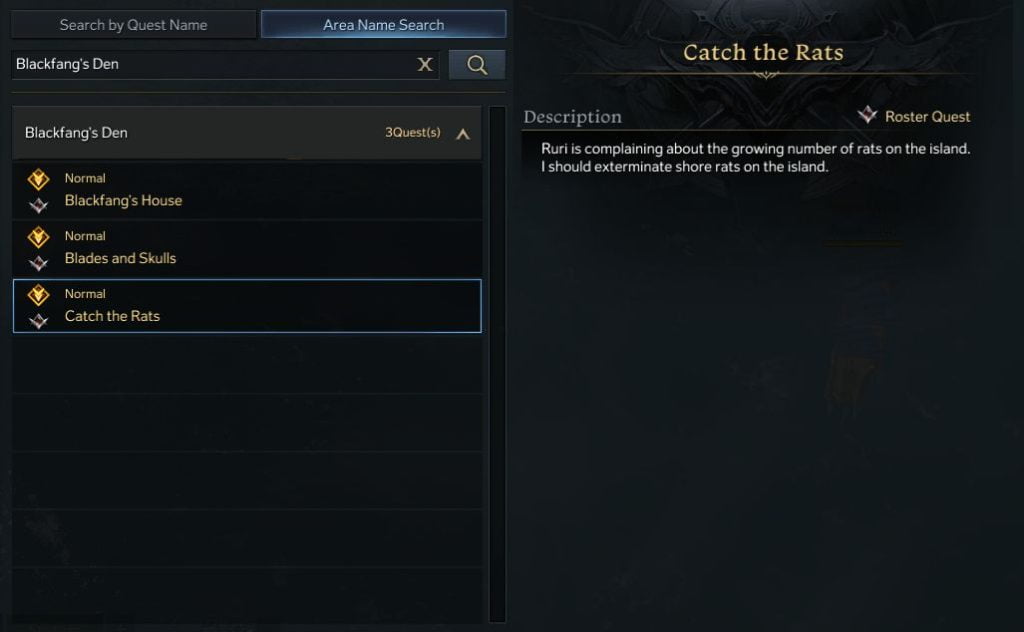 Blackfang's Den – Blackfang Questline
Beastly Origins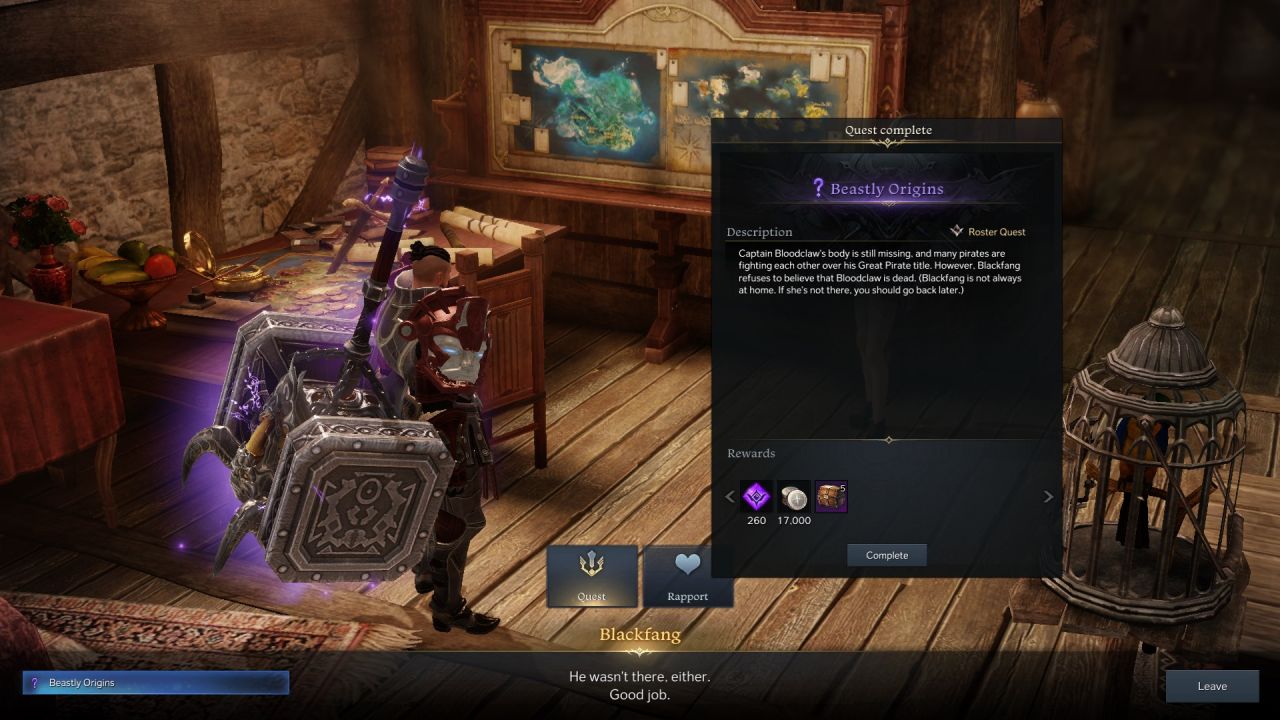 Blackfangs offers you this quest. Head toward Annika and gather rumors from two Changhun sailors. After gathering rumors, talk to Sailor Gainal. Investigate along the shores of Anikka from your ship; you will stop in three different spots. Return to Blackfang afterward.
Rewards:
Silver x17,000
High Seas Coin Chest x5
Bloodclaw's Dagger
Get this quest from Blackfang and talk with NPC Navigator Rosa just outside the house. You have to travel to Atlas and talk with Metal Arm. Travel to Peyto and talk with Seared Beard and Corras the Starfish. Travel to Port Krona in North Vern and speak with Green Tongue after paying a silent tribute at the Great Pirate Memorial Altar of Bloodclaw. Check the Blackened Dagger nearby and report back to Blackfang. Rewards:
Silver x17,000
High Seas Coin Chest x5
Gold x100
Blackfang Rapport Quests
To unlock rapport with Blackfang, you must complete the quest Bloodclaw's Dagger, given by Blackfang herself. Along with this quest condition, there is also a virtue requirement:
100 Kindness
80 Wisdom
110 Courage
110 Charisma
Note: Virtue requirements increase as you level up the rapport stages.
The Trusted rapport level with Blackfang requires 78,100 rapport experience. The daily activities include:
Song of Valor (250 Rapport)
Song of Temptation (375 Rapport)
Emote: Roar (375 Rapport)
Emote: Strech (400 Rapport)
If you don't use any gifts and rely solely on daily activities, it can take up to 53 days to max out rapport with Blackfang. You'll receive the following rewards in each of the rapport stages.
Neutral: Anceint Gold Coin x15
Amicable: Anceint Platinum Coin x1 and Sail Glyph: Unity
Friendly: Eternity Essence x5 and Blackfang's Card
Trusted: Crew Application Form: Blackfang and Blackfang's Den Island Soul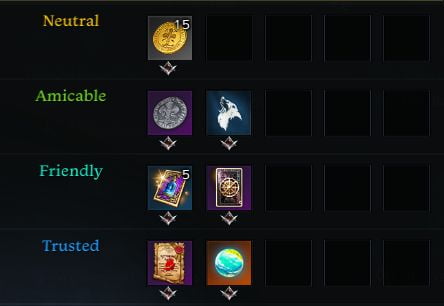 Her Wounds
This is the first quest unlocked with her rapport. Conversate with her and find a way to heal her wounds. Go to Mizel regarding this issue, then find the bandages inside the luggage. Once you have the medications, treat Blackfang's wound to end the quest.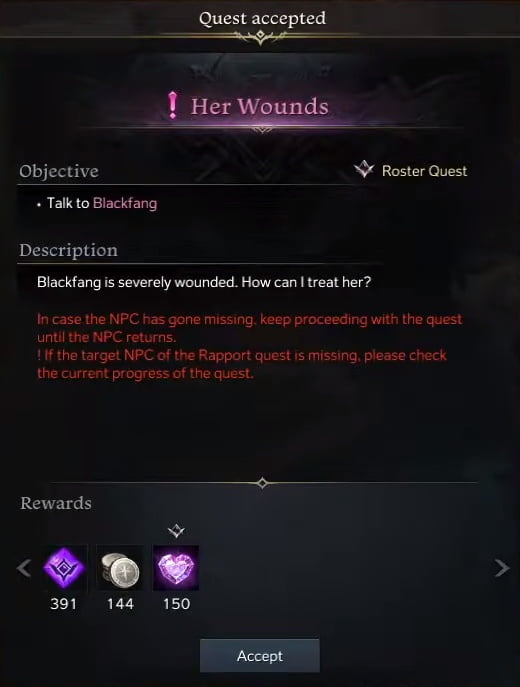 Who Owns the Sea
Leave Blackfang's house and go to the dungeon nearby, triggering a cinematic with Pirates threatening her. Kill the pirates to finish the quest.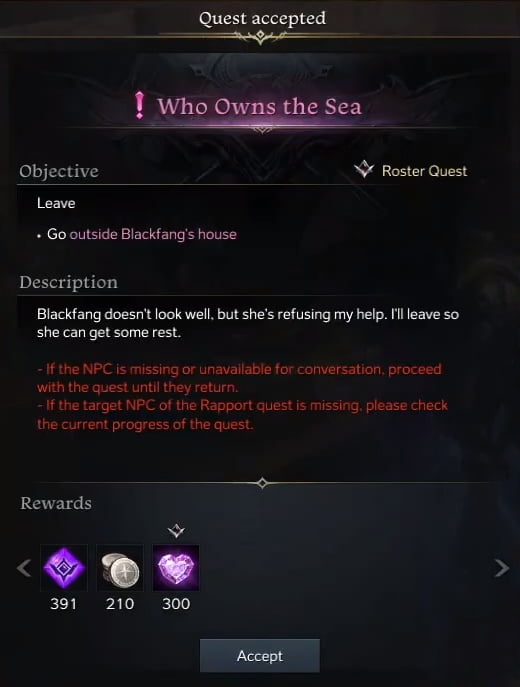 Sidus
Sail toward Sidus for this quest to meet Blackfang's crew; the first will be NPC Linny. Later, several of Sidus's henchmen will show up for a fight. Threaten them to gather information as the seas are in chaos without Blackfang's leadership. After collecting all the required information, give the wanted poster of Sidus to Roza, Linny, and Blackfang to conclude the quest.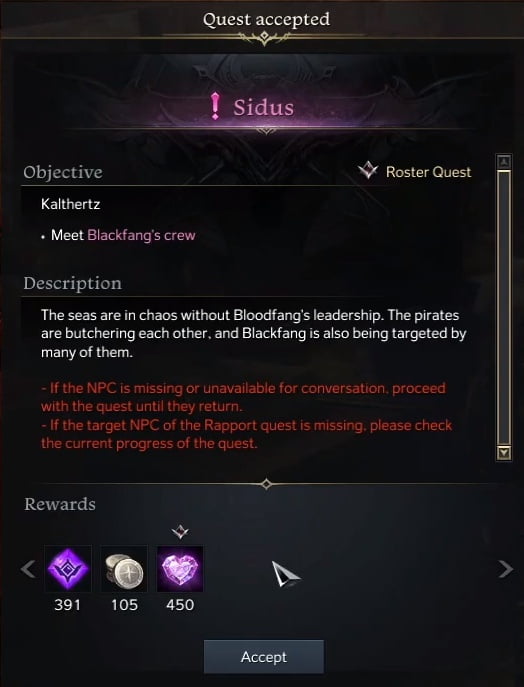 The Persistent Old Man
Speak to the Old Man named Sebastian, found just beside the island's entrance, then talk to Blackfang and deliver her message to him. Apparently, he mixed up Blackfang with some mistress and wanted to see her now. Deny his request twice and speak with Blackfang again to finish the quest.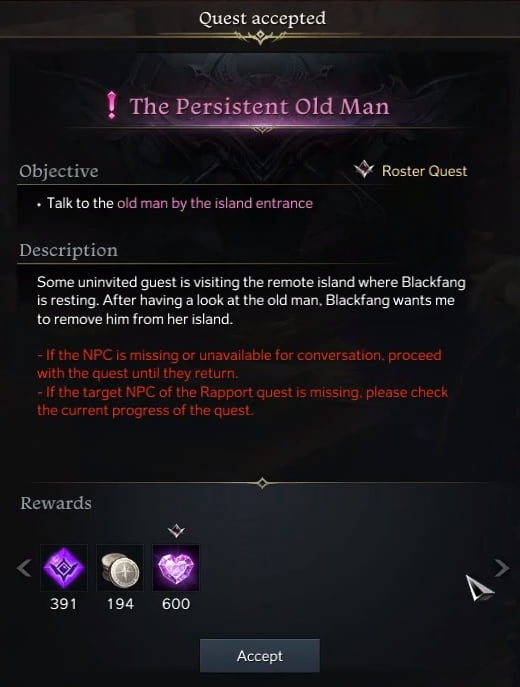 Blackfang
Deliver the letter that Sebastian left to Blackfang. She will walk out of her house and then tell you her story about the past. After listening to it, speak with her again to finish the quest.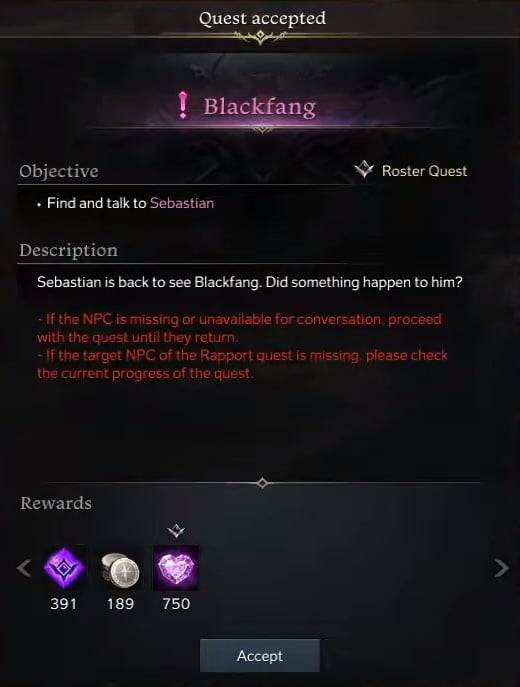 To Wavestrand Port
Travel to Wavestrand Port in Luterra, where Sidus is hiding. Meet Linny, interrogate and threaten a few of Sidus's henchmen again, then deliver the results to Blackfang. Once you get Sidus's location, enter there to defeat him and conclude the quest.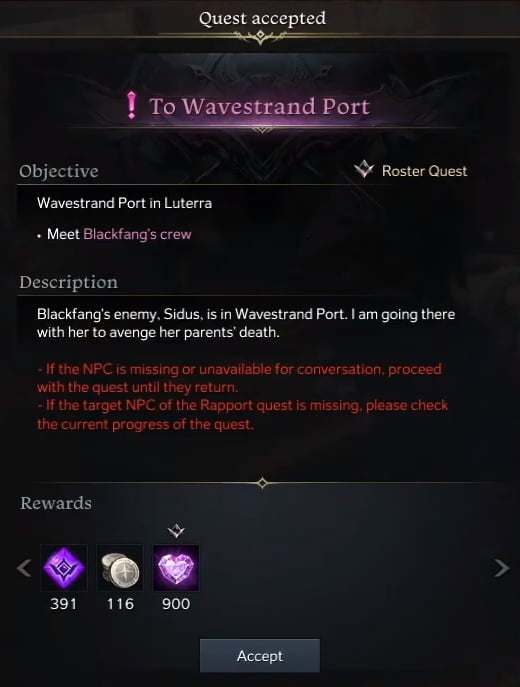 A Special Day
This is the last rapport quest from Blackfang. As she said, talk to Ruri to know the whereabouts of Blackfang and pluck the white flower from outside the house. Follow the path to the eastern cliff to find her; it will trigger a cutscene where She will tell her origin story of becoming a Pirate. After this, the quest will be finished.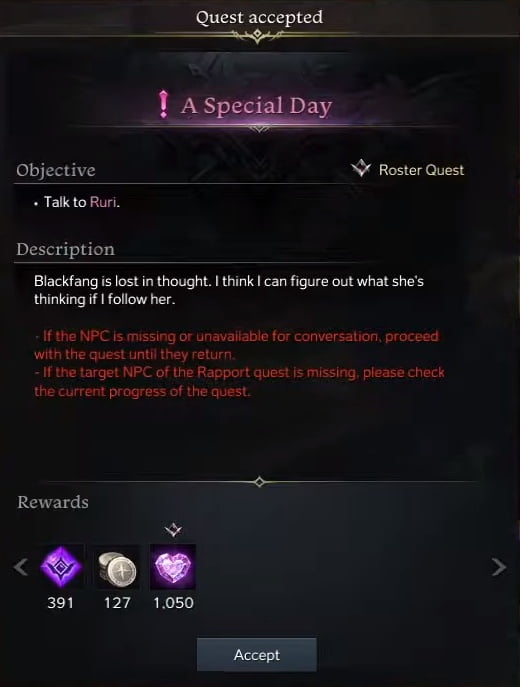 Co-op Quests in Blackfang's Den
Watch Out! Pirates!
Defeat 10 Pirates that attacked the Den along with the Boss Lorka.
Rewards: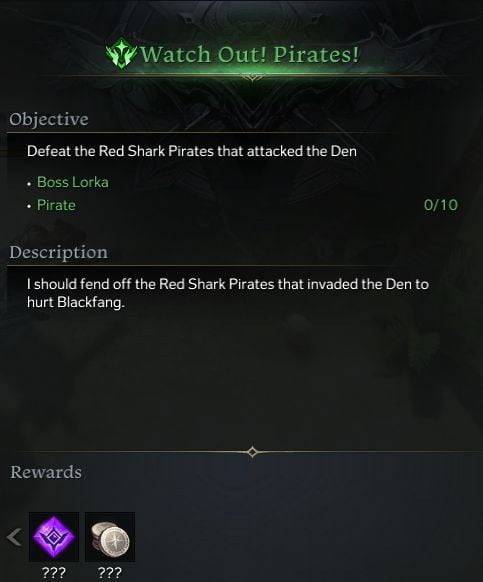 Everyone, Charrrge!
Defeat 10 Pirates that attacked the Den along with the Boss Taizo.
Rewards: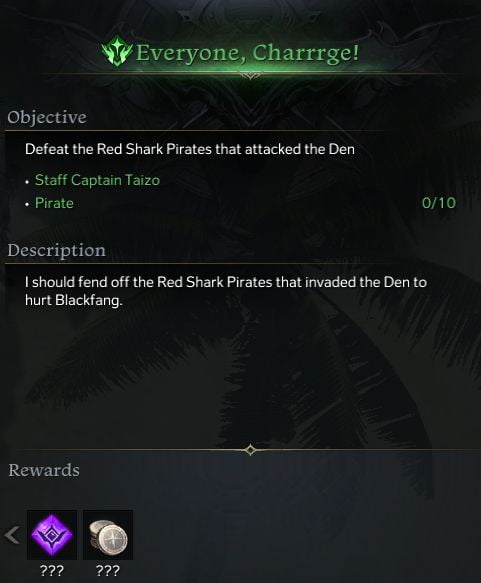 Note: This cooperative quest chain starts after every 15 minutes.
Una's Task in Blackfang's Den
Pest Control
Pest Control is a daily Una quest in Blackfang's Den, and it can be completed through one of the cooperative quests "Watch Out! Pirates!" or "Everyone, Charrge!" The objective here is to defeat the pirates that try to harm Blackfang.
Option 1: Defeat 5 Red Shark Pirates.
Option 2: Defeat Captain Lorka or Lieutenant Taizo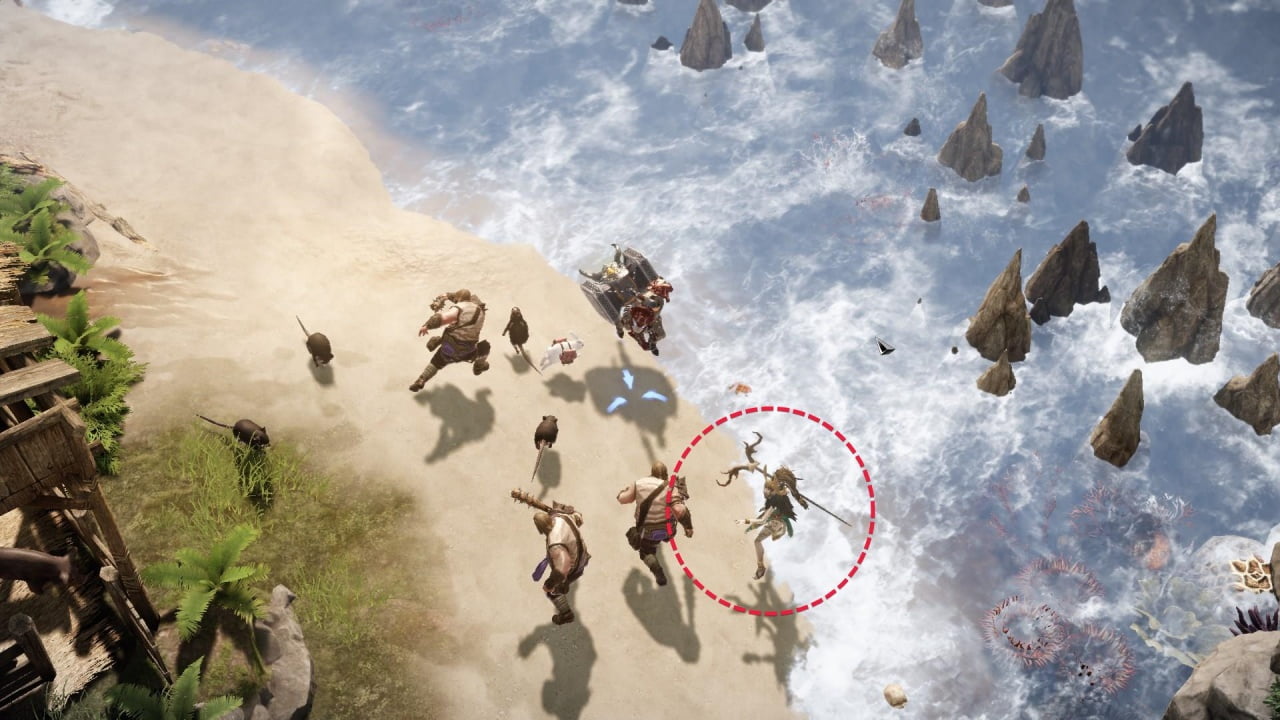 Pirates spawn on the island's shore, and players tend to kill them quickly, so make sure you complete the given contribution to complete the quest. Rewards for completing this task are further divided into three different tiers:
Tier 1 [30 Reputation Points]: Rewards with Pirate Coin x6,000.
Tier 2 [40 Reputation Points]: Rewards with Pirate Coin x8,000.
Tier 3 [80 Reputation Points]: Rewards with Vitality Increase Potion, Certificate of Pirate, and Pirate Coin x16,000.
Pirate Star: Astray
This is an additional quest that unlocks after you have maxed out your reputation for the Una's Task Pest Control. Start this quest by purchasing Pirate Star: Astray for Pirate Coin x300,000 (Special Sales Tab) from merchant Navigator Rosa. Speak with the shipbuilder Belrod, confirm the materials required for the ship, and talk to Rosa afterward. Lastly, get permission from Blackfang to craft Astray ship. Rewards:
Silver x2,500
Astray Operation Manual
Note: Astray is considered the fastest Ship of Lost Ark.
How to Craft Astray Ship
Crafting Astray requires the following materials.
Astray Construction Blueprint: Obtained after reaching max reputation (tier 3) of Una's Task She Drifts, Sea Gifts: This task is performed with a ship on the Open Seas [Sea of Procyon] connected to a cooperative quest. If you have trouble finding this quest, search it on Una's Taskbar. It will take you approximately 25 days to max reputation on this task.
Astray Operation Manual: Reward for completing the Pirate Star: Astray quest.
Certificate of Pirate: Obtained after reaching max reputation of Pest Control (Una's Task).
Uncommon Ship Parts Material x375: These parts can be crafted at your stronghold with specific resources. Logs and Ship Parts can also be purchased with Gold via Community Market.
Log x570: Use your Logging Tool to farm trees.
Crafting Cost: Silver x10,000
After gathering all the items mentioned above, head toward shipbuilder Belrod and craft the Legendary Ship: Astray.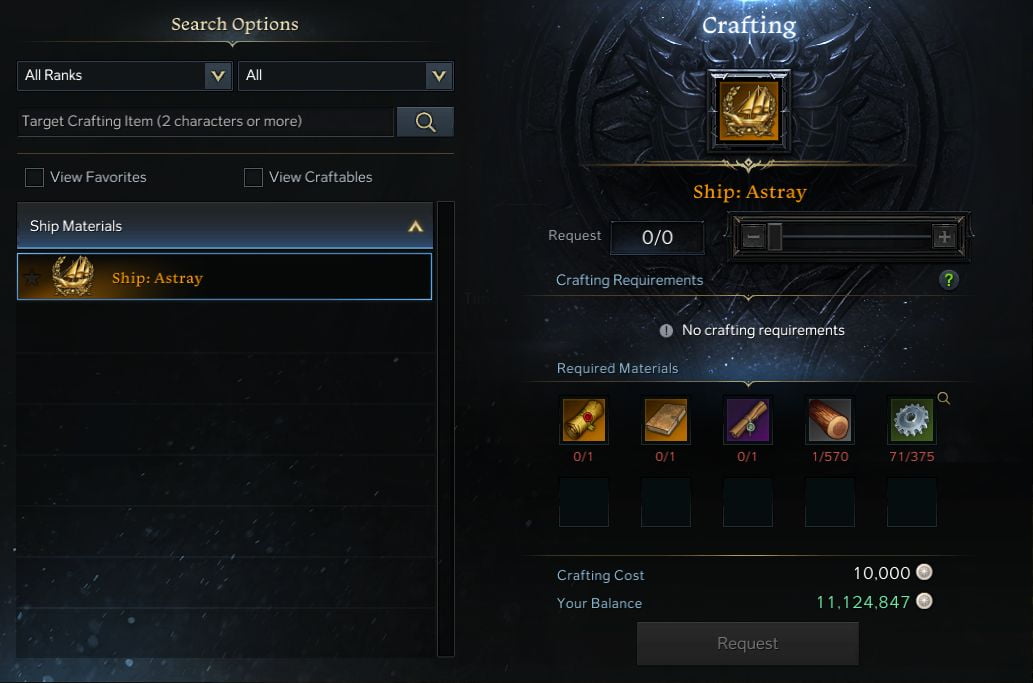 Every Mokoko Seed Location In Blackfang's Den
We can find a total of four Mokoko Seeds hidden in this compact island.
Mokoko Seed One
The first seed is located in the internal part of the island, east of Blackfang's House and just beside the animal farm.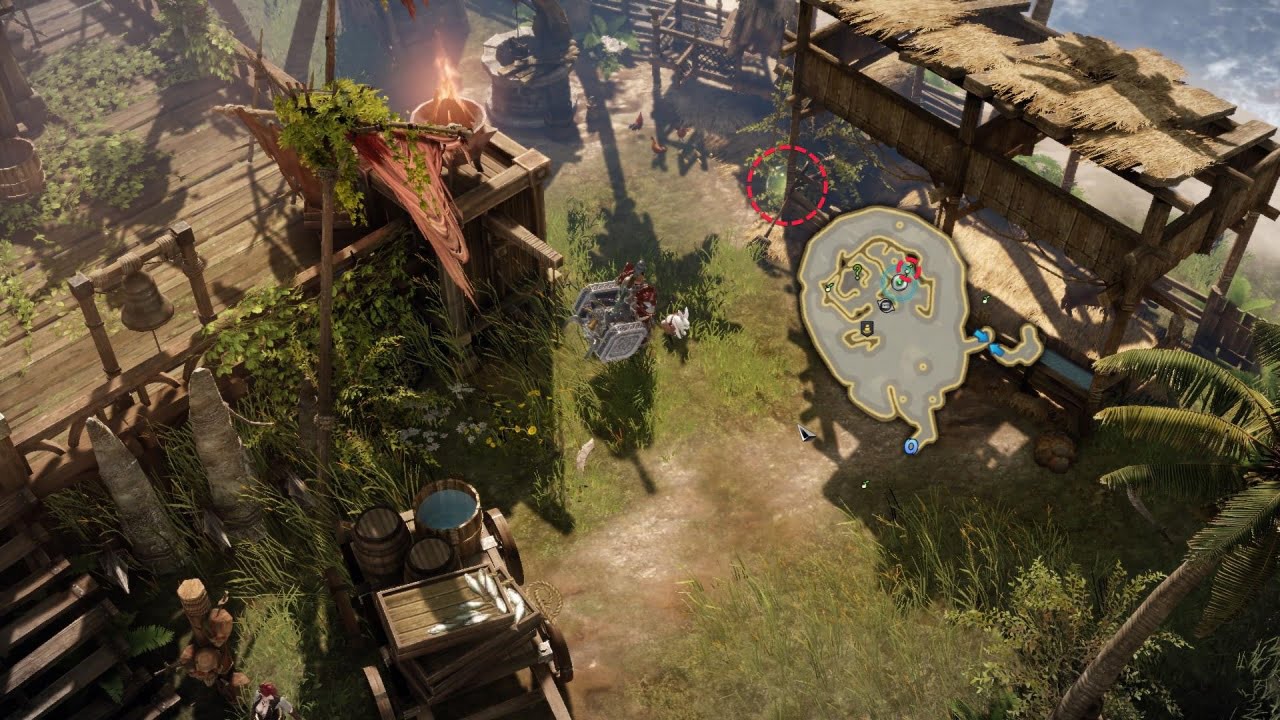 Mokoko Seed Two
The second seed is located at the backside of the house, hidden between some bags.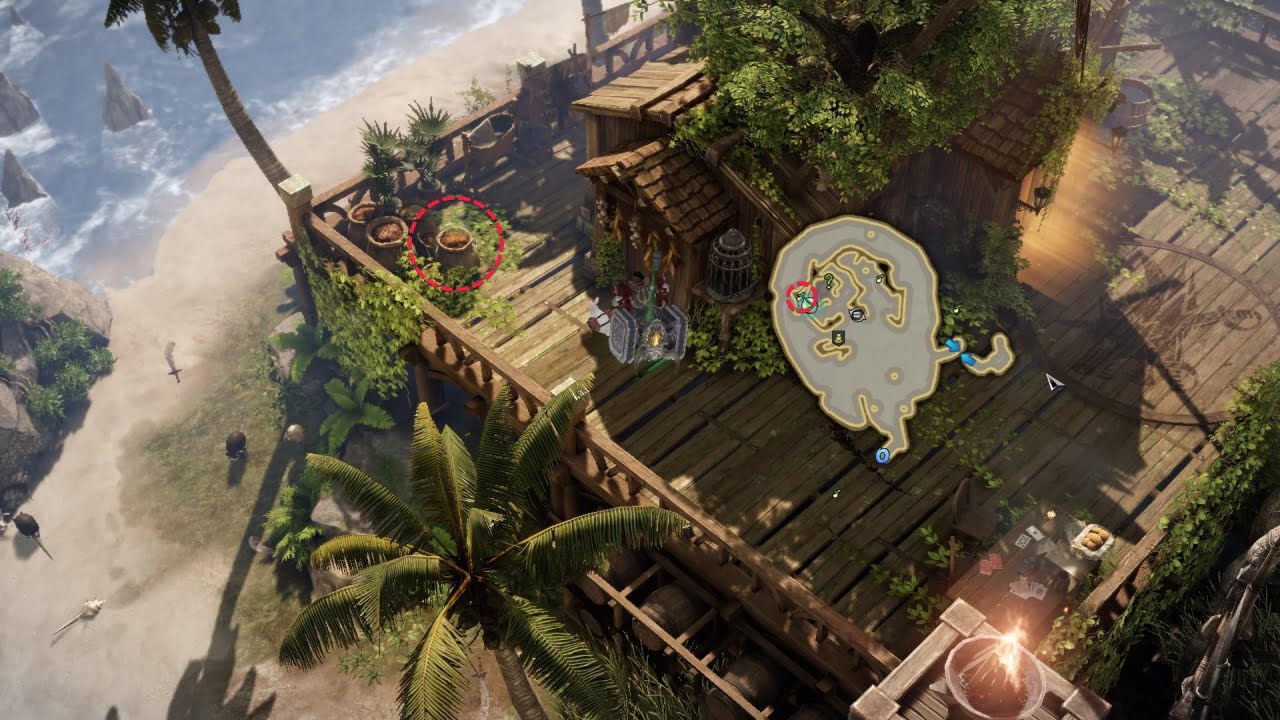 Mokoko Seed Three
The third seed is on the easternmost part of the island. After jumping once from the blue indicators on the map, walk till the end of the strip until you get the 'jump' option. This jump will take you off-map, jump again to reach the cliff where the seed is located.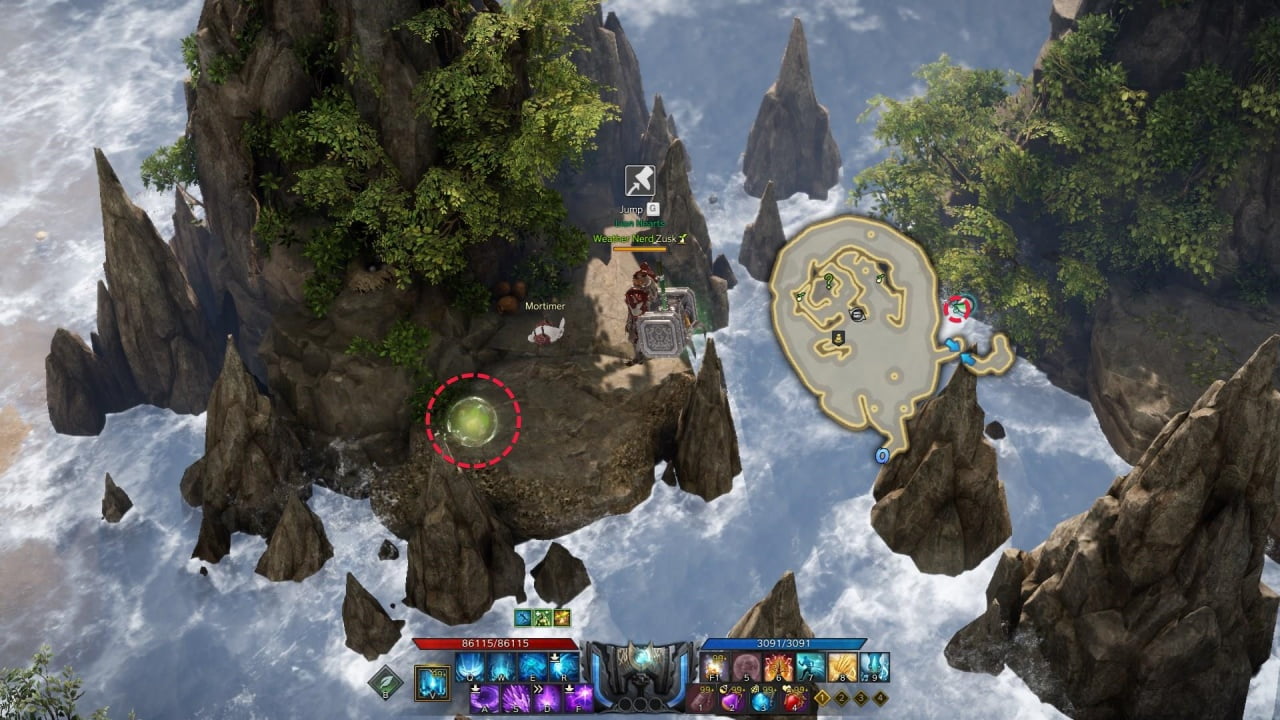 Mokoko Seed Four
The fourth seed is also off-map on the southwestern part of the island. The hidden entrance is a rock pathway that can be spotted easily. Once you reach there, jump twice across the cliffs, and at the end of the path, you will find the fourth and last Mokoko Seed.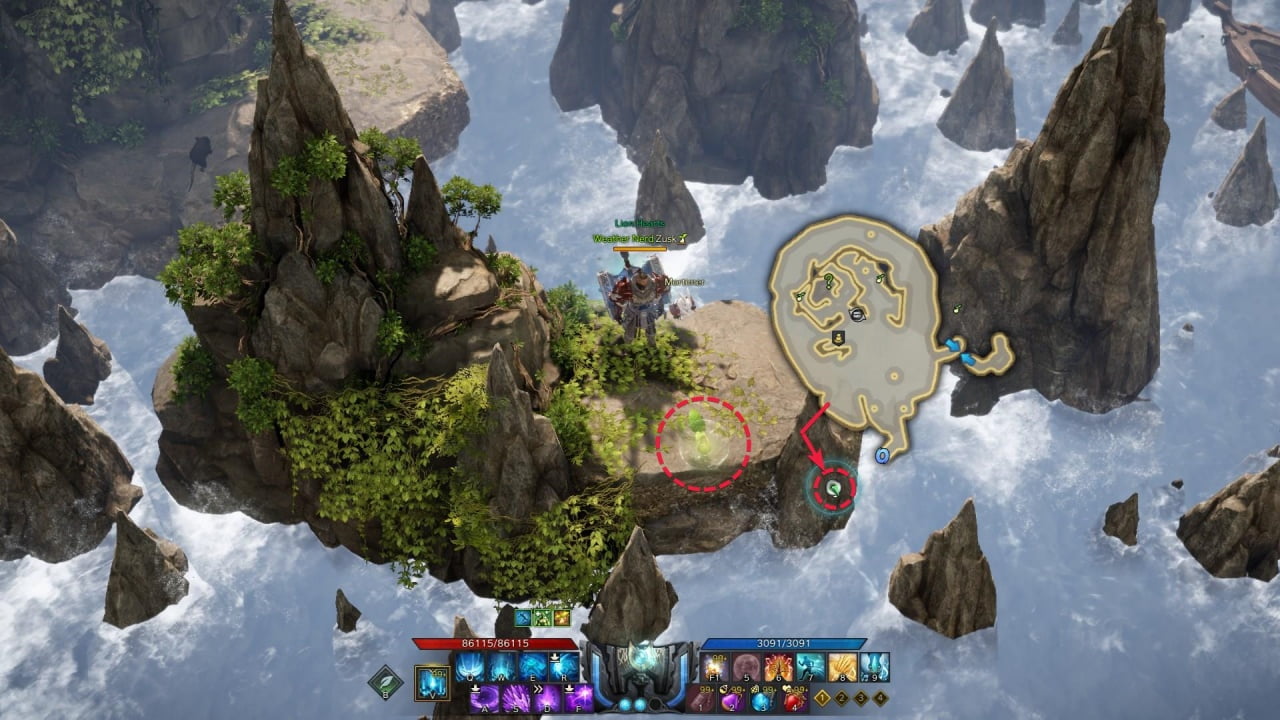 Merchants on Blackfang's Den
Rosa [Merchant]
Rosa is the only merchant found on Blackfang's Den; she has rare items in her possession, like the 5th Giant's Heart and 12th Masterpiece, which are available for purchase in her shop.
| Item Sold | Item Cost |
| --- | --- |
| Fifth Giant's Heart | Gienah's Coin x3300 |
| Masterpiece # 12 | Gienah's Coin x3600 |
| Perfect Beer Stein | Perfect Log (Rapport Item) |
| Crew Application Form: Sophia [Special Sales Tab] | Gienah's Coin x1503 |
| Pirate Star: Astray (Quest Item) [Special Sales Tab] | Pirate Coin x300,000 |