Necromancer Garris is an Optional field boss that you will encounter in the world of Elden Ring. He is not an ordinary necromancer but a formidable foe with an arsenal of death magic. A tarnished opponent who can test your skill as a warrior.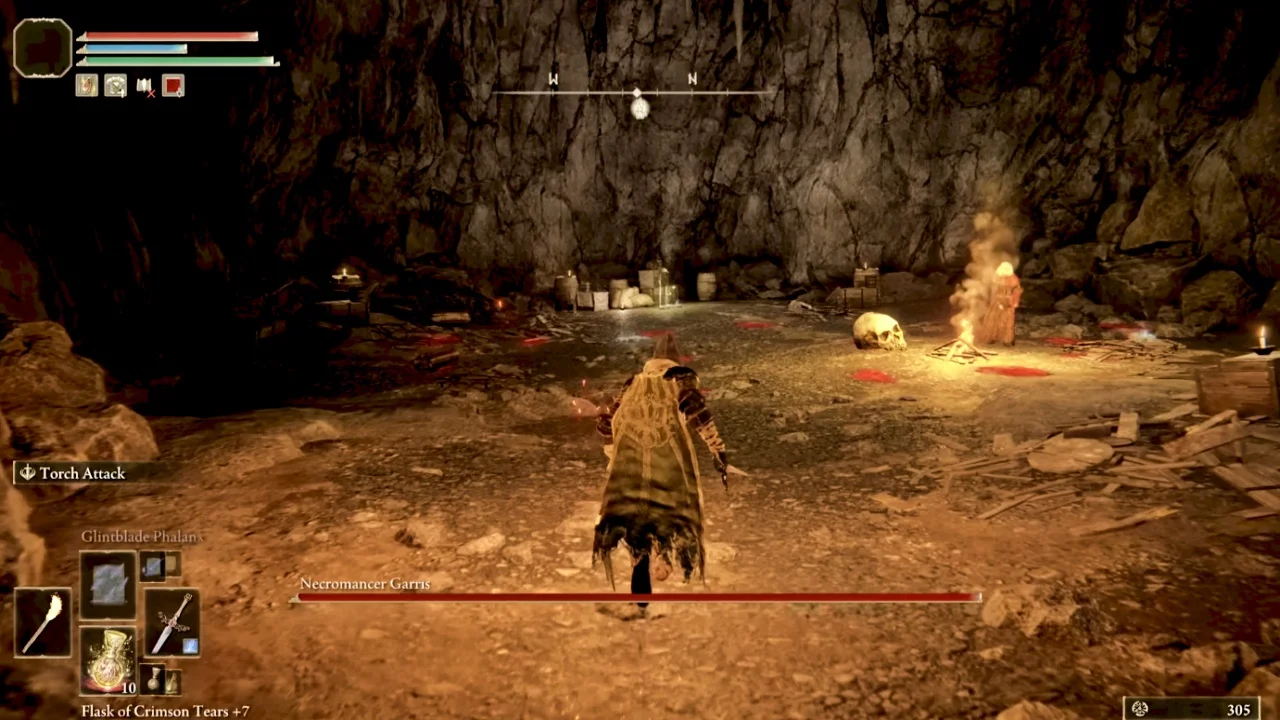 How to Get To Necromancer Garris?
You can encounter Garris in his lair, a dark location where the smell of death governs the very atmosphere. He is hidden in Sage's Cave of Altus Plateau, to the west side of Wyndham Ruins. This cave's entrance is near the poison flowers area. Inside the cave, the boss is behind a fog gate hidden through an illusionary wall. This wall is located shortly before the fog gate for another boss, "Black Knife Assassin."
Closest Site of Grace: Sage's Cave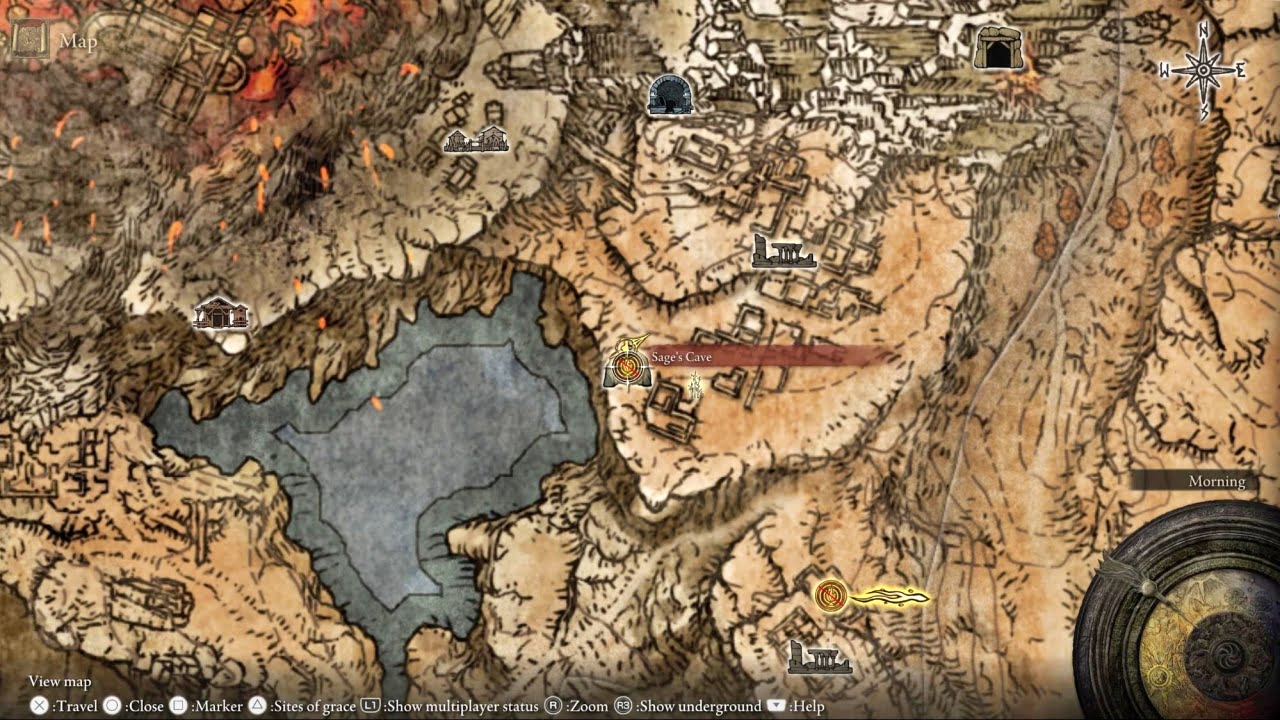 Necromancer Garris Statistics
Necromancer Garris Combat Information
Health
3,202 HP
Poise
3
Parryable
No
Stronger VS
Magic
Fire
Holy
Weaker VS
Lightning
Poison
Scarlet Rot
Hemorrhage
Frostbite
Negations (Or Absorptions)
| Damage Type | Negations |
| --- | --- |
| Standard | 9.9 |
| Slash | 8.9 |
| Strike | 8.9 |
| Pierce | 5.6 |
| Magic | 20.1 |
| Fire | 18.8 |
| Lightning | -0.8 |
| Holy | 20.1 |
Resistances
| Infliction | Resistance |
| --- | --- |
| Poison | 174 |
| Scarlet Rot | 174 |
| Hemorrhage | 148 |
| Frostbite | 148 |
| Sleep | 229 |
| Madness | 229 |
| Death Blight | 226 |
Best Tips for the Necromancer Garris Boss Battle
You are eligible to Summon Spirit Ashes and activate Multiplayer (Co-op) for this boss fight.
It is recommended to be at least Level 50 to fight this Garris easily.
It is recommended to summon Lone Wolf or Demi-Human ashes for this fight, as they are persistent in staggering the boss.
The Skeletal Snail can roll at you at high speed, which can deal a lot of damage and make the battle more challenging; it is recommended to use strike attacks to get rid of it quickly.
The boss is weak towards bleed damage, so equipping a weapon like Rivers of Blood Katana can be helpful.
As a Tarnished Invader Boss, his poise is easily broken by inflicting heavy damage or by airborne attacks.
Necromancer Garris Attacks and Counters
Despite his intimidating reputation, Garris has certain weaknesses in different weapons. You may win if you're smart enough to exploit these flaws. Here are the attacks and skillsets of the boss you will face in this battle, along with strategies to counter or escape them.
Flail Melee
The boss will deal with a few melee attacks that can be followed by a roll. This short-range attack can be easily avoided by rolling away from it, but staying up close is recommended since this attack can be interrupted and opens a door for attacking the boss.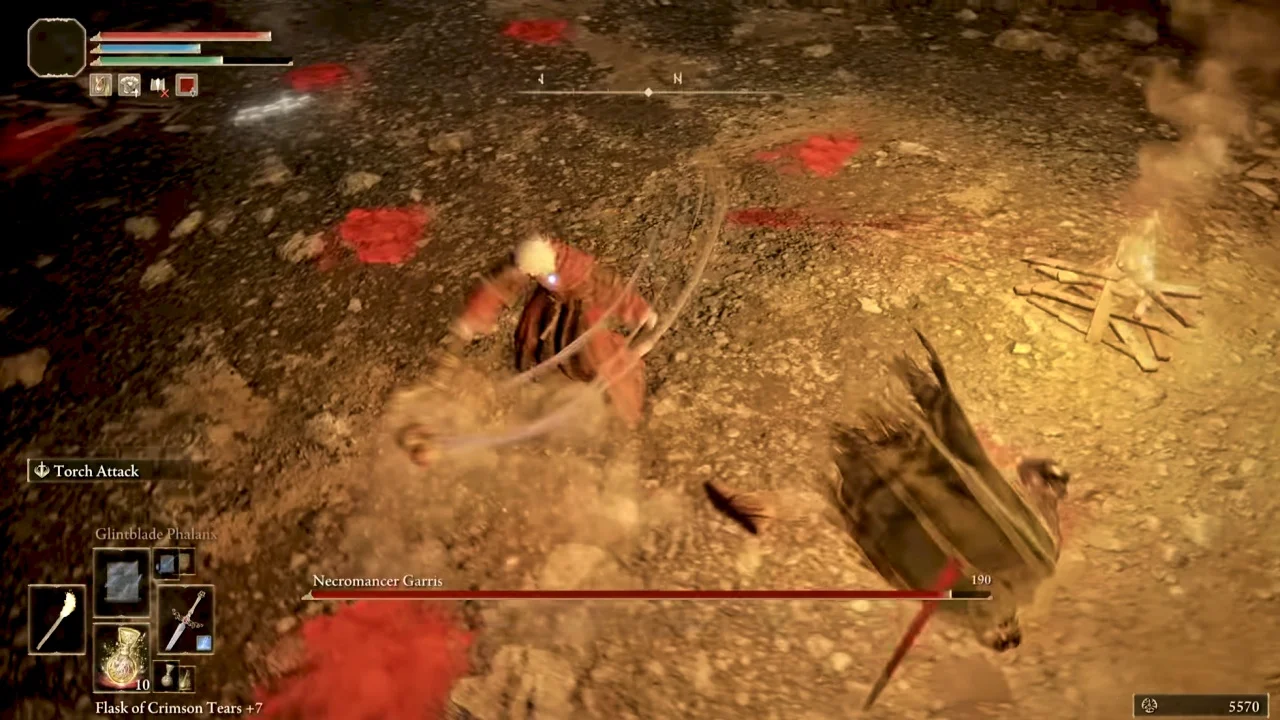 Homing Skulls (Death Magic)
He summons a few skulls with slow homing features that follow the player until they disappear after a short period. On their impact, they can deal quite a significant amount of damage. You can roll away and keep running to avoid impact.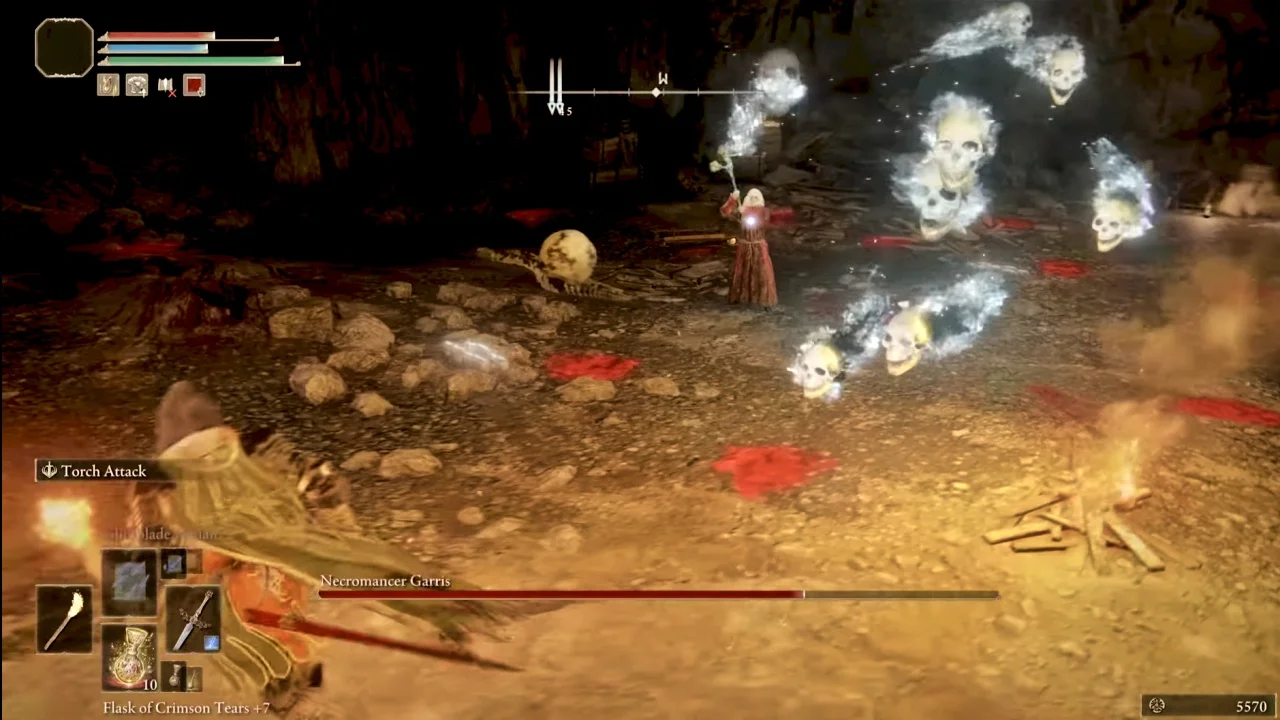 Skeleton Summon Attack
He slams the flail on the ground, which will spawn skeletons in your vicinity to perform an overhead slam on you. It is easily avoided by dodging the skeletons as soon as you see them coming up from the ground.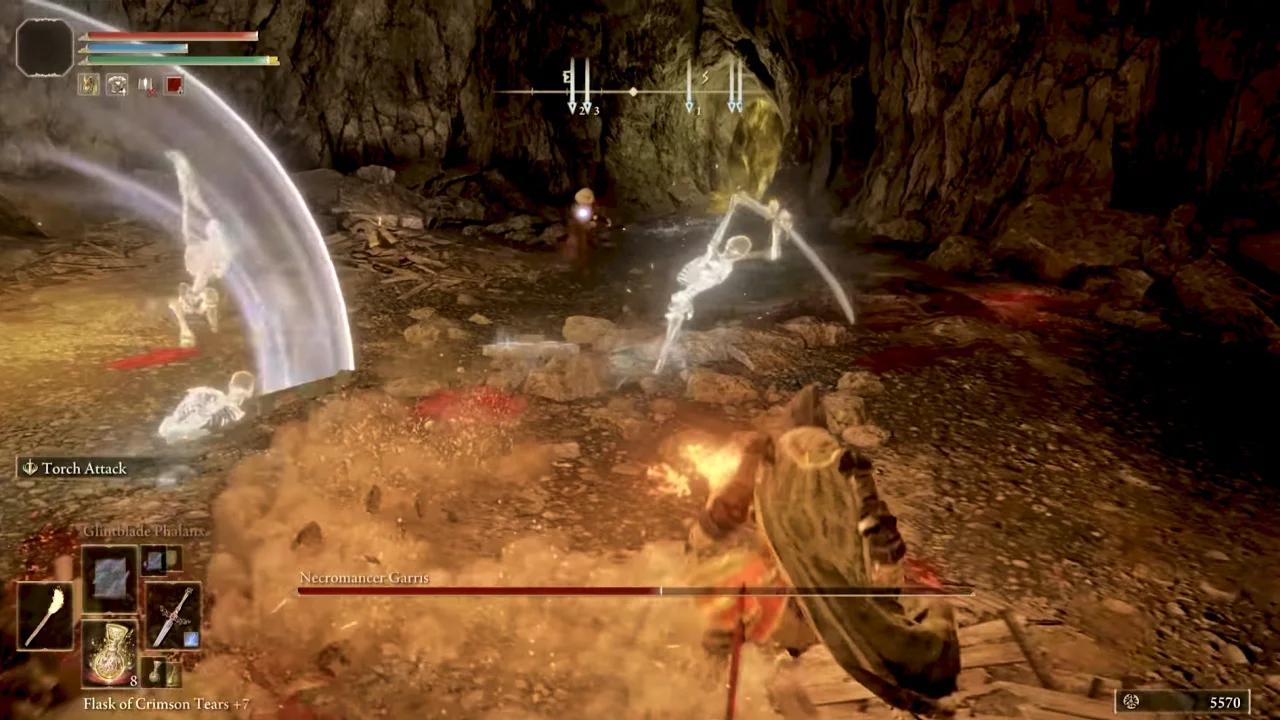 Skeletal Snail Rolling Attack
The snail will roll towards you to deal damage. Just keep on running in the opposite direction because it comes in a straight line. It is vital to keep track of the boss's moves as he will use the opportunity to deal damage to you.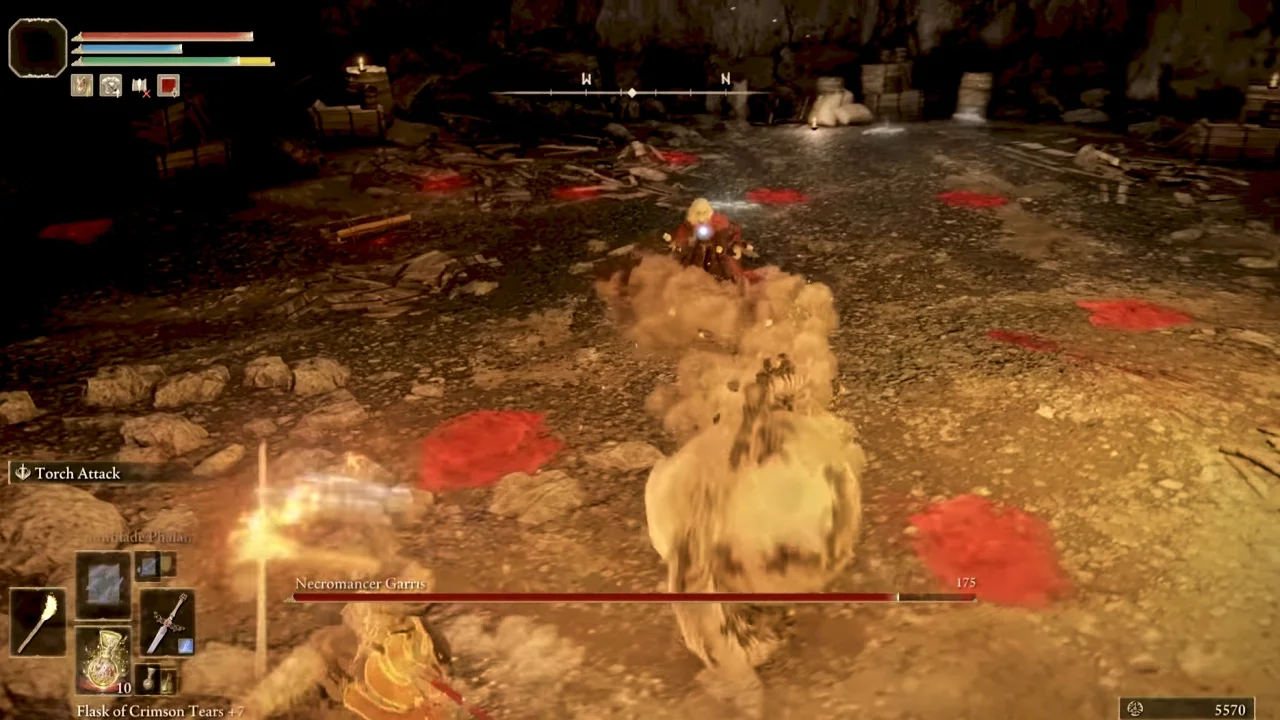 Skeleton Snail Bite Attack
At close range with the snail, it will lean forward to attack you with a bite. You can avoid this by rolling backward.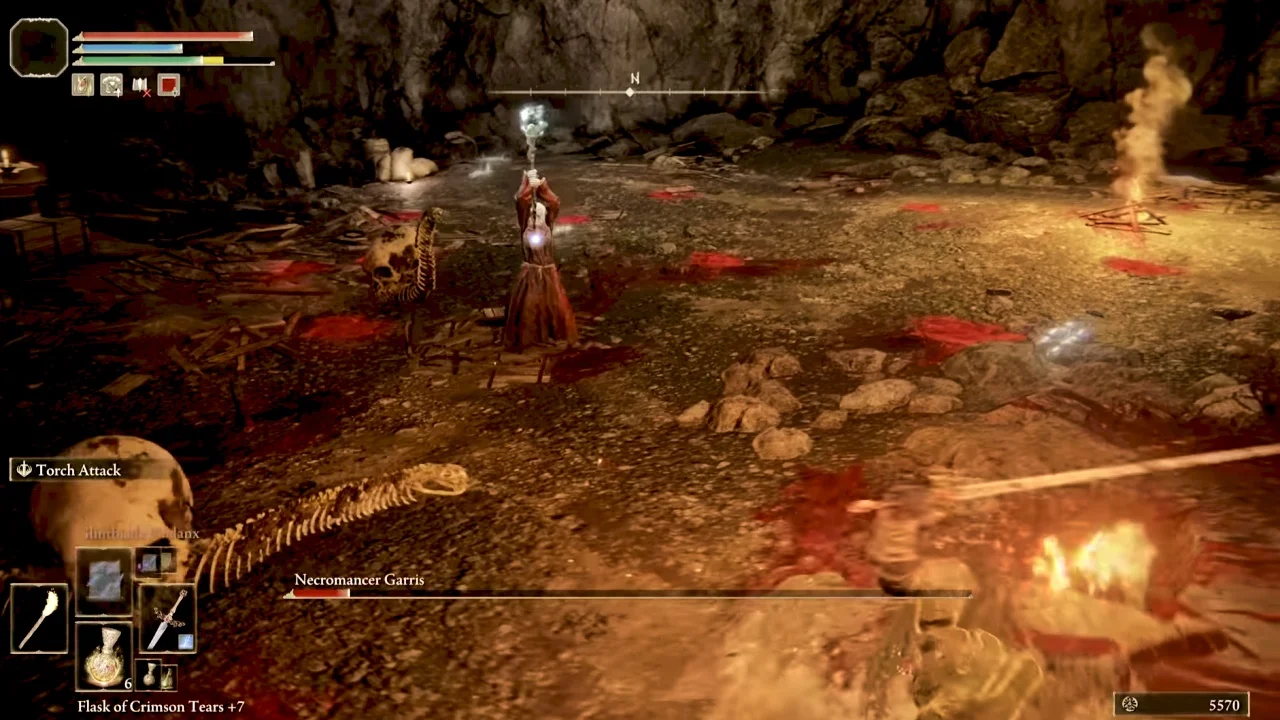 Skeletal Snail Homing Skulls
The snail will deal with death magic by summoning a skull that will follow you before disappearing. To avoid this, keep moving in the opposite direction of the skull that follows you.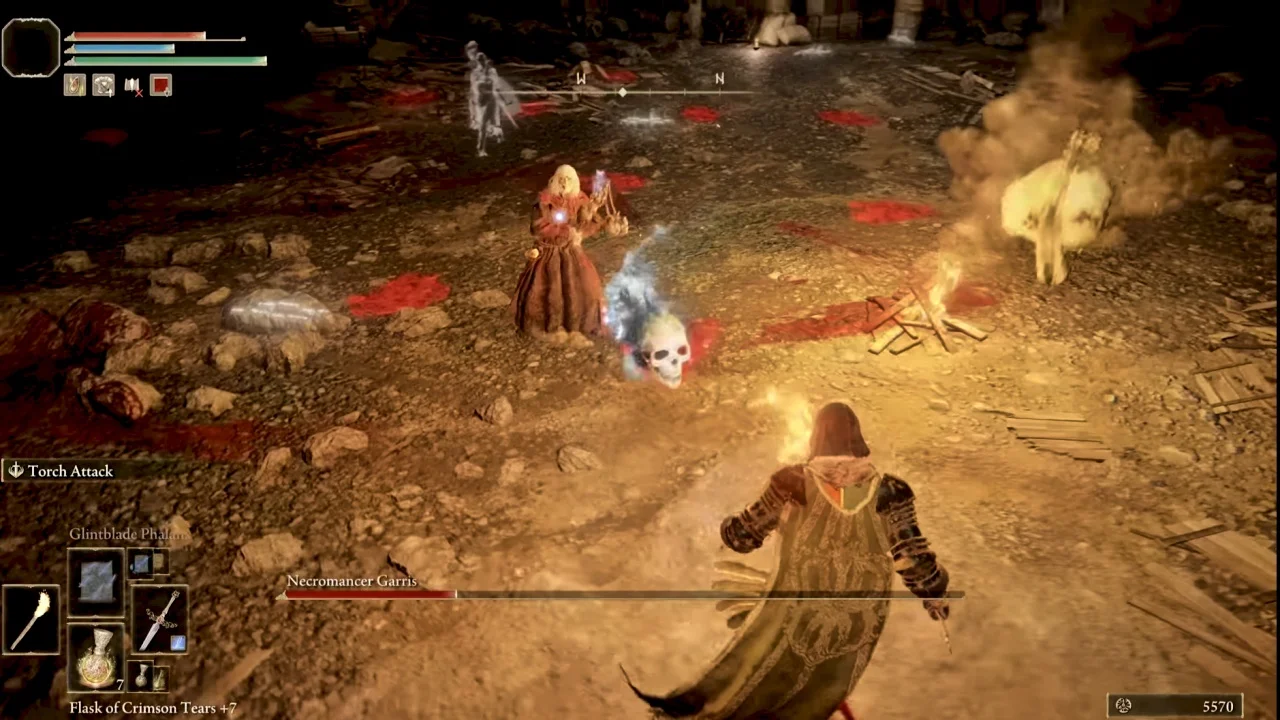 Strategy to Easily Defeat Necromancer Garris Boss
Garris is known for his ability to summon hordes of undead minions to do his bidding. These creatures range from simple skeletons to powerful revenants, and they will stop at nothing to protect their master. The boss himself is not to be underestimated since he can manipulate dark energy to unleash devastating attacks, drain the life force of his enemies, and even summon otherworldly beings to aid him in battle.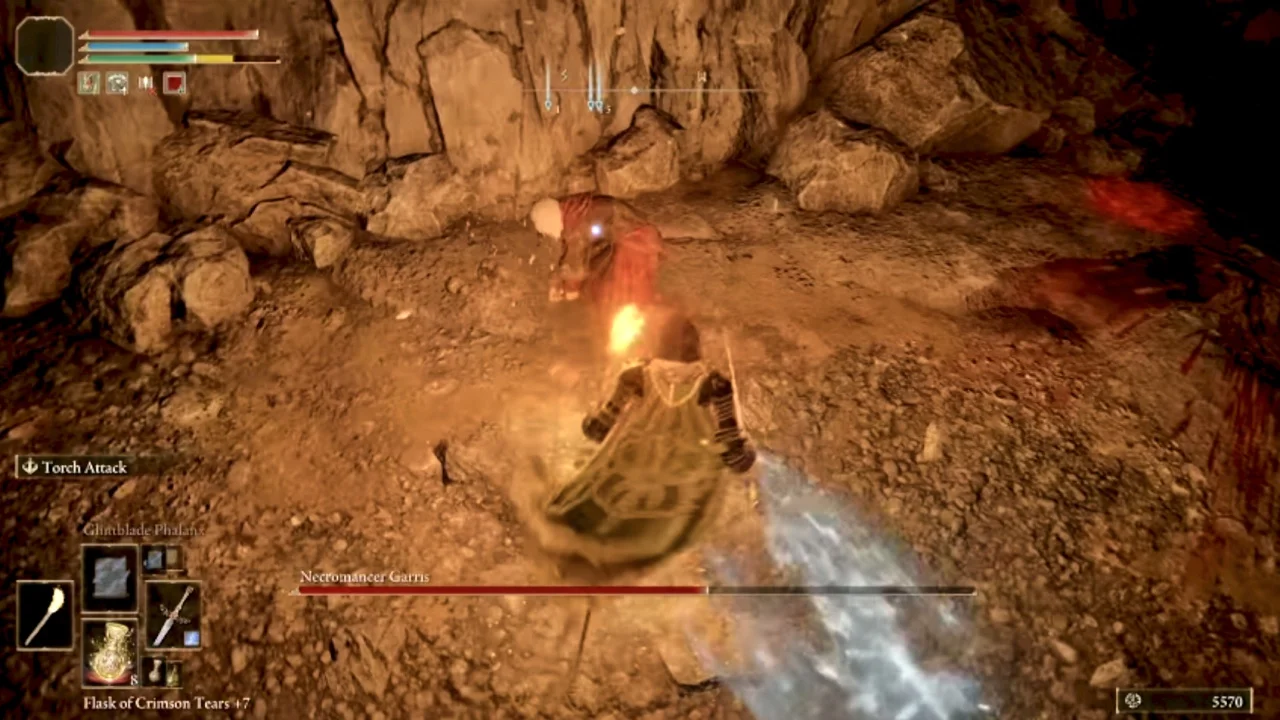 Melee Users Strategy
The boss's attacks with his flail can deal deadly damage and pose a significant threat to the player. When the boss is in between performing a combo, staggering him will help avoid his flail attacks. His nature is set to act as an NPC invader, so he is hard to predict as he will sometime roll backward to escape your counterattack.
If your poise is broken, the boss may avail of this opportunity to deal severe damage. Another dangerous factor that the players need to keep in view while fighting is the Skeletal Snail. This creature drops from the ceiling when you are least expecting it. It will keep charging by rolling toward the player to break your attacking rhythm, opening an attacking window for the boss. This snail is not there just to break the rhythm but also deals death damage to the player, so the player must keep him in view to avoid his rolls and magic attacks.
Magic and Ranged Users Strategy
Since not just the boss is attacking the player, but the snail is also continuously charging toward the player, you need to keep moving in this enclosed and small arena to avoid the boss's attacks. The ranged users must keep track of the battleground to avoid getting stuck in closed spaces. Keep on clearing the snail, as it will also deal death magic which can pose a threat. His movement is not fast, so you just have to keep moving in the arena to avoid him. If you use the spells that can be cast at speed, it will interrupt his death magic spells.
Necromancer Garris Drops/Rewards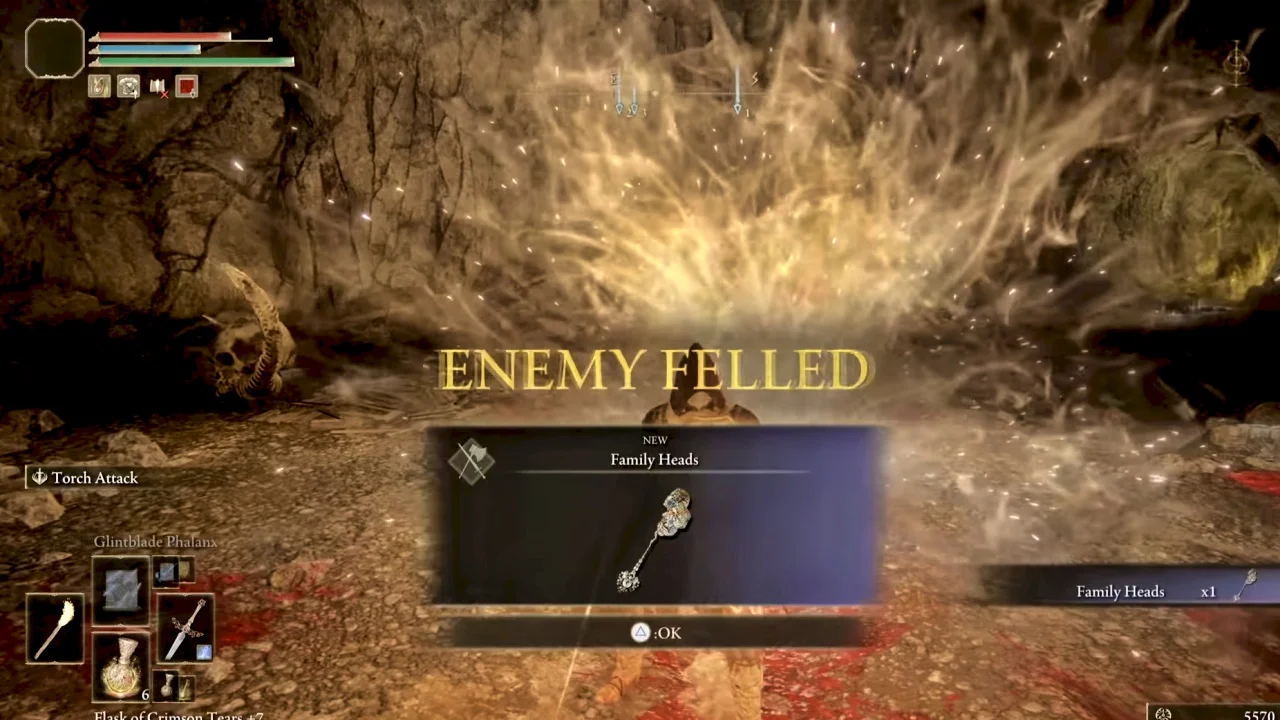 9,000 Runes
Family Heads: A flail in Elden Ring that can deal physical and death magic damage). It is one of the most appealing weapons that summons skulls to deal damage.