Choosing Crosshairs is one of the complex tasks in Counter Strike 2. It needs to be both easily visible and precise. Players select the crosshairs that provide comfort, satisfying one-taps, and much-needed round clutches. Finding the perfect crosshair for yourself can be a bit hectic, and that's why this guide is here to help you.
Crosshair Settings and How to Import?
Before we head into changing crosshairs, you need to know where to find its settings or how to import a premade crosshair in CS2:
Open the menu and go to Settings.
On the top menu, select the "Game" tab.
The "Crosshair" tab will appear just below the top menu; click on it and start customizing your crosshair.
The "Share or Import" option will also be available at the bottom-right corner of the crosshair preview. You can share your crosshair with friends, and import presets from professionals.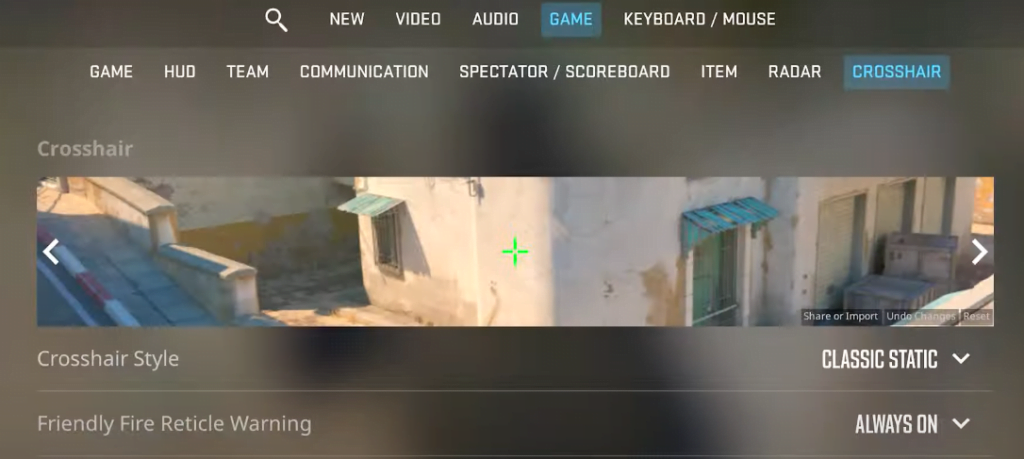 Now that you know about the customization, let us share some of the most used and recognized crosshairs throughout Counter Strike history.
Best CS2 Crosshairs
A list of the best crosshairs (along with the codes) in CS2 that match everyone's preferences:
Standard Crosshair: A thick design makes it easily visible and helps in incredible gun sprays. Select the Classic Static option to attain this crosshair. CSGO-7V8qr-zr9BJ-EdHJ7-H4Fq7-EyzQN

Dot: A tiny dot in the screen that grants you the precision required for headshots. CSGO-ZNmv8-PA2FR-N6zGc-PdqQs-54ksF

Plus Shaped Crosshair (+): A crosshair commonly used for pros and is excellent for one-taps. CSGO-ZGWFU-RPcxK-xBWLO-oTuW2-MNzfF

Here are the best Professional CS2 Players crosshairs with their codes:
s1mple: CSGO-h3Pz6-8BasU-DKBXU-e4KEt-YPD3J
ZywOo: CSGO-H3Wb2-YV2FB-VPipW-dx2td-hej5P
ropz: CSGO-HhqGJ-sDkmR-W9oNx-DvQOF-xpuCQ
XANTARES: CSGO-UOrzd-vO3VJ-d9GDb-f96Sj-K564E
dev1ce: CSGO-yxFut-M6Vka-p4GAf-X5yZT-ey3JE
deko: CSGO-9GVqi-ixpNa-JuGa8-ae6hd-H7xDK
m0NESY: CSGO-hzrMn-jXu8b-R7VH4-hQ9aa-OnMHA
smooya: CSGO-i2z3i-7o4Qx-u7R8Z-oMHCb-tOUnB
degster: CSGO-i6W7e-7dNbB-7u2hV-vwvQd-97DRE