With the new update 24.40, the existing Arena mode will be removed, and a new Ranked Mode will be added to the game across Battle Royale and Zero Build. The announcement was made through the official Twitter account of Fortnite.
The Fortnite Ranked Mode, as the name implies, will introduce a matchmaking system to the game, allowing players to rank up in addition to the traditional leveling up. The players will begin the Rank mode at a specific rank and work their way up. The ranks are divided into Bronze, Silver, Platinum, and Diamond, each rank having three subranks.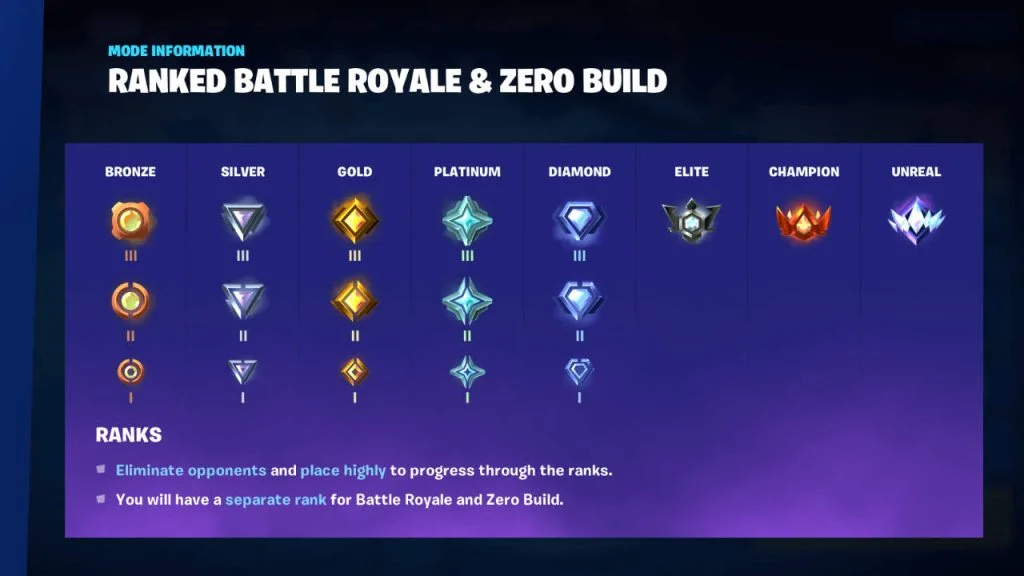 The progression, however, does not end at the Diamond rank. You can push even further to reach the Elite rank. Once you've reached Elite, you can compete against the highly skilled players to advance to Champion and eventually reach the Unreal Rank.
It's worth noting that once you reach the Unreal Rank, you'll be placed there for the rest of the season, but that doesn't mean your progression is over. Unreal Ranked players will be assigned a number that represents their position among Unreal players worldwide, and they will have to progress in order to remain among the top players.
You will gain or lose rank based on your placement in a match and how many players you eliminate. It should be noted that teams will be treated as a single unit, with all team members gaining and losing progress equally.
Epic Games has also confirmed that the Ranked Mode will support the Solo, Duos, and Squads for Battle Royale and Duos mode for the Zero Build. Furthermore, the ranked mode will follow the seasonal format.
Ranked Mode will make its debut with Ranked Season Zero, which will run until the end of Battle Royale Chapter 4, Season 3, and the game developers will use it to address any issues and bugs that might pop up.
The Ranked mode will be available with the upcoming version 24.40, which will be released at 3 A.M. ET on Tuesday, May. The official Blog post by Epic Games further discusses the Ranked mode.